Top 10 best Christmas markets in Germany to visit
It's getting chilly in Europe and to be honest, winter in Germany is not my favorite experience. Luckily, the Christmas market tradition can make dark, cold nights a little more fun. Discover hearty foods and Glühwein at these 10 best Christmas markets in Germany!
8min
Experiencing a Christmas Market is one of the highlights of the Holiday season in Germany, Austria and Switzerland, and other European countries.
The Christmas market tradition goes back to the 13th century, when markets became a popular place for people to gather during the Holiday season. Traditional Christmas markets — similar to those of today — followed in the 17th century.
Nowadays, visiting Christmas markets mainly consists of meeting friends, eating, drinking and getting some inspiration for Christmas gifts.

This article will cover my personal favorite Christmas markets to visit in Germany. But before I go into detail about what makes these markets worth visiting, I want to give you an overview of the typical foods and drinks you'll find at German Christmas markets.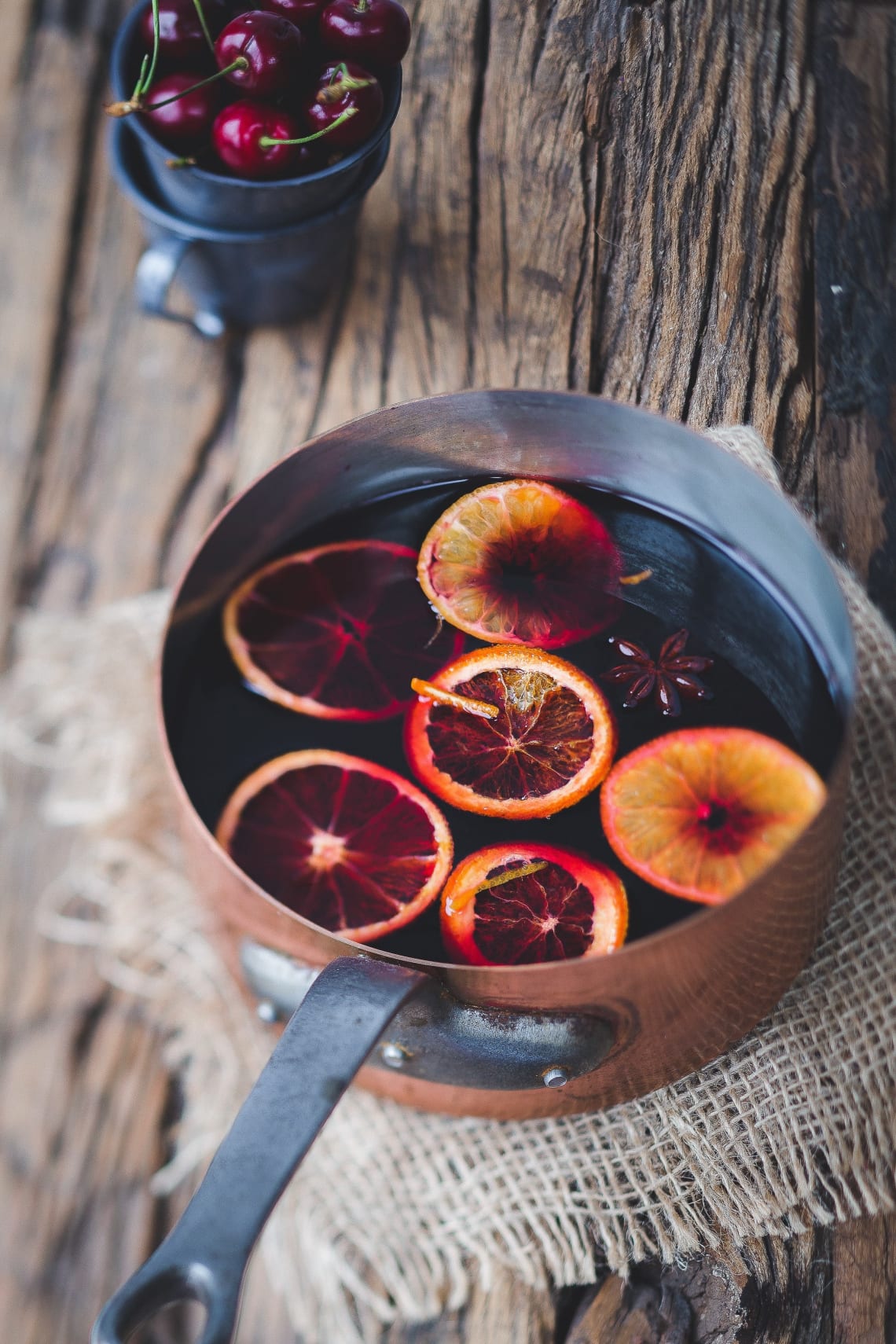 Don't miss these traditional German specialities if you're visiting Germany's best Christmas markets this winter:
Glühwein
Glühwein is hot mulled wine. Traditional Glühwein is made from red wine, but nowadays they also use white.
Even if you are not a big red wine fan, you should give red Glühwein a chance as it's way sweeter and offers notes of various delicious spices (usually cinnamon, cloves, lemon peel, and star anise).
After two or three mugs of Glühwein you won't feel the cold anymore!
Feuerzangenbowle
If Glühwein isn't strong enough for you, try Feuerzangenbowle, meaning "Fire Tong Punch."
Feuerzangenbowle is made from red wine, rum and fruit juice. The drink is prepared in a special fondue pot and is served hot with a flaming, rum-soaked sugar cone suspended above it.
Eierpunsch
A warm, sweet drink made from egg yolks, sugar, white wine and vanilla, Eierpunsch is similar to Egg Nog. It might sound weird, but with a little bit of added cream on top, it's a real treat.
Reibekuchen
Reibekuchen is a potato pancake traditionally eaten with apple jam. It's especially good after some Glühwein!
Raclette
Raclette is common year-round in Switzerland and France, but in Germany it's eaten exclusively during the Christmas season and for New Years.
The traditional Raclette meal consists of melted cheese eaten with bread and topped with boiled (or roasted) potatoes, small pickles, pickled onions, meats, vegetables, and more.
Handbrot
My personal favorite! If you've been to Germany before, you might already be familiar with this hearty delicacy as it's often sold at festivals and beer gardens throughout the country.
Handbrot is a delicious, hearty bread filled with cheese and mushrooms and served with a healthy portion of thick sour cream and chives. The filled bread is usually baked in a wood-fired oven over beech wood.
Baumstriezel

Originally from Hungary, Baumstriezel is a yeast-based spit cake usually baked over an open fire. Also known as "Chimney Cake," Baumstriezel is very popular at German Christmas markets and is usually rolled in cinnamon sugar, coconut, or chocolate before serving.
Christstollen
Traditional German Stollen should be made ahead of time and allowed to age three weeks. The cake consists of a fruit-like bread made from yeast, water and flour. Zest is usually also added to the dough, along with other dried fruits and fillings such as marzipan or poppy seeds.
Dampfnudel
A delectable Bavarian dessert, Dampfnudel literally means "steam noodles." The dough, which contains milk, flour, yeast, salt, sugar and fat, is formed into fist-sized balls and then cooked.
Dampfnudel is typically served with vanilla or caramel sauce on top and a sweet filling inside.
All of the treats listed above can be found at the best Christmas markets in Germany and I recommend sampling as many as you can!
But... where are the best Christmas markets in Germany to visit 2019?
Here's a list of my top 10 places to go in Germany to visit special Christmas markets.

Dortmund

Essen

Cologne

Lübeck
Hamburg
6. Dresden
7. Leipzig
8. Berlin
9. München
10. Nürnberg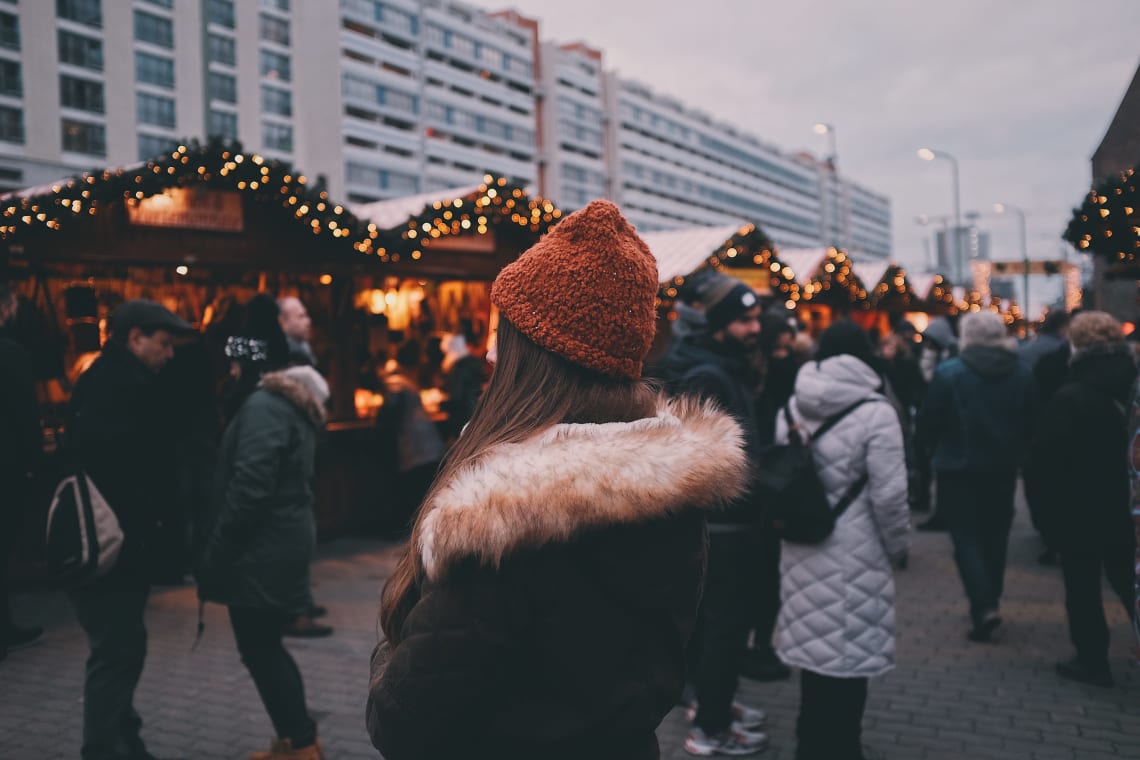 Worldpackers currently offers an excellent selection of exchange experiences in Germany. If you want a traditional Germany Holiday, I highly recommend considering a work exchange for a more authentic and immersive experience.
Germany's public transportation system is excellent, you'll be able to visit Christmas markets on your days off regardless of where you decide to stay.
Whether you want to...
volunteer in a non-profit co-working and childcare project in exchange for a private room in Leipzig...
help at a holistic lifestyle center in Rathenow...
work at an animal sanctuary in Hermersdorf...
or assist guests at a top-rated hostel by a stunning castle in Füssen...
Worldpackers has you covered.
To make it easier for you to plan your trip, I "divided" Germany's best Christmas markets into four sections: western, northern, eastern, and southern.
2019's best Christmas markets in Germany to visit in 2019 and what to do
Best Christmas markets in western Germany: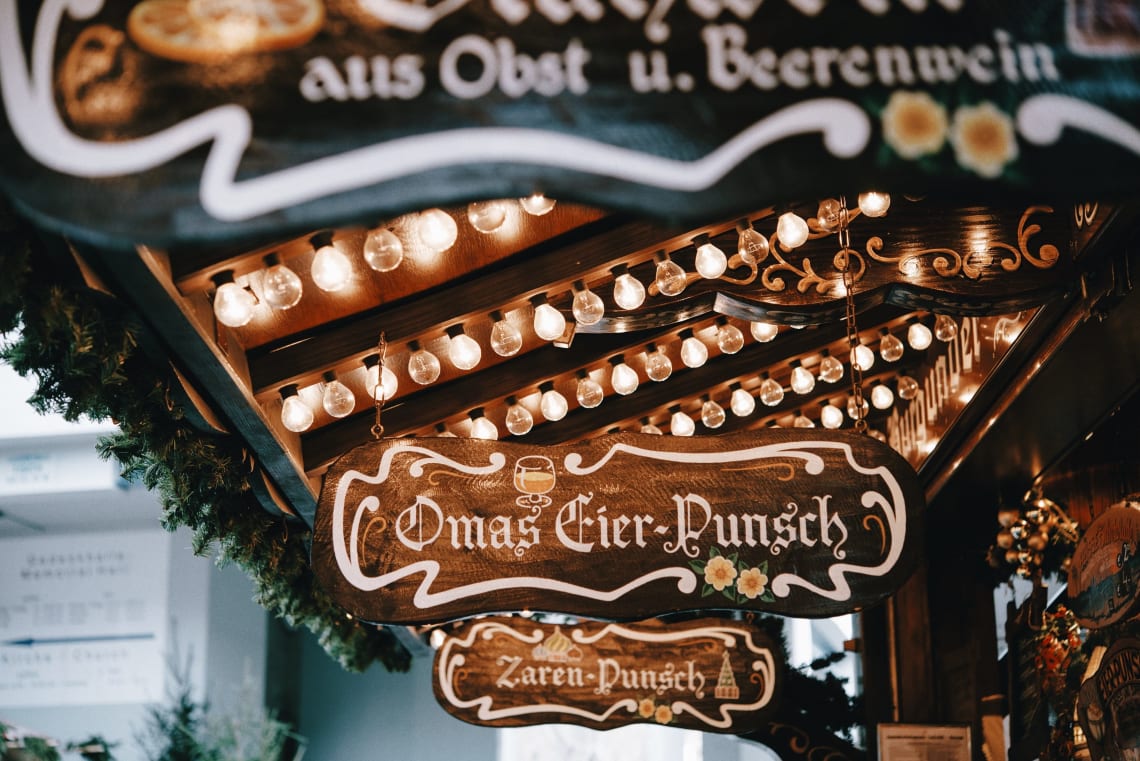 1. Dortmund Christmas Market
Since 1996, the Christmas Market in Dortmund has held the record for the world's largest Christmas tree with an astounding height of 45 meters.
The tree is built from atop a massive steel structure covered with 1700 red fir trees and over 48,000 lights. The month-long construction is worth it as the tree attracts over two million market-goers each year.
The food and drinks at Dortmund Christmas Market are traditional, including hearty treats like bratwurst and grilled ham and sweets like roasted almonds, crêpes, and more.
2. International Essen Christmas Market
At the International Christmas Market in Essen you'll find the traditional Christmas spirit mixed with a diverse array of exotic surprises.
Culinary and artistic diversity are guaranteed, as over 250 stalls offer tastes from more than 20 countries. You can find everything from African arts to Peruvian live-music to medieval food stalls to exotic spices from far-away lands.
The International Christmas Market in Essen is the perfect Christmas market to satisfy your wanderlust and get some inspiration for your next bucket list destinations!
3. Cologne Christmas markets
The Cologne Christmas Markets are my personal favorite markets out of all the Christmas markets in Germany!
Unlike most cities, Cologne has a lot of independent, smaller Christmas markets and each one is incredibly unique. In one day, you can easily eat and drink your way through three to four Cologne Christmas markets.
The most traditional markets in Cologne include the Market of Angels (at Neumarkt) and the Cathedral Christmas Market (close to Cologne's famous Cathedral). Both are popular tourist attractions and you should avoid going on the weekend, as it can get really busy.
Grab a Glühwein and start exploring. Once you've had your fill, you can take a small shuttle train that brings you to the other (more non-traditional) Cologne Christmas markets.
I highly recommend visiting the Cologne Harbour Christmas Market at the Chocolate Museum. Overlooking the Rhine River, the Harbour Market serves a lot of fish specialities and gives festive Cologne a maritime flavor. Have a snack and don't miss the impressive wooden three-mast boat serving tasty mulled wine out of its hull!
If you want see a market that is even more alternative, you should visit the one at Stadtgarten in Ehrenfeld, where more than 80 exhibitors sell a whole range of unusual wares — from traditional Christmas goods to hand-crafted individual pieces to lifestyle products.
If you are still full of energy, head over to Heavenue, one of the more famous Gay Christmas Markets in Germany.
Best Christmas markets in northern Germany: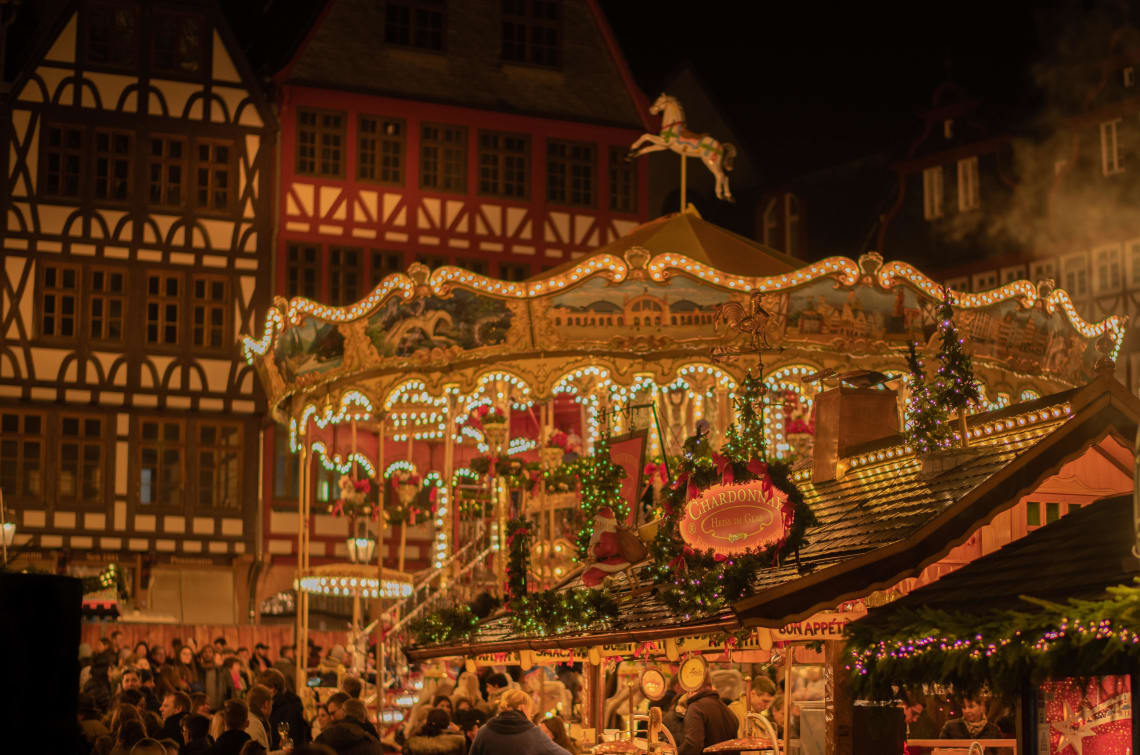 4. Hamburg Christmas markets
There are many Christmas markets in Hamburg, but none is like the one in Hamburg's red-light district St. Pauli.
The Christmas market in the heart of St. Pauli attracts thousands of visitors with live music, porn karaoke and the Santa Pauli strip tent. Market-goers can find everything their Christmas hearts desire at the elaborately decorate St. Pauli stands, while the numerous mulled wine stalls beckon with endless supplies of Glühwein and Feuerzangenbowle.
Hamburg has a lot of beautiful traditional Christmas markets as well, like the Historical Christmas Market at the Rathausmarkt (Town Hall Square). This year the Historical Market's theme is "art instead of commerce." If you're looking for unusual gift ideas, the Historical Christmas market in Hamburg is for you.
5. Lübeck Christmas markets
At the Christmas markets in Lübeck, it's all about marzipan. Lübeck is only an hour's drive away from Hamburg, and trust me — it's well-worth the drive for the marzipan cappuccinos and marzipan-filled baked apples.
Another highlight is that you can visit the traditional Niederegger confectionery and get behind-the-scenes of marzipan production. Don't forget to take some home for your family and friends!
Best Christmas markets in eastern Germany: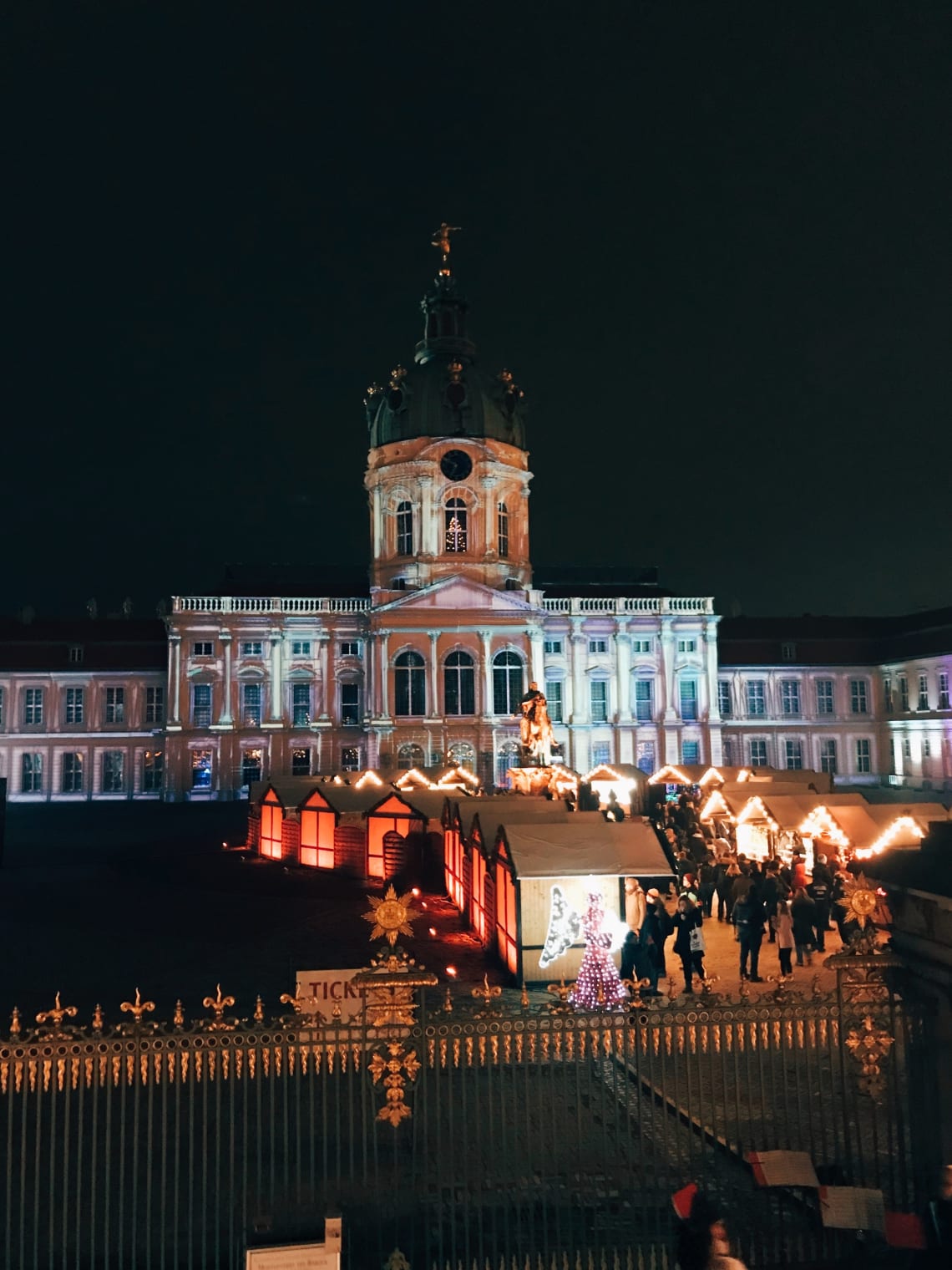 6. Dresden Christmas Market (Striezelmarkt)
The Striezelmarkt in Dresden is Germany's oldest Christmas Market.
This year, the Striezelmarkt will open for the 585th time. Yes, you read that right! The Striezelmarkt Christmas Market has been running since 1434 and is considered the first genuine Christmas market in the world.
Make sure to try the famous Christstollen, which dates all the way back to the 15th century. In addition to being a delicious treat, a slice of Christstollen represents a centuries-old baking tradition and a piece of Germany's cultural history.
7. Leipzig Christmas Market
The tradition of the Leipzig Christmas Market goes back to 1458 — making it the second oldest Christmas market in Germany.
The Market in Leipzig is best known for the world's largest free-standing Advent calendar. Apart from pretzels, gingerbread (Lebkuchen), stollen and of course glühwein, you will also find glühbier, a delicious beer heated with cinnamon, cloves and honey.
8. Berlin environmental Christmas markets
For more than 10 years the Grüne Liga Berlin e.V. has been organizing an organic Christmas market at Kollwitzplatz. The market offers a great alternative to the conventional Christmas markets in Berlin.
Over 60 different exhibitors vend high-quality toys, textiles, handicrafts, delicacies from all over the world and many other products that meet ecological and social standards.
Another alternative is the Green Market in Berlin. Here, the focus is on vegan and regional offerings including food, fashion, cosmetics, workshops and music.
Talking about that, traveling as a vegan in Germany is a joy!
Best Christmas markets in southern Germany: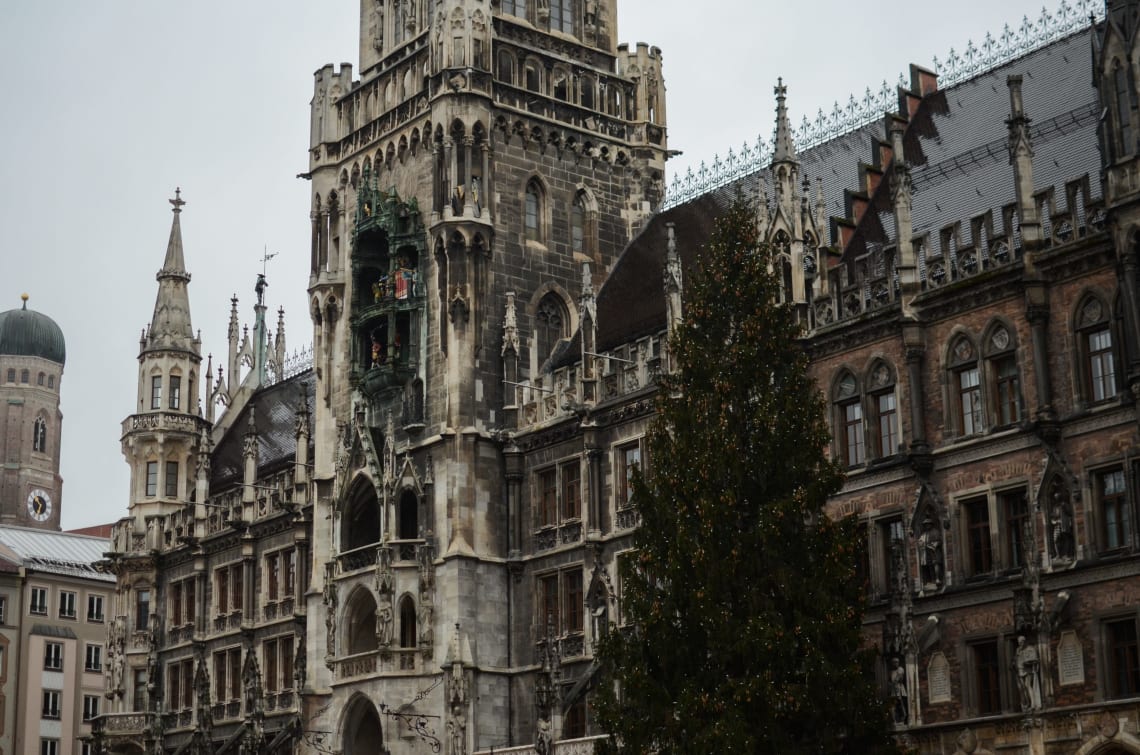 9. Munich Medieval Christmas Market
Travel back in time at the medieval market in Munich!
Located at Wittlesbacherplatz square, the Munich Medieval Christmas Market combines traditional Christmas spirit with Renaissance flair. Vendors role-play medieval characters, and performances by Renaissance musicians and dancers are plentiful.
Feuerzangenbowle and mead (a fermented honey wine) are among the common hot drinks served at the market, while Bavarian breads, pretzels, tasty pork sandwiches, home-made cakes, and apple fritters are on the snack menu. Honey, soap, drinking horns, copper work, minerals and many other products are also offered here.
10. Nuremberg Christmas Market (Christkindlesmarkt)
The Nuremberg Christkindlesmarkt, or Nuremberg Christmas Market, is one of the most famous Christmas markets in the world.
This festive and traditional market takes place in Nuremberg's beautiful Old Town and features more than 180 regionally-sourced spruce market stands decorated with fresh greens, lights, and lovingly hand-crafted Christmas ornaments. Most vendors offer exclusively regional products.
The Nuremberg Children's Christmas is just around the corner from the main market and features a magnificent carousel with reindeer and sleighs, plus a steam railway, mini Ferris wheel and a small merry-go-round.
The Nuremberg Christmas Market is famous for its original gingerbread, traditional Glühwein, and Nürnberger Sausage (Rostbratwurst).
For a fantastic view over the entire Main Market Square, climb up to the balcony of the Church of Our Lady.
Have you ever been to a Christmas market in Germany? If so, which has been your favorite?
If you have any questions about visiting Germany or traveling with Worldpackers, I'd love to hear from you!