24 best places to go in Hawaii and feel the magical Aloha Spirit
Here are 24 of the best places to go in Hawaii, scattered across these 6 Hawaiian Islands: Big Island, Maui, Oahu, Kauai, Lanai, and Molokai.
9min
Hawaii is famously one of the best places to visit if you are travelling to the USA.
This tropical archipelago of islands in the Pacific Ocean hardly feels like it's part of mainland America, but it is. There are 6 main tourist islands and many other small islands and atolls that make up the Hawaiian Islands.
No matter which islands you visit, you are sure to encounter lush natural beauty and plenty of opportunities for fun and adventure. If you're wondering what are the best places to visit in Hawaii, this article will be of great use.
I'll list 24 of the Hawaiian best attractions, organizing the list into the 6 major tourist islands. If you are planning a vacation in the US, there are plenty of amazing volunteer opportunities in Hawaii as well. So be sure to check those out if you want an immersive cultural experience.
Hawaii can be an expensive destination, so make sure to check the article How much does a trip to Hawaii cost? Learn different ways to save money and check the entry requirements at Do I need a passport to go to Hawaii?
Best places to go in Hawaii Island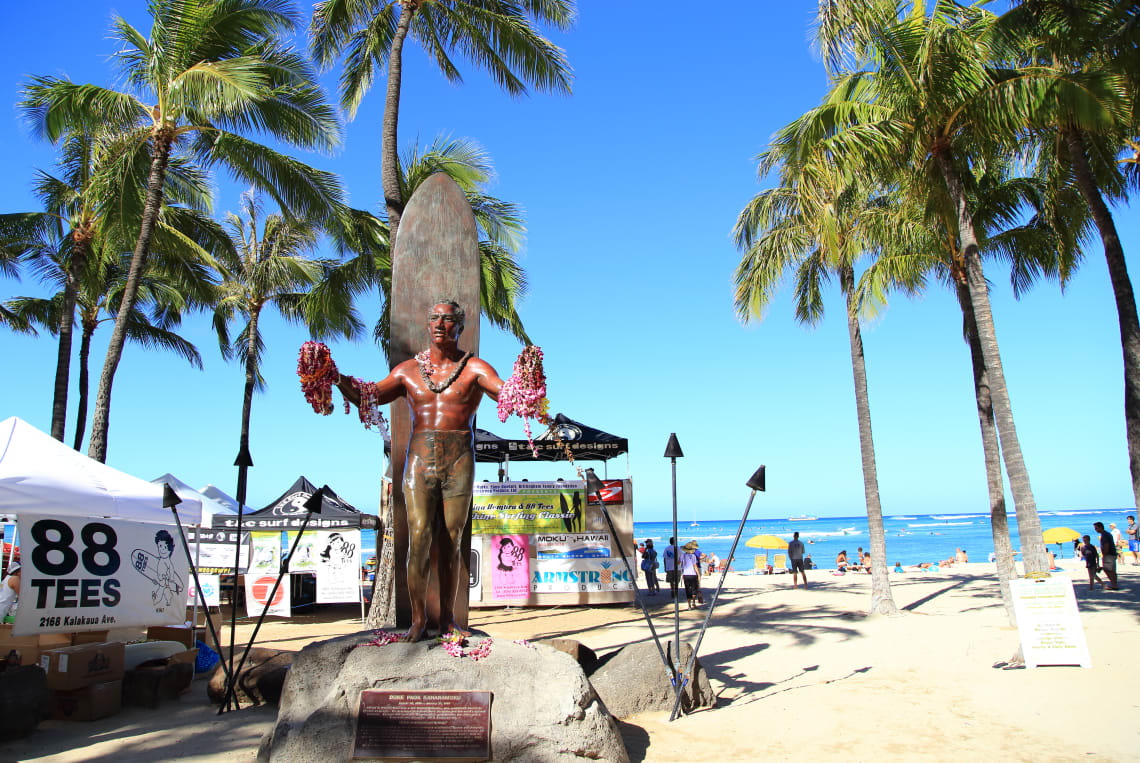 Also known as the Big Island, Hawaii Island is quite touristy and has lots of cool things to do. From volcanoes and beaches, to waterfalls and rainforests, here are the highlights of Hawaii Island.

1. Hilo
Hilo is a charming town framed by amazing natural sights. Check out the historic buildings including the Palace Theater, as well as the art galleries and local farmers market.
Other attractions in the area are the Boiling Pots which are volcanic basalt rock pools, and Wailuku River State Park which has stunning waterfalls.
2. Hawaii Volcanoes National Park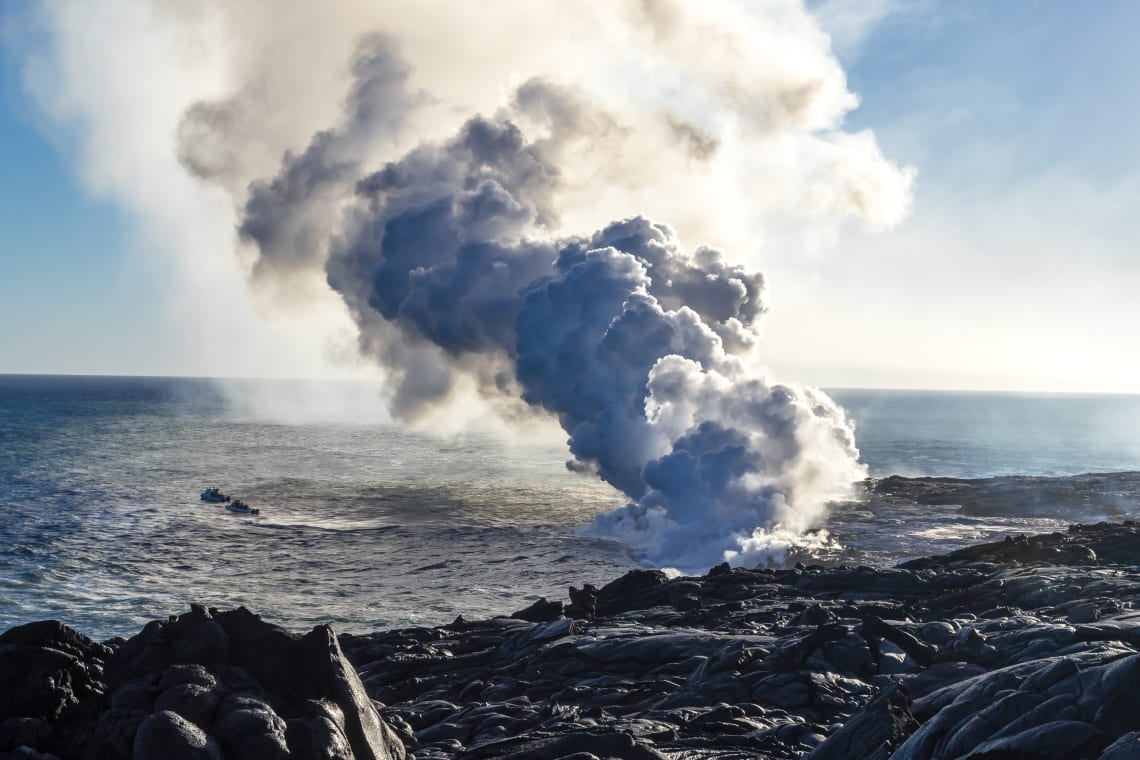 Easily one of the best places to visit in Hawaii, this area is packed with adventure and beauty. There are many hikes and tours available that will bring you to all the best sights, including active volcanoes, rocky craters, and hidden caves. For some of the craziest volcanic formations you'll ever see, Hawaii Volcanoes National Park is the place to be.
3. Farm at upland rainforest of Puna
Not very far from the volcanoes area, a sustainable farming project located at Puna Forest Reserve receives volunteers all year to help them to grow plants, cultivate gardens, or look after animals.

This is a pleasant way to stay in the islands longer and have a unique cultural exchange while visiting the best places in Hawaii.
4. Hapuna Beach State Recreation Area
On the Big Island, this is the perfect place for that tropical, white-sand beach view. Here you'll find soft, silky sand, clear turquoise water, and towering palm trees. The calm water is perfect for snorkeling, kayaking, and stand-up paddleboarding. This is one of the best places to go to in Hawaii with family, as the ocean is peaceful and kid-friendly.
5. Akaka Falls State Park
For a day of hiking and exploring in the tropical rainforest, visit Akaka Falls State Park. Located near Hilo on the Big Island, this park has multiple impressive waterfalls, gorges, and lots of flora and fauna. Immerse yourself in the tranquil serenity of nature and spend the day hiking, swimming, and having picnics.
Best places to go in Maui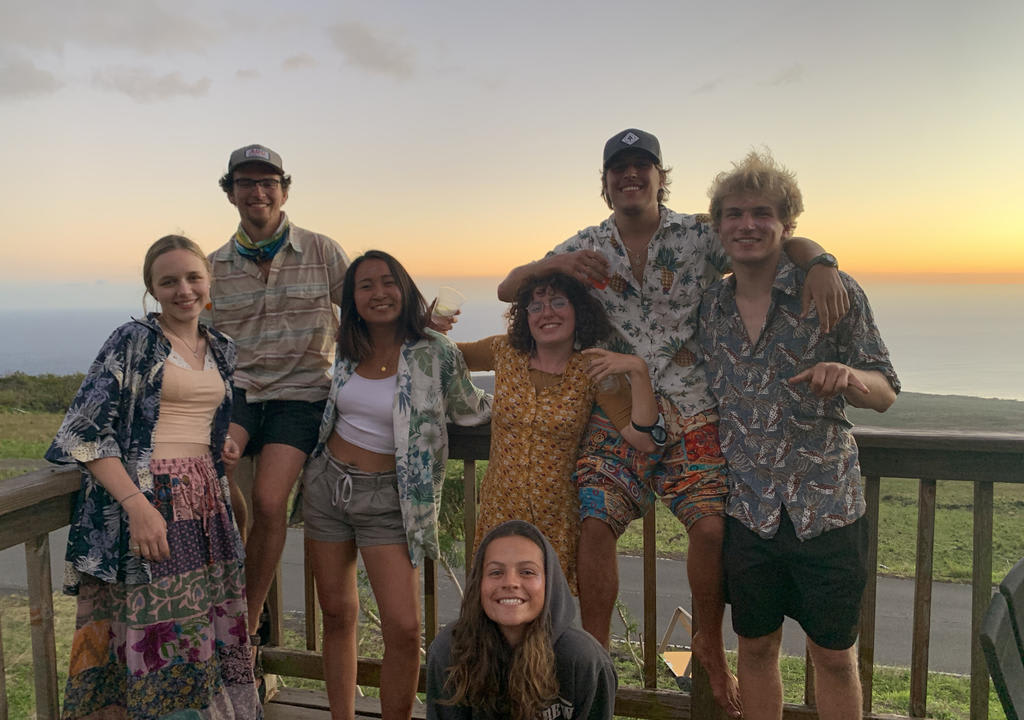 Maui is the second-largest Hawaiian Island, and one of the most popular. It's famous for its dramatic views and pristine beaches. Here are a few of the best places to go in Maui, Hawaii.
6. Haleakala National Park
For some of the coolest views in Maui, visit this national park. It is home to the impressive Haleakala Crater, which may be one of the most amazing spots in the world to watch a sunrise or sunset.
You can explore the Summit District, which has rugged rocks and barren deserts full of unique colors and wildlife. Alternatively, you can hike in the Coast District which is more luscious and green. You can go camping, trekking, and horseback riding, all while surrounded by nature.
7. Hamoa Beach
Maui has a long list of stunning beaches, but Hamoa Beach is one of the best. Framed by rich jungle and pumping waves, this is the perfect place to spend a day exploring, surfing, swimming, and relaxing in paradise.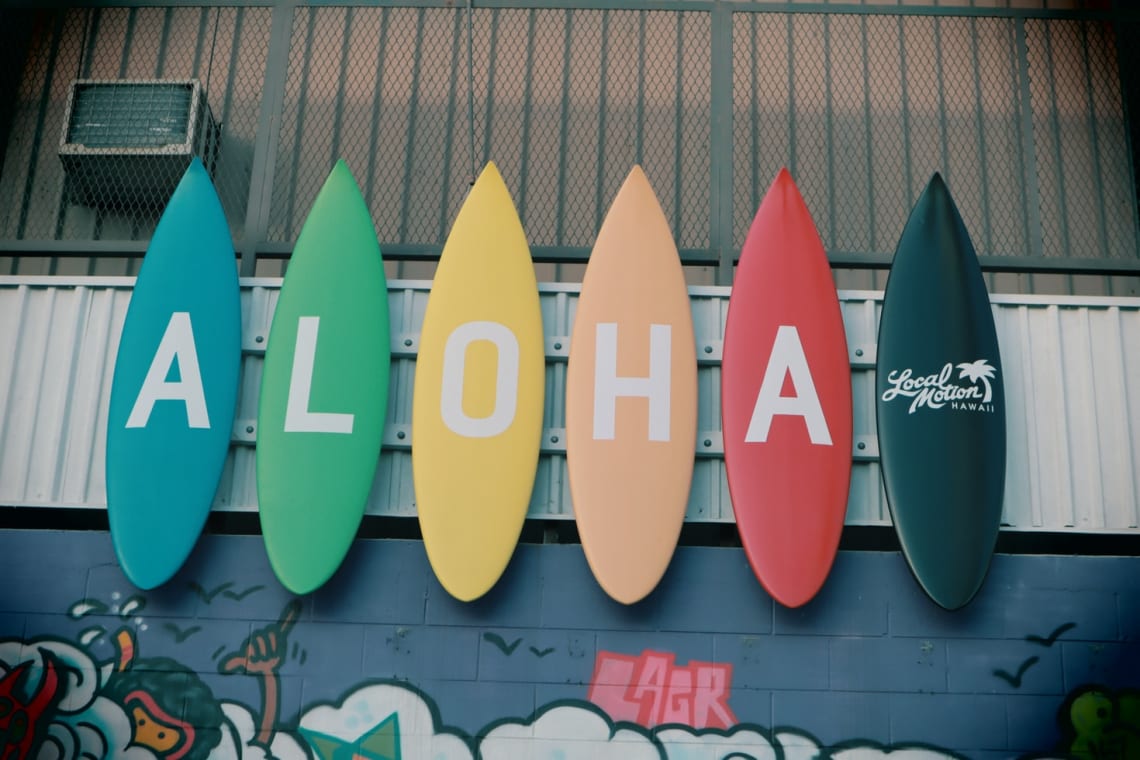 8. Kaihalulu Beach
This beach offers a different type of scenery than your average Hawaiian beach. Kaihalulu Beach has rich red sand and is set in a protected, rocky cove. You have to hike a rather dangerous trail to get there, but the secluded spot is colorful and jaw-droppingly beautiful.
9. Hana
Hana is one of the best places to go in Hawaii. And the road to Hana is considered one of the best drives in the USA. You'll pass lots of incredible scenery, including scenic lookout spots, bridges, and waterfalls all surrounded by jungle and ocean.
Aside from the drive, Hana offers lots of opportunities for exploring nature and trying water sports. Be sure to visit Wai'anapanapa State Park where you can snorkel, swim, fish, and admire crazy sights like unusual geological rock shapes, volcanic caves, and black sand beaches.
Best places to go in Oahu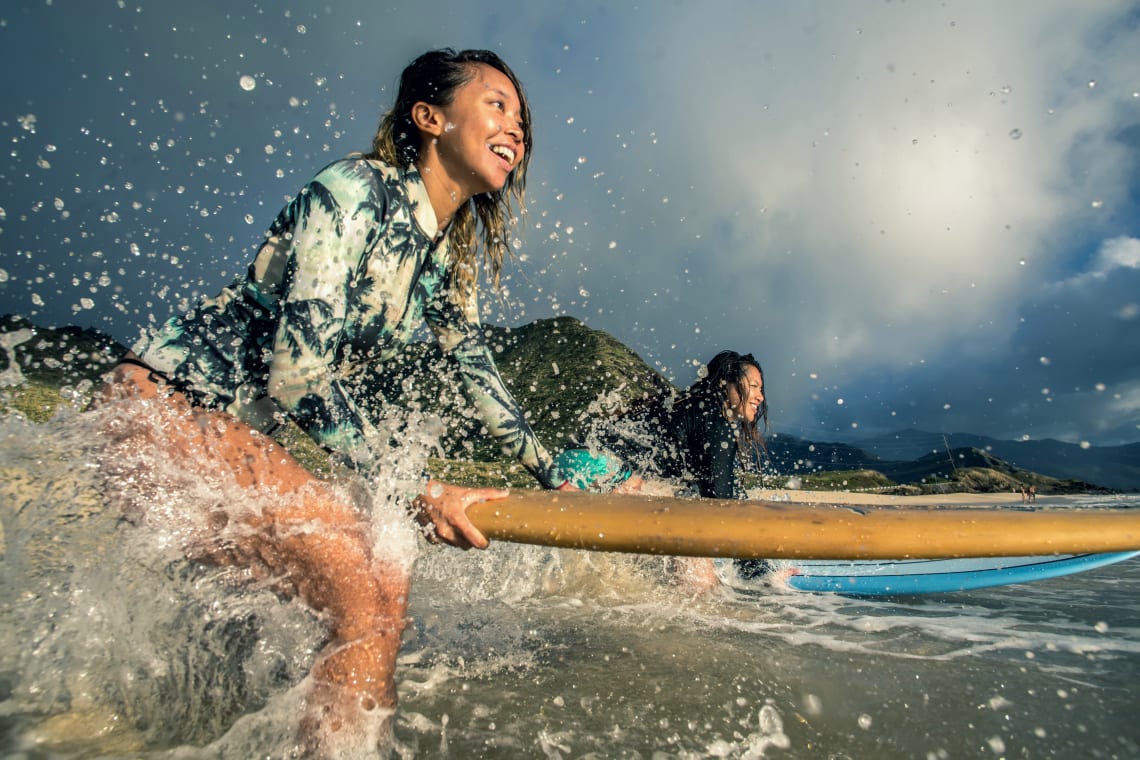 As the third-largest Hawaiian Island, Oahu is popular among travelers and surfers. There are lots of historic sights and incredible beaches on Oahu.
10. The North Shore
If you're a surfer, the North Shore of Oahu is easily one of the best places to go in Hawaii. The area is famous for its massive waves, and international surf competitions are often held here.
Even if you're not a surfer, it's cool to come here and watch the action. The North Shore also has a few laid-back towns and some more relaxed beaches where you can snorkel, swim, and enjoy the sunny weather.
11. Waikiki
This city on Oahu is very touristy and you'll find a lot of skyscrapers and nice hotels here. However, Waikiki Beach is known as the birthplace of surfing, and the waves and the vibe reflect that. You can enjoy the tourist scene and go shopping, sightseeing, and dining around Waikiki, or you can have a mellow experience and just relax on the postcard-worthy beaches.
12. Honolulu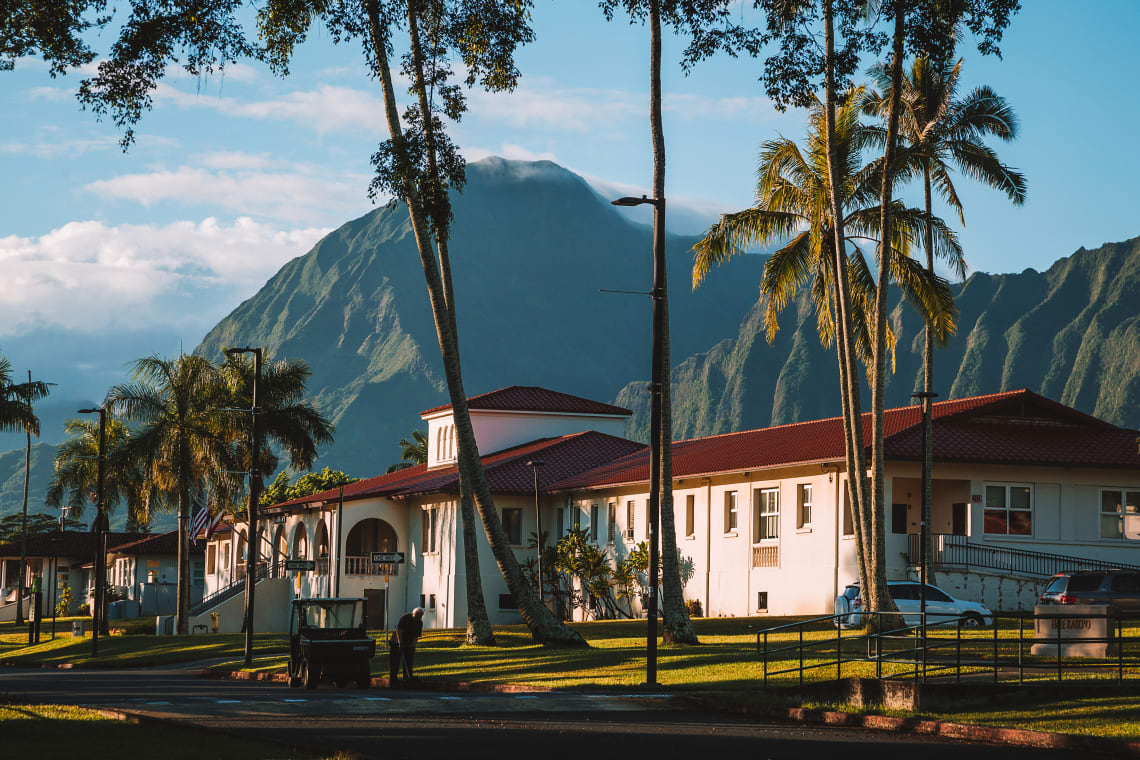 Honolulu is definitely one of the best places to go in Hawaii. It's the state capital and has lots of monuments and sights that reflect the history and culture of Hawaii. History enthusiasts can visit one of the many museums, visit the magnificent Lolani Palace, or check out the Pearl Harbor National Memorial.
If you're more of a nature enthusiast, you can head to the nearby dormant volcanic crater known as Diamond Head. Embark on a steep hike up to the top of the crater and enjoy some amazing views over Honolulu. Or hike through the forest to the majestic Manoa Falls.
13. Kailua
Kailua is a lovely town on Oahu that offers many fun activities. Soak up the sun and try some water sports at Kailua Beach Park or Lanikai Beach, which is a less touristy option.
Both beaches have picturesque views and are definitely worth visiting. Kailua town also has bustling farmers' markets and trendy little shops that you can check out.

You can enjoy this paradise volunteering in a hostel as a receptionist. From here you can rent a kayak and explore some of the offshore islands.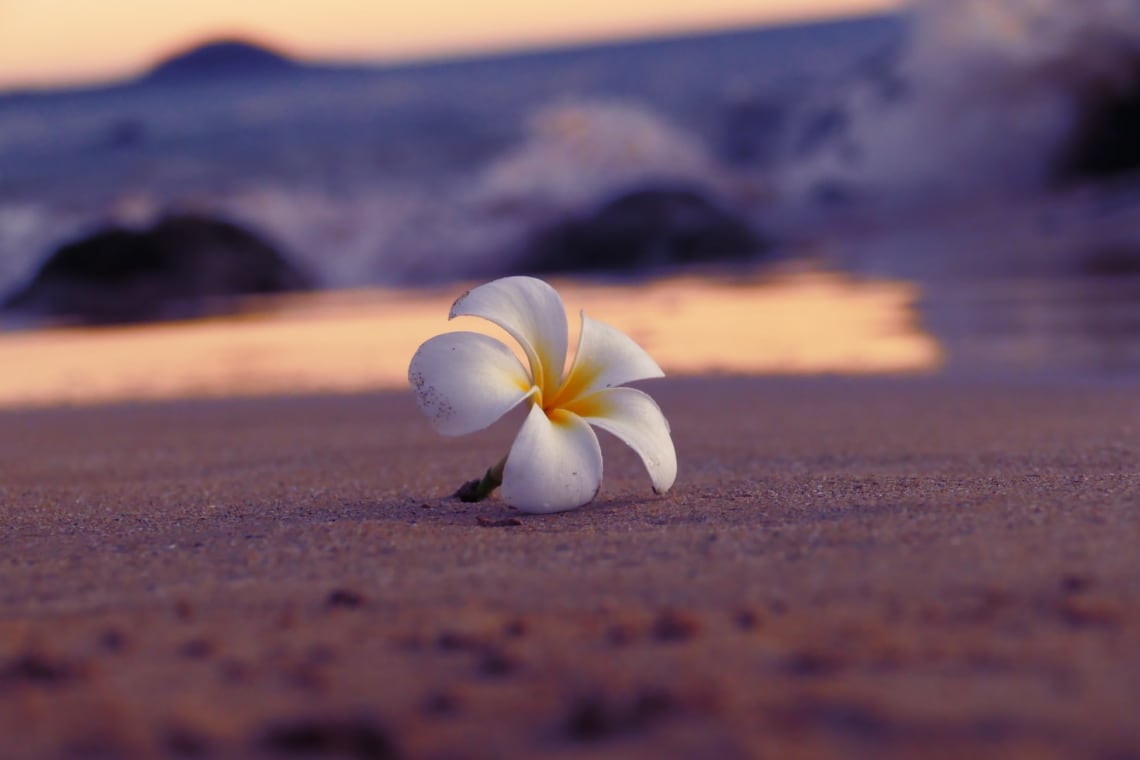 14. Hanauma Bay Nature Preserve
This is one of the most popular places on Oahu, to the point where over-tourism is an issue. People flock here because it is so gorgeous. Imagine a turquoise bay set within a volcanic cone. The area is heavenly for snorkeling and swimming and has been declared a protected conservation area for marine life. Because of the protections and the over-tourism, try to visit during the off-season and always respect the area. Leave it in better shape than when you arrived!
Best places to go in Kauai
This wild, untamed island is one of the best places to go in Hawaii for lovers of nature and adventure. Here are some highlights of Kauai.
15. The Na Pali Coast
Arguably one of the most impressive views in the Hawaiian Islands, the Na Pali Coast is mindblowing. With rippling, multicolored cliffs framed by the rich blue ocean, it is one of those spots that will have you in awe of Mother Nature.
You can hike one of the many trails in the area, with the Kalalau Trail being the hardest. You can also book a boat tour and see the cliffs from the water. The most expensive option is booking a helicopter ride over the cliffs, but it is definitely worth it if you have the money.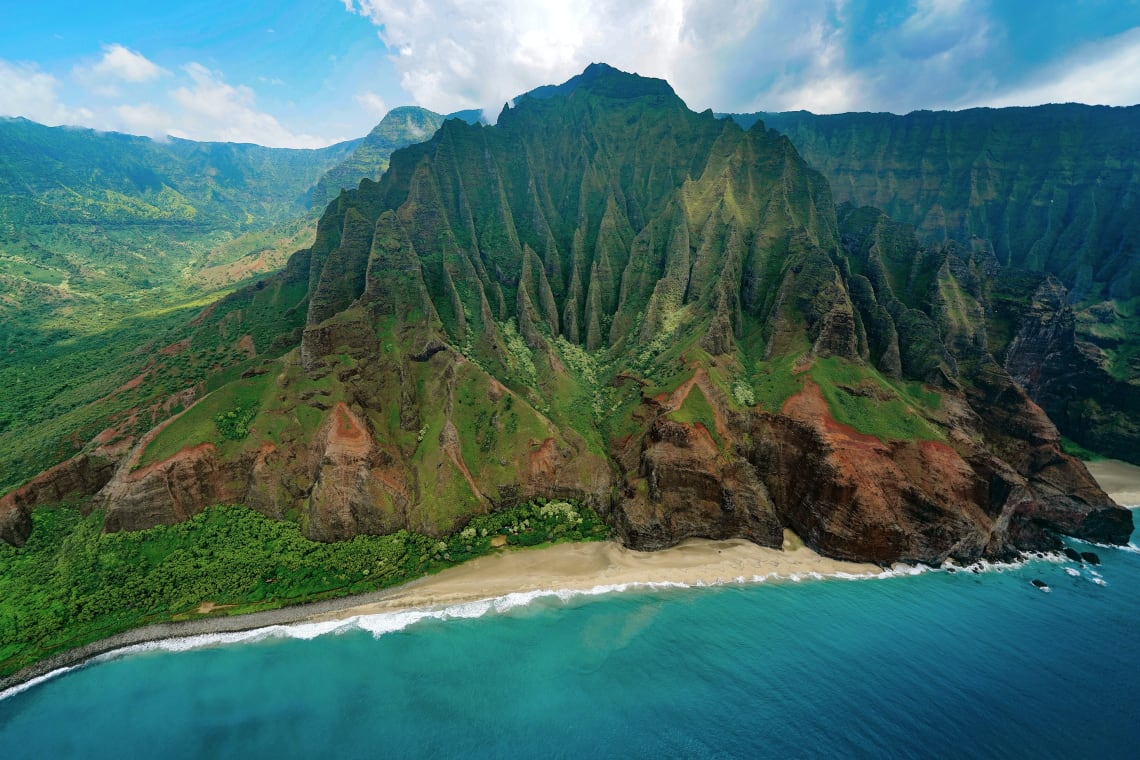 16. Wailua River
This river flowing through the heart of Kauai is one of the best places to visit in Hawaii. Framed by rainforests and waterfalls, the Wailua River is the perfect place for a day of adventure. Kayak or canoe along the water, have a picnic on the banks or hike through the forest in search of waterfalls.
17. Poipu Beach
Poipu Beach is one of the best beaches in Kauai. It has even been named one of the best beaches in America. If you are looking for a relaxing beach day on Kauai, especially if you have a family, Poipu Beach is a beautiful and serene place to go.
18. Waimea Canyon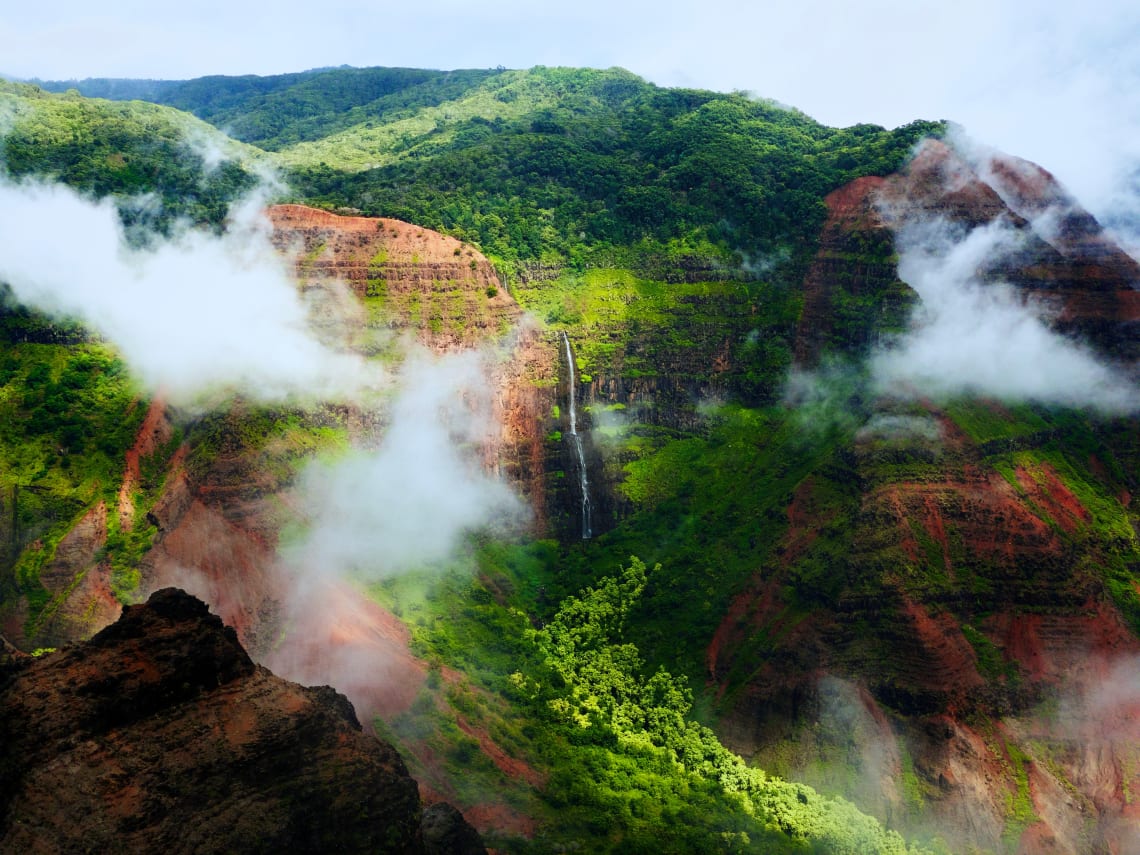 Another incredibly scenic place in Kauai is Waimea Canyon. Sometimes referred to as the Grand Canyon of the Pacific, Waimea Canyon is full of hills, valleys, waterfalls, flora, fauna, and lots of natural colors. It's a must-see if you're visiting Kauai.
You can hike, mountain bike, or just drive your car up and down the mountains of the canyon. Whatever your fitness level, be sure to see as much of the canyon as you can because every inch of it is impressive.
19. Queens Bath
Located on the northern shore of Kauai near the town of Princeville, this secret spot is breathtaking.
You'll have to ask around with some of the locals to find the exact trail, as it is unmarked. But once you find the forest trail, you can complete a short hike and find yourself on a jagged rock shelf next to the Pacific Ocean.
The area can be quite slippery at high tide with the crashing waves, so try to visit at low tide. Natural rock pools sit in the tall cliffs, so you can swim in little pools raised high next to the ocean.
Best places to go in Lanai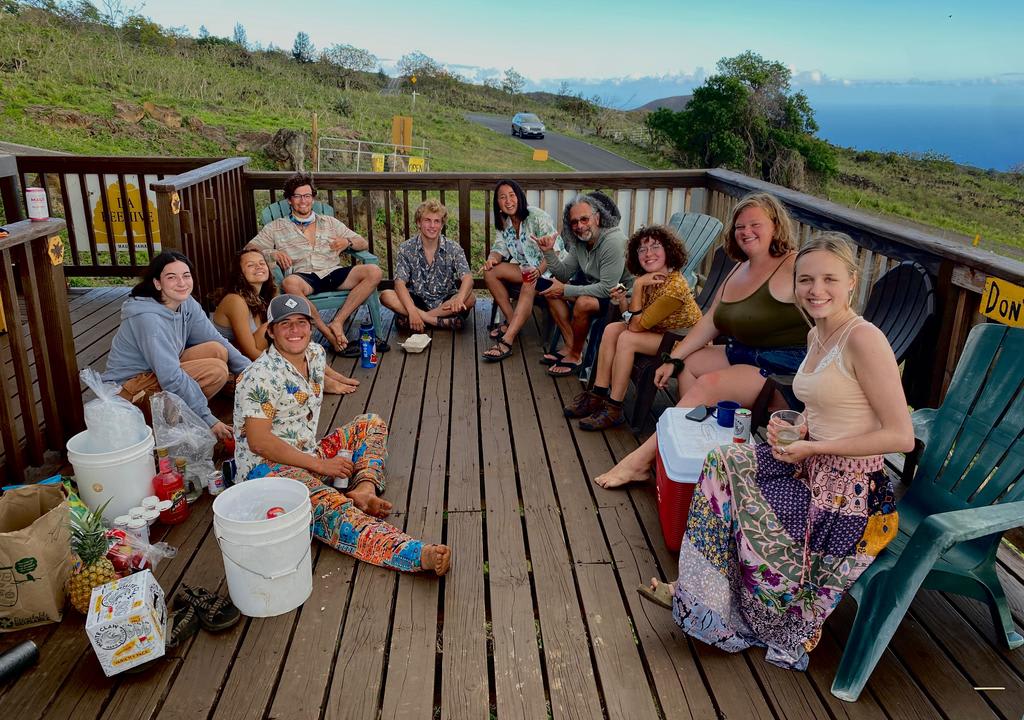 Lanai is a small and magical Hawaiian Island. You won't find as many crowds here, so it's the ideal place for a quiet, intimate holiday. Lanai is one of the best places to go in Hawaii for whale watching and dolphin spotting. Book a boat tour from anywhere on the island and you'll surely see some marine life!
Here are the other highlights of Lanai.
20. Garden of the Gods
Though this place is not a garden at all, Garden of the Gods is a fascinating natural sight. The wide, dry, and barren land is filled with unique rock formations and boulders that look other-worldly. Visit at sunrise or sunset for the most beautiful lighting.
21. Polihua Beach
At over 1.5 miles long, Polihua Beach is the island's longest white sand beach. Because it's so wide, it's easy to find a spot all to yourself. Unlike many of Hawaii's other crowded beaches, this spot is quiet and perfect for strolling or jogging on the sand.
You can also see the nearby island of Molokai from the shore, and on a clear day, you can see as far as Oahu. It's also common to see sea turtles, whales, and dolphins here as well.
22. Hulopoe Bay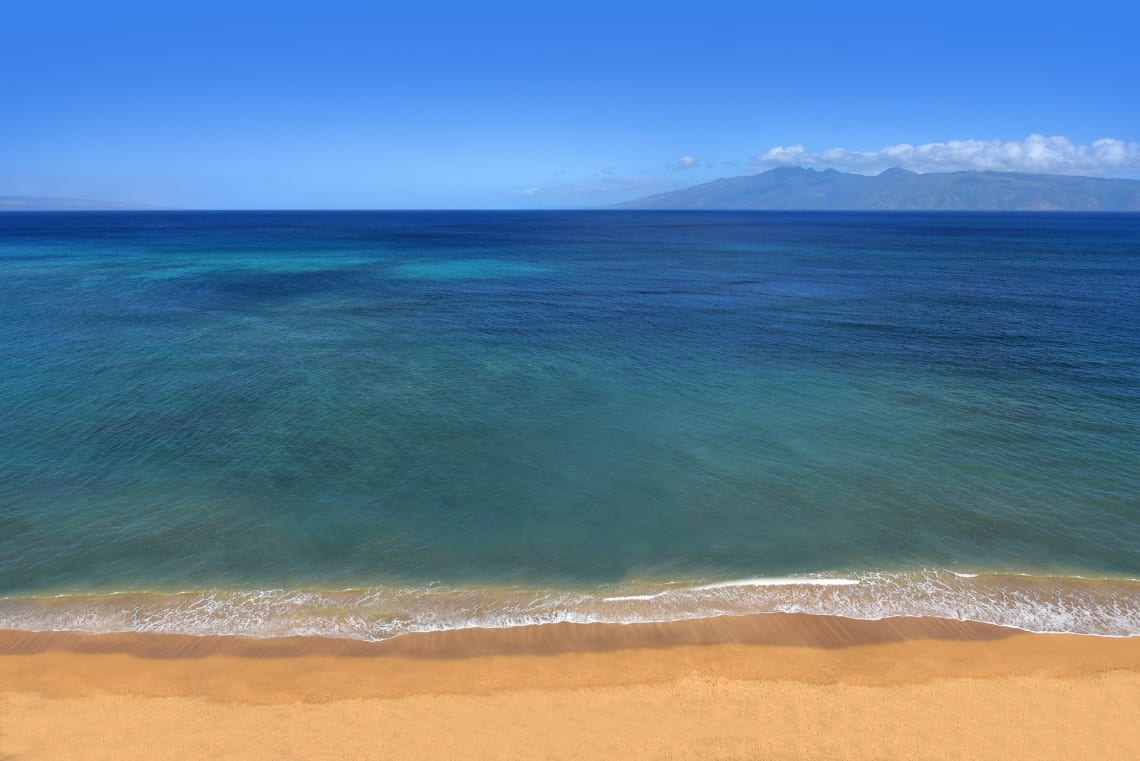 This is another one of the best beaches in Lanai. Hulopoe Bay is incredible for diving and snorkeling as the area is filled with colorful coral reefs. The waves are very rough here in winter, but you are more likely to spot whales off the coast. Save the diving and snorkeling for summer when the water is calm.

Best places to go in Molokai
Another one of the smaller Hawaiian Islands, Molokai is situated directly between Oahu and Maui. Here are the top things to do on Molokai.
23. Oloupena Falls
As the highest waterfall in the USA, and one of the highest in the world, this giant waterfall is extremely remote. You can only view the falls by air or by sea, as it tumbles out of a massive cliff face right over the ocean. So book a boat tour or a helicopter tour to see this fascinating sight.
24. Kalaupapa National Historic Park
Molokai's most famous attraction is this former Leper Colony set on a peninsula known as Kalaupapa National Historic Park. The area used to be a fishing village but became a leper colony in the 1800s. Nowadays, you can take a mule ride down the steep, oceanside cliffs and take in the dramatic views.
Hawaii's beaches, waterfalls, and beautiful weather have made it a prime tourist spot. Despite being part of the USA, the island has its own distinct culture, and is worth a long term trip. Doing a volunteering exchange is probably the most unique way to enjoy all of this!

Now you know the best places to go in Hawaii, keep traveling through our blog. Read The ultimate Worldpackers USA travel guide and become an expert!