Best places to stay in London: travel for cheap while enjoying sightseeing and the nightlife
A guide to the best places to stay in London based on what you are looking for! Here are some of the top neighborhoods for saving money, experiencing local life, exploring London for the first time, and more.
6min
London is without a doubt, one of the world's greatest cities. As the capital city of the United Kingdom, it is a sprawling metropolis that is a huge cultural and financial hub for travelers and locals in England.
Many people stop through London for layovers, or maybe they'll spend a few days there in between trips around Europe. But taking the time to really explore London and all its different neighborhoods is an incredible idea! The city is huge, with 32 different boroughs and many different neighborhood within each borough.
London is such a unique city that is full of history but is also modern. You can find giant skyscrapers, high-end shops, and pumping nightclubs right next to a quiet, cobblestone street and a Victorian-era church. You can find street art, open-air markets, scenic lookouts, busy public squares, live music, interesting shops, free museums, and so much more in London.
No matter what type of experience you are looking for in London, whether it be sightseeing, partying, or exploring London on a budget, you can find a great location to stay. This article will explain which are the best places to stay in London.

We also recommend trying some Worldpackers work exchanges during your stay in the UK. This is a great way to have a local experience. When you do a work exchange, you can live with and work amongst locals.
Whether you want to do a work exchange in London or elsewhere in the UK, this is a fabulous way to learn more about the culture and lifestyle of Great Britain. You'll also save money on accommodation, which you can spend on more fun activities in London.
So let's dive into our list of the best places to stay in London!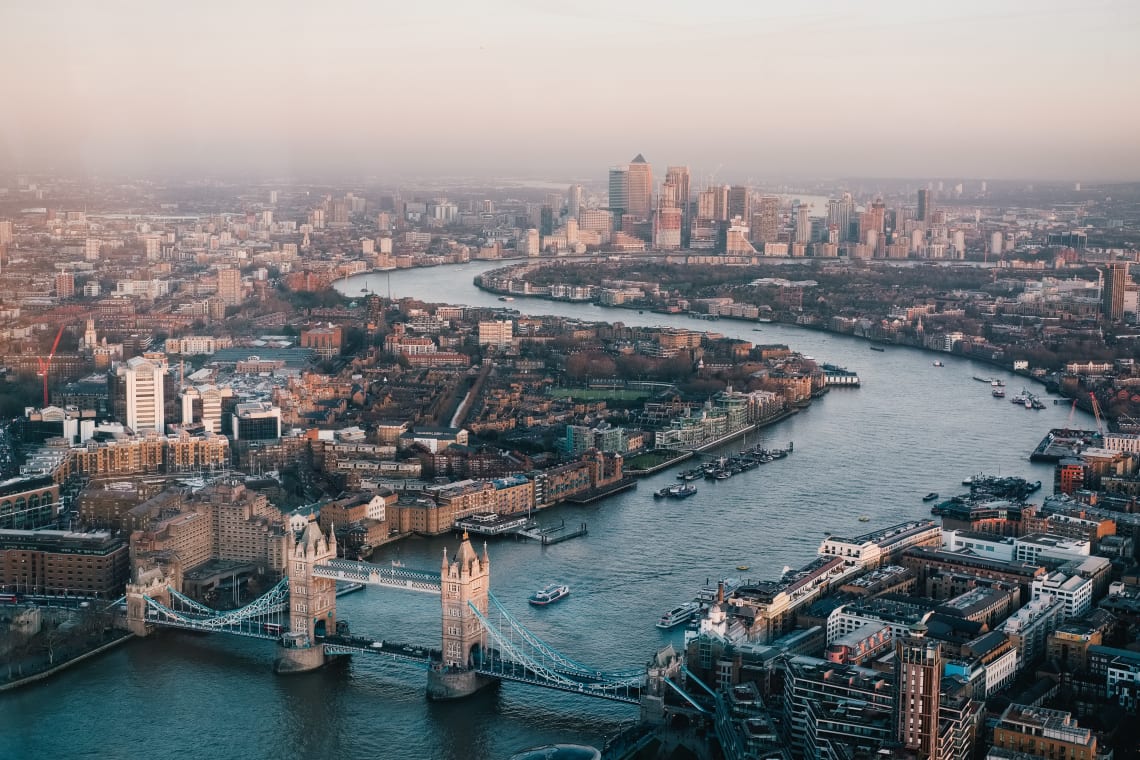 Best places to stay in London, England
Within London's 32 different boroughs, there are lots of incredible neighborhoods that offer something different to travelers.
When wondering which neighborhood of London is best for you, consider what type of trip you want to have. Is it your first time in London? Do you want to do lots of sightseeing? Do you want an authentic local experience? Do you want to enjoy the nightlife or save money?
We will explore all of those different experiences in this article, and describe which London neighborhoods are the best options for each category. Let's get started!
Best places to stay in London for first timers
If it's your first time in London, you'll want to be right in the middle of the action so you can see as much as possible.
Public transport in London is very straightforward, and if you plan on venturing outside the touristy areas you'll need to take the bus or the tube (which is their word for the metro/subway).
But since it's your first time in London, try to minimize your travel time, stay right in the city center, and just soak it all in!
South Bank
The South Bank is one of the top touristy areas of London. It is right in the center of the city and runs along the south bank of the River Thames.
There are lots of attractions here such as the London Eye, Shakespeare's Globe, The Shard, Borough Market, Southwark Cathedral, Tate Modern Art Museum, and lots of cool bridges, markets, and lookouts.
At night the South Bank lights up in twinkly lights, and there are lots of bars and restaurants around.
Covent Garden
On the north side of the Thames River in central London is another hotspot, Covent Garden.
This is one of the best places to stay in London for first timers. It has lots of pedestrian-friendly streets lined with shops and cafes. Covent Garden even has its own piazza, complete with an indoor market hall that often has live music and themed events.
Covent Garden is also within walking distance from highlights like Trafalgar Square, Piccadilly Circus, and the entertainment of the West End.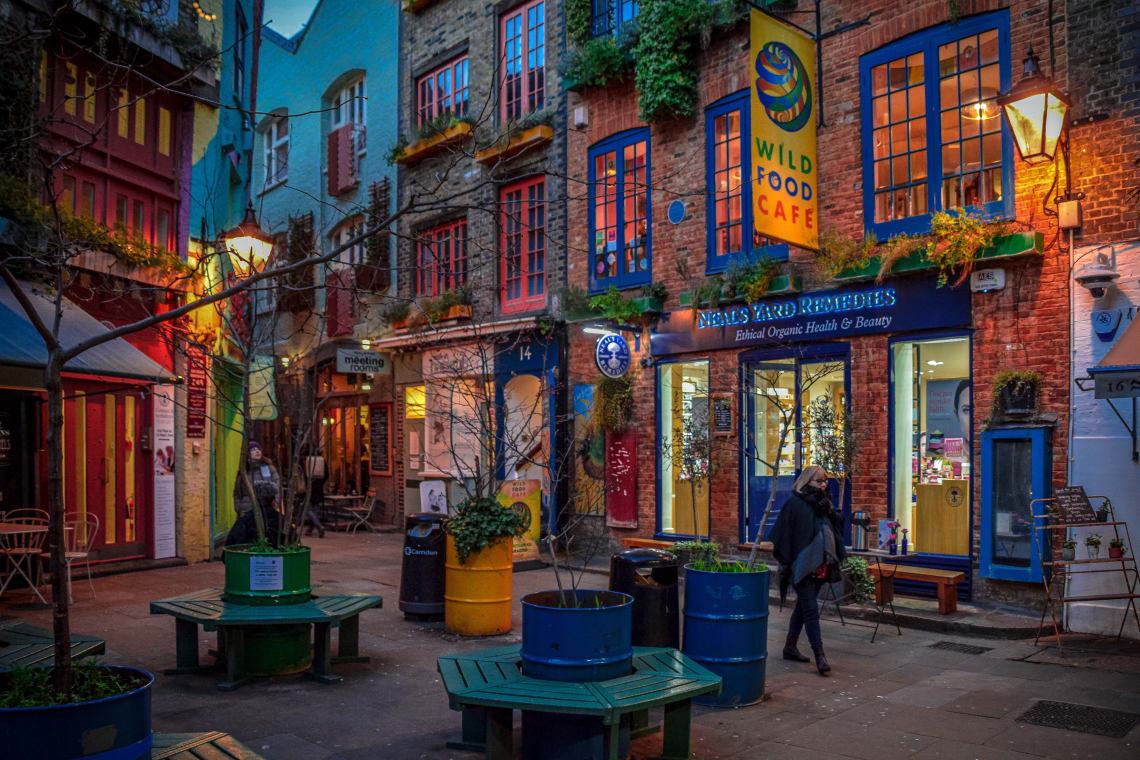 Best areas to stay in London for a local experience
Of course, locals are scattered all over the city, even in the main touristy areas. But these neighborhoods are great for a local experience because they are slightly less touristy, however they are still centrally located.
Local activities such as seeing a football game, heading to the pub, shopping at the local markets, and enjoying the parks can all be found in these areas of London.
Kensington
Located in western Central London, Kensington and the nearby areas of Chelsea, Paddington, and Notting Hill are gorgeous areas of the city. But they are all pretty expensive neighborhoods of London, so you won't find many backpackers staying around here.
Cool things to do in Kensington include checking out Hyde Park, visiting the museums and the Royal Albert Hall, seeing Holland Park and the Japanese Garden, and exploring Chelsea.
Angel
Angel is located more in the north of Central London. It is still touristy, but not nearly as much as Soho or Covent Garden. It is slightly more affordable than the city center as well.
Packed with international and local businesses and restaurants, there is lots of fun to be had in Angel. Chapel Market is the best place to buy affordable local produce, and Camden Passage has lots of cool boutiques and shops for checking out the local fashions.
Where to stay in London for sightseeing
Because London is so huge and the attractions are spread out, anywhere in Central London could be good for sightseeing depending on what you want to see!
But here are two of the best central areas for sightseeing in London. Both of these areas have lots of public transport options so you can reach further sights as well.
Westminster
Situated on the western side of Central London, Westminster is one of the best areas to stay in London for sightseeing. It is quite touristy and home to lots of great museums, parks, and monuments.
Popular landmarks in and around Westminster include Big Ben, the Houses of Parliament, Westminster Abbey, Buckingham Palace, St. James's Park, and Hyde Park.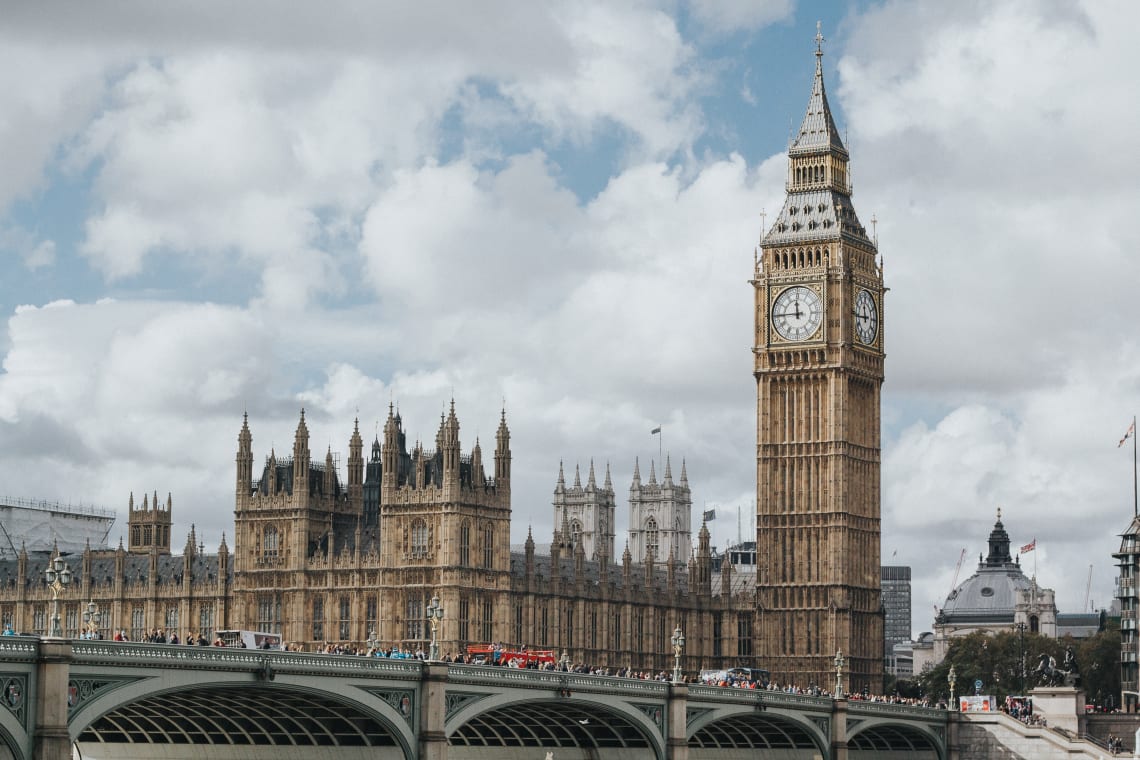 City of London
City of London refers to a central neighborhood of the city. It is on the eastern side of Central London, so it's a convenient spot for exploring the eastern half of the city.
Sights near City of London include Tower Bridge, the Tower of London, the Shard, Sky Garden, The Gherkin, and St. Paul's Cathedral.
Where to stay in London to enjoy the nightlife
There is amazing nightlife all over London! Whether you want to drink, eat, dance, listen to live music, go to the theatre, or do anything in between, there is so much to do in London at night.
Here are two places to stay in London where the entertainment and nighttime activities are almost always thriving. These neighborhoods are especially popular among young people and travelers who want to have a good time.
Soho
Soho is one of the most fun areas of central London. There is always something to do at night in the busy streets. From jazz clubs, to classic pubs, to wine and cocktail bars, there are plenty of places to eat, drink, dance, and listen to live music.
Soho is also near Shaftesbury Avenue and other streets in the West End. These areas are known for entertainment and theatre. Catch a concert, a musical, a play, a comedy show, and more.
Shoreditch
Located in eastern London, Shoreditch is an up-and-coming neighborhood. It's also one of the best places to stay in London for nightlife!
Shoreditch is known for its young community filled with quirkiness and creativity. Here you can find street art, vintage stores, art galleries, trendy eateries, live music venues, coffee shops, fashion stores, eclectic clubs, and so much more.
Best budget places to stay in London
London is quite an expensive city, but you can stay here on a budget if you plan accordingly. Some areas of London are cheaper to stay in than others.
So if you're wondering where to stay in London on a budget, here are two great options.
Camden Town
Camden Town is just north of Central London, and because it's a bit further away from the hustle and bustle, it's a bit cheaper. Accommodation is more affordable here, and there are lots of cheap eateries including the famous Camden Market.
Even though it's cheap, Camden Town is still a super fun place to stay. There is great nightlife here, and there is often live music in the area.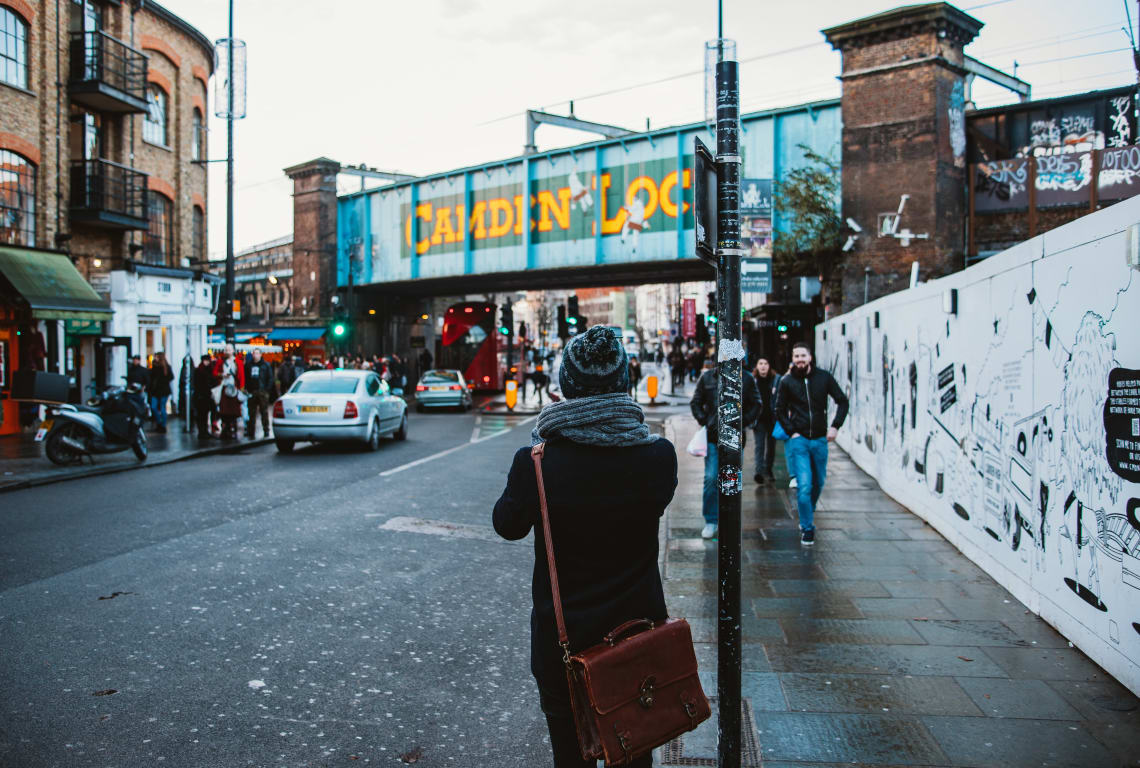 Spitalfields
This charming neighborhood of eastern London is another one of the best budget places to stay in London. Spitalfields has a huge international community and everything is a bit more affordable here than right in central London.
Spitalfields Market is an awesome place to shop and sightsee in the area. There are stalls selling heaps of local goods and food, all of which are much cheaper than the ritzy areas of London like the West End and Kensington.
Thanks for reading our list of the best places to stay in London!
It's an incredible city in the UK, and there is so much history, culture, and cuisine to find here.
Want to learn more about planning your trip? By subscribing to the WP pack plan you have unlimited access to +120 courses at Worldpackers Academy, the travel school made by travelers!