The 10 best places to volunteer in Central America
In this one tiny part of the planet you can tick off more bucket list items and take more than enough Instagram selfies to last a lifetime, but be careful. You may not want to leave.
13min
Central America is sometimes overlooked as a mere bridge between North and South America, yet it should be on everyone's travel destination list. Not only is it beautiful and full of adventure, but there are also so many amazing volunteering opportunities in Central America to make your stay even more magical.
Before we jump in, it's worth mentioning that the description of which countries constitute Central America can be confusing. Some lists contain only the seven countries on the land strip, while other definitions also include islands from the Caribbean, including Cuba, Jamaica and The Dominican Republic.
For this list, I'll discuss some of the classic seven, and then some 'honorable mentions' — there's so much beauty squeezed into that part of the planet, that it would be silly to ignore it.
The standard definition of Central America is made up of seven Spanish speaking countries — Belize, Guatemala, Honduras, Nicaragua, El Salvador, Costa Rica and Panama. Central America is home to 42 million people, 7% of the entire planet's biodiversity, history dating back 12,500 years and some of the most idyllic beaches in the world.
If green is your color, there aren't many finer places on the planet. If you volunteer in Central America you'll see mammals, reptiles, insects and plants that will blow your mind! You'll also meet salt of the earth people with hearts bigger than their personalities.
The opportunities to volunteer in Central America aren't limited to just nature. Central America is a region that still faces economic problems and most of the population lives in poverty. This means there are great opportunities for helping NGOs, social projects, and local communities.
So your juices are flowing, you've packed your bikini and insect repellent (you'll need it)... but where to begin? Let's have a look at the 10 best cities to volunteer in Central America.
10 best cities to volunteer in Central America
1. Semuc Champay, Guatemala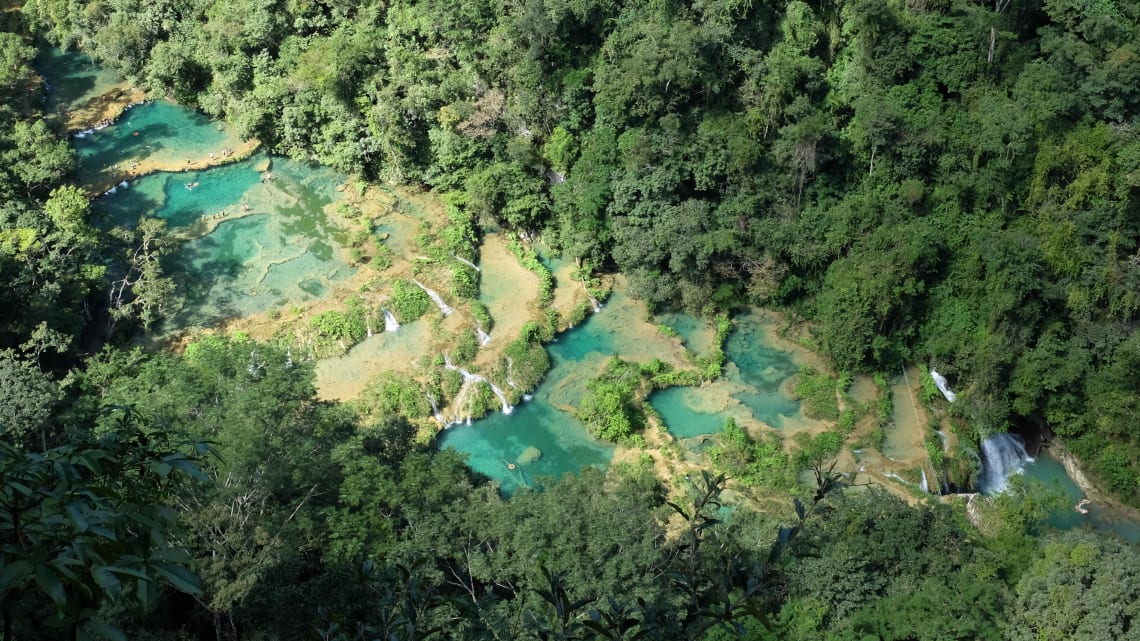 Let's start with a little bit of paradise. Technically, Semuc Champay isn't a city, but it deserves high honors on this list.
Guatemala was once the heart of the Mayan Empire — until being conquered by the Spanish in the 16th Century. The mid 19th to 20th century wasn't the best time to be there either, with civil unrest, dictators and military coups. Thankfully things are peaceful now, and people are able to appreciate the amazing natural beauty throughout Guatemala.
A seven hour drive from the country's capital, Guatemala City, Semuc Champay is one of the true gems of Guatemala. Breathtaking turquoise pools and lush green mountains. Relax, dive, hike, swim through natural caves or ride down the river on a rubber tube. If you love nature, you need to go!
The nearest town is called Lanquin, from where you can book tours and hikes, although it's easy and cheaper to do it all on your own. I'd also recommend going during the low season to avoid the crowds. Low season is from June to November and although it may rain a little more, it's just as stunning and much more peaceful.
Worldpackers has some amazing opportunities to volunteer in Semuc Champay. Whatever your skillset, they've got you covered. From working hostel reception to behind a bar, farming and gardening to teaching yoga.
This means free accommodation, engagement with the local community, a chance to practice your Spanish... and all this with paradise at your front door.
Sound good? Thought so.
2. Drake Bay, Costa Rica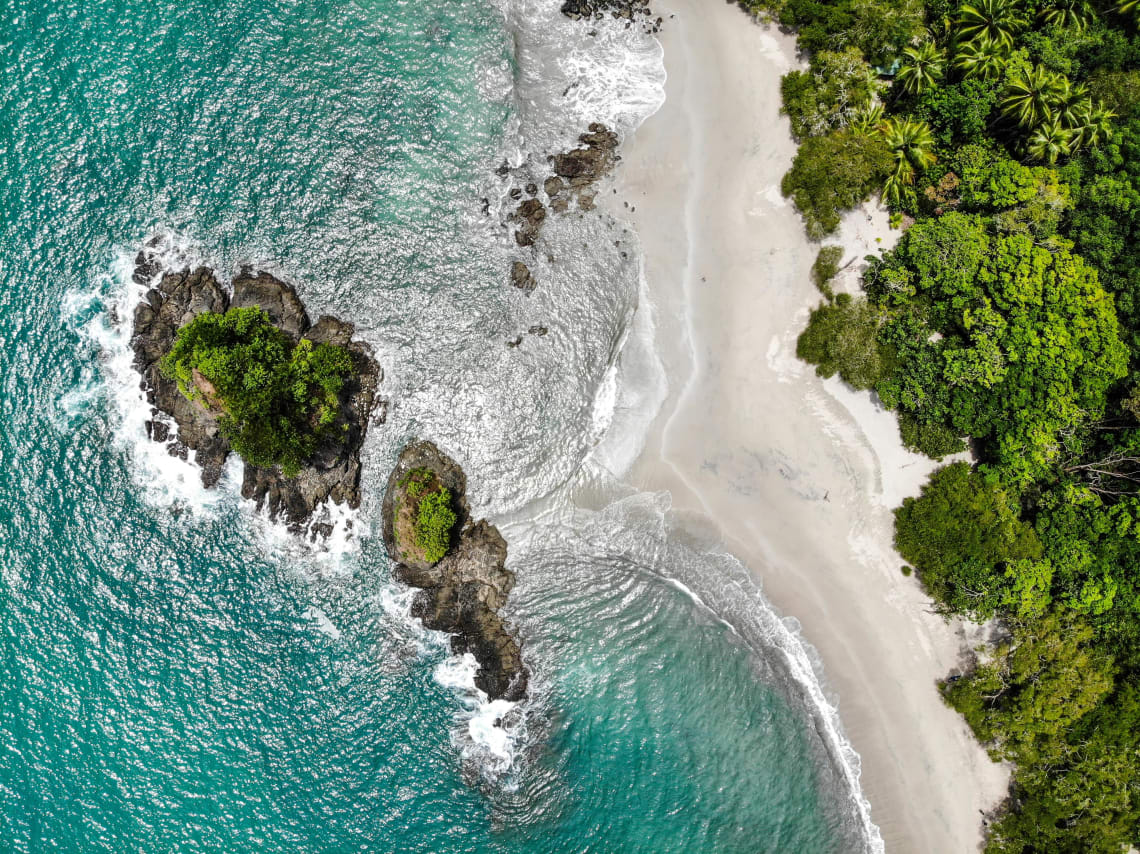 Perhaps the most well-known country in Central America, Costa Rica is a nature lovers paradise. One of only a handful of countries with no standing army, ranked as the best-performing country in the Happy Planet Index (due to 98.1% of its electricity being generated from green sources) and home to beaches ranked as some of the best in the world. It ticks plenty of boxes.
Drake Bay is located in the north of the Osa Peninsula and, although only accessible by plane or boat, do not let this put you off! Fly from the capital, San Jose, or take a boat ride from the small town of Sierp. Once you arrive, you'll be in tropical paradise.
Take a hike to Playa San Josecito and take some incredible Instagram selfies, get up close and personal with whales and dolphins due to the almost year-round breeding grounds, kayak up the river with some little crocodiles or eyeball the local wildlife on a tour of the Corcovado National Park.
The one downside it that Drake Bay, due to the isolated nature, can be a little expensive. How to get around that? VOLUNTEER!
Worldpackers has a fine selection of projects, again catering for all talents. Bartending, farming, painting murals, cooking and cleaning. Work a few hours a day and then experience heaven for the rest of the evening. Most people only get to spend a week maximum here, rushing around from activity to activity. If you choose to volunteer at Drake Bay you can do as much or as little as you want, whenever you choose.
3. Panama City, Panama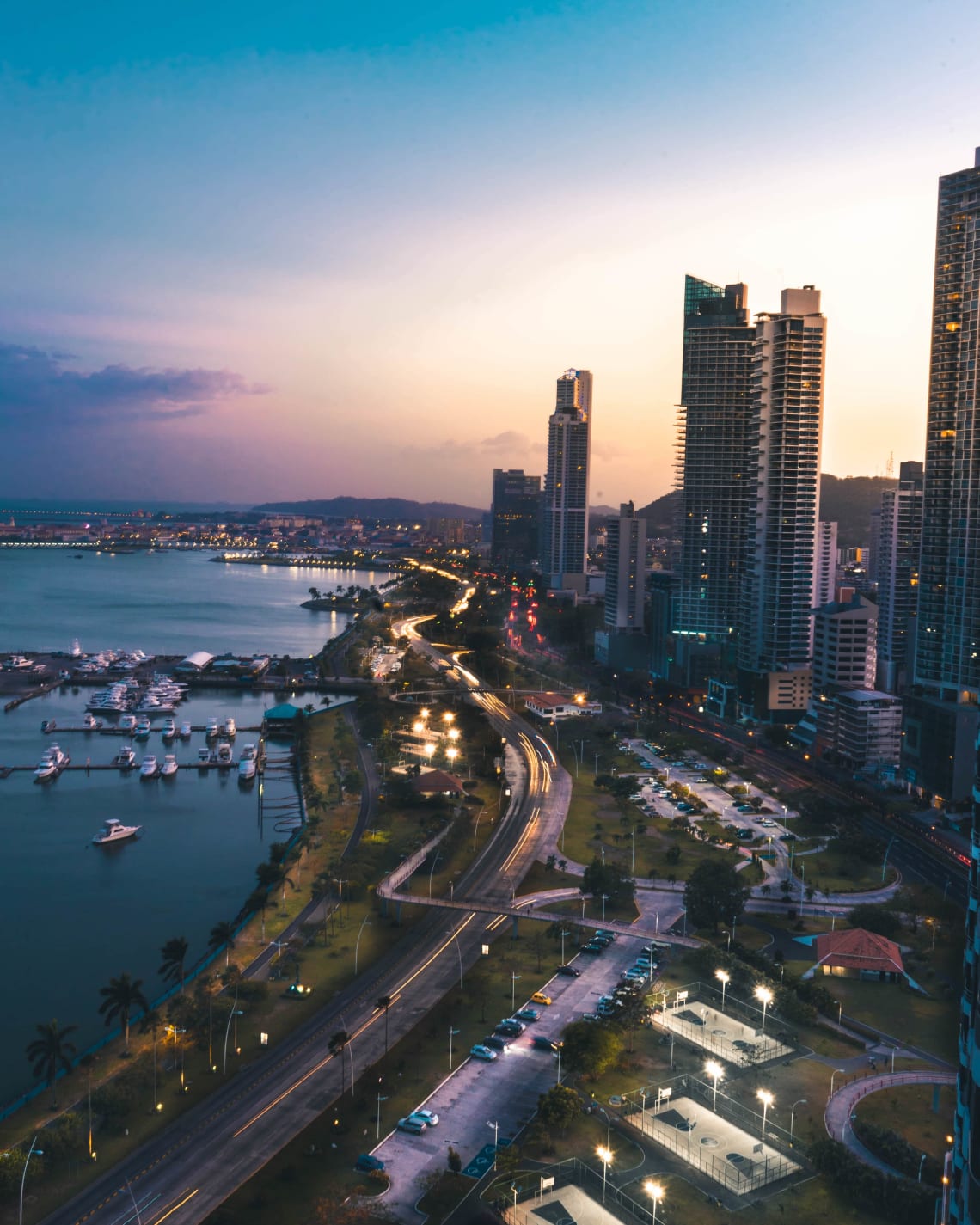 The capital of Panama houses almost half the country's 4 million people. A perfect tropical climate, some of the most diverse species of plants and animals in the world, and the reason why Scotland formed a union with England... wait... what?
The Darien Scheme was an attempt to establish a Scottish colony in Panama. It failed and ultimately bankrupted Scotland, leading them to sign a union with England. I bet you didn't expect to learn that while reading about volunteering in Central America!
It takes approximately 2 hours to drive across Panama, so wherever you base yourself, it's easy to get around and explore this lush, green country (and the 300+ tiny idyllic islands made famous during the Survivor TV series). Back on land, if nightlife is your thing, take your pick from a multitude of micro-breweries, trendy bars or dance the night away to whatever music floats your boat.
Staying in Panama City will also allow you to tick off one of the Modern Wonders of the World from your bucket list — The Panama Canal.
The opportunities to volunteer are as varied as the wildlife. Fancy being a tour guide around the 300 paradise islands? Photographers and videographers, web designers, carpenters, handymen... all can earn their accommodation whilst being surrounded by such diverse beauty.

Check out the 10 best things to do in Panama before you travel.
4. Costa del Sol, El Salvador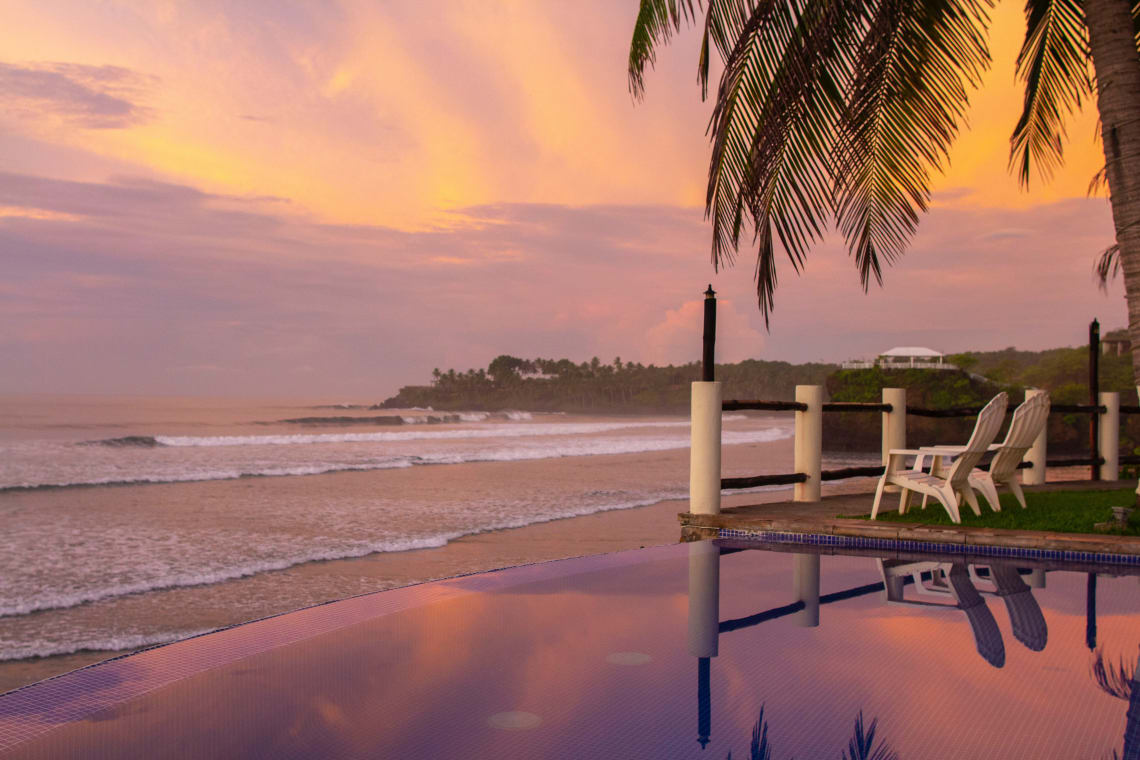 The smallest of the Central American countries, it still packs a punch. Less traveled than the other countries in the region, it has more than enough to keep you busy. Volcanoes to hike, beaches to bronze on, National Parks to explore, waves to surf and plenty of UNESCO listed Mayan ruins to investigate. And due to the lack of tourists, you won't be elbowing people out of the way to get that perfect temple selfie.
If you want to escape the hustle and bustle of the city, head to Lago de Coatepeque. A 10-mile wide lake in the crater of a volcano. Here you can scuba dive, fish or even hire a jet ski... and if jet skiing across a volcano isn't on your bucket list, add it now!
Costa del Sol is just 30 minutes from the capital, San Salvador. Here you'll discover dreamy white sand, water sports, a surfers paradise and spectacular wildlife hidden amongst the Jaltepeque estuary mangroves.
Volunteering in Costa del Sol provides the perfect basecamp. Beaches at your doorstep, 30 minutes from the capital and only an hour or two to the various volcanoes should you wish to hike up them (the views are incredible!)
Eco-villages are where the fun is at, and they're crying out for workers of all varieties. Get back to nature with some gardening or farming. Make a real difference in the community by teaching a language, sports or art, or get your creative juices flowing with your photography, painting or music.
5. Turrialba, Costa Rica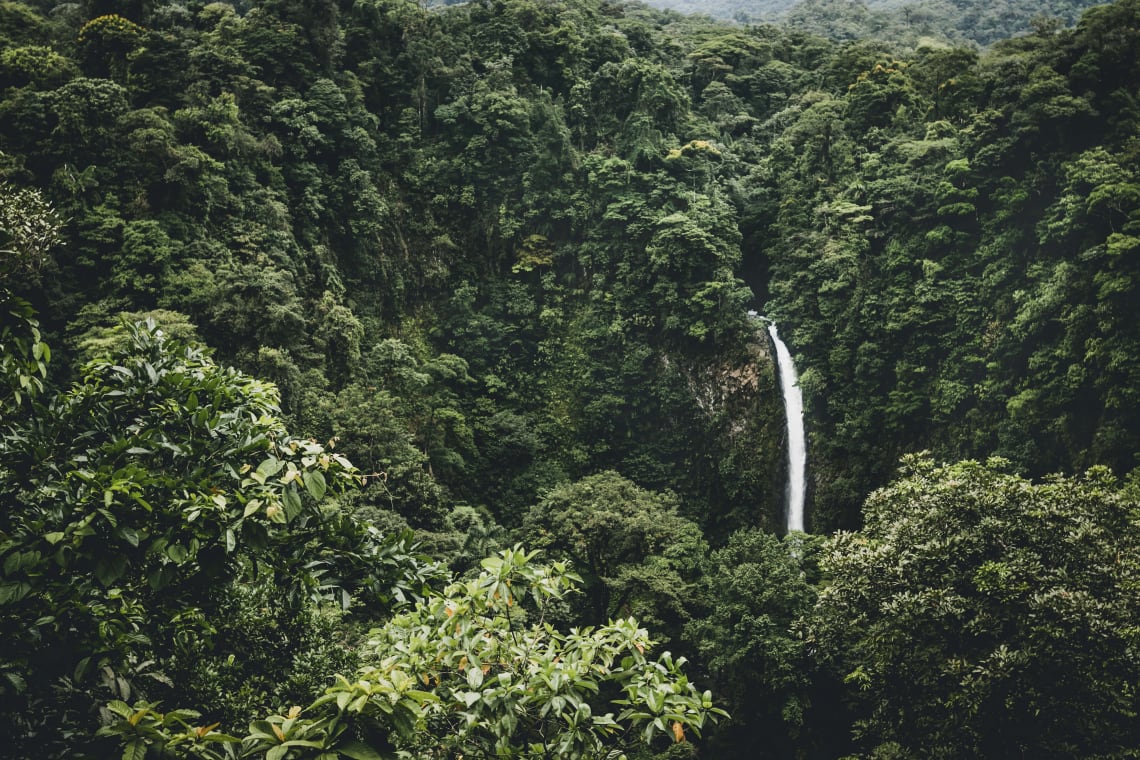 It's back to Costa Rica again, but this time let's get away from the beaches (the sand gets everywhere!) and come inland.
We spoke previously about the sun, sand and surf, but step away from the coast and you enter a land of National Parks, breathtaking treetop canopies, volcanoes, mountains and adventure sports.
Turrialba is around 2 hours east of the capital, San Jose, in the Cartago Province. The Pacuare and Reventazon Rivers run through it and are world famous for whitewater rafting, whitewater kayaking and riverboarding. People travel here from across the world to get their adrenaline fix, and what better place than a river flanked by dense rainforests inhabited by jaguars, ocelots and howler monkeys?
If warm-blooded creatures aren't your thing then Turrialba is home to Serpentario Viborana — a snake rehabilitation centre (who knew snakes needed rehabilitating?) They care for mistreated, injured, orphaned and confiscated snakes and, once rehabilitated, they're released back into the wild. A wander around the center will leave you with a much greater respect for these fascinating animals.
While you wait for your adrenaline levels to drop again, why not volunteer at a Spanish School and watch your language skills skyrocket, get outside and help with the gardening and maintenance, or get the party started with your promotional and social media skills. Then when your shift is over, get back out there and ride that wave!
6. Moyogalpa, Nicaragua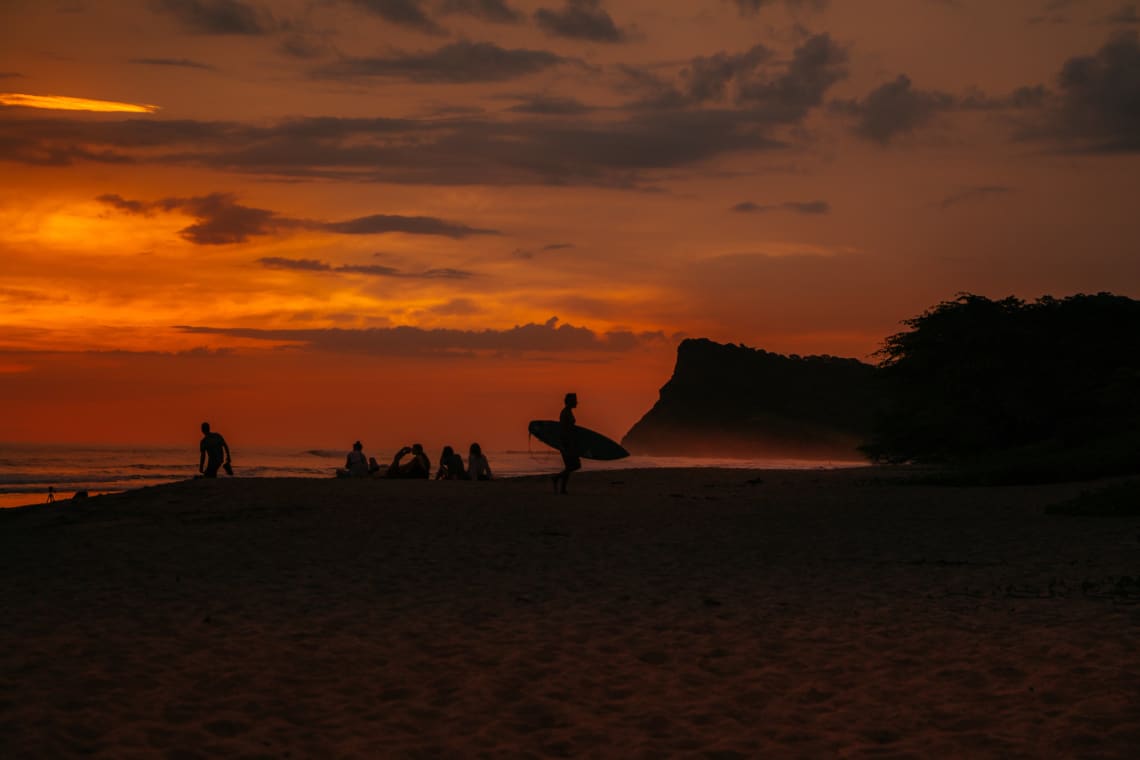 Since April of 2018 Nicaragua has been undergoing some civil unrest and may not be the safest place on the planet, but that doesn't mean it isn't absolutely stunning and well-worth a visit.
In addition to breathtaking beaches, Nicaragua has a fantastic mix of architecture and jaw-dropping nature. The Spanish ruled the land from the 16th to 19th century, but before them the Mayans and Aztecs ruled supreme. Although there's not much trace of them these days, there are plenty of historical sites to visit.
While the history is cool, volcanoes are the real eye-catcher. Nicaragua has 19 active volcanoes spread throughout the land, and one of them is very special indeed.
The infamous Dual Volcano can be found in the middle of Lake Nicaragua. It is the only volcano in the world that is fed by two different magma flows, meaning that it can erupt with two types of magma channels.
If that wasn't exciting enough, the lake surrounding the volcanic island of Ometepe is home to the only freshwater sharks known in the world! You'll also be able to see various monkeys, sloths, sea turtles and boa constrictors.
There are plenty of opportunities to volunteer in Nicaragua, but the chance to base yourself on a volcanic island surrounded by freshwater sharks... that's a once in a lifetime experience. While there, you can show other tourists around as a tour guide, take it up a gear as a party promoter, slow it down at a hostel reception or get creative with your weapon of choice — camera, paintbrush, kitchen utensils or keyboard.
Keep reading: What to do in Nicaragua in 2022
7. Guanaja, Honduras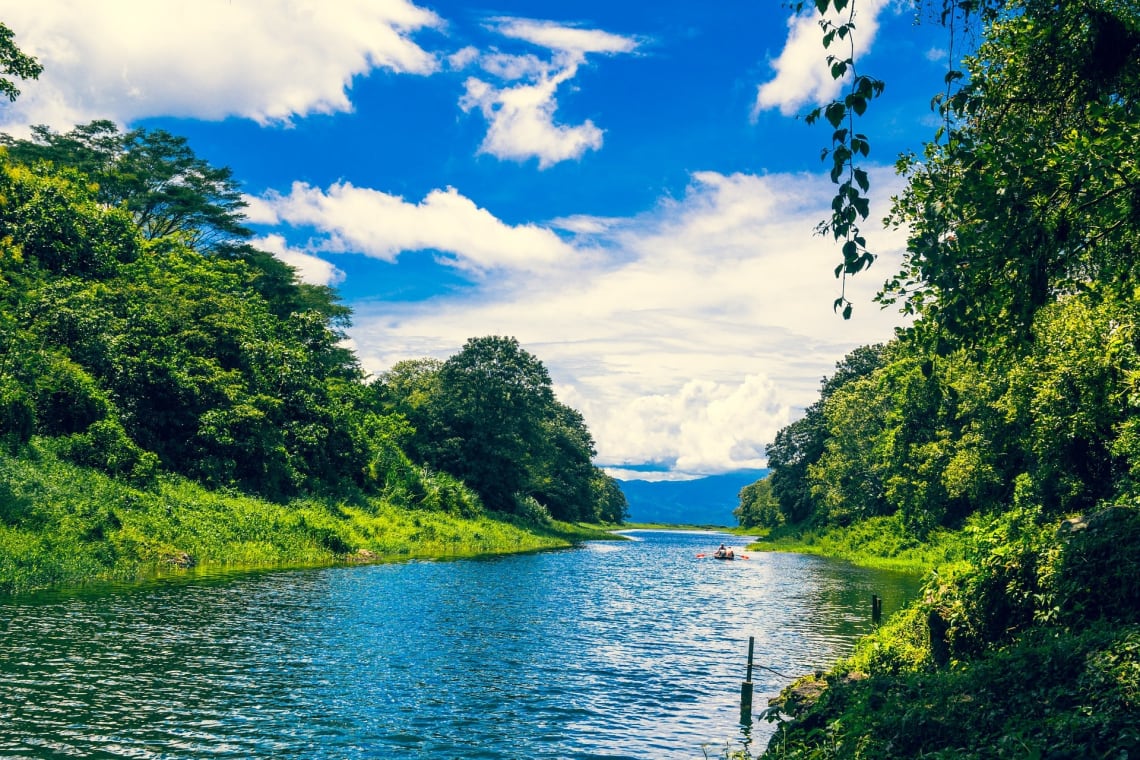 Again, another country which has been in the news recently for civil unrest and safety concerns, but to ignore Honduras would be to pass up the opportunity to see a mostly undiscovered gem. A lot of people skip Honduras due to the problems, but if you're sensible and do your research beforehand, it means you'll discover a wonderful country, stunning scenery, mouth-watering food and a rich history.
Take a step back in time while wandering through the 5th century Mayan ruins in Copán, leave your mouth wanting more by ordering a plato típico (steak, chorizo, refried beans, rice, avocado, cheese, pico de gallo, mantequilla, corn tortillas, and fried plantains), and when you can finally move again head out for some snorkeling or diving amongst the second biggest (and breathtakingly clear) coral reef on the planet.
Guanaja is an island resting 70 km from the coast of Honduras, and is referred to as the Venice of Honduras due to the waterways that run throughout. It's mostly a fishing and shrimping island, and tourism is reserved for diving, snorkeling and adventure sports. Strangely, English is the main language and Spanish is an afterthought (due to it previously being an English colony).
If you want peace and quiet, sun, sand and marine life that will boggle your mind, you may want to consider volunteering in Guanaja. Worldpackers has projects all over Honduras, from farms to hostels and even an NGO.
You can teach English to local students, share your media knowledge or get dirty toiling the land. All these are great projects to get involved with, but the Guanaja opportunities in particular really stand out.
Guananja's projects will allow you to spread your wings and fly. Are you a handyman, gardener, artist, language teacher or lover of animals? They need all these skills and talents. One Guananja project even has 28 baby sea turtles that need caring for! Why are you not booking your flight right this second?
Honorable Mentions
8. Falmouth, Jamaica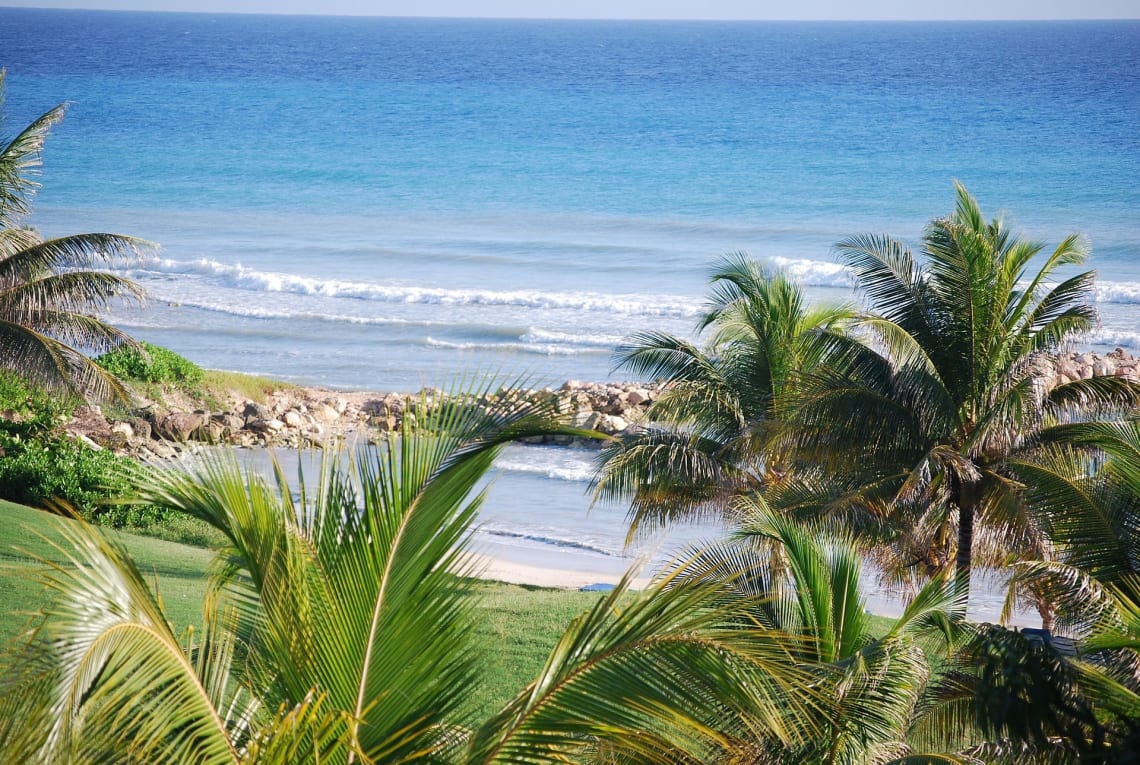 Yes, Jamaica is in the Caribbean, but it sometimes gets lumped in with Central America due to the proximity. And if you're in the area, it would be rude not to pop across and say hello.
Jamaica is world away from its Latin American neighbors due to it being a Commonwealth country. English is the official language, so your Spanish lessons won't get you very far, but the country definitely shares Central America's biodiversity. Jamaica claims many species found nowhere else on the planet, including several unique species of bat (the hairy-tailed bat is so cute!) Other unique animals include hummingbirds, turtles and the world's largest centipede!
Falmouth is located on the north coast, 18 miles east of Montego Bay. One of the best preserved Georgian towns, it was designed by the British and even had piped water before New York City. Nowadays it's a popular cruise ship port, famous for stunning beaches, emerald green rivers, waterfalls and caves to explore.
The opportunity to experience the music, the food and the atmosphere sounds enticing enough, and Worldpackers offers some very unique opportunities to extend your time there, and really make your experience memorable.
Pass the day maintaining a guesthouse, use your social media skills to boost guest traffic, or ditch the computer and get your hands dirty with some construction work.
9. Samana, Dominican Republic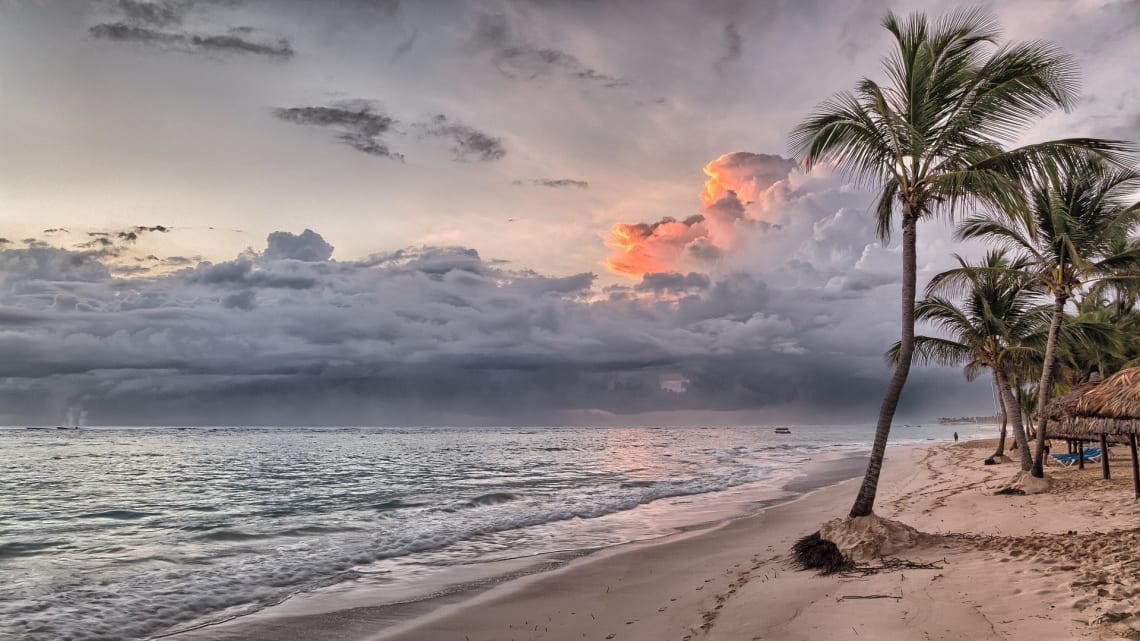 Technically not Central America, but definitely part of Latin America. The Dominican Republic puts the 'rad' in Paradise... (okay, lame I know, but it's a stunning island!). 750 miles of dreamy coastline, a fantastic range of activities to enjoy AND they've recently been named the Capital of the Gastronomic Culture of the Caribbean. This means that out of the whole Caribbean, you will find the finest food here. If you've ever tried Caribbean food before, you'll realize what a great honor that is indeed.
Samana is a town on the Samana Peninsula, which overlooks the Samana Bay. Why did I choose this location as a fantastic place to volunteer? Because you get the heavenly surroundings of the famous locations (Punta Cana) but without having to fight your way through hordes of tourists. For the majority of people, a week or ten days in the Dominican Republic is a dream vacation. If you choose to volunteer in the Dominican Republic, you can live the dream for weeks or even months.
What else is special about Samana? Between December And March, around 2,000 humpback whales come to reproduce in the warm waters. A recent study also revealed that all whale populations of the Atlantic come to reproduce in these waters. If that doesn't scratch your whale itch, then I don't know what will.
If 40-ton creatures leaping out of the water to impress their mates doesn't excite you then how about something a little more exciting. How about soaring above the trees with panoramic views of the forests and beaches? A 15-minute drive from Samara bay gets you to the Los Haitises National Park and a 10 track ziplining adventure.
Glorious waterfalls, horseback riding along the beach or sipping a cocktail from a coconut on a postcard-perfect beach or three. You'll need to something to do in between all this fun, so how about giving something back to the community?
While learning all about eco-living why not develop your skills as a chef? If the kitchen's too hot, practice your Spanish whilst working reception and share your knowledge with others. If technology is more your thing then they're also crying out for photographers, videographers and web designers to help promote their slice of paradise.
10. Conaree Bay, St. Kitts and Nevis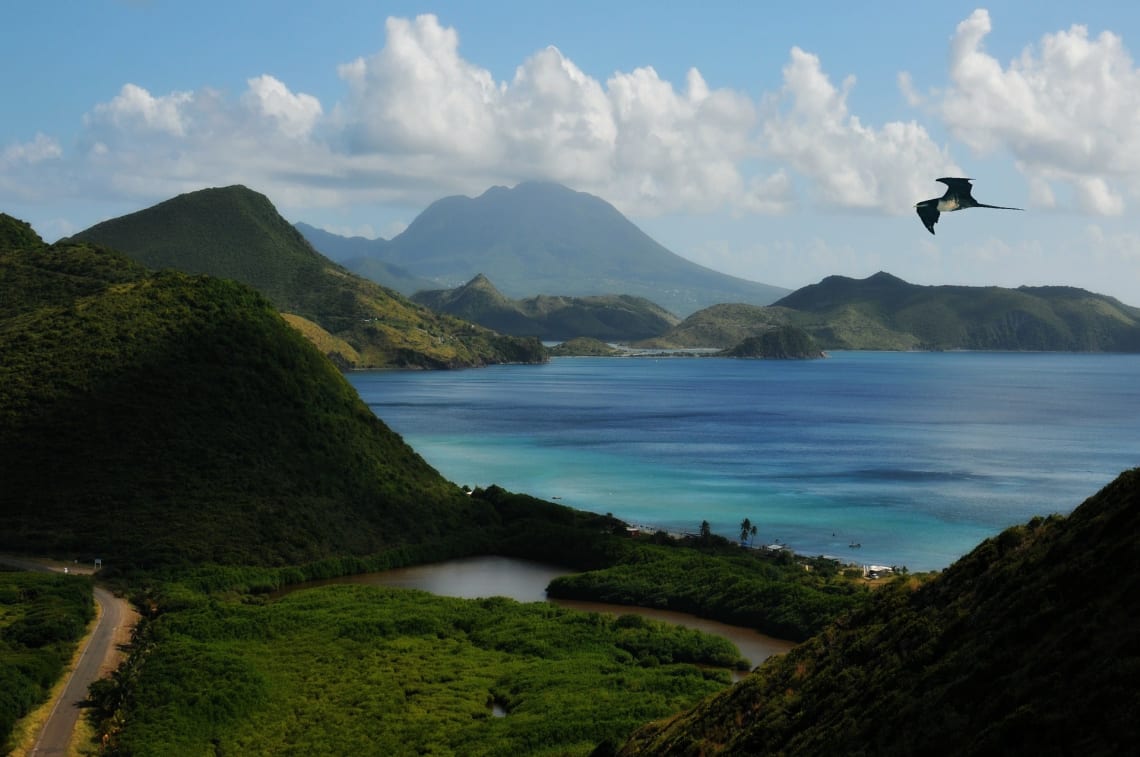 Another that doesn't fall under the umbrella of Central America, but if you're spending any good length of time in the area it's worth considering a flight to St. Kitts. Probably the cheapest option would be a flight from Puerto Rico, but there are other options depending on where you're coming from.
St. Kitts and Nevis is a Commonwealth State, which means English is the main language. The various colonial fighting between England, France and Spain almost wiped out the indigenous people, but they survived, and you can still experience the rich history, tradition and culture of the people.
It's a popular tourist destination, so you'll have to share the paradise beaches with a few other people, but there are plenty of them. St. Kitts is livelier, with Nevis being quieter and more laid-back.
When you tire of laying around on the beach you can stretch your legs with a hike up one of the three local volcanoes or take a ride on the Scenic Railway — originally designed for the sugar trade, but now offering stunning views of the island to visitors. Then wash off the sweat with more snorkeling and diving, sharing the ocean with the resident stingrays.
Conaree Bay lies on the east coast of St. Kitts, and is one of the quieter beaches. It's more of an adventure sports beach than a swimming one, but it's still a juicy slice of heaven. It's also home to a Worldpackers project where you can volunteer at a hostel, and work behind the bar and help promote local parties.
It's a far cry from camping and volunteering in the dense rainforests of Costa Rica, but it goes to show the fantastic variety of opportunities available in the region.
To sum it all up —
The choices and opportunities to volunteer in Central America are mind-blowing.
One week you could be a tour guide, island-hopping between places most people only dream about. Next week you're teaching English and playing games with children in a tiny jungle village. Then you'll be planting trees and learning about sustainable living before teaching yoga on the side of a volcano.
In this one tiny part of the planet you can tick off more bucket list items and take more than enough Instagram selfies to last a lifetime. True, you need to keep your wits about you and be sensible wherever you go, but if you do, and embrace the local culture... you'll have a hard time saying goodbye.