Can you travel as a worldpacker and work at the same time?
Find out how to find work, gigs or get some extra cash while you're volunteering in hostels with Worldpackers.
---
Being a Worldpacker is more than exchanging your talents for accommodation. Because above all else, we all have a story that brought us to where we are. The story of your life, your gifts and talents are unique and will never be the same as someone else's. And if you still aren't aware, they are very valuable!

I did a trip as a Worldpacker for 10 months throughout the Northeast (of Brazil) and when I had a little time, I would do some work as a freelance designer.
Everytime I told this to someone, I would hear things like:
"But I don't have talent like yours, so I can't be a Worldpacker!";
"I don't have a computer, so I can't do that job!";
"I need a lot more money to travel, so I'm going to work a little more at this job. One day, if possible, I will travel!".
These are some of the "excuses" we tell ourselves not to go.
And maybe we do this because the unknown gives us a little bit of fear.
But after being out in the world, you'll see that there is nothing too mysterious about it.
In addition to gaining many things outside of your comfort zone, you also learn and know so much more!
1. We all have a story. Show it to the world!
I've always really liked to draw and design.
I grew up watching my parents draw and work at home making books, magazines and furniture!
That made up part of my childhood as well as the little games I made up helping my friends in "my little shop" and giving classes to my dolls! I loved doing that!
As an adult, I worked helping clients in real stores and later chose to be a graphic and product designer.
It was as if I had done it my whole life. There was no way I could have chosen a different profession!
I also loved to travel. Always traveling a lot with my family and I remember the great feeling of putting the bags in the car and leaving!
There are moments in your story that have made you into the person you are today.
Thinking about those times will help you get to know yourself better and think about what you can do with your skills.
Tip: You can tell your story in blogs, vlogs and use social media networks to help many people that are going through what you've already done and plus, you can earn some extra cash while traveling.
2. Your gifts, talents and skills are unique and have great value!
One beautiful day, I got tired of being every day, 8 hours a day at a desk. I left the company where I worked and became a freelance designer from home for almost 1 year.
I was without stability of a fixed wage, but found that I had fewer expenses as a freelancer and more time to do what I liked.
But I wanted to travel!
I started to think about what I could do very well and went to the Worldpackers site to choose a task that I had knowledge of and that was not such a big challenge.
My friends and clients said I was a good designer because I could turn their ideas into reality!
That was a great incentive for me to continue traveling and working as a designer.
And I chose a position in this area in a hostel in Recife. This I knew how to do with my eyes closed and still right in front of the sea, how amazing!
Tip: Your gifts and talents are things that you do very well and that everyone tells you that you do very well. Ask your friends and family and you will be amazed!
I worked almost 2 months as a designer for the Piratas da Praia Hostel in Recife, making cards, posters for hostel events, brochures, photos, videos and more.
During my free hours I did my freelance designing and also organized events at the hostel. In the end, I had forgotten how much I loved parties, which are also easy things to promote and do!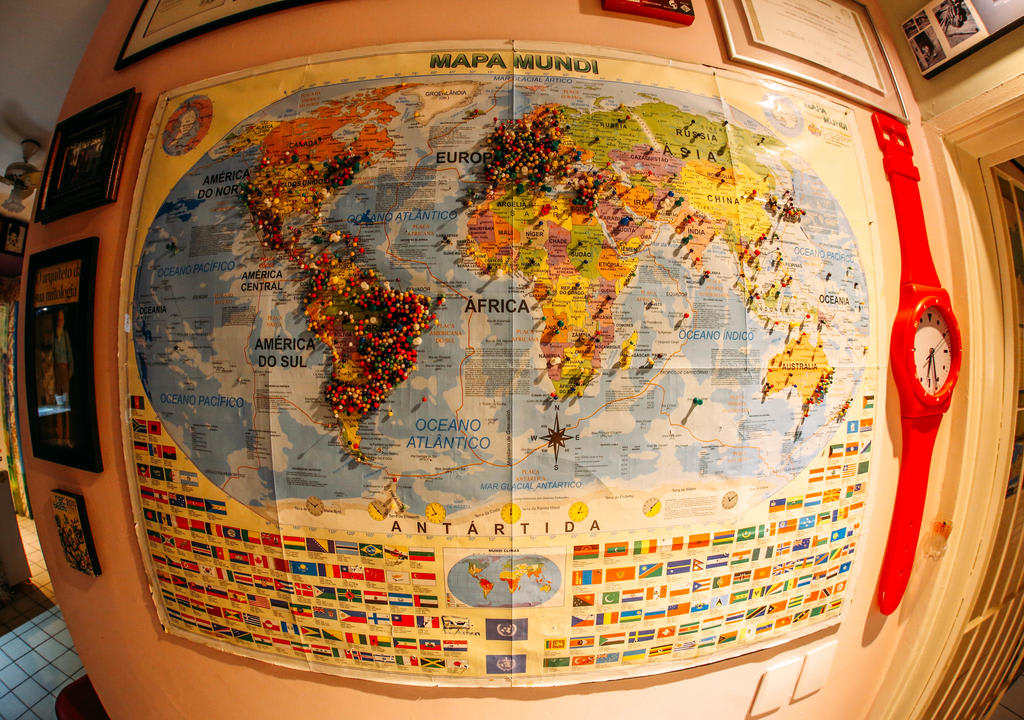 3. Mix everything you do best and put it into practice!
When I decided to leave Recife, there was an open spot at the reception of Maraga Beach Hostel in Maragogi.
I had already observed the other Worldpackers working at the reception of the Recife hostel and it didn't seem difficult.
They accepted me in Maragogi and I soon learned everything.
I remembered a little bit when I was a store attendant at the mall. With a little sympathy, patience and organization, everything came out perfect!
I only worked five hours at the desk and still had time to freelance.
I really enjoyed working at the hostel. I was able to earn a little money and I had plenty of rest.
Tip: Many Worldpackers I met in their free time would work in bars and restaurants as a waiter or bartender, as tour guides, street vendors, photographers for tours as well as for the hostel and so they could earn some extra cash.
There are also many professions in which the job can be done online so you can travel and work at the same time.
Of course, when we live this type of life, we have to be very organized and responsible regarding the service you provide, but I can say that it works.
Here are some tips for what you can do online:
Designers, advertisers, illustrators, publishers of books or e-books, photographers and video and animation editors;

Lawyers, accountants, secretaries, administrators, IT, you can give advice and provide services via the internet;

Teach a language or something you are knowledgeable about;

Journalist, writer or if you like to produce content, you can work in a partnership with newspapers, magazines and websites;

Give health tips if you are a nutritionist, doctor, dentist or even personal trainer;

If you like to or are a cook, you can make recipes online.

Not everything that is work is what only can be done for 8 hours a day inside a room.
So be creative, mix your talents, try to learn something different and test everything to see if you really feel good doing this job!
Nothing better than doing something with pleasure. After all, you have not decided to travel just to stay stressed and have no quality of life elsewhere in the world!
4. Create your dream job and redo your main resume
After being a designer, receptionist, Spanish teacher and exchanging all this for accommodation, I created a new profession for myself.
In Salvador I started working as a receptionist at The Hostel Salvador, a network of Brazilian hostels.
And on my first day, I met the hostel's event planner.
He knew I was a designer and asked me to assist him in all the visuals of the events.
Our project was to open the hostel for people from the city to hold events, including the guests.
It was really cool!
Then came the opportunity to work at the reception of The Hostel Morro de São Paulo.
Beach, sun, calm, I even came back to do my freelancing!
One day, the decorator of the hostel saw me working on the computer and asked me if I wanted to help with the decoration.
I accepted and days later they created a new department where I could earn a little money: a creative department for the whole network of hostels.
I made all the printed materials, the content for social media and the internal decoration of each one.
It was great because I was a receptionist, designer, guest and knew 2 of the guys personally. So they could help by giving hints of where to improve.
I learned a lot, worked hard and didn't have to sit in traffic to and from work. It was wonderful!
Tip: Do not be afraid or embarrassed to fill up your work resume with what you did as Worldpacker. You will be seen as a brave person, who makes quick decisions, speaks several languages, knows how to deal with the public and also shows that he or she possesses a thousand and one qualities in addition to your academic background.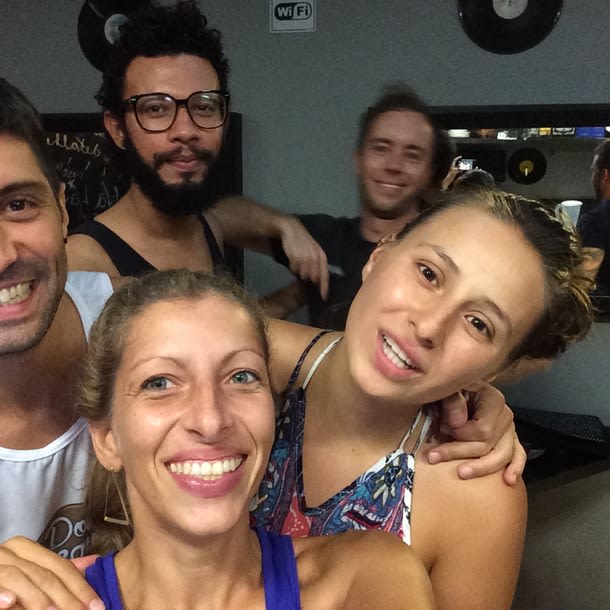 5. Not everything in life is paid for with money!
During my trip one thing kept leading to another.
The people I met gave me lots of tips and lessons, shared their lives, their homes, their stories and there's not money in the world enough to pay for it!
I also got food, drinks, clothes, sightseeing, discounts and so on!
I did a design job for a person I met in Jericoacoara and did not charge for the service, but I got a friend, a client, a couch to sleep on and travel company.
Another example was with a friend who worked with me at the reception of a hostel and chose to work only 4 hours a day, earning less money because he wanted to have more time to get to know the city, enjoy life and think about future projects that he wanted to do.
I learned a lot from that because I stopped caring about money, since I often did not need it so much.
Tip: Not everything is paid for with money and I repeat!
As Worldpacker I could give a different value to the work and understand that we can exchange, share and collaborate, gaining knowledge, experiences, friends, time and even material things needed for each moment!
Summing up...
Say yes to working and traveling as a Worldpacker!
Just pay attention to these things:
Everyone has a story, show it to the world!;

Your gifts, talents and skills are unique and have great value!

Mix everything you do best together and put it into practice;

Create your dream job and redo your main resume;

Not everything in life is paid for with money!

Do it. Then tell us after how your experience traveling and working as a Worldpacker went for you!
Bon voyage, good luck and good work!
---
---
Did you like it? Don't forget to let Claudia know :-)