The 12 cheapest places to travel in the USA right now
If you're looking to travel through North America on a budget, here are some of the cheapest places to travel in the USA and get the best of this thrilling country!
7min
The USA is not known for being a cheap country. Compared to places in Central America, Eastern Europe, or Southeast Asia, the USA is pricey for locals and for tourists.
However, there are still ways to enjoy the USA on a budget! This list includes some cheap places to travel and see the best of its culture, history and entertainment.
You might also want to read: Cheapest places to fly from USA in 2022 and The cheapest and safest places to live in the USA.
Cheapest places to travel in US
Looking for a fun and affordable getaway? I'll show you below some of the cheapest places to travel in the USA, whether you are traveling for tourism or work exchange.
Doing a work exchange with Worldpackers will further cut down your living costs, and you'll get to live among locals and other travelers, since you'd be trading a skill for accommodation in a local business, organization, or family.
Throughout the text, I'll include Worldpackers positions that anyone can apply for. Enjoy it!

1. Travel to New Orleans, Louisiana
This vibrant, exciting city is one of the best places to travel in the USA. Luckily for tourists, it is also cheap! There are lots of fun hostels, and you can even do a work exchange in one to save money on accommodation.
If you love music, art, and partying, New Orleans is heaven. Set on the Mississippi River, this city is packed with gorgeous architecture, antique shops, music venues, nightclubs, and cheap eateries serving spicy multicultural cuisine.
Many venues don't have cover charges, and there is often street music and public art displayed for free. Be sure to check out Jackson Square and the French Quarter, as both are hubs for affordable entertainment.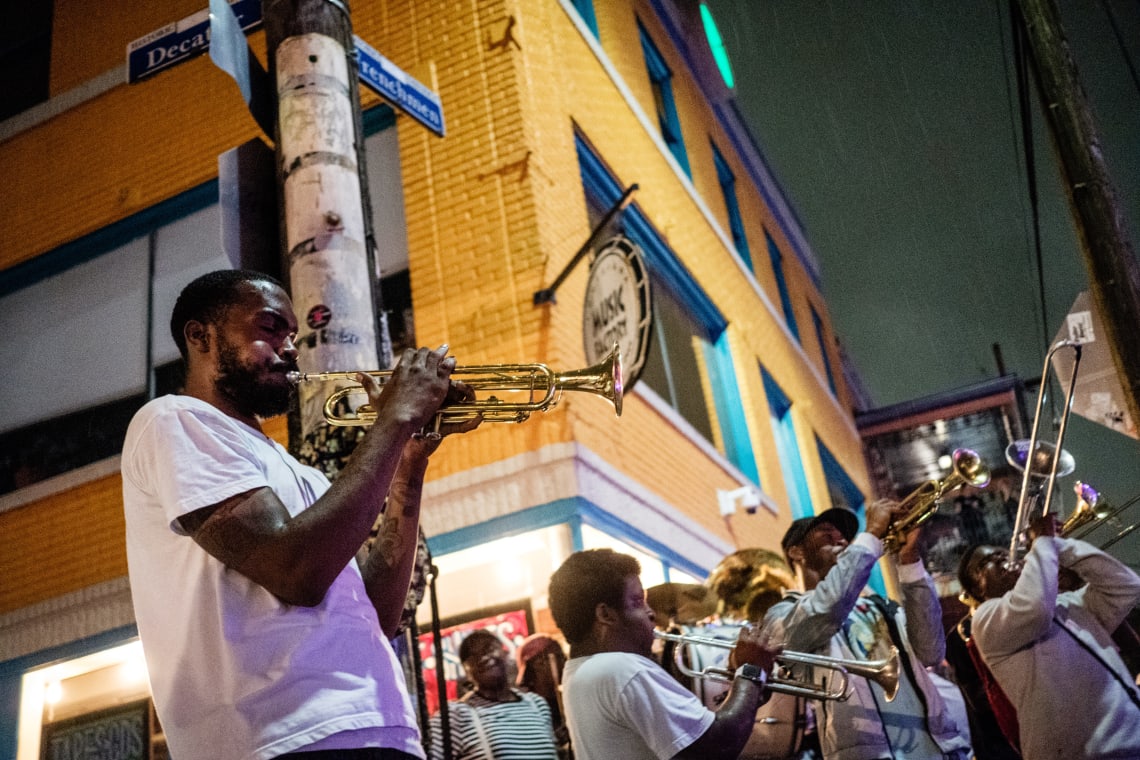 2. Meet Daytona Beach, Florida
Popular among families and college students in Florida, Daytona Beach also has a lot to offer for budget travelers in the USA.
The main attraction here is the beach, of course, which is free. You can spend hours swimming in the ocean, playing sports in the sand, and soaking in that Florida sunshine without spending any money.
Aside from the ocean, Daytona Beach also has lots of cheap international food, free museums, and affordable entertainment venues. There are also free outdoor concerts in the summer.
So Daytona Beach, Florida is one of the best cheap places to travel in the USA. Check out volunteer opportunities in Florida to save even more!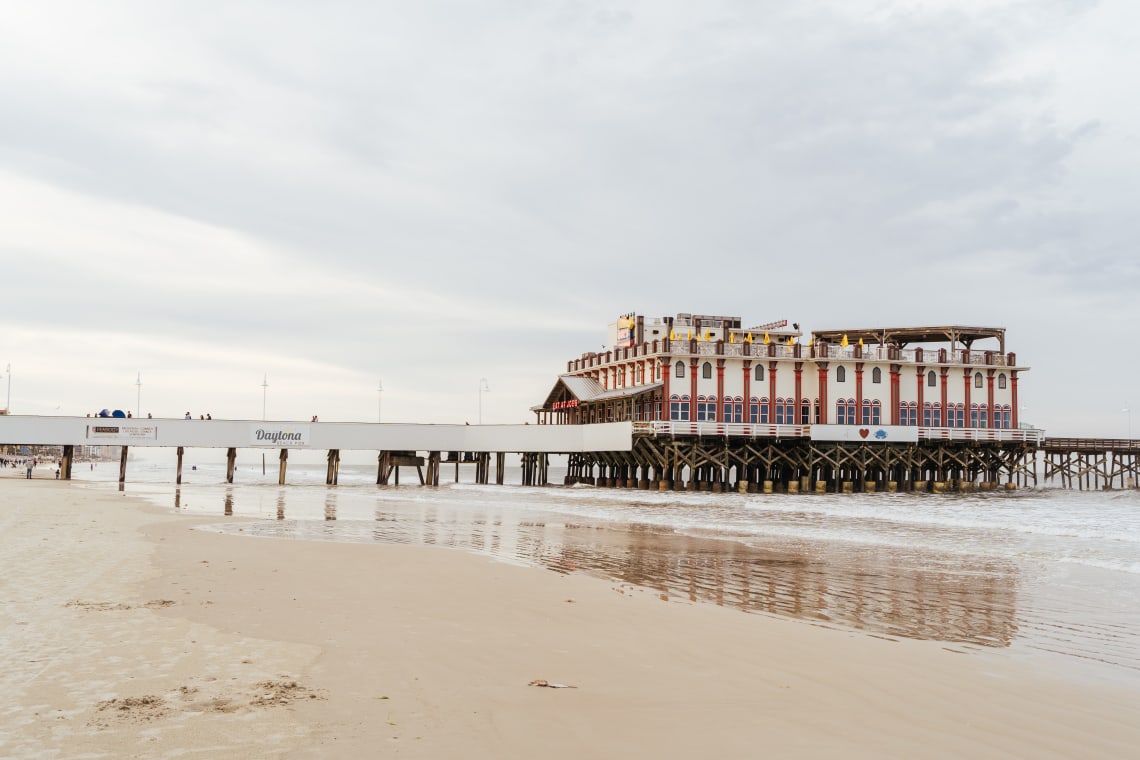 3. Save some money in Austin, Texas
As the capital city of Texas, Austin has so many fun, budget-friendly things to do.
You can go walking, running, cycling, hiking, boating, kayaking, or have a picnic with friends in one of Austin's many national parks and gardens. The best ones include Zilker Park, McKinney Falls State Park, Lady Bird Lake, Barton Creek Greenbelt, Barton Springs, Mount Bonnell, and more. All of these areas of natural beauty can be explored for free!
Austin also has scenic drives, museums, and cheap places to eat and watch live music. If you're a fan of country or blues, Austin is a great place to catch a concert.
You can even find hostels in Austin for 30 USD per night, which is cheap for the USA. Another good idea is doing a volunteer work in Dallas, which is around 3 hours away from Austin.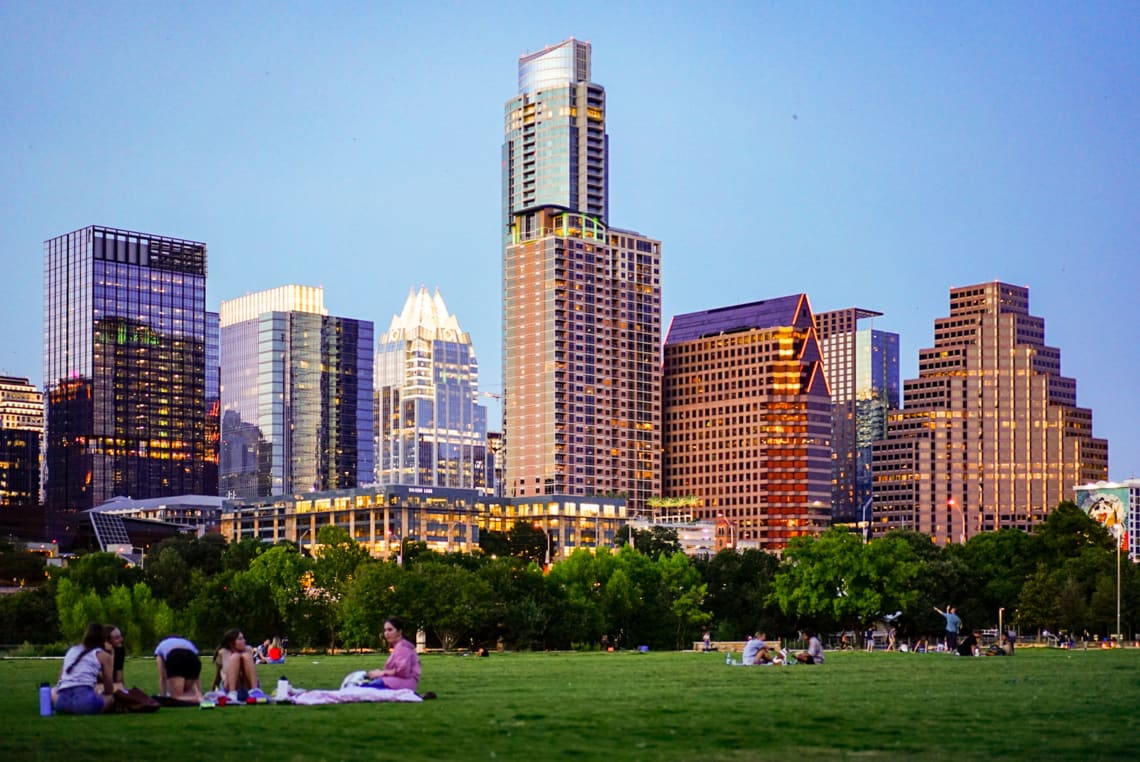 4. Cheap things to do in Salt Lake City, Utah
Salt Lake City is an amazing place to visit on the western side of the USA. It's a convenient location for going hiking, camping, skiing, or snowboarding in the nearby mountains, but there are plenty of cool attractions within the city itself.
Cheap car rentals, hotels and volunteer positions make it affordable to explore Salt Lake City. You can also tour museums, go sightseeing, and relax in the parks and gardens for free. Temple Square, Utah State Capitol Building, Mormon Temple, Liberty Park, and Red Butte Garden are highlights of the city that don't cost a thing.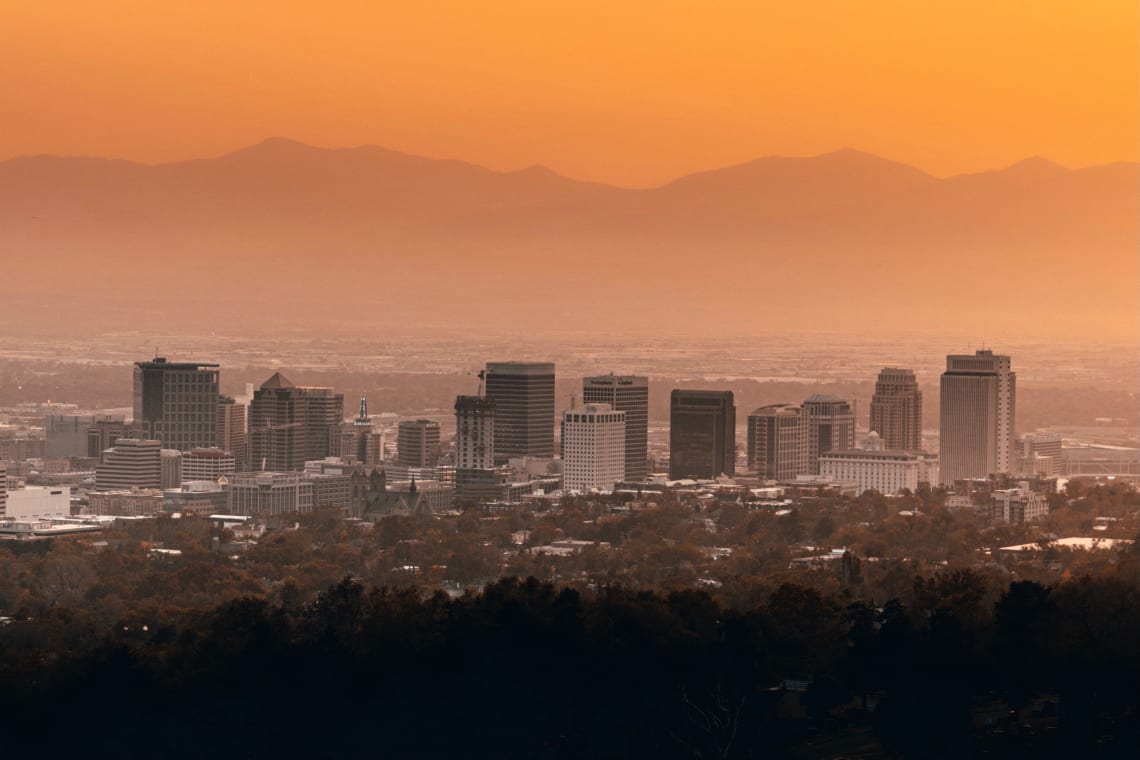 5. Philadelphia, Pennsylvania on a budget
The busy and historic city of Philadelphia is one of the cheapest places to travel in the USA. It is a cheaper alternative to nearby New York City, and affordable daily transport passes make it easy to explore the city without spending much money.
Catch a sports game, tour a brewery, visit some museums, and indulge in a famous Philly Cheesesteak. Also be sure to see the most famous historic sights, like the Liberty Bell and Independence Hall where the Declaration of Independence was signed in 1776.
Check out Worldpackers open positions in Philly to develop a skill while traveling!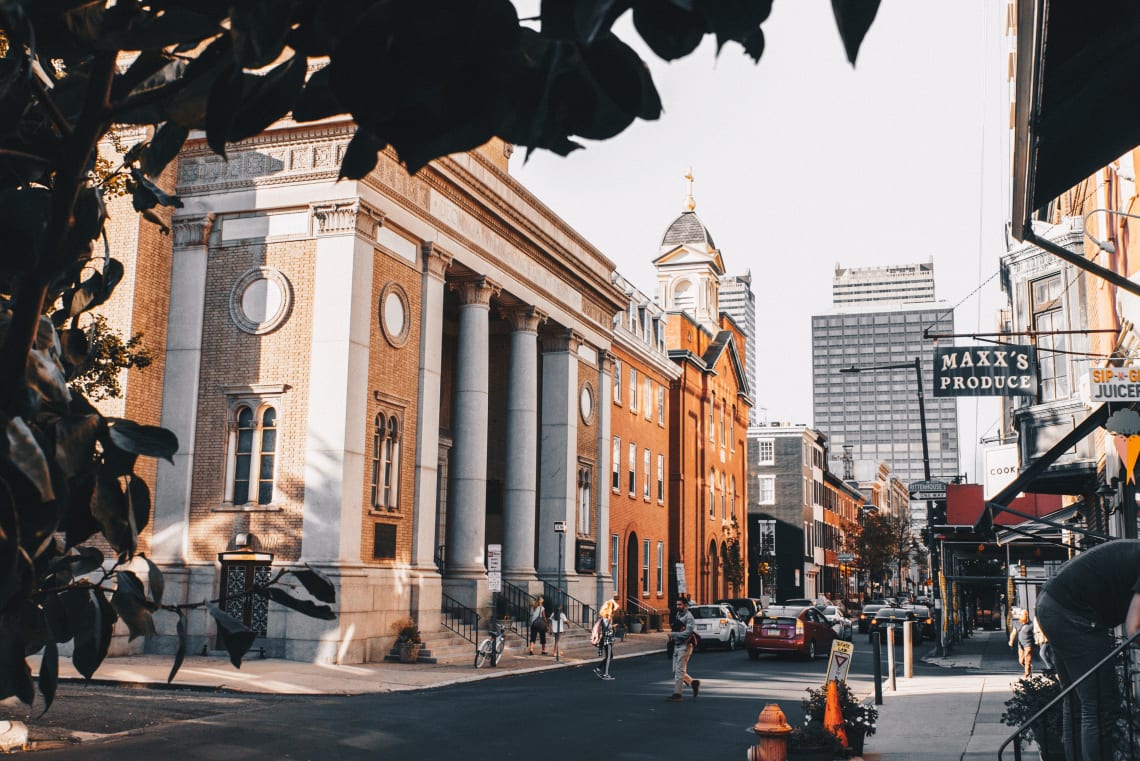 6. Save money in Boston, Massachusetts
Many might be surprised to see Boston on a list of the cheapest places to travel in the USA. Massachusetts, and all of New England, are some of the most expensive places to live in the country. However, travelers can visit Boston for surprisingly cheap.
Hotels are a bit pricey, but the capital city of Massachusetts is packed with history and culture that is often free.
Boston's most famous attraction is the Freedom Trail. This walking route takes you past all the important historic sights that played a role in the country's battle for independence in the 18th century.
Other free attractions in Boston include Boston Common, Boston Harbor, Harvard Campus, and Boston Public Library.
For a cheap lunch, visit the iconic Faneuil Hall or Quincy Market.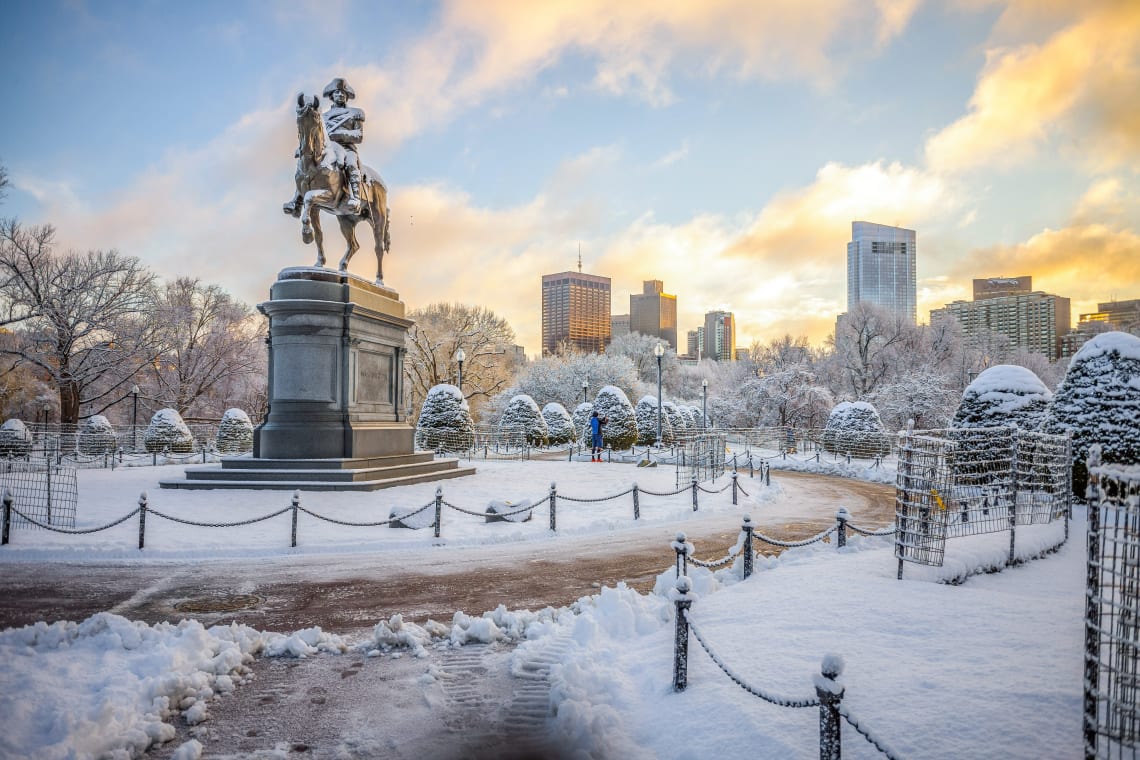 7. Get affordable accomodation in Charleston, South Carolina
If there was ever a city to embody the notion of "Southern Charm", Charleston might be it.
This oceanfront city has colorful and elegant architecture, lush green parks and gardens, and lots of hearty food and friendly locals. There are also multiple lighthouses and historic forts, so Charleston has no shortage of things to see.
You can eat fresh seafood by the ocean, stroll along the beachfront piers, and visit the Historic Charleston City Market.
Other famous sights to see in this beautiful city in southern California include the Battery Promenade and the Ravenel Bridge. Most attractions are affordable or free, so Charleston can easily be enjoyed on a budget.
To have an even deeper cultural experience in Charleston, you can volunteer with Worldpackers. There is one beautiful historic hostel in downtown Charleston that is accepting volunteers. This work exchange has multiple 5-star reviews from past travelers as well!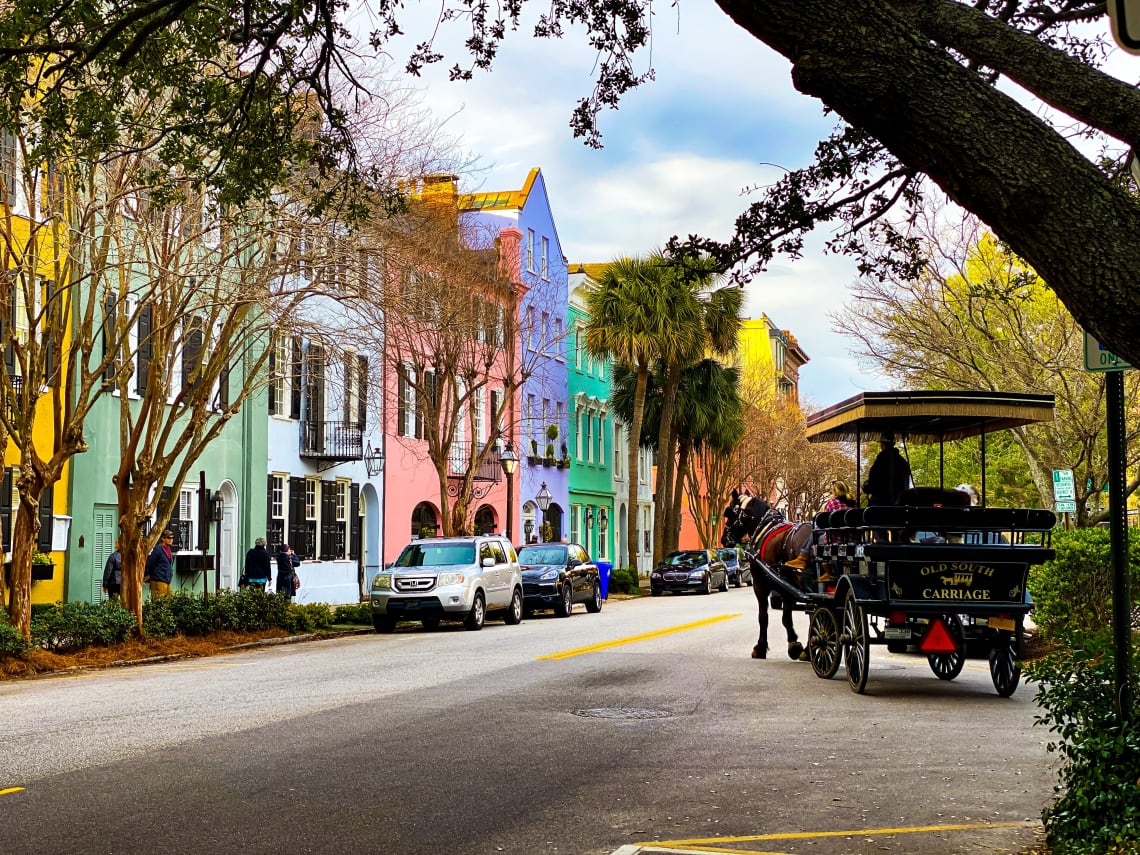 8. Travel to Savannah, Georgia
Savannah may be one of the most beautiful and cheapest places to travel in the USA. It is certainly a highlight of visiting Georgia, and it is actually the oldest city in the state. This coastal city is set on the Savannah River and is bursting with scenic spots.
Full of charming gardens, green parks, magnificent homes, and historic sights, Savannah is a lovely place to spend a weekend. The cheap hotels make it an affordable destination as well.
Some of the most popular spots in Savannah for free sightseeing include the magical Forsyth Park, the mysterious Wormsloe Historic Site, and the lively and colorful River Street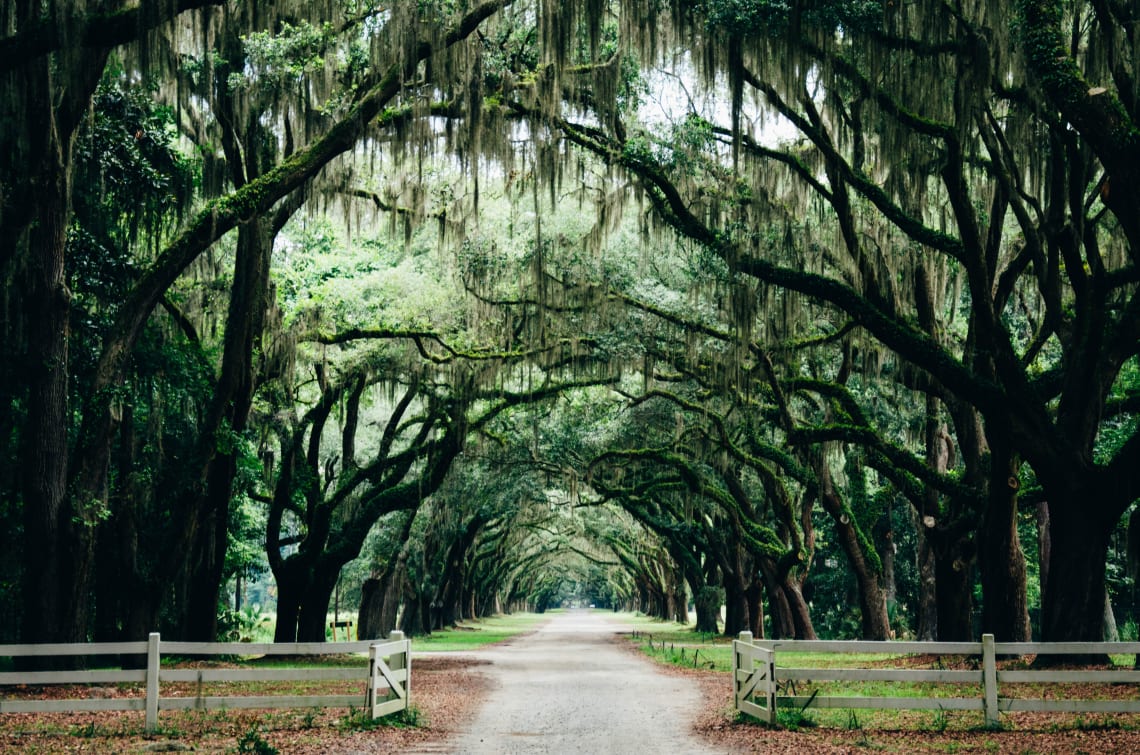 9. Travel around Albuquerque, New Mexico
Also one of the cheapest places to live in the USA, Albuquerque is a fun place to explore while traveling on a budget.
The city is known for its multitude of interesting museums, many of which are free. The National Hispanic Cultural Center hosts lots of free events and there are often free festivals in the summer.
The historic Old Town of Albuquerque is a must-see as well. Here you can find lots of cheap food with Mexican influences, and you can admire the rustic old buildings.
Another free highlight of the city is the Petroglyph National Monument. This open-air museum has thousands of ancient art on display. For those who love natural history, Latin American culture, and food, and traveling on a budget, Albuquerque is pretty much the perfect destination.
Read more articles about travel on a budget: The 17 cheapest islands to visit worldwide plus tips to save money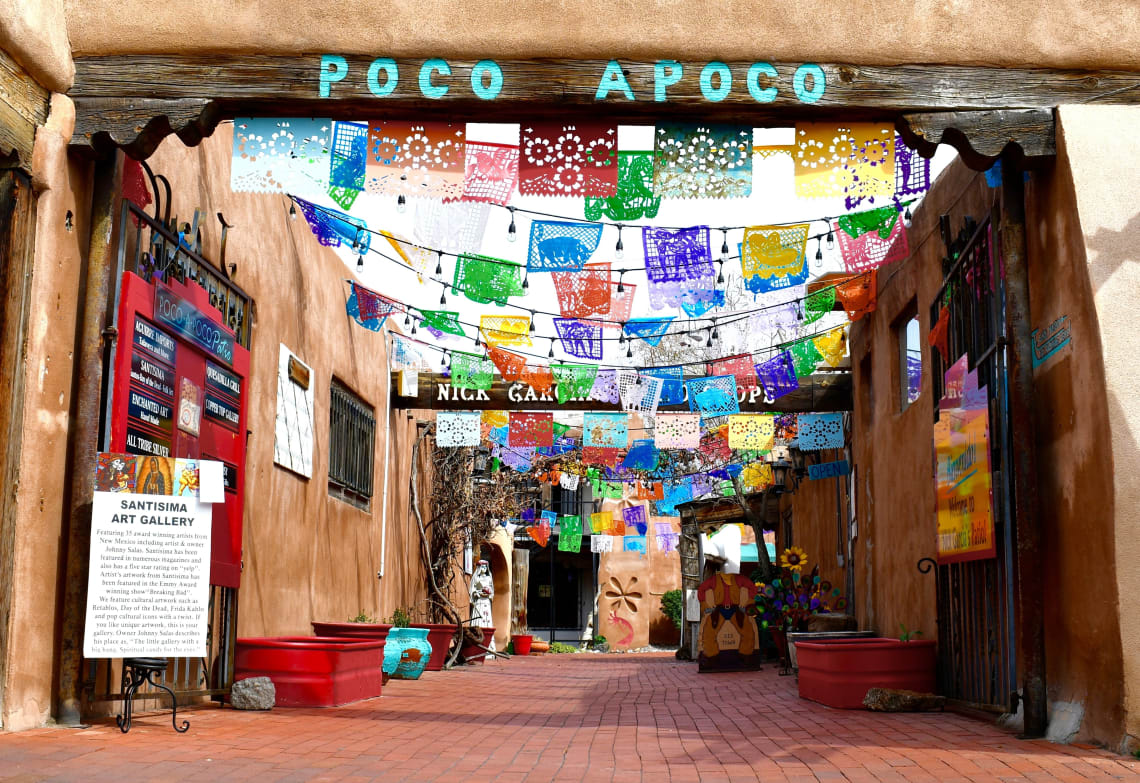 10. Washington DC on a budget
Like Boston, Washington DC is a famously expensive city that you probably wouldn't expect to see on a list of the cheapest USA destinations. However, I included it because you can actually explore this city on a budget very easily.
Hotels may be more on the expensive side, but you can save money by volunteering with Worldpackers. For example, this Washington DC hostel allows you to work in exchange for accommodation, and take part in free events and pub crawls throughout the city. So you can have an epic time in Washington DC without spending much money at all.
Our nation's capital is home to so many world-famous sights that you can see for free. From the White House and the Washington Monument to the US Capitol Building and the National Mall, there are plenty of iconic landmarks.
But the best thing to do in Washington DC is to visit the 19 Smithsonian Museums. They are absolutely mind-blowing and you can learn so much. And, the museums are all free!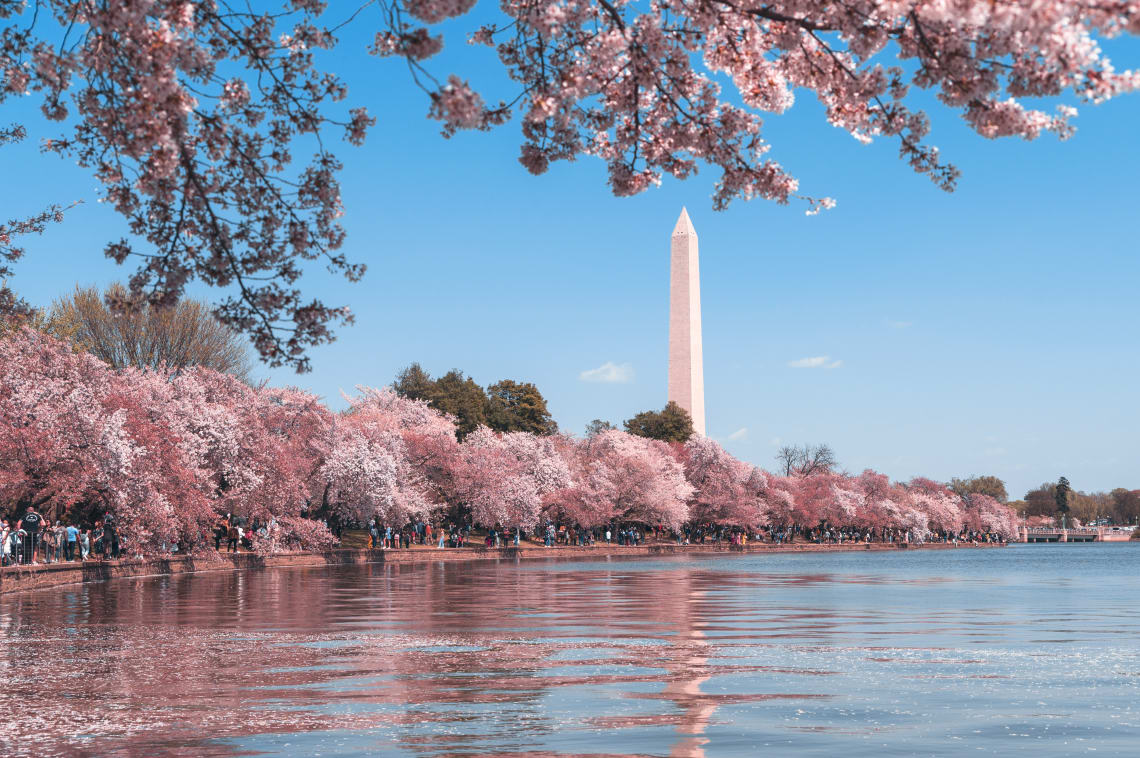 11. Visit Raleigh, North Carolina
The capital of North Carolina is not only fun for tourists, it's actually one of the cheapest places to live in the USA. With low taxes, affordable food, rent, and transport, cheap hotels and volunteer programs, this is the perfect city for budget travelers and those looking to move somewhere cheaper in America.
Highlights of Raleigh include the Neuse River Trail which winds peacefully through the wilderness, Pullen Park which has one of the country's oldest amusement parks, and the art and science museums in the city center.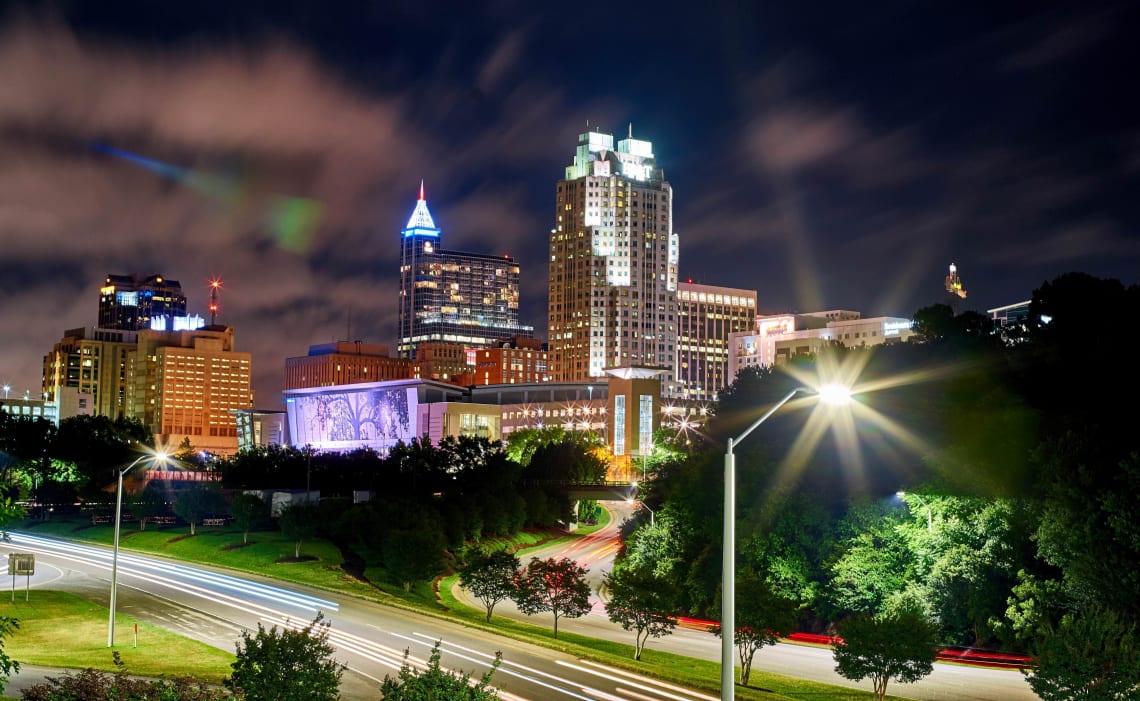 12. Do a volunteer work in Denver, Colorado
Denver is one of the most popular places to travel in the USA, especially among young people and wilderness enthusiasts.
There are countless places to hike and explore nature, and there is also lots of entertainment and nightlife in Denver. There are quite a few volunteer opportunities in Denver, particularly in hostels.
Some of the best free attractions in Denver include the hiking trails of the Rocky Mountains, the local Botanic Gardens and museums, and the famous Red Rock Amphitheatre.
Whether you're visiting for fun or for hiking, Denver may be one of the coolest cheap vacations in the USA.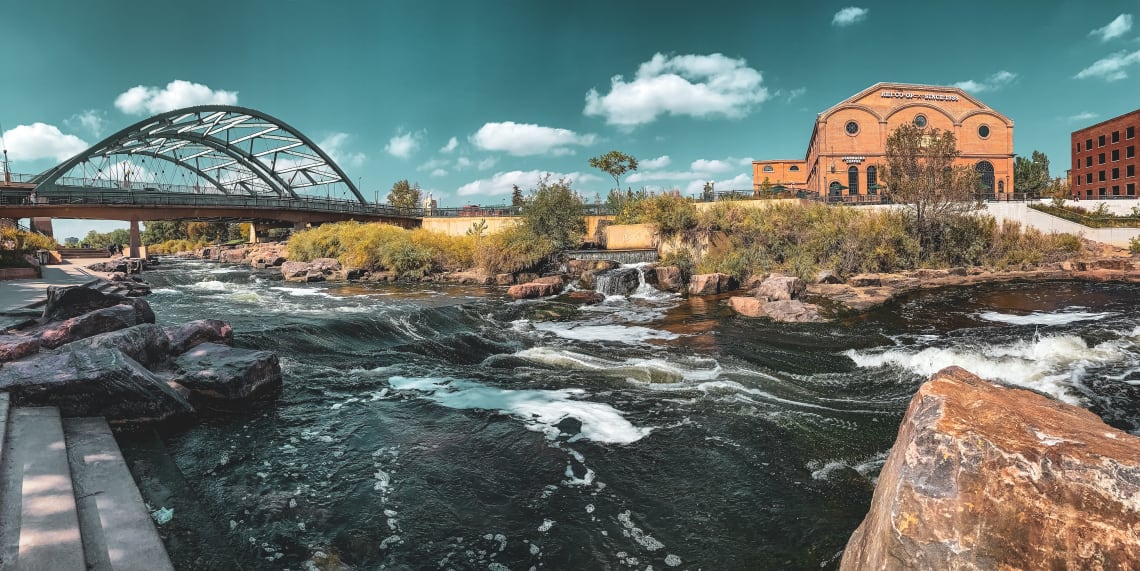 Keep reading about budget travel tips with Worldpackers — find in this article the secret to travel the world for free that no one tells you!
Also, feel free to explore our search page, where you can choose from many volunteer positions around all the world.