Do I need a passport to go to Hawaii? Plan your trip to the islands
Is a passport necessary for American citizens to travel to Hawaii? Read more of this article to learn what documentation is needed while traveling to the islands.
10min
Although the Hawaiian islands are an American state, they have their own cultural identity that is very separate from those of the other 49 states.
Hawaii had a long reigning kingdom with its last native ruler coming from the Liliuokalani monarch family. Americans started to go to Hawaii in search of sugar and eventually found how rich the land was. For years, Hawaiians tried to fight the efforts of Americans but eventually ended up giving the land over.
The 8 Hawaiian islands first became a territory of the USA in 1898 and was officially admitted as a state in 1959. The USA was primarily interested in having the islands as a territory (and eventually a state) due to the proximity to Japan and desired to turn it into a naval base during the Spanish-American war.

I hope you enjoyed that little history rundown of the culture of Hawaii. Now, let's get into the bureaucratic information of what papers to bring as an American citizen.
Do I need a passport to go to Hawaii? What papers you need
Let's go ahead and answer the question that you came here for. Do I need a passport to travel to Hawaii?
If an American citizen is traveling from one of the other 49 American states, then a passport is not needed. Although the islands are a little less than 3,000 miles away from the nearest state of California, Hawaii is most definitely a state of the USA.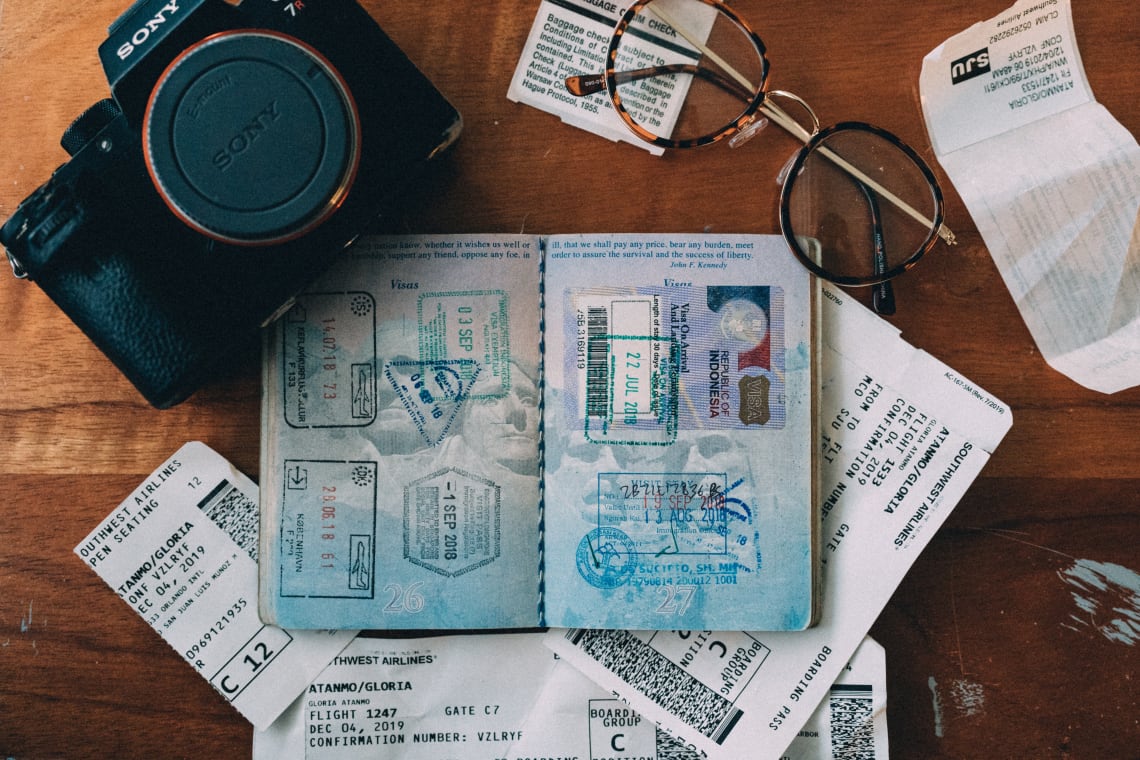 Although a passport is not needed (woohoo!) proof and documentation of identity is required.
The main form of i.d. US citizens usually present a driver's license. A REAL id driver's license has recently been passed as the required and only acceptable identification for most states.
A REAL id is basically a driver's license with a yellow star on the right hand side and is starting to become a requirement for most states in the country.
The main form of identification required for domestic travel within the USA is a driver's license so that security at TSA can identify and recognize the traveler.
Identification will also need to be presented in the process of renting a car and possibly at hotel check-ins. Traveling via Hawaii is the same process as traveling anywhere else in the United States, minus the 8 hour plane ride.
The only time a passport would be needed for a US citizen when traveling to Hawaii would be in a case where the traveler's first point of departure was another country. For example, maybe a citizen left Japan and decided to head to Hawaii or a New York resident had a layover in Toronto, Canada before continuing to the islands. This is a common procedure just as any other state or entry back into the USA.
Children under 18 are not required to show a government form of ID as long as they are traveling with an adult that has the necessary form of identification. Although minor identification is not technically required, it still may be best to bring a backup such as a birth certificate or school card.
Keep reading: How much does a trip to Hawaii cost? Learn different ways to save money.
Do I need a passport to go to Hawaii? Non US citizens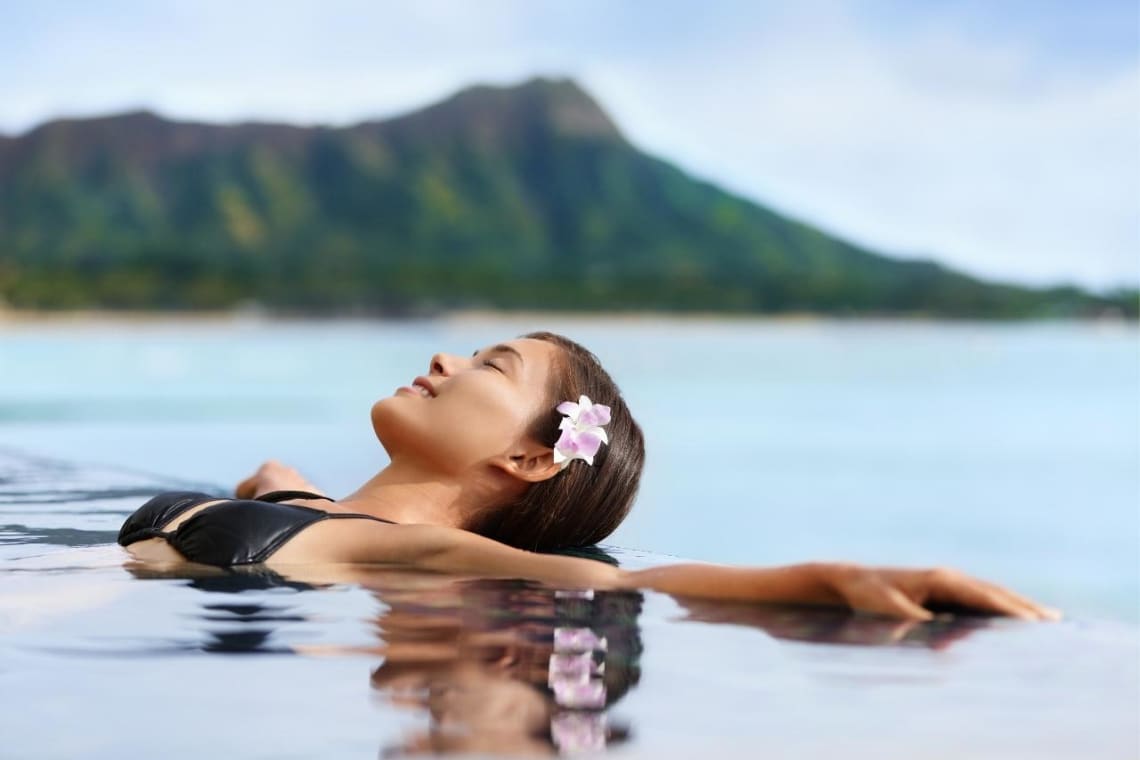 The only non-US citizens that are able to visit the Hawaiian islands without a passport are permanent residents. Anyone who does not hold an American passport must present a passport from their nation of citizenship.
Depending on your nationality, a visa may also need to be obtained for entry into the Hawaii islands just as any other destination in the States.
The only country that is completely visa free for the USA is Canada, but there are quite a few countries that are eligible for the Visa Waiver Program.
Those countries that qualify for visa free eligibility, are: the United Kingdom, Spain, South Korea, Australia, and Belgium. Further research can be done for people coming from visa waiver countries to see the exact restrictions and requirements for eligibility that have been set.
So long story short, if you are not an American citizen, you will certainly need a passport to visit the Hawaiian islands as they are a part of the USA.
Plan your trip to Hawaii: Accommodation, Transportation, Activities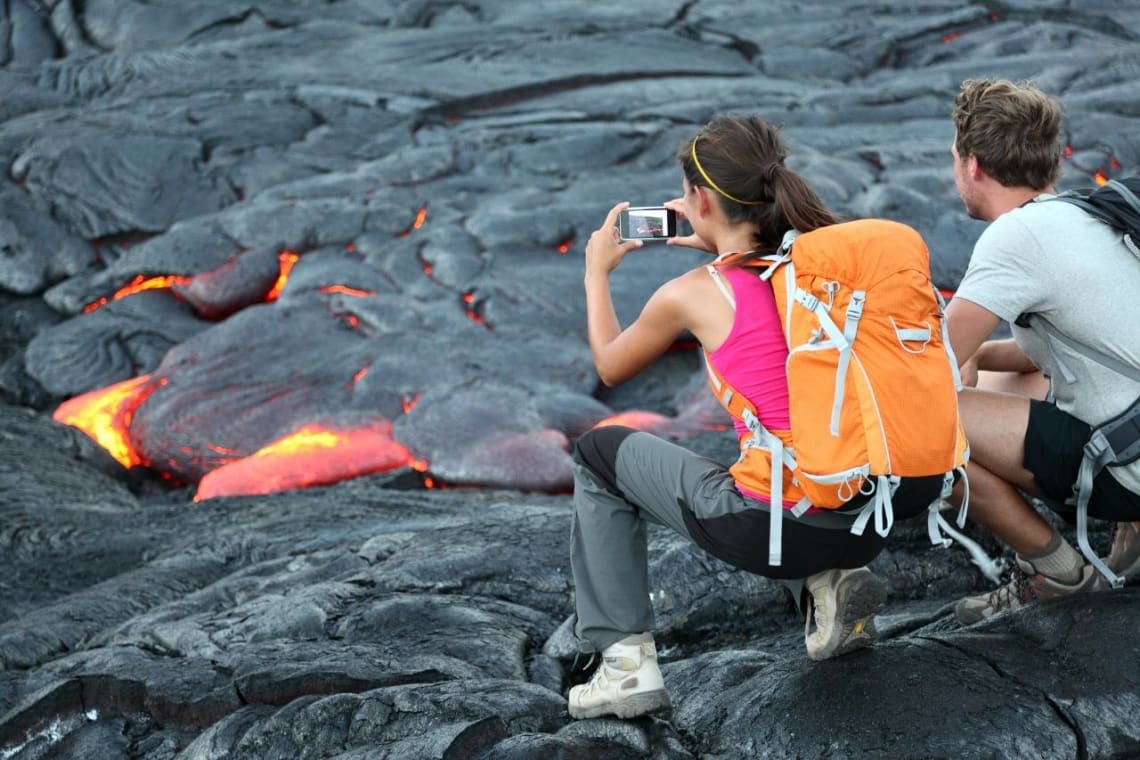 Now that we've gotten all the serious stuff out of the way, let's talk about the fun parts of planning a trip to the Pacific.
Activities/Where to go
Of course there are countless activities, cultural as well as natural things to do in the state of Hawaii, but here are a few of my recommendations.
Hawaii Volcanoes National Park
Located on the Big Island aka Hawaii, the Hawaii Volcanoes National Park is a place that will leave its mark on your heart. Just be sure not to take any lava home as tourists have reported to get bad luck.
If nature is your thing, then this site is for you. Enjoy exploring waterfalls, rainforests, and take in the overall beauty of the Big Island.
An elevated area that offers gorgeous sights, this national park in Maui has some of the best sunrise views on the island.
Rated to be one of the best beaches on the island of Maui, Hamoa beach is a spot every traveler should have on their Hawaiian bucket list.
Known as an extremely touristy area, Waikiki is a city full of vibes, fun, and an overall good time. It's a spot travelers simply must visit if they ever find themselves on Oahu.
Known as the capital of the state and the most populated city in all of the islands. Honolulu has a lot of historical monuments and buildings that are worth checking out!
Want to learn more about the awesome things that the Hawaiin islands offer? Check out this blog article that goes into depth about the best places to go in Hawaii.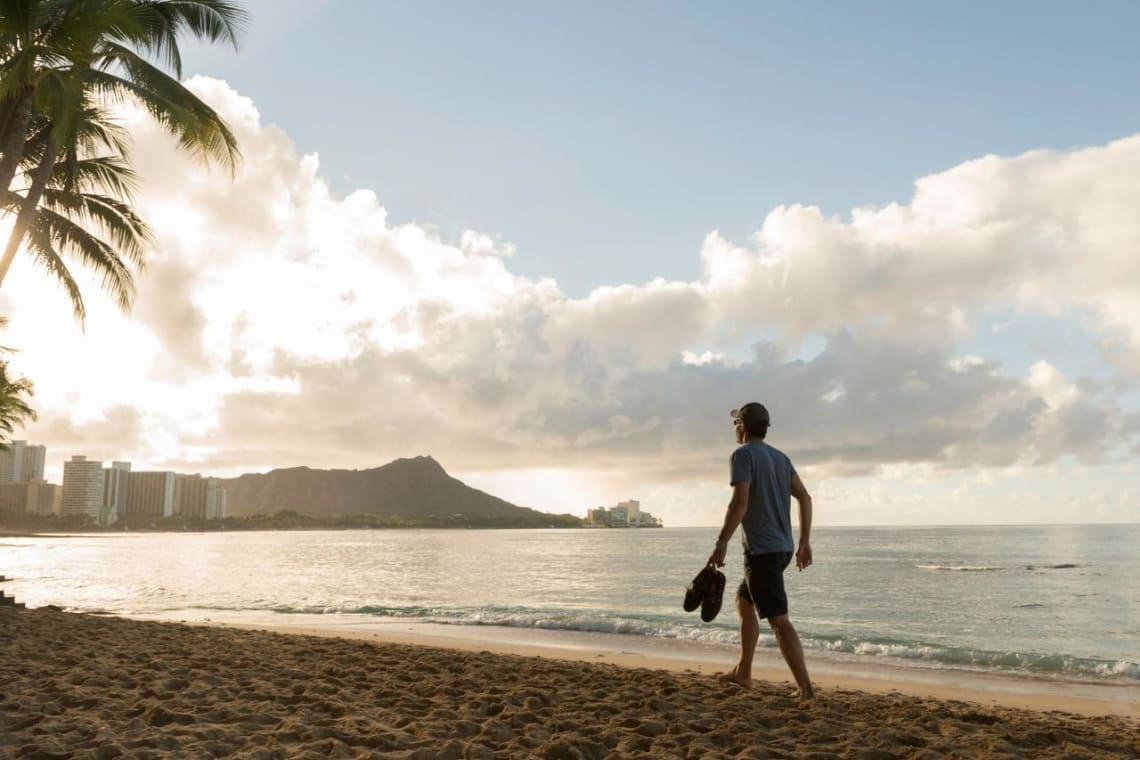 Accomodation
Many backpackers prefer to stay in hostels to meet other people and have an overall safe and accommodating experience. I typically rely on the website Hostelworld.com to find great hostels as well as awesome discounts every now and then.
Although staying in hostel dorms is much more affordable compared to airbnb or hotels nearby, volunteering with worldpackers can give you free accommodation!
Stick around until the end of this article if you would like to learn more about the volunteer/work exchange experience in Hawaii.

Transportation
The only form of public transportation in Hawaii is the local bus. Oahu has the best and most reliable public bus systems as that is where a majority of Hawaiian residents reside.
Lana and Molokai are the only islands that do not offer a bus system, whereas Pahu, Maui, Kauai, and the Big Island (Hawaii) do.
A quick and life saving cheat code to figuring out when the next bus comes is to download google maps. The google maps app will direct a traveler to wherever they need to go and which bus route will take them there.
A single ride on the bus costs $2.75 USD and a full day ticket costs about $5.50 USD. Uber, lyft, and private taxis as well as car rentals are also available for those with a larger budget.
Don't miss out: What you need to know before traveling to the US.
Plan your trip to Hawaii: What to pack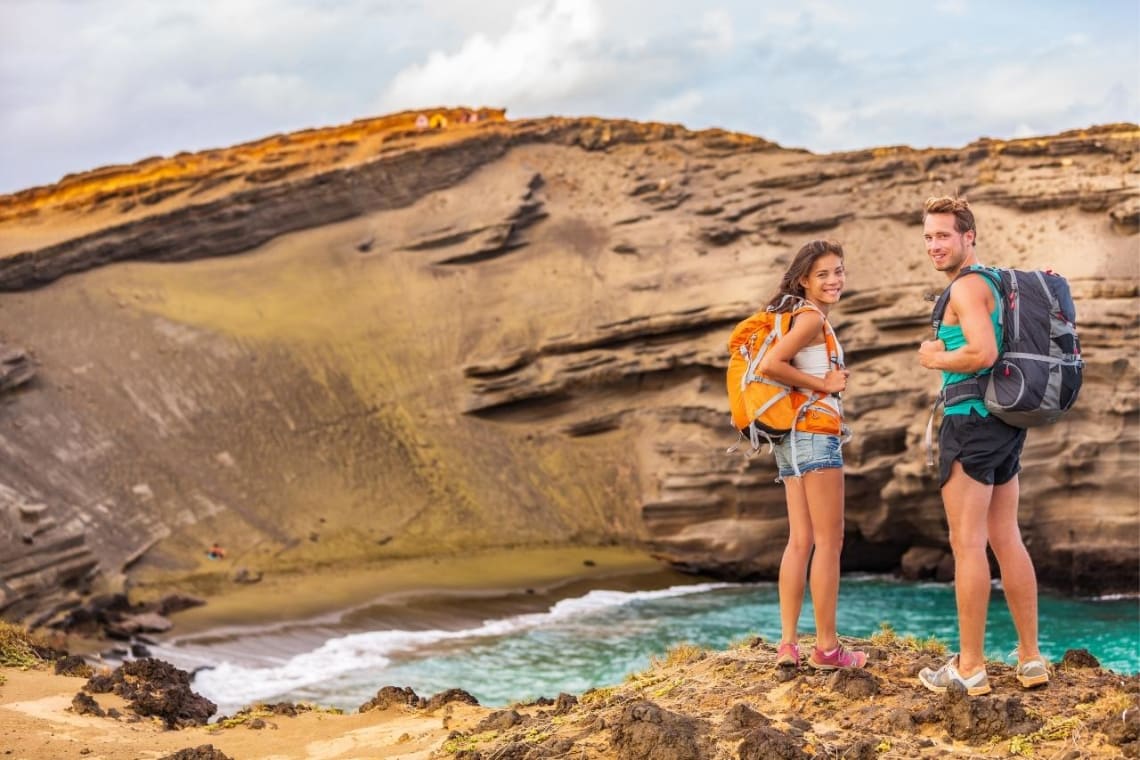 Is it your first time leaving the contiguous United States and you're not sure of what to pack? Don't worry, as a solo female traveler that has been to over 10 countries and territories, I've learned each trip may require different necessities and items to have a comfortable vacation.
Majority of the places I've been to have been in a carryon so I will be cautious of the size of items on this list. Here is a list of items I would take to have an awesome trip in Hawaii.
Long sleeve shirt/jacket
Surprisingly, it can get a bit chilly in Hawaii depending on where you are going. If you plan to see the beautiful Hawaiian sunset at the top of a mountain, it's most likely it'll get a bit cold. Even if you think you won't need it, you don't want to be unprepared for those unexpected moments.
Hiking sandals
A pretty famous hiking sandal brand loved by many is Chacos. They are waterproof, sturdy, and are able to fit on just about any terrain! When I toured Costa Rica, I met an expat there who said she only has one pair of shoes and they are her chacos! Hiking sandals are especially great for adventure backpackers who do not plan to pack many items as the sandals can be used for several different activities.
Accommodating snacks (for long plane ride)
The shortest plane ride to the islands will be between 7-8 hours from anypoint in California. Of course, after a few hours a person is likely to get hungry so it's best to be prepared for when the munchies come. As a vegan traveler, I always make sure to put in special meal requests to airlines whenever they offer them. Last time when I flew Hawaiian and Delta, they offered meals onboard. Anyone with a dietary restriction needs to be sure to let the airline know at least 24 hours before the flight or else they won't be able to have a meal that will accommodate.
Reef Safe sunscreen (4 oz or less)
In 2021, Hawaii passed a ban on sunscreens with certain ingredients as the components have been found to harm marine life. When visiting Hawaii be sure to pack a (carry-on size, less than 4 ounces) sunscreen without oxybenzone and octinoxate.
Waterproof phone case or waterproof camera
This next recommended item is pretty self explanatory. As one of the most beautiful places on earth, a traveler is sure to want to capture all the scenery whether on land or under the sea (said in Sebastain's voice from the Little Mermaid). I personally have a go pro so I rely on that camera for underwater footage as it is waterproof. A phone wet bag is a great budget alternative for those who desire great footage but do not necessarily want to invest in a camera.
Rash Guard protection shirt
This next item is pretty typical in photos, youtube videos, and movies featuring Hawaii. Surfers often wear a long sleeve tshirt known as a rash guard to protect from the hot Pacific sun. If you plan on being out in the sun all day testing new surfing moves, this is an item to invest in.
Portable phone charger
Not to be dramatic, portable chargers have saved my life multiple times. I've had instances where I traveled to other countries and I did not have the appropriate wall plug in. Fortunately, my portable charger was able to give me enough juice until I was able to find the proper charger.
Quality daypack
Bringing a quality, comfortable, and sizeable daypack is oh so key when it comes to Hawaiian adventures! Whether the day includes hiking a mountain, walking to a waterfall, or simply going on a coffee date, a backpack will most likely tag along.
Water shoes
Depending on the type of person you are, a quality pair of waterproof hiking shoes may dub as water shoes as well. When I do water activities, I don't like to feel different textures such as seaweed and tiny rocks under my feet. Water shoes can help people who are particular about the terrains they step on during water sports.
Of course, everyone has their own set of necessities they would want to bring on any trip but these are just a few items to start. If you are planning a trip to Hawaii, few free to adjust the list and add as much or as little as you would like to your bag.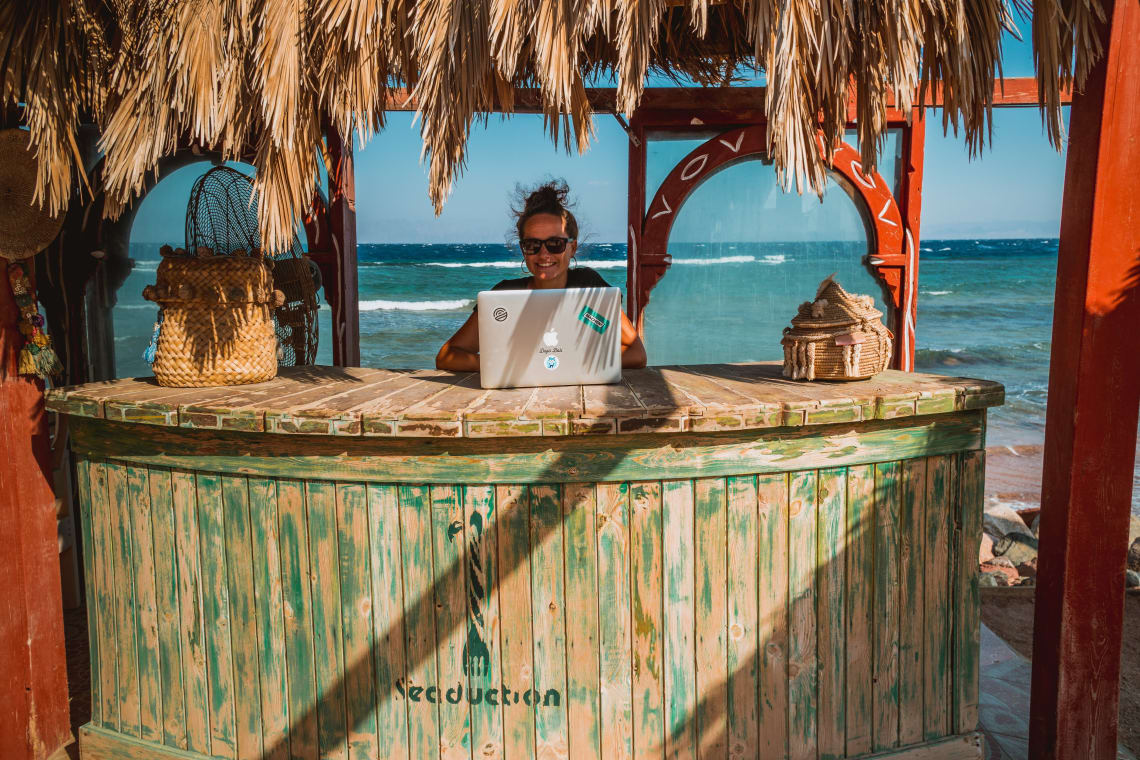 Necessities to pack for digital nomads
If you are a digital nomad or a person that works completely online, you're able to move around and live anywhere around the world as long as there's a reliable wifi connection.
Although Hawaii can be pricey, accommodation is free as long as you do a work exchange experience with Worldpackers, which we'll talk more about later on in the article.
American citizens are able to stay on the islands as long as they wish without worrying about any visa renewal, as going to Hawaii is just as visiting another state. Since there is no visa, why not take advantage of being able to stay as long as you wish!
A few items that are absolutely necessary to bring as a digital nomad, may include: laptop stand, reliable computer, headphones, and external hard drive.
To find more information on what to pack as a digital nomad, check out this article.
Plan your trip to Hawaii on a budget: Volunteering on the islands
If you're like me, you probably like to save as much money as possible. After all, with the more money that's saved, the more can be spent on spending more days in this tropical Pacific paradise!
As a solo traveler, hostels are my preferred accommodation so that I can meet other people from all around the world. Most hostels are typically affordable, but a bunk bed in a dorm in Honolulu island starts at $40 and can pass the $55 mark. Talk about staying on a budget right!

No worries, it's totally possible to have accommodation on the Hawaiian islands completely free of charge!
Many travelers on a strict budget find themselves doing work exchange to stay on the islands affordably.
What is a work-exchange you ask? Quite simply, it is volunteering or exchanging your skills in return for free accommodation. The process of volunteering may seem scary but it is completely safe. Tens of thousands of people all around the world use Worldpackers daily. I myself have used Worldpackers in 3 different countries!
Depending on what your skills and talents are, the platform offers many different volunteer opportunities all around the islands. Whether your expertise is gardening/agriculture, administration and reception, social media management, or housekeeping. There are plenty of experiences to explore that will allow traveling Hawaii on a budget possible!
Check out all the volunteer opportunities for work exchange on the Hawaiian Islands.
Since American citizens don't need a passport to visit the Hawaiian islands, what are you waiting for?!
With WorldPackers volunteer opportunities, it is possible to stay in the state for a while and enjoy all the culture and landscape has to offer.
Want to learn more about planning your trip? By subscribing to the WP pack plan you have unlimited access to +120 courses at Worldpackers Academy, the travel school made by travelers. And oh, don't forget your driver's license.