The ultimate guide to exploring Rome like a local
Rome might be one of the world's most touristic destinations, but it still has some places that not many travelers know about. Here's my top tips for exploring the Eternal City like a local.
---
La Bella Roma, or La Città Eterna is the ultimate dream destination for culture, art, food and history lovers. Rome really has it all!
Quaint and cozy cafés, restaurants with delicious Roman dishes, mind-blowing city views, fountains designed by the genius of Michelangelo (at least, most of them are), parks filled with pieces of the past, amazing churches, and history in every alleyway and around each and ever corner... these are just a few of the things Rome has to offer.
I always pictured Rome as old city full of history, and while I was interested to visit it, I definitely didn't think I'd end up having the best time of my life and wanting to stay forever.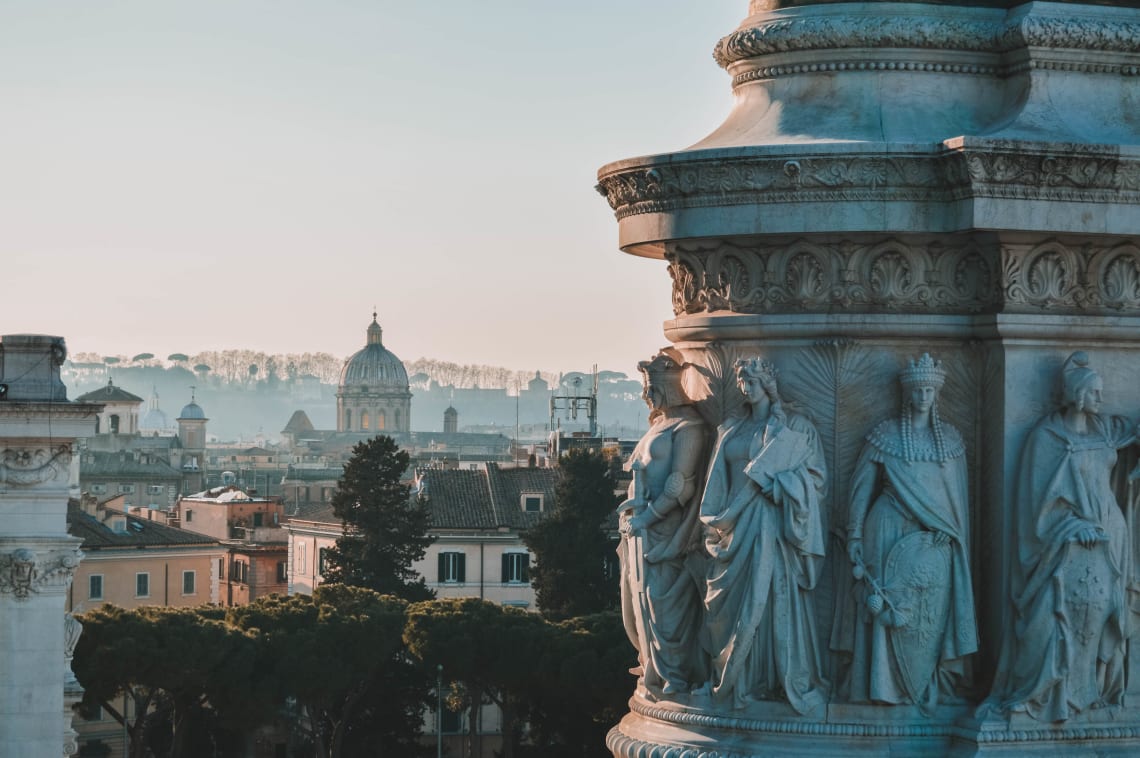 Thanks to my incredible experience living in a hostel and doing a work-exchange in Rome, I came up with a list of the best places to visit when exploring the Eternal City. Some of these are already popular amongst tourists, but most are known only to residents and provide a more authentic feel into day-to-day life and how to live like a local in Rome.
The ultimate guide to exploring Rome like a local
Know-before-you-go
First things first. Here's what I would have loved to know before visiting Rome:

1. Bring your most comfortable shoes
You will walk A LOT. Most of Rome's streets are made of cobblestone pavement, and although it looks fantastic in pictures, it can make your feet and body ache if you wear the wrong shoes.
2. Have a reusable bottle of water with you all the time
Always have a reusable bottle of water — especially if you're coming in summer when the heat is very exhausting. There are tons of fountains throughout the city that provide fresh, drinkable water 24/7. Many of these fountains are called "nasonis" by locals, because they look like noses!
3. Don't buy Euros in an exchange store
Don't buy Euros in an exchange store; instead, always use the Euronet ATMs! Euronet ATMS are everywhere and allow you to take your money directly from your bank account by paying a small fee (around $2.50 USD) per transaction.
4. Always have cash with you
Even though it's Italy's capital, Rome still uses cash in many places and many of the stores and restaurants do not take credit cards! If you don't have cash on hand, it's always best to ask if you can pay with debit or credit before ordering or purchasing something.
5. When you're not wining and dining, scope out the local and cost-efficient markets
When I lived in Rome, I shopped for groceries at Todis. Tuodi, Conad, and Carrefour are also great options for bargain deals.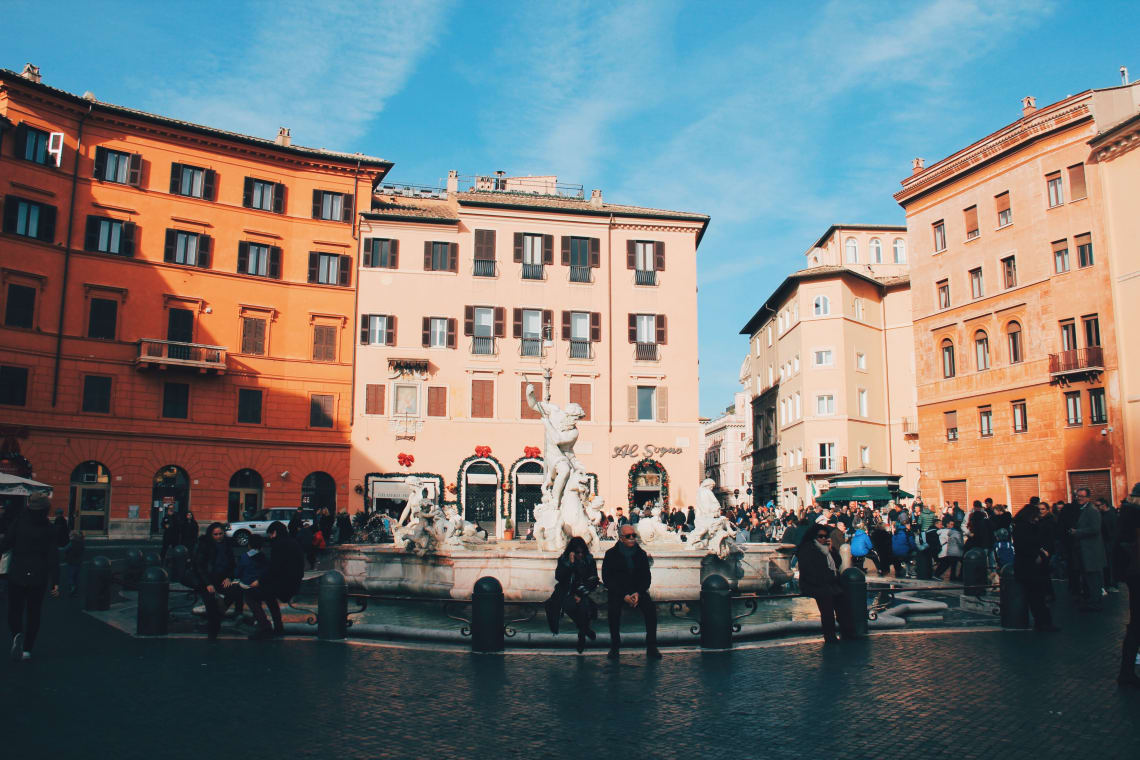 Where to go

1. Campo Di Fiori
During the day, Campo Di Fiori Piazza turns into a huge street market where you can buy fresh vegetables and fruits, spices, olive oil, limoncello, and more. There are also a number of great restaurants that offer typical Roman dishes.
At night, this Piazza is the perfect place to have dinner out, drink a Spritz or even share a Shisha with a friend. Check out Ristorante Magnolia where you can enjoy a tasty Shisha for 10 Euros! Campo di Fiori's atmosphere truly can't be beat and is a fantastic way to spend a night out in Rome.
2. Piazza del Campidoglio
I know this one is already famous but since not many people visit it (I never saw it crowded, even during the peak of tourist season), I decided to add it to the list.
Piazza del Campidoglio is located between the Vittoriano and the Roman Forum on one of the highest hills of Rome and offers up an absolutely breathtaking view of the city. The Piazza was designed by Michelangelo; take some time to appreciate the very detailed and stunning sculptures everywhere you look!
You'll have to climb many steps to get to the Piazza del Campidoglio, but the effort is well-worth it! Visiting will take you no more than an hour.
3. Porta Portese
Porta Portese is known for the flee market they have every Sunday. However, I would recommend you go during a weekday, walk under the ancient gate of the city and enjoy feeling like you've just traveled through time!
I personally remember feeling amazed at seeing the ancient gate; built in 1644 and 375 years later, still intact! This particular feeling of amazement is something you'll experience a lot in Rome. It's hard not to be in awe when surrounded by so much history! This is also one of the biggest reasons why I love Rome so much.
Porta Portese is very close to the famous neighborhood of Trastevere. My recommendation is to take your time and walk between one and the other; this is perhaps the most beautiful, photogenic and magical area of Rome.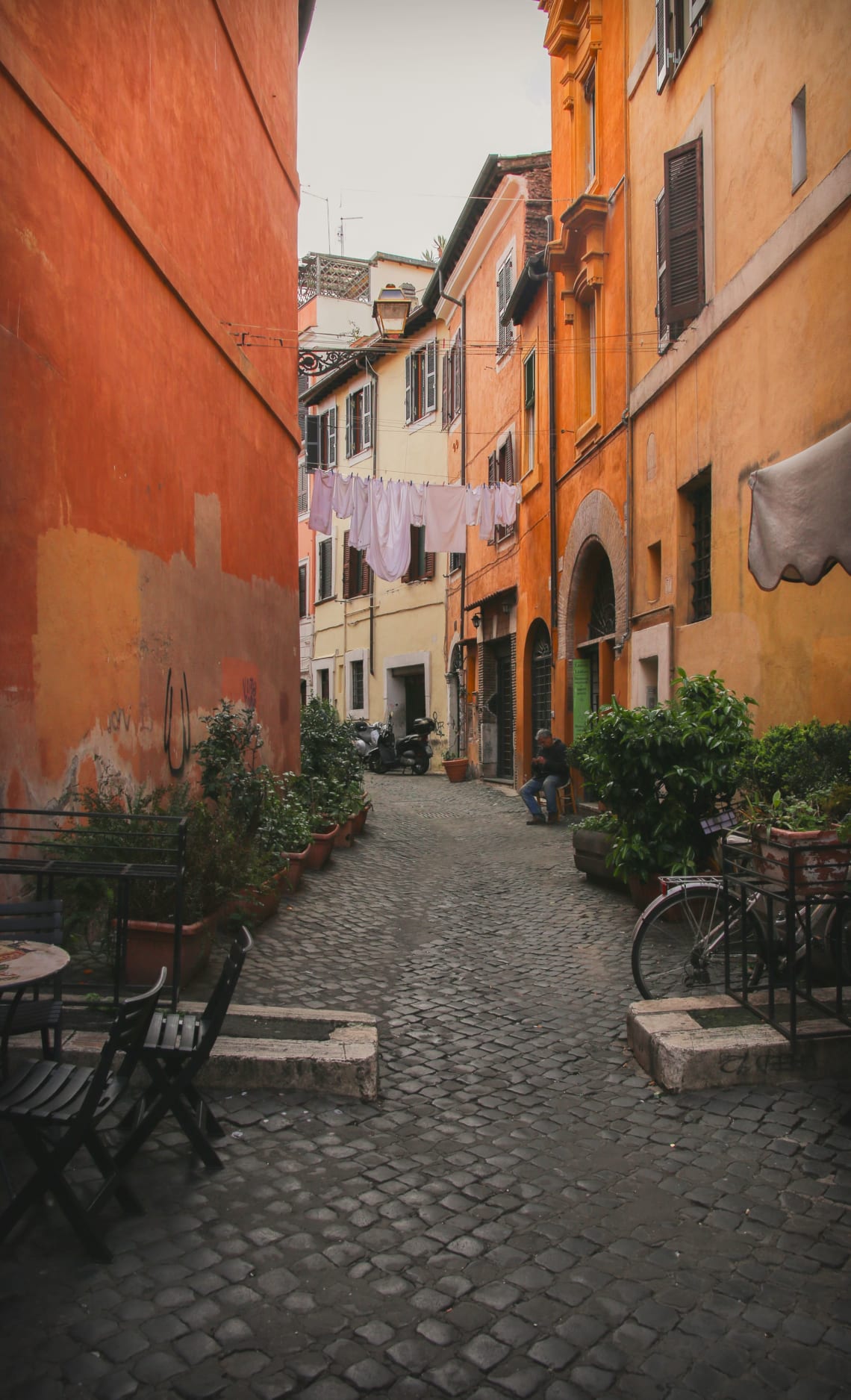 4. Tempio del Divo Giulio; Roman Forum
As a fan of Roman history and especially of Julius Caesar, the Tempio del Divo Giulio and Roman Forum were particularly of great interest to me.
From the outside, the Temple of Caesar (Tempio del Divo Guilio) appears to be in absolute ashes and it is very easy to walk right on by without recognizing it or knowing its importance. But it's worth taking a closer look; this is where the murdered dictator of Rome was cremated. Some people leave a flower, others throw a coin... I didn't do either of those, and as a matter of fact, I didn't even pay to get inside the Roman Forum!
Don't get me wrong, the entrance fee is more than worth it. But if you're on a budget as I was, you can always take advantage of the city's specials!
Every month Rome offers no-fee entrances to many of the city's attractions!
The Roman Forum is free on the first Sunday of every month. You must arrive early in the morning for a shorter queue and fewer people.
The ticket you'll get will also give you free access to the Colosseum! I'd recommend you to go to the Colosseum first as it's the most crowded and then do the Forum. Finally, don't miss the Severian Arches on Palatine Hill for fantastic views of the Colosseum and St. Peter's Basilica.
You can get your tickets at the ticket-office that's between the Colosseum and Arco di Costantino.
Pro tip: If you visit on a free-entry day, the ticket you'll get is equivalent to a fast-access pass. Go directly to the shortest queue (the priority line) and show your ticket. I got inside the Colosseum within ten minutes instead of waiting for an hour!
5. Giardinetto Del Monte Oppio
My best-kept secret (until now) of Rome! This little park is almost always absolutely empty.

At Giardinetto Del Monte Oppio you can relax and take a short break from all the touristic action and hustle and bustle of the Eternal City. Aside from the tranquil and peaceful vibe, you also have the best view of the Colosseum!
I spent several afternoons at Giardinetto Del Monte Oppio, drinking tea or wine and just contemplating the sheer glory and magnitude of the massive amphitheater.
While visiting Giardinetto Del Monte Oppio, please remember to pick up after yourself and keep this beautiful green space green. Unfortunately, there are no trash bins at the park but that doesn't mean you should throw yours onto the ground.
As I remember, there is not even a single trash bin here but that doesn't mean we should just through our dirt to the ground, so keep your garbage in a small bag inside your backpack.
Let's be conscious travelers!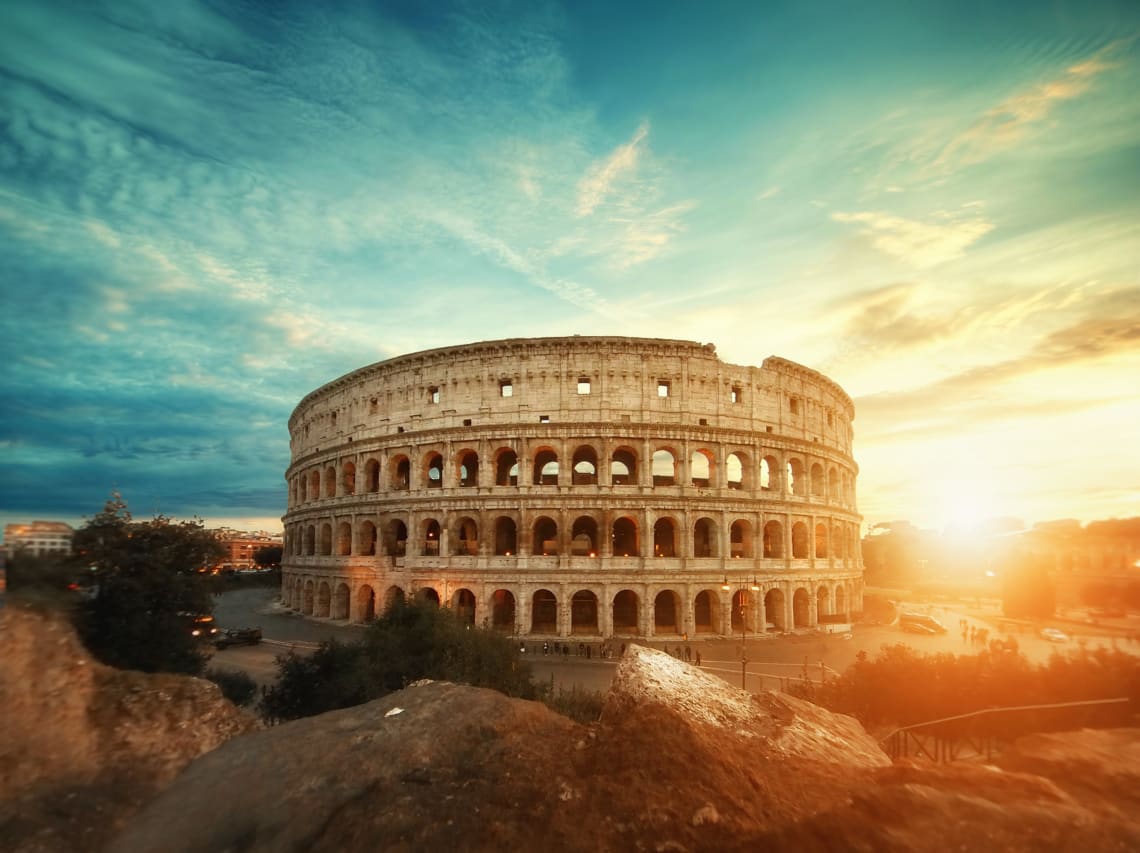 6. Parco della Caffarella; Bosco Sacro and Ninfeo di Egeria
Clearly, as Italy's capital, Rome is a huge city but also has so many large green areas!
One of the many options is Parco della Caffarella where you'll find amazing trekking paths between dense vegetation and many vast green views that will make you question if you are even still in Rome!
What makes this park really special is all the different scenery you'll see while walking through it.
In the middle of the park, after climbing some small hills, you'll find yourself in front of Ninfeo di Egeria, an ancient ruin dated from the 2nd century A.D. 5 minutes later, you'll be walking in a country-side field full of sheep being shepherded in Bosco Sacro!
Head out to Bosco Sacro for a lovely day away from all of Rome's traffic, noise, and downtown crowded touristic areas. Enjoy nature and a cold-cuts picnic with some Italian wine!
7. Monte Ciocci, Terrazza del Gianicolo and Piazzale Socrate
And because we're already talking about parks, I had to mention these three which, in my opinion, are the best panoramic viewpoints from where you can enjoy a full-picture view of the Eternal City.
All of them offer different perspectives of the city and, if you're traveling with not much time, just picking one will be more than fine.
Monte Cioccio (my favorite) and Terraza del Gianicolo are the most beautiful and stunning, while Piazzale Socrate has a fantastic view but is not the best place to hang out for a long time.
They are also all great options for where to go to catch a sunset! (or why not, a sunrise!)
Finally, as non-touristic parks you'll always find some locals enjoying the view at night along with some friends, so you could end up practicing your Italian language skills!
8. Fontana dell'Acqua Paola
Fontana di Trevi is famous around the world, we're definitely not going to question that. But, as we all know, Rome is the Queen of fountains! There are so many spread all over the city that it's pretty much impossible to see them all.
Fontana dell'Acqua Paola is one of the bigger and more beautiful of Rome's fountains. It has a Trevi vibe and is very nice to photograph and spend time at as it's not constantly surrounded by people. Moreover, it is located on top of a hill and has a great viewpoint.
Just beneath Fontana dell'Acqua Paola you'lll find the infamous neighborhood of Trastevere. Go there to try one of the best coffees in Rome at Caffe' Settimiano Di Mella Valter.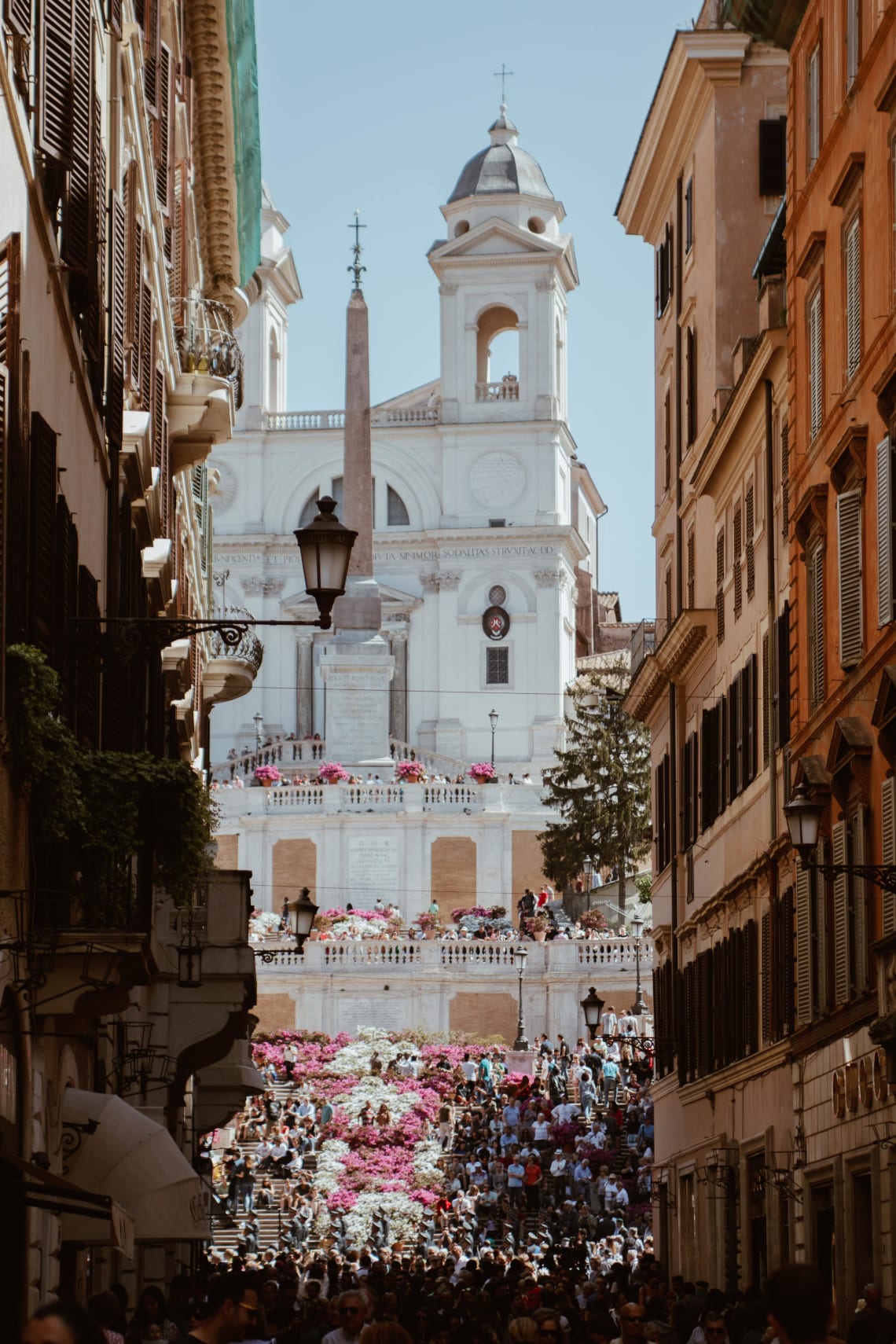 9. Caffe' Settimiano Di Mella Valter

This café not only serves the most tasty and inexpensive coffee, but also offers a few outdoor tables with a very traditional Rome view!
During summertime Caffe' Settimiano Di Mella Valter gets very busy and it might be difficult to get a table, so go early!
There's nothing more European than drinking an espresso and fresh pastry surrounded by cobblestone pavement and beautiful, ancient buildings!
10. Vendita Libri Cioccolata e Vino

If you are not a coffee fan, you should check out Vendita Libri Cioccolata e Vino. A place where, as the name implies, you can have some chocolates with alcohol!
The coolest thing is Vendita Libri Cioccolata e Vino also sells shots served in a GLASS MADE OF CHOCOLATE! Yes! This is a real thing!
The bar is budget friendly and welcoming. Whether you're traveling with friends or alone, Vendita Libri Cioccolata e Vino is a must-visit when in Rome!
11. Fontana delle Tartarughe and Antico Forno Roscioli
There is not much to say about the small cozy square of Fontana delle Tartarughe, except that it's located five minutes walking distance from one of the most famous pizza places in Rome! Thus, Fontana delle Tartarughe easily becomes the greatest square where you can enjoy Rome's best pizza!
First, head to Antico Forno Roscioli and choose your slice! (Depending on which one you choose, they're going to cut it in half and put the two pieces together to make a sandwich... apparently, that's the way Romans eat their pizzas).
Don't forget to try the famous Supplì and for dessert, try Aragostina or Napoletani! They have so many sweet options that you'll probably end up going more than once.
Once you've got your pizza and dessert, head to Fontana delle Tartarughe and enjoy your meal!
12. Scalinata dei Borgia
Hidden in the middle of Rione Monti neighborhood, you'll find the tunnel-stairs of Scalainata dei Borgia.
The tunnel connects two streets. On one side you'll find Ciuri Ciuri, a bakery shop famous for its cannoli, and on the other side, Basilica di San Pietro in Vincoli, home to the Moses sculpture made by Michelangelo and some amazing frescos on the ceiling of the altar.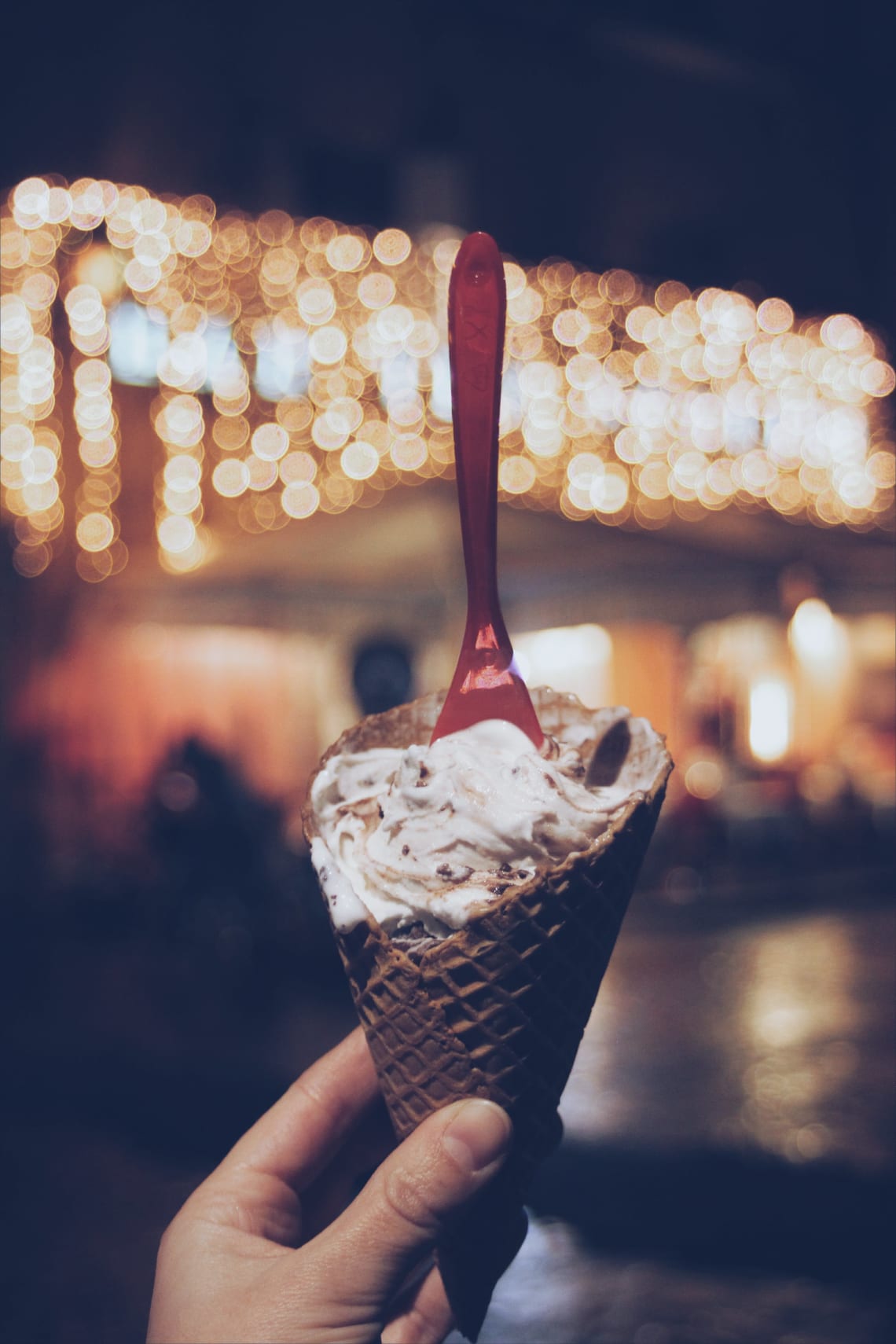 13. Il Gelato di San Crispino
We all love ice cream but gelato is on a completely different level!
Let me introduce you the most authentic, artisanal and tasty Gelateria in Rome!
The best gelato in town is in Il Gelato di San Crispino! I tried it several times to make sure it was the absolute best. And yes, it is.
They don't have many flavors but the ones they have are just perfect! Based on the ingredients, they keep each flavor at a different temperature so that they all have the same consistency. So cool, right?
Gelato di San Crispino is just a couple blocks away from Fontana di Trevi! There's also a second location close to the Pantheon.
14. Villa Borghese
The park with the shape of a heart is the perfect place to go for a long walk and relax for a while.
Villa Borghese is very big, full of nature, and offers an amazing viewpoint right next to Piazza del Popolo at Terrazza del Pincio. From here, you can see the Water Clock, and chill in front of the beautiful Round Fountain. Go here for a panoramic walk, or to catch one of Rome's beautiful sunsets!
15. Chiesa di San Marcello
Chiesa di San Marcello is unique Roman church with frescos everywhere! No matter where you look, you'll find an amazing painting.
The best time to visit is at night when all the candles are lit!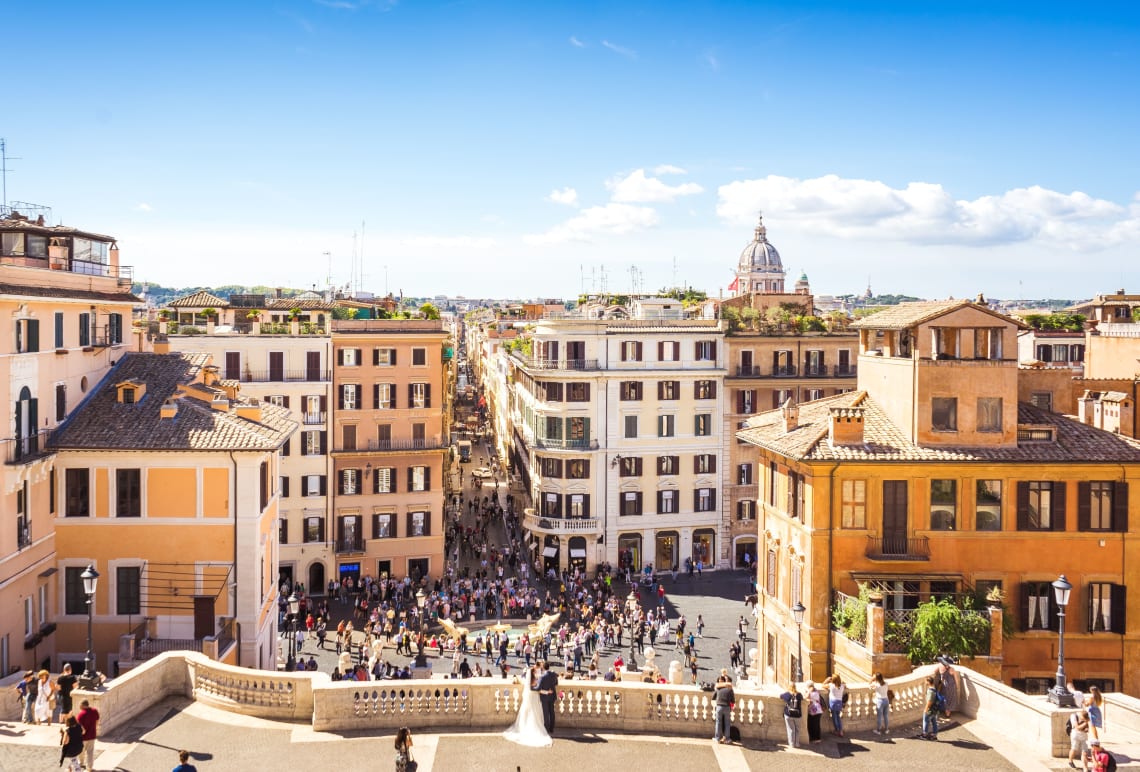 I hope all of this information that I collected since I moved to Rome helps you enjoy and love the city as much as I do!
If you find yourself wanting to follow in my footsteps and live and work in the Eternal City, join Worldpackers today and check out all of their incredible work-exchange opportunities in Rome and greater Italy!

BUON VIAGGIO fellow travelers!
---
---