Helping an NGO in Cambodia: the best experience of my life
Travel around the world, learn everything I can from other cultures and grown as a human being. This is my dream, which I've been living at its maximum for the past 5 months already.
---
Gustavo
Living my dream of travelling the world! :) After 12 months volunteering in Asia/Oceania, now I'm exploring Europe. Please, let me inspire you to follow your dreams too... COURAGE!! :))
Living my dream of travelling the world! :) After 12 months volunteering in Asia/Oceania, now ...
+ See More
Nov 14, 2018
Hello, I'm Gustavo Goulart, 31 years old, from Sao Paulo, Brazil.
I'll tell you about the time I was living my dream - which started in May of 2016. No… Actually, it started in mid-2016 effectively, and I'll tell you why.
I say effectively because I was planning this journey long before boarding my first plane, doing things like:
Dream a lot about the whole trip.

Make the final decision to do it and convince me why it was so important.

Prepare myself and my loved ones (for over a year!) to get used to the idea of me being gone for a long time.

Plan and execute my dismissal request out of the awesome company I had been working on for more than 8 years, along with other commitments I had.

Sell my apartment, my car, and other personal belongings.

It took me over a year to go through all of that, and by the time they were all done, I could finally feel completely ready to start my journey.
But then… I looked at my pocket and realized I still did not have all the money I needed to travel all the countries I wanted. It's a huge world, you know! So, I researched online to find out different ways and possibilities to work abroad during my travels.
The results I got were even better as I figured out I could exchange volunteer work for other services, like accommodation, food and etc!
That was exactly what I was searching for. For me, not only the travels themselves were an important part of the whole process, but to feel part of local cultures abroad and learn the most I could from each one of them.
So, I got on a plane to Japan (such an amazing country!) and my journey had had finally begun!
I stayed at hostels at first, because I was initially afraid of using such websites to travel. But after talking to people in Kyoto (where I had a great volunteering experience), they told me they were also Worldpackers hosts, what made me more comfortable to use the platform to travel.
After Japan, I went to Taiwan (also amazing!), and I got my first Worldpackers experience: volunteering in a hostel in Tainan, the ancient capital of Taiwan.
I helped them with some easy tasks, such as making beds and doing laundry. In exchange, I received free accommodation, along with breakfast and lunch! All the staff was very kind and patient and I can thank them for this amazing experience.
South Korea, China, Hong Kong later, and Thailand came right next.
Then I crossed the border to Cambodia (where I am now). Because of an awesome experience, I wanted to give Worldpackers another try. So I applied to volunteer on an NGO to teach English to local kids in a tiny village called Kampong Prieng, 25 km away from Battambang, which is still a small city but the third biggest of Cambodia.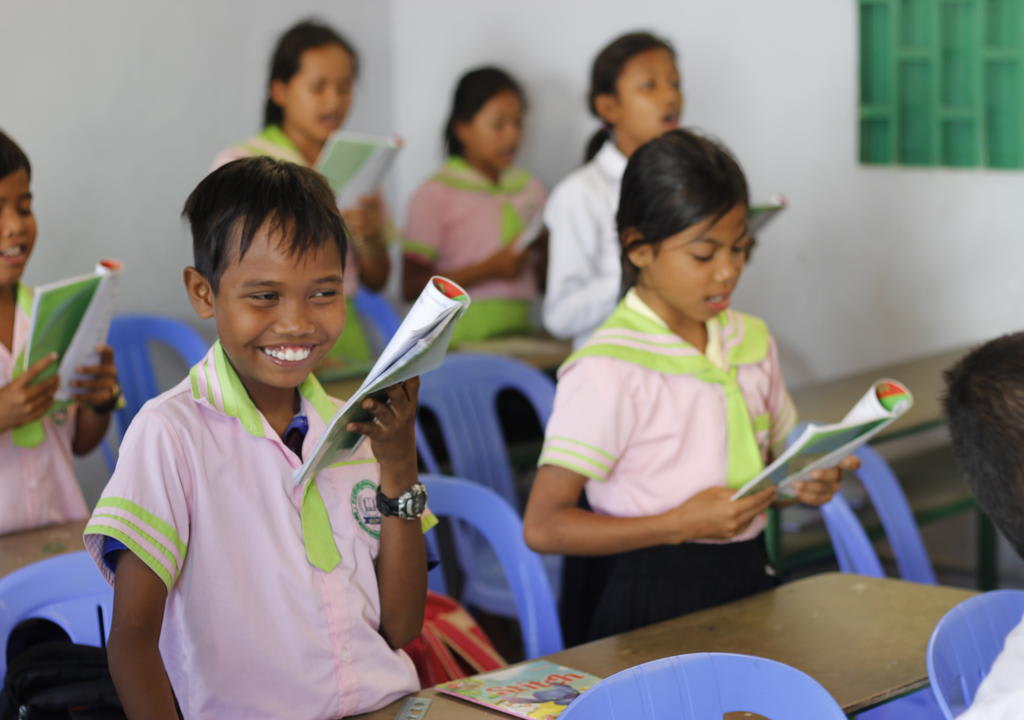 This has been the best experience I've had in my life!
First of all, the host Juan is a very nice and fun Spanish guy, who I could relate with right away after a warm welcoming. He is the Project Manager of the VIP Fellowship Programme, which is a Malaysian program working to implement sustainable projects throughout Asia in order to promote human development in less-developed areas.
On the VIP team, there was more amazing people, mostly EXPATs who were there working on the project, built to connect the NGO initiative with other local initiatives in Kampong Prieng. Also, they help and guide local students on how to get a job in the community.
Human Resource Development & Language Foundation (HDLF) is an NGO founded in 2015 by a very good-hearted Cambodian teacher and his family. No wonder he is called "Man Kind" there. The NGO goal is to build English schools around the country and help them become sustainable once they're in place.
Before continuing to read this, please take some time to learn about the Cambodian history. It is very tough and, especially during the Pol Pot's Khmer Rouge regime, really challenging.
My experience as a volunteer was helping on the second school they are building (which has more than 130 students now!). The food and accommodation in the school are simple (no Western toilets or showers there), which gave me a whole new perspective of living.
I could build walls, teach English, cook, participate in rice farming, help as a gardener, and whatever other functions they needed me to do. In fact, I even decided to stay 1 week longer than I was planning to.
This has been the best experience of my life at so many levels. Helping those kids is something that completely stroke me.
I also learned that you don't need much to be happy (like a Western shower or toilet) and that, to make another person happy, you don't need much.
I learned a lot by volunteering in an NGO in Cambodia and I will definitely come out of this experience a much more complete human being than I was before.
With all my heart, thank HDLF team, all students, VIP team and the Worldpackers community. "Arkoun!", as they would say there : )
---
---
Gustavo
Living my dream of travelling the world! :) After 12 months volunteering in Asia/Oceania, now I'm exploring Europe. Please, let me inspire you to follow your dreams too... COURAGE!! :))
Living my dream of travelling the world! :) After 12 months volunteering in Asia/Oceania, now ...
+ See More
Nov 14, 2018
---
Did you like it? Don't forget to let Gustavo know :-)