How can I improve my ranking on Worldpackers?
Learn how to improve the visibility of your profile to get more applications from worldpackers!
4min
Most people who do a search, with any tool or website, usually stop searching after the first few pages. Knowing this challenge, we've listed out a series of tips to make your profile better ranked in the Worldpackers search tool, giving you more visibility and more applications from our travelers.
1. Perfecting your profile according to Filters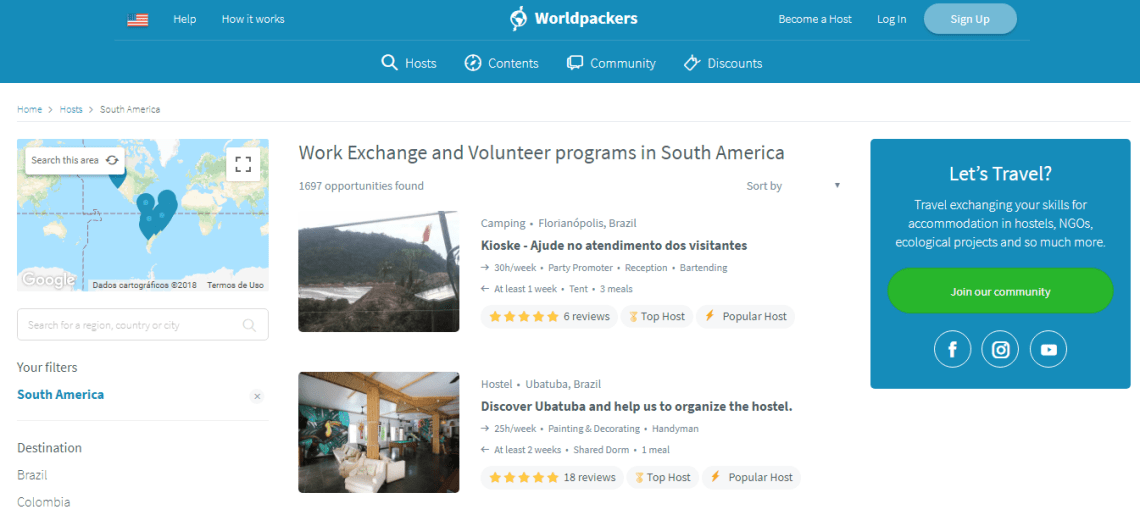 There are many factors that a traveler could take into consideration when looking for an opportunity with Worldpackers: if the availability of the host lines up with the traveler's plans, if the property is easy to access or close to places the volunteer is interested in seeing, the type of help the host needs, and even the vibe of the property. So, the first step to improve your profile is to make it ready so that travelers can find your property using the filters available on the platform.
Travelers can currently use the following filters to find the ideal opportunity:
Destination: your place on the map makes a huge difference in the amount of applications you will receive. Therefore, be specific by including your address on the platform. Don't worry: while searching, the traveler will only have access to the city where your property is located, and will only know more details of your address after you both have confirmed the trip.

Availability: In order for you to have accurate applications and not to frustrate any travelers by turning them down because of availability, it is essential that you keep the availability of your positions up-to-date. Remember that it's necessary to change the availability by marking the days that you don't need volunteers.

Skills: It's important that you select the right skills when creating your position. If you need help in Marketing & Communication, for example, there is no point in creating a spot with the skill of Guest Reception: besides causing frustration, you will also get less applications. We also do not recommend to explain the tasks just in the position description: filters cannot fetch the information in this field, which is why it is so important mark the right skill first. If you have created a position with the wrong skill, you can close it and create a new one with the correct skill in your Volunteer Positions.

Host Type: Correctly advertising the type of your property is essential to avoid a mismatch of expectations with travelers. If your property is a site or farm that you would like to turn into a permaculture project for example, you should mark that it is a site/farm to prevent the traveler from arriving believing that the project is already consolidated with permaculture concepts. The same applies to the hospitality industry: the vibe, the clientele and the tasks of a hostel are very different than that of an inn, for example.

Style: Just like the type of host, aligning expectations in relation to the style of your property makes all the difference for the traveler. Like if your space is a party hostel, make this clear in your profile. So you and the travelers avoid frustrations of having an experience where you both are uncomfortable or unhappy, completely getting away from the spirit of a successful collaborative relationship.

2. Using special platform filters and statuses
In order to deliver better and better experiences, we created some statuses and filters to help you receive more applications.
Host with Potential: if you are a new host on Worldpackers (1 to 90 days active on the platform), you can receive the status of Host with Potential, created to show that you truly understand the value of collaborative relationships. Click here to know more about this status.

Last Minute Help: if you are in dire need of help, you can flag this on your profile - and even get a momentary push for the best positions in the search. You can activate this option in your Volunteer Positions, using the "Activate Last Minute" button.

Top Host: the Top Host program was created to recognize hosts that help us by receiving worldpackers, making travel more accessible and giving unforgettable experiences of true cultural immersion. Learn more about how to become a Top Host here.

3. Maintain good response levels to applications
In order for your profile to stand out in the search tool, it is essential that your Response Rate and Time are excellent, in addition to having a good Acceptance Rate of travelers. Learn more about these things below:
Response Time: you have up to 3 days to respond to an application before it expires. So always be aware of notifications so you don't leave any application unanswered. One tool that can help you with this is our mobile app, Worldpackers Inbox for Hosts, available for iOS and Android.

Response Rate: even if you don't want to receive a certain traveler, it's important that you decline their application instead of simply letting the conversation expire. Aside from not leaving the volunteer disappointed, you won't hurt your response rate.

Acceptance Rate: by accepting more travelers and regularly confirming trips, you have more chances of rising in the ranking, as well as more chances of becoming a Top Host on Worldpackers. However, receiving a lot of volunteers without aligning expectations beforehand can become a huge problem. To improve this percentage, you can better filter incoming applications by putting more selective requirements in the position postings. Changing the availability of spots when you already have volunteers on the property is another point that helps to improve your rate. In this article we talk more about how you can use our tools to have amazing exchanges.

4. Give and receive good reviews on the platform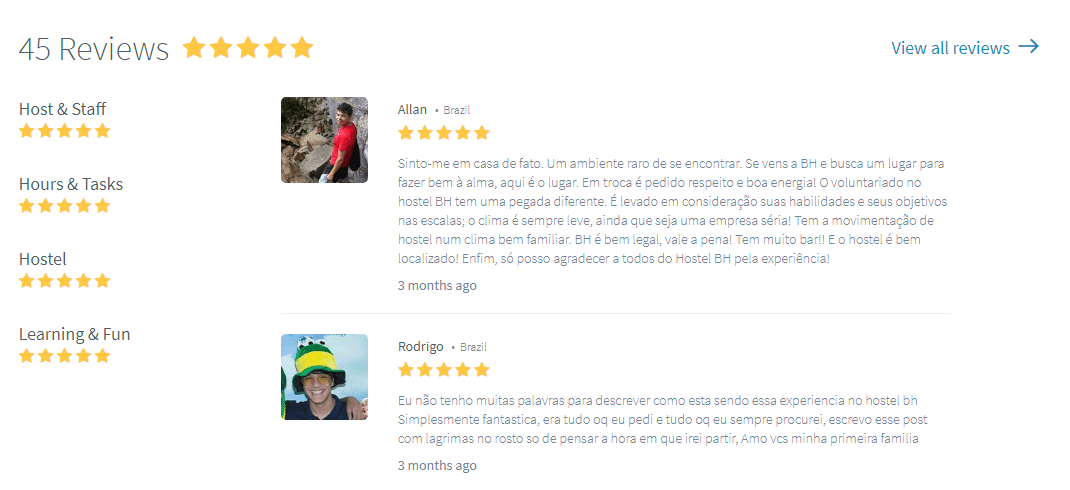 The more ratings and reviews you recieve on your profile, the better it will be ranked. So you can remind the volunteers to rate the experience on the platform at the end of the experience. Just keep in mind that this reminder should be friendly, and not used in any way as a bargaining chip. A good and simple "reminder" is to actually leave a review for all your volunteers. That way they will be more likely to reciprocate.
We hope that with these tips, your profile can take off and receive a lot of incredible applications, generating enriching experiences!