How to become a traveling bartender with Worldpackers
The best reasons to become a traveling bartender, how Worldpackers can help you along the way, and how to work anywhere in the world.
16min
Young and adventurous people are always on the lookout for ways they can travel for as little money as possible.
The best way to do this is to work while traveling.
There are so many jobs that allow you to travel the world, live in amazing destinations and work flexible hours. Whether it be teaching languages, nannying, working on cruise ships, house-sitting, volunteering with social projects, working as a tour guide, or working online and being a digital nomad, there are plenty of jobs nowadays that allow people to explore the world while making money.
One of the most exciting jobs available to talented and enthusiastic people is bartending.
Traveling bartender jobs are plentiful. All over the world, people are moving from place to place and working in bars serving drinks and making cocktails. This job allows you to make money while you travel, and learn useful hospitality skills.
Worldpackers offers a multitude of traveling bartender jobs to those who are verified members of the community. There are jobs available in countless countries, and the best part is you usually don't need any prior experience.
So for those wondering how to become a traveling bartender, it is actually very easy with Worldpackers.
The Worldpackers hosts are happy to teach you the skills you need to succeed.
I tried my very first bartending job through Worldpackers. I worked as a bartender at Milhouse Hostel in Cusco, Peru, and since then I have turned bartending into a successful career and I've done it in multiple countries. So the skills I learned through that Worldpackers work exchange still benefit me today!
Bartending is a very versatile skill that is in demand all over the world. For those who like a fast-paced work environment and like to socialize with others, bartending is an amazing and fun job.
Once you master the basics, you can take this skill all over the world and become a traveling bartender!
5 best reasons to become a traveling bartender
1. Fun, fast-paced work
2. Ability to meet lots of new people
3. Flexible hours

4. Learn the basics of hospitality

5. Travel all over the world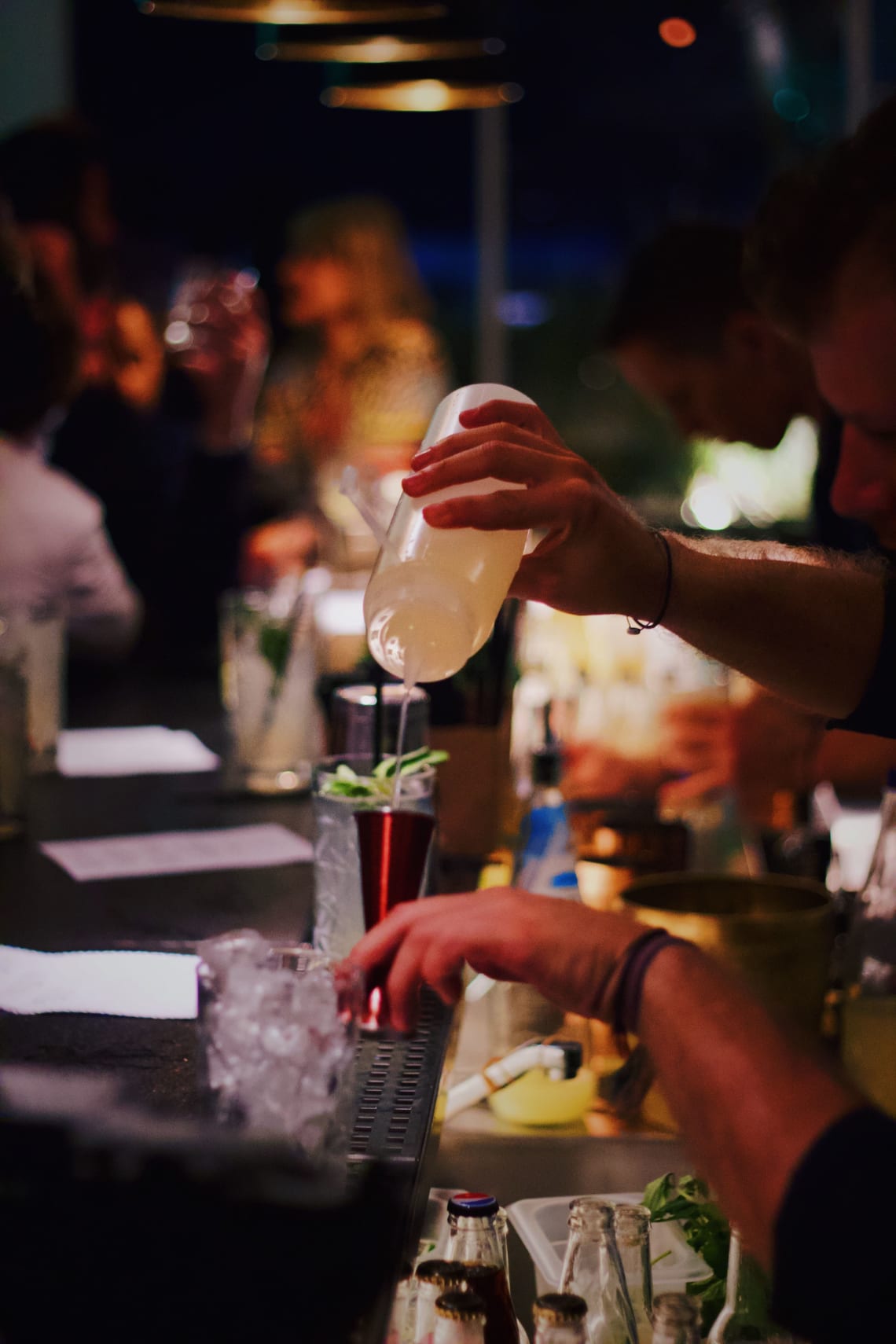 1. Fun, fast paced-work
Bartending is never boring! For those who dread the thought of sitting in an office or working at a desk, bartending is a great career option. You are always on your feet, always moving, and always physically and mentally active.
The job isn't necessarily physically difficult, but sometimes you have to lift heavy boxes of liquor or containers of ice, so it definitely keeps you fit. You have to learn how to pour and serve different drinks, including cocktails, and sometimes you have to serve food and take orders as well.
You have to learn how to handle money and most importantly, you have to interact with customers. Bartending is great for people who are outgoing and charismatic. It is your job to make the guests feel welcome and ensure they are having a good time. So once you learn the basics of making and serving drinks, the rest is just natural charisma.
While bartending, you are constantly on your toes. It's not a monotonous job that you can tire of. Every single day is different. You always meet new people and deal with different situations. You are constantly learning and adapting.
One of the most popular places to bartend abroad is in hostels. Lots of party hostels have their own bar, and they are looking for fun and energetic people to run the bar and serve drinks to the hostel guests.
Working in hostels is so much fun. Sometimes there are fun parties and games, sometimes there are theme nights and live music, and overall the atmosphere is really exciting but laid-back.
2. Ability to meet lots of new people
Being a traveling bartender means you are constantly meeting new people, on and off the clock.
During any single shift as a bartender, you'll have to interact with a large number of different guests. In addition that that, you always have to be communicating with your coworkers and your managers.
This constant interaction makes it super easy to make friends. If you've moved somewhere new, working in hospitality is an amazing way to meet new people who can eventually become your close friends.
Especially if you are bartending in a hostel, where everyone not only works together but also lives together, chances are you'll grow really close bonds with your coworkers and roommates. This is a really special experience that not many people get to enjoy!
If you're a traveling bartender who is constantly moving from place to place, that just means you'll meet even more new people everywhere you go. Over time, you'll accumulate so many special friendships with people from every country you've worked in.
The great thing about friends who travel is that they always make the effort to reunite. Even if you live on different sides of the world, when you both love to travel it's only a matter of time before one of you visits the other or you meet up somewhere new.
I bartended with Worldpackers at that hostel in Cusco back in 2016. I made incredible friends, and since then I've met up with some of my coworkers in England and in Australia. I love that those relationships are still strong, even though it has been years since we all worked together.
3. Flexible hours
Another one of the best reasons to become a traveling bartender is the flexible hours. That typical 9-5 day does not apply to bartending. The hours you work will change depending on the place, so you have the flexibility to find somewhere where the hours suit you.
Generally speaking, most bartending shifts don't start until 11 am. In many countries, you can't serve alcohol in the morning, so you can either sleep in or enjoy your morning before heading to work at a reasonable hour.
For night owls and party animals, bartending is an amazing gig. Some bartending shifts run all night long and you can enjoy the nightlife while getting paid to work. The you'll have all day to sleep and relax before heading to work in the evening.
If you bartend in a restaurant, your evening shifts will usually end between 9 and 11 pm. Sometimes you will work lunch shifts, where you work from 11 am until roughly 5 or 6 when the dinner employees come in to take over. If you bartend in a nightclub, your shifts may end around 2 or 3 in the morning.
If you bartend in a hostel, your hours could be all over the place. Bartending doesn't always mean serving alcohol; some hostels that serve breakfast require their bartenders to also run the breakfast, so you could even have a morning shift. Breakfast shifts are usually pretty relaxed and end in the early afternoon, so you can still enjoy your day.
The beauty of bartending is that the hours are so flexible and you can pick where you want to work.
If you love partying and staying up all night bartend in a nightclub or in a party hostel. If you like to enjoy your mornings but still want to go to bed at a reasonable hour, bartend in a restaurant and take lunch or dinner shifts. If you are a morning person and you want to finish early, bartend in a hostel and ask for breakfast shifts.
Being a traveling bartender allows you to find work that suits your schedule!
4. Learn the basics of hospitality
Hospitality is a very diverse and in-demand industry. There are so many jobs that fall under the umbrella of hospitality, and once you learn one, it is quite easy to pick up the other ones.
Hospitality is basically just customer service; where a host receives a guest and helps them with some sort of service. Hospitality is about people-skills, attention to detail, and commitment to the task at hand. It's all about keeping customers happy.
If you've worked in any sort of hospitality job before, such as a hotel or hostel receptionist, a housekeeper in a hostel, a tour guide, or a waiter in a restaurant, then bartending will be easy to pick up. But if you've never worked in any hospitality job before, bartending is a great way to learn how the industry works.
In addition to just serving drinks, bartending includes a number of other essential tasks, such as handling and counting money, keeping stock of items, cleaning, prepping ingredients, organizing, opening and closing the bar, and maintaining good presentation of the bar. You'll learn how to deal with customers, and how to keep people happy.
These skills that you'll learn while bartending are skills you can use for the rest of your life. The art of customer service is incredible useful, whether you work in hospitality or not.
Being a traveling bartending is even more impressive than just bartending at home because you can use your customer service skills in different countries and different cultures. You'll have to learn how to work with and serve people that have different backgrounds, different customs, and speak different languages. You'll develop better communication skills and gain a broader range of experience.
Working in any hospitality job is all about communication. Making drinks is important as a bartender, but that is easy to master. Once you master customer service and making customers happy, you have really succeeded as a bartender. And once you master your communication skills in different countries, you have really succeeded as a traveling bartender!
5. Travel all over the world
This is the most obvious perk of being a traveling bartender, but it is also the most rewarding. You probably wouldn't even be reading this article if you don't want to travel, so chances are you understand how incredible it is to be able to travel the world and work while doing it.
Hospitality is an industry that thrives all over the world. In pretty much every country, people like to eat and they like to drink. Restaurants and bars are plentiful on this planet, meaning there will always be jobs available as cooks, waiters, and bartenders. All you have to do is pick a country you would like to visit, find a place to make drinks, and you're good to go.
It is important to consider language barriers while traveling the world as a bartender. Because bartending requires a lot of communication and speaking with customers, you should probably speak the local language. The only exception to this is working in a hostel.
Because hostels cater towards travelers, sometimes you don't have to speak the local language to bartend in a hostel. The guests come from all over the world, so there isn't any one specific language that everyone speaks. English is probably the most common language between travelers these days, so if you speak English you can find a hostel bartending job in many countries.
But any job will tell you the language requirements before you take the position. For example, in South America you should probably speak Spanish in addition to English before taking a bartending job, but again there are exceptions where just English is fine.
If you are bartending in more remote areas that aren't as touristy, you might have to speak the local language in addition to English so you can communicate with the local staff.
But language barriers aside, traveling bartender jobs allow you to visit some gorgeous places and actually call them home for a while. This is an incredible opportunity for people who want to work hard and gain skills while exploring the world.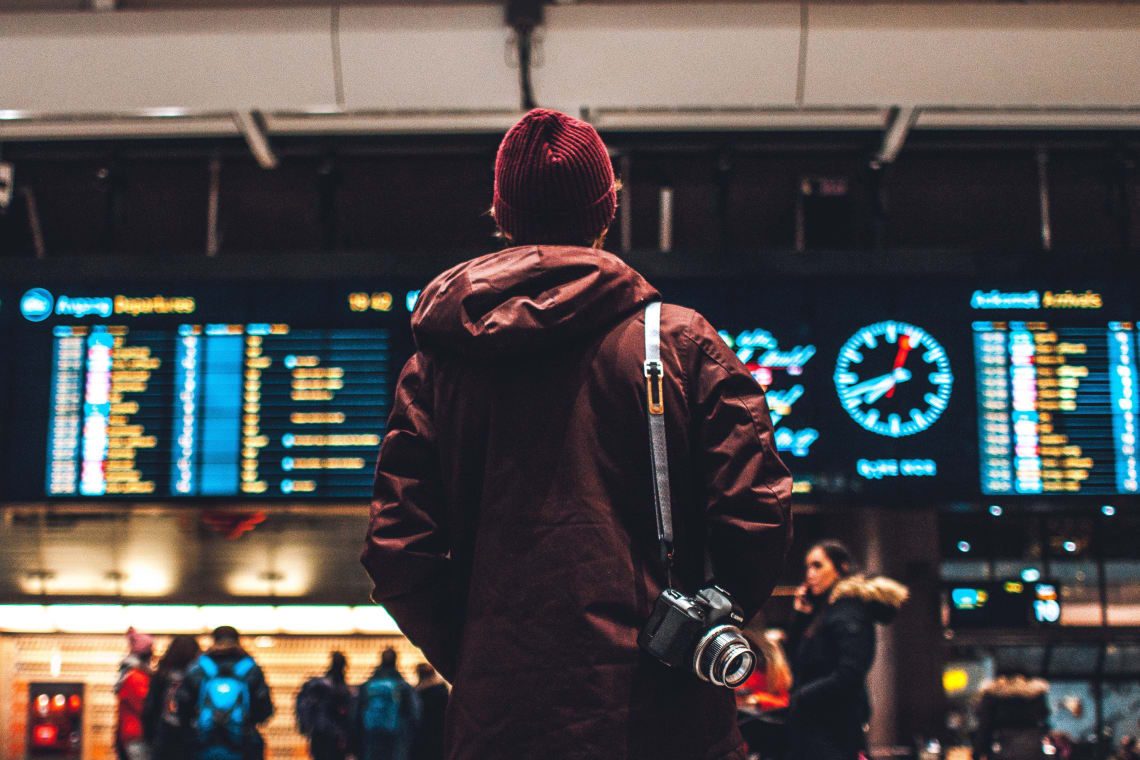 How to become a traveling bartender
If you're now sold on becoming a traveling bartender with fun, flexible and fast-paced work, the question is "how to become a traveling bartender?"
There are a few ways to accomplish this goal, and the advancement of technology has made it easier than ever to find jobs in different countries.
If you have the right personality traits and the right commitment, you'll definitely be able to find an incredible job as a bartender abroad.
Personality traits of a traveling bartender
First of all, there are certain personality traits you must have or develop in order to be a successful traveling bartender. If you can cultivate these traits, you will have the perfect mindset and personality to be a traveling bartender.
1. Be confident
To be a traveling bartender, you must have confidence. Confidence means you are sure of yourself and you know you have the ability to succeed. Even if you don't have all the skills right at the start, be confident in your ability to learn them.
If you exude confidence when you bartend, your guests will feel more comfortable and you'll create a positive environment. That being said, don't be overly-confident. If you don't know something, ask.
2. Be persistent
To succeed in any job, you have to be persistent. While applying for jobs you want, you may not get hired straight away. You have to keep trying, keep doing interviews, keep handing out resumes, and eventually your persistence will pay off.
You also have to be persistent in your training. Bartending requires lots of different skills, and you won't learn everything on your first day. The skills develop over time, and if you keep trying hard to learn new things every day and practice your skills, you'll master the job.
3. Be adventurous
Being adventurous is what separates a normal bartender from a traveling bartender. You can bartend at home no problem, but having that adventurous spirit and a desire to see the world is what will get you on a place and ready to work overseas.
4. Be hard working
Bartending is definitely hard work. It is fast-paced, and sometimes dealing with customers can be stressful. You must have the drive to just put your head down and get the job done.
If there's a super long list of drinks that need to be made, you can't freak out. You just have to work hard to get it done.
If you can dedicate yourself to the hard work required of you, it will become second-nature and you will enjoy yourself more.
5. Be friendly
The last essential personality trait of a traveling bartender is being friendly and outgoing.
You don't have to be friendly to bartend, but you do have to be friendly to be a successful bartender. Customers want to feel welcome when they walk into a bar, and greeting them with a genuine smile can make that happen.
Sometimes guests have to stand there and wait while you make their drink. It helps ease the awkwardness if you can strike up casual conversation with them. This makes your job more enjoyable for you and for the customer.
An overall friendly and positive attitude will make you coworkers and managers like you as well, which is always important if you want good references in the future.
Where to find traveling bartender jobs
Becoming a traveling bartender is very easy these days, with the high-speed internet and its online platforms that connect people all over the globe. Worldpackers has made it even easier to find jobs abroad, because all you have to do is sign up as a verified member and browse for the job you want.
If you're looking for traveling bartender jobs on your own, you will probably have to gain some experience bartending at home before you can bartend in different countries. Most businesses like to hire people with at least a little bit of hospitality experience.
It is also important to consider visas and work rights when looking for traveling bartender jobs. Some countries don't allow you to visit without a visa, and many countries require work visas. If you plan on getting hired as a bartender and being paid on the books, you will probably need a work visa wherever you go.
How Worldpackers can help
For those who have no prior experience and want to learn how to be a traveling bartender, Worldpackers is incredibly helpful.
If you find bartending jobs on Worldpackers, they will be volunteer jobs. That means you won't get paid, but you will get free accommodation in exchange for your shifts. You'll usually only work about 20 hours per week, and in most cases you won't need a work visa. So this is a very hassle-free way to try out bartending abroad.
The best part about bartending through Worldpackers is you often don't need any previous experience.
You won't need to take an expensive bartending course or get any certifications. Because it is volunteer work and you aren't getting paid, the atmosphere is very low-key. You don't have to be perfect, and the hosts are always willing to teach you the basics.
Bartending can be stressful if you try it out in a busy restaurant. But if you bartend for the first time in a hostel, where your customers are all easy-going travelers and your managers are helping you learn, a lot of the pressure comes off your shoulders. People don't care as much if you mess up, and the hostel environment is laid-back and fun for your first bartending job.
After you gain experience bartending in a hostel, you can work your way up to fancier places and feel more comfortable behind the bar. So learning to bartend through Worldpackers is super easy to do!
15 amazing Worldpackers experiences where you can bartend around the world
If you're now hooked on the idea of becoming a traveling bartender, here are some real Worldpackers work exchanges where you can learn how to bartend around the world for free!
All you have to do is buy your flight, and you're in. Just show up and start bartending!
1. Cape Town, South Africa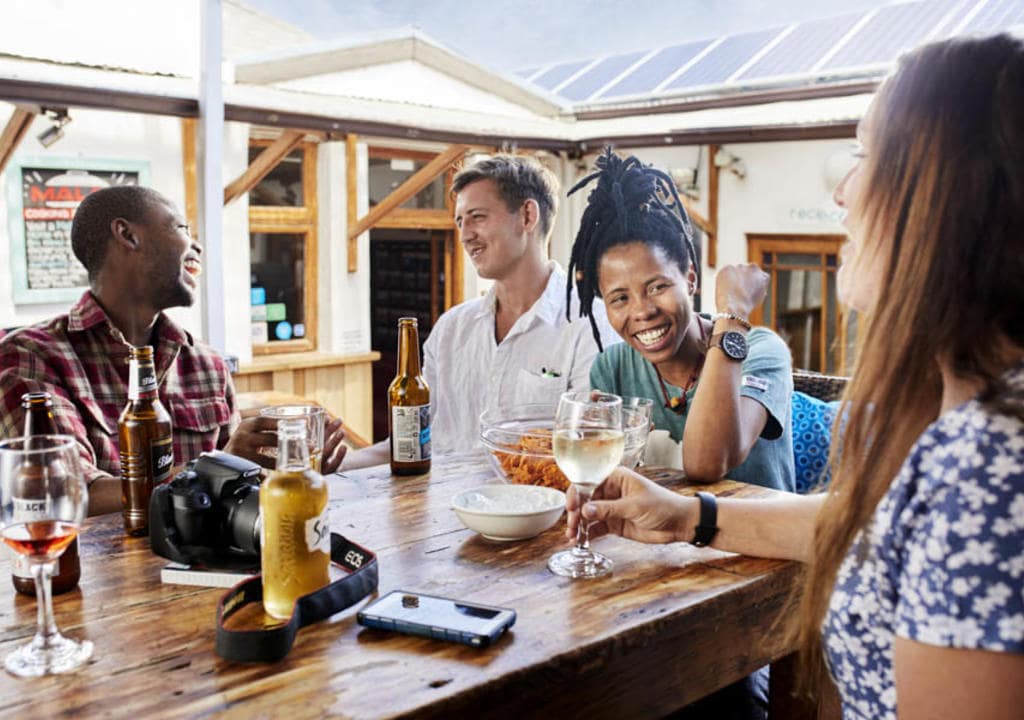 The Backpack is a vibrant hostel in Cape Town, South Africa. They are looking for bartending help in addition to help with photography, reception, and administration. This is a great place to learn a few different skills and soak in the culture, history, and nature of Cape Town.
2. Prague, Czech Republic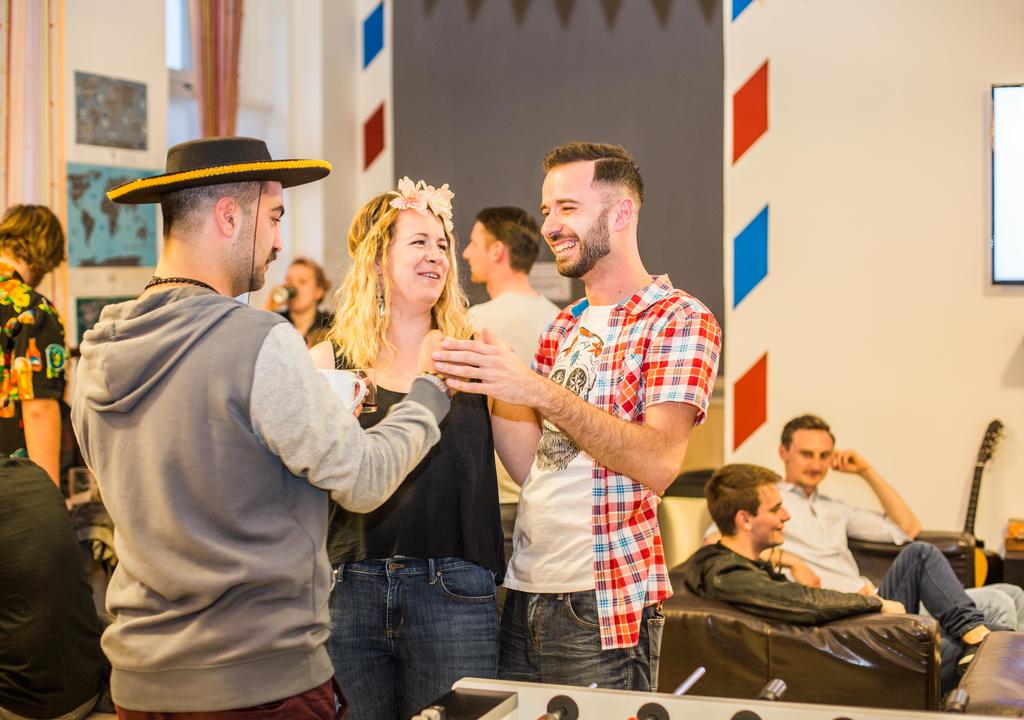 This is the perfect job for social butterflies and party animals. In the gorgeous city of Prague, this hostel needs a bartender/party promoter. In addition to working at the bar, you'll be organizing parties, pub crawls, and drinking games, and just making sure everyone is having fun!
This hostel has over 61 great reviews from past volunteers, so you will definitely have an incredible time and meet lots of interesting people.
3. Bogota, Colombia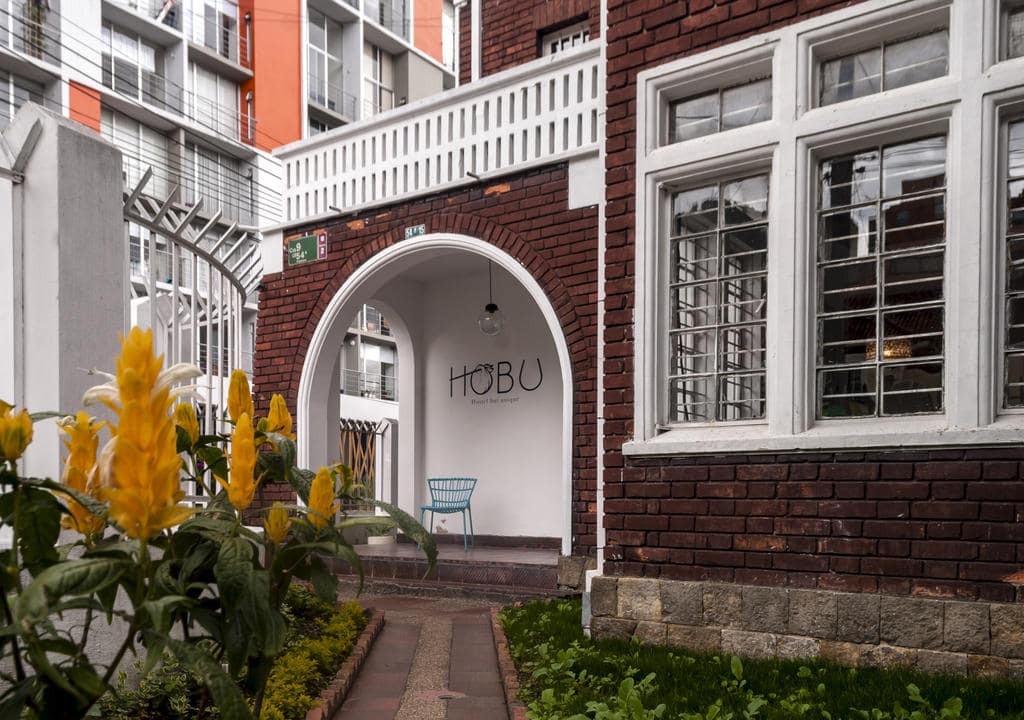 For someone who wants to learn Colombian culture in a laid-back environment, HOBU Hostel is looking for a bartender and some help in reception. In exchange for your work, you'll enjoy perks like free laundry, hiking tours, free breakfast, and of course, free accommodation.
This hostel prides itself on its ability to mix the history of Bogota with contemporary culture, so you're in for a unique and educational experience here.
4. Noordwijk, Netherlands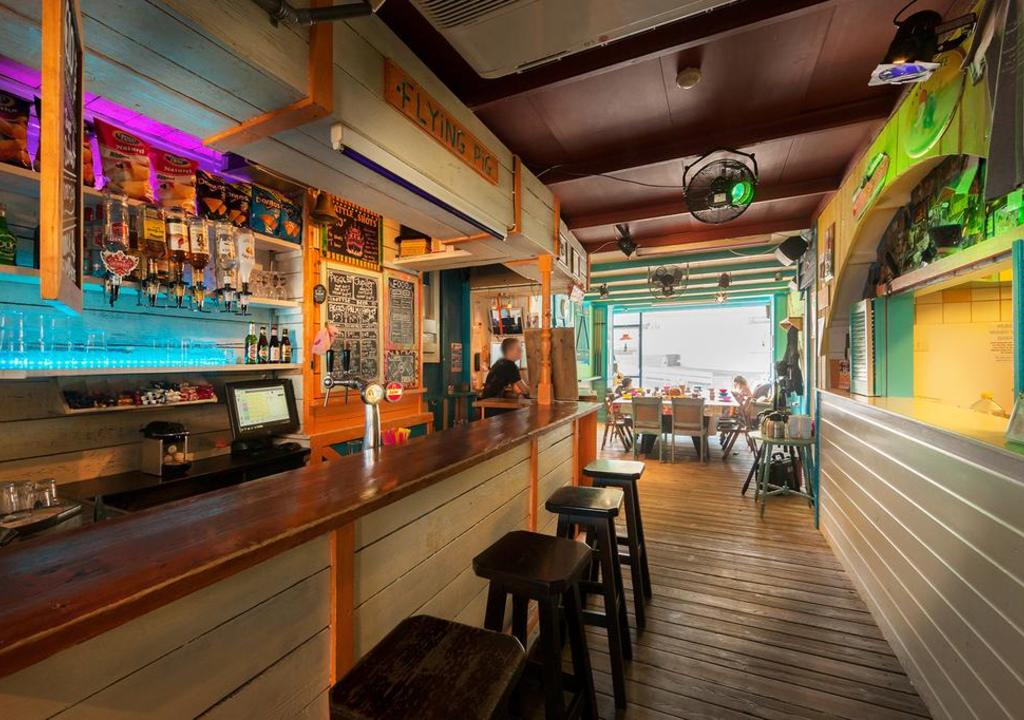 The Flying Pig is a famous hostel through the Netherlands known for its fun, social atmosphere. This particular hostel is an amazing place to learn bartending, because the focus is on the welcoming vibe rather than perfection. If you try your best and always work with a smile, you'll meet lots of incredible travelers and learn some new skills.
5. Iguazu Falls, Brazil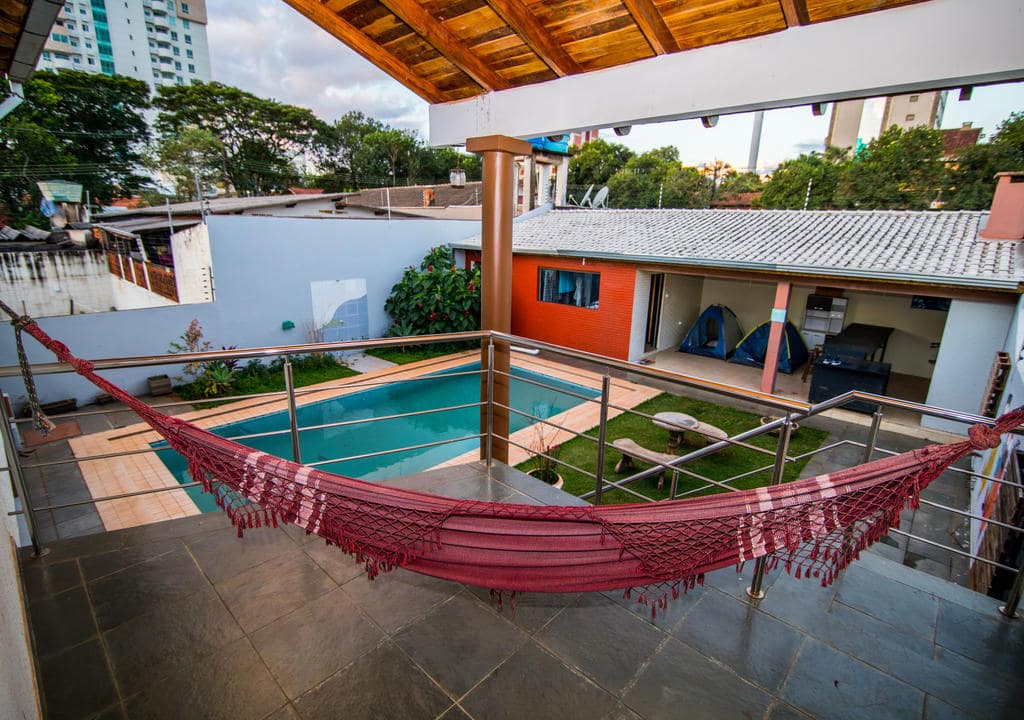 Near the stunning natural phenomenon of Iguazu Falls is a well-kept hostel that is looking for bartenders, cleaners, and reception workers. All previous workers here highly rate this experience, but the staff only speak Spanish so you might want to brush up on your language skills before working here!
6. Tel Aviv, Israel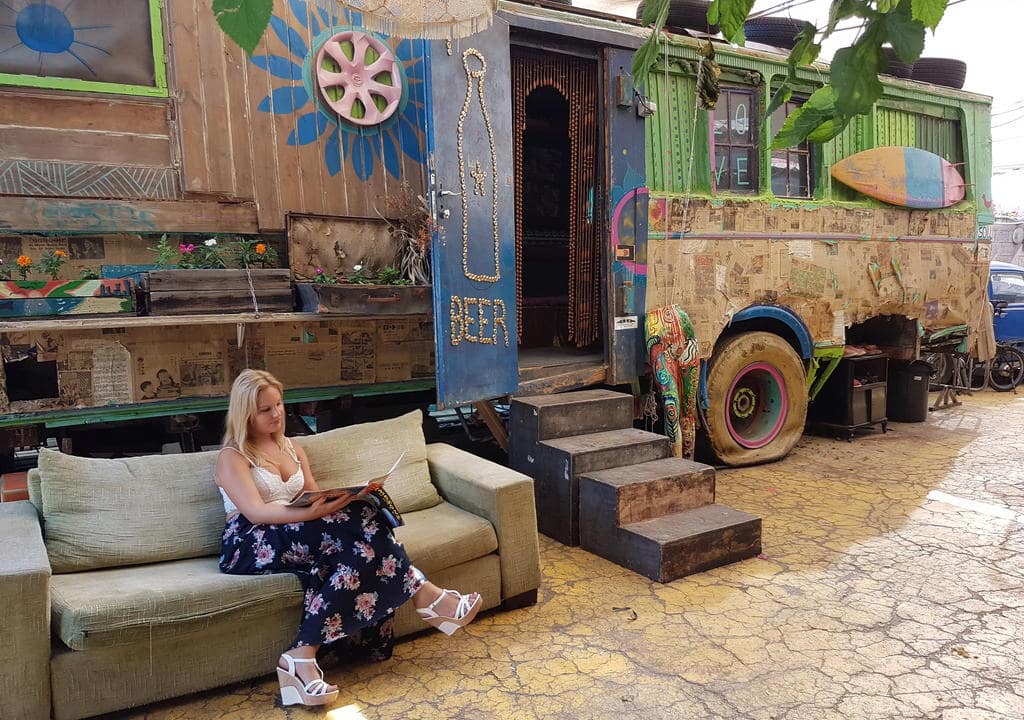 Overstay Hostel in Tel Aviv, Israel, creates a warm and welcoming environment for its volunteers. The work is fair and flexible, and perfect for those with outgoing personalities who also want to work as a party promoter in addition to bartending.
You have to pay a small deposit when starting work here for insurance is anything gets damaged, but other than that it's a great way to bartend abroad basically for free!
7. Semuc Champey, Guatemala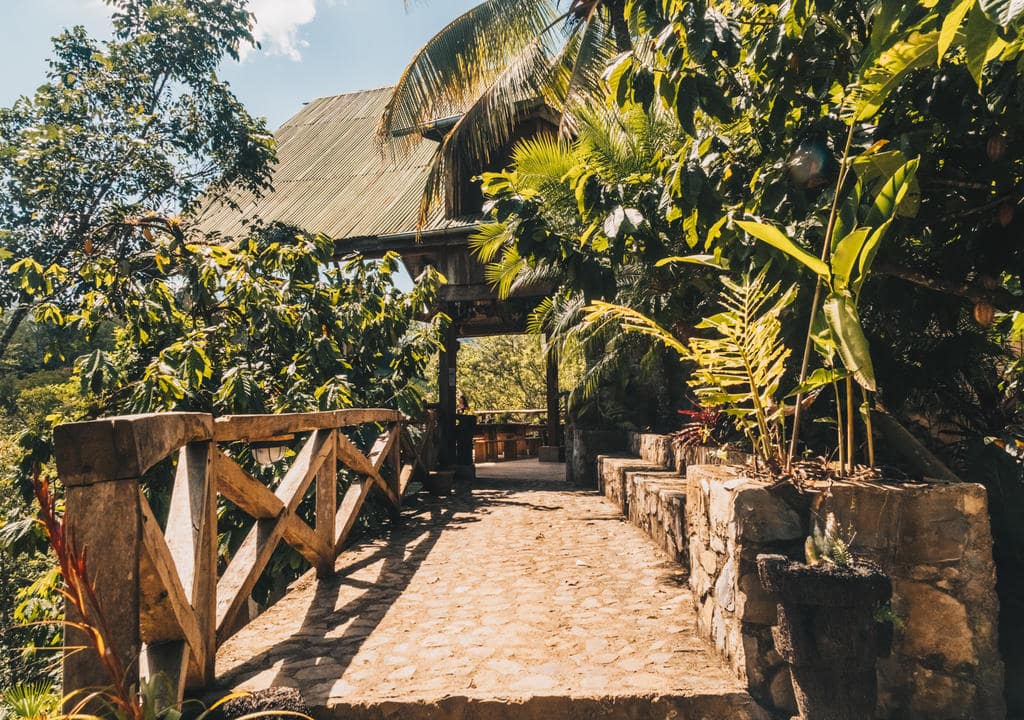 This is an incredibly unique bartending experience because it is right in the middle of the Central American jungle. Semuc Champey is a beautiful area of natural pools, and Utopia is an eco lodge right next to it that needs bartenders. You can explore the serene and picturesque pools on your days off, and enjoy serving drinks and food to the guests during your shifts.
8. Santa Maria da Feira, Portugal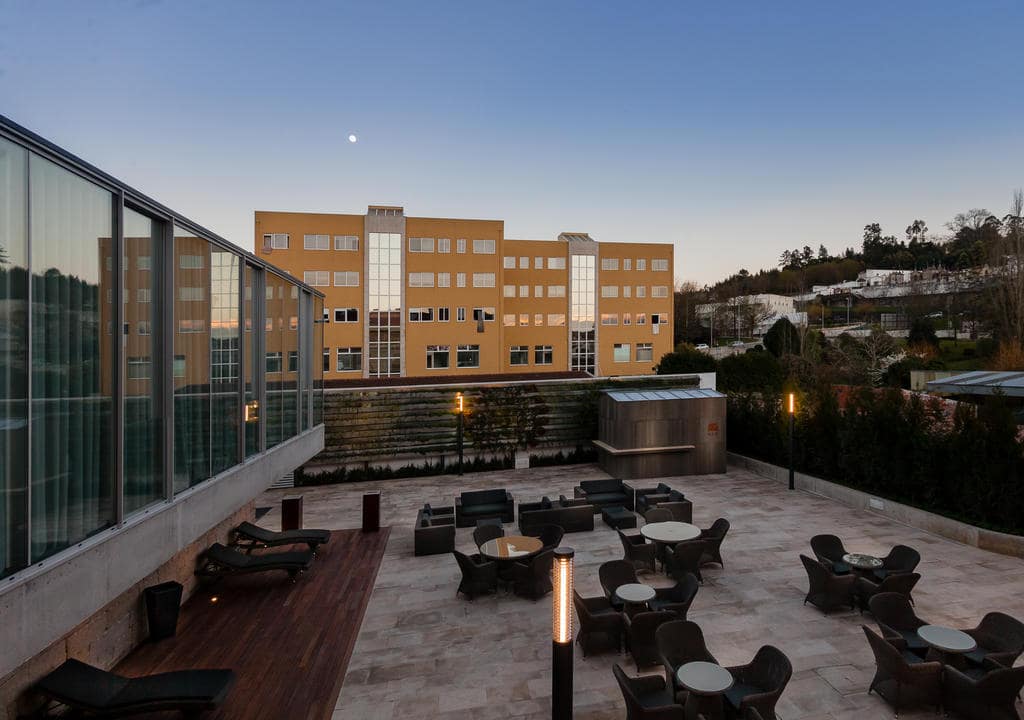 This small town in Portugal is quaint and historic, and is home to lots of medieval festivals. Hostel da Praça is a small and cozy place to work, with helpful staff members and reasonable work shifts. So you can bartend in a history-filled location and enjoy small-town Portugal while you work.
9. Marrakech, Morocco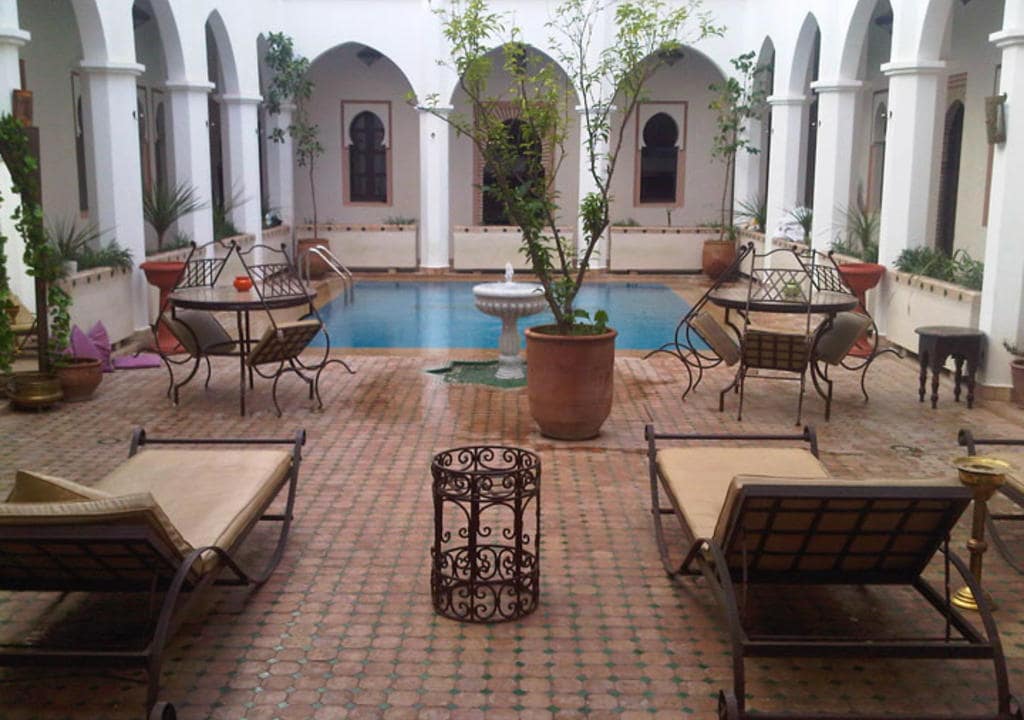 There is a massive hostel in the vibrant city of Marrakech looking for bartenders, and there is no better place to learn. There are lots of great amenities in this hostel, and there are always cool people around. The environment is very laid back so you can learn the basics of bartending without any crazy pressure. And on your off days, you can explore the wild and entertaining city of Marrakech!
10. Bacalar, Mexico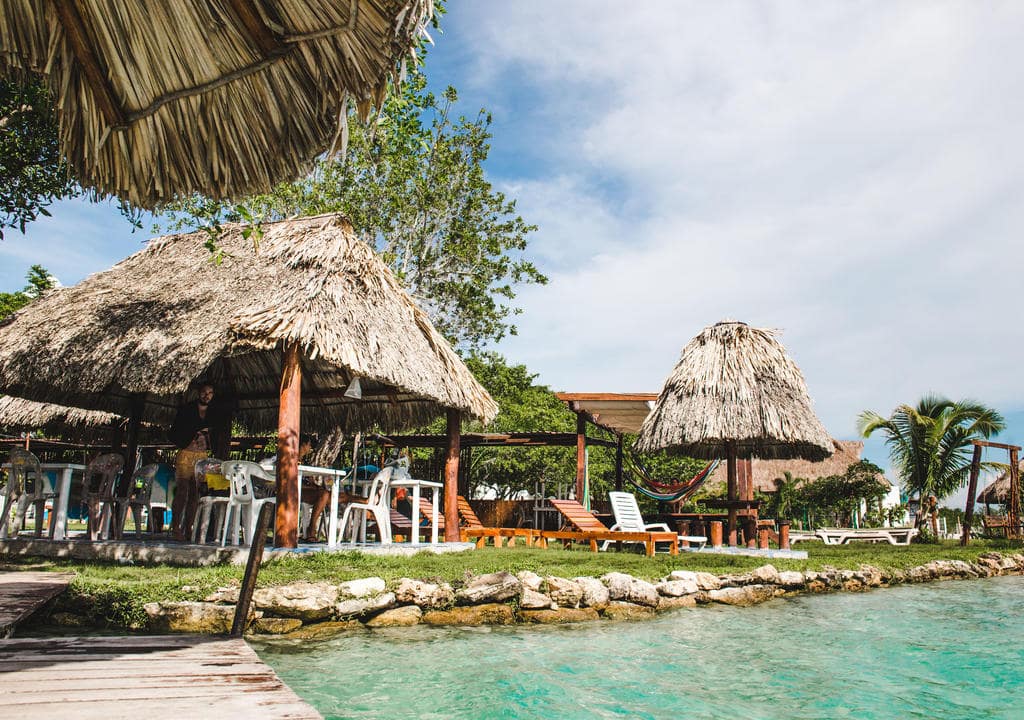 Head to the charming town of Bacalar, located on the edge of the Yucatan Peninsula on the border with Belize, and enjoy a relaxing and fun experience. In exchange for 30 hours of work per week bartending and maybe cooking, you can enjoy free breakfast, free hiking tours, discounts at nearby pubs, and two days off per week.
11. Söderbärke, Sweden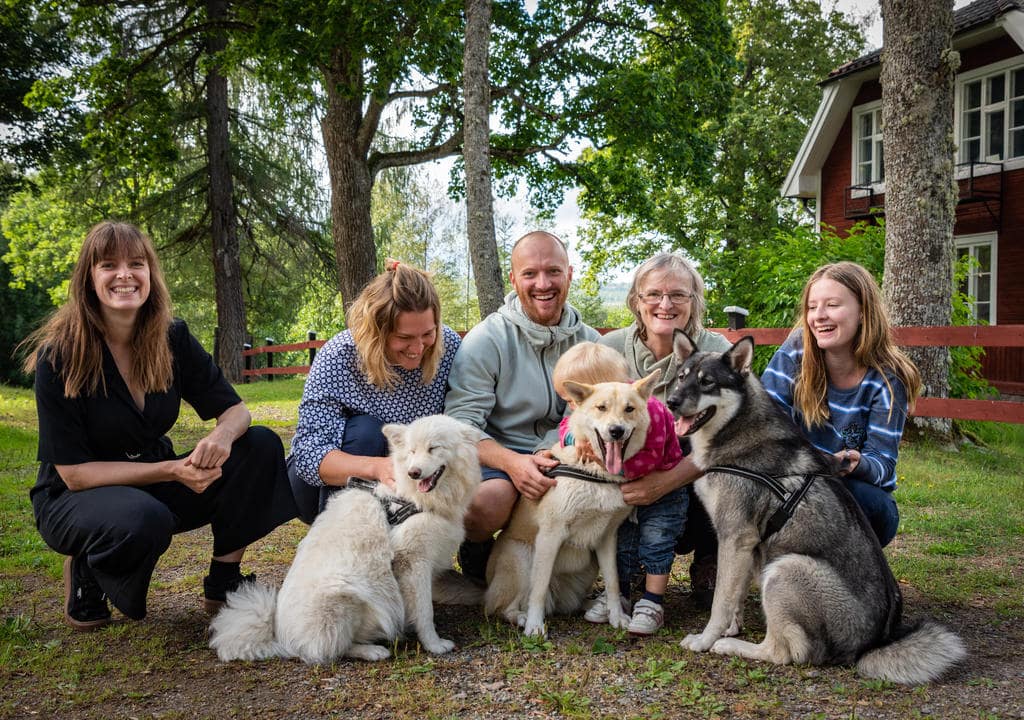 This is a great place to volunteer for those who want to try bartending outside of a hostel. This restaurant is looking for kitchen hands, cooks and bartenders to help out, so it is a fabulous place to learn the basics of hospitality. The area of Sweden is also very beautiful and peaceful.
12. Cusco, Peru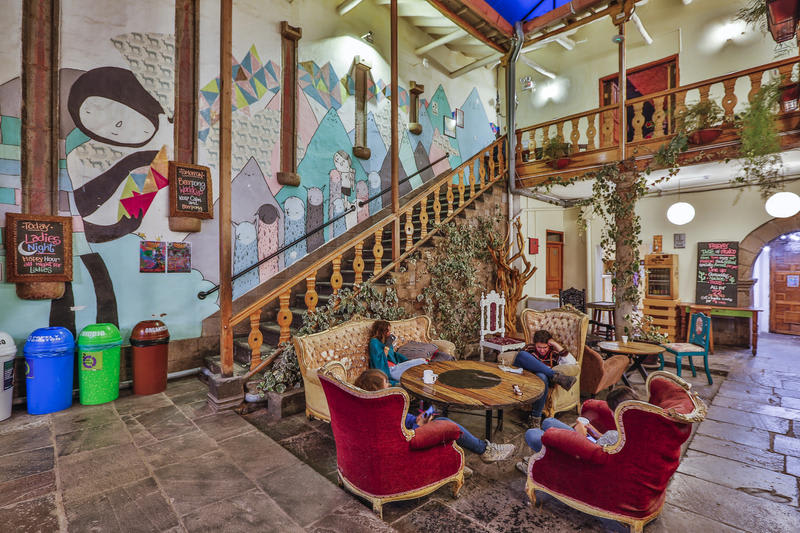 There are so many hostels in Cusco that take in volunteers, and Kokopelli Hostel is one of them. This energetic place near the historic center of Cusco needs bartenders to help make pisco sours and keep their guests happy. You're sure to learn a lot and make amazing friends here, and the hostel will help you organize tours to Macchu Picchu and other cool places for your days off.
13. Warsaw, Poland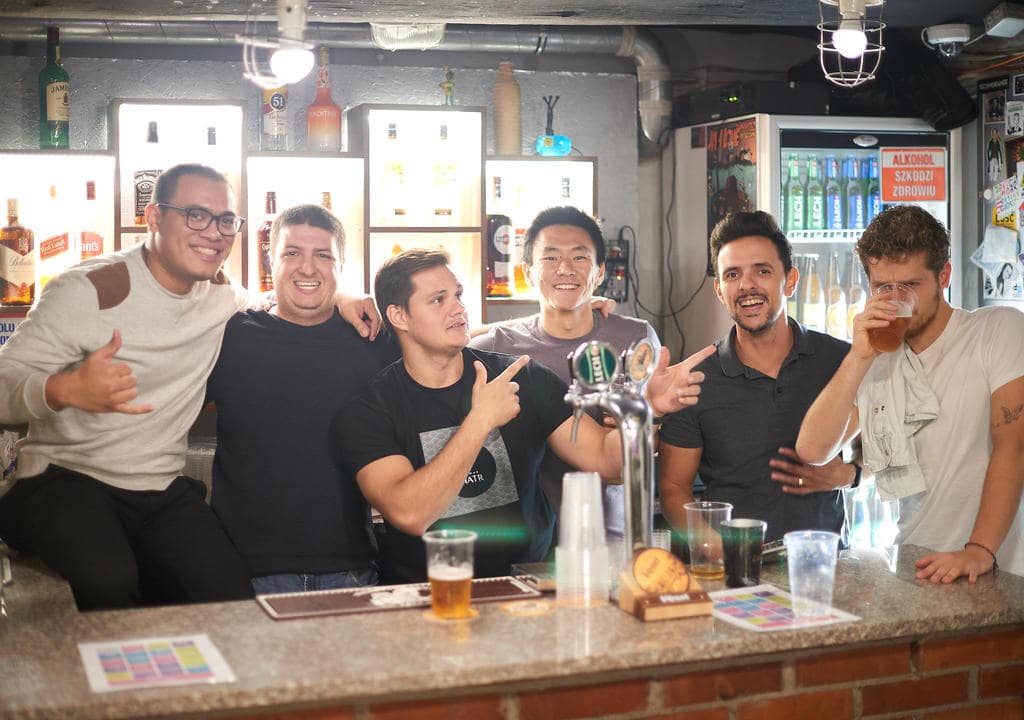 Patchwork Hostel is full of positive vibes and international volunteers, so this is an awesome place to learn bartending. The hostel is looking for motivated and hardworking people who love to have fun and party, but who are also responsible. This well-run bartending team is eager to take on new volunteers and show them the ropes.
14. Hautes-Pyrénées, France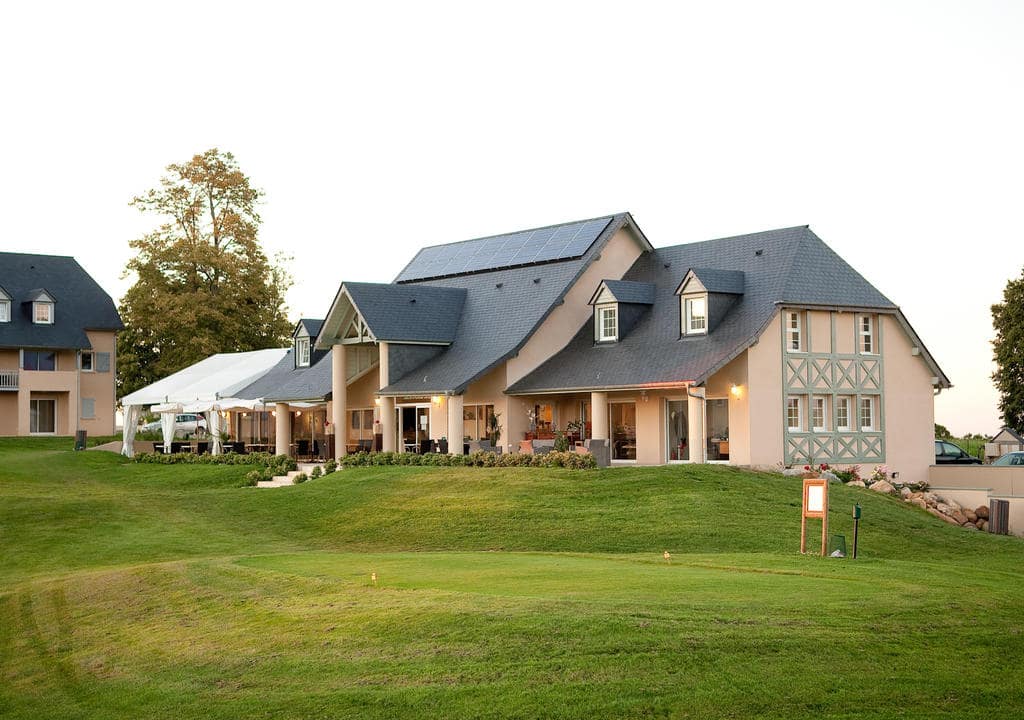 This another great hospitality job for those who want something other than a hostel environment. This golf resort in the south of France needs bartenders, waiters and cleaners to help keep their place in good shape. The owners are super nice and speak English, though they will help you learn or practice French is you want!
15. Leipzig, Germany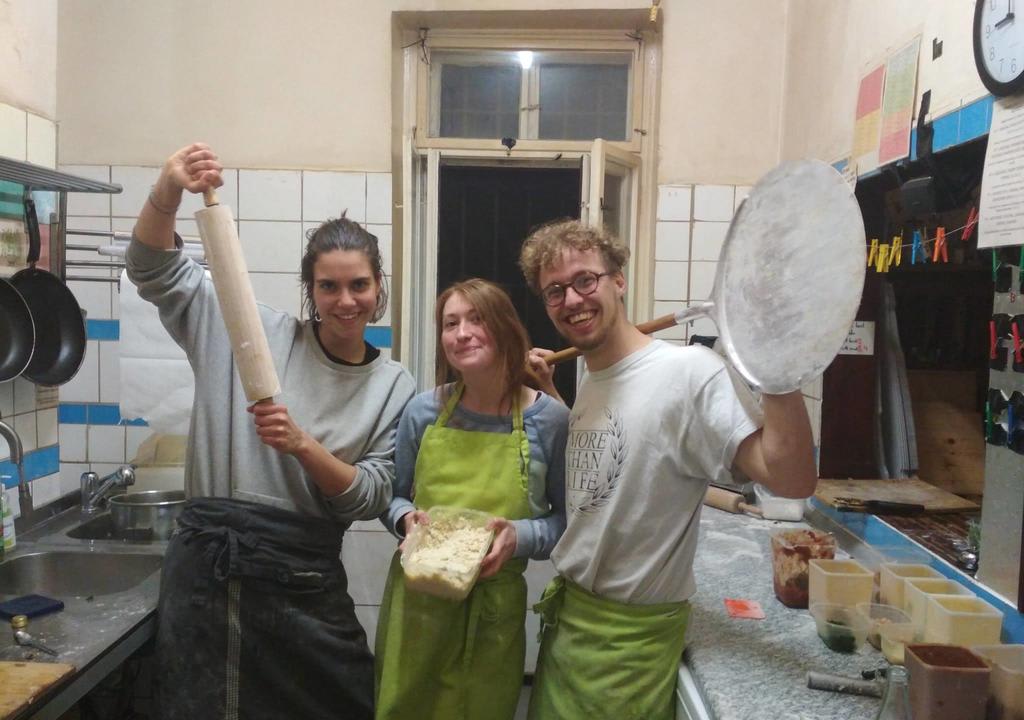 For a super unique experience, try cooking and bartending at a vegan pizzeria in Germany! Learn all about hospitality and sustainability at this non-profit organization that is full of international volunteers. They also host fun events and they donate their money to lots of charities, so this is an amazing place for volunteers who want to get involved in activism and NGOs.
Those are just 15 out of the hundreds of available bartending jobs listed on Worldpackers.
You can try bartending on lots of different continents and experience unique cultures while developing your hospitality skills. Most of them are in laid-back hostel environments where you can learn in a low-pressure situation, and there are some in other interesting places like resorts or eco lodges.
If you just browse "bartending" jobs on Worldpackers, you'll find there are over 400 jobs!
If you take in the advice from this article and pair it with a determination to succeed, you can easily travel the world as a bartender.