15 best places to travel in your 20's on a budget
Are you looking for the perfect destinations to explore while you're young? We listed the best places to travel in your 20s on a budget (and some money-saving hacks!).
15min
Your 20's are an incredible time in your life. You're old enough to be responsible, courageous, and knowledgeable, but young enough to have a sense of freedom and open-mindedness. Traveling is a great way to utilize this prime state of being and explore the world before settling down and starting a career or having a family. But what are the best places to travel in your 20s if you don't have much money?
For most travelers in their 20's, money is a major obstacle for adventure. It's rare for a young person to have substantial amounts of money saved, especially during or right after studying at university. This means luxurious getaways with five-star hotels and first-class flights are often out of the question. But even on a tight budget, you can have a lot of fun in many places around the world.
While seeking out more unique and affordable ways to travel, it helps to start by researching the world's most budget-friendly countries to visit. Luckily, I've compiled a list of some gorgeous countries that are easy to travel while on a budget.

These are the perfect places to travel alone in your 20's, as they are full of culture that is easily accessible without paying for a private tour guide.
And if you opt to do a Worldpackers work exchange, you'll save a lot more money on your trip(s) by cutting the cost of accommodation. In this kind of volunteer program you exchange a few hours of work for free stay, and sometimes you'll even get extra benefits like meals and tours.
It's also an amazing way to get to know interesting people, immerse yourself in local cultures and put your talents to practice or develop new skills.
If you are in your 20's and are looking for fun vacation spots, any of these countries are sure to offer you an enriching experience.
Read more: 14 TOP cheapest countries to visit as a Worldpackers volunteer

15 best places to travel in your 20s on a budget
So what are these amazing places to travel in your 20s after all? Here's the list!
1. Thailand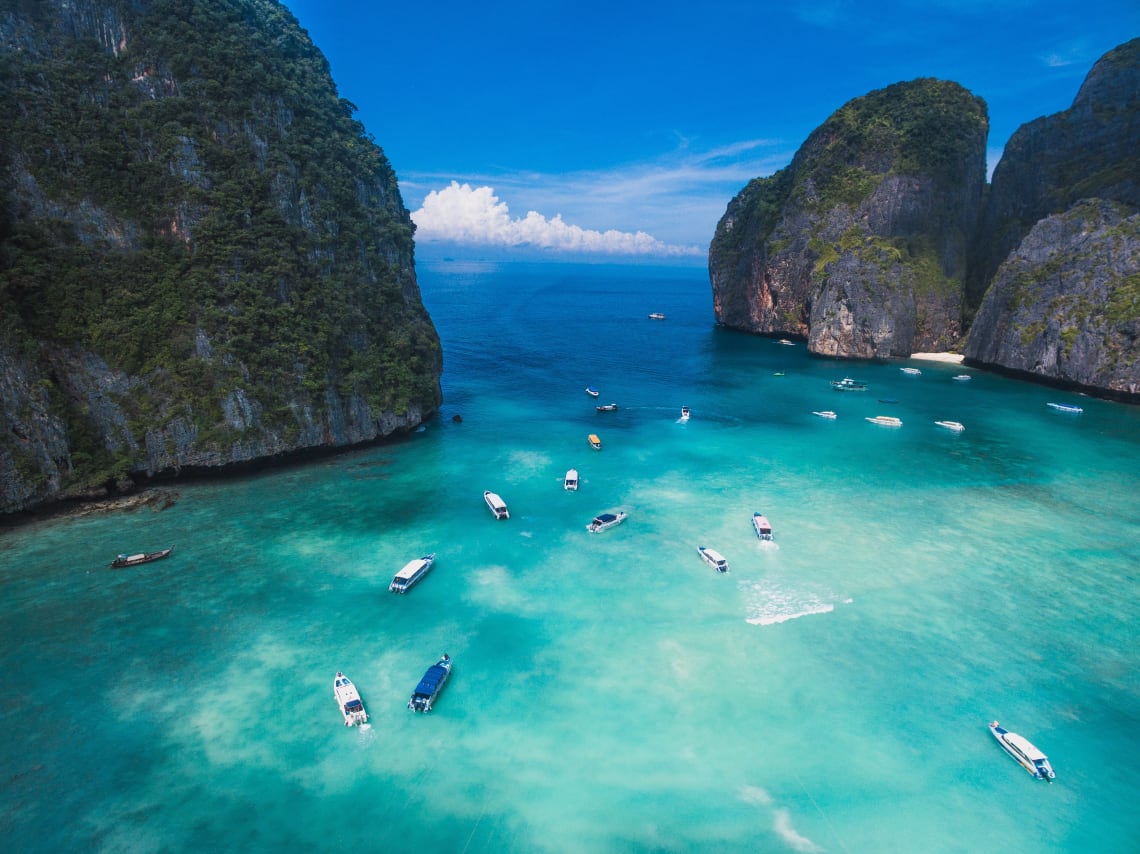 If you're wondering how to travel on a budget in your 20's, it's by going to places like Thailand.
A popular tourist destination in Southeast Asia, Thailand is just as beautiful as the hype suggests. Sparkling Buddhist temples, limestone cliffs, turquoise waters, lush jungles, bustling cities...Thailand is full of diverse landscapes and welcoming locals. It has the appearance and feel of an expensive vacation, but you can easily enjoy the same experience on a budget.
You can cross so many items off your bucket list in Thailand without spending a ton of money. A full day cooking class in Chiang Mai can cost under $30, a boat tour around the islands of Koh Phi Phi can stay under $20, and a ticket to the incredible temples of the Grand Palace in Bangkok costs only $15. All these are pretty cheap for what they're worth.
Even the day-to-day expenses in Thailand are affordable. For example, you can get a full plate of fresh Pad Thai or a giant fruit smoothie at a street market for $1.
If you want to save even more money, get to know local culture in a deeper way and meet other travelers, check out Worldpackers work exchange programs in Thailand.

2. Bulgaria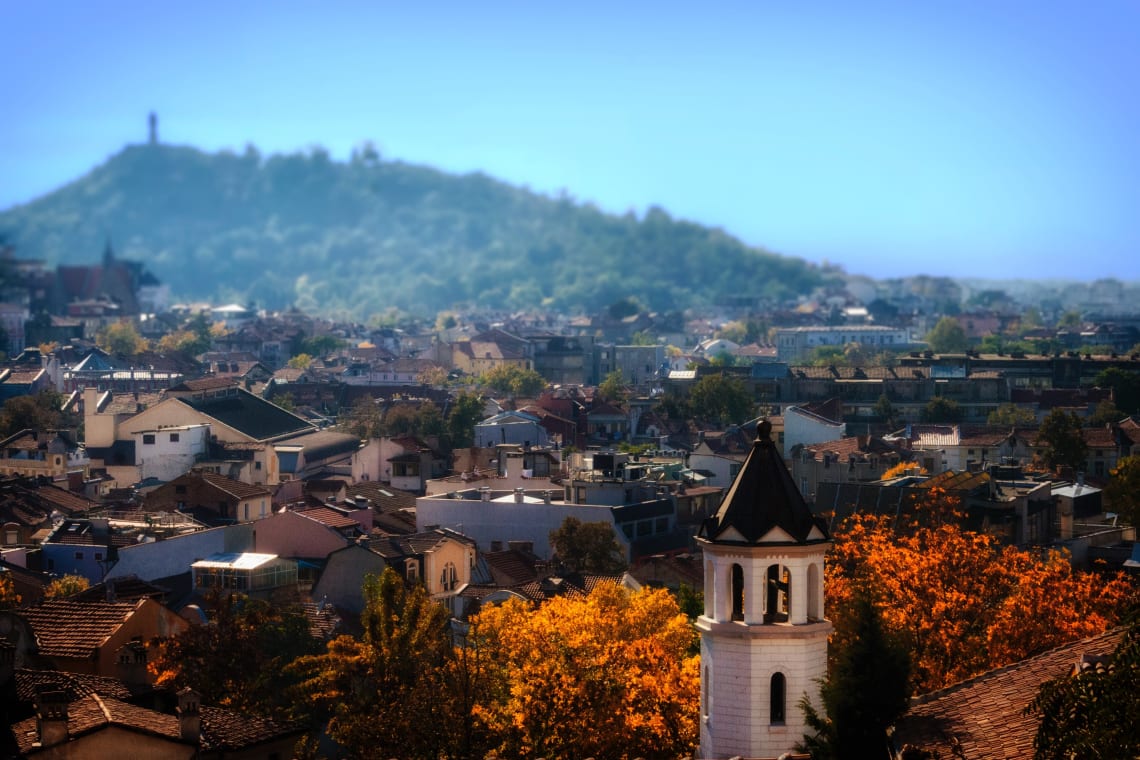 If you're dreaming of visiting Europe but need to travel on a student budget, look no further than Bulgaria.
This eastern European country is often overlooked by tourists, but it is a truly amazing nation with a rich history. You can find a decent hostel in the capital city, Sofia, for only $10-$15 a night, and you'll find that most of the attractions in the city are free.
The lack of tourism in Bulgaria means the locals are thrilled to see tourists and teach them about their culture, so you'll surely be welcomed with open arms here. Sofia offers free walking tours, free graffiti tours, free pub crawls and free food tours where you can dive right into the lifestyle of Bulgaria for barely any money at all.
You can also buy lots of great products that are normally expensive elsewhere in the world. Bulgaria prides itself on its dairy production, as well as its roses and rose infusions. Body lotions and cosmetics are exceptionally cheap here, and they are very high quality made from Bulgarian yogurt and rose extract.
Clothes and food are also cheap in Bulgaria, so you can treat yourself to shopping and nice restaurant meals and save money while traveling.

Check out Worldpackers work exchange programs in Bulgaria!

3. Peru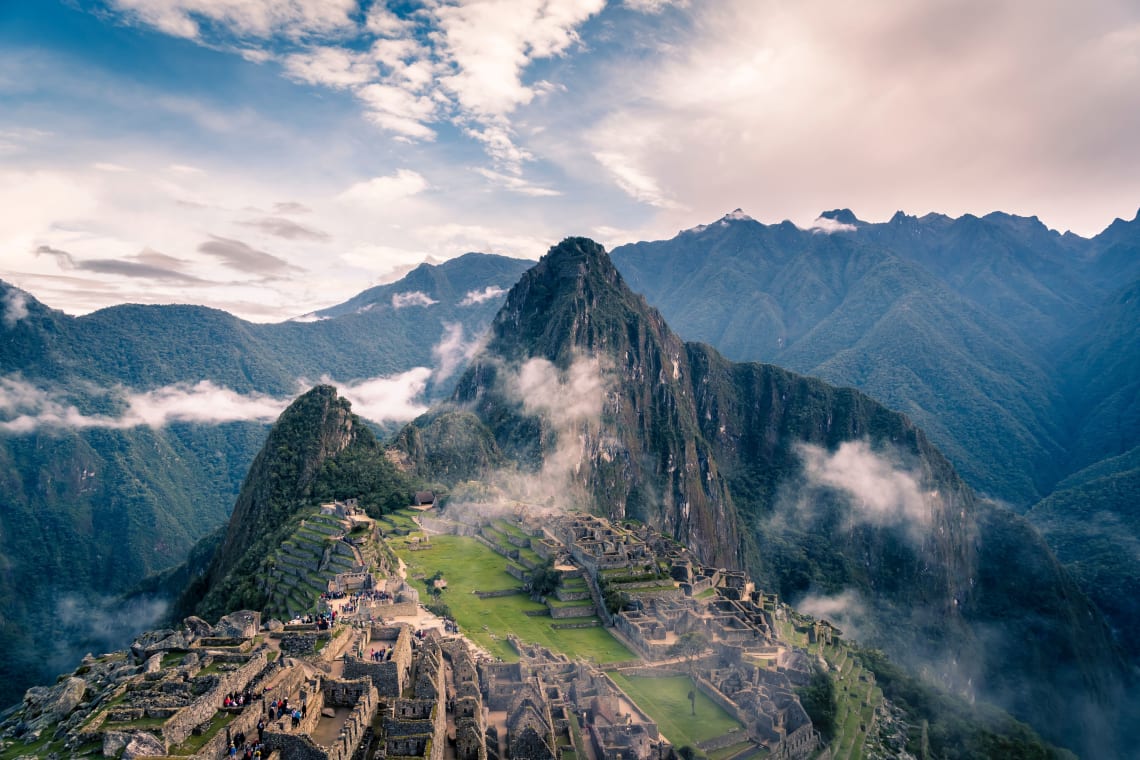 This gem of South America is most famous for its wonder of the ancient world, Machu Picchu. Peru is a rather large country with lots to offer, including the Andes Mountains, Amazon Rainforest, and countless beaches, forests, deserts, and small local villages.
Touristy adventures like hiking the Inca Trail to Machu Picchu can be pricey through nice tour companies, but you can also find treks through local hostel tour companies like Loki Hostel or Milhouse Hostel for much cheaper. For example, you can do the 5-day Salkantay Trey through Loki Hostel for only $249, as opposed to the average $500 is costs to complete the Inca Trail through a popular tour company.
Another great experience to have in Peru is hiking Rainbow Mountain, a stunning natural phenomenon where towering mountain peaks are naturally striped with vibrant colors. Through local tour companies in Cusco, you can join a full day guided hike for only $30.
Transport around the country is also great for budget travelers. Comfortable overnight buses can take you all over the nation for super cheap prices, and in every city or town you can find delicious local food like ceviche, loom saltado and quinoa soup for very little money. Peru is definitely one of the best places to travel in your 20s!
If I were you, I'd spend more than a few days there. Check out Worldpackers work exchange programs in Peru.

4. Cuba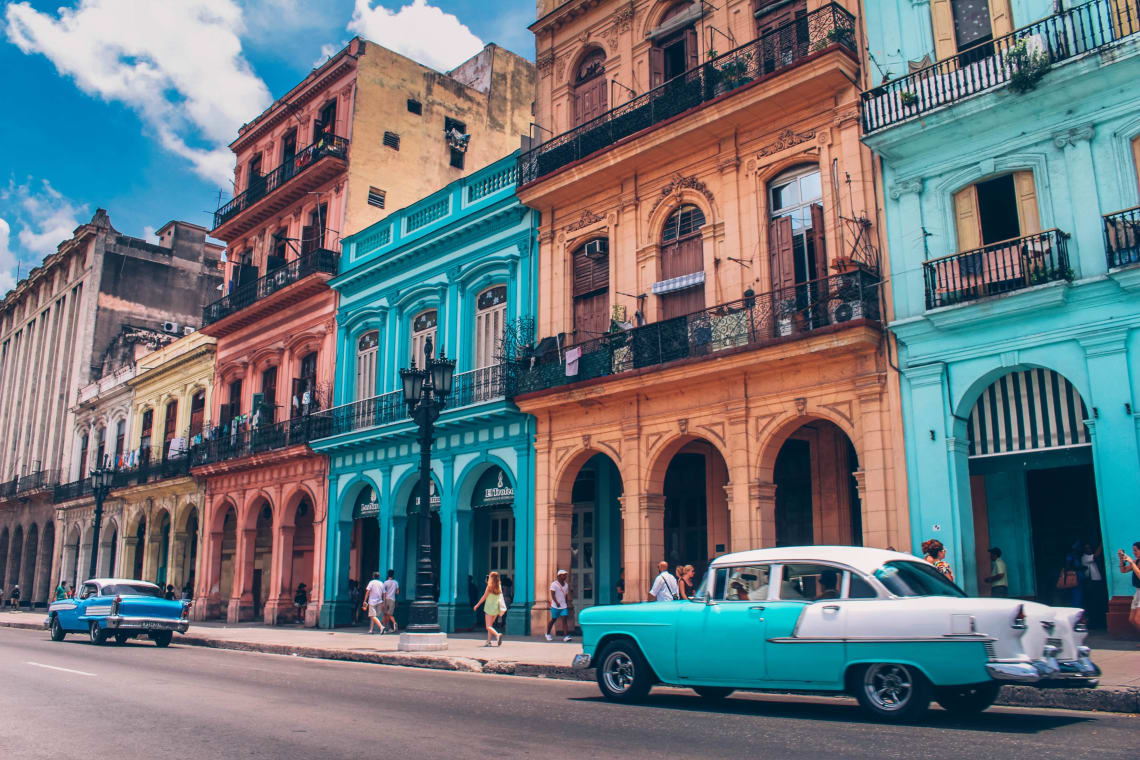 Visit this vibrant Caribbean island to feel like you've stepped back into the 1950's. With a unique history and a colorful culture full of aromatic Latin food, picturesque architecture and of course, Cuban cigars, there is no shortage of things to do in Cuba.

Luckily, all these things can be enjoyed on a budget. Stay in an Airbnb or in a Casa Particular with a local family for about $20-$30 a night. This is a bit pricier than a hostel dorm room, but the authentic experience with locals is worth the extra cash. You can make up for this by eating street food for $1 per meal and buying cheap cocktails in a bar for $2-$3.
There are plenty of ways to enjoy Cuba for free, such as lazing away on pristine beaches like the famous Varadero, the serene Playa Pilar, or the bustling Cayo Coco. You can also wander the archaic streets of Havana, admiring the baroque architecture of Plaza Vieja and studying the Christian art of the city's many cathedrals.
Venture beyond the capital to small towns like Trinidad, where you can take salsa lessons and dance in the streets with locals near Plaza Mayor. Dive into the rich nature of Cuba as well by hiking about two miles through Parque El Cubano, and finishing with a swim in the refreshing Javira Waterfall.
If you want to have a deeper understanding of the country, check out the Worldpackers work exchange programs in Cuba.

5. Croatia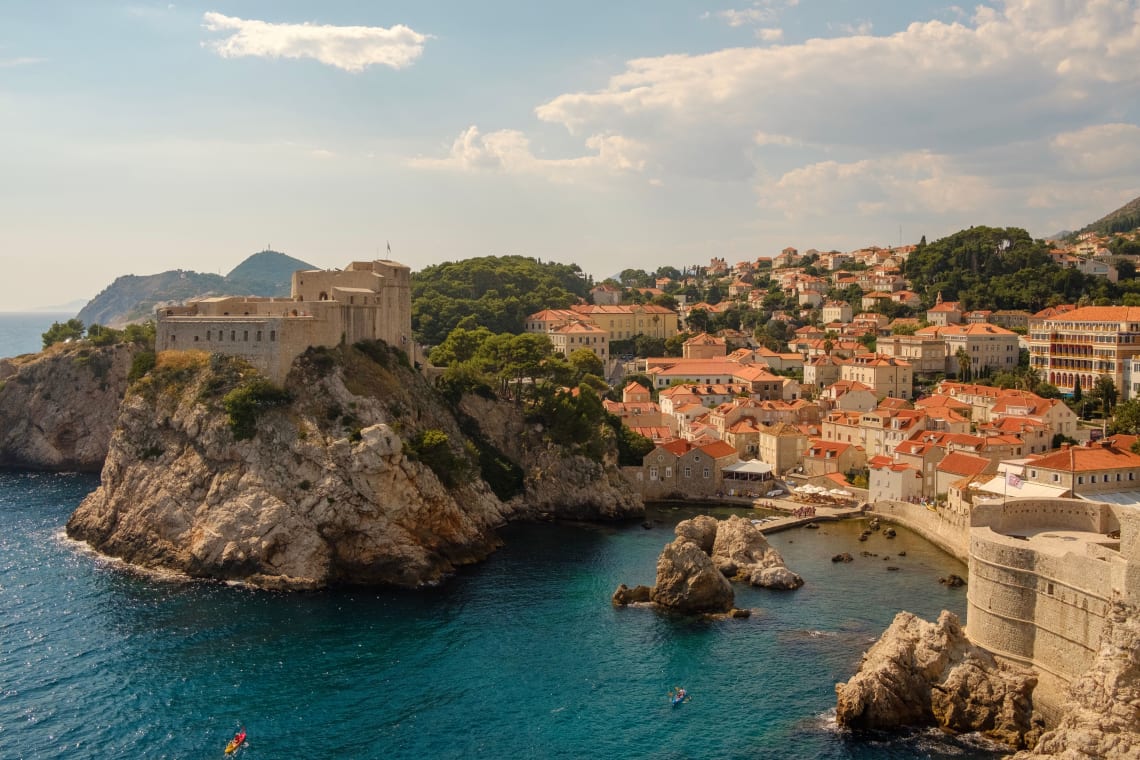 If you want to travel Europe on a budget, you can't miss backpacking Croatia. A comforting mix of eastern European culture and Mediterranean warmth, Croatia is one of my favorite places to travel in your 20s. Some of its more popular cities can be a bit touristy, but they are absolutely still worth the trip.
For example, Dubrovnik is full of rustic old churches and menacing stone walls, many of which were used for filming Game of Thrones. This is one of the most expensive cities in Croatia, but can still be done on a budget.
If you have a student ID card, you can get a huge discount on climbing the city walls. You can also spend a day hiking and swimming on the nearby Lokrum Island, which is only a 5 Euro ferry-ride from the city pier.
Other beautiful cities in Croatia can easily be done on a budget. Split is a lazy beachside town with a whitewashed Old Town Center and a massive park perfect for running and watching the sunset. The good news is both of these activities are completely free and allow you to explore the beauty and serenity of Split.
Zagreb, the capital city, is packed with magnificent architecture and cathedrals, so all you need to do is wander around with a camera and you can be entertained for days. Be sure to stop by Dolac Market and buy some local produce and homemade goods for incredibly cheap.
Check out Worldpackes work exchange programs in Croatia and have the time of your life in this amazing country.

6. Nicaragua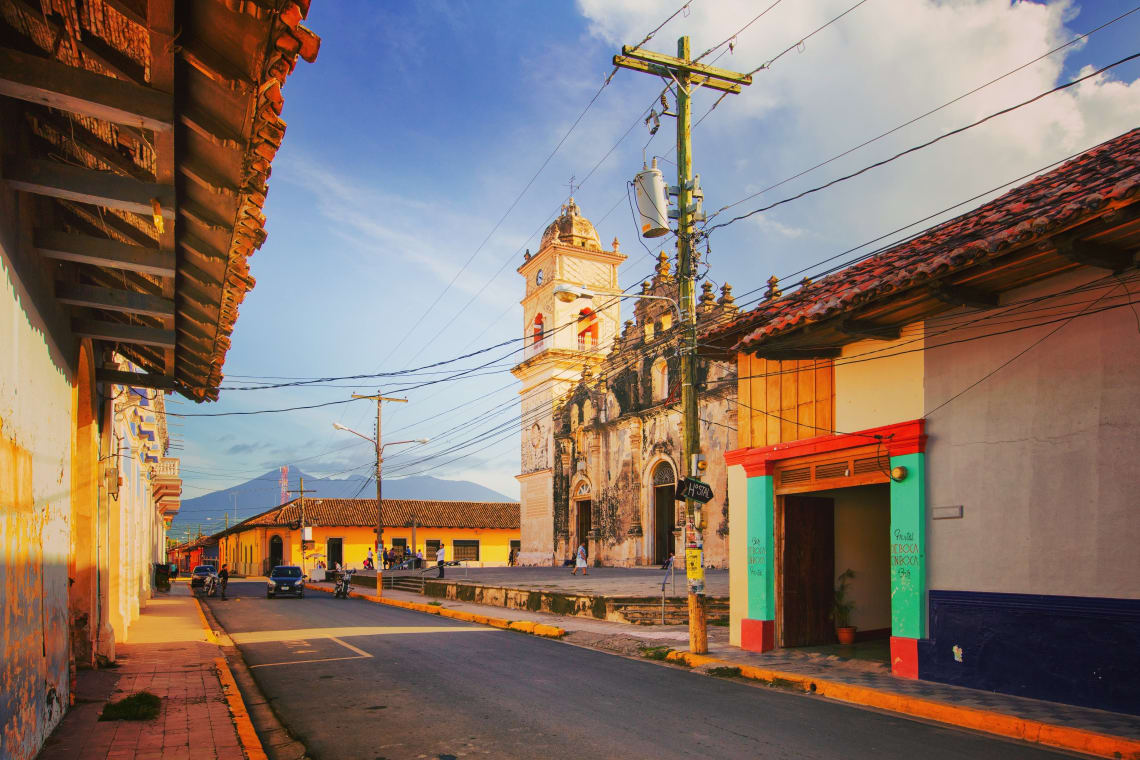 This small Central American nation has all the same assets as its neighbor, Costa Rica, but it's much cheaper and much less touristy. If you're wondering what are the best places to travel in your 20s in Central America, you should definitely consider Nicaragua.
Here you can find friendly, laid-back locals eager to interact with you, small historical cities with stunning architecture, and cheap produce markets with fresh tropical fruits for minuscule prices. In addition to affordable food, you can find nice hostels for around $10 a night, making the average cost of living in Nicaragua very low.
Nicaragua is a great destination for surfers of all levels, as the waves are pumping and the beaches are usually close to empty. There is a lake in Managua in the center of the country that causes the wind to blow offshore towards the coast, which makes for perfect, glassy waves year round.
Beginner surfers can learn how to ride the waves at beaches like Playa Maderas, while experienced surfers can hunt down the big waves in places like Popoya.
You can also thrill-seek by hiking active volcanoes and sand-boarding back down, or indulge in some crazy parties on Sunday Funday in San Juan Del Sur.
Excited about exploring this surprising country? Check out Worldpackers work exchange programs in Nicaragua!

7. South Africa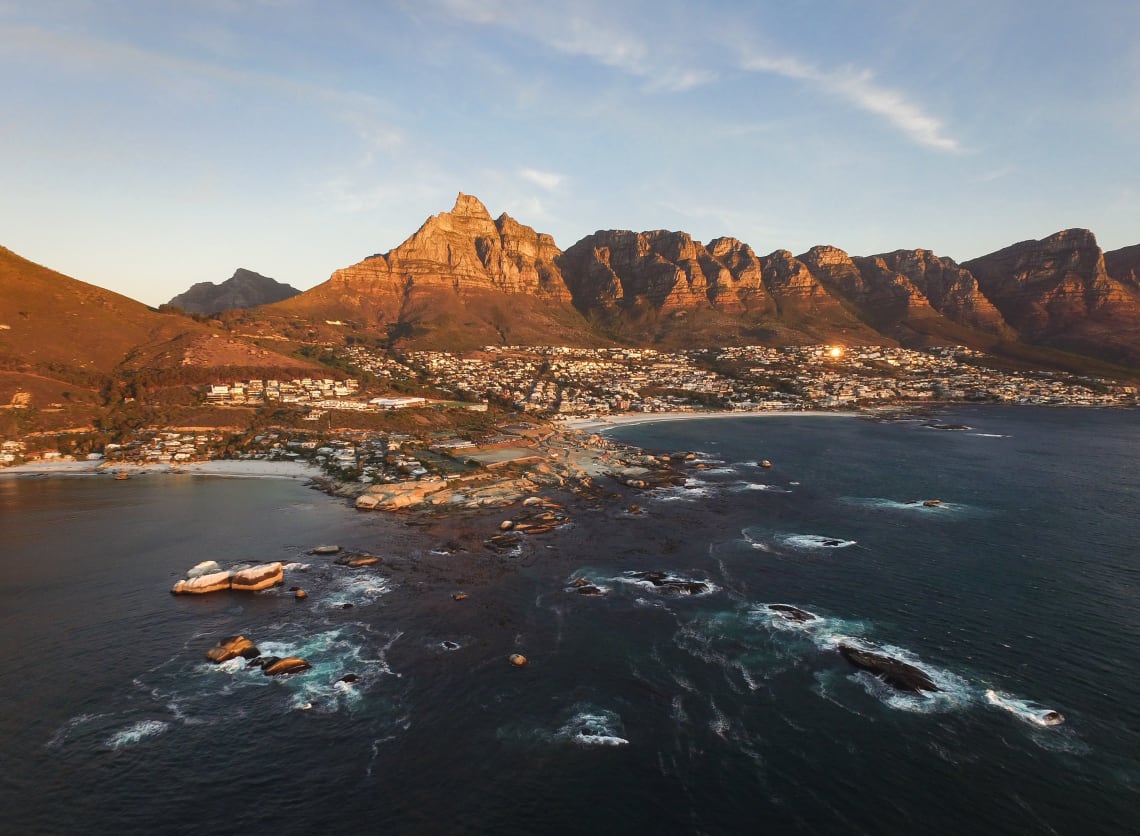 South Africa is the perfect country for experiencing lots of life-changing moments in one trip. Visit Kruger National Park for a thrilling safari and spot lions, elephants, leopards, zebras, giraffes, and more in their natural habitat.
A luxury guided safari is pricey, but you can purchase a self-drive safari for only $100 a night; this can drop down to as low as $60 a night if you camp. Witness more natural beauty at the tabletop mountains of Drakensberg Park, which lies on the border of South Africa and the Kingdom of Lesotho.
Explore more jaw-dropping peaks at Table Mountain in Cape Town, one of the most popular cities in South Africa. You can hike Table Mountain for free, and there are numerous trails with varying levels of difficulty.
Another free attraction in Cape Town is Green Point Park, the same spot where the FIFA World Cup was held in 2010. Scope out the architecture in Greenmarket Square or the neighborhood of Bo-Kaap, or learn to surf at Muizenberg.
Cape Town is such a welcoming city that you barely need to spend any money to enjoy it, except for food and accommodation.
To save money on food, visit the V&A Market for super cheap vegan and vegetarian meals, and to save money on accommodation, make sure to check out Worldpackers work exchange programs in South Africa.
8. Ecuador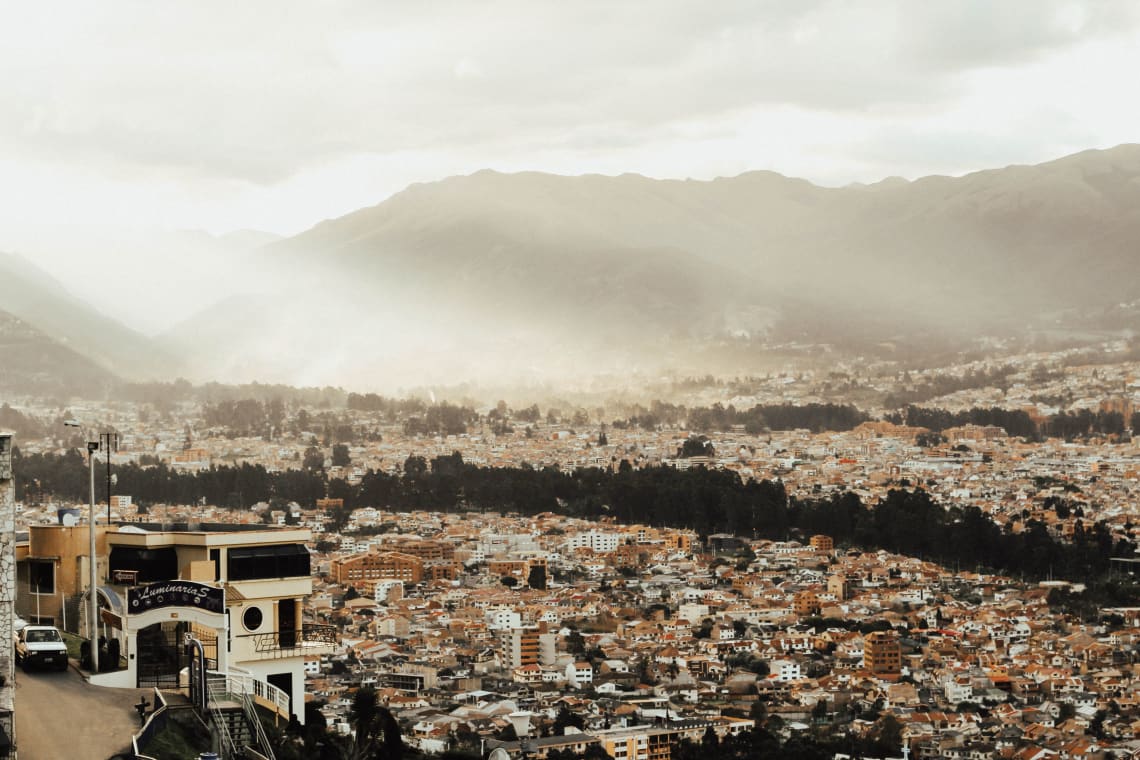 The amount of natural diversity in Ecuador is jaw-dropping considering its size. Named after its location along the Equator in South America, Ecuador's warm climate extends from the jungles and waterfalls of the Amazon, to the cloud forests of the north, to the beaches of the western coastline.
You can also find colder weather as you head to higher altitudes, such as the capital city of Quito or the famous volcanoes of Cotopaxi National Park.

Ecuador is the perfect country for adventure enthusiasts who love to be outdoors, as the natural beauty is truly endless. Luckily, most of the country is budget-friendly, with the exception of maybe the Galapagos Islands, making it one of the best places to travel in your 20s in South America.
The American Dollar is used as the local currency here, though it's recommended to come with smaller bills and some coins as well. A local bus ride in Quito costs $0.20, and buses to different cities throughout the country usually cost between $5-$10. You probably won't be able to pay for anything using a $20 or higher, and it's rare for locals to have change.
If you're looking for a different experience there, see the Worldpackers work exchange programs in Ecuador.

9. Cambodia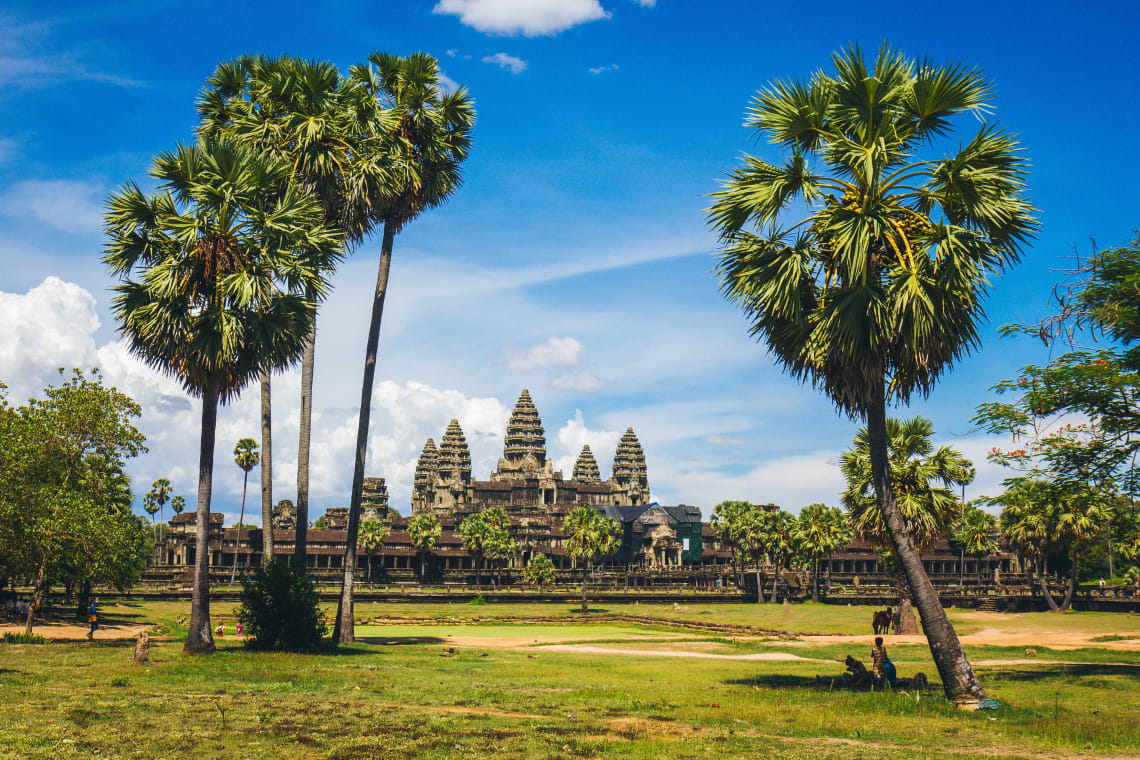 Many travelers visit Cambodia to explore the ancient temples of Siem Reap, and with good reason. You can spend up to seven days roaming through the massive stone structures that date back to the 12th Century, watching the sunrise over Angkor Wat and witnessing the giant faces at the Bayon.
Stay in a hostel in Siem Reap while you plan your stay; some hostels are as cheap as $4 a night and the staff will help you plan your visit to the temples.
The prices for the temples passes are currently $37 for one day, $62 for three days, and $72 for seven days, which is very reasonable considering tourism is one of Cambodia's main sources of income. Without these famous temples, the country would probably fall deeper into poverty.
So it's absolutely worth traveling to Cambodia and giving a bit of money towards the local economy, as long as you respect their culture. Always wear appropriate clothing in the temples and be kind to the locals.
Give the Cambodians an extra warm thank you when they drive you around in a tuk tuk, serve you their delicious khmer curry in a cafe or sell you discounted clothing in the street market, and remember to appreciate how lucky you are to be able to see their country.
Feel like delving deeper into Cambodian culture? Check out Worldpackers work exchange programs in Cambodia.

10. Romania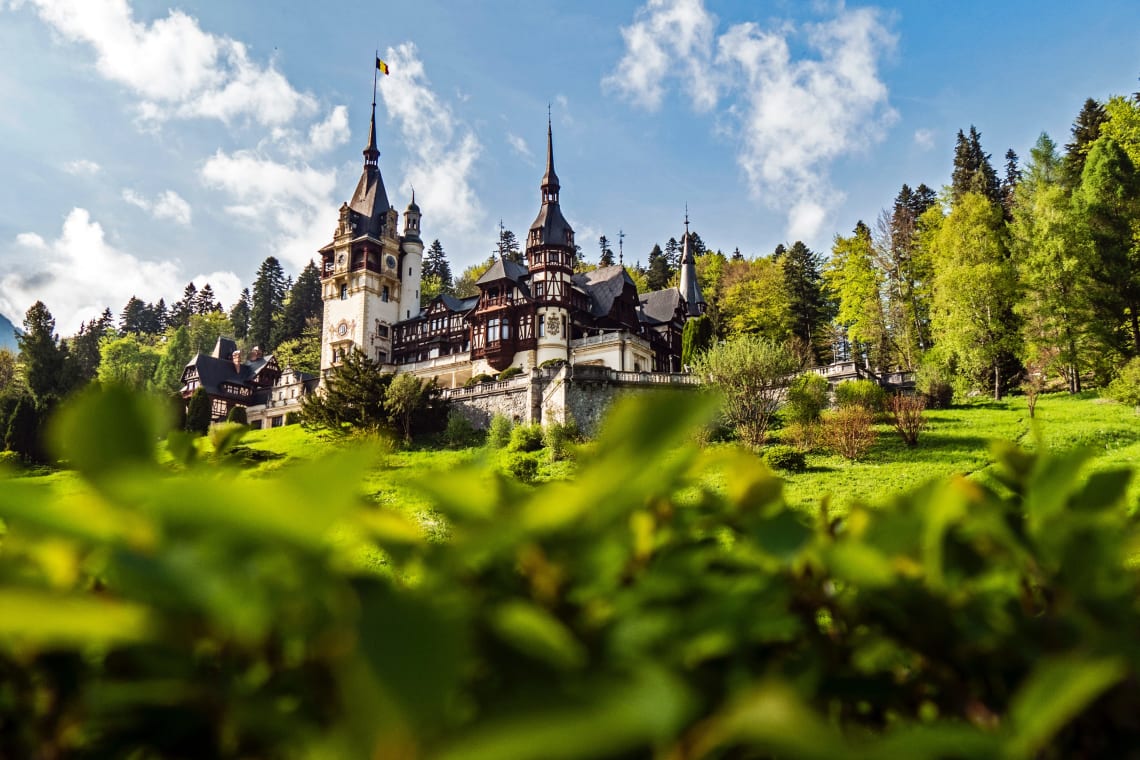 Some people believe the land known as Transylvania is a myth, but it's actually a large region in the eastern European country of Romania. It's incredibly cheap to visit and easy to travel through Romania, and you'll be able to see some adorable little villages and impressive castles along the way.
Some of the most popular towns aIong the Transylvanian route are Brasov, Sibiu, Cluj-Napoca, and Sighisoara. Common factors among all these towns are brightly painted houses, visually pleasing public squares, and cheap food. Delicious pastries and bread rolls from a local bakery cost about $0.20, and you can get hearty meals in a restaurant for about $5.
The easiest way to travel through Romania is by train. The train network connects all the towns of Transylvania with major Romanian cities, and the journeys usually cost around $10-$20.
A must-see in Romania is Peles Castle, a massive, ornate palace that stands tall in the middle of the thick forest. The easiest way to reach the castle is by taking a quick train from Brasov to the town of Sinaia for the day.
Check out Worldpackers work exchange programs in Romania.

11. Turkey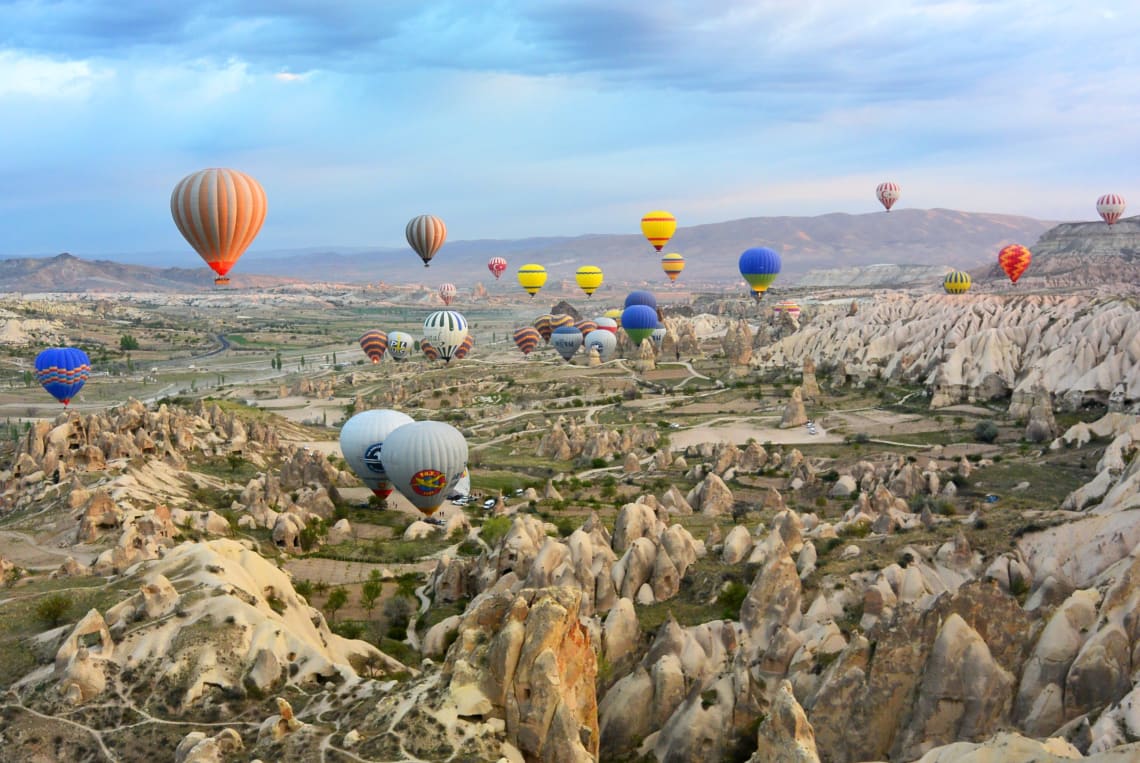 Caught between the Mediterranean's intoxicating beauty and the pull of a rich Islamic culture, Turkey represents a wonderfully diverse nation.
While the debate over whether Turkey is European or Middle-Eastern has not been settled, the affordability of this country remains constant. Turkey is undoubtedly one of the best places to travel in your 20s (or at any age) on a budget.
One of the highlights of this country is being able to enjoy authentic Turkish cuisine, like stuffed vine leaves, warm eggplant dishes with yogurt sauce, sugary baklava and Turkish delight, savory Gozleme, and tasty Doner kebabs.
Finding these foods on the street will only cost you a couple dollars, whereas eating a massive meal in a restaurant will still cost you only about $5.
Aside from filling up on food, spend your time in Turkey visiting the unique attractions scattered around the countryside. In Istanbul, you can enter the famed Blue Mosque for free, as well as roam the seemingly endless stalls of the Grand Bazaar.
Many tourists also love to visit Cappadocia to witness the crazy, sloping and jagged rocky landscape and watch the hot air balloons drift overhead. While paying for your own hot air balloon ride can be expensive (over $100), you can watch them in action from Sunset Point in Red Valley.
Turkey is one of our top chosen destinations for an overseas adventure travel.

Check out Worldpackers work exchange programs in Turkey!

12. Bolivia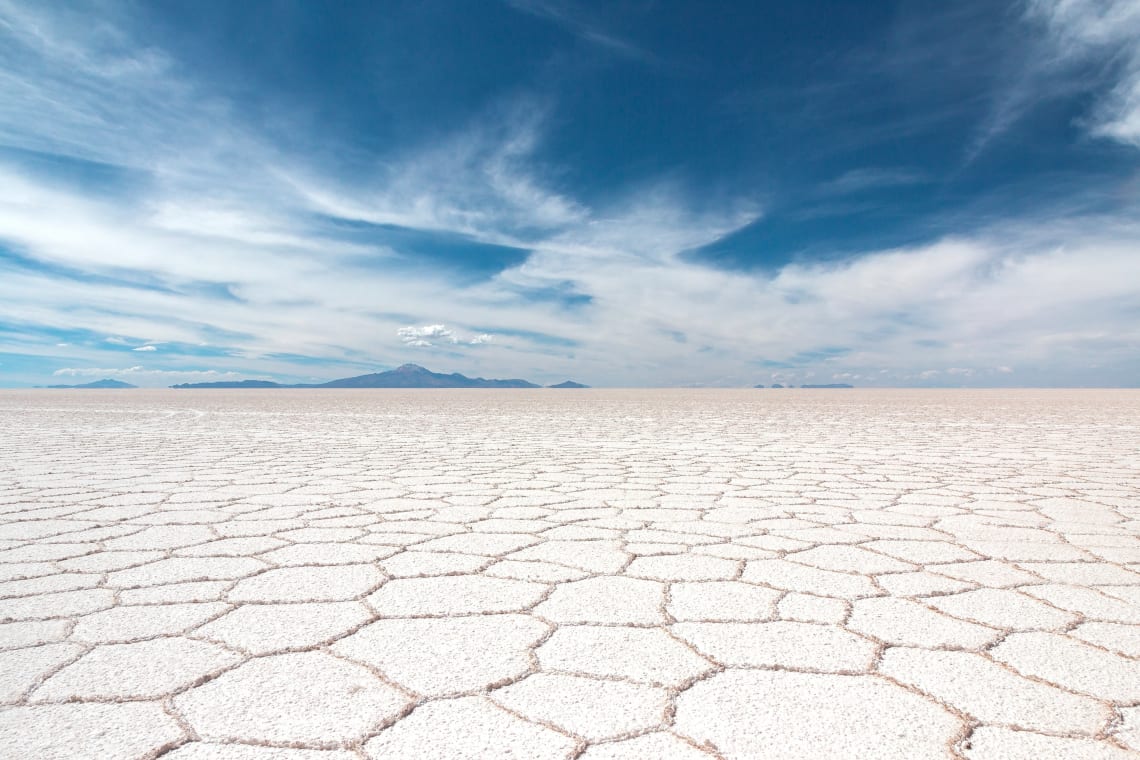 To find authentic South American culture and unbelievable natural scenery, visit the mysterious country of Bolivia. Not only is everything extremely cheap here, such as food, accommodation and Spanish schools, but the intense local traditions and practically untouched ancient culture makes this country an unforgettable experience.
Visit La Paz, the highest city in the world, to find some interesting witchcraft stores and beautiful handmade accessories from the local farmers. You can also trek to small villages to visit the Quechuan tribes, where people still speak their ancient languages and don't even know Spanish.
After experiencing the way of life of the Bolivian locals, venture into breathtaking nature. Definitely visit Salar De Uyuni, the famous salt flats where you can sleep in houses made of salt and watch pink flamingoes bask in a massive blue lagoon.
Also test your adrenaline limits by mountain biking along the winding path in the mountains known as Death Road. Supposedly the most dangerous road in the world, you can ride from high altitudes with freezing temperatures down into tropical coffee plantations without having to pedal once.
Want to explore this amazing country on a slower pace? Check out Worldpackers work exchange programs in Bolivia and spend some time there living like a local.

13. Czech Republic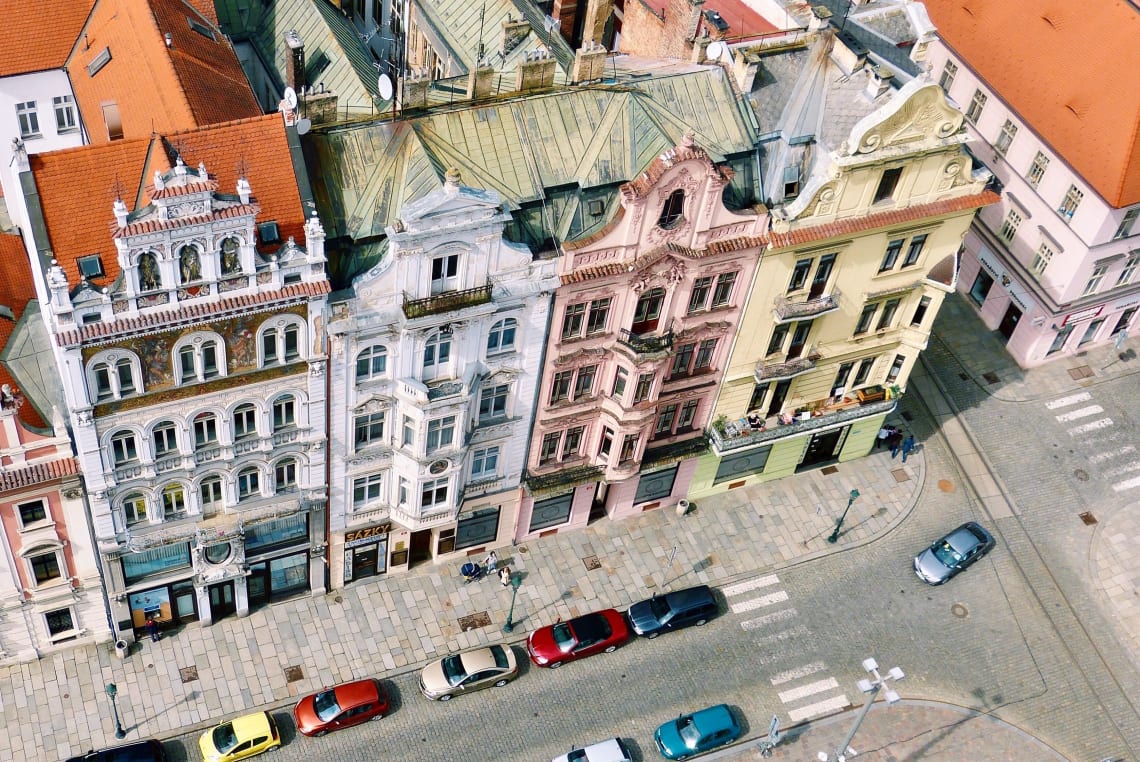 Located smack in the middle of Europe, the Czech Republic is a much more affordable destination than its neighbors, Germany, Austria and Switzerland.
You can find similar traits in all these countries, like interesting historical monuments, lush forests, green countrysides, hearty meat dishes and delicious beer, but pretty much everything is cheaper in the Czech Republic. In most pubs, beer is even cheaper than water, so it's a great country for indulging.
While exploring the Czech Republic be sure to visit Prague. It's one of the most magical cities in Europe, and the partying scene makes it one of the best places to travel in your 20s.
The presence of castles, chiming clock towers and cobblestone streets make the city look and feel like a village from a fairytale, especially at Christmas time when the streets fill with markets selling hot mulled wine and the tall pastries known as Trdelniks.
You can meet many interesting people and have lots of fun in Prague and other cities while doing a Worldpackers work exchange program in the Czech Republic.

14. Mexico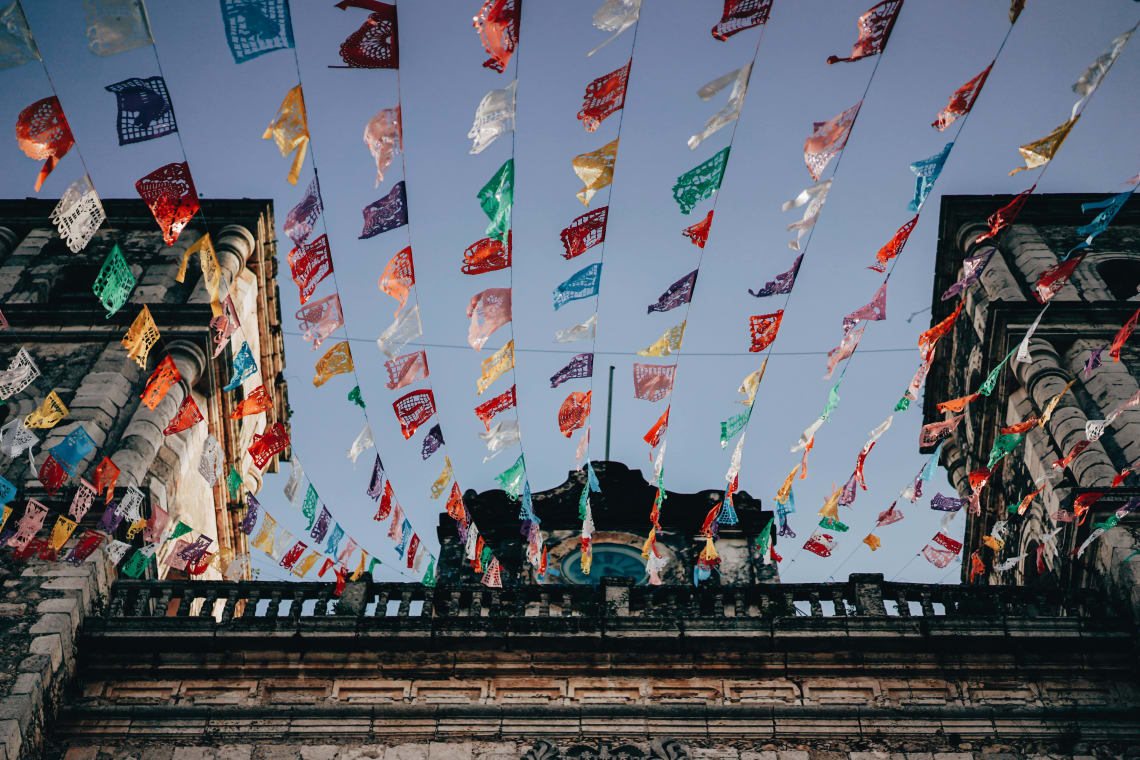 Mexico provides travelers with a strong sense of Latin culture that reaches beyond the stereotypes. This country is more than just tequila and tacos on Cinco De Mayo, it's full of dense jungles and amazing surf breaks and flavorful street food.
There are some great hotspots in Mexico to visit while traveling on a budget, such as Mexico City for magnificent architecture and handmade tacos in the street, or Oaxaca for markets selling colorful trinkets and day trips to ancient Aztec Ruins.
You can also take a bus from Mexico City to visit the incredible pyramids of Teotihuacan, where the entrance fee is less than $4.
To enjoy Mexico's beautiful beaches for free, venture to the massive coastline. Puerto Escondido offers great waves for learning how to surf and a very fun nightlife, and Loreto on the Baja Peninsula has lots of marine wildlife to enjoy while swimming or surfing. Loreto is also home to historical cave paintings located in the Sierra De La Giganta Mountain Range.
Don't forget you can enjoy all that without paying for accommodation! Check out Worldpackers work exchange programs in Mexico.

15. Laos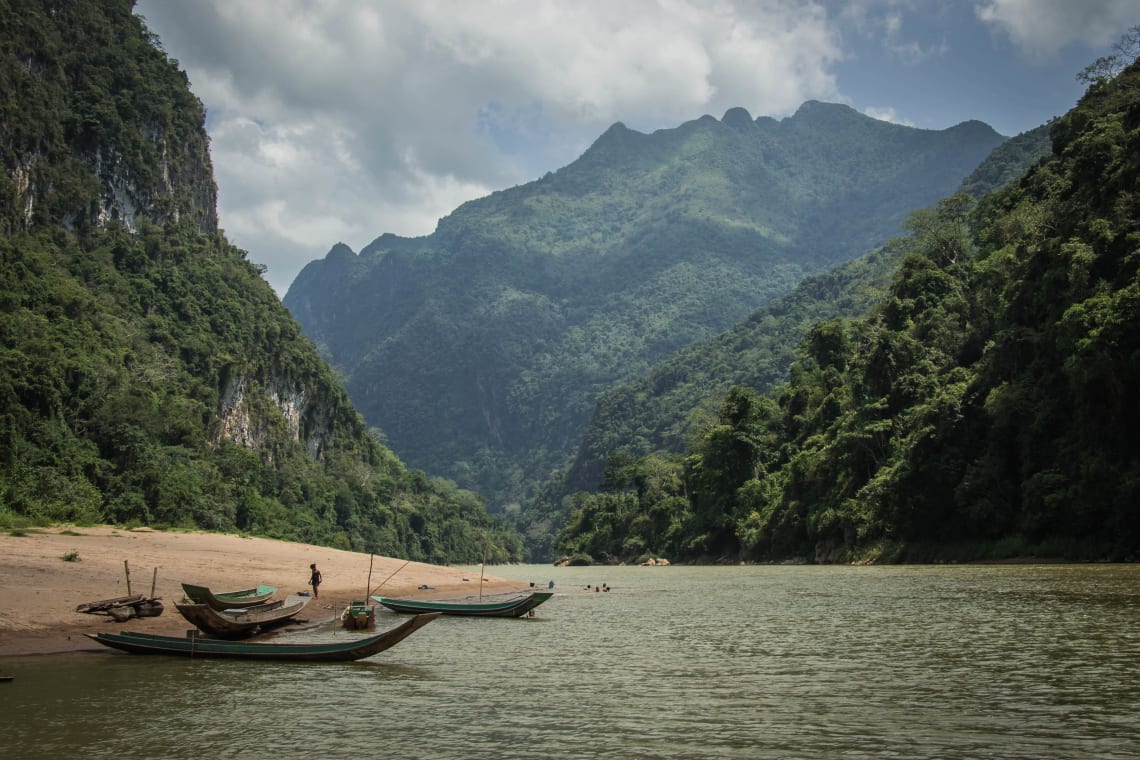 This small nation in Southeast Asia is an outdoor enthusiast's paradise. You can trek, kayak, and explore to your heart's content without spending too much money, which makes it one of the highlights of this list of best places to travel in your 20s.
Hostels in Laos can cost as little as $5 a night, whereas full meals from street food stalls can cost as little as $2. Purchasing a guided tour like zip-lining through the forest costs around $30, so to really save money it's better to hike and explore on your own without a guide.
Some amazing destinations to hike to in Laos include the stunning Kuang Si Falls, which is easily accessible from Luang Prabang, and the unique, remote Katang Villages of Dong Phu Vieng National Protected Area.
You can also try kayaking through the peaceful archipelago of islands known as Si Phan Don, or learn how to rock climb at the limestone cliffs of Tha Khaek. The adventures in Laos are truly endless, and luckily most of the thrills here can be enjoyed on a budget.
Check out Worldpackers work exchange programs in Laos!

Did you like this list of places to travel in your 20s? Send it to your friends and invite them to join you for an unforgettable trip!