Teaching English and becoming part of an Italian family in Genoa
Wondering what it would be like to take part in a language exchange with a host family in Italy? I pursued my curiosity and it was the best thing I ever did!
6min
My most memorable experience as a Worldpacker thus far was when I spent three weeks with a family in Genoa, Italy.

I applied to help them with improving their English and some light housework, but what I got in return was so much more. I was absorbed in the Italian way of life; the fantastic food, the passionate conversations, and the tremendous generosity.
I learned how to slow down while traveling, how to enjoy the little things and most importantly, I found some people that I can now call family.
Why I became a Worldpacker
After completing my university degree and deciding to go backpacking solo, I was eager to immerse myself in different cultures and develop new perspectives about the world and living in it.

I had studied for some years, but I realized I didn't want to work in the field I was educated in, so I had to get out there and try new things and step outside of my comfort zone.
I have now been traveling Europe on a budget for four months, and I don't plan on stopping any time soon.
Why I was motivated to do a language exchange in Italy
I chose to apply for this particular experience because I knew it would be challenging and very different from anything I'd experienced before. I had traveled in Italy for shorter periods of time in the past and perhaps relating to my Italian blood, I had always felt very at home there.
I felt as though experiencing first-hand what it was like to be a part of an Italian family would help me to feel closer to my Italian heritage, and I considered this as an amazing opportunity.
Furthermore, with my love for language, I was interested in trying to teach English abroad whilst hoping to learn some Italian along the way too!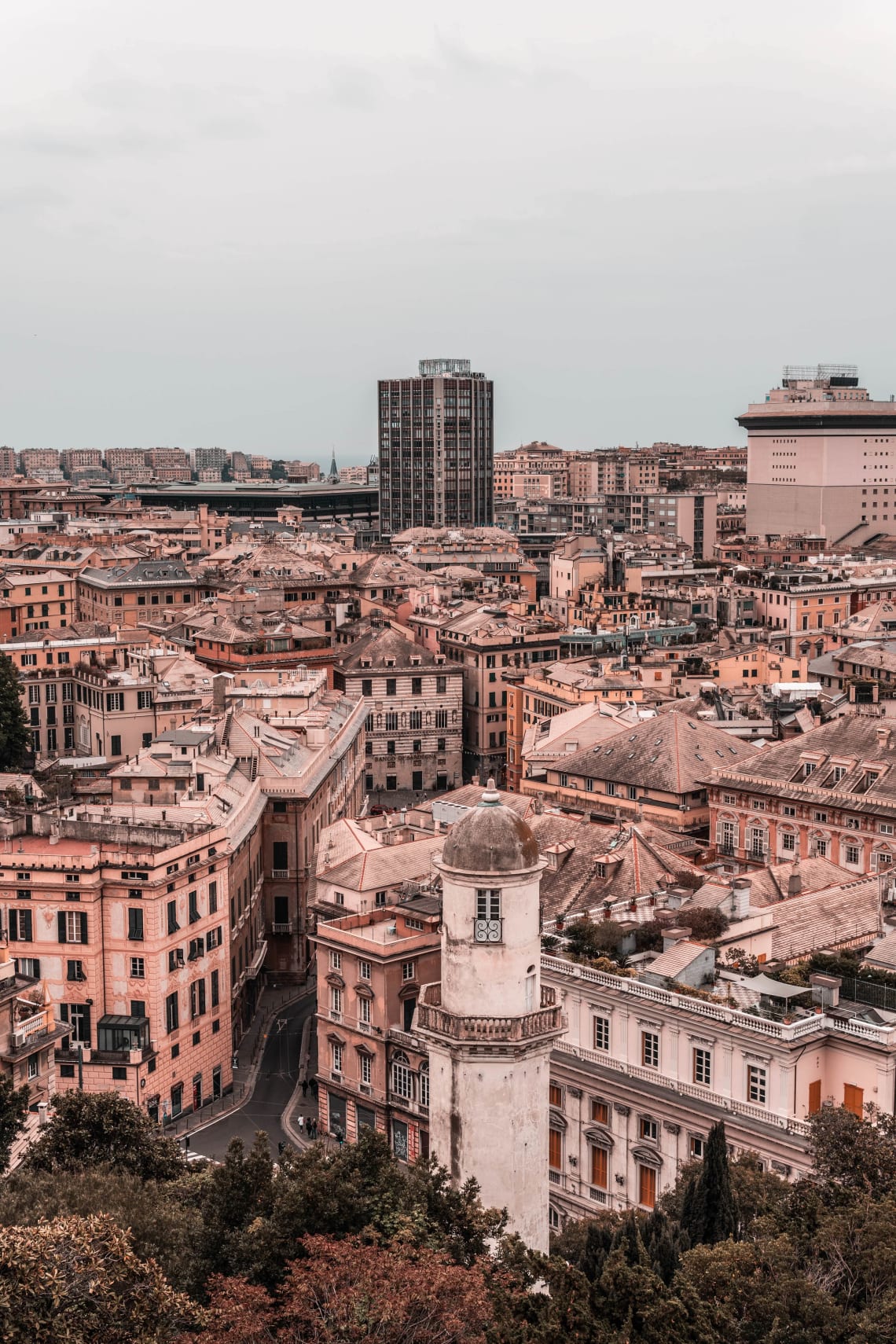 A day in the life: volunteering with a host family
As a Worldpackers volunteer, my role was to contribute to the household by doing regular chores such as brushing the dogs, vacuuming and helping out with meals, as well as engaging in regular discussion; talking and sharing with one another so we could learn more about each others' cultures whilst helping them to improve their English.
My hosts were software developers who worked from home, so they had an established routine that I was happy to adapt to but they were also very flexible with me, so we were able to develop a routine that worked well for all of us.
Contributing to the household
On some mornings, we would have breakfast together at the dining table and on other mornings, I would have a little sleep in and prepare my own breakfast when I was ready.
We would almost always spend lunch and dinner together though. One of my hosts and I would prepare the family's meals together and I would then clean up afterward while my hosts took their dogs for walks.
Between meals, I would find appropriate times to brush the dogs and vacuum the apartment but aside from that, I had free time to myself.
My duties took about three hours in total and I did them for five days each week.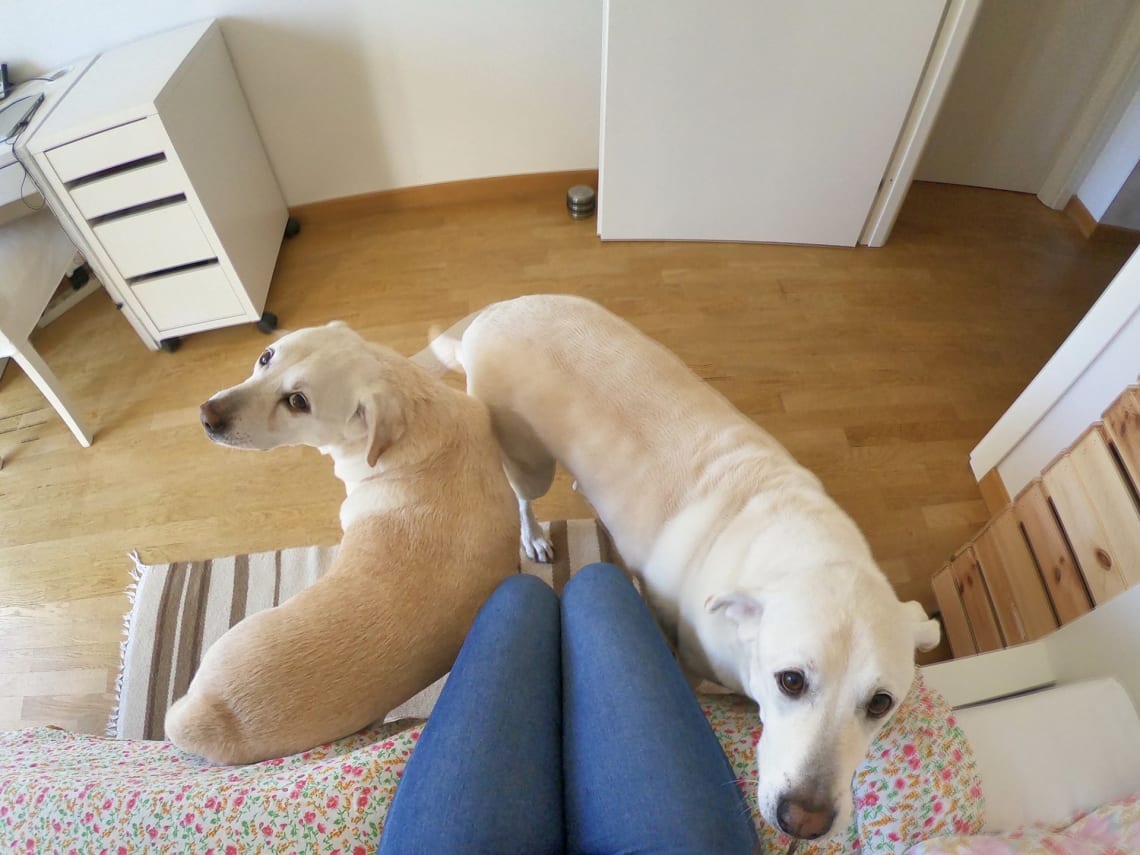 The language exchange
Mealtime was the most important time of day because it was a fantastic opportunity for us to learn about each other whilst having me assist them with improving their English. Each meal was made up of multiple incredibly delicious courses, which were accompanied by interesting and vibrant conversation.
Helping my hosts practice their English was a fantastic learning experience for both of us. Their English was at an intermediate level; most of the time I just corrected their pronunciation and helped them to rephrase their sentences. Sometimes they struggled to express themselves effectively, but we were always able to understand each other eventually.
With so much time spent together during meal times, we quickly found our rhythm and me helping them became a normal part of our conversations.
The environment
My hosts' apartment was located about 30 minutes away from Genoa's city centre. With beautiful views of the surrounding mountains, the air was fresh, and there were nice walking trails and plenty of vegetation.
The apartment was modern and clean, with a compact kitchen/dining/living area, two bedrooms, two bathrooms, an office, and a big terrace filled with plants.
I was provided with my own bedroom, balcony and bathroom, which was a lovely luxury for a budget backpacker!
It was wonderful to have my own space, especially when living in quite close confines with new people.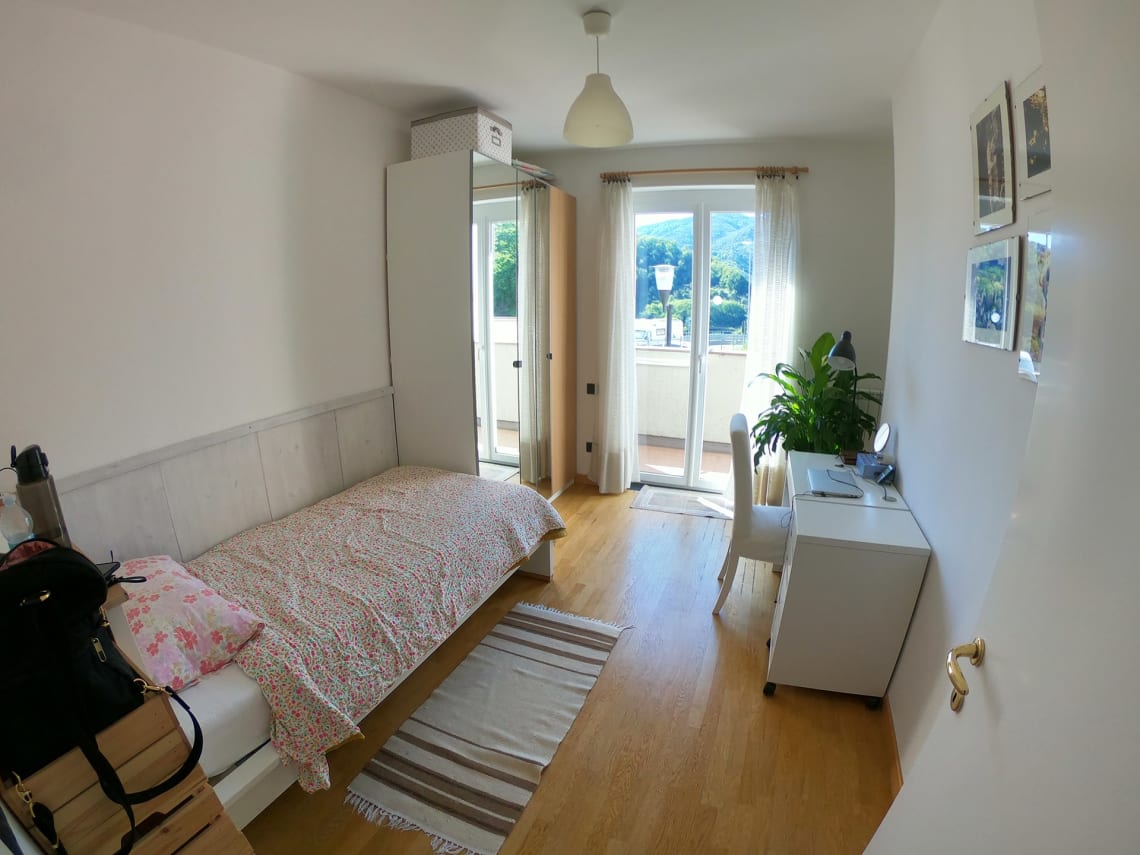 Expenses
My host family supplied me with three meals a day, plenty of snacks, beverages, and anything else I needed during my stay (e.g. bathroom items and medication).
I stayed for three weeks and only spent about €20 on things I didn't feel comfortable asking the family to pay for.
For example, I purchased some beverages to enjoy on my days off and a box of chocolates to leave as a gift for my hosts when it was time to move on to my next destination.
Free time
With regards to recreation, my hosts made lots of suggestions for activities I could do during my stay, but after a month of moving around quite regularly from hostel to hostel, I was very content staying in or near my hosts' apartment; taking it easy and doing indoor activities.
If I felt like going on a little outing, I would walk five minutes to the local shopping mall. There were bus and train connections within walking distance from the apartment though, and my host family provided public transport tickets so the option was always there!
Furthermore, my hosts and I went on quite a few outings together, so I got to see different parts of Genoa and nearby towns.
Instead of venturing out to see lots of sights, I treated this experience as a cultural immersion getaway, which allowed me to gain a deep insight into what it was like to live like an Italian in this part of the country and this was a very valuable experience for me.
During my free time, I would practice yoga in the morning sun, draw, work on my laptop, and write in my journal.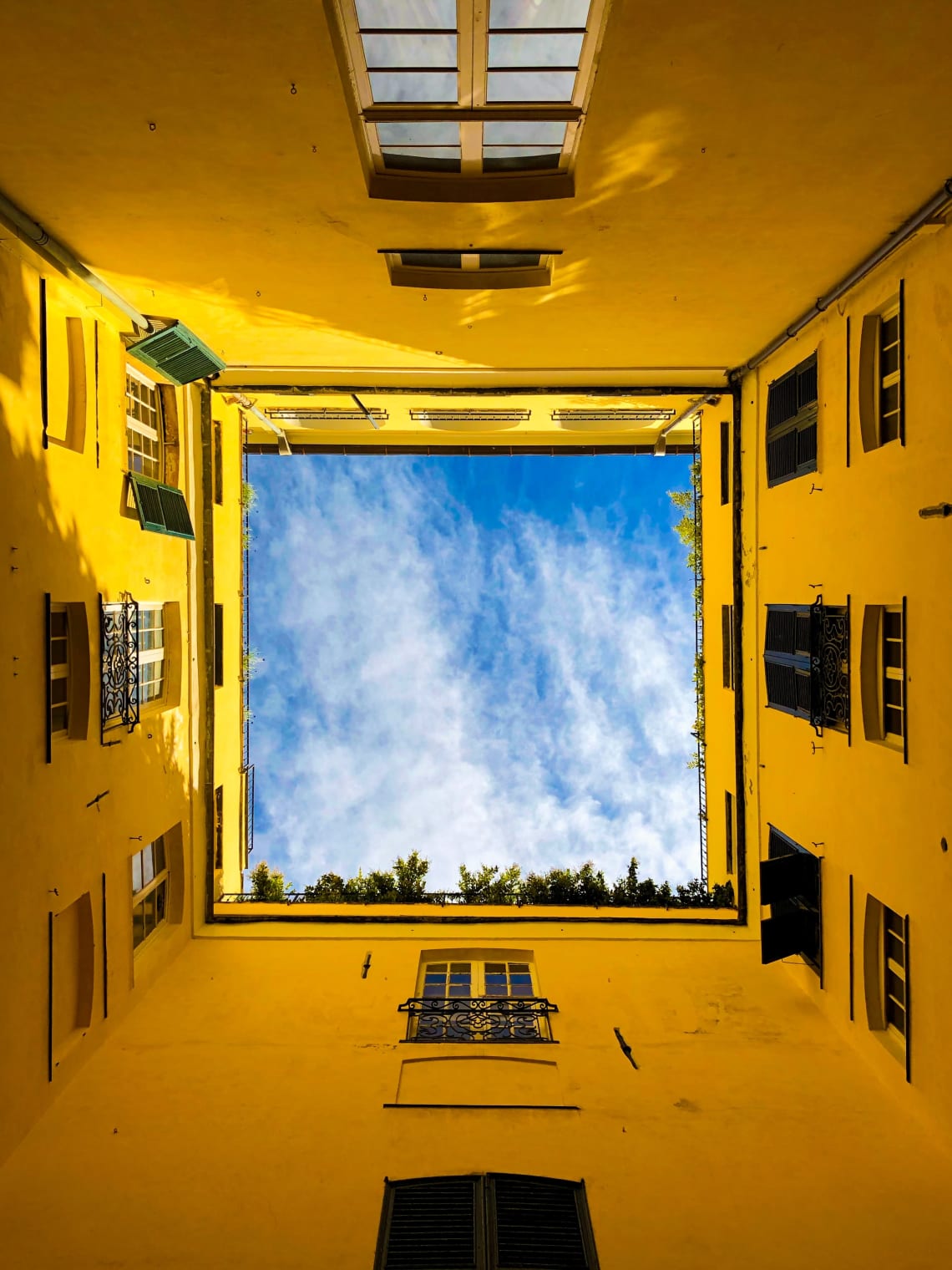 What I learned from the experience
After living independently for the past ten years, coming to live in someone else's home where they had rules and a different way of life that was formed from a culture I wasn't familiar with required a high level of adaptability and a bit of time to make the transition.
The biggest culture shock for me was the abundance of talking! Our days would go by so quickly because of all the talking we did.
My first week was a bit hard, as I needed time to adapt to family life after a month of complete freedom spent living in hostels. I also needed more time to myself, but I didn't know how to tell my hosts that. Once I was able to talk to them about how I was feeling, everything became much easier and enjoyable.
The most important lesson I learned was with regard to communication; it wasn't just me helping the couple with their English, but they helped me with my English too. When I first arrived, I was overwhelmed by their openness, kindness and generosity, so I felt a strong desire to express my appreciation for all they were doing for me.
I quickly learned that being overly polite can sound nonsensical to non-native speakers, and often, it only creates a confusing interaction. In order to be understood, I needed to quickly learn how to still be polite, but also clear and direct.
This was difficult for me, but they were very accepting and open from the beginning, so learning how to open up to them brought us closer together.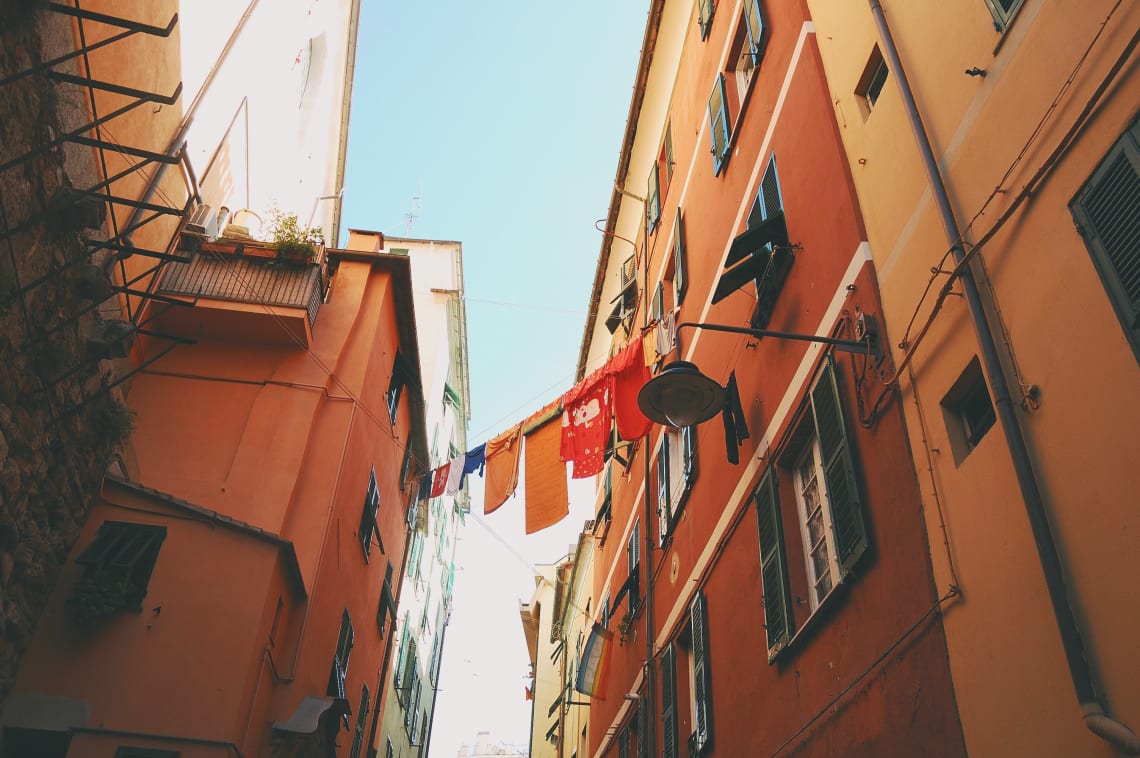 Overall, an invaluable experience
As soon as I met my hosts, they greeted me with open arms; there were never any awkward silences and we became quite close very quickly.
With their warm and welcoming demeanor, they made me feel comfortable and we would spend hours talking and sharing our lives and cultures. It was a very special experience for me, as I really did feel as though we became family.
To get the most out of a travel experience like this, you really need to be open to new experiences, you need to be honest with both yourself and other people, and most of all, you need to be curious so you can enjoy all the fantastic opportunities for conversation and learning.
An experience like this can seem scary or overwhelming, but I can guarantee it will be worth it.