The ultimate guide to visiting Venice on a budget
If Venice is on your travel list, keep reading to discover how to make the most out your trip to the City of Bridges and discover its most Venetian corners without spending thousands of Euros.
---
I met a lot of really nice people from all over the world while doing a work exchange with Worldpackers in Venice. My time in the world-famous City of Bridges might just be the most surprising volunteer experience I've had yet. Let me explain.
From afar, Venice might seem like an expensive destination that requires a lot of time to visit and truly see it all. However, during my stay in the City of Bridges I noticed a pattern: most of the tourists (at least, all the guests of the hostel I was volunteering at) were young travelers on a budget, who took an average of three days to visit this magical floating city.
So I can assure you firsthand, visiting Venice on a budget is completely possible! If you're traveling Europe on a budget, there's no reason not to add Venice to your list.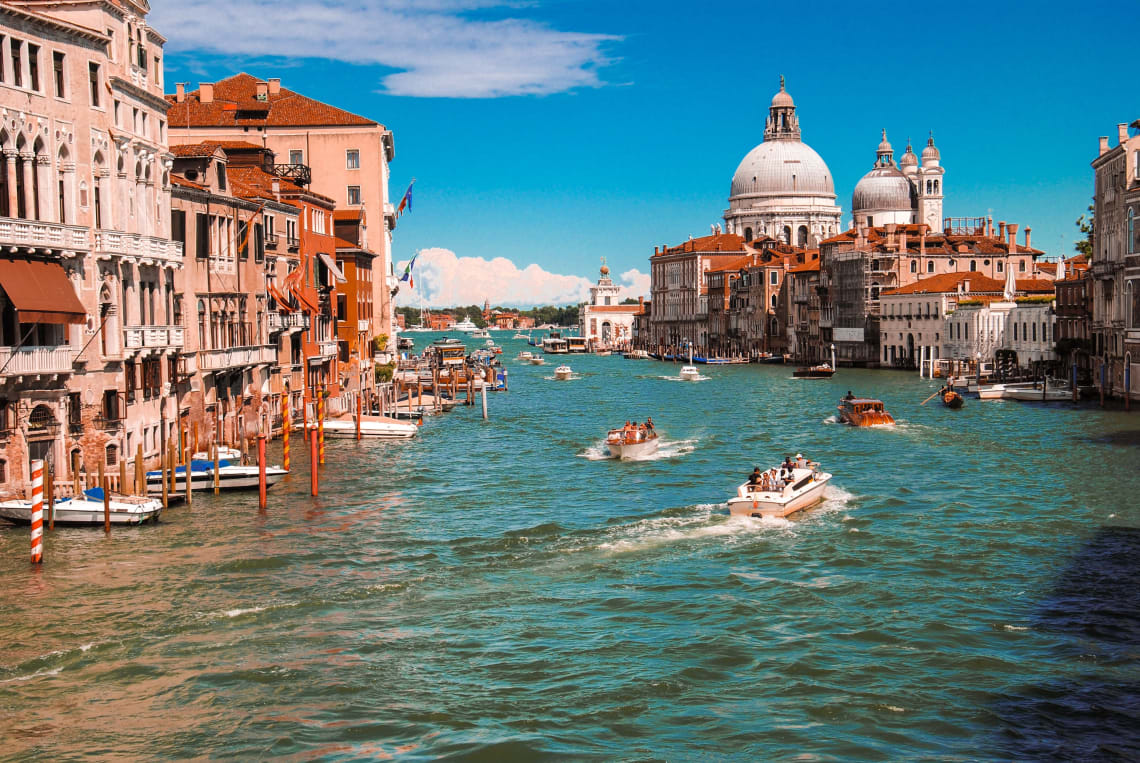 After having lived in Venice for two months, I decided to create this guide to help you budget, enjoy and wisely organize your visit to Venice.
The ultimate guide to visiting Venice on a budget
Know-before-you-go
This might be one of the best tips I can give you: do not bring too much stuff with you. The lighter your luggage, the better! Venice is all about walking (there are no cars) and you will go up and down a lot — a lot — of bridges. So, the fewer things you have with you, the more enjoyable your walk to your accommodation will be.
During the winter, because of the dense humidity due to the lagoon, it can get very cold. Bring appropriate clothing and don't forget your winter socks, heavy jacket, scarf and gloves! Also, keep in mind many of Venice's buildings are quite old. That means that at night, your hostel can get quite cold — even if it has a heating system.
In summer, the situation changes completely. The humidity of the ocean makes the hot weather feel even hotter, but nothing to really worry about.
I'd say the best season to visit Venice is during fall or winter (September — March) because it's not so crowded, the weather is lovely, and prices are generally lower.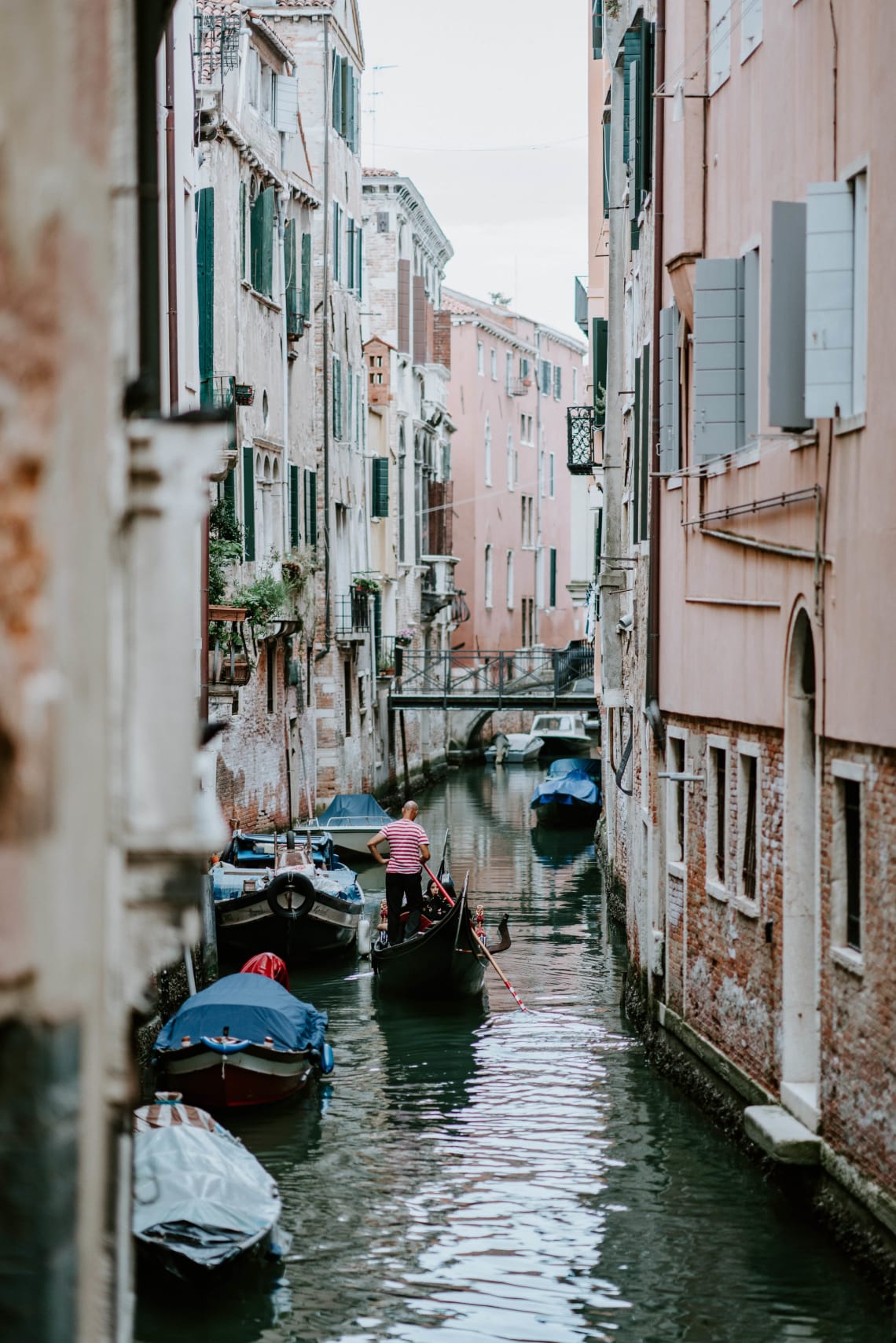 Getting to Venice
There are three main ways to reach Venice; airplane, train or bus.
1. Airport
If you're coming from another country or simply preferred to book a flight for time/economic reasons, you'll arrive either at Marco Polo Airport or Treviso Airport.
Marco Polo is the cheapest airport to arrive at. A quick bus ride (around 20 minutes) will bring you directly to Piazzale Roma — the entrance of Venice. The bus costs €8.00 and you can purchase a ticket in advance to avoid extra hassle at the airport.
If your budget allows, skip the bus and take a boat directly from the airport! The boat journey takes a little bit more than an hour, costs €15.00, and leaves you at Piazza San Marco. You can check the prices and boat schedule here.
Make sure you double check your accommodation's location in Venice before choosing your method of transport!
My recommend avoiding this option. Not only does it cost more than the bus from Marco Polo, but it takes more time to reach Venice Metropolitan City (definitely not what you want if you just have a few days to spend and are on a tight budget). If you plan on arriving from Treviso, you can buy a bus ticket for around €12.00.

2. Train
There are two train stations in Venice. Mestre is located on the mainland, and Santa Lucia — your best option — is on the mainland. To avoid making extra connections and losing time, I suggest you book a ticket that takes you to Santa Lucia.
3. Bus
There are also two bus stations in Venice. Your best option is to arrive at Piazzale Roma as it's walking distance to the Grand Canal.
The other station is Tronchetto. From Tronchetto, you can either take a ride on the "People Mover" (costs €1.50 and you can buy the ticket there) or take a 25 minute walk (not recommended if you have heavy luggage).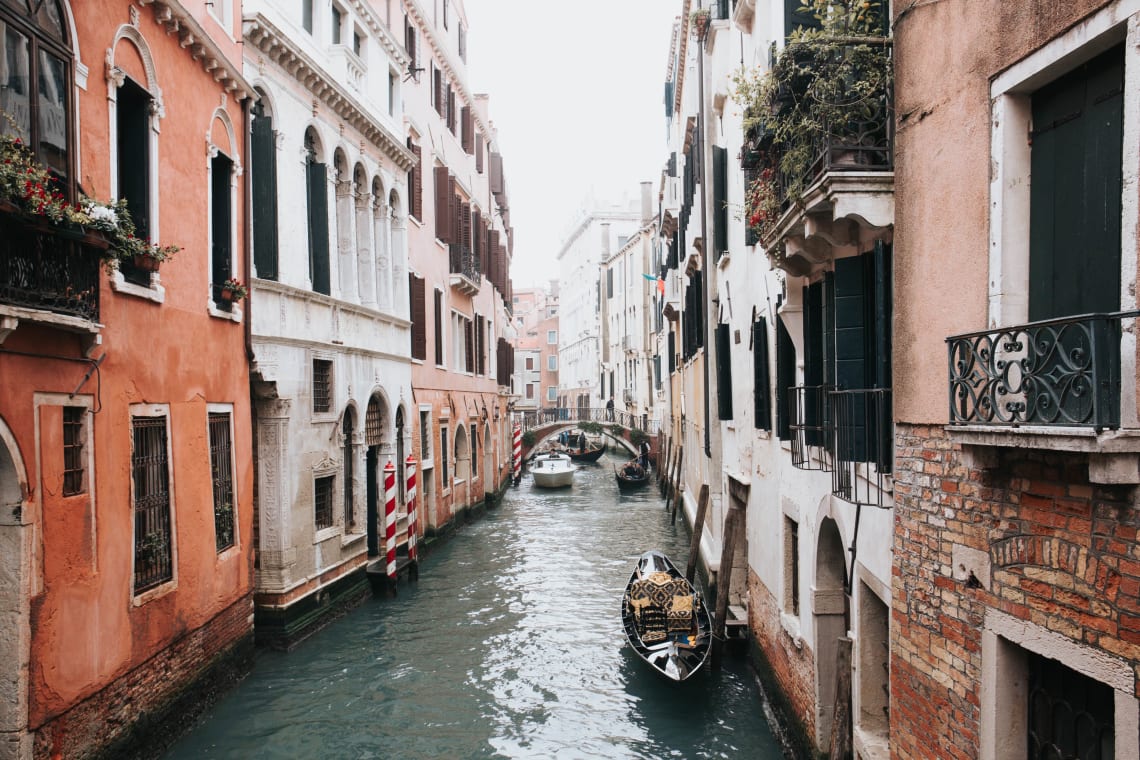 Where to stay in Venice
Wherever your accommodation is located, it's gonna be fine.
Venice is not a big island and that means you can literally walk it from north to south in a little over an hour. Everything is very close by. You don't necessarily need to stay in front of San Marco Square.
As Venice is one of Europe's most famous and touristic cities, prices during the high season are not budget-friendly at all. During Christmas, New Year's Eve, and Carnival a single night in a hostel can hit €90.00!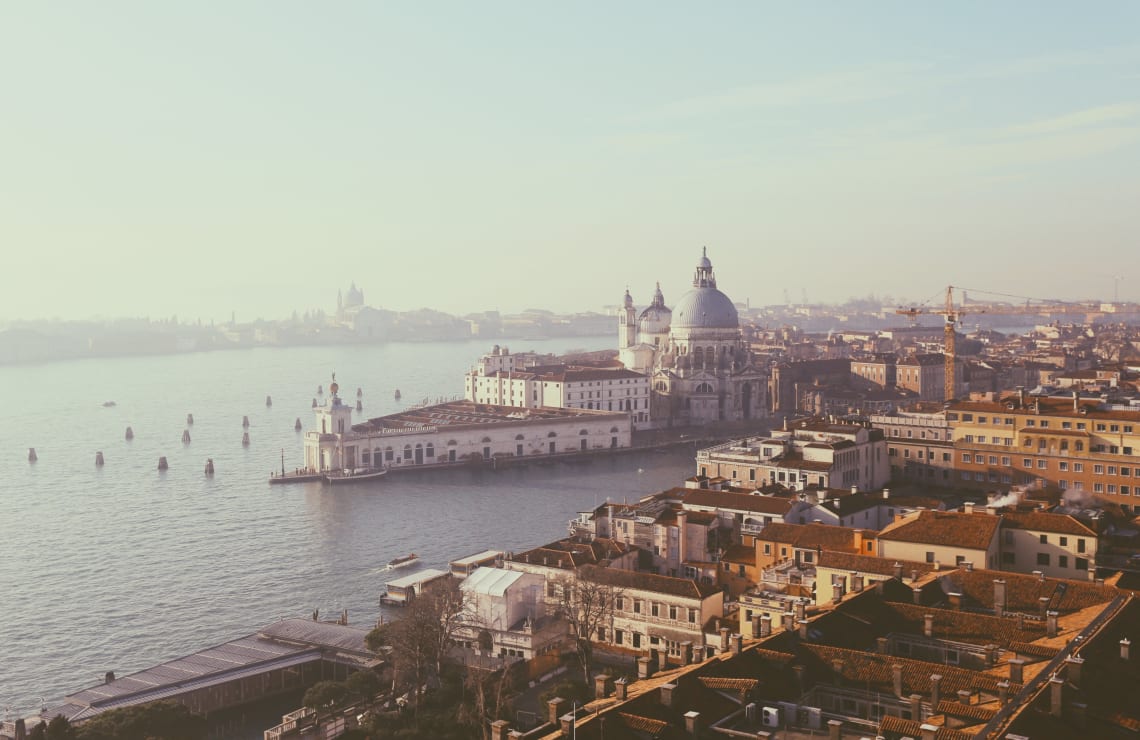 But good news! Worldpackers makes traveling on a budget easy.
Thanks to Worldpackers, you can apply to do a work exchange in Venice and get free accommodation in exchange for your help! This is not only an amazingly cheap means to visit and experience the island but also a fun and cool way to meet thousands of travelers and develop new skills while being completely immersed in local Venetian culture!
Whether you decide to volunteer in Venice or come as a guest, I recommend you stay with L'Imbarcadero Hostel. It's not a big hostel which means you'll really get to know and hang out with most of the staff, volunteers and guests, plus the hostel team is absolutely lovely!
I can assure you that L'Imbarcadero Hostel is one of your absolute best options for a work exchange experience in Italy.
Most beautiful places
1. Cannaregio and San Polo Neighborhoods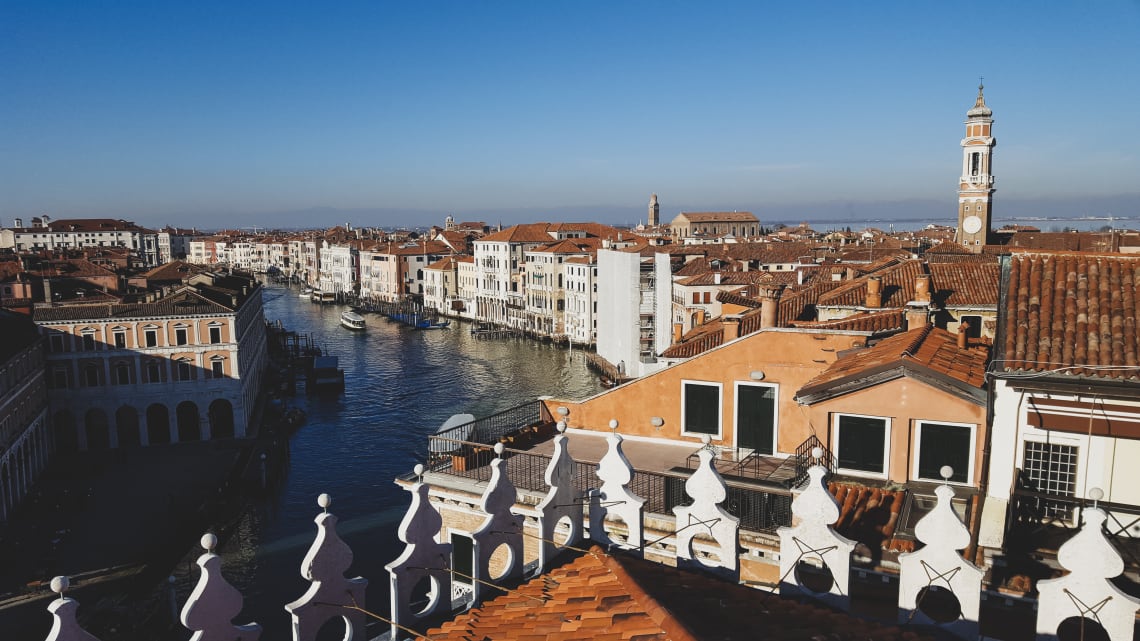 To get a picture of the whole neighborhood of Cannaregio, you'll need a drone... or you can go to this rooftop! Luckily, a local recommended me to go here and I fell in love with the stunning view. The best thing? The entrance is absolutely free!

Cross Rialto Bridge in the direction towards Piazza San Marco, take a left and then go in the shopping mall. This incredible rooftop is on the third floor and depending on how many tourists are on the island, you might need to book your visit in advance.
2. Aqua Alta Book Shop
Aqua Alta Book Shop is a real hidden-gem of Venice that's not very well-known amongst tourists.
This book shop offers not only a huge, interesting variety of books in different languages and beautiful postcards, but also a magical small backyard with a staircase made of real books! Climb up for a great view of the neighboring canal.
The interior of the book shop is also very interesting. The walls tend to disappear between the bookshelves, which themselves store thousands of books! The floor becomes a literature channel with a huge Gondola used as a bookcase in the middle of the store.
At the very end there's a Gondola parked in the water and you are free to get in and take a photo! This is amazing news for those of us that can't afford the €80 ride.
Aqua Alta Book Shop is a must-see when visiting Venice. It might be tricky to get there as it's in the middle of a maze of alleyways, but it's worth getting lost.
3. Dorsoduro Neighborhood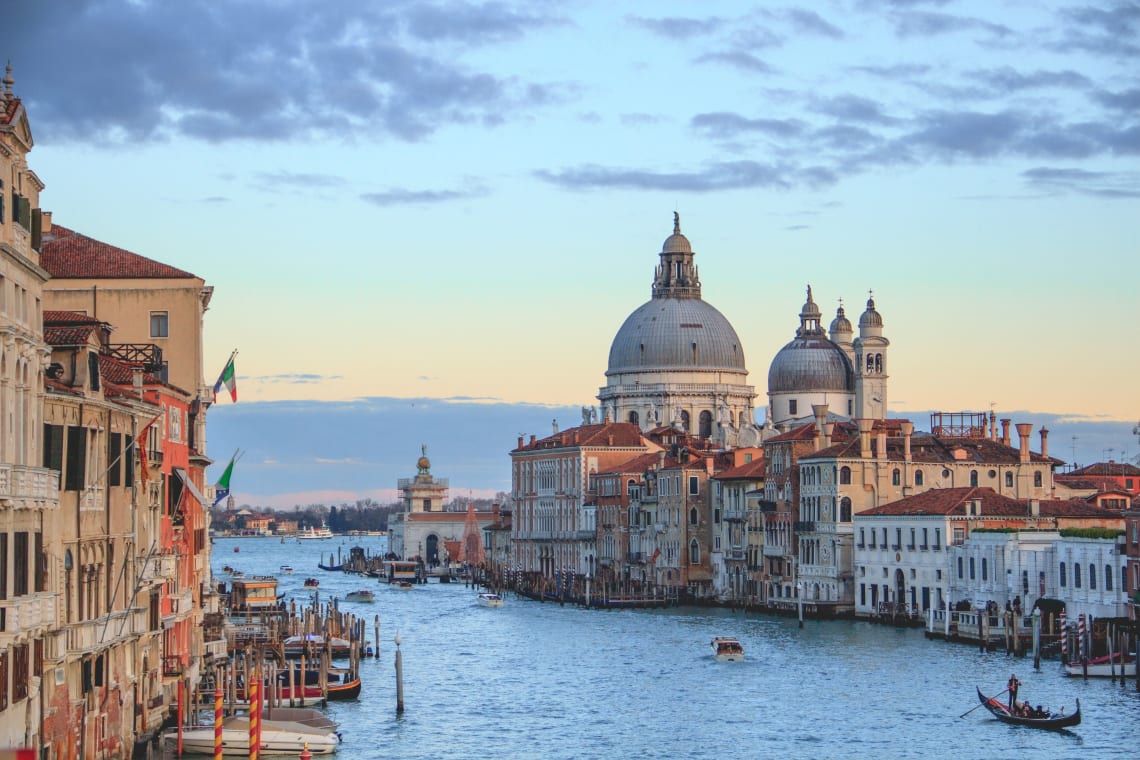 Dorsoduro is probably one of the most beautiful parts of Venice. It's full of small pathways filled with stunning architecture, churches and art shops.
Go to the very end of the neighborhood where Basilica Santa Maria is located (the entrance is free) to get a fantastic view of Academy Bridge and the Ducal Palace.
Walk along the coast of this Dorsoduro to get a beautiful view of Giudecca Island, plus experience Venice's best spot to catch a sunset!
Where to eat and drink like a local in Venice
1. Arccichetti Bakaro
As you may know, the Spritz is an excellent and very classic Italian drink from the region of Veneto!
Visit the small and cosy bar Arccichetti Bakaro to get the best Spritz you'll ever drink for the very cheap price of €2.80! The locals drink the Spritz with Select; while in Venice, give it a try yourself!

2. Bacareto Da Lele
Right next to Arccichetti Bakaro there's a wine bar called Bacareto Da Lele and it's always full of Italians (which means it's a good quality bar). Stop by to grab a small sandwich for €1 or even a cup of wine starting from €.80! Insane!
Bacareto Da Lele is the perfect place to chill in the afternoon and sit by the canal or the stairs of the San Nicola da Tolentino Church to relax and enjoy the real Venetian experience!
3. Venetian Pizza Shop
The Venetian Pizza Shop offers many different options of good quality pizza for a fair price. Definitely the most bang for your buck when it comes to pizza!
4. Antico Forno
Go to Antico Forno to experience the different flavors and styles of Italian pizza. They have an excellent variety of flavors and you can choose between thin, medium or thick crust.
From all the pizza places I visited in Venice, Antico Forno had the most tasty one!
Visiting the islands of Burano, Murano, Lido and Torcello
How to get there
If you dedicate a whole day to to visiting the islands of Burano, Murano, Lido and Torcello, starting early in the morning will allow you to visit then all.
You will need to take a water-bus (in Italian "Vaporetto"). Each ticket costs €7.50 per ride but you can buy a 24-hour ticket for €20 that will give you unlimited rides for 24 hours! This will be your best option if you're planning to visit at least two islands.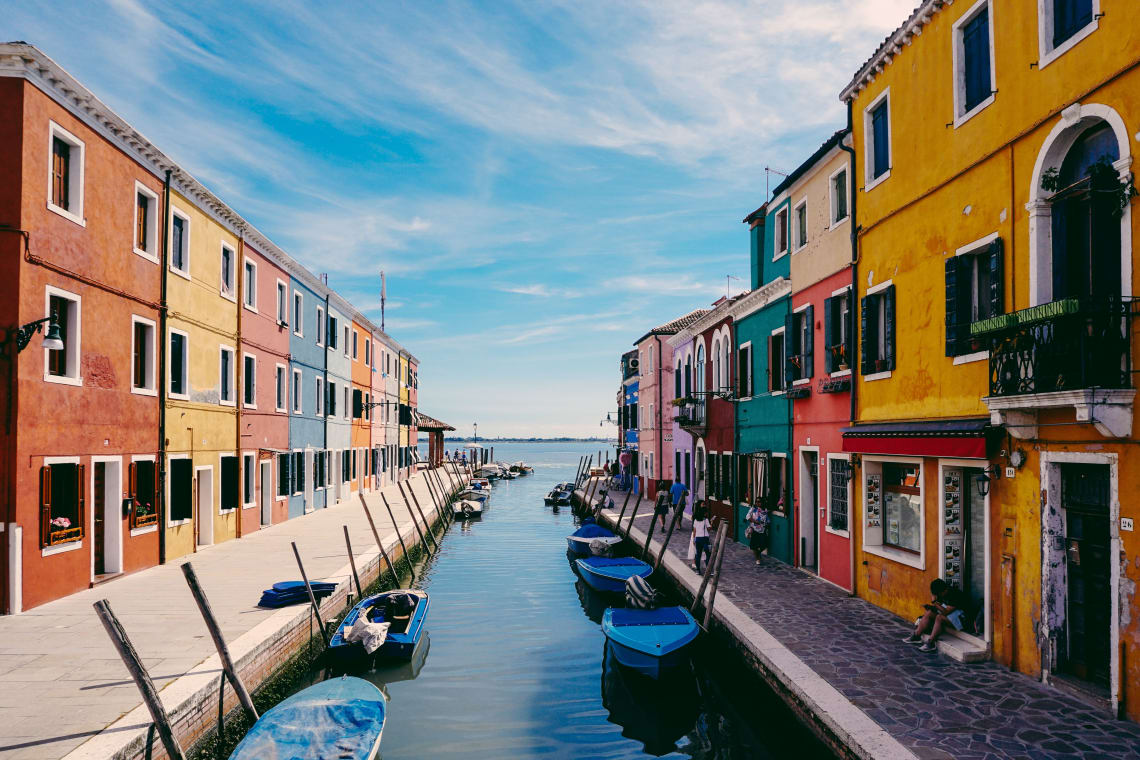 The Islands
Murano is the closest island to Venice Metropolitan City. It's famous for all its glass shops and factories where you can see and buy handmade decorations, jewelry, glasses, and much more.

Personally, I am not a huge fan of crafts, and was a little disappointed by the island of Murano. It's not the most rustic or photogenic place and if I'd had less time to spend in Venice, I would have skipped it.
Burano, on the other hand, is famous for its colorful houses and its lace shops. Walk from one side of the island to the other and explore every corner of this beautiful fishing community while experiencing the real Venetian lifestyle!
Venetian legend says that the houses of Burano were painted with different colors for fishermen to see the island amidst the fog and avoid a crash. Burano is a must-see for everyone, especially photography lovers.
Torcello is a countryside type of island. Visiting Torcello is a nice option if you want to chill, walk around and appreciate nature. It also has an Irish vibe! You won't spend more than an hour here, and if you don't have much time, I recommend that you leave it for your next time visiting Venice as there's actually not much to see on Torcello.
Located in the opposite direction of the islands I listed above, this island is one of the main stops for tourists during summertime as you can take advantage of the sand beach! Taking a refreshing dip in the Adriatic Sea is the best way to forget about how hot the weather is.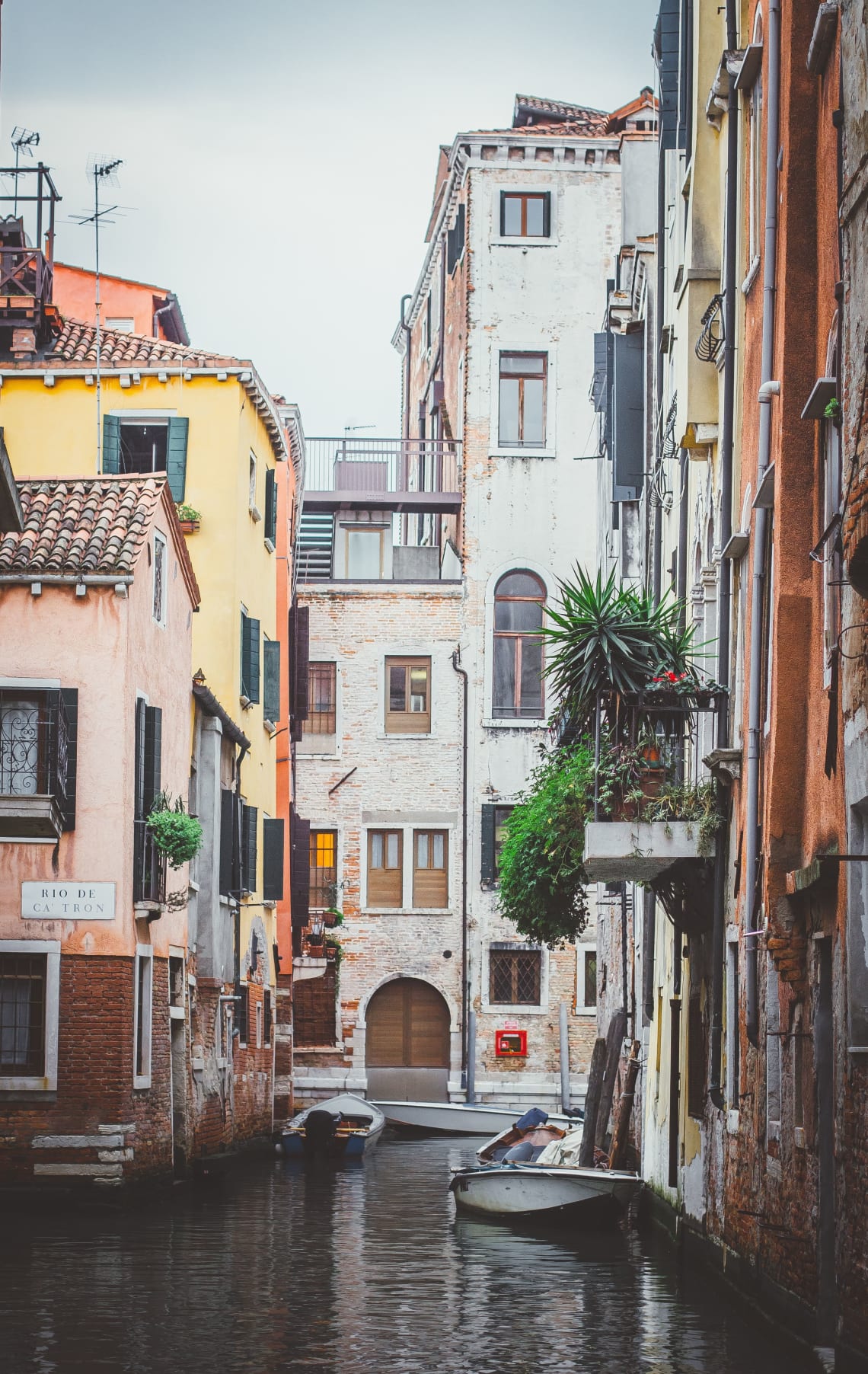 Visiting Venice on a budget is possible.
I really hope all the information I've provided motivates you to plan a trip to Venice and enjoy it as much as I did. If you have visited already, perhaps you now want to go back and experience more!
If you know of another Venetian gem, please write it in the comments section below so that everyone can add it to their list!
Safe travels, fellow travelers!
---
---