Backpacking in Central America as a couple and doing a work exchange for the first time
Our first experience with Worldpackers as a couple offered so many positives that it almost became hard to leave. Here's how we saved money and gained unforgettable memories while volunteering in a work exchange program in Nicaragua.
7min
My partner and I recently packed up our lives in Melbourne, Australia in pursuit of a modern vagabonding lifestyle in Central America.
We'd spent the previous three years traveling on six-week trips during annual leaves we'd work all year to save up for. These trips always involved meticulous planning and strict travel itineraries, but for our trip to Central America we wanted to adopt a more relaxed, backpacker approach and enjoy the luxury of traveling at our own pace.
So how did we make the transition from our routine lives at home to long term travel?
It's the most common question we're asked and the answer is simple... we made a plan 18 months before we left, we worked hard to save and just did it. We knew the money we'd saved wouldn't last forever which meant we were constantly thinking of ways to travel on a budget.
Our decision to travel late in our thirties took us out of our comfort zone and into some new, amazing experiences as we learned how to travel as a couple.

We packed up our entire apartment, sold everything we owned, quit our jobs and bought a one-way ticket to Guadalajara, Mexico. From there, we planned to travel south towards Colombia for the next 12 months — hopefully longer!
Deciding where to go was the easy part. We'd visited Latin America before and fallen in love with the region. The relaxed lifestyle, Caribbean vibe, incredible nature and beaches, vibrant culture, food, music, dancing, and the warm and welcoming people inspired our return.
We also wanted to visit places where our Australian dollars would go far. Since we were already familiar with Central America, we were certain we'd be able to travel and live like locals (by opting to take local busses instead of paying for private shuttles and transport, for example).
Four and a half months after our initial arrival in Guadalajara, we made it to Nicaragua and the colorful city of Granada. We had been in Granada two years earlier — prior to the recent political unrest — and were surprised to hear the stories from locals about how much it had effected tourism.

Getting off our bus, the central square was exactly how we remembered it. The same horse drawn carriages lined the streets where locals hustled boat trips and river cruises and women served up fresh vigorón. The main street was packed with people watching football, there was music blaring from every doorway, and a constant stream of backpackers rode bikes down the strip. It felt good to be back.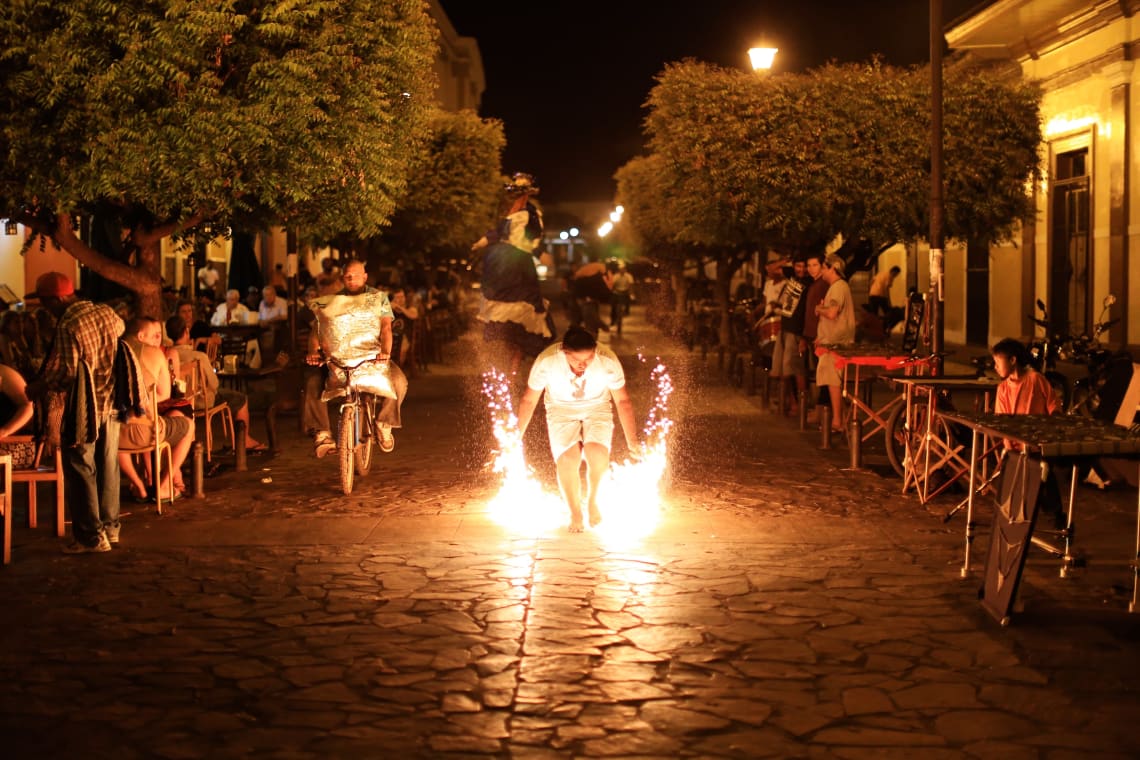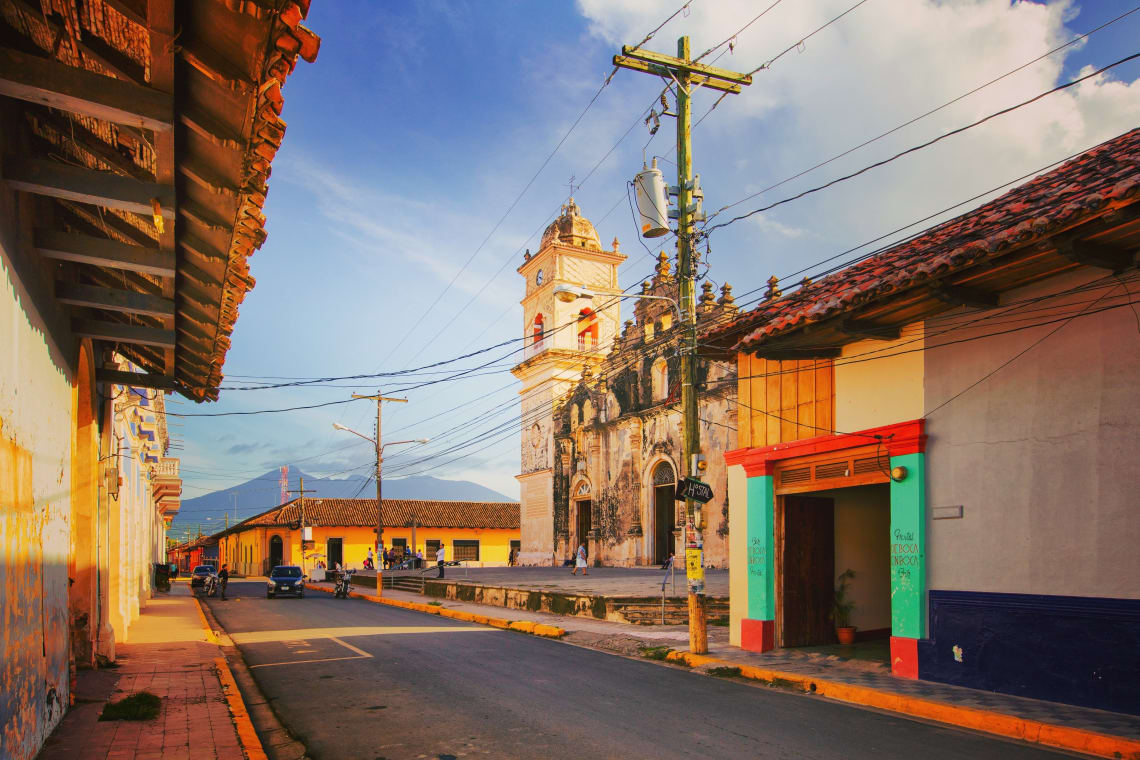 We'd arrived in Nicaragua sooner than expected, and had some time to kill before heading to Costa Rica... a destination we knew would hit the bank hard!
After hearing from many other backpackers in Granada about Costa Rica's high prices, we decided to extend our stay in Nicaragua and shorten the time we'd spend traveling through Costa Rica. We were doing a good job sticking to a strict budget, but staying in Nicaragua would help us cut back on expenses even more. It would also give us the chance to unpack, unwind, and reset.
We started looking for ways to either work or save money while traveling. One day, I googled "hostel volunteers Nicaragua" and came across Worldpackers.
As I looked through all of the incredible opportunities to volunteer in Central America, I found myself wondering...
Why hadn't I looked into the work exchange concept before?!
Truth be told, a lot of the younger backpackers we met abroad were usually traveling with work exchange programs. We'd never considered these programs as a viable option because we thought that being a couple would present an issue for hosts.
This all changed when I realized that Worldpackers actually offered a membership plan for couples! Upon paying the entry fee of $59, we'd have access to thousands of unique volunteer opportunities around the world, where we'd be able to exchange work for accommodation and gain unforgettable experiences while improving on our professional and personal skills.
An hour later I created our couples account and got serious about applying for our first volunteer gig. We started by creating a personalized profile featuring our interests, skills, and relevant work experience.
It didn't take long to find a position we were keen on. It was at a popular and funky hostel we'd recently heard about from a few other people around town. The listing was for 25 hours of bar work and general help for five days a week with two days off in exchange for dorm accommodation, breakfast, free events, and discounts on parties, drinks, tours and restaurants.
The opportunity exceeded all of our expectations and accepted couples so we applied and hoped for the best. Within an hour we received a reply from the host who offered us two weeks of volunteer work at their hostel, The Townhouse. We chatted through the Worldpackers messaging service over the course of the next few days to discuss exact dates and confirm plans.
A week later we moved hostels to what would be our first "job" in almost five months. It was a Sunday afternoon and we were excited and anxious at the same time.
Would we be any good at it? What if we didn't know what to do? What would the hostel be like?
Our experience doing work exchange as a couple in Nicaragua
We strolled in and were immediately greeted by a familiar face — Sara, one of the hostel owners and also the person I'd been talking to over messages. She showed us around the property and invited us to make ourselves at home. Our first shift wasn't until the next day, but our hosts were nice enough to let us crash for an extra night free of charge!
The hostel was bright and colorful with massive dorms, a pool and bar area, kitchen, hammocks and lots of shared community spaces... not a bad way to spend the next two weeks. This would be SO fun!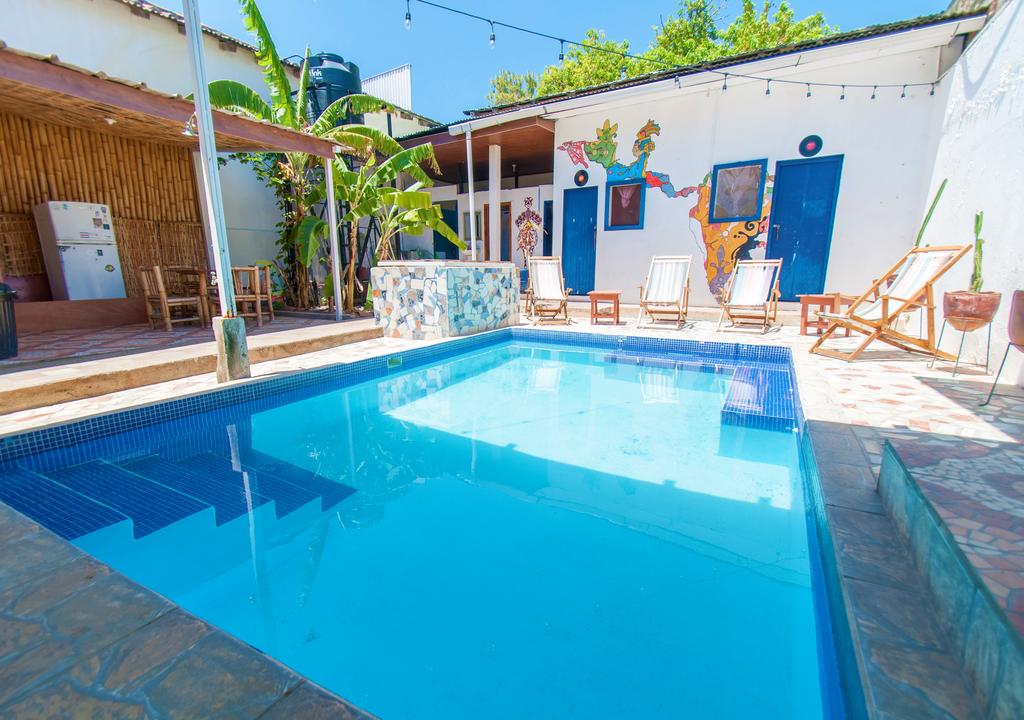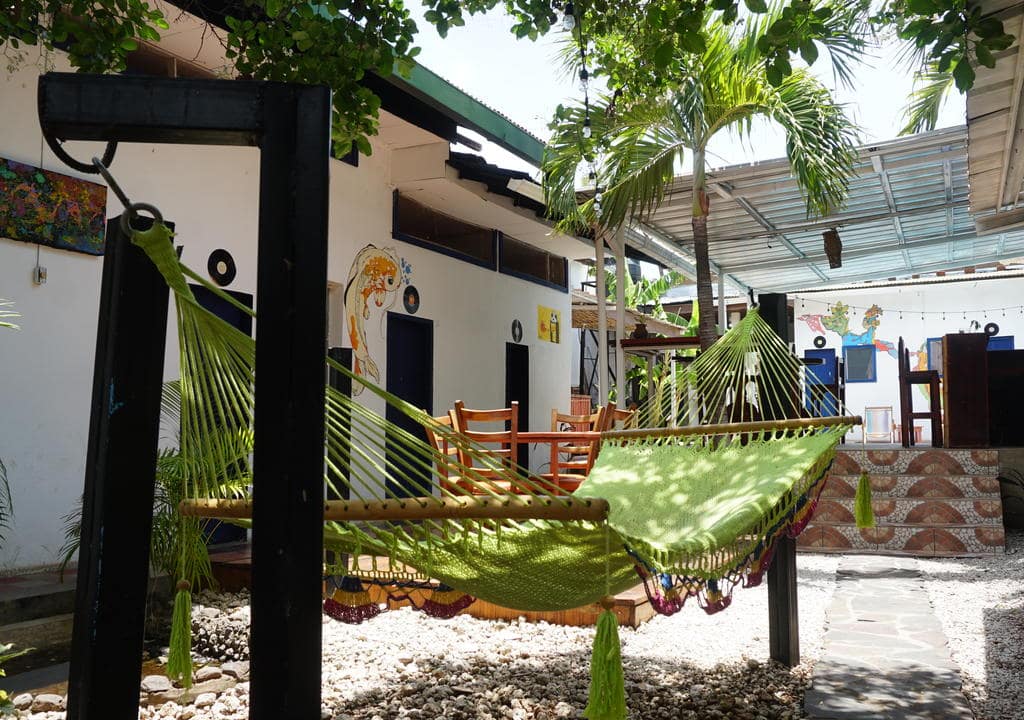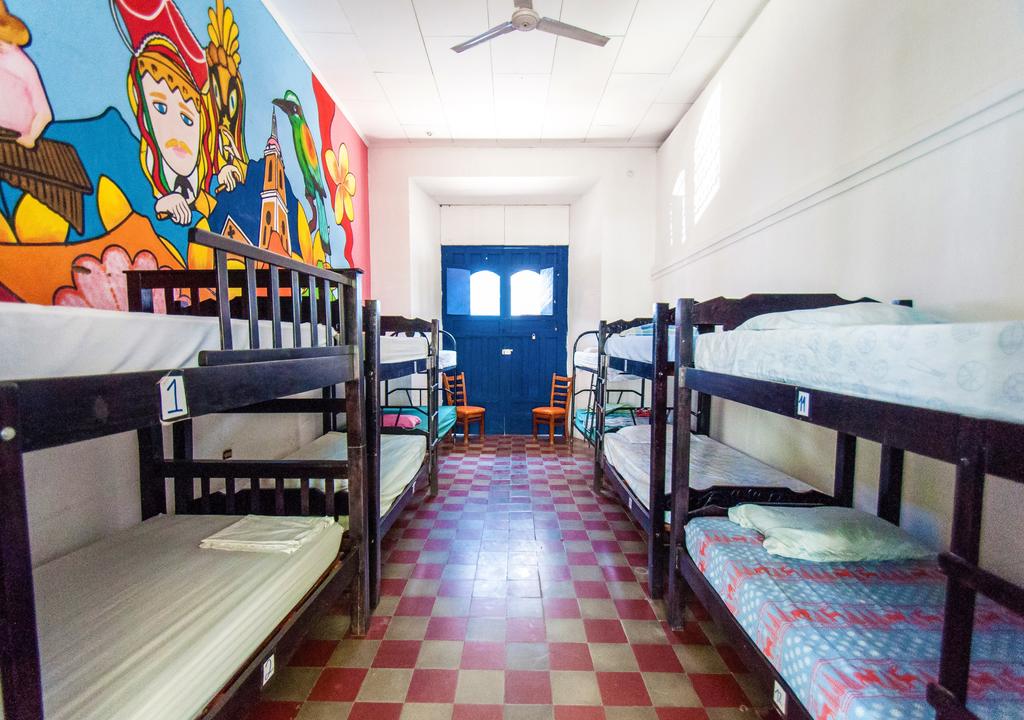 Later that night we were given our work schedule. Bar shifts were shared between us and another volunteer. Afternoon shifts were from 12-5 pm and evening shifts were from 5-10 pm, when the bar closed.

Mondays were "open mic" nights and some of the busiest of the week. Fridays kicked off the weekends with an infamous jungle rave night, which was often co-hosted by Townhouse and its sister hostel, Treehouse. Saturdays were usually devoted to "pool party recovery."
Bartending consisted of serving beers, making drink mixes, handing out welcome drinks to new guests, ordering ice, and restocking the bar. The owners were always around to answer questions or help out when the bar got busy. The hostel staff were also always on hand if needed.
During quiet shifts we'd clean, paint new signs, hang out with Hash (the hostel's furry friend), and research and prepare for the next parts of our trip. Some shifts would go by without serving a single person, while others would suddenly go from zero to 100 with squads of German or Canadian lads yahooing around.
Our days consisted of hanging out by the pool and listening to music while serving drinks and enjoying chats with guests from all over the world. We met some awesome people and really cool characters — bar chats are some of the best conversations you'll ever have!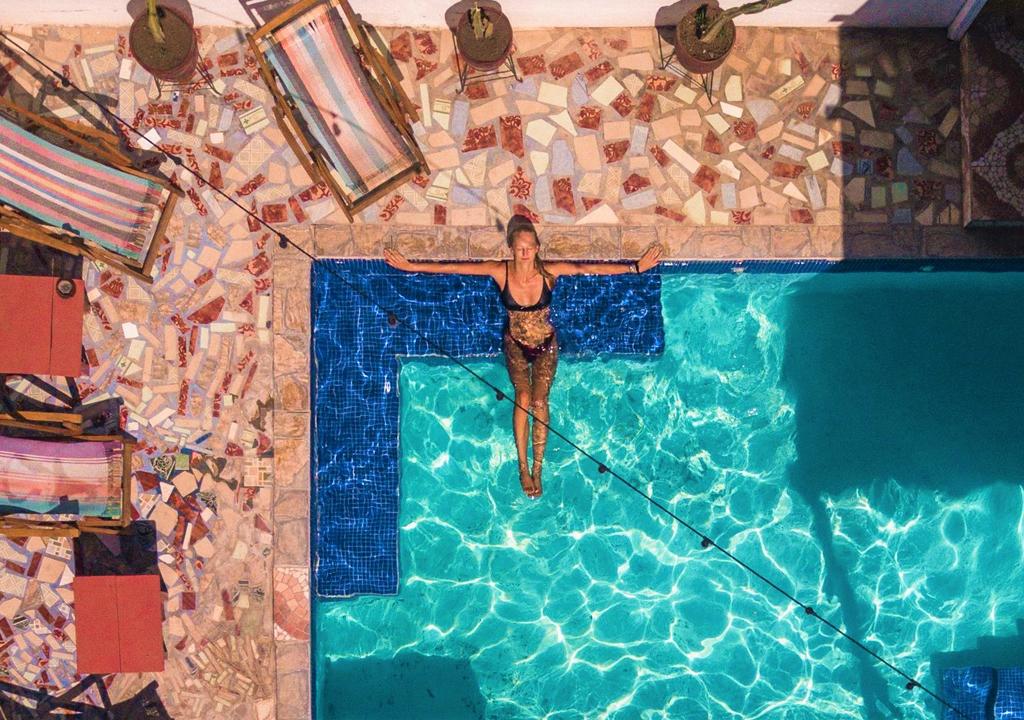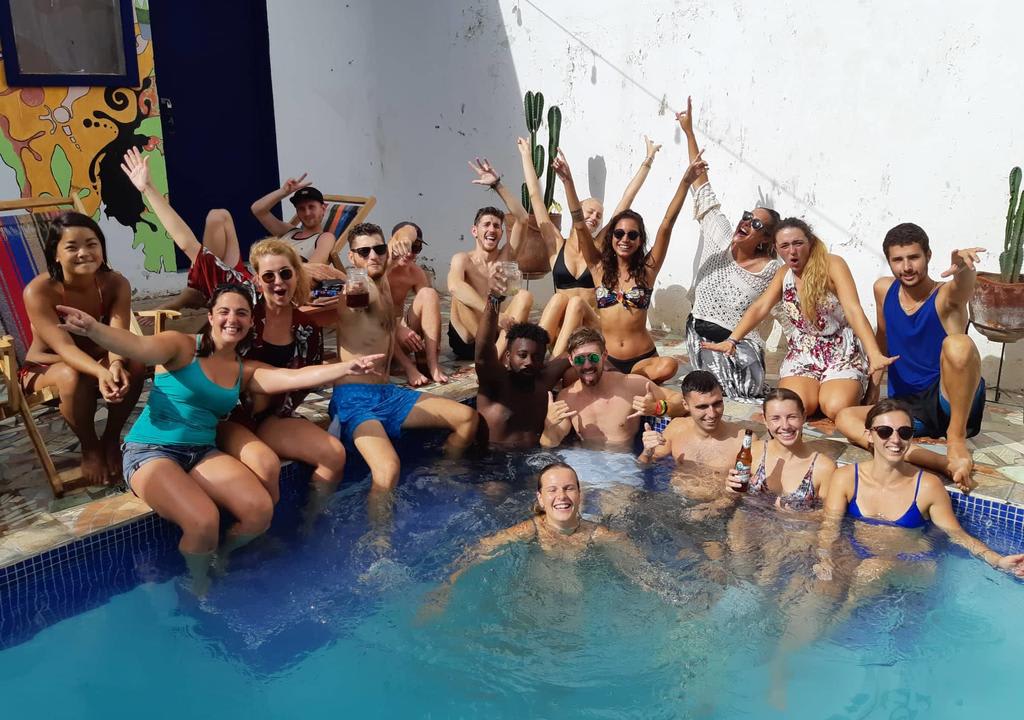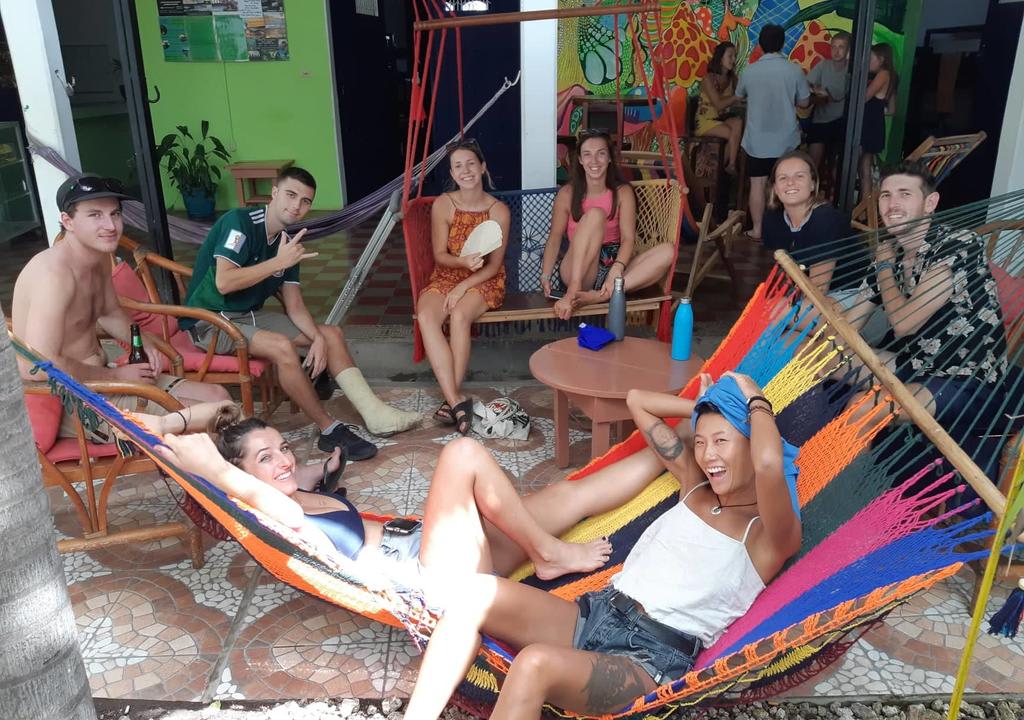 What we gained using Worldpackers as a couple
In the two weeks we spent volunteering at Townhouse, there were so many positives to take from our experience that it almost became hard to leave.
The money we spent signing up for Worldpackers ($59) we had already more than made back by saving on our accommodation, meals, and more. Our hosts were genuinely rad and had managed to create such a chill and collaborative atmosphere that "working" never really felt like work.
The Townhouse had become our little home away from home with people who were like family. We were grateful that our first experience in a work exchange program had been so easy and fun.
It made us hopeful that future gigs (wherever they may be) would allow us to continue traveling long term, while saving more money and being able to explore other countries on a deeper level — together.
In the beginning we were super apprehensive about the experience given that we are older than the average work-exchanger and in a relationship. But everything worked out and all of our hesitations and fears were relieved early on.
Don't be afraid to apply for places that might be a little out of your comfort zone... like going from private rooms to dorm beds. Also keep in mind that most couple programs might mean you're working separate shifts and not have all of your days off together. Allow yourself enough time to have a few days to explore your destination before you start your exchange.
Working behind the bar means you are usually always the "go-to person" for questions about anything and everything. Where to eat, which tours to go on, getting from A to B, best places to party, etc. — it's good to gain some knowledge about the local area before beginning your exchange so that can help guests out!
Communicating with your host is also super important. If you agree to something, commit to doing it and always keep your host in the loop in regards to any changes of plans along the way. It also helps to have a clear understanding of what your tasks will be and what is and isn't expected of you from the start. Always be upfront if you don't understand something and ask questions to make sure everyone is on the same page.
Our advice is simply...
DO IT! Go travel. You won't regret it... and if you do it'll be a good story to tell one day.
Good luck and happy travels!
Keep reading: What to do in Nicaragua in 2022