Where to stay in Thailand: 8 destinations that you can't miss
Discover where to stay in Thailand: 8 amazing destinations, wonderful accommodations and volunteering experiences that you should try in this amazing country.
8min
Thailand is one of the most visited countries in Asia. Every year thousands of tourists, travelers and backpackers head to this wonderful country, and it's not difficult to understand why. It is simply amazing. Thailand is a destination that has something for everyone, and it's almost impossible not to dream of it if you love traveling.
If you love sightseeing and history, in Thailand you will find some of the most amazing temples and ancient cities in Asia. If you love hiking and nature, in Thailand you will find wonderful national parks. If you just want to relax on a beautiful beach, in Thailand you will find it hard to pick a destination, because it's full of paradise islands and unique beaches.
As you can see, Thailand is a very complete country and if you want to explore it all, you would need months. It is also a destination that digital nomads enjoy, and it's a low-budget friendly place for backpackers because life in Thailand is quite cheap. And, last but not least, food is delicious and has a lots of options for vegetarians and vegan travelers too.
In this article, we will talk about 8 destinations where to stay in Thailand. It's not easy to pick the best ones, but at least you can have an idea of the gems in this country. You will also find advice about the best accommodations, and read until the end because you will find out how to get free accommodation in Thailand volunteering and leaving a good social impact on the country.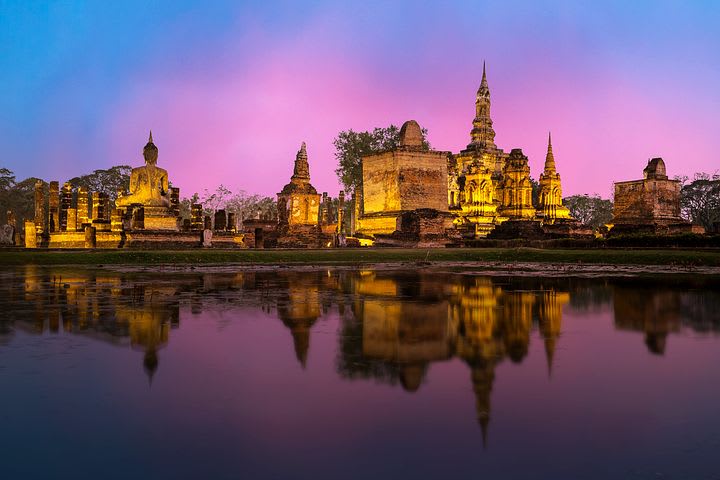 Where to stay in Thailand: the 8 best places
These places in Thailand are a must if you are visiting the country. Whether you want to explore ancient temples or just enjoy beach life, read the list and you will find something for you.

1. Bangkok
It's impossible not to include Bangkok, the capital of Thailand, in this list. Bangkok is a wonderful city, you have to see it at least once in your life. Or maybe more than once because Bangkok is transforming every day, and it's never the same. Year after year it keep changing and that's why travelers love to visit it multiple times and come back to see what is different from the first time they have gone.
Bangkok is a mix of a modern chaotic city and ancient temples, and that's why it is so unique. If you love ancient monuments you can't miss the Grand Palace, if you love nature you have to hike Mount Wat Saket, and if you want to see something very typical you have to go to the floating markets.
Where to stay in Bangkok
The good thing about Bangkok is that it is a big city and it has so many different kinds of accommodations. If you are on a budget and you are looking for cheap hostels, in Bangkok you will find a lot of backpackers hostels, and in this case you have to stay in Khao San Road.
If you are looking for some luxury and a unique stay and you don't worry about budget, try to look at the Riverside area, and you will find some very beautiful hotels.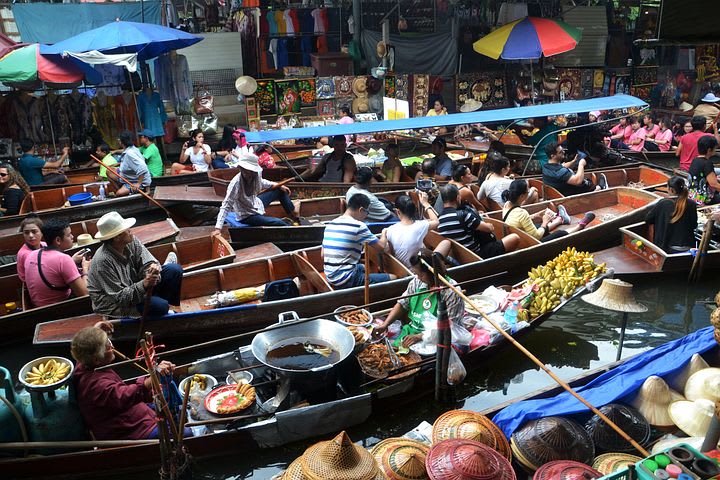 2. Chiang Mai
Chiang Mai is the best destination for you if you love ancient cities and ruins. It is full of historical buildings and fortified ancient walls, you won't be disappointed. And of course, you will find lots of Buddhist temples to explore.
If you are planning to stay long term in Thailand, Chiang Mai might be the best fit for you to pick. It's full of digital nomads and long term travelers, and as a consequence there are heaps of co-working spaces and cafés and cheap accommodations.
Where to stay in Chiang Mai
You can choose to stay inside the city walls and be at walking distance from the main attractions, of you can stay a little bit outside and have a quiet place if you want to relax and maybe work without distractions.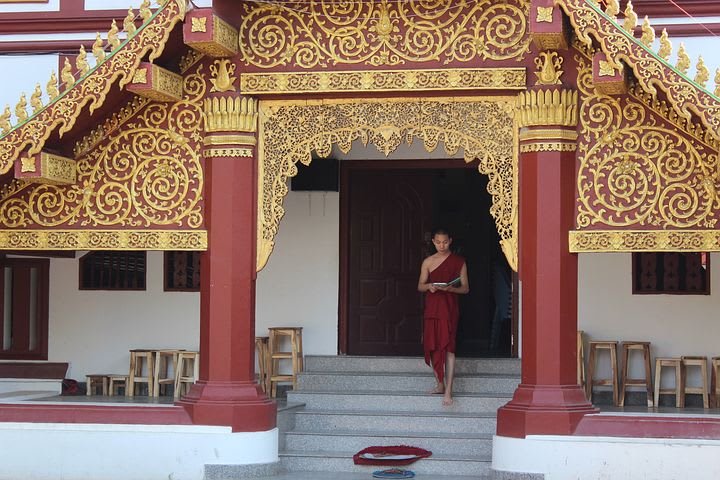 3. Chiang Rai
Chiang Rai is very similar to Chiang Mai, it's just smaller. It's a wonderful destination, especially to see the unique White Temple Wat Rong Kuhn. Thousands of travelers go to the city just to see the temple and take some pictures of it. And let's say it, it's worth the trip.
It's not the only thing to see, Chiang Rai also has some other very nice temples like the Blue Temple, and some interesting typical markets to explore.
Where to stay in Chiang Rai
Chiang Rai is very small comparing to other Thai cities, so the best option is to stay in the city center, it's cheap and you will be close to everything you need.
4. Pai
Pai is one of the favorite destinations of backpackers heading to Thailand. They usually go just for a quick visit and they end up staying there for such a long time. This is because there is so much to do but it's also a good place to relax after traveling for a long time, so you can meet lots of long term travelers in Pai.
It is a village in the mountains, that's why it's perfect to relax, because it's far away from the beaches and from the crowds of tourists. But there is so much to do, waterfalls and caves to see and hikes to do, and natural hot springs where you can soak for free.
Where to stay in Pai
If you want to be close to the streets of the city and to the good restaurants in Pai, the best option is to stay close to the city center.
If you prefer a quiet place where you can really relax and maybe try some yoga, you can stay a little bit further and rent scooter to reach the village. In this way you can really enjoy the scenery on the mountains.
5. Phuket
Let's be honest, Phuket is one of the most visited destinations in Thailand and it's quite popular, maybe too much. But you can't miss this island on a trip to Thailand, it's a place that you have to see.
And if you are looking for beach life, this is the place to go. The good thing is that the island is quite big, and you have plenty of options in terms of beaches. And you have also a good amount of choice if you want to head to the minor islands in the surrounding area and enjoy untouched beaches.
Where to stay in Phuket
Phuket is good to party hard all night but also to chill and enjoy the beach. If you are looking for parties, you have to stay in Patong. If you prefer a more relaxed place you have to stay in Rawai or Kata Beach.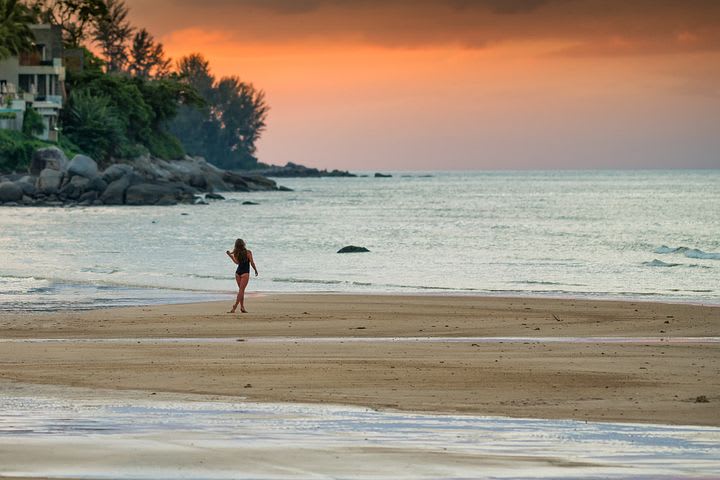 6. Krabi
Krabi is a good alternative to Phuket if you can't stand the crowds of tourists but still want to enjoy the beautiful beaches of Thailand.
From Krabi you can take a boat and explore some amazing islands or you can go adventuring in the waterfalls and caves nearby. There is so much to do in this place, and you can't skip it if you are visiting Thailand. Just to mention some gems, from Krabi you can visit Maya Bay beach and Phi Phi islands.
Where to stay in Krabi
You can stay by the beach in simple guesthouses if you are on a budget, or in luxurious resorts with private beach front if you don't worry about the price.
You can even choose to stay on Phi Phi islands overnight but it could be a little bit pricey.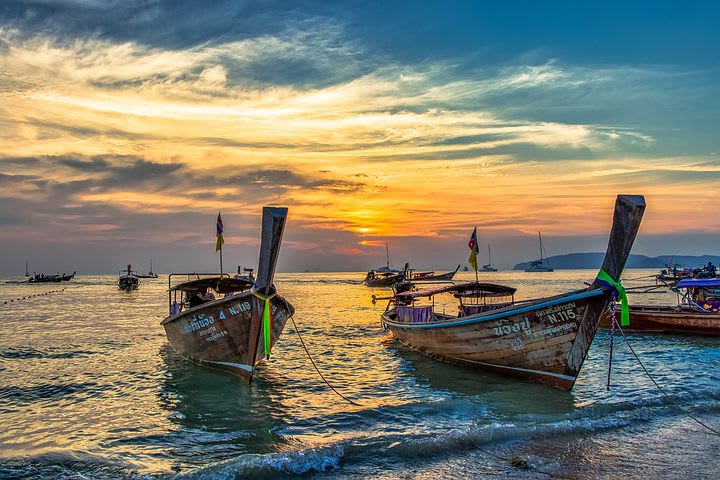 7. Koh Samui
Let's include in the list another pretty famous Thai island, Koh Samui. This is the island to pick if you are looking for adventure. You can go hiking in the jungle, visit some temples, waterfalls, and do some fun activities like paddle boarding.
And of course, it's an island, so as you can imagine it's full of beautiful beaches where you can chill.
Where to stay in Koh Samui
The best places to stay in Koh Samui are all on the beach. It makes no sense to stay far from the beach, you are on an island and you just need to enjoy the beach vibes. Comparing to other more expensive beach destinations, you will find also cheap options in many nice guesthouses.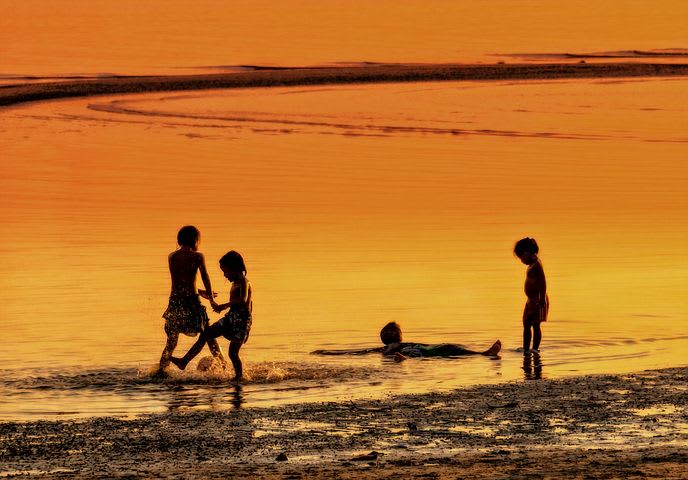 8. Koh Lanta
Koh Lanta is another island that travelers love when talking about Thailand. Compared to Koh Samui, it is a little bit more chilled and it is perfect for travel couples.
It is a very romantic island with unique sunsets and beaches. But if you are looking for adventure, it also offers a rainforest to explore and a National Park. If you are a foodie, you won't be disappointed here, because there's plenty of good restaurants, even vegan ones.
Where to stay in Koh Lanta
If heading to Koh Lanta, you have only one option: stay by the beach, relax, and enjoy the view. There are so many choices and even cheap ones, but still very fancy if you are looking for nice places.
Thailand is so cheap in terms of accommodation, but it doesn't mean the places are not beautiful!
Where to stay in Thailand for volunteering
Did you know that you can get free accomodation during your trip to Thailand? It is very easy, all you have to do is volunteering.
Let me introduce you Worldpackers, the best platform to use if you are looking for volunteering positions around the world.
How does it work? You just have to apply to the positions that you think could be a good fit for you and then, in exchange for some hours of work per day, you get free accommodation, and sometimes free board. There are plenty of volunteering opportunities in Thailand on Worldpackers, let's see some of them.
Help on a permaculture project
It is very important to leave a good social impact when volunteering abroad. That's why a good choice is to take part in a permaculture project, and in Thailand you have so many options.
You can help building a home stay in the jungle or help in an eco village. These experiences will change your life and way of thinking forever.
Take part in a project with animals
If you love animals and you have some veterinary skills, you can volunteer in an animal medical rescue center. It is very important to help protecting the local fauna, it's one of the best ways to travel in a responsible way.

Take part in a NGO project
If you are more keen on administration tasks and office stuff, you can always do your part in the social impact helping in a NGO project. After all, there is also the bureaucracy in everything, and you could be the one in charge of planning events and trainings.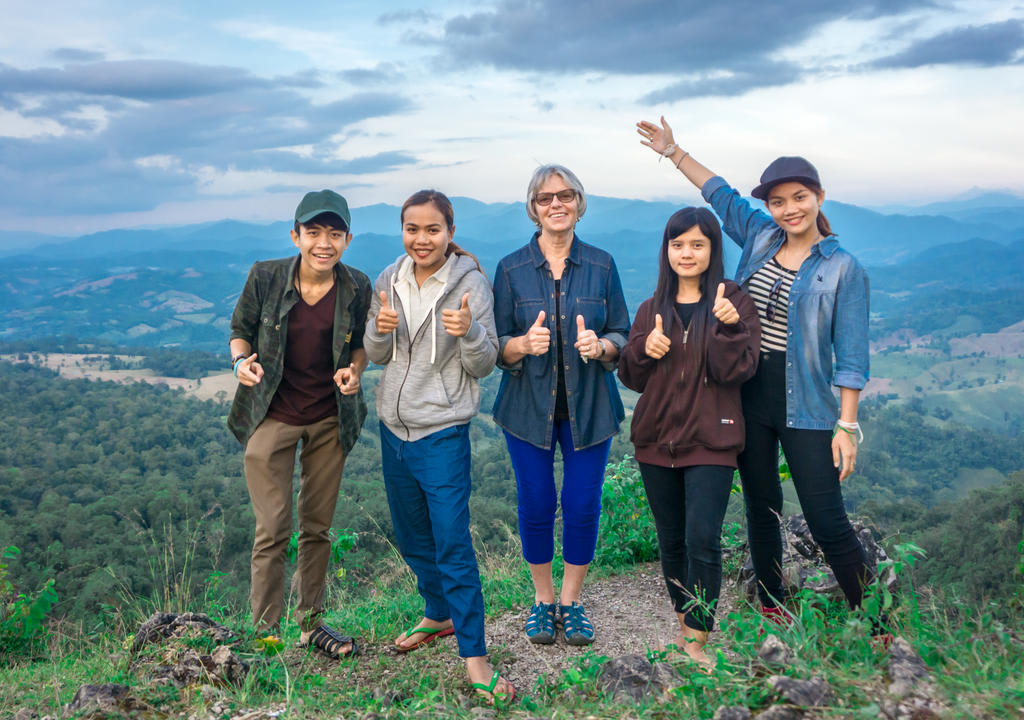 Now you know where to stay in Thailand, the best places to visit, and how to have a positive and unforgettable experience volunteering in the country. All you have to do is to pack your stuff and subscribe to one of Worldpackers plans to start enjoying your trip in the best possible way!

Maybe you could be interested in other articles from Worldpackers community:
10 best places to visit in Thailand

Thailand and beyond: how one Worldpacking couple travels long-term