Worldpackers Scouts Program - The Complete Guide
In this guide, we'll give you all the information needed to recruit incredible hosts and get recognized for it while you help us make our community grow.
4min
We're really happy to help you have the best moments of your life on the road, having professional and personal development opportunities and getting to know incredible people and places on the way. As a community, we want this to be a reality for many more people - and that's why the Worldpackers Scouts Program exists. In order to offer incredible collaborative experiences to more people from all over the world, we need a fundamental component: awesome hosts! So, let's get it started ;)


In this Complete Guide, you'll learn:

How to become a Worldpackers Scout
I was accepted as a Worldpackers Scout! What are the next steps?
Getting in touch with potential hosts
How to register your host leads
Frequently asked questions
Help your host leads to get approved on the platform

How payment works

1. How to become a Worldpackers Scout
To be part of the WP Scouts program, we kindly ask you to visit our Programs page, select the Scouts option and submit your application.
Some important info:

1. To apply to any Worldpackers Program, you must have an active membership with Worldpackers. The Worldpackers Programs were created to help our community so that travelers from all over the world can keep on traveling and having collaborative experiences full of development opportunities.
2. To be a WP Scout, you must have at least two positive reviews from hosts in our community. If you've had some awesome experiences that haven't been reviewed and would like some help contacting hosts to get these reviews on the platform, please let our team know at [email protected]
3. To be a good Worldpackers Scout, it's important to have a good communication level in the language spoken in the project's location, and to be able to convince cool projects to become hosts using all available methods - phone, messages, emails, personal contact, videoconference... Every way is okay! :)
2. I was accepted as a Worldpackers Scout! What are the next steps?
Congrats! You are now a WP Scout in our community, and here are some simple steps for you to start approaching potential hosts: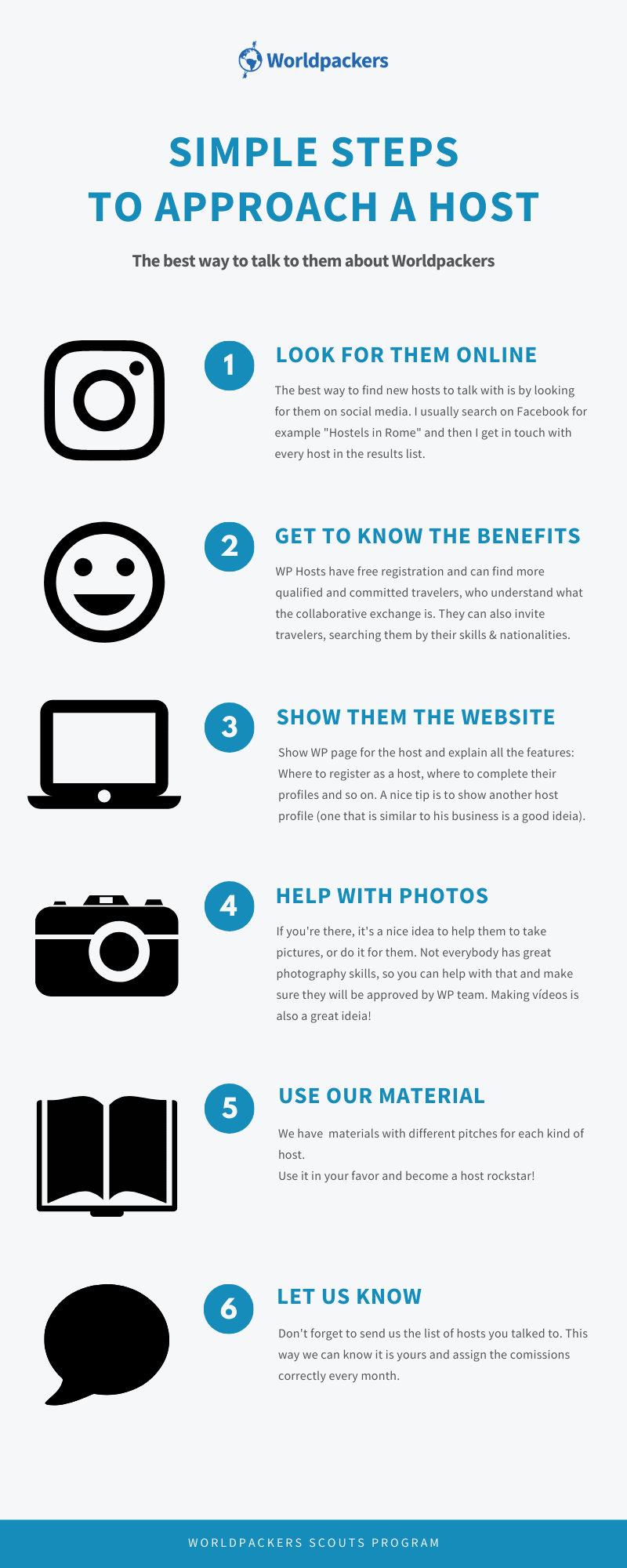 3. Getting in touch with potential hosts
Here are some steps, tips and important materials for you to contact your potential hosts:
First,

understand your prospect hosts' program type - Hospitality Business, Eco Project, Social Project, Home Stay or Other Businesses - in order to offer the best opportunities and sales pitch to each of them.
You can download the materials with the links below to send them to your prospects:
If your host prospect doesn't have an online reference for us to take a look at - which happens a lot for Eco Projects, Home Stays and Other Businesses -, please ask your prospect to fill out the Host with Potential Forms, which helps us approve this lead as a host and also gives this host a boost in their first 3 months on the platform. This material is also available in Portuguese and Spanish.

To give a more professional touch to your emails, you can add our

emails signature

as below:



Name Surname
Worldpackers Hosts Scout


4. How to register your host leads
Don't forget to register them on our Lead Registration Forms so that we know that this host was brought by you and register your payment by the end of the month. This is an internal material. Please do not share it with your prospects.
Please remember to register all leads you get in touch with, considering only the ones who confirm they would like to honot only the ones who confirm they'll become a host. Also, remember to add their feedback in the "Comments" field: this is really important for us to offer a better product for all users. Even if a prospect says they wouldn't join the community, give us their feedback.
5. Common questions asked
Does Worldpackers give any legal advice to hosts?
Since we have hosts and travelers from all over the world and we don't have a team responsible for visa and documentation at Worldpackers to cover all territories, we recommend our hosts check with the local authorities about any possible restrictions for using volunteers in their country. It's important to emphasize that Worldpackers promotes collaborative relationships, and not work relationships. Unlike work relationships, in a collaborative relationship there's no continuation (the maximum time allowed for a Worldpackers experience is 3 months, and we recommend a maximum of one month), subordination (there's no employer-employee relationship, nor any kind of contract) nor payment (there's no payment in cash, but a collaborative exchange, accepted by both sides through the platform with a clear understanding on their profiles).

Do hosts pay any fees to become part of the Worldpackers community?
No. Our hosts don't pay any fees to get the best volunteers and have incredible exchanges! :)
5. Help your host leads to get approved on the platform
Give them some guidance on how to have the best profile and get approved quickly by our Community team. You can share our Learning Center for hosts with them, where they can find the best tips to make their profile look incredible and also get some testimonials from other Worldpackers hosts. Also available in Spanish and in Portuguese.


6. How does payment work?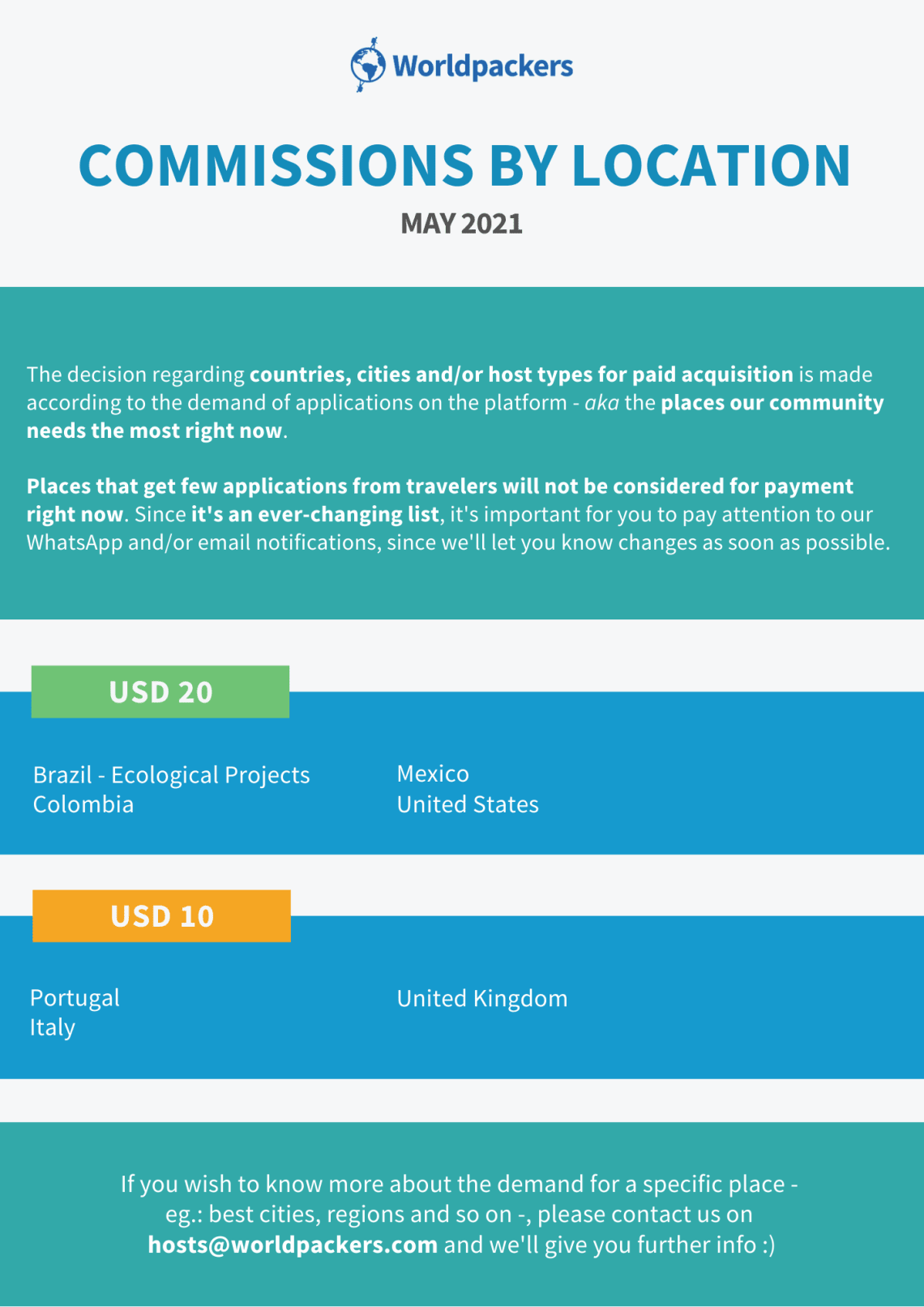 All payments are made through PayPal, so you must have an account with them to get your commissions. After the end of each month, you'll receive an email with all information regarding the amount you'll get.

If you are Brazilian, you'll need to create an invoice on PayPal with the correct amount from the email. For other nationalities, there's no need to create an invoice - the amount will be transferred directly. Payment dates and any further information will be included in the email you'll receive.
If you have any questions or suggestions about the program or about Worldpackers in general, we'd be happy to hear from you.

If you haven't joined any of our WhatsApp Scouts Groups (English, Spanish or Portuguese) yet, please let us know. We share best practices & really nice information there, and it would be great to have you around! ;)
Safe travels, WP Scouts!