7 cheap vacations in South America to learn about other cultures
Here are 7 ideas for amazing, fun, and cheap South American vacations where you can learn about new cultures and feel very far away from home
8min
There are so many affordable places to visit in South America, especially if you're traveling from the nearby USA.
Generally speaking, Central America is even cheaper because it is closer to the USA and you can find more cheap flights. Flights to places like Brazil and Argentina can be quite expensive, but there are lots of other cheap South American vacations to take.
For example, flying from the USA into Ecuador or Peru can cost as little as 200 USD. Public transport in South America is affordable as well. So you can always fly into a cheap country and take buses around the continent from there.
Overall, South America is full of some fascinating countries full of history, culture, and amazing cuisine.
From the Andes Mountains to the Amazon Rainforest to volcanoes, crater lakes, cloud forests, and salt flats, there is a huge number of incredible natural attractions to see there as well.
>> Get a 10% discount on your international travel insurance with Pax Assistance by clicking here! Or a 20% discount by getting verified with a Worldpackers' Pack Plan. *Valid for all nationalities, except for United States and Canadian citizens. If you are a US or Canadian citizen, we recommend World Nomads.
The cheapest South America vacations to enjoy a cultural experience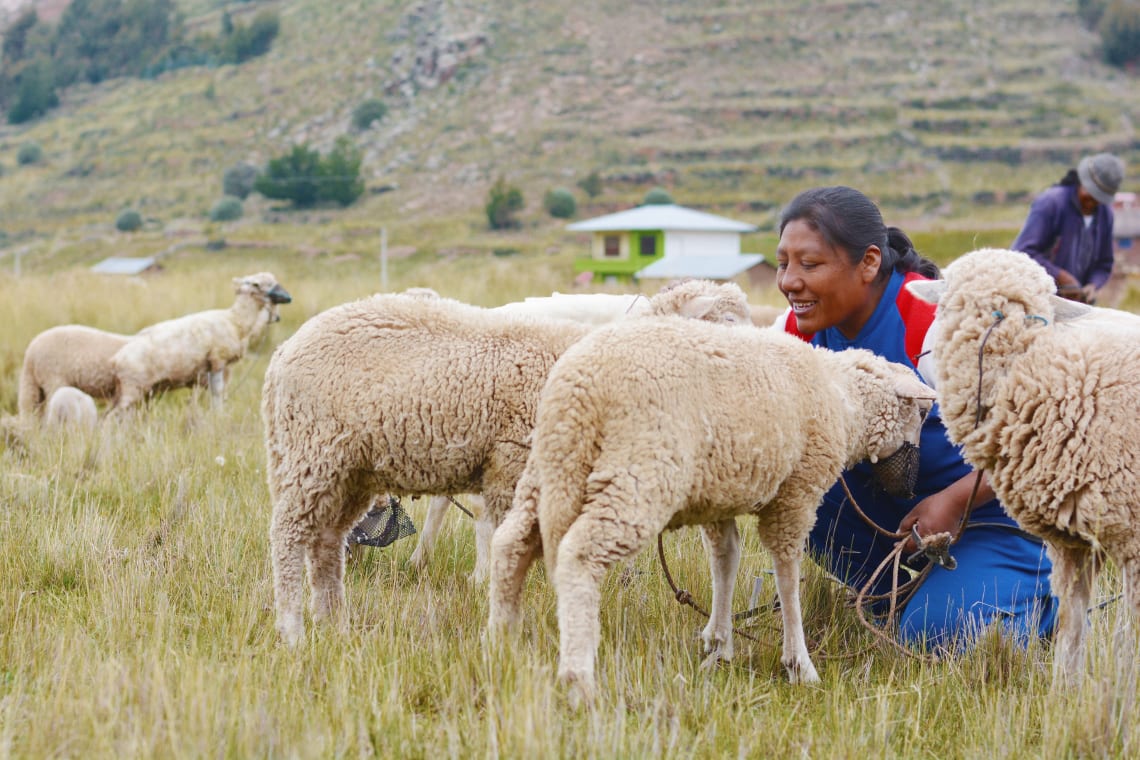 It is an amazing feeling to be out of our comfort zone and try out different customs. If your goal is a cultural experience in your vacation, your best option is doing a volunteering work exchange program to live with locals.
Worldpackers is a great platform to do it safely. It offers a lot of different types of projects worldwide. Besides, they have a trained team to help you and your host to have a fun and safe experience.
In this article, I'm going to share some tips on where to volunteer and have the best cheap South American vacations in your life!
For more travel ideas on a budget, check out which are the cheapest vacation destinations around the world.
1. Best cheap vacations in Peru: Cusco and Machu Picchu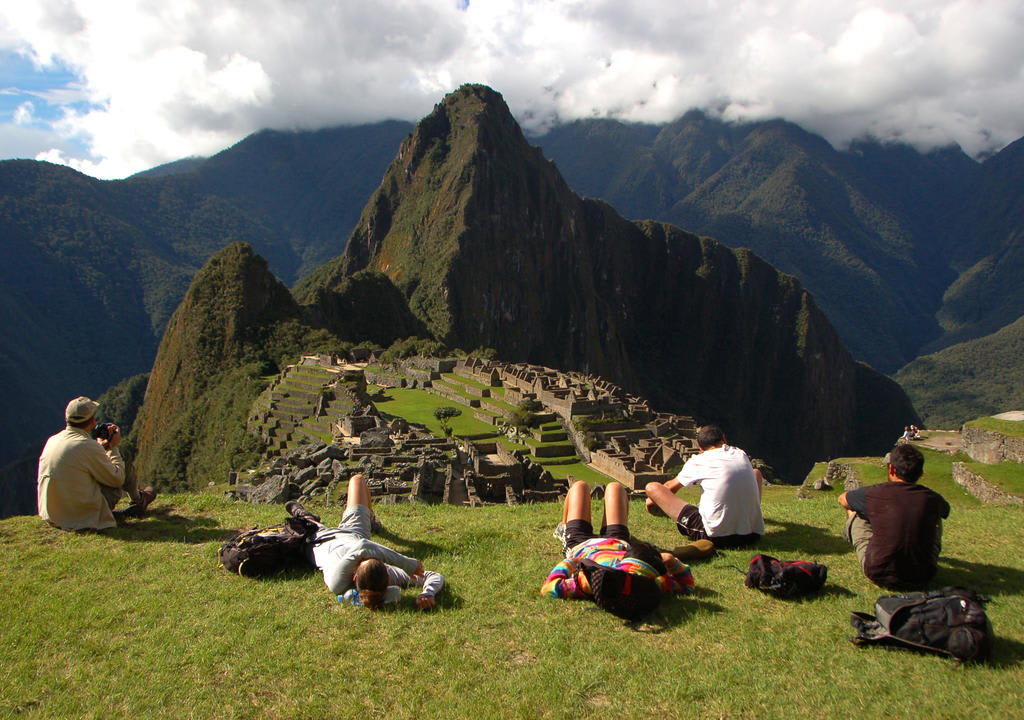 This is easily one of the top cheap vacations in South America. Machu Picchu is one of the most famous landmarks in the world, and it's actually very affordable and easy to visit.
For those who don't know, Machu Picchu is a historic Incan city built high in the Andes Mountains in southern Peru. It is a UNESCO World Heritage Site, and Cusco is a nearby city in Peru that acts as the perfect getaway for visiting Machu Picchu.
Fly into Cusco and spend a few days enjoying this vibrant city. There are tons of cheap hostels where you can meet other travelers, book tours, and party.
Cusco's nightlife is fun and affordable, and there are lots of local markets offering colorful handmade goods and heaping plates of cheap local food.
From Cusco you can take public transport to Aguas Calientes, the village at the base of Machu Picchu. Then you can hike or take a cheap public bus up the mountain. Alternatively, you can book a multi-day trekking tour up the mountain for only about 200 USD. That's pretty cheap for visiting such an iconic place!
Plan accordingly checking when is the best time to visit Peru.
You can visit Peru as Worldpackers volunteer and help in some positions:
2. Cheap vacation in Ecuador: Quito, surrounding forests and volcanoes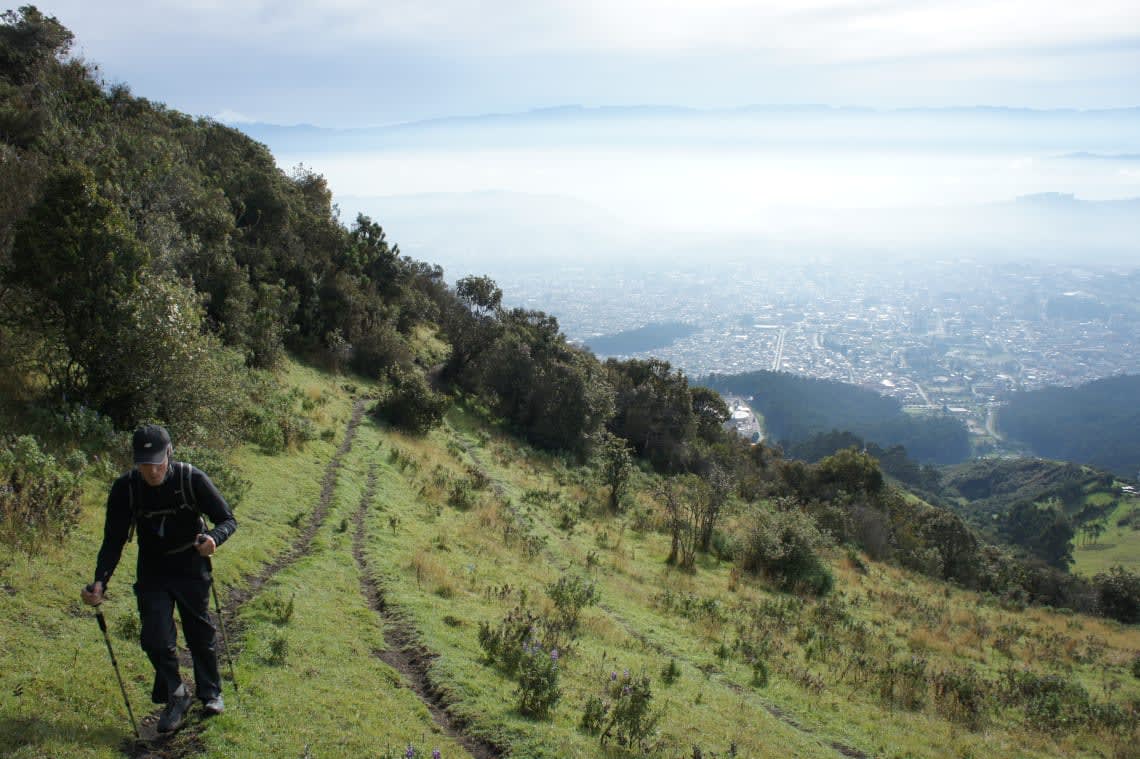 Quito is the capital city of Ecuador, a country in the north of South America. Flights into Quito from the USA can cost as little as 100 USD. Once you arrive, you'll see why Quito could be considered one of the top 10 cheap and fun places to visit in South America.
From affordable hotels, to hostels costing only around 10 USD per night, to plenty of work exchange and volunteering opportunities, it's easy to stay in Quito on a budget.
Spend your days in the city exploring the historic Old Town, browsing through local markets, relaxing in the parks and gardens, and eating plenty of local food. Quito is conveniently located near lots of other cool places in Ecuador, so it's easy to take day trips from the city.
You can go ziplining and chocolate tasting in the humid Cloud Forest of Mindo, or take a day trip to the Equator and learn about the physics of the line at the center of the Earth. Or take local buses to the stunning crater lake, Laguna Quilotoa, or go hiking in the surrounding volcanoes such as Pichincha and Cotopaxi.
Day trips from Quito should only cost around 20-40 USD, but before planning your trip is wise to check when is the best time to visit Ecuador.
You can visit Ecuador as Worldpackers volunteer and help in some positions:
3. Budget travel in Bolivia: La Paz, Amazon, and Salt Flats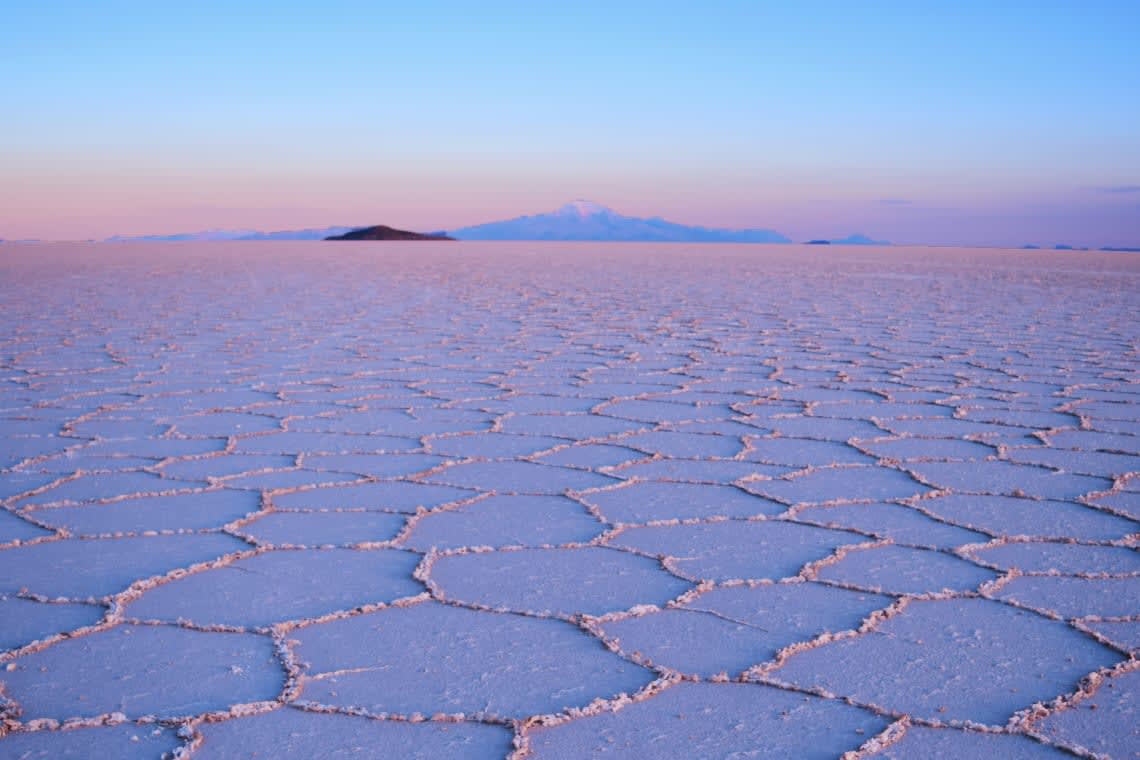 Bolivia is one of the cheapest countries to visit in the world. So if you're looking for cheap South American vacations, definitely put Bolivia on your list. This interesting and diverse country is full of amazing things to do, and it can all be done on a budget.
La Paz is the administrative capital of Bolivia, and it's a great place to start traveling through the country. Here you can find meals for less than 5 USD and hostels for less than 10 USD per night. There is a strong backpacker community here so you're sure to make some friends.
From La Paz, you can take cheap public transport to any other attractions around the country. Visit the famous Uyuni Salt Flats, hike through the dense Amazon Rainforest, tour a local village, or cycle the famous North Yungas Road cycling trail.
Visit the other-worldly Laguna Colorada and see the flamingos, or check out the turquoise waters of Laguna Verde. Whether you book guided tours or explore on your own without a guide, traveling anywhere around Bolivia is affordable and stunning.
You can visit Bolivia as Worldpackers volunteer and help in some positions:

4. Affordable activities in Colombia: Cartagena and the beaches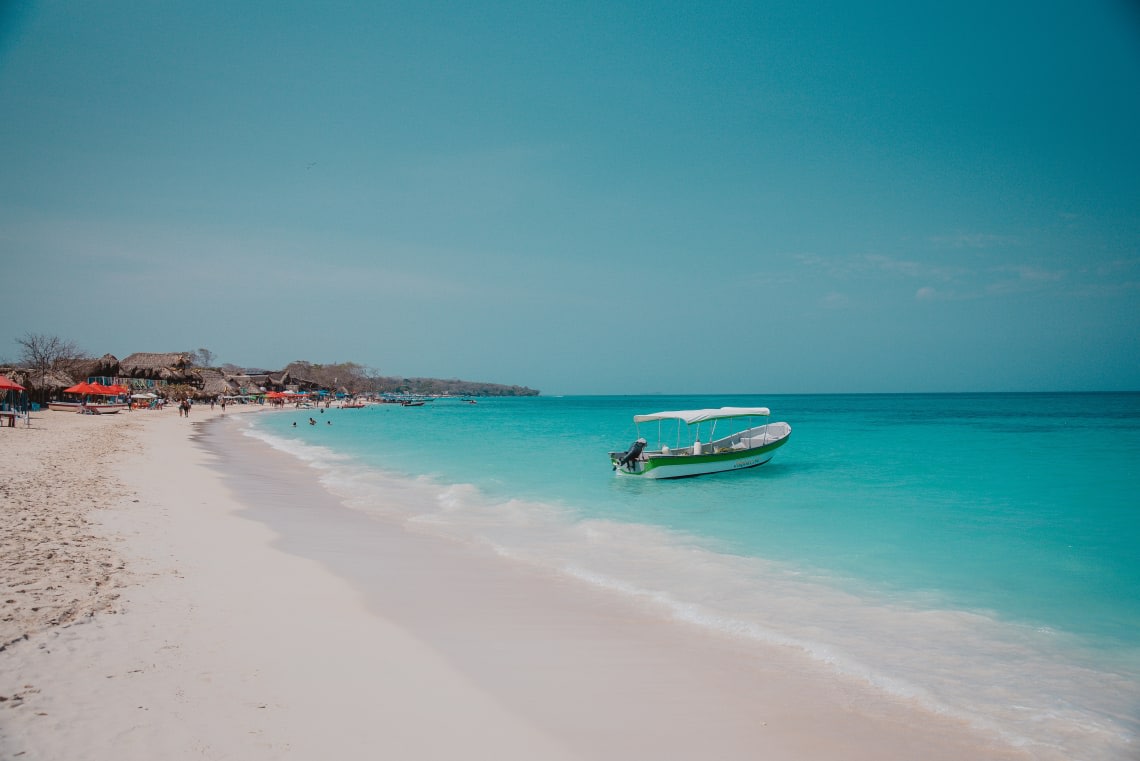 Backpacking Colombia is one of the best cheap South American beach vacations. As a cheaper alternative to visiting a tropical Caribbean Island, consider going to Cartagena, Colombia.
This port city is a popular place in Colombia, mainly due to its attractive historic Old Town, exciting nightlife, and nearby beaches.
After enjoying the city, soak in the surrounding natural beauty and visit the tropical beaches. From the soft white sand to the towering palm trees to the calm, clear ocean, Cartagena may be the best cheap South American vacation for beach lovers.
Enjoy beaches close to the city or take day trips to nearby islands. Playa de Castillogrande, Playa de Bocagrande, and La Boquilla are beaches on the mainland close to the city center that you can access by walking or driving.
For a more adventurous beach day, ride a local boat out to the Rosario Islands and admire the remote island landscapes. Or visit Isla Tierra Bomba, accessible by a 10-minute boat ride from the city.
Playa Blanca is the most popular beach near the city, accessible by a 40-minute boat ride. It is located on Isla Baru, a fun tourist island with gorgeous beaches and cheap local eateries.
You can visit Colombia as Worldpackers volunteer and help in some positions:

If you're interested in surfing, check our guide for surfing in Colombia
5. Things to do in Paraguay without money: colonial cities and wilderness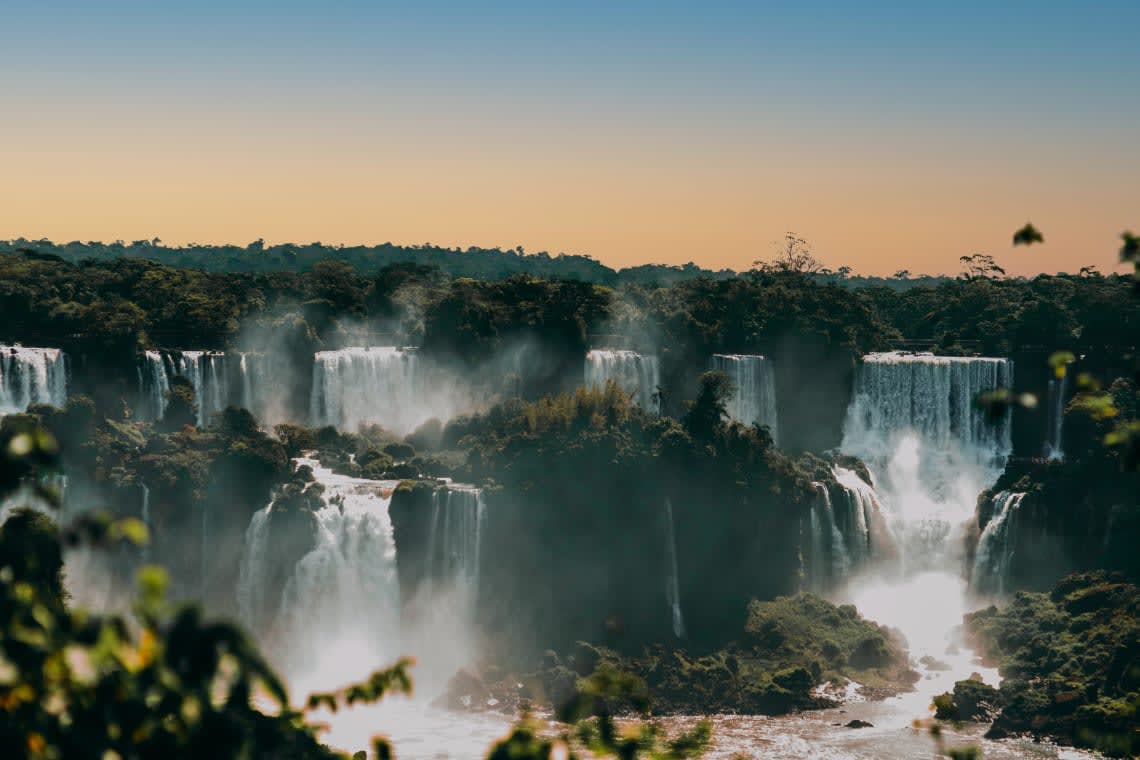 Paraguay is an underrated travel destination in South America. Sandwiched between Brazil, Argentina, and Bolivia, it is often overlooked by travelers. However, because it is not very touristy or popular, Paraguay is one of the top cool cheap places to visit in South America.
Paraguay is perfect for nature and adventure lovers. It is home to one of the world's largest wetlands, and therefore also has spectacular waterfalls and lush national parks. Start your journey in Asuncion, the colonial capital of the country.
Explore the historic sights and admire the colonial architecture. Indulge in some local food, where you can get a 3-course meal in a restaurant for around 10 USD. A beer also only costs around 1 USD, so you can eat and drink cheaply in Paraguay.
Take cheap public buses or affordable guided tours to the nearby natural wonders of Paraguay, including Eco Reserva Mbatoví, a national park full of interesting wildlife, and the famous Iguazu Falls.
You can also ride horses through the Cordillera Mountains and explore the wilderness in Gran Chaco. Traveling around Paraguay is affordable, making it one of the best cheap South American vacations.
Make sure to check out Worldpackers work exchange and volunteer programs in Paraguay!

6. Affordable vacation in Peru and Bolivia: Lake Titicaca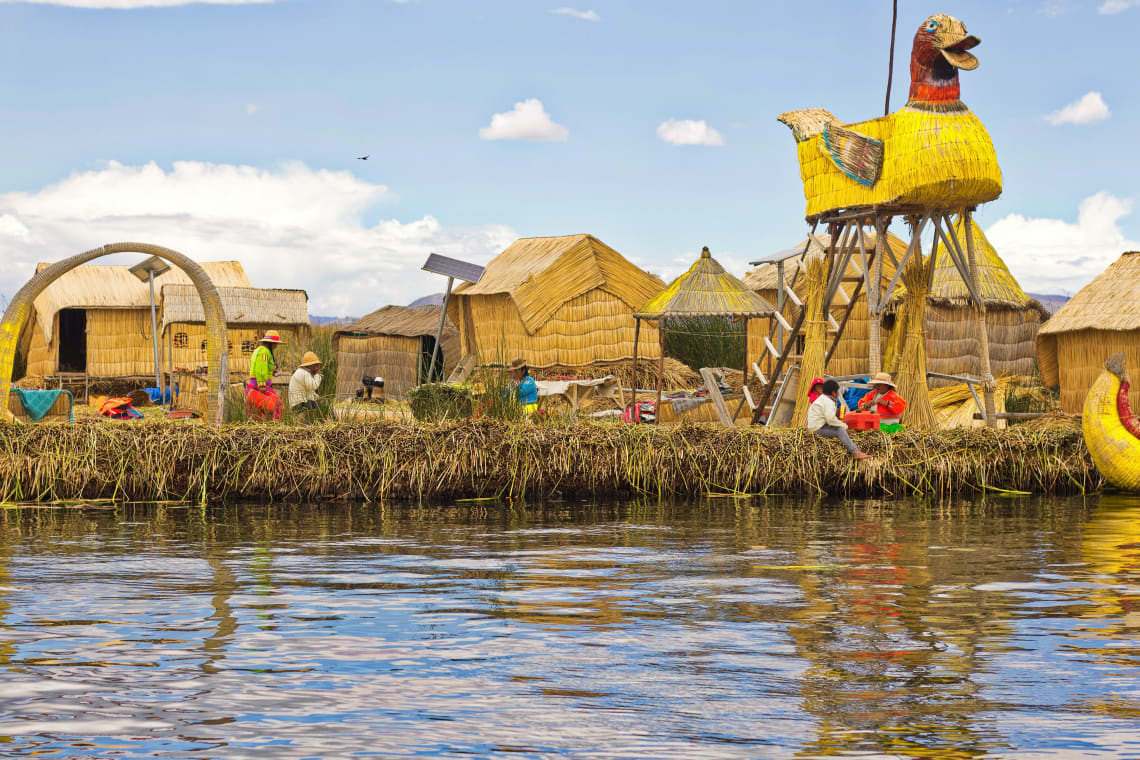 One of the world's most unique spots is Lake Titicaca, the highest navigable body of water on the planet. Straddling the border of southern Peru and northern Bolivia, a visit to this lake is one of the coolest cheap places to visit in South America.
You can combine this cheap South American vacation with visits to Machu Picchu and Cuzco in Peru, or with further exploration in Bolivia. Many people choose to start in Puno, a city in southern Peru. You can get cheap and comfortable overnight buses from Cusco to Puno, and then jump on an affordable local tour from there.
Local tours run daily in Lake Titicaca, and will introduce you to the unique villages and cultures that thrive in the lake. For example, Isla Taquile is a beautiful, hilly island in the lake with a very special local culture. You can also visit islands made entirely out of reeds.
After touring the islands and taking in all the natural beauty of Lake Titicaca, you can continue on into Bolivia. Copacabana is a lazy beach town on the lake that is popular among backpackers. La Paz is also close by, so enjoy the cheap street markets and culture of La Paz before further exploring Bolivia.
7. Great cheap option in Argentina or Chile: Patagonia
Patagonia, a rugged and remote region covering the southern tips of Argentina and Chile, is home to some of South America's most mind-blowing natural landscapes.
Because it is so remote and enticing, Patagonia is definitely more expensive than Ecuador, Peru, Colombia or Bolivia. But it is possible to see this stunning corner of the world on a budget, especially if you plan your trip in advance.
The shoulder seasons of spring or autumn are the cheapest times to visit Patagonia. Plan your flights well in advance for cheaper prices, and consider taking cheap local buses around the area.
Staying in budget hostels will cost around 15 USD per night, with camping or doing a work exchange being other budget accommodation options.
Try doing the best hikes on your own without booking a guided tour to save the most money. Most trails, such as the "W" and "O" Treks in Torres del Paine National Park and the Carretera Austral, can be done without a guide. Just follow the well-marked trails and pack lots of good camping gear and necessities.
Check out this top Worldpackers work exchange in Patagonia!

If you do your research and prepare your trip in advance, you can experience this beautiful, wild location on a budget.