The ultimate guide to Huaraz, Peru: things to do, where to stay, and more!
Learn more about Huaraz's touristic places in Peru. From how to go to what to do in this magical place enjoying all it has to offer you.
Let me guess, are you traveling around Peru and looking for your next destination or maybe, planning to backpack in there? What do you think about getting to know the Peruvian Andes?
You might be a curious traveler searching for stunning places and adventure. Let me tell you something, this place might be Huaraz, Peru.
But… where is it located? How to go? What are the things to do in Huaraz? Are there any restaurants to eat at?
I'm gonna try to answer all these questions during this article and also, share the best tips from a guy who was born in this magical city called Huaraz.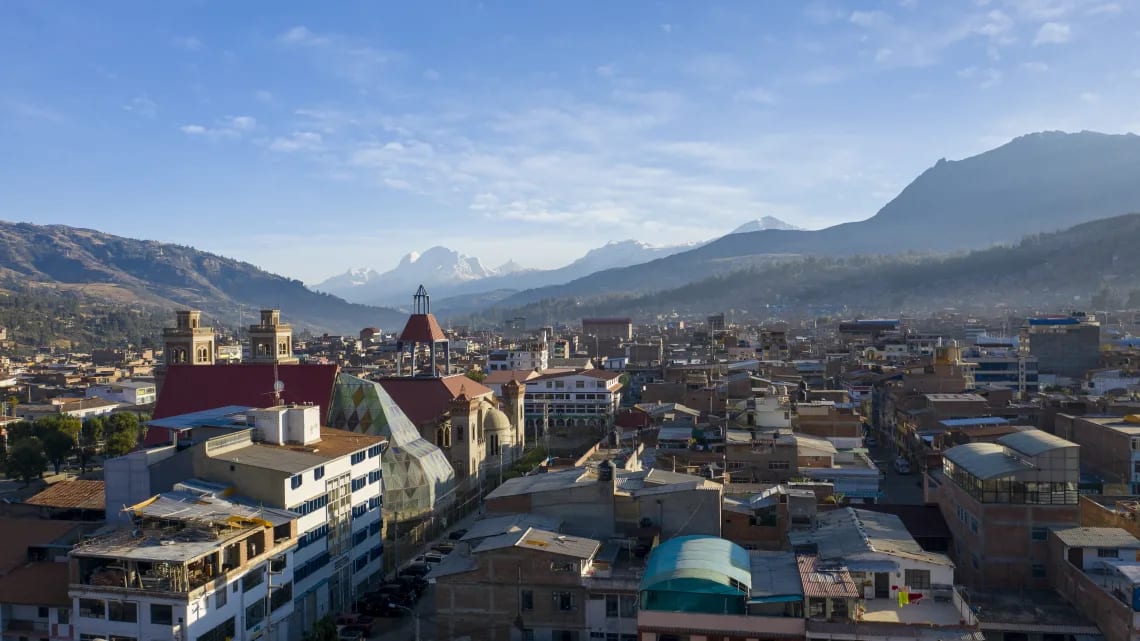 Places to visit in Huaraz - what you should know before to go
Also known as "Peruvian Switzerland", Huaraz is a city surrounded by mountains and located at 10,000 feet (3.052 meters) above sea level, right in the middle of the Peruvian Andes, between two mountain ranges.
Beautiful landscapes, gorgeous hiking, lagoon, mountains, and natural observatories are some of the main attractions you'll find in Huaraz. Not to mention Andines people! Their culture and costumes combined with their kindness, warmth, and simplicity make it a place even more magical and remarkable.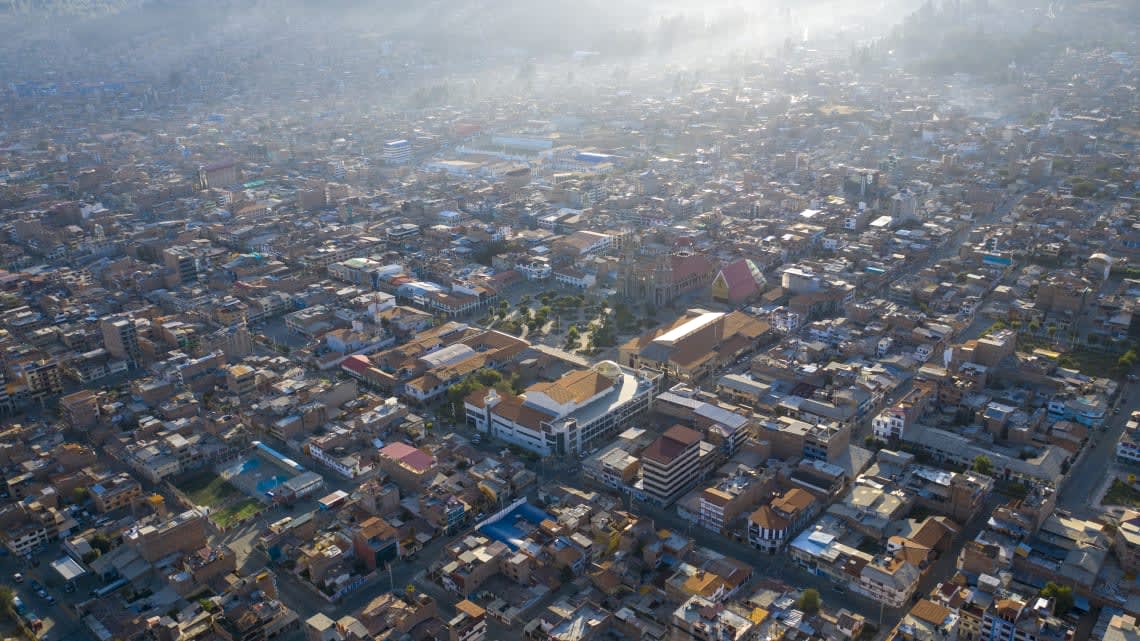 How to go to Huaraz in Peru?
First of all, go to Lima. Once you are there, you have two options: take a bus from Lima to Huaraz or rent a car and drive.
For the first option, there are many agencies available to drive you to Huaraz and you can purchase tickets online or even at the stations.
Usually, the tickets have variable prices according to the comfort and services the company offers you. You can find tickets from 40 soles per person (nearly 12 dollars) to 100 soles (around 27 dollars). I recommend taking a bus for a reasonable price. Not the most expensive but not the cheapest one either. Middle fares tend to be safe and comfortable.
Purchasing tickets is really easy! You can use apps like Redbus, Peruhop, or even buy online on any agency's website. So far, buying it online worked for me without any trouble. However, once you get your tickets, remind yourself to arrive at least 30 minutes before the departure to print your tickets - if it's necessary -, put away your luggage, or even solve any problems that might happen before your trip.
It's rare to have delays because of traffic or mechanical issues, but if it happens, just keep in mind the destination will be worth it.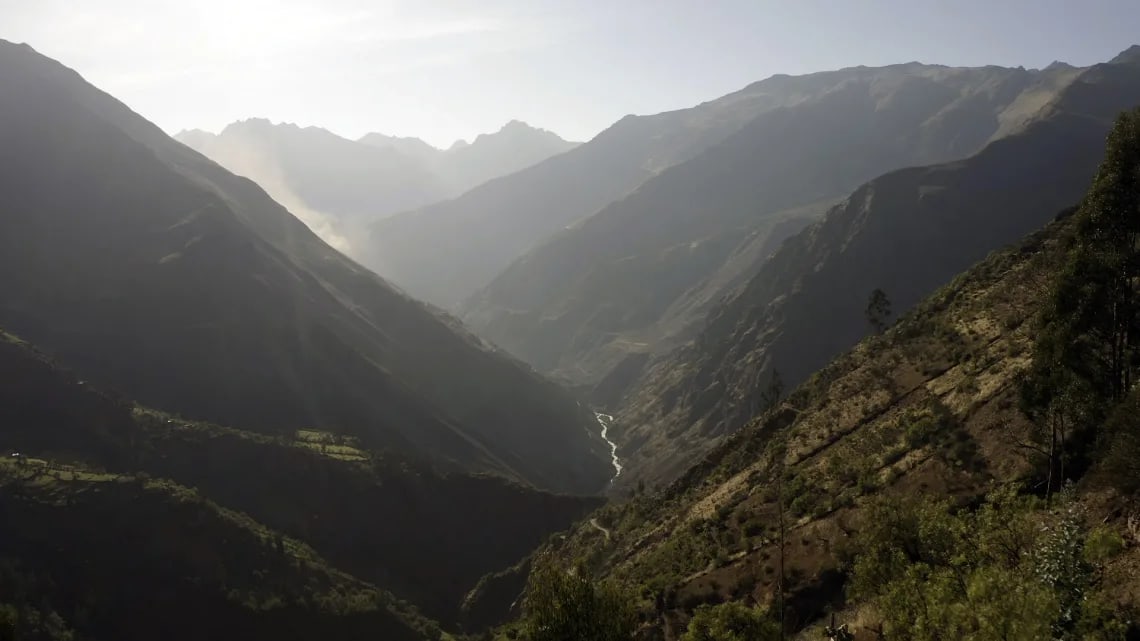 Departing from Lima, it takes 8 hours to arrive at Huaraz. So here is my advice: travel by bus at night. This way you can rest on the way, save money from one night's accommodation and still, arrive at your destination just in time to enjoy the whole day.
On the other hand, if you prefer to rent a car you can drive in your own time, enjoy the view, decide which route you want to take, stop anytime and wherever you want. You are in total control of your trip!
There are some websites to check budgets for renting a car in Lima and, actually, this option might be a good call for those traveling with friends or family. When you share the cost of gas and rental, it can be even cheaper than the bus.
Don't worry about the road! The way it's very easy and well signalized. If you have this option, just do it, and welcome to Huaraz!
You might like: A beginner's guide on how to plan your travel budget
Where to stay in Huaraz?
You can find lots of opportunities and places to stay in Huaraz according to your interests. For low-budget travels, I always recommend hostels. They are cheaper, comfortable and usually, it's the perfect place to meet new people, especially travelers like you. Hostels often have a special schedule, with fun activities each day which makes it perfect to make friends.
The range price of a hostel in Huaraz goes from 20 soles (approximately 5 dollars) to 80 soles (around 22 dollars) per night depending on which room you would prefer: shared or private.
Before booking your place, remember to check the hostel's location and also, their reviews. It will help you to find the best cost-benefit.
If you just want to travel with your family, maybe spend a fun time on a road trip and prefer some privacy, then the best option might be a hotel. You can find some good and cozy places from 40 soles (11 dollars) to 250 soles (around 67 dollars) per night.
It's important to know the prices may vary, especially according to the season. If you are traveling on a low budget, avoid peak time. Festive dates like "Easter week", or national holidays are always more expensive.
So, keep that in mind before choosing your dates. Airbnb is a good option too, but again, avoid peak season if you don't want to spend much.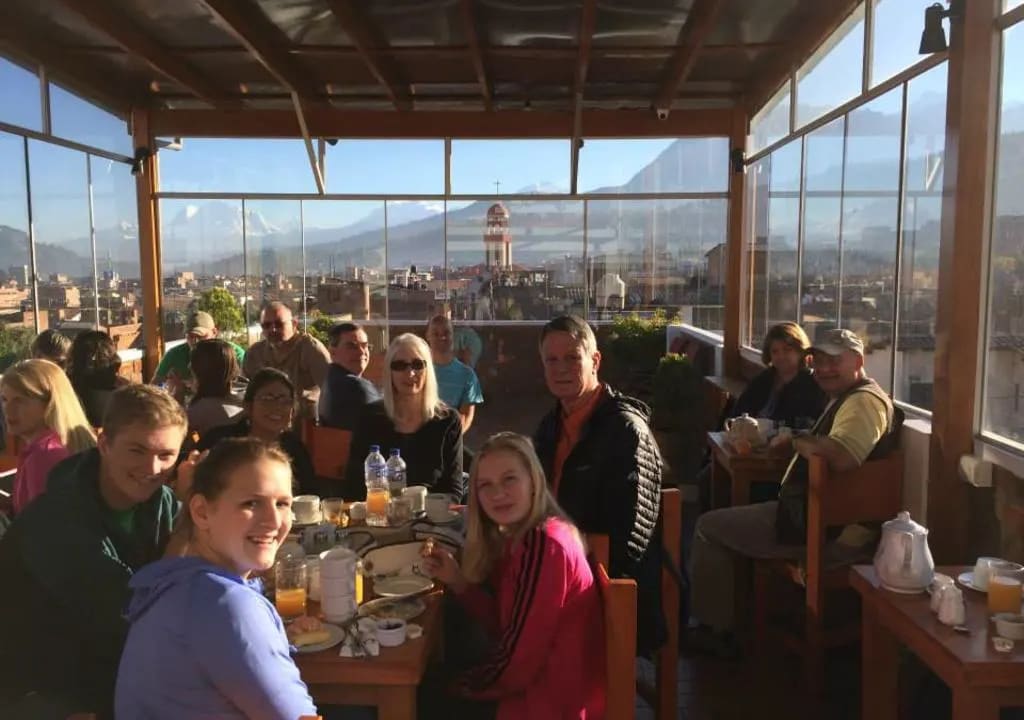 Volunteering in Huaraz, Peru
When it comes to accommodation, the best option for me is volunteering without any questions. But how does it work? It's easy: you work a few hours in a hostel, NGO, or even in an ecovillage, and in return, you earn a place to stay, some meals, tour discounts, laundry, and more. You can always check the benefits before applying.
I learned about volunteering 3 years ago and just loved it! Nowadays, I travel with Worldpackers because it is easier to find opportunities all over the world. In Huaraz for example, you can find more than 10 different volunteering options!
You can volunteer as a gardener, builder, language teacher, content maker for social media, or even as a bartender. The best thing, besides saving money, is to immerse yourself in a new culture and be able to interact with people from so many different places. You always find people with some amazing stories!
Do you wanna know about the experience of being a volunteer in Peru? Check this out! How I lived, traveled, and worked in Peru through a Worldpackers exchange.
Ok. Now that you know how to go, and where to stay in Huaraz, let's move forward to touristic places to visit in Huaraz!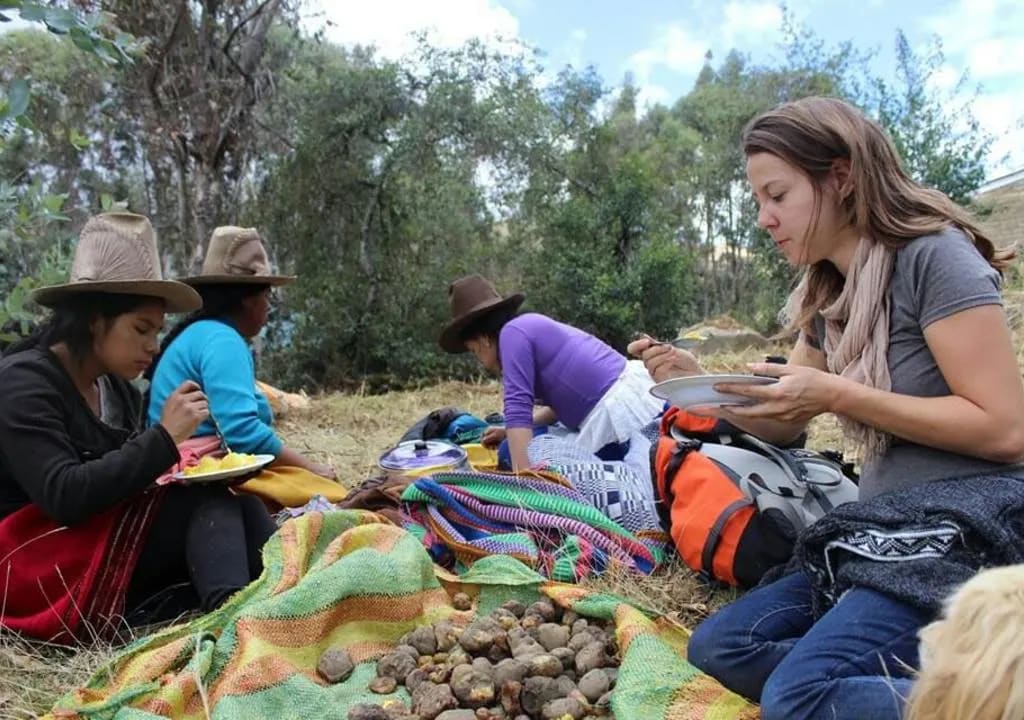 What to do in Huaraz, Peru?
Now, I'm gonna share with you four ways to explore and enjoy the city, which in my opinion are the best way to do it.
Things to do in Huaraz (walking distance)
Huaraz is a small city full of wonderful natural landscapes and emblematic buildings.
For example, you can admire the "Señor de la Soledad" church along with an incredible view of snowy mountains. While it, why not try an ice cream or a famous "raspadilla" (a dessert made with grated ice and sweet syrup)? Consider it as a necessary break to appreciate life.
Visit "Plaza de Armas" and take pictures with alpacas or llamas. You can also take the opportunity to check information about tours.
Walk by the artisanal alley. It's the perfect place to buy souvenirs made by the local community. Several options of craftwork such as clothes or even small souvenirs are available and for really good prices! Furthermore, when you purchase something there you support the community.
Now, if you like history, you have to go to "Museo Arqueológico Augusto Soriano" located in front of "La Plaza de Armas". Why not learn more about the older tribes that had lived around the valley and their history? Archeological remains could also be found inside the museum.
Last, I suggest that you go for a walk with no direction just to explore the streets, parks and squares. In Huaraz's downtown, you can find amazing touristic places, restaurants, bars, and other activities that might interest you.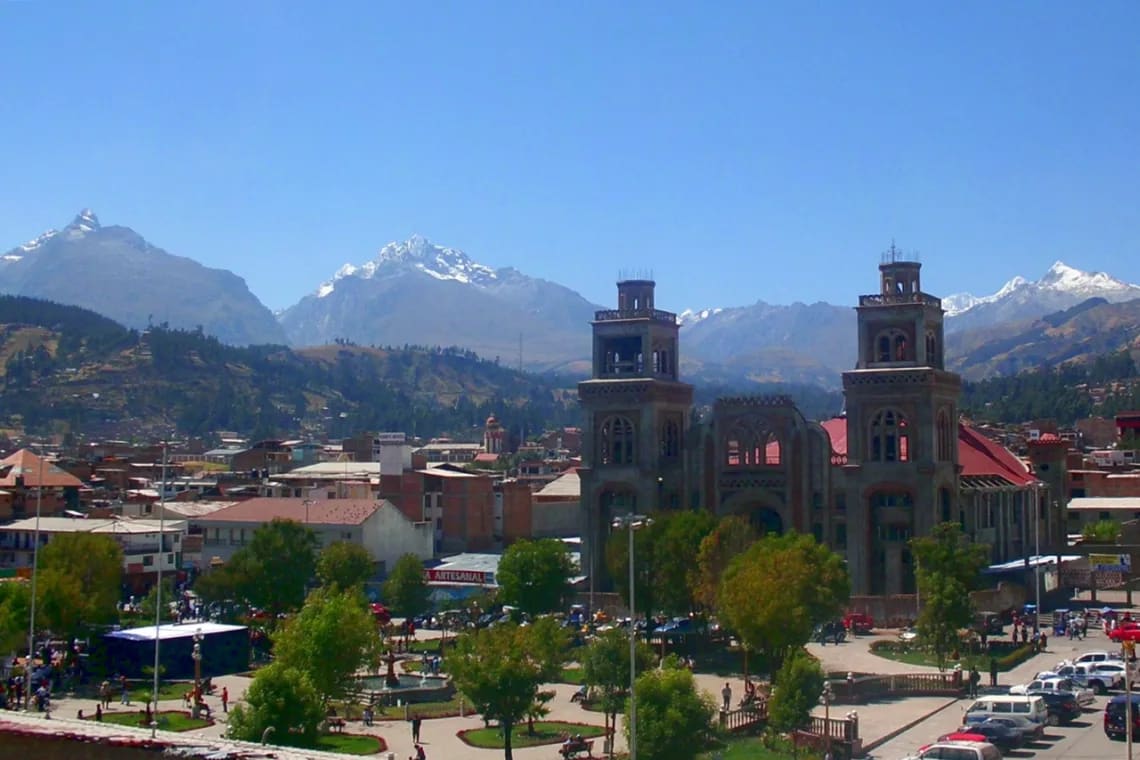 Touristic places to visit outside Huaraz, Peru
Once you get used to the high altitude, it's time to start exploring outside the city and enjoying all the beautiful mountains surrounding it. There is lots of hiking and mountaineering in Huaraz! And just for your information, the only thing you'll need is your feet and good energy!
Pukaventana's viewer is at 3450 meters above sea level, on the west side of the city. It's very accessible and easy. It shouldn't take more than 2 hours to arrive there. It is the perfect spot to have a panoramic view of Macashca village and the snowy mountains around it.
A little bit down from Pukaventana is located Rataquenua with an amazing sight of Huaraz city and Huaylas alley. Don't forget to bring light clothing, a raincoat, sunglasses, and a hat to protect you from the sun.
Do ruins or archaeological remains attract your attention? If so, you must make the trail to Wilcahuain temple. It is a pre-Inca citadel, situated 8km from the city of Huaraz.
You can drive or go walking. I recommend walking. It's more peaceful and relaxful. Make sure you bring some water, sunscreen, and the desire to immerse yourself in Andean nature.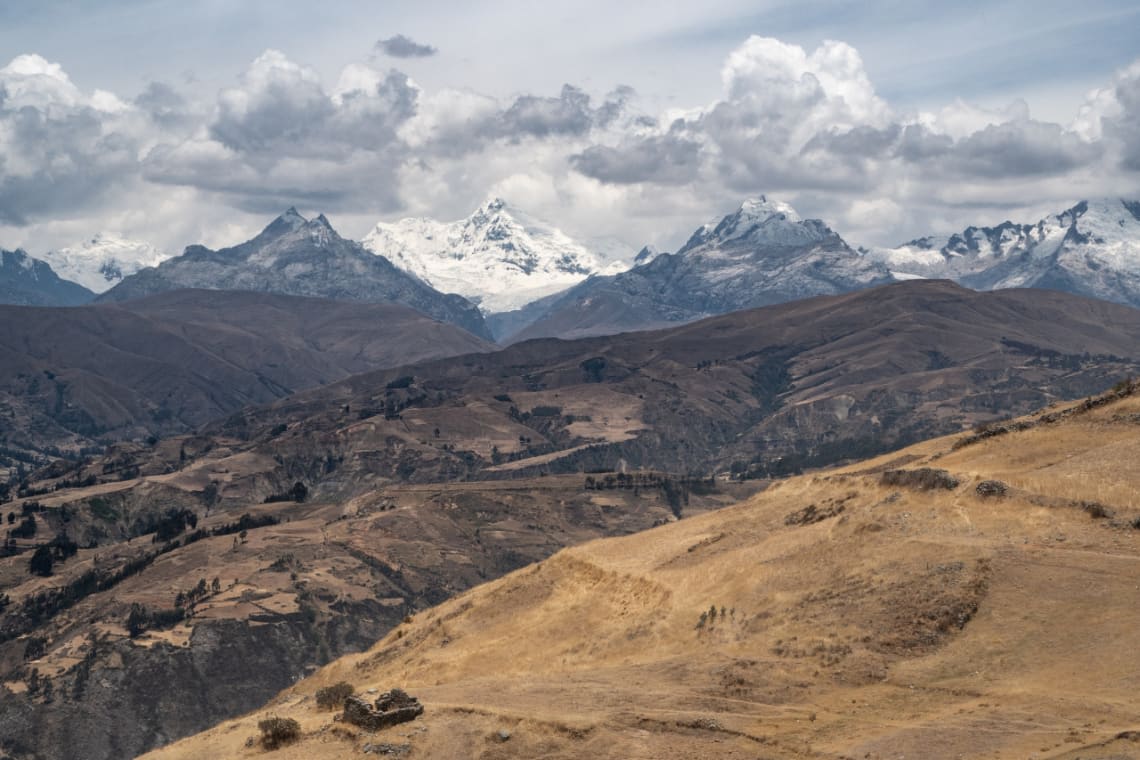 Another tourist place to visit in Huaraz, Peru
Close to Huaraz, you will find many things to do. Mountains, lagoons, valleys, and more. Take a look at the most famous must-go touristic places in Huaraz.
Lagoon Llangunuco
Magical lagoon located inside Nacional Huascarán park, 3700 meters above sea level and 70km far from Huaraz. Two hours of travel by bus or car are required to arrive at the destination, but for sure it is worth it.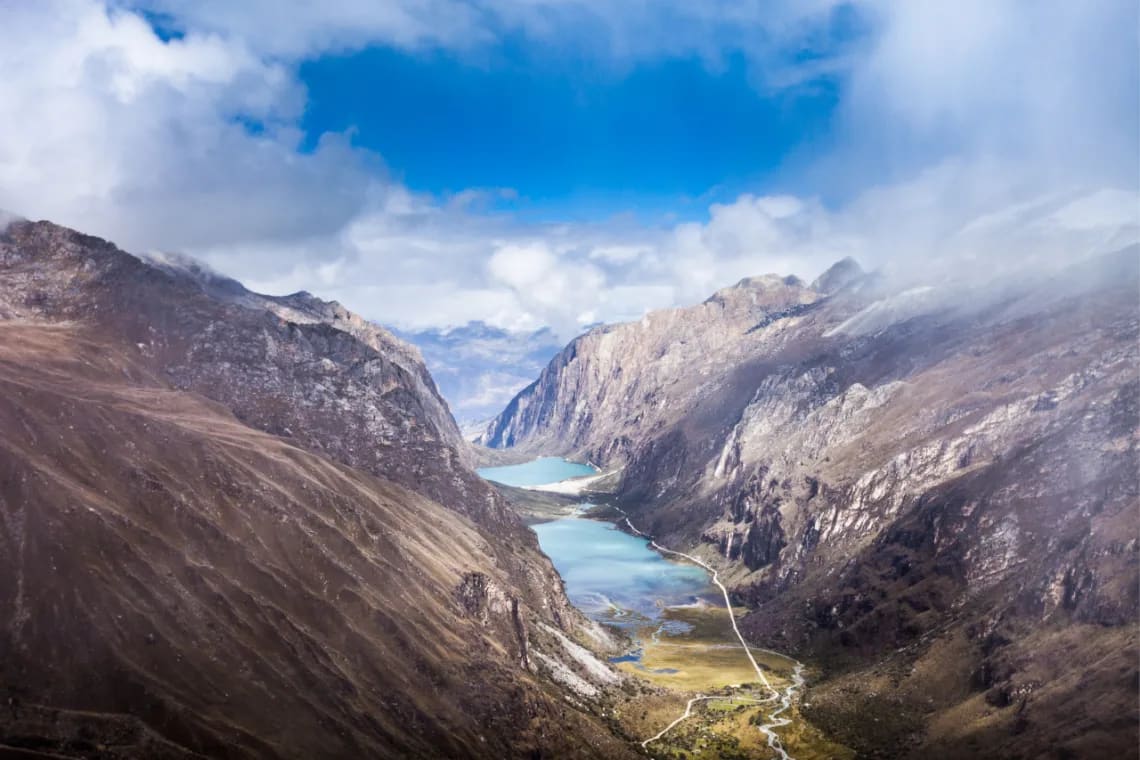 Campo Santo Yungay
Victim of one of the most tragic world's natural disasters. In 1970, after a strong earthquake, the city was buried by a flood coming from the nearby lagoons.
Nowadays, it's a tourist place where you can learn more about these disasters and watch what has been left from these tragic events.
P.S. In Huaraz it is possible to book tours "all day" including both spots at one price.
Snowy mountain Pastorruri
Would you like to see snow, although you don't wanna make too much effort for it? Pastorruri is the best option for you!
The tour buses leave you 15 minutes from the snowy mountain on an easy trail. However, don't forget the sunscreen and sunglasses.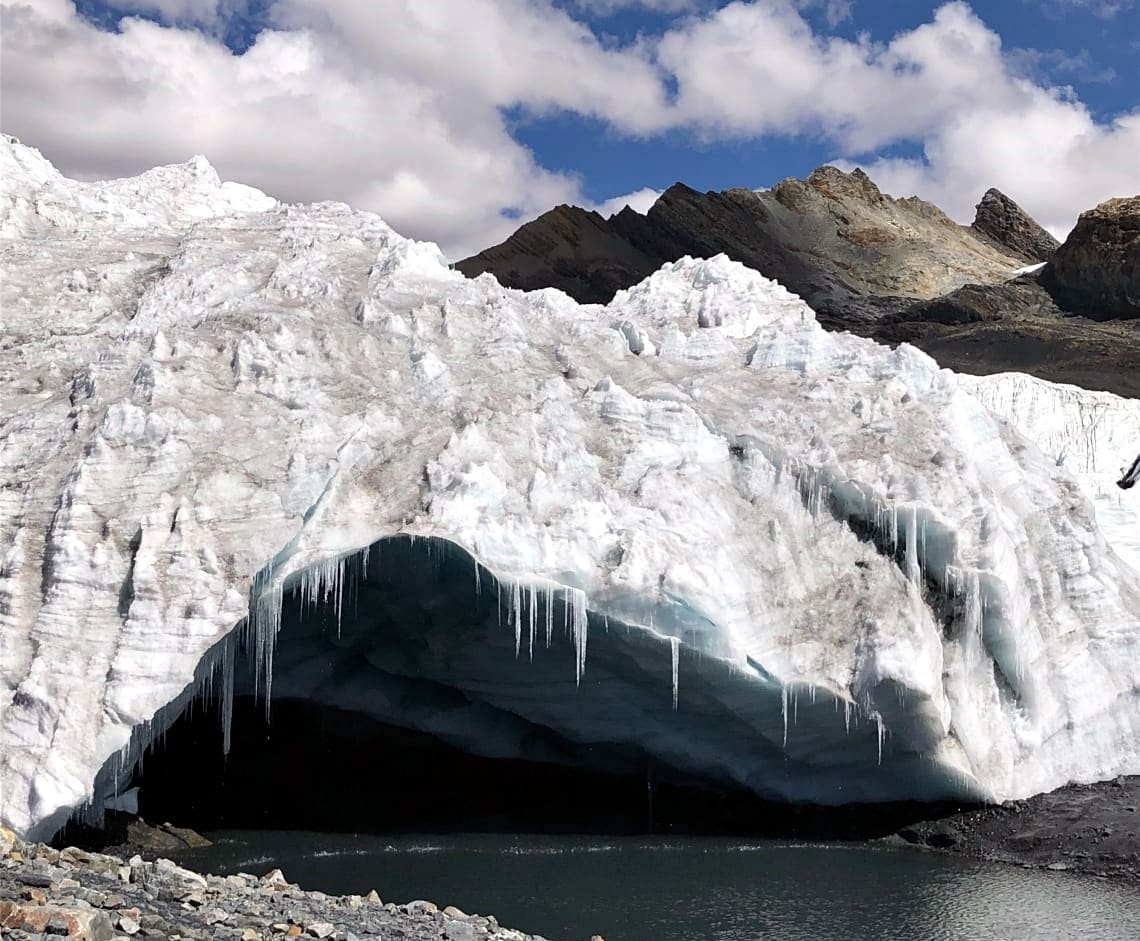 Learn more about Chavin de Huantar's history
Visit what has remained from one of the first pre-Incas civilizations: Chavin's culture. Walk towards stone buildings, temples, and sculptures with more than 3000 years old.
Laguna Parón
Another amazing lagoon with turquoise watercolor is located 101km away from the city, at an altitude of 4.180 meters above sea level.
There's a short trail bordering the lagoon and a viewpoint by a short 30-minute path. Both options have amazing views and it's perfect for photos.
· 16 photos to inspire you to visit Peru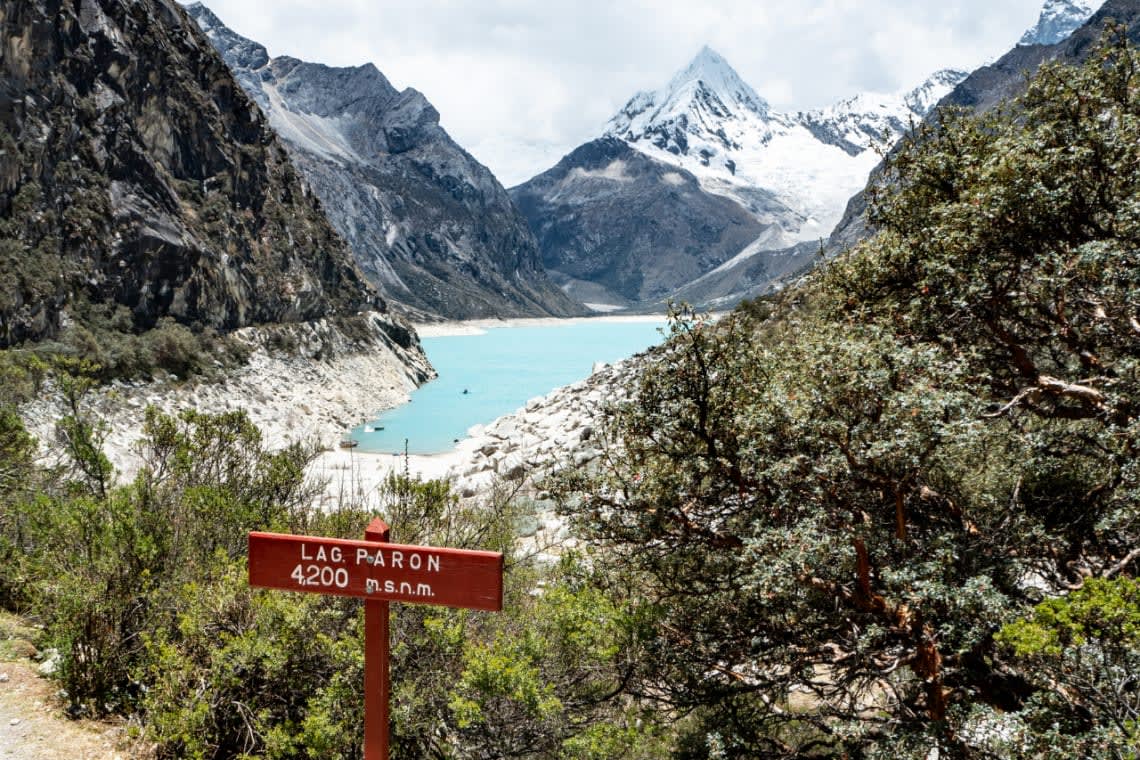 Lagoon 68 trekking
One of the best-known treks for its demand and beauty: it takes about 3 hours of walking to reach the lagoon and every step is worth it.
Along with the imposing lagoon, you can also see several snow-capped mountains of the Cordillera Blanca. A unique experience!
Laguna Churup hiking
One of the most accessible lakes and also, a recommended walk to get used to the high altitude climate.
A beautiful view of the emerald blue waters from the Churup Lagoon, where you can rest and embrace the peace that the place offers.
Climb up to Nevado Mateo
Climbing a snowy mountain like Mateo is a harder challenge. It is one of the best accessible snow-capped mountains at 5150 meters above sea level in the Cordillera Blanca.
It can only be climbed with an authorized guide, having the necessary equipment and besides it all, the physical and mental strength required. Undoubtedly one of the best experiences I've ever had.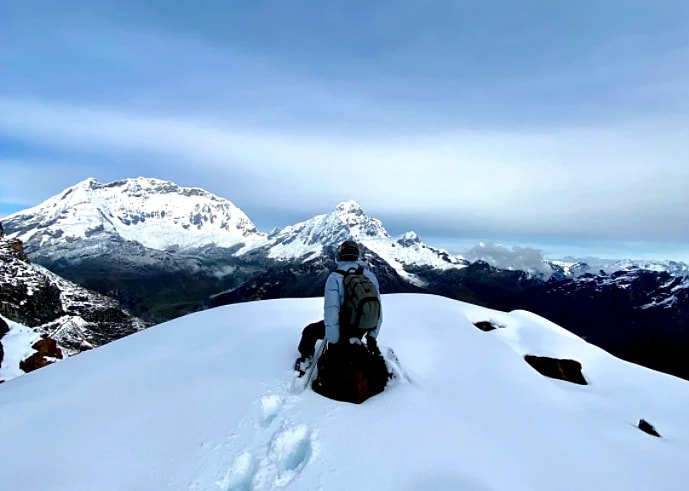 Places to eat in Huaraz, Peru
Are you hungry? Don't worry, Peruvian cuisine is delightful and the restaurants in Huaraz don't stay behind.
You can try Creole food, typical of Peru, in any place within the city. Among these are lombo salté (sautéed tenderloin) or "ají de gallina" (Peruvian curry), dishes that I talked about in my video of the 8 typical dishes you can't miss on your trip to Peru.

And… What about the traditional food from Huaraz? The main dishes are:

La llunca: wheat soup accompanied by chicken prey.
El Charqui or Charque: fried dehydrated meat accompanied by boiled potatoes and salad.
Kuchi kanka: roast pork with a spicy sauce served with boiled potatoes and salad.
Papauchu or Ají de papa: boiled potatoes served with a sauce based on yellow chili accompanied by a fried egg.
The Tocosh: soup product of the fermentation of the potato. Potatoes, eggs, corn, or goose are included.
Picante de guinea pig: fried guinea pig accompanied by a spicy sauce based on panca chili and Marisol chili.
You can find these dishes, except for the chocho, in country recreations located outskirts of the city, on the way to the Huaylas alley. The costs per plate can vary between 20 to 50 soles (6-13 dollars approx.).
If you are looking for fast food or take-out, you can also find several hamburgers, sausage, pizza, or bakery stalls on the main avenue. This food is much cheaper and usually costs between 3 to 12 soles (1 - 3 dollars approx.).
Another option is the "menu of the day" in small places. It consists of a starter (soup or salad), a main course (according to the day), and a small dessert. All for an approximate cost of 8 to 10 soles (2 dollars approx.).
What? Oh, I'm sorry. If you want to eat tasty and cheap food, Huaraz is the ideal destination. And if you are one of the travelers who like to enjoy the nightlife or have a few beers with friends. Don't worry, let me tell you something: Huaraz has the best craft bees in Peru!
Try them in the famous "Barranquito" area, two blocks full of bars and nightclubs. You can also go through the Belén neighborhood or the Jinebra park and take advantage of the best cocktails in the local bars.
No more waiting! Travel to Huaraz, Peru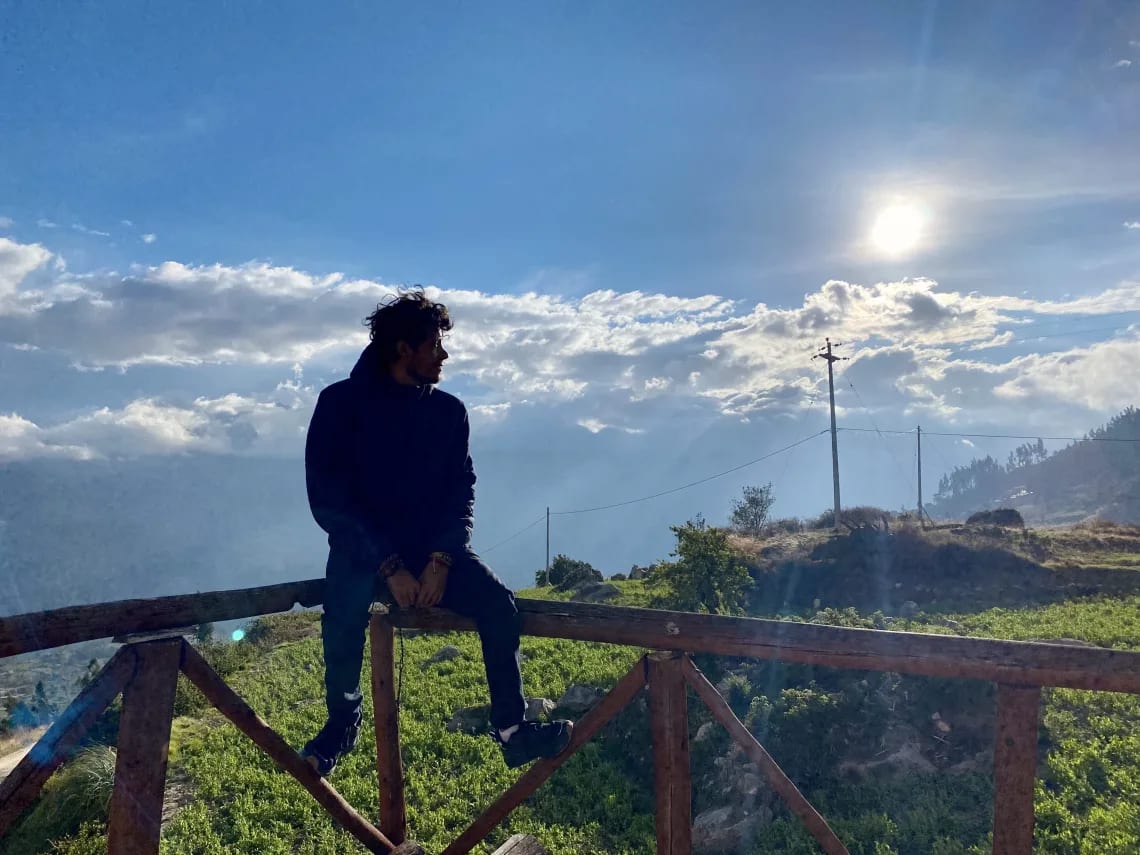 Well, it was a pleasure to share my knowledge about tourist places in Huaraz. I hope it helps you on your trip. Please, share this article with friends, family, or anyone you think would like to know Huaraz or even with people already in there.
If you like these tips, follow Worldpackers social media to keep up with the news: we are on Instagram, Tiktok and YouTube!