The best time to visit Peru: a complete travel guide
Wondering what time of year is best to visit Peru? This detailed guide will highlight the best time to visit Peru, as well as other highlights of this amazing South American country.
7min
Peru is an incredible country in South America.

It is full of diverse natural landscapes like beaches, salt flats, deserts, lakes, forests, and the famous Andes Mountains and Amazon Rainforest.
It also has big cities and small villages. Peru has exquisite local cuisine, lots of cool wildlife, extremely friendly locals, and a rich history.
So if you're planning on visiting Peru anytime soon, you may be wondering when is the best time to go.
This article will explore the best time to visit Peru. I'll also touch on some of the best places to visit in Peru, as well as work exchange opportunities in Peru.
I hope this guide is helpful for those who want to visit this gorgeous and welcoming country on the western side of South America!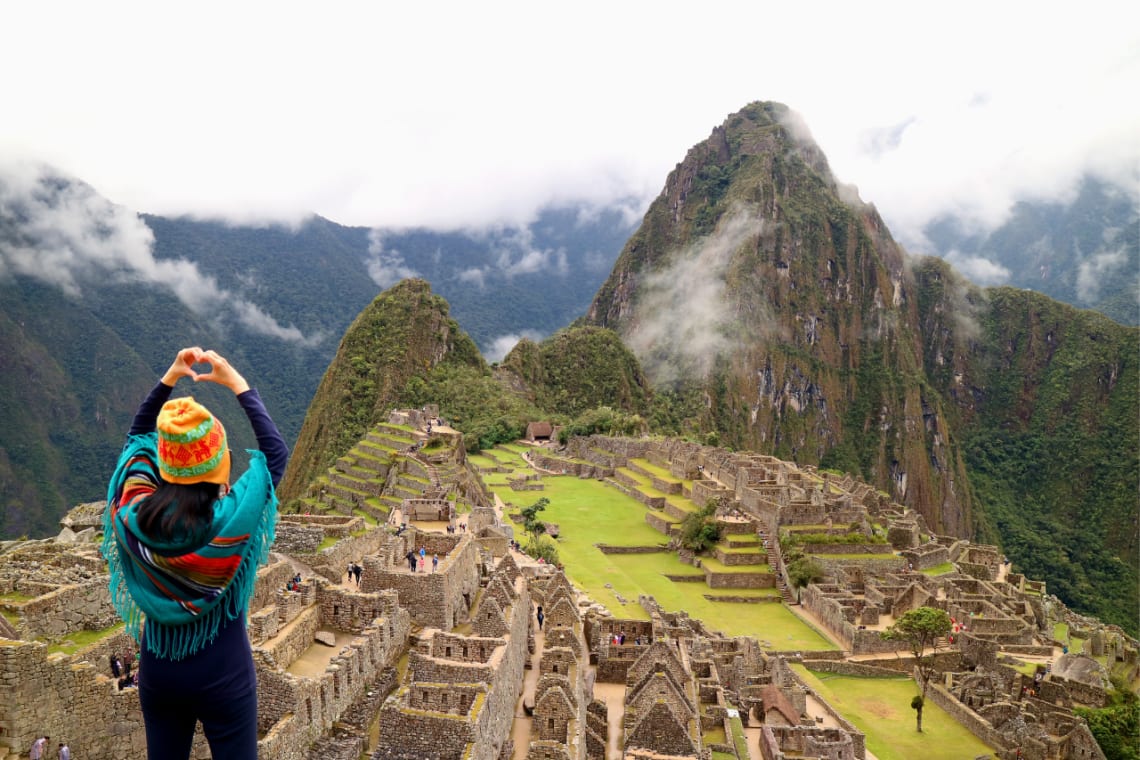 When is the best time to visit Peru?
Peru has two seasons: wet and dry.
The dry season is from May to October, and the wet season is from November to April.
Generally speaking, the dry season has the best weather with the smallest chance of rain. But this means higher flight prices and more crowds, particularly at the famous tourist attractions like Machu Picchu.
Wet season has a high chance of rain, especially in January and February. But prices are cheaper and there are fewer crowds.
So if you want to save money and enjoy the best Peru attractions without any crowds, consider visiting Peru during the wet season.
If you want to enjoy amazing weather on your trip to Peru, visit during dry season.
Probably the best option is to travel to Peru during shoulder season!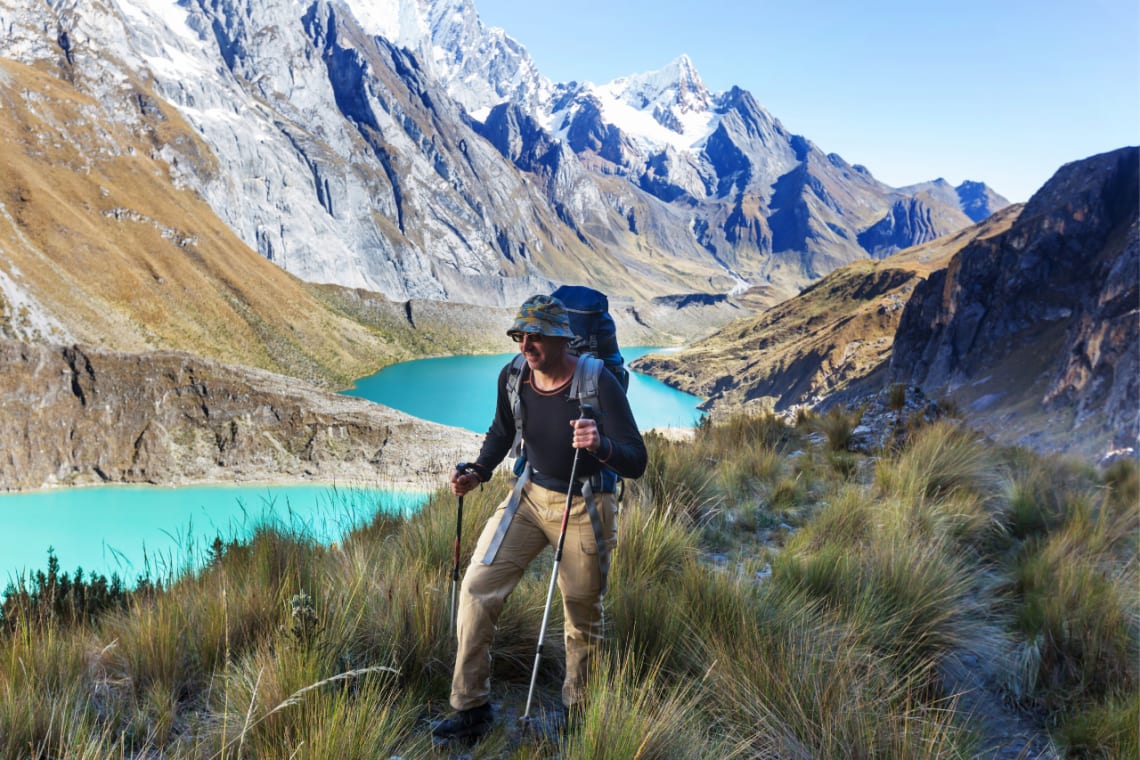 Shoulder season: the best time to visit Peru
Shoulder season means the transition months between off season and peak season.
Off season would be the rainiest months: January and February, while peak season is the busy months of June, July, and August during the drier months.
So shoulder season is around April or May, at the end of the rainy months and the beginning of the dry season. The rain drops off, the sun shines more, and the summer crowds haven't hit hard yet.
Alternatively, October or November are great months to travel to Peru. The rainy season is starting, but you'll still enjoy lots of sunshine and the heavy, consistent rain won't begin until about January. The crowds from summer have calmed down by then.
For a nice middle ground in terms of weather, flight prices, and crowds, shoulder season is the best time of the year to visit Peru. That is April, May, October or November.
Places to visit in Peru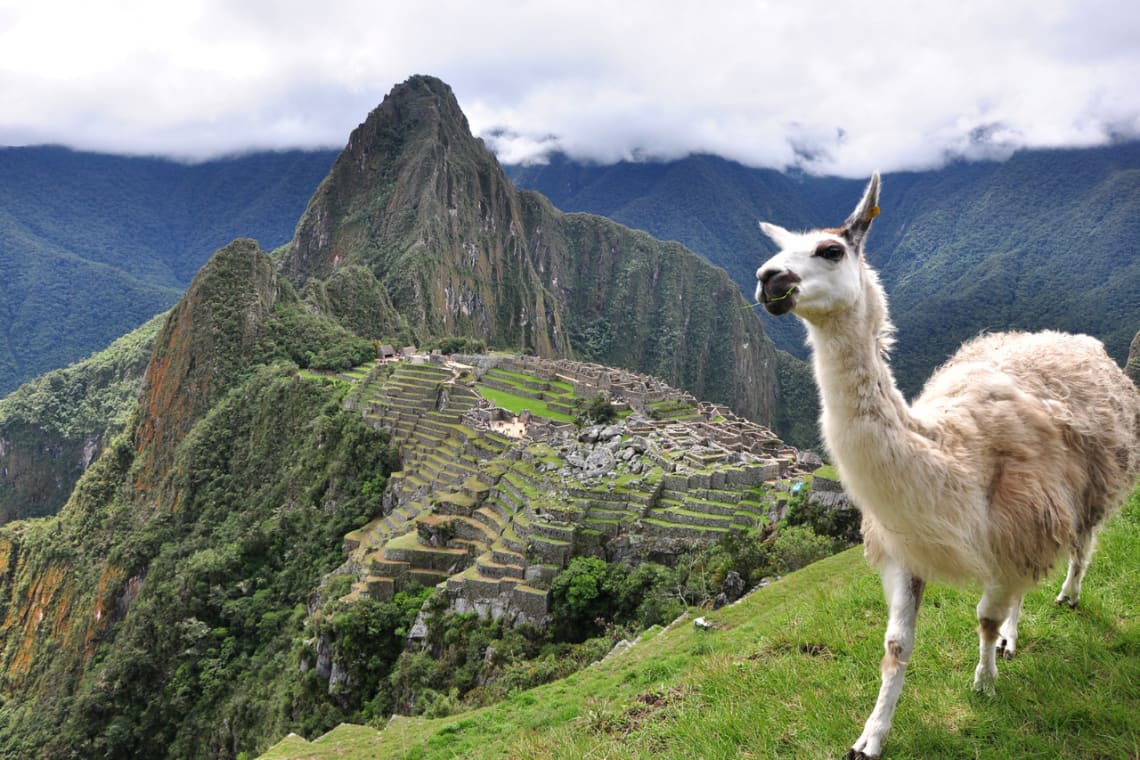 Now that you know the best time to visit Peru, I'll quickly mention some ideas for what to do in Peru. Here are 9 places to consider when visiting Peru:
Machu Picchu: the "must-see" of every trip
This is, of course, the biggest tourist attraction in the country and the main reason many people travel to Peru. This historic Incan city located high in the Andes Mountains is an iconic landmark, and it is so worth a visit.
You can choose to do a multi-day trek to Machu Picchu, such as the famous Inca Trail or the more challenging Salkantay trek. Or you can just catch public transport to the nearby town of Aguas Calientes and head up the mountain straight away.
Don't miss the historical city of Cusco
Cusco is the gateway city to Machu Picchu. Most travelers spend a few days here before starting a trek or taking the train to Machu Picchu.
Cusco has many things to do, as well as lots of impressive cathedrals, historic monuments, wide public squares, bustling local markets, and amazing restaurants.
There are also lots of fun hostels here where you can party and mingle with other travelers.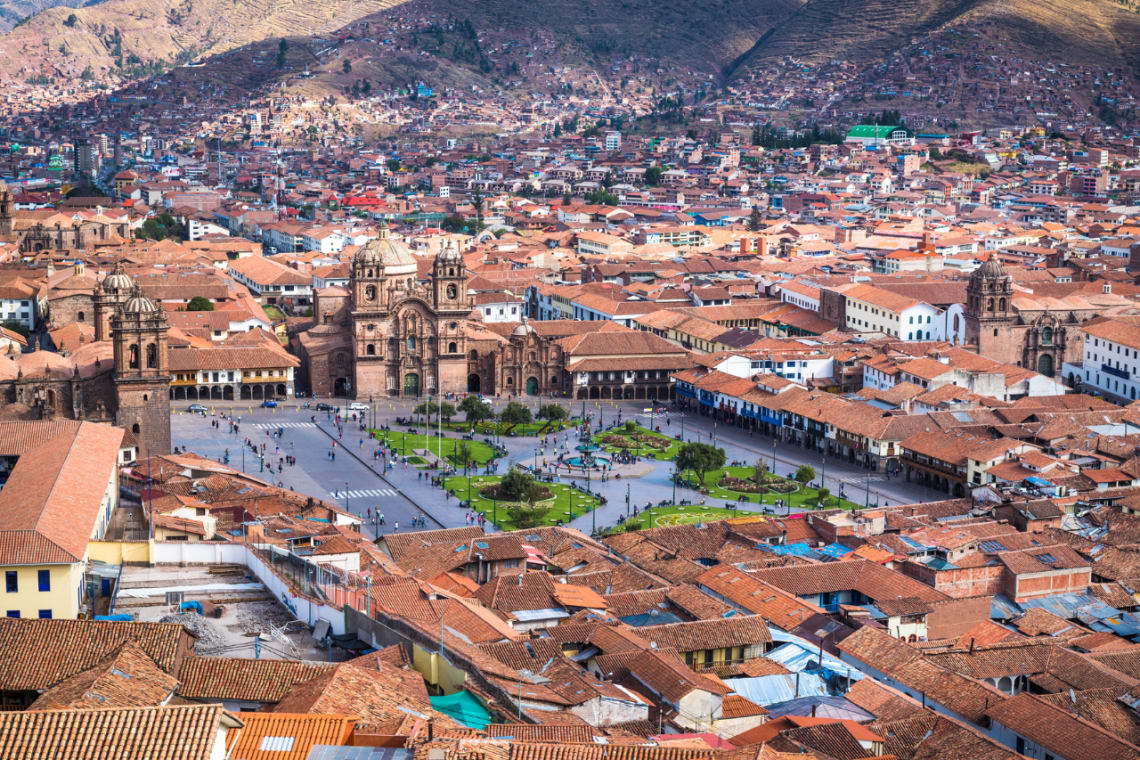 Visit Huacachina Sand Dunes and its oasis town
The resort town of Huacachina near the town of Ica looks like an actual desert oasis. Surrounded by miles of soft golden sand dunes, Huacachina has a lagoon, palm trees, and tourist resorts, and is the base for exploring the dunes.
Sandboarding is a popular sport to try on the sand dunes!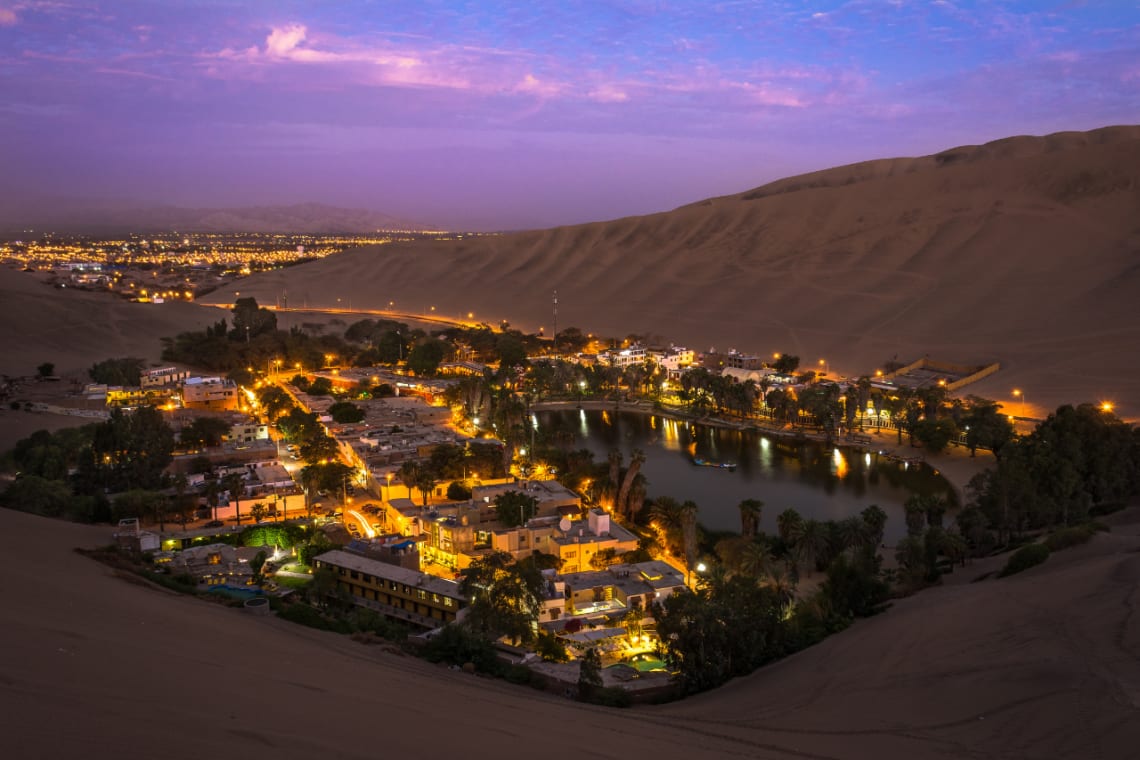 Disover charming Arequipa
The city of Arequipa, surrounded by mountains, is a must-see on a trip to Peru. Dubbed a UNESCO World Heritage Site, the Arequipa historic city center is a charming area full of colonial architecture and a heartwarming local culture.
The buildings in the city center are made of a light colored volcanic rock called "sillar stone".
Get hypnotized by the Rainbow Mountain
Not far from Cusco and Machu Picchu lies Rainbow Mountain, locally known as Vinicunca. This incredible natural phenomenon sits atop a high-alitiude hike that can be done in one day.
The mountain and surrounding valleys are streaked with vibrant natural colors that looks like a rainbow.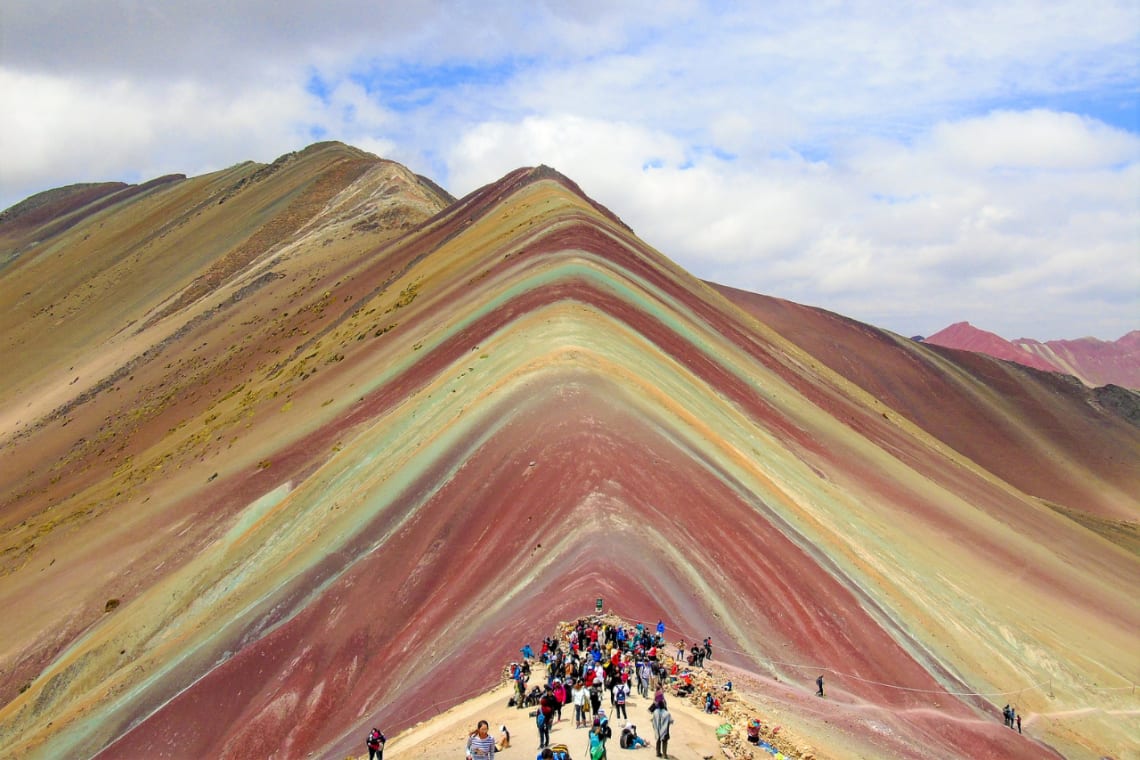 Spend some days in Lima, the capital city of Peru
The capital city of Peru, Lima, is a busy metropolis that is packed with fun things to do. It has a well preserved colonial center, lots of interesting museums, magnificent cathedrals, and cliffside coastal views.
Because Lima is a coastal city, the seafood here is super fresh. This is the perfect place to try one of Peru's best dishes: ceviche. There are countless high end or humble local restaurants in Lima where you can try this zesty fish and citrus dish.
Overall, Lima is a great place to visit in Peru and one of the 20 best cities to solo travel in South America.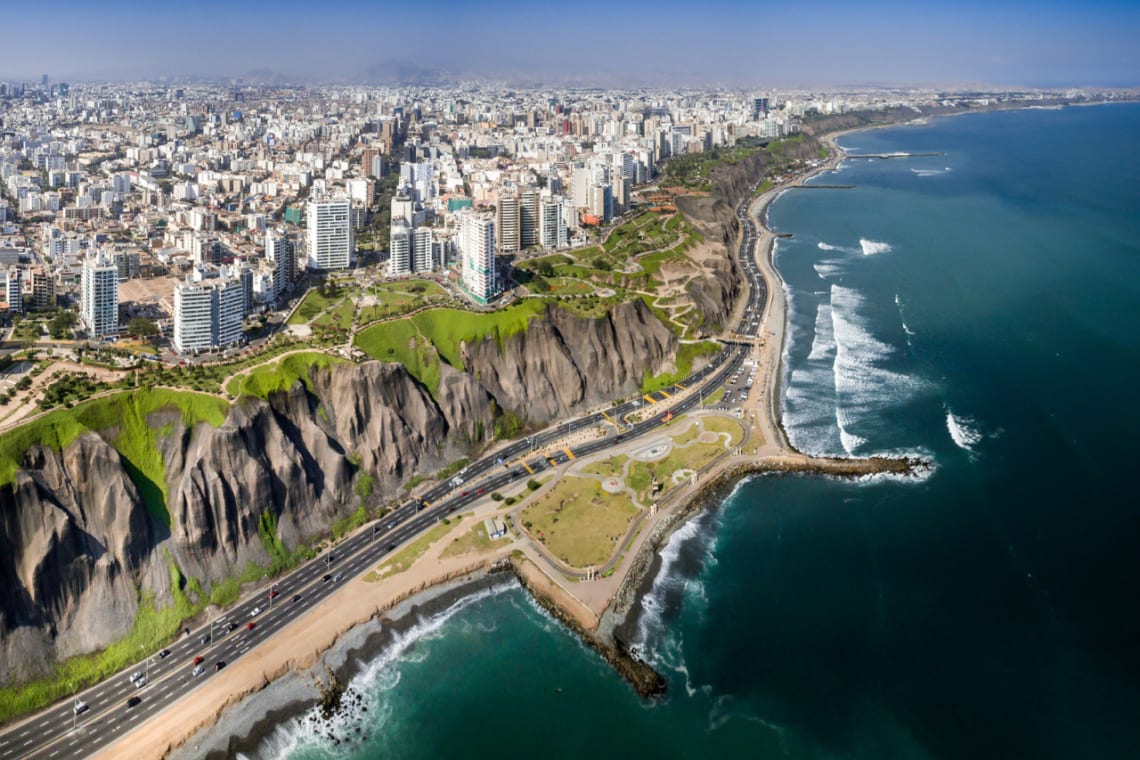 Explore the Amazon Rainforest in Puerto Maldonado
This jungle town is the perfect base for exploring the Amazon Rainforest. From here you can book tours that will take you into the thick of the jungle.
Visit national parks and nature reserves, see some rare wildlife, admire the tropical plants and landscapes, and soak in the hot, humid rainforest weather.
Trek around the marvelous Colca Canyon
One of the deepest canyons in the world, Colca Canyon is one of the best places to visit in Peru.
Book a tour here to visit a traditional village, go trekking along the giant river canyon, or go bird-waching in hopes of seeing an amazing Andean condor sailing over the landscape.
Get to know the local island-villages of Lake Titicaca
Lake Titicaca, which straddles the border of Peru and Bolivia, is the world's highest navigable body of water. It is a gorgeous blue lake with a few islands that have their own special and unique cultures.
The Uros Island are made entirely out of reeds. It is fascinating to learn how the local families live and thrive on these floating islands in the middle of the lake.
Taquile Island is another isolated spot on the lake where the locals have interesting customs and traditions that remain unchanged from how their ancestors lives.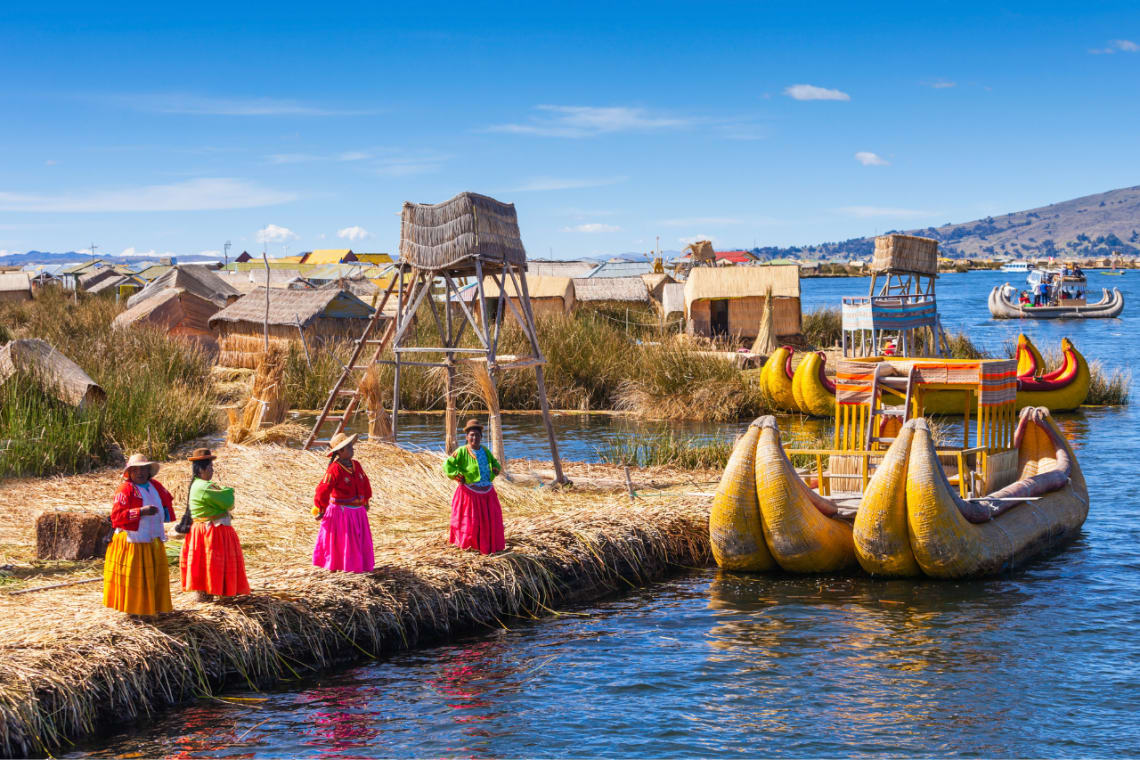 Be part of a work exchange in Peru
For an interesting cultural experience, consider doing a Worldpackers work exchange in Peru!
You can work in exchange for accommodation, so you'll save money when traveling in Peru. You'll also get the opportunity to live with locals, learn Spanish, and try out the local way of life.
Worldpackers has over 200 work exchange opportunities in Peru, in over 40 different areas of the country. Some of the work exchanges in more remote areas may require you to speak Spanish. If you don't speak Spanish, Peru is a great place to learn! You can always look for work exchanges in more touristy areas where English is spoken, if you don't have any Spanish skills.
Here are some of the top work exchanges in Peru:
Volunteer at a local zoo in the Peruvian Andres Valley: This work exchange has 26 five star reviews from past travelers! Here you get to work alongside professional veterinarians and knowledgeable staff to learn about different animals and how to care for them.
Teach English at a non profit organization: Here you will work 15 hours per week teaching locals of all ages how to speak English. You will be benefitting the local community, forming connections, and taking day trips around Peru.
Work at a hostel in Piura in Northwest Peru: A great way to make lots of international friends and practice Spanish is working in a hostel. You can do tasks like reception, housekeeping, and administration, all while living in a fun and social environment.
Get in touch with nature at a rural homestay: This home stay work exchange near the Amazon will help you immerse yourself in nature and enjoy a unique place. The hosts have a horseback riding business and need help with web development and videography, so you can also develop your digital skills and gain valuable work experience.
Recap: The best time to visit Peru
So, as we have seen earlier in this article, in general terms the best time to visit Peru is the shoulder season.
However keep in mind, the best time to visit Peru for weather is anytime between May and October. The best time to travel to Peru to save money is during the rainy season, particularly January or February.
There are lots of incredible places to visit in Peru once you arrive. Hike iconic mountains in the Andes like Machu Picchu and Rainbow Mountain. Visit sand dunes, lakes, canyons, and the Amazon Rainforest. Or enjoy the cities like Lima, Cusco, and Arequipa.
And to have an unforgettable experience traveling in Peru and living amongst the locals, try a work exchange!
If your are planning to head to Ecuador after Peru, you should check out when is the best time to visit Ecuador.
For more travel inspiration about other countries in South America, check out these articles: