12 reasons why should you visit Cartagena de Indias
Known for its energy, street art and proximity to many Caribbean islands, Cartagena de Indias is one of the most visited cities in South America. Read about why you visit Cartagena and learn tips to plan the best trip.
10min
Swaddling Colombia's northern coast and protected by ancient stone walls, the beautiful prehistoric port city of Cartagena is almost entirely surrounded by the Caribbean Sea.

Founded in 1533, the eclectic, colorful city combines old world charm with modern, contemporary living.
Cartagena has come a long way since its dark and turbulent past. Now home to a growing economy, the Caribbean capital is full of amazing culture and is one of the safest big cities in Colombia, in addition to being the fifth-largest. With a thriving port fueling trade, the city abounds with both visiting tourists and businessmen.
Seize the opportunity to visit the beautiful city of Cartagena in the easiest and most economical way possible by using Worldpackers experiences in Cartagena! To learn more, check out this guide to how Worldpackers works. This article will also cover some of the specifics of using Worldpackers to discover Cartagena and Colombia, so keep reading!
We absolutely loved our time in Cartagena. Here are a few of the main reasons why you should visit this magical, romantic Caribbean city.
Discover all of the Colombian culture, check out the bests Colombian desserts and traditional food for you to try on a trip to South America and the guide for backpacking Colombia.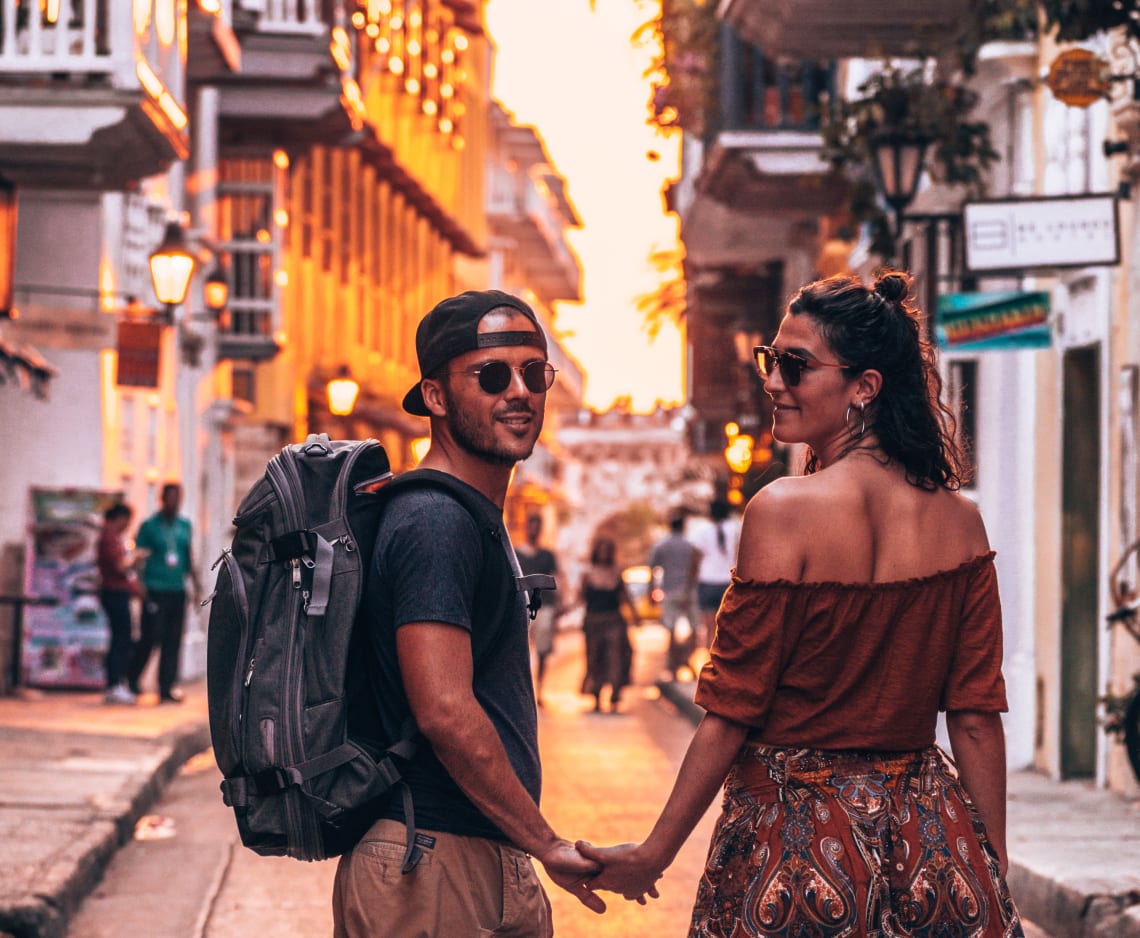 12 reasons why should you visit Cartagena de Indias, Colombia
1. Culture
Just outside Cartagena, you'll find the beautiful village of San Basilio de Palenque, a UNESCO World Heritage Site.
San Basilio de Palenque's influence on Cartagena can be seen in the brightly colored dresses worn by Afro-Colombian women selling fruit. Apart from the beautiful and indigenous way of life woven into the modern world, this village is also the first settlement of independent slaves in the Americas.
Cartagena also boasts a unique social scene and vibrant arts and culture.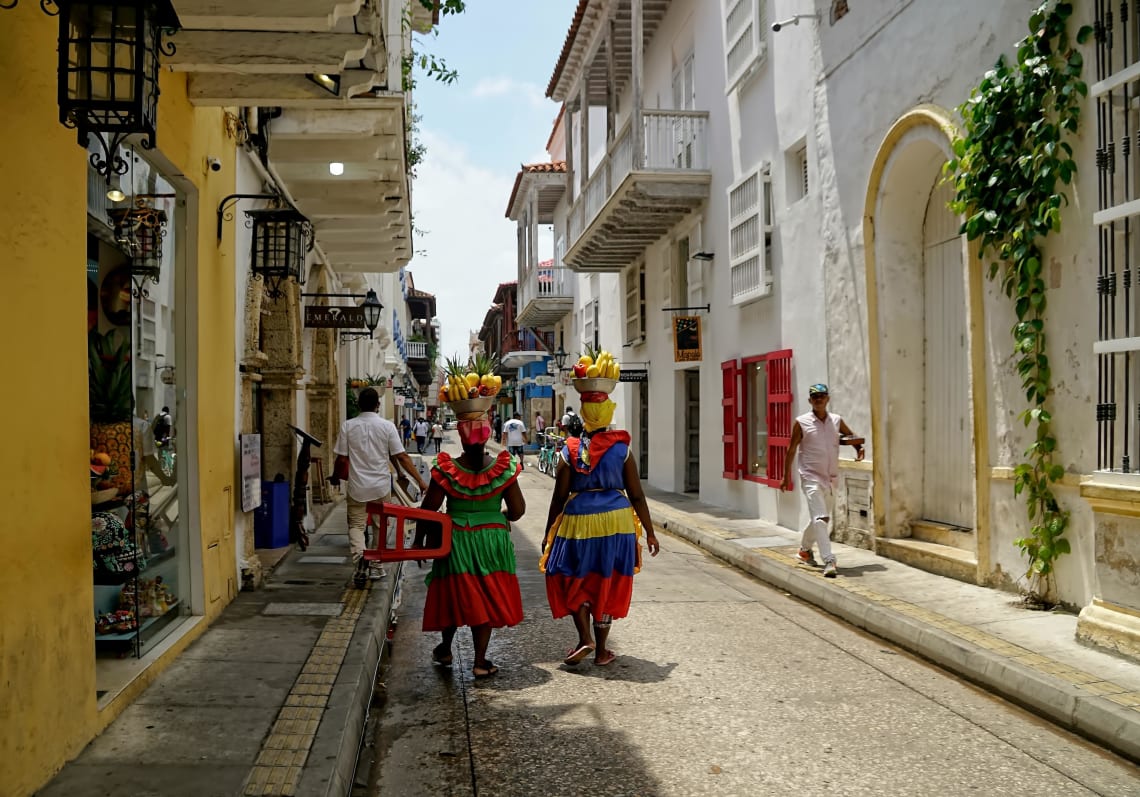 2. History from Old to New
Built by the Spanish as the largest slave port in the Americas, Cartagena's port has evolved over time to become one of the busiest ports in the Caribbean Sea.
The old town fort walls stand as a testament to Cartagena's tumultuous past. The walls were once used to offer protection from Francis Drake and their cannons are still intact.
For any history buffs, the city of Cartagena is thriving with old world hints intertwined with today's modern experiences.
3. Street Art everywhere
Cartagena's Getsemani neighborhood is perfect for soaking up local culture, drinking mojitos, and seeing beautiful street art.
A formerly seedy area that was previously known for prostitution and gangs has come alive with diverse forms of art. Discover murals, sculpture, and graffiti solo or join a a street art walking tour where you'll even have the chance to interact with the talented artists.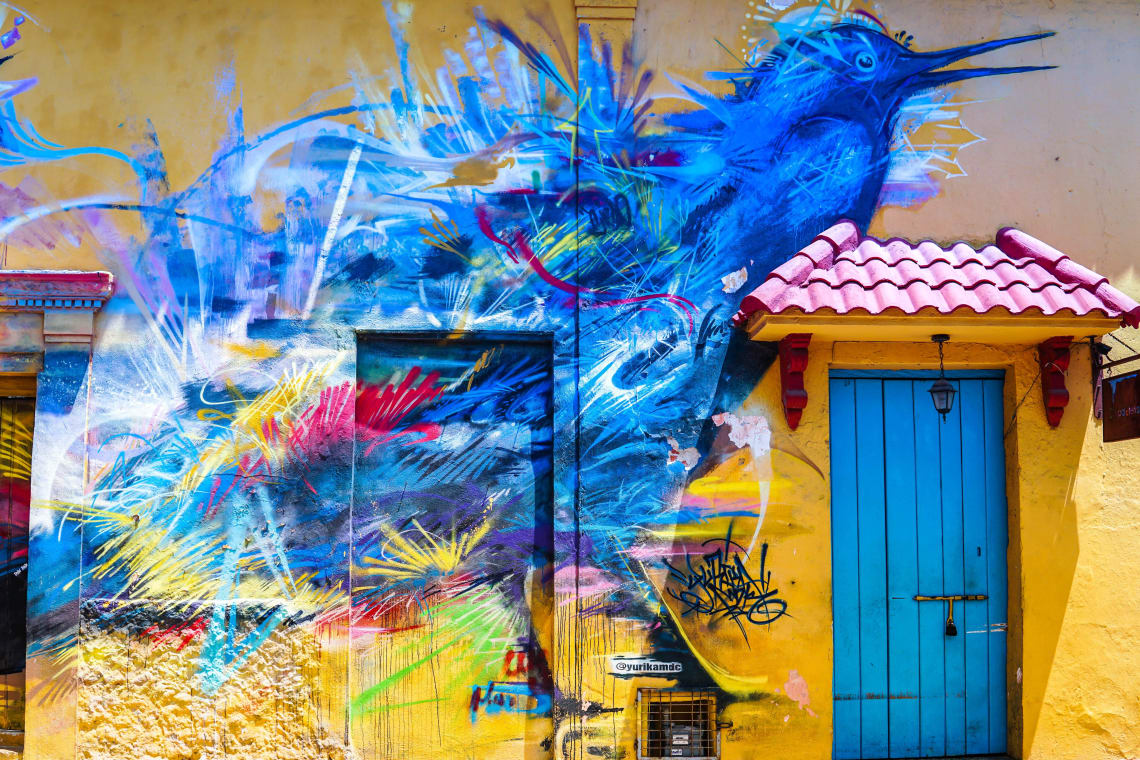 4. Salsa dancing
Love shaking a leg? Options for salsa dancing classes in Cartagena are plenty and so worth it, especially for those just starting out.
Learn the basic moves and then hit up a local club to strut onto the dance floor. Have no fear — there's always a partner waiting to help you polish your moves!
There's also the added advantages of meeting new people and getting a great workout while having fun!
5. Floating Hostels
Just two hours by boat from Cartagena lies the Archipelago of San Bernardo featuring a set of nine coastal coral islands and one artificial island. These little paradises are surrounded by crystalline blue water, and offer the unique opportunity to experience a stay at a floating hostel!
These hostels are considered eco-friendly water hostels, and are typically built atop a on a concrete foundation just under the sea water. There's hot sun and crystal clear sea, hammocks, incredible food, beautiful snorkeling, amazing water sports, and spectacular sunsets.
Trust us, these floating hostels are worth seeing!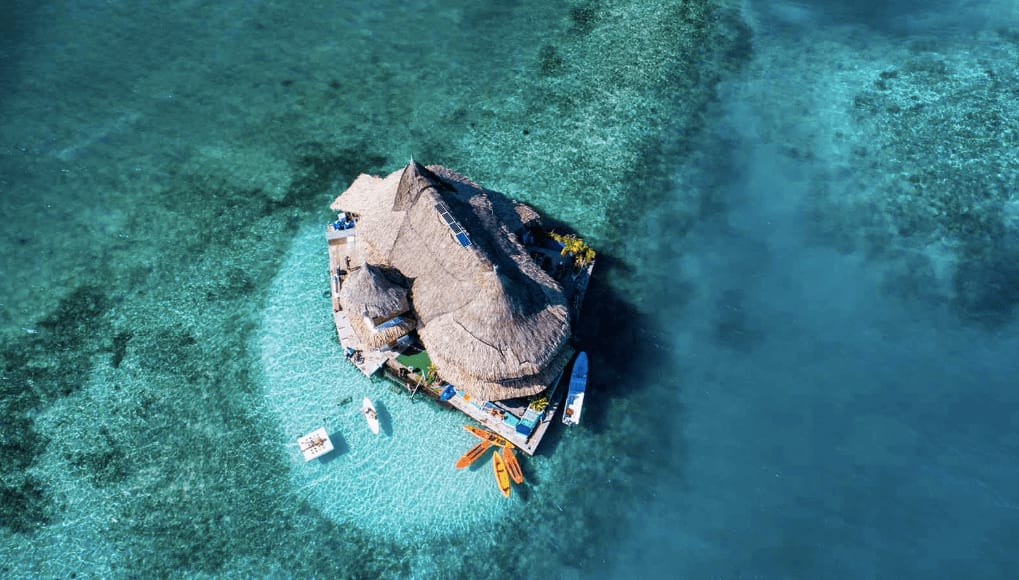 6. Mud bath
Unlike exploding or dormant volcanoes, the Totumo Volcano has something special spewing. Rather than hot lava or seeping smoke, the Totumo Volcano is a 50-foot mound filled in the core with... mud!
The volcano's rich, thick and exuberant natural mud soothes your body and leaves you feeling rejuvenated. Locals insist that regular therapeutic mud baths provide numerous health benefits, but at very least you'll get a pore cleansing and some especially smooth skin.
Mud fights are optional, although in our opinion nothing is more fun than a healthy mud fight!
7. Live music and dancing
Apart from the aforementioned salsa, Cartagena is a city saturated with music and lots of dancing. You can also learn about Champeta, which is a genre of folk music and dance originating in the Atlantic coastal regions of Colombia.
The streets of Cartagena come alive at night with live music and dancing, and partaking in the city's lively street music and dance scene is a regular part of the local culture.
Remember, Cartagena has a Spanish history and Latin culture, therefore music and dancing are synonymous with entertainment and good cheer. There's lots of bands on the streets willing to play for you and your friends and you can even request the kind of music you want to listen to.
Visiting Cartagena is a great way to dive into an authentic local music scene and is a must for any music lover.
8. Island partying and reggaeton
Many people call Colombia the world capital of reggaeton... and with good reason!
The reggaeton movement may have originated in Puerto Rico in the 1990s, but has found a home in Colombia in recent years. You can listen to reggaeton and find an incredible nightlife scene in Cartagena, but we recommend visiting Cartagena's islands to discover some of Colombia's best nightlife.
There's truly no better place to experience reggaeton and party in Colombia than the beautiful islands of Cartagena, most notably the island of Isla Tierra Bomba.
Coupled with white sandy beaches and clear Caribbean sea waters, the islands of Cartagena are an ideal getaway. Relax beachside by day, then head to an island bar or club to drink local rum and dance the night away.
To learn more about Cartagena's best islands to visit, check out the next section of this article.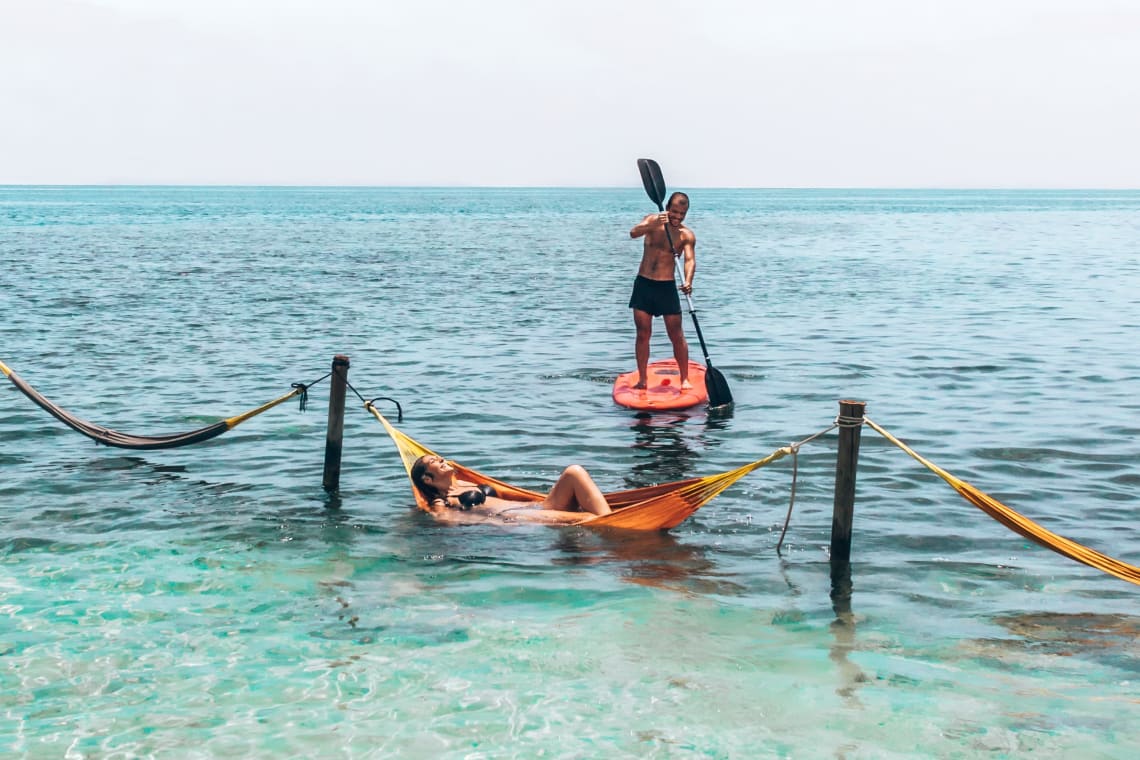 9. Zumba Night Classes at Plaza de Trinidad
One of our best experiences in the beautiful and iconic neighborhood of Getsemani was the Sunday night Zumba class held in the Plaza de Trinidad.
Picture a gathering of Zumba lovers both young and old swaying the night away to the Latin rhythms with the cool evening breeze blowing. If we ever decide to call Cartagena home-base for a while, we'll definitely be regular attendees of this class!
10. Food
If there's a South American paradise for foodies, Cartagena would be it. There's so much to savor from street food tapas to fine dining from high-end joints.
Make sure to try Mojarra or Pargo Frito, fried whole fish typically served with coconut rice, golden fried patacones (smashed and fried plantain) and a simple salad. Also popular is the Arepa de Huevo, a kind of pita bread made from ground-up corn, fried, opened, filled with an egg and spiced mince, then re-fried. The Arepa de Huevo is typically served with suero (similar to sour cream) and chili sauce.
In addition to the vibrant cuisine, there's also a wide range of fresh juices and local liquors available. There's always something magical about cities with great food options and Cartagena is one of them.
11. Monasteries
The Catholic faith is big in Cartagena and serves as a reminder of Colombia's colonization by the Spanish.
The prominence of the Catholic faith is evident in the prevalence of monasteries dotting the city, especially the old town. A famous must-visit monastery is the San Pedro Claver Monastery named after a famous Spanish monk and emblematic of his distinguished legacy.
Apart from the monasteries there are many other historic architectural representations symbolic of Colombia's dominant faith including plazas, mansions, churches and palaces.
12. Romance and allure
Wherever we may venture on this earth, there's always the mysterious and enchanting allure of love.
Visiting Cartagena will surely inject you with the unique flavor of Colombian romance. It doesn't matter if you visit Cartagena alone or with a special travel companion, this magical city will leave you wanting more.
From the white sandy beaches and romantic Caribbean vibe to the vibrant restaurants and bars to the salsa dancing and much, much more, Cartagena is the perfect location to indulge in your senses and simply be.
Each day in Cartagena is different from the rest with opportunities that abound to make this a lasting vacation and travel destination.
The best islands to visit in Cartagena
A visit to Cartagena would not be complete without venturing offshore to the most popular islands.
We compiled a list of the top five islands you can't miss when visiting Cartagena. We fell in love with these islands, and highly recommend taking your time to explore each one of them!
1. Islas San Bernardo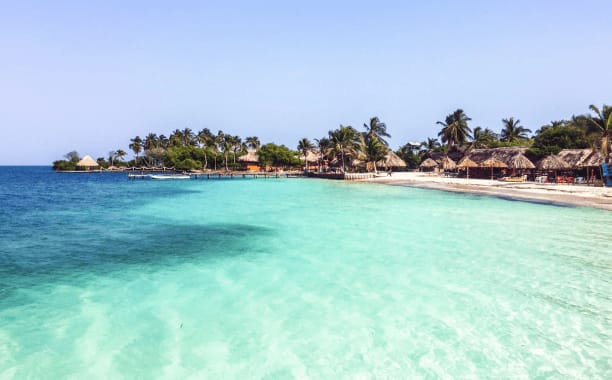 Islas San Bernardo comprise an island chain inclusive of Santa Cruz (the most densely populated island on Earth) and some other charming desolate islands. This little known island chain feels like it's in the middle of nowhere, and is the perfect destination if you want to have a truly off-the-beaten-path Caribbean island getaway.
The San Bernardo Islands are everything you could possibly desire in a chilled out vacation. Not only will you feel like you're a million miles away from anywhere, but the island beauty abounds with stunning clear waters and beaches ideal for snorkeling or just relaxing and relishing the island breeze.
As an added bonus, the San Bernardo Islands are located two hours away from Cartagena by boat and therefore aren't very popular among tourists. Being here lets you avoid a bunch of tourist traps and all the regular commercial action.
2. Isla Tierra Bomba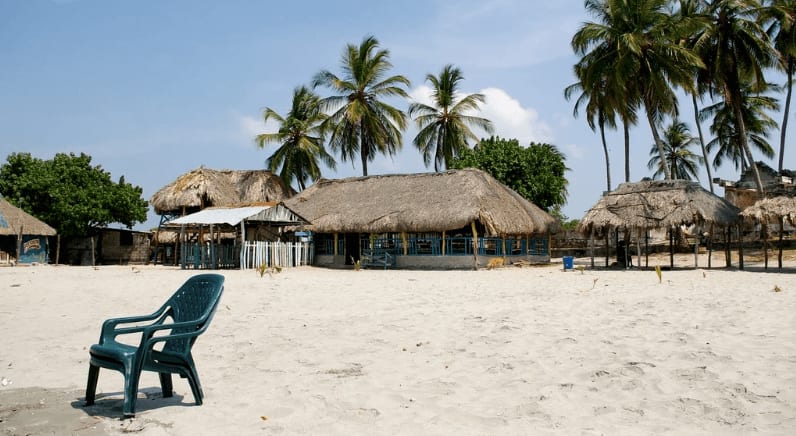 Sit back and enjoy an oceanfront view of Cartagena from Isla Tierra Bomba. This island is less than a half hour away away from Cartagena and is easily accessible as a day trip.
Make sure to visit the Punta Arena side of the island that faces Cartagena. From the beach, you'll be able to see the beautiful El Laguito/Castillogrande skyline!
Isla Tierra Bomba is also known as Cartagena's "party island" and is alive with restaurants, bars and clubs.
3. Islas Rosario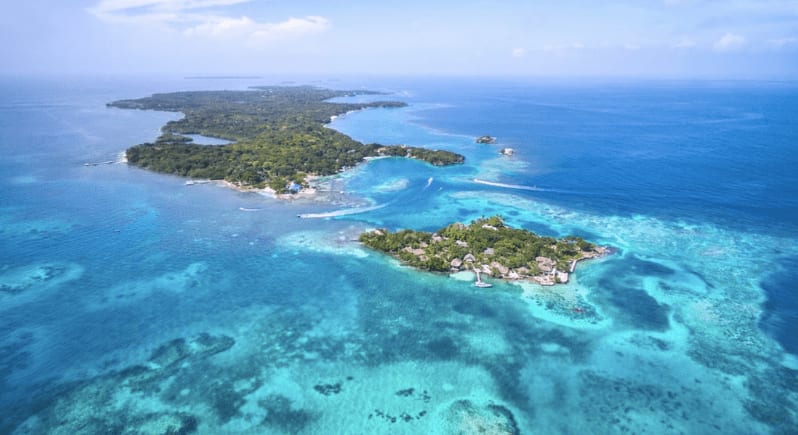 Looking for a reason to visit Cartagena? Close your eyes and visualize beautiful, sparsely inhabited islands with crystal clear blue waters and white sandy beaches.
Islas Rosario are an archipelago located within one of Colombia's most important national parks, and the only park in the country that is primarily underwater.
Located about an hour from Cartagena, the Rosario Islands are lush, beautiful, and diverse. Although the islands are no longer considered "hidden gems", they are still far from popular and well-worth a visit.
The islands and surrounding waters are very well-preserved and protected, and offer spectacular nature and exotic wildlife to explore. In addition to snorkeling and diving, there's also the chance to hike through some of Cartagena's tropical forests and explore caves!
4. Isla de San Andres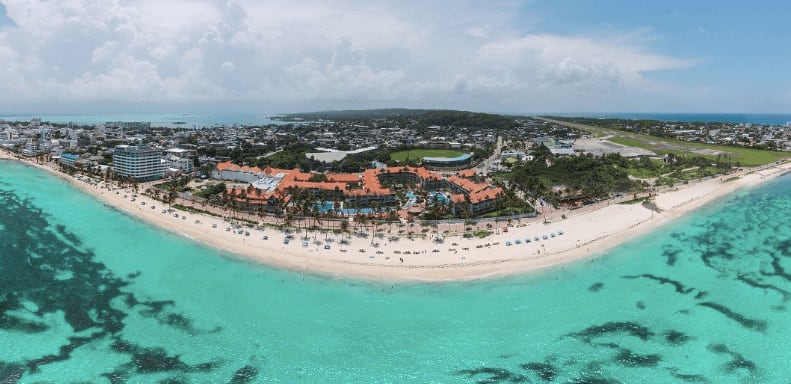 San Andres is one of the most popular islands among Colombians and other South Americans. And trust us, there is a reason why.
San Andres is a coral island featuring a diverse ecosystem of reefs, geysers, groves, and cays. It's perfect for diving, snorkeling, and outdoor exploring.
Despite being lost in the Caribbean Sea very close to Nicaragua, San Andres is still part of Colombian territory and there are return flights from Cartagena for $70-80. The coconut groves, white-sand beaches, wildlife sanctuaries, and magical island vibes make a visit to Isla de San Andres absolutely worth it!
5. Islas Providencia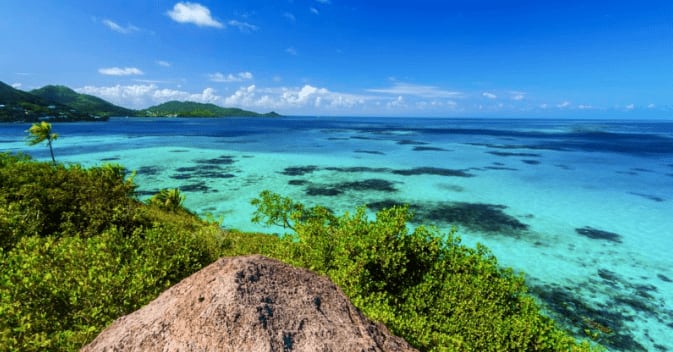 Imagine walking into the perfect paradise but asking for an upgrade. That's exactly what happens with Islas Providencia.

The only way to access Islas Providencia is by boat from Isla de San Andres or private plane. These islands are expensive to access and to live on. However, if your budget allows, visiting them is a great way to avoid the commercial side of Isla de San Andres without missing out on gorgeous golden-sand beaches, breathtaking scenery, friendly locals, and superb diving.
If you decide to go here, just do us a favor and don't tell anyone about it. Thank you.
Best time to visit Cartagena
Cartagena has a tropical climate and is beautiful year round. However, there's specific time periods that are ideal for the perfect visit; after the high season in March and from June to August.
The rainy months in Cartagena are from April to May and September to November. January is normally the coldest month while June is usually the hottest.
Is Cartagena safe to visit?
Despite its dark and complicated past, Cartagena is one of the safest big cities in Colombia. Crime rates have dropped drastically. Since locals are keen to further develop the tourism industry, many have taken steps to cooperate with authorities to ensure safety for tourists.
Like any other place on earth, it's still only wise to ensure you take all necessary precautions and make your own safety your priority. Follow simple travel safety tips like you would anywhere else. Note that it's recommended not to walk alone after sunset time or be flashy and show off the things you are carrying with you.
If you're concerned about safety in Cartagena, a great way to add a layer of security is by doing a work exchange. In addition to vetting their hosts, Worldpackers offers support during your work exchange experience, which enables you to easily address any concerns about safety and security!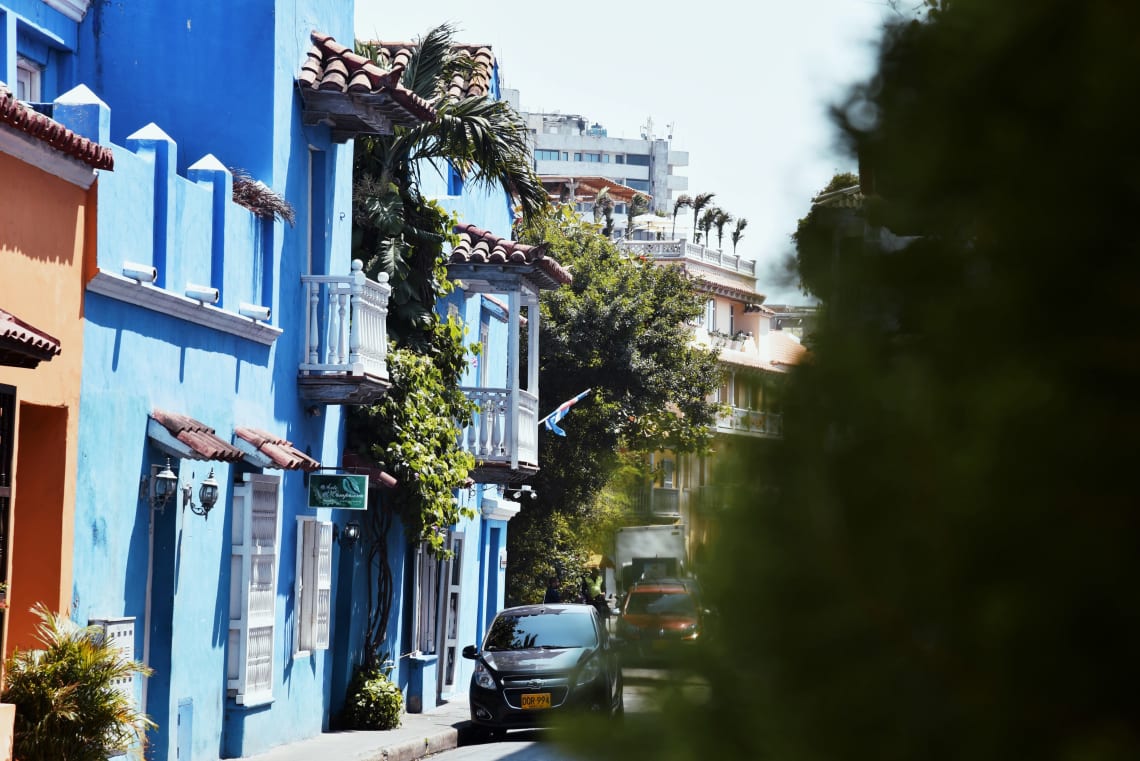 Is Cartagena worth visiting?
Absolutely! We hope this article convinced you that visiting Cartagena is an absolute must when it comes to dream travel destinations.
And, when you decide to visit this magical and mesmerizing city, take our advice:
Use Worldpackers experiences in Cartagena and you'll have the chance to explore the city like a local, not to mention in the most economical way possible.
Enjoy! Do us (and yourself) a favor and have fun. We loved this city and we bet you will love it too!
That's it for now. See you next time!
Cheers,
Matilde & Miguel