The ultimate guide to backpacking Colombia
Colombia sees thousands of travelers and budget backpackers every year for good reason. With so much to do and a rich latin culture, it's no wonder why there are so many people backpacking Colombia.
10min
I personally think and encourage all adventure backpackers to visit South America at least just once.
With the brilliant amazon rainforest in Brazil, the astonishing culture in Peru's Machu Picchu, to the Andes mountains running through the amazing beaches, and the colorful towns of Colombia, backpacking South America is a great exploration for individuals wanting to see the world on a budget.
In this guide, I'll introduce you to the wonderful adventure of backpacking Colombia!
Why go backpacking in Colombia?
I think the real question is why not go backpacking in Colombia? Located near the Equator on the continent of South America, Colombia has made its mark on the world. It has birthed famous singers like Shakira, offers delicious food, colorful towns, beautiful beaches, and so many things to do!
Colombia should honestly be on every budget backpacker's bucket list. If these few details weren't enough to convince, here are more reasons why people fall in love with Colombia.
The kind hearted people

Amazing street food and natural fruit juices

Beautiful Caribbean beaches
Insane hiking trails

Affordable accommodation

Meet other young travelers

Learn a new language! (spanish specifically)

There are so many aspects that draw people to Colombia. It is truly an experience that must be had by itself. Lets go ahead and get into planning a safe and successful backpacking trip to Colombia.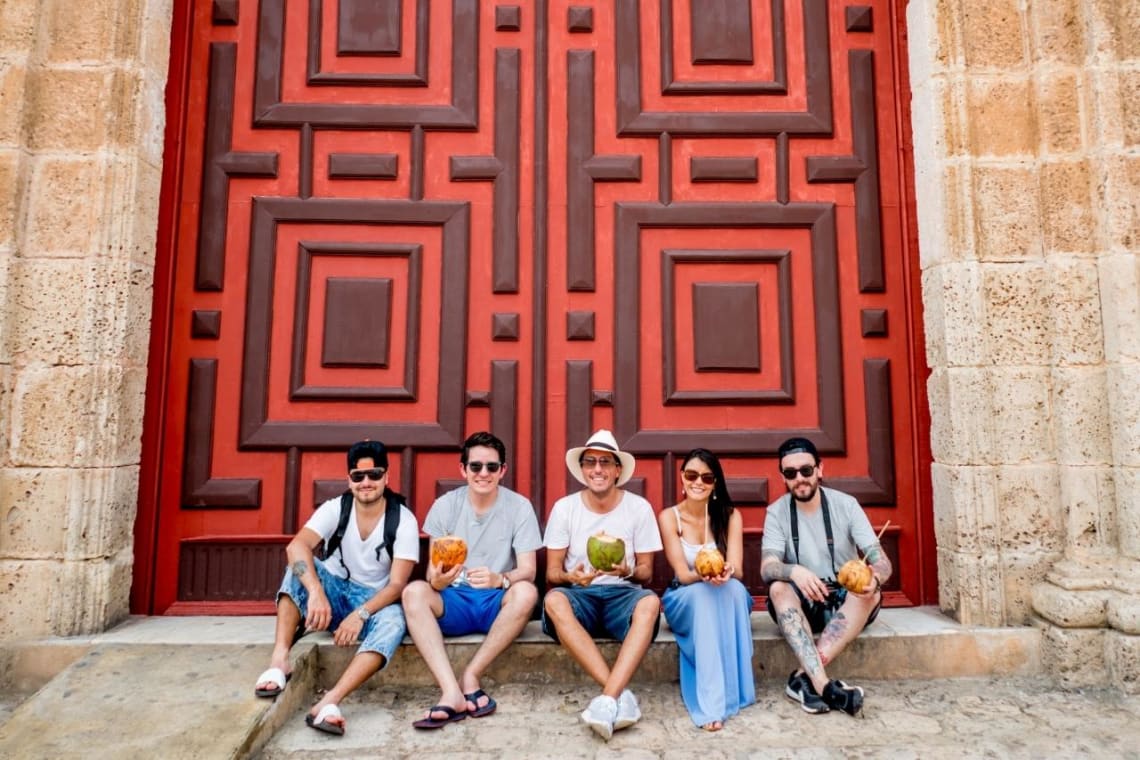 Safety in Colombia
Lots of people have things to say regarding the safety aspects in Colombia, especially for solo black travelers like myself.
Media news of drug trafficking and murder are all that seems to trend about Colombia. The thing is, I won't lie or ignore things that have happened. Yes, bad things could happen in Colombia but they can also happen anywhere in the world.
For instance, my family is from Jamaica which is considered a dangerous country. I spent one month backpacking around as a solo female traveler at the age of 19 and felt very safe. No matter which country a person chooses to travel to, street smarts must follow.
Do research on all the areas you plan on visiting. For example, in my home country Jamaica, the majority of crime is in Montego Bay and Kingston. So I simply did not visit those places! And even if I did, I would proceed and travel with much caution.
The same applies for Colombia. Be sure to check out any and all areas before wandering around, especially at night or if you're a solo traveler.
Read more about it on: Is it safe to travel to Colombia?
Here are a few other safety tips that are good to consider when planning a trip to Colombia.
Do not walk around with fancy clothes or jewellery- This one is pretty self explanatory. Wearing fancy clothes and glimmering jewelry (in non resort areas) makes a person look like an outsider and a target.

Leave all important travel documents at the hotel- Including passport, ID, license, inoculation records, anything that is of significant importance. Instead, I like to travel with printed copies of my ID forms.

Research desired cities and their reputation- As mentioned before, certain cities and areas are not as safe as others.

Don't talk to strange looking people- If someone sketchy looking offers you to try something, politely say no or walk the other way.

Never walk alone at night- Especially not for solo female travelers.

Travel with locks (for hostels, personal bags, etc)- I travel with mini locks ALL the time, they're total lifesavers especially as a young (I'm 21 currently) solo female traveler. I even make sure to put a mini lock on my daypack when I'm walking down the street. That way if a pickpocketer tries something they'll feel embarrassed when they find my zippers don't move. Muahaha (insert evil villain laugh)

Befriend reliable and trustable locals- When you find a good local, stick to them! Befriending locals can help to discover unique areas and get a real off the beaten path feel.

Need more safety advice? Check out this article about travel safety tips.
Backpacking in Colombia: Must visit cities
Colombia is a really big country, with so many places to see and things to do. Although each city in the country has its own unique flair, here are a few notable ones to visit when backpacking Colombia.
Bogotá
The beloved capital of Colombia, Bogotá, is filled with colorful buildings, bright night lights, and endless memories to be made. There are almost a countless amount of activities to partake in while in Bogotá.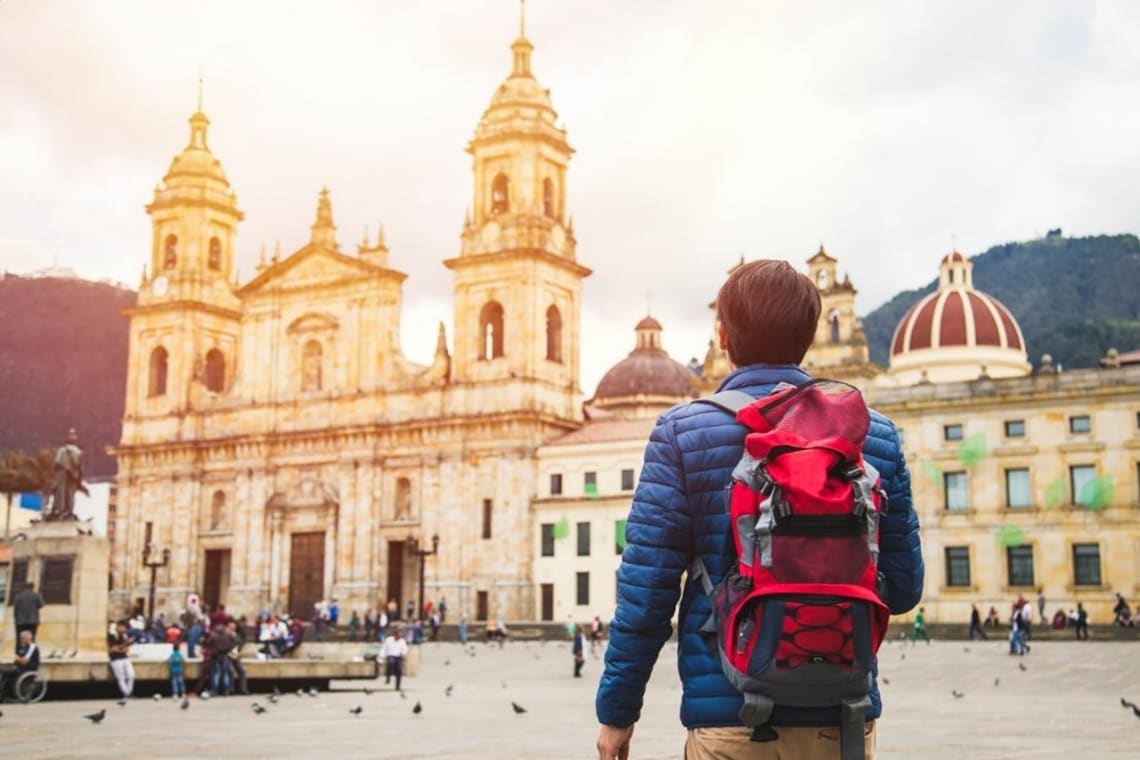 Cartagena
Located on the Caribbean coast of the country and possibly the perfect destination for beach lovers, is Cartagena. Although this area is slightly more pricy compared to other Colombian destinations, the beauty is well worth every penny.
Need more reasons? This is why you should visit Cartagena de Indias.
Medellín
Located in the mountains of Colombia lies Medellín. The city has a great amount of natural beauty with butterflies flapping their delicate wings almost everywhere you go. Catching the awesome sight of pink flowers on the way to the park and friendly people.
Keep reading: The best things to do in Medellín, Colombia
Cali
Dance fanatics must make their way to Cali because it was given the nickname of the Salsa capital of the world. Cali is a great place to discover more of local Caribbean culture and dive into unique latin dance.
Guatapé
There are plenty of hikes to explore and natural sites to admire in the sorroundings of Guatapé, making it a no-brainer for nature lovers to visit.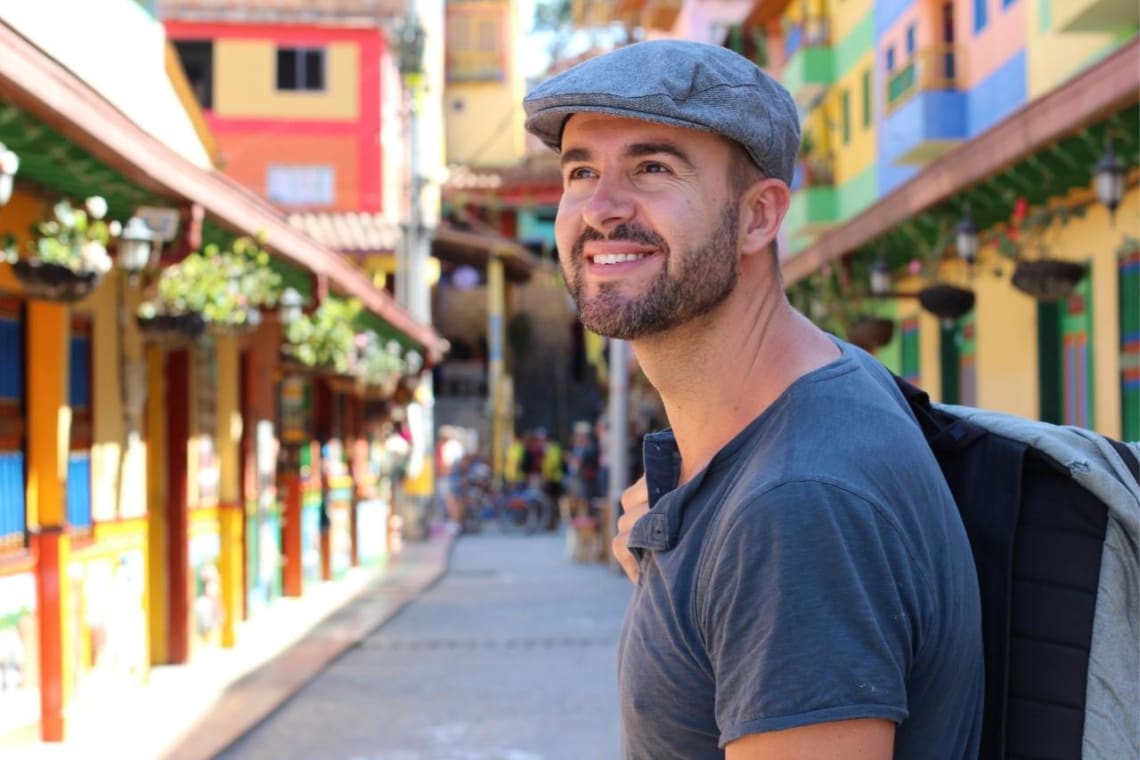 How to travel on a budget travel while backpacking in Colombia
Colombia is high up there when it comes to budget travel destinations. Medellin has been seen on multiple lists of cheapest places to live for digital nomads.
Eat local street food (as opposed to high end fancy "gringo" restaurants)

Go grocery shopping and cook food often

Bring a filtered water bottle

Try not to pay with card often (due to foreign exchange fees)

Take uber and save the breath of negotiating with a taxi driver

Travel during the off season to save money on airfare and excursion prices

These are just a few select options and ways to save money when backpacking Colombia but it's up to the traveler to travel with the right budgeting mindset.

Backpacking in Colombia: Accommodation
Colombia has some of the cheapest (and best) accommodation in the world, at least in my opinion.
There are 5 star resorts in almost every beach area, but the country also has some pretty radical hostels.
Hostel accomodation in Colombia is quite affordable and there are some close to luxury options. The best place to look for budget hostel accomodation in Colombia (and worldwide) is a website called Hostelworld.com. Some rooms call as cheap as $6USD per night and they're not too shabby either!

There are many travelers that visit Colombia and wish to stay for the full duration of their visa. Traveling abroad for long periods of time can rack up quite a bit of funds, especially if the individual has no remote job or is not a digital nomad.
One of the best ways to save money on accommodation is to volunteer with Worldpackers.
The idea is simple: a traveler will volunteer their skills in exchange for accommodation. The platform has a wide range of tradable skills including: social media management, website design, house cleaning, reception work, and agriculture.
Worldpackers is not only a great way to save money, it's also an amazing cultural exchange. By volunteering, a traveler gets a chance to dive deeper into the destination's culture and get authentic off the beaten path memories.
Worldpackers opportunities in Colombia
Planning a backpacking trip to Colombia and you're on a budget? Check out these amazing Worldpackers work exchange opportunities that offer accommodation in return for a couple of hours per week.
Whether your expertise is social media management, web design, reception, house cleaning, teaching a language, or gardening, there is an opportunity for everyone: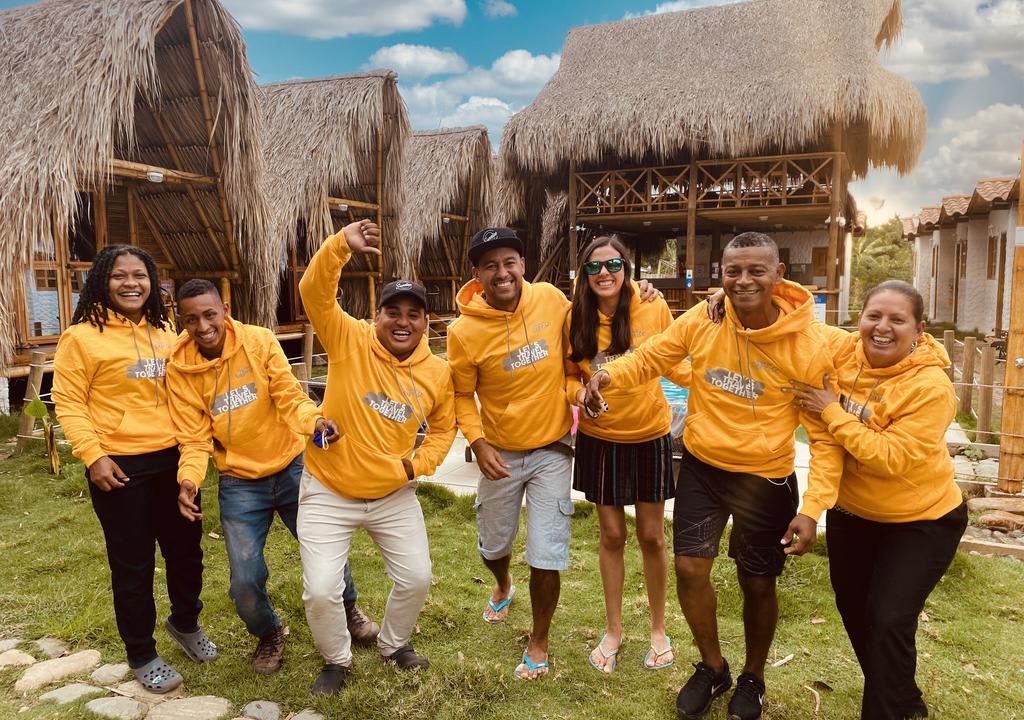 Backpacking in Colombia: When to visit
The weather in Colombia is generally beautiful all year long, but certain months receive more rainfall than others.
September through October are considered the "rainy season" months, however airfare and excursions prices may be a bit cheaper during this time due to the weather.
The dry season falls in between December to March but is also unfortunately the high season making it the most expensive time to visit. During these months, flight prices sky rocket and tourism, including accommodation and activities, may be pricier. If it's chosen to visit during the high season, it will still be enjoyed regardless of heightened prices due to the beautiful dry weather.
The most affordable time to go backpacking in Colombia is about just when summer ends (August), and just before the high season begins (December). It may be cheaper to travel during this time but it clashes with rainy season so be sure to bring a rain jacket.
For more money saving tips regarding airfare, it is better to book a flight on the weekday and use an incognito browser.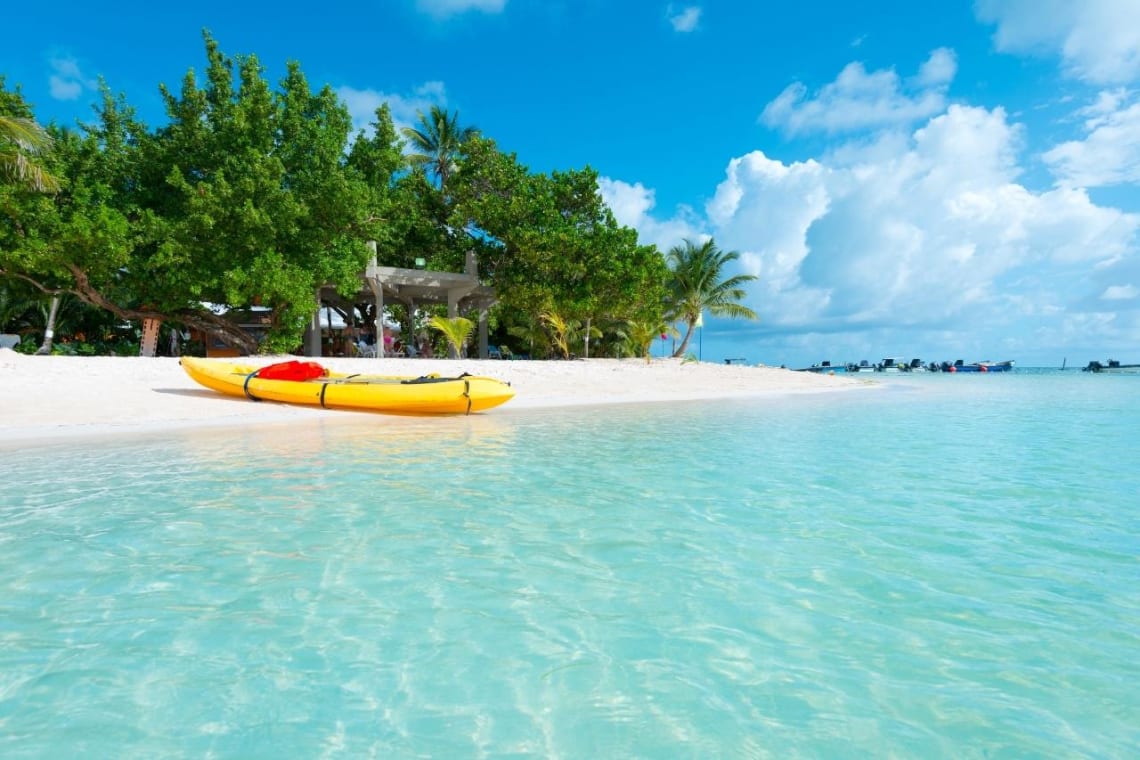 What to pack for backpacking in Colombia
Colombia is a country that is mostly warm and tropical, especially on the Caribbean side.
An ideal backpacking guide may look close to what a person would bring to the Caribbean islands or Southeast Asia. As the country is so big, a person is most likely going to be moving around a lot to explore the land.
When constant travel is occurring, it's best to travel as minimalist as possible. The less luggage is the less stress of having to lug around a big heavy bag all the time. I personally love to bring my 40 L Osprey backpack. I've had it for about 3 years and it has followed me to 3 continents.
Traveling light has allowed me to enjoy the destination fully and not depend on too many items. If you're still in doubt about what to bring, here are a few things I would throw in my bag while backpacking Colombia.
Sunscreen: The Colombian sun is hot, don't catch a sunburn!

Mosquito spray: Bugs as well as spreadable mosquito diseases are rampant in many tropical countries. It's best to pack a spray and stay safe.

Hiking shoes: There are lots of beautiful hikes and forests to explore.

Fanny pack or Money belt: I bring my fanny pack with me everywhere, even Europe! It's an easy and accessible way to store money/small electronics as well as very safe.

Portable charger: Having a dead phone on the road prevents you from taking stunning IG pictures.

Packing cubes: I am in love with these. As a person that travels often and for long periods of time, they truly help me to stay organized when I'm hostel jumping every three days.

Rain Jacket/Umbrella

Light Jacket: Not everywhere in Colombia has the same weather. For example, Cartagena is beach, Caribbean like weather whereas Medellin can be a bit cool during the nighttime.

Yellow Fever Vaccine: Colombia is one of the countries that requires a yellow fever card so it necessary to pack this along for your trip

FIltered water bottle: The tap water in Colombia is generally not too safe so its better to bring a water bottle with a filter and save money instead of constantly buying bott.es

Quality Day pack: A day pack is a backpack to bring along during daytime adventures. It's best to invest in a good quality one so it does not rip and tear throughout the years.

This short list is simply a starter guide of what to bring when backpacking Colombia. Each person is different and may have additional add ons or things from the list they may choose to exclude.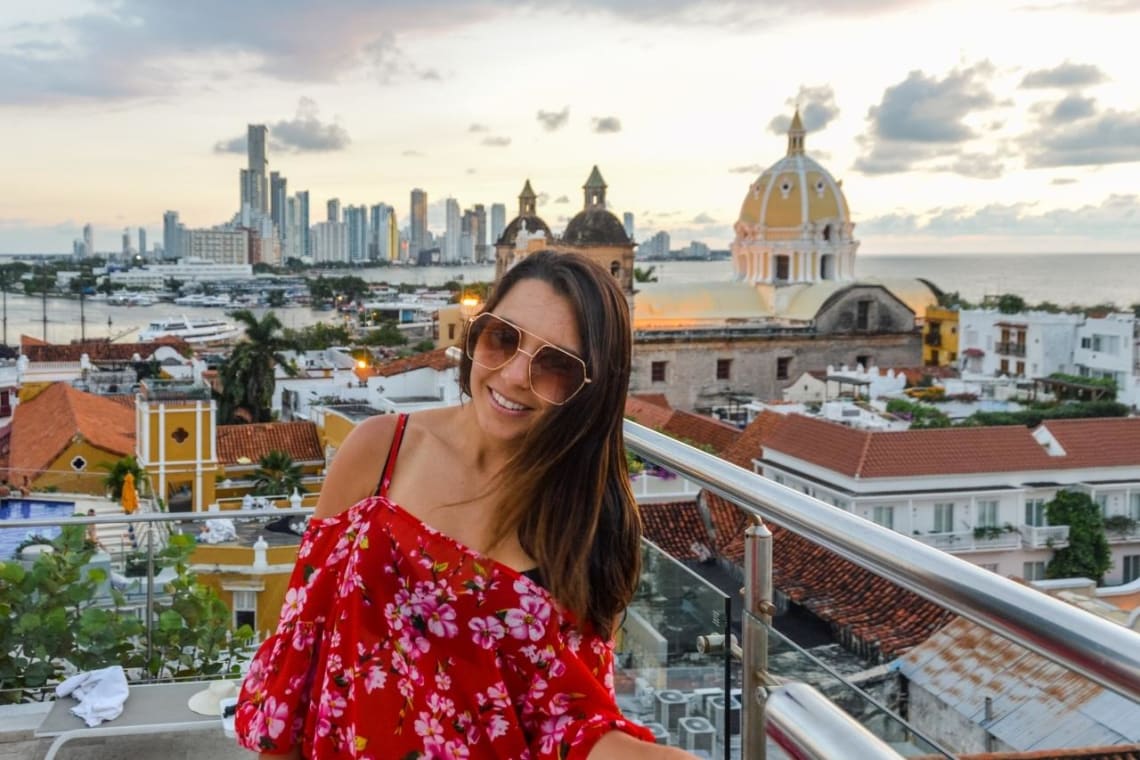 Delicious street foods to try while backpacking in Colombia
Latin America (and the Caribbean) has some of the best food on this side of the hemisphere, don't fight me on this. From perfectly fried plantain, to fresh tropical fruit, Latin countries have a lot to offer.
Even though most of South America shares Spanish as a common language, the name of some dishes may vary.
For example, smashed fried unripe plantains are called "tostones" in Mexico, however are recognized by the name of "patacones" in Colombia and Costa Rica.
Here are some absolutely must try mouthwatering dishes to indulge in while backpacking Colombia.
Churros
Although they started off in Spain, Colombia has its own unique twist on them. They're typically sprinkled with a cinnamon sugar mix and eaten alone making one of the best Colombian desserts.
Arepas
Quite literally a sandwich made of ground maize dough, filled with different ingredients such as cheese, beans, avocado and meat. They're so much more tasty when ordered from a local street vendor.
Casabe
Made from yucca belonging to indigenous culture: Native Americans in the USA have a 'fry bread' and Casabe could be considered the South American equivalent.
Empanadas
One of my favorite Latin American snacks is empanadas. In Costa Rica I always ate the bean stuffed ones because I am a traveling vegan. In Colombia, they're typically filled with potatoes, chicken, or beef.
Buñuelos
Chewy, delicious deep fried cheese balls. I LOVE these things. Or I used to love them before I went vegan. My Jamaican dad had a friend from Colombia and every Saturday morning, he would come to me and serve them for breakfast. They're a delicious treat that can be served with chocolate sauce or by itself.
Almojabana
These are popular for breakfast and consist of milk, eggs, cottage cheese, and cornmeal.
Salchipapa
Basically french fries and hot dog bits! You may be able to find this on many street food stalls as they're loved by many and extremely delicious. They're typically topped with ketchup and a special creamy Colombian sauce.
Tamales
Many Latin American countries have tamales, but with a different flair. Typically dough (made from corn), filled with meat and wrapped in banana leaves. These little snacks are a true delight and must be tried when in Colombia.
Jugos Frescos
Directly translating to fresh juices, this is one of my favorite indulgence in tropical countries! Whether you're crafting fresh coconut water, watermelon, passion fruit, or soursop (guanabana) Colombia has it all.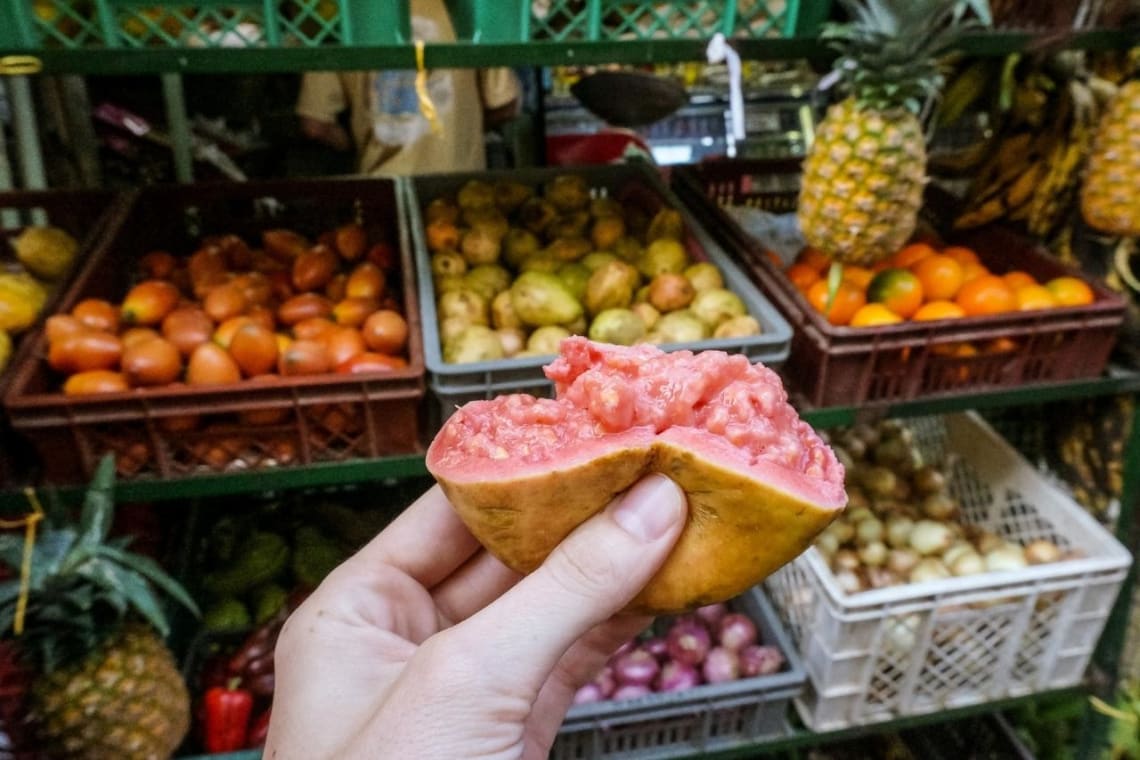 Want to learn more about planning your trip? By subscribing to the WP pack plan you have unlimited access to +120 courses at Worldpackers Academy, the travel school made by travelers!