How to find cheap flights to anywhere: everything you need to know about low-cost airlines
How to make sure low-cost airlines are really worth it? This article explains the main rules you need to know to find cheap flights to anywhere.
5min
When it comes to traveling on a low budget, we can find several tips or tricks on the internet to find cheap flights to anywhere and save money. You can even purchase flights for $20 or less with some low-cost airlines, such as Ryanair or Spirit.
But what does "low fare flights" really mean? What is included? How can I find cheap airfare anytime of the year and make sure I will not have any surprise charges during my trip?
Low-cost airlines: make sure your cheap flight is worth it
Before downloading cheap flight trackers and purchasing tickets to anywhere, it's important to be aware of some main rules low-cost airlines have. For example, most of them don't allow checked baggage or cover meals during the flights. If you want these extras, you must pay a separate extra fee.
In this case, always remember to check the following policies and make sure it will suit your needs:
1. Luggage: Mostly all low-cost tickets will only provide one personal item for your travel. The size is variable according to each company (you can check the specific measures for each airline below).
If you are always traveling with backpacks it's important to be aware and check the right size for personal items, because some companies might be very strict about it. You can always purchase extra luggage online or at the airport if you need it.
2. Changing flights and cancellation policy: Another important thing to consider when buying your ticket is the policy for cancellations, flight delays, and changes on your reservation. Some airlines won't cover any extra costs you might have if your flight is canceled.
This way, I recommend airfare for those who choose to travel with only backpacks or close distances. Just remember to verify the measures of your bag to make sure it fits the airline policy.
Check above what's included with your flight ticket for some of the most famous low-cost airlines in the USA and Europe: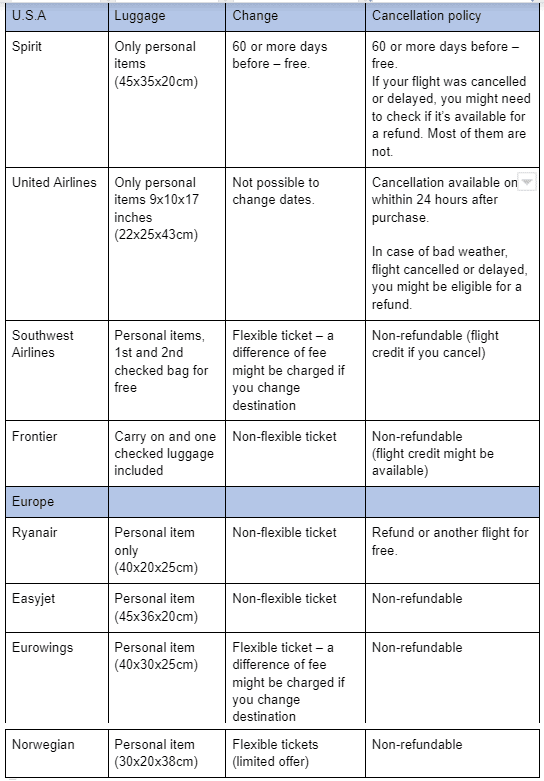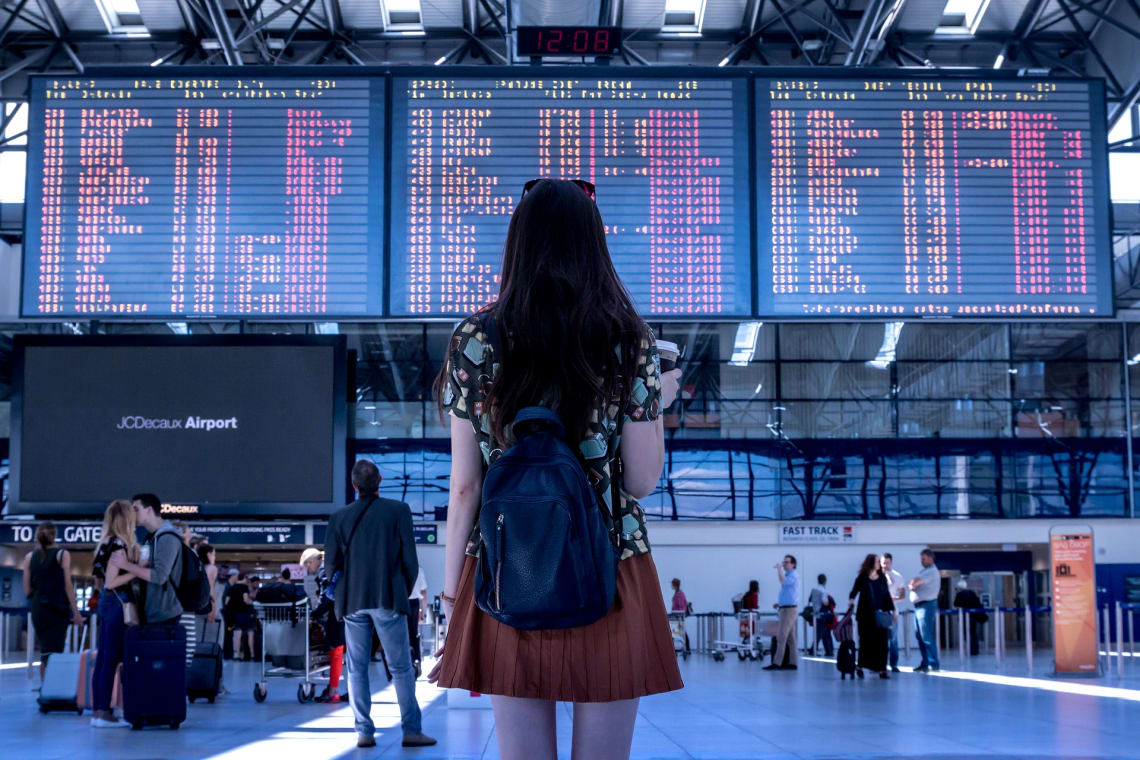 How to find cheap flights to anywhere: best travel sites and apps
Even though low-cost airlines usually are way cheaper than the others, you still can find variable prices. You google flights from Miami to NYC and it is $40. You decided to wait a little bit more and, suddenly, it's $80.
Therefore, to avoid this from happening, a few tips might help:
1. Flight trackers
Very easy to use. It's up to you to download it on your phone or use the website, but I totally recommend downloading, because then, you can just check the notifications.
Basically, you have to choose where you want to go, the date (you can select a month if you are not sure yet, or if you are flexible) and then, set warnings.
These apps will keep tracking the prices and let you know the predictions. Whether prices go cheaper or rise up, you will be notified to make your decisions based on their predictions.
The most famous flight trackers are: Skyscanner, Hopper, trip.com and Kayak.
2. Private browsing mode
Remember to keep your browser in private mode when you're researching your flights. It will reset your cookies every time, this way the website can't track you.
It's common to see prices more expensive after a few searches if you do not use private mode. That's their strategy to scare you and buy it soon.
3. Google Flights
You can fly anywhere with Google Flights. Just select the month and watch the map to see which place has the best price. As some people might say: if you don't know where to go, anywhere is good. What about backpacking in the Caribbean? Or exploring Barcelona on a budget? You'll also love these places to visit in Mexico! Check it out!
On Google Flights you can check which destination has the best price and also, which airline provides it.
Don't forget to check if that destination has a volunteer option with Worldpackers, this way you can not only save on your transportation but also on your accommodation and still enjoy an amazing experience by being a volunteer.
If you want to know more about Worldpackers, don't miss out: Traveling with Worldpackers: your top questions answered and How to volunteer abroad using Worldpackers.
4. Travel on weekdays and avoid peak season
I know, not everybody has the option to avoid peak seasons, but if you are one of the lucky ones, enjoy it.
Traveling during off-peak is an excellent way to save money and maybe, even one of the best ways. You can either choose to go to the beach during the winter or to a cold place during the summer. As these places are not so attractive during certain seasons, you can find amazing offers and still enjoy it less crowded.
5. Join rewards programs
We all spend money during our daily routine, right? But what if you could be rewarded for it with miles? That's what some credit cards and even some airlines do! You can apply for their credit card and for each dollar spent you are rewarded with miles which you can exchange for flights.
Spirit, for example, has its club, so if you're a frequent traveler you can earn points on every purchase and exchange it for flights.
Some of these credit cards don't have fees and you can always invite friends to also earn points. Credit cards always demand good self-control, but if you're used to it, they might be an excellent option to convert your daily expenses into flights.
The most famous credit cards with these options are:
Discover miles
Delta Skymiles (Amex)
Capital One venture
Chase Sapphire reserve
It might take a while for you to collect enough points and exchange your miles for a good flight. Therefore, keep in mind that the cards that reward the most are the ones that charge some annual fee. Sometimes it might be worth it.
Do you want more tips? Check this out! How to travel for cheap? 8 ways to see the world with less money.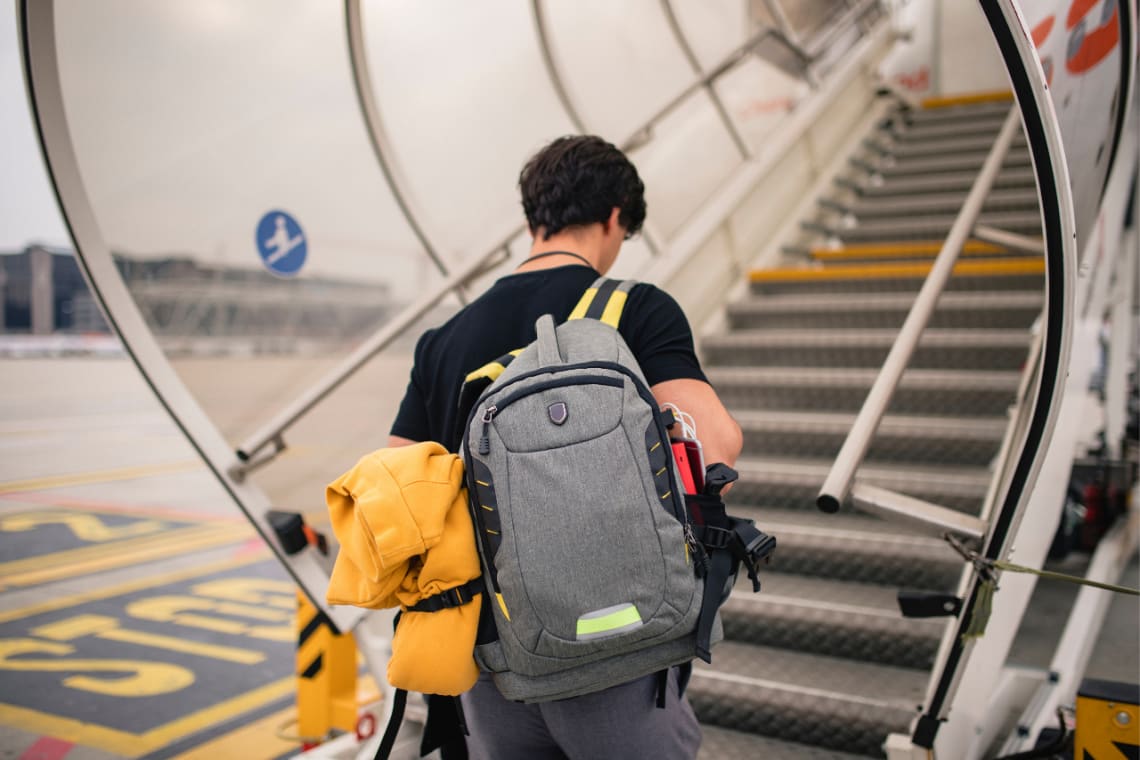 Cheap flights to anywhere: pack your things and let's go
After all of these tips, I do hope you can find cheap flights to anywhere and anytime!
Remember that low-cost companies will not always offer the best options. That's why it's very important to do a lot of research and be aware of their policies. If you are traveling with lots of luggage, it might be worth it to pay a little more and not be charged extra fees later.
By volunteering with Worldpackers, you will connect with lots of travelers from all over the world and learn the best ways to save money while traveling.
From farms and NGOs in rural villages to hostels in top tourist destinations, there's a huge variety of volunteering opportunities all over the world.
Pack your things! I'll see you around.
You can find more tips on cheap places to visit on: Inexpensive vacation ideas around the world