How to travel on a budget: travelers' tips and hacks
The number one inhibitor of travel is money, but that shouldn't be the case! Find out how to travel on a budget and have incredible international experiences without putting a huge dent in your wallet.
13min
Traveling on a budget does not have to be a cheap experience.
Alternatively, traveling abroad while spending your hard-earned money wisely is a rewarding and relatively easy thing to do.
Don't believe me? Find out how to travel on a budget with these top 10 money-saving travel hacks. I'll cover everything from how to find cheap airfare anytime of year to how to do a work exchange in the best places to travel abroad on a budget.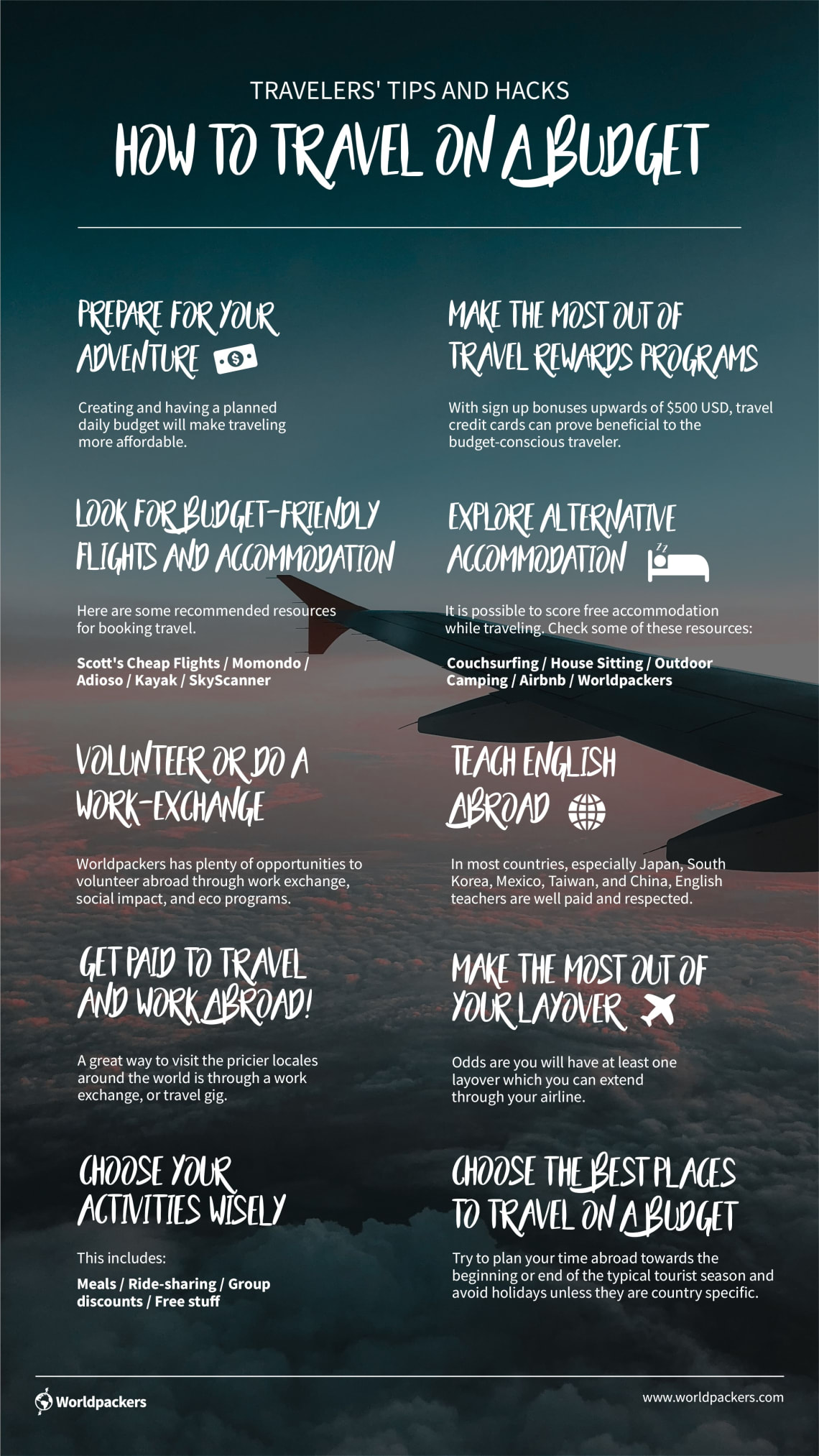 How to travel on a budget: travelers' tips and hacks
1. Prepare for your adventure: budgeting 101
You know how your parents, your college advisor, and your bank always told you to budget? That's because it really does help in the management of your money!
Creating and having a planned daily budget will make traveling more affordable and ease any worries you may have about over-spending.
When I traveled abroad for the first time, to Costa Rica in high school, I needed to save the money I made babysitting, and create a "I'll pay you back" plan with my parents. Although annoying, it worked, and by the time the trip rolled around I had money for trip costs plus souvenirs.
A useful tool that can help you plan your expenditure is a budget calculator. This specific calculator actually helps you save for the specific country you're interested in traveling to.
Being country specific is wise as you'll want to factor in exchange rates. In addition to the above budget calculator, you can use XE Currency or download the App version to determine exchange rates.
Travel budget tools such as TrialWallet can also set you on the right track for the experience you want to have abroad. Apps like this also track accommodation, entertainment, and transportation costs as you go!
Make sure to have some emergency cash on hand for those unexpected rental car break-downs and round of drinks for your new-found friends at the pub. You will also want to bring backup payment methods (credit and debit cards). Make sure to inform your bank(s) prior to traveling with your debit and credit cards, to avoid them flagging your purchases as fraudulent charges.
Don't miss out: Adventure planning: the best guide for your backpacking trip.
Preparation is everything when it comes to traveling the world on a budget!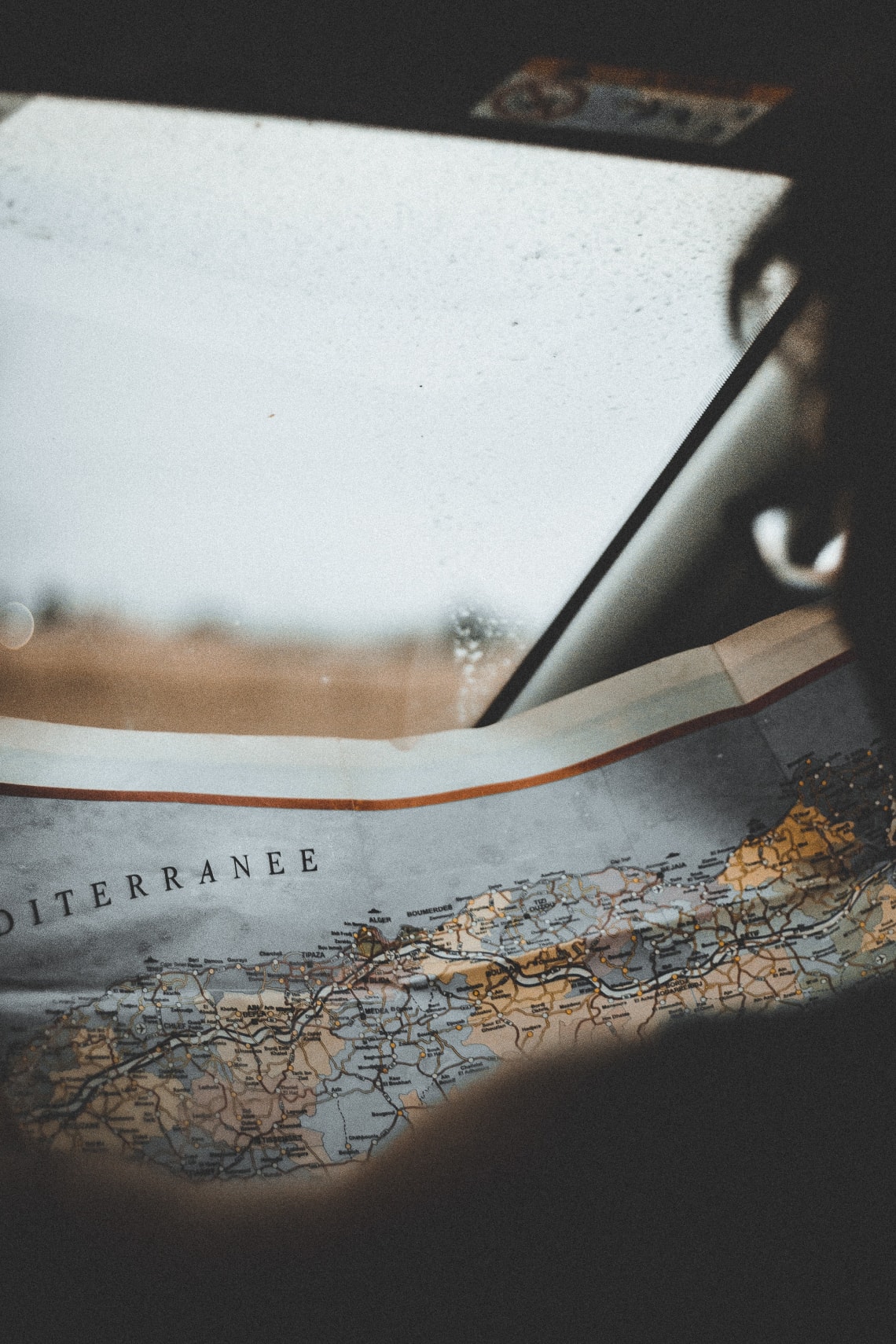 2. Make the most out of travel rewards programs
What's the one thing better than traveling? Getting rewarded for it.
If you travel frequently, whether for work or pleasure, it is worth looking into travel rewards programs.
With sign up bonuses upwards of $500 USD, travel credit cards can prove beneficial to the budget-conscious traveler. You can continue to receive points for purchases you make that can be redeemed for flights, car rentals, and accommodation. Check out Chase Sapphire Preferred, Capital One Venture Miles, and Citi ThankYou Premier cards for some pretty sweet deals (just make sure you can pay it off each month to avoid interest charges).
3. Know where to look for budget-friendly flights and accommodation
The cost of airfare is probably the biggest expense you'll incur.
Being flexible in your destination will help you stay within your budget constraints. Even having a few options gives you a lot of leverage. Also — delete your cookies! Not the delicious chocolate chip kind, the kind airlines and booking sites use to jack up the fares you see when searching for flights.
Here are some recommended resources for booking travel. They often have great deals because airlines need to fill empty seats last minute.
• Scott's Cheap Flights – Getting an email every day can be annoying, unless it updates you on the cheapest flights found on the internet based on your location! With Scott's it's easy to find a flight. If only we had more time off work...
• Momondo – In this day and age, it's hard to tell if you're really getting the most for your money. Momondo does not use cookies to increase or alter fares based on your previous searches, which happens more than any of us like to admit.
• Adioso – Incredibly easy to use, this is the site for those with a flexible itinerary. You can be as broad as you want with your search (i.e. Los Angeles to Anywhere sometime in July for two weeks). Then sit back and relax as Adioso finds the best deals for you!
• Kayak – You've probably heard of this one, but did you know you can add "anywhere" as a destination filter? Even if you already know where you want to go, it's fun to play around with!
• SkyScanner – Check out this site for really great deals, as they work directly with the airlines and third parties to find exclusive deals. They also have a pretty cool map feature in case you want to do some further exploring.
Apps like Hopper and Fareness are also great resources you can take advantage of to find the best value flights. Keep in mind that cutting cost in some cases means longer layovers, additional connections, and increased travel time.
Wondering how to travel Europe on a budget? Thinking of checking out the stunning landscapes of New Zealand?
Whether a quick trip across the pond or a long journey to the other side of the world, it's smart to track fares prior to purchasing. The apps mentioned above can help you identify the perfect time to buy, usually two to three months in advance of your trip.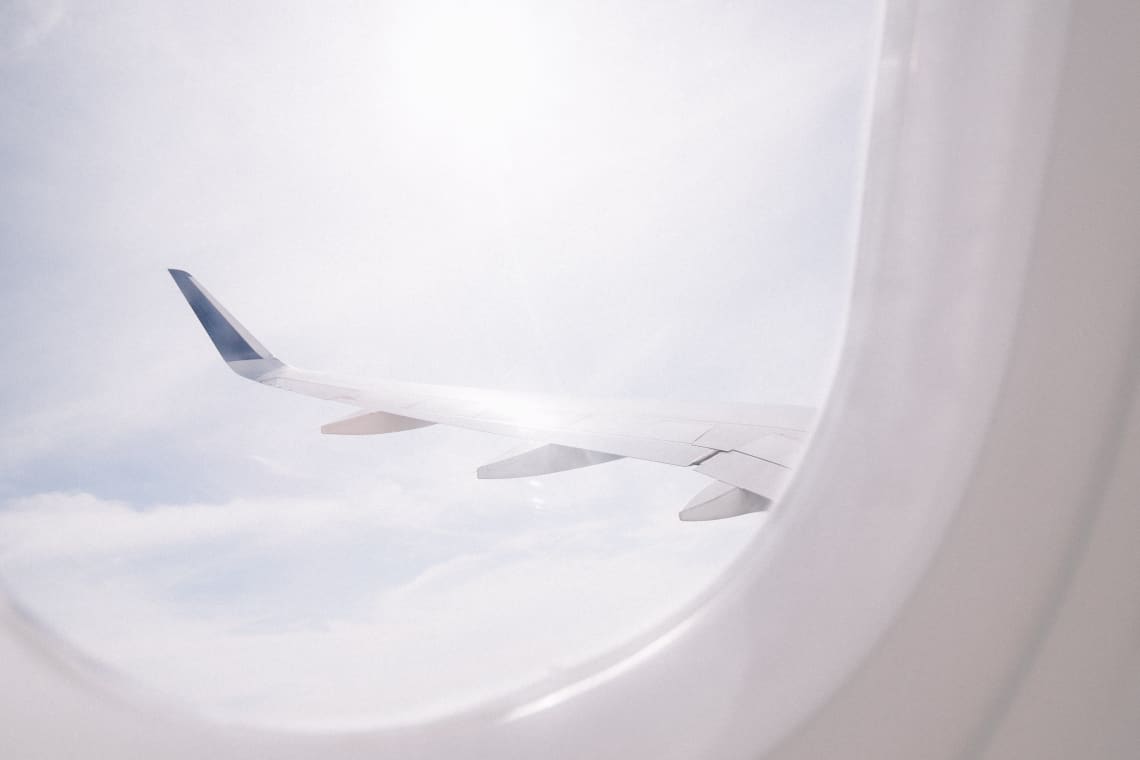 4. Explore alternative accommodation
Is it possible to score free accommodation while traveling internationally?
In short, yes, it is, and the following options are just a few of many ways to help you travel abroad on a budget. However, you'll need to do a bit of preparation and expect a somewhat unorthodox international experience.
Couchsurfing
Couchsurfing is a budget-friendly way to travel used by thousands of travelers around the world. Residents of the community abroad, or hosts, are willing to accept travelers as guests and offer a couch, bed, or even an extra room at no cost, regardless of their nationality.
Couchsurfing is dedicated to connecting locals and travelers for the sole purpose of fostering cultural exchange and mutual respect.
The local residents who welcome couch-surfers are usually open-minded and eager to interact with the world around them. You should bear in mind that you may not always get world-class accommodation, but it's usually an enriching experience for both the surfers and the hosts.
Visit Couchsurfing to create a profile, making sure to make it friendly and accurate. Then, search the cities you're traveling to and find a potential host! Reach out to them with a nice message and include why you want to travel to their hometown. You really can't beat free when trying to travel on a budget!
House Sitting
TrustedHousesitters is another fun and affordable way to secure free accommodation. You will be volunteering to watch someone's house, pets, and/or plants in exchange for a roof over your adventure-seeking head.
Some other websites to look for house sitting jobs include Mind My House and HouseCarers. You may need to pay an annual fee to be able to contact the homeowners, but that can be worked into your travel-friendly budget!
Outdoor Camping
Looking to live the outdoor lifestyle and save some moola? Especially if traveling to more temperate climates, consider camping!
You can secure a campsite using resources like FreeCampsites. Here are some things to take note of if going this route:
• Pack accordingly! Make sure you bring the following: tent, sleeping bag, air mattress or sleeping pad, water filtration system and flashlight.
• Local laws pertaining to fires, trespassing, and acceptable campsite behavior vary, so do some research before you go.
• "Take only memories, leave only footprints" — keep your campsite pristine so others can enjoy it in the future. You wouldn't want someone to come and trash your backyard!
Airbnb
Airbnb has really blown up the past couple of years, but it's still a great way to save a few dollars and get more of an authentic experience.
I now solely use Airbnb when I travel if I can. In addition to being a great way to travel on a budget, you'll get recommendations from your hosts and tips that will most likely save you even more money.
When staying at an Airbnb recently in Napa, California I even scored a bottle of wine upon arrival!
See the world the Worldpackers way
Worldpackers abounds in ways to travel abroad on a budget!
Travel in exchange for things you already do and are good at. Added bonus: you'll be actively and responsibly giving back to the community you are traveling to — all while saving money!
In addition to making travel easily affordable and sustainable, Worldpackers hosts offer you a chance to become part of the local community and make friendships that will last a lifetime!
To learn more about using Worldpackers to travel the world on a budget, check out the Broke Backpacker's firsthand account of what it's like to travel with Worldpackers!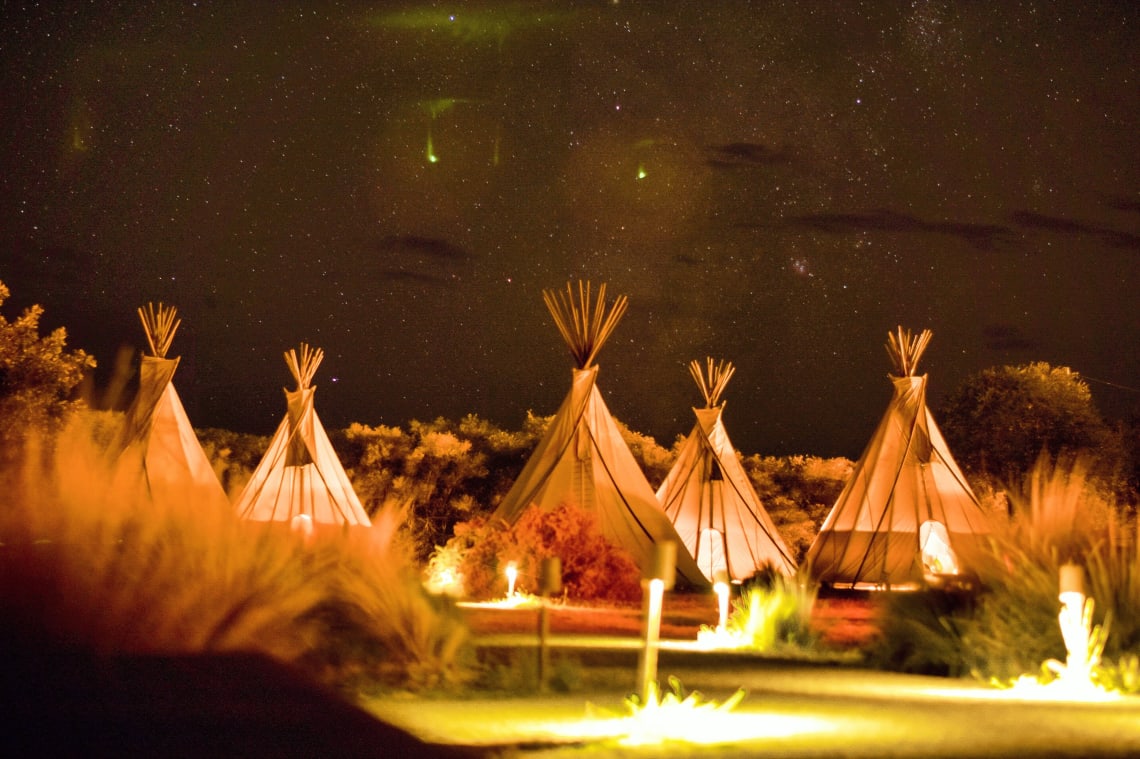 5. Volunteer or do a work-exchange
Do you enjoy giving back to your community? Why not try volunteering on the international stage?
I've found that doing community service abroad is one of the most rewarding ways to travel on a budget.
As mentioned above, Worldpackers has plenty of opportunities to volunteer abroad through social impact programs. A few weeks from now you could be instructing kids in playing football at an NGO in Togo or lending a helping hand at a wildlife sanctuary in Borneo!
And don't forget about Worldpackers work exchange programs! Discover Bangkok while being a front desk receptionist at a local hostel or develop a social media plan for a guest house in Jamaica. These are both examples of incredible work exchange programs with Worldpackers.
There are many other volunteer abroad organizations out there, but you'll want to make sure they are reputable. Read reviews from past participants and make sure you're getting enough bang for your buck if they charge a fee.
Your goal is to travel the world on a budget and at the same time offer your skills to a community that would find them useful.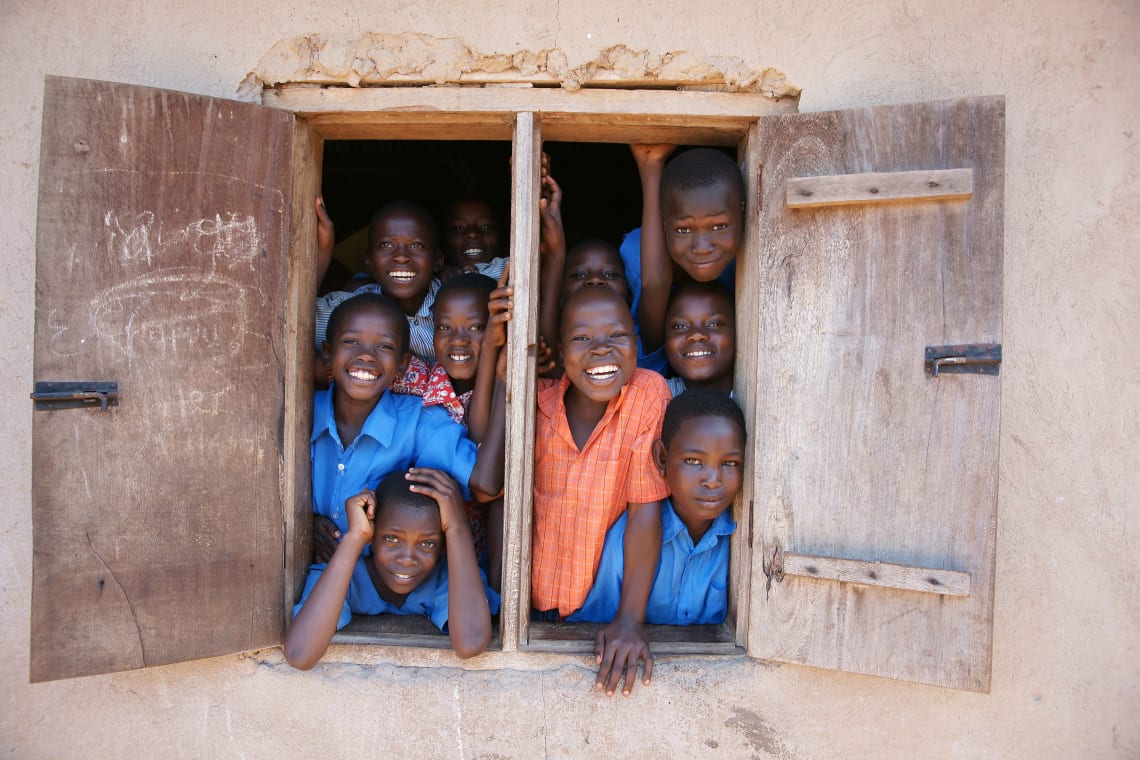 6. Teach English abroad
Another way to travel sustainably on a budget is to teach abroad. Even if you don't have extensive teaching experience, being a native English speaker is a huge plus in classrooms around the world. You could also use your English proficiency to be a private tutor or translator.
In most countries, especially Japan, South Korea, Mexico, Taiwan, and China, English teachers are well paid and respected. Some schools will require you to have a TESOL (Teaching English to Speakers of Other Languages or CELTA (Certificate in Teaching English to Adults), but others only require a bachelor's degree in any field of study.
When I taught for a year in the Dominican Republic, I was offered a lower grade level to instruct as I did not have prior teaching experience. The school at which I taught hired me because I did not know much Spanish, which forced the students to learn English at a faster pace.
I ended up learning Spanish quite quickly and I'd highly recommend at least having basic knowledge of the native language(s) to facilitate learning, however it is not as much of a barrier in the lower grades.
TEFL (Teaching English as a Foreign Language) offers some awesome certification programs abroad where you learn the local language, the best practices for teaching English as a foreign language, and are guaranteed placement at a school. If you sign up for this type of journey abroad, they'll also assist you with the work visas and documents you'll need.
Teaching abroad is not limited to language instruction! If teaching English abroad doesn't interest you, check out the Worldpackers programs focused on teaching sports, life skills, and more to communities around the world.
I can tell you from my own experience that teaching abroad is another ideal way to travel the world on a budget. You'll often even get paid... which brings us to the next best way to travel on a budget!
7. Get paid to travel and work abroad!
Want to travel to Australia on a budget? What about Belgium? While these are some of the most expensive places to fly, stay, and travel around, it's possible! A great way to visit the pricier locales around the world is through a work exchange, or travel gig.
With a long experience in the travel industry, it's easy for me to say this. I've led student programs around the world, scoring free flights for chaperoning students and guiding trips in Vietnam, Morocco, the Dominican Republic, and throughout the U.S. However, there are other ways to travel abroad and not spend a dime.
In addition to the teaching jobs I've already mentioned, you could try being an Au Pair. Households around the world will pay for your visa, travel, and accommodation in exchange for childcare. There are many programs available, which you can check out on GoOverseas or GoAbroad, both reputable travel sites for travelers of all ages and nationalities.
Tourism and hospitality are also industries popular with international nomads. You may have already thought of scoring a job at a hotel or restaurant while abroad, but have you thought about a job aboard a cruise ship or yacht? What about as a bicycle guide or ski instructor? An eco-lodge or campsite assistant?
Think outside the box and you'll be pleasantly surprised at the opportunities out there. I've tried searching through sites like Coolworks (U.S.) and Get Up & Go Global, which match you with jobs in resorts and hotels around the world.
In this digital age, many digital nomad jobs now allow you to work remotely, from home, or wherever you happen to be! Why not take your job with you when you travel? Create a travel blog, or start documenting your travel journey and become a freelance writer! Just make sure you're going somewhere with access to WiFi...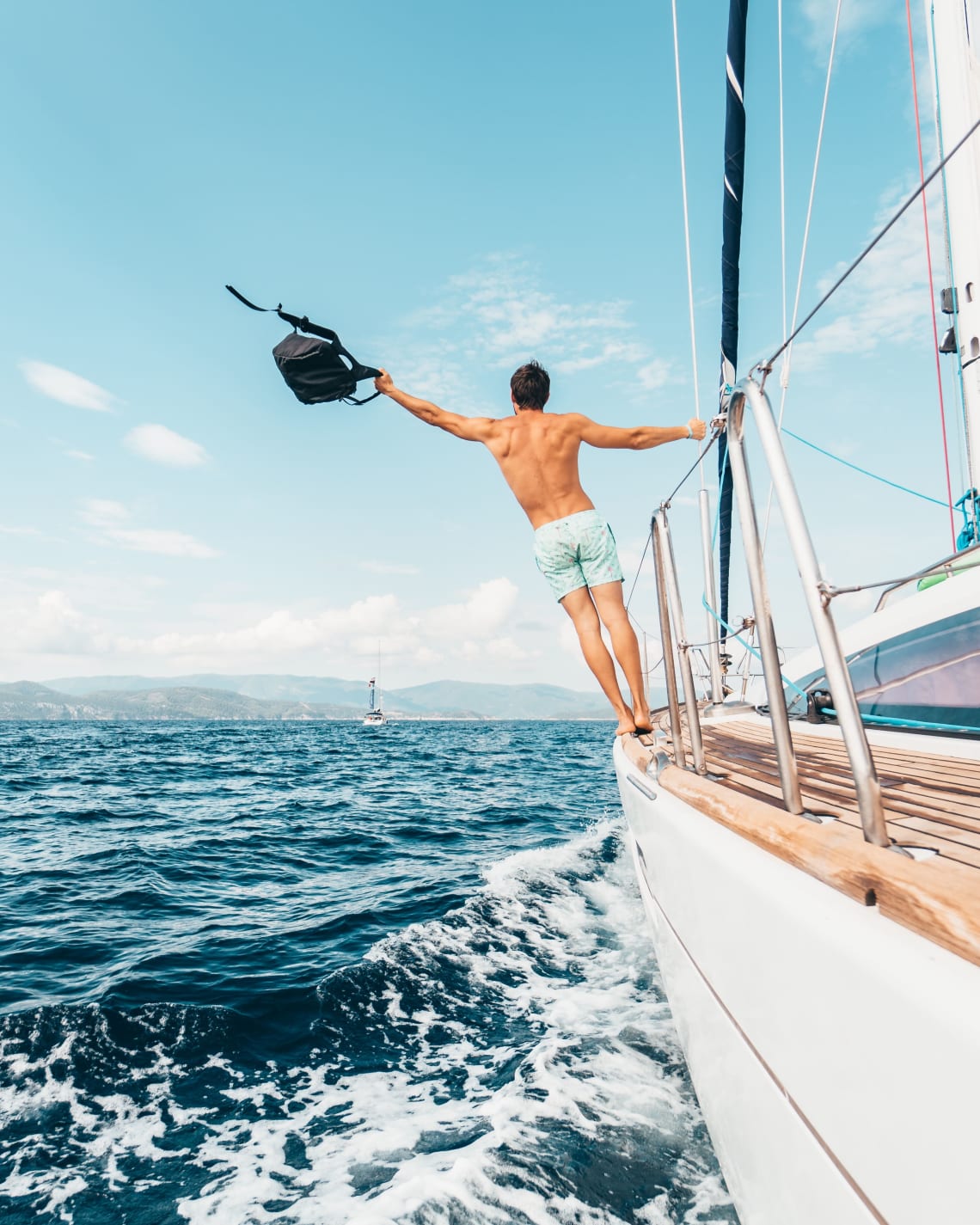 8. Make the most out of your layover
Want to get the most out of your travel budget? Book connecting flights and make the most of your long layover.
Odds are you will have at least one layover which you can extend through your airline.
Many airlines are partnering with countries they operate in to promote tourism. Airlines currently participating include Iceland Air, Thai Airways, Japan Airlines, Air Canada and United Arab Airlines.
Take in Iceland for up to seven nights at no additional cost (and even get a tour guide)! Schedule a stopover in Bangkok or explore Mt. Fuji during your extended layover in Tokyo. In Toronto, Montreal and Vancouver you'll secure a hotel for a fixed price of $49 USD/night if your layover is greater than six hours — say what?!
Last but far from least, United Arab Emirates offers their customers one night at a hotel, a visa, and transportation to and from the airport for only $62 USD! You'll need to purchase your flight(s) directly from these airlines, but any difference in price is well worth the customization.
9. Choose your activities wisely
Meals
Even when traveling in a budget-conscious way, sometimes things just add up. If you go out to eat for every meal, at around $10 USD per meal (and that's a very modest allowance), that's $210 per week.
Instead, find a grocery store, and pre-cook some of your meals. When out and about, opt for the food-cart or bring your own snacks.
Some hostels and hotels offer free or shared meals, especially breakfast. Take advantage! You'll be saving money for other activities, or a really great meal worth the extra cost.
Ride-sharing
Most locations now have ride-sharing services like Uber, Lyft, Grab, etc. Download these apps before you go!
You should also become familiar with how the locals get around, as this is most likely the most economic way to travel. It may not be easy at first, but you'll get the hang of it and be prouder for it!
Group discounts
You still want to experience the incredible activities you have access to when traveling, even when doing so on a budget.
Apps like Groupon are a great way to book awesome experiences for cheap(er). Airbnb also offers discounted activities in addition to accommodation.
Not really into booking through an app? Touch base with the hostel or hotel you're staying at and often they'll have group trips available that you can book independently. This is a great way to make your trip a bit more social as well!
Free stuff
Who doesn't love free stuff? Especially in good weather, there are often a plethora of activities that you can do at no cost.
Hiking, swimming, attending a local festival, walking around city parks, and exploring museums that don't have admission costs are great examples of activities you can do while traveling abroad on a budget.
Traveling to Japan with limited funds? Check out well-known temples and shrines for a small fee or the cherry blossoms for free! Traveling to Greece on a budget? Hit the beach to soak up some sun or join a free walking tour.
Many cities also offer discount cards or passes. Check the tourism sites of your destination to check out these deals. For example, New York City has a CitiPASS card that allows you to purchase admission to multiple attractions at a discounted rate.
Well worth the foresight! Students, Seniors, and Military members also often receive discounts world-wide. Make sure to bring appropriate identification.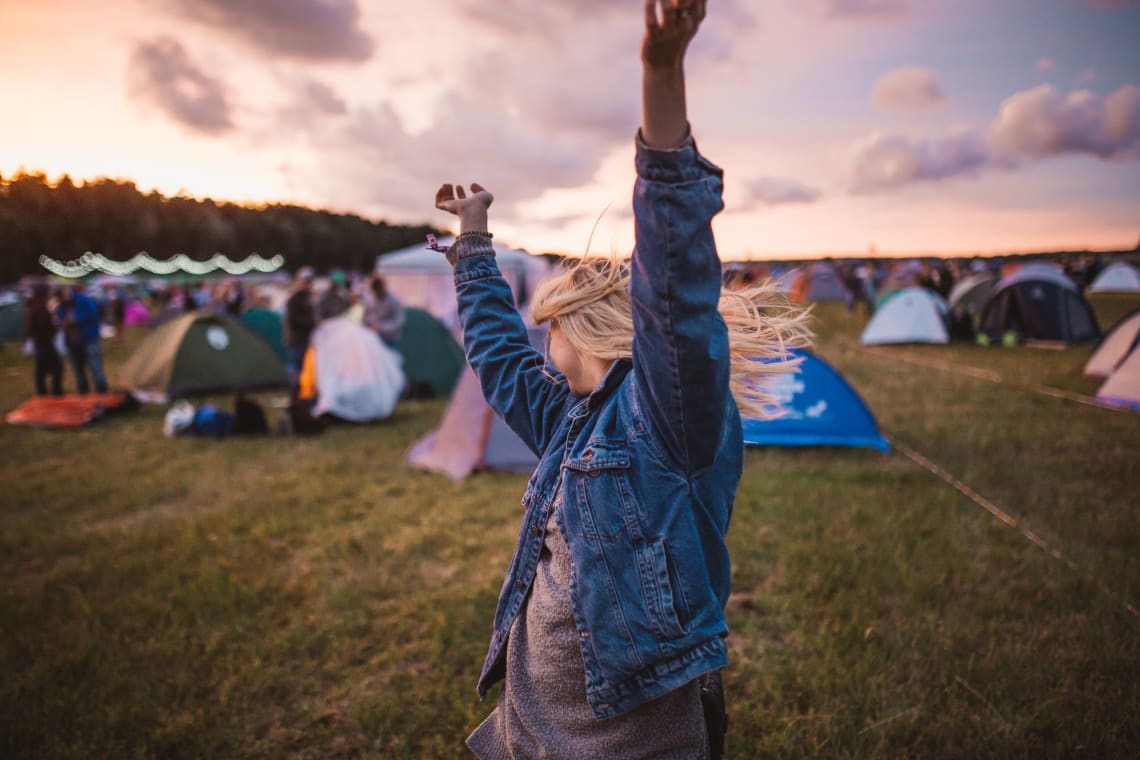 10. Choose the best places to travel on a budget
When traveling on a budget there are some areas of the world that will offer you more for your money.
Depending on where you are coming from, it's best to check currency exchange rates. Flights to Asia may be expensive, but once you're there you can secure accommodation for as little as $3 USD and meals for just a $1 USD.
You may be seeing an overwhelming number of cheap flights to Iceland, but once there you may be paying a lot for meals and a nice place to stay, let alone renting a car.
Timing also matters. Peak tourist seasons are not ideal for budget friendly travel.
Try to plan your time abroad towards the beginning or end of the typical tourist season and avoid holidays unless they are country specific.
Try flying from New York to the Dominican Republic around Christmas time and you'll see what I mean. As demand increases, average flight costs go from $300 USD to $600 or more. While you may face some less than desirable weather, you'll beat the crowds and won't break your bank.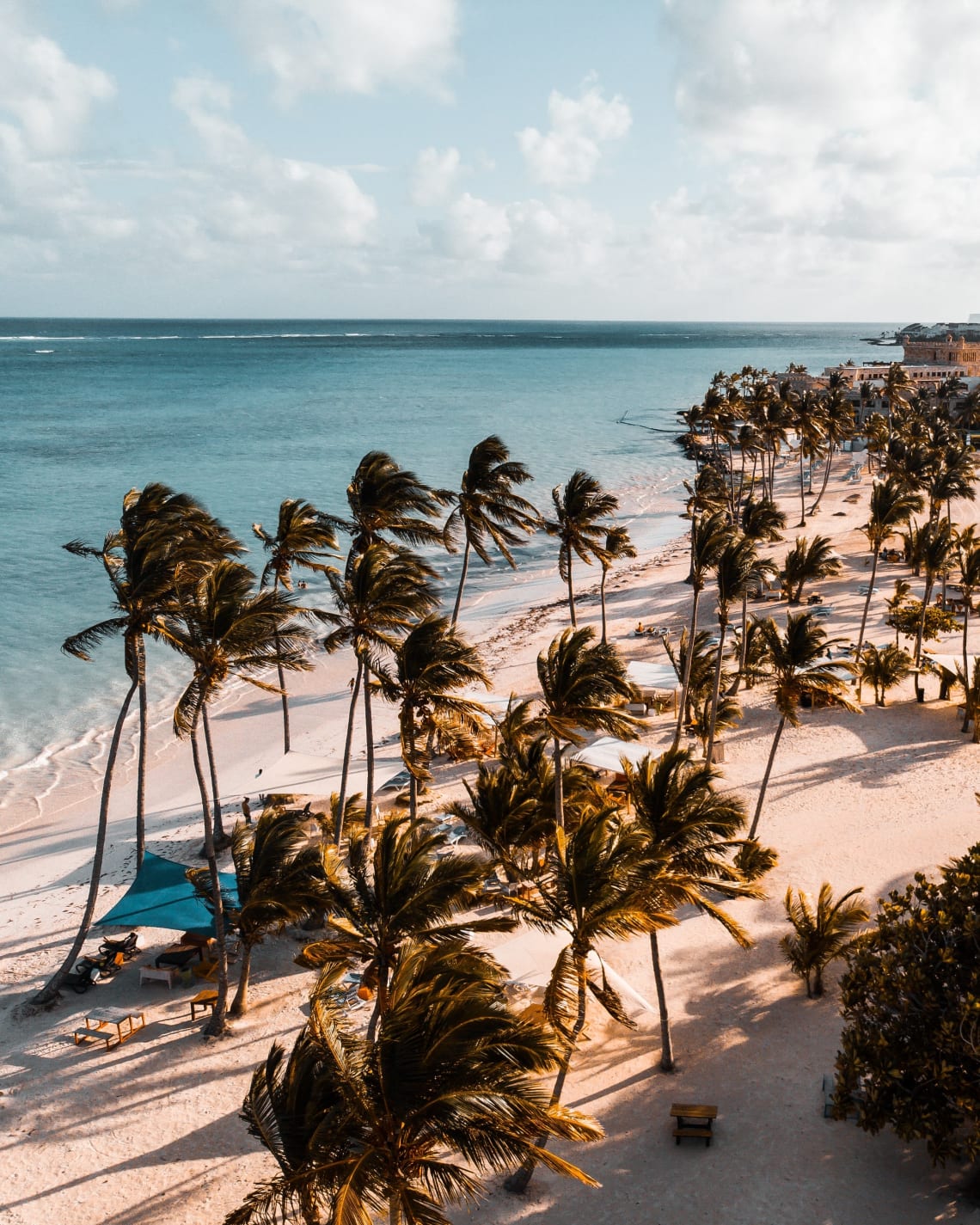 My final piece of advice — don't count out those destinations closest to you.
Growing up in Upstate New York, Canada was just a few short hour's drive north. However, I didn't consider exploring it until after I already had many international travel experiences. I was pleasantly surprised upon discovering the vibrant nightlife and tasty poutine of Montreal and the quaint cobblestone streets of Quebec City.
Travel does not have to leave you eating pasta every night of the week. With these money-saving travel hacks, you can travel on a budget and have incredible experiences!