Exploring Barcelona on a budget
Barcelona is one of Spain's most livable cities and one of the most exciting destinations in Europe. Learn everything you need to know to explore the Catalan capital on a budget.
14min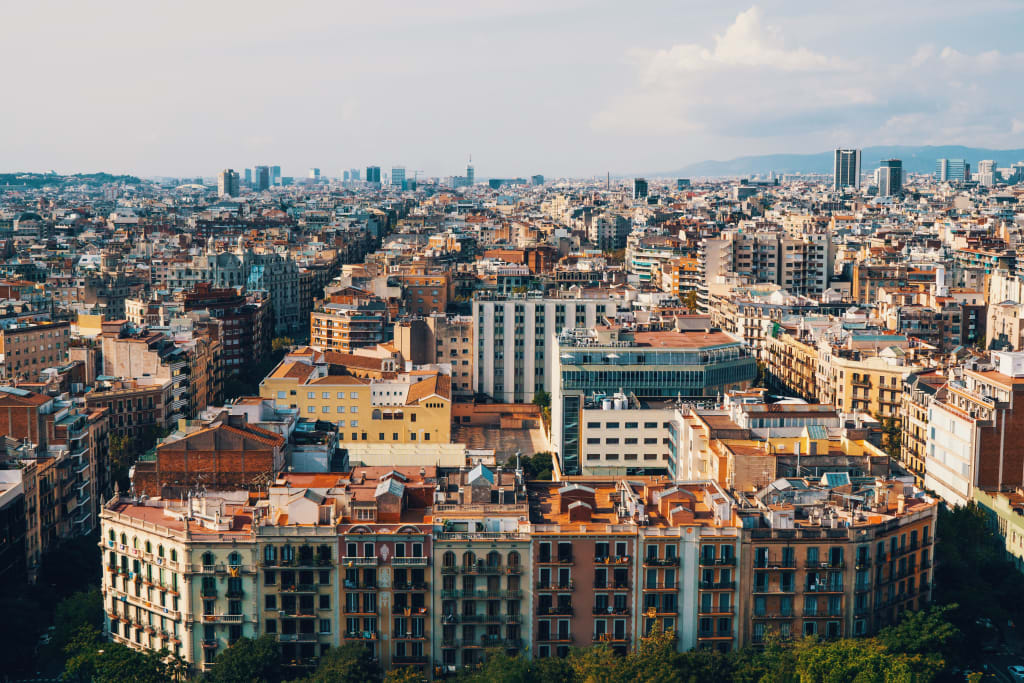 When you travel, some places — no matter how far away — feel like home. There's no logical reason why, it's simply chemistry. Places, like people, have their own personality and energy, and when traveling, it's inevitable that you'll feel more connected to some places than you do others.
There are some places that seem to have a universal chemistry — an energy that captivates everyone, regardless of individual preferences and personalities. These places have such a unique vibe and special spark that it's impossible not to feel welcomed and swept up in their magic. Barcelona is one of these places.
Located in the northeast of Spain on the Mediterranean Sea, quite close to the borders of Andorra and France. National Geographic named Barcelona "the best beach city in the world" — but the beach isn't all that makes this city magical!
Barcelona is both Gothic and Modernist, quirky and cosmopolitan. From its magnificent architecture to its nonstop energy and cool vibe, Barcelona is one of Spain's most livable cities and one of the most exciting destinations in Europe.
Barcelona is getting more and more popular every day. And it's pretty obvious why. The city is just... stunning. With every corner you turn, it almost seems that each street is more beautiful than the last. If you're planning an itinerary through Spain, you can't miss Barcelona.
My love for Barcelona goes deep, and that's why I decided to create this guide! Read on to discover everything you need to know to travel Barcelona on a budget.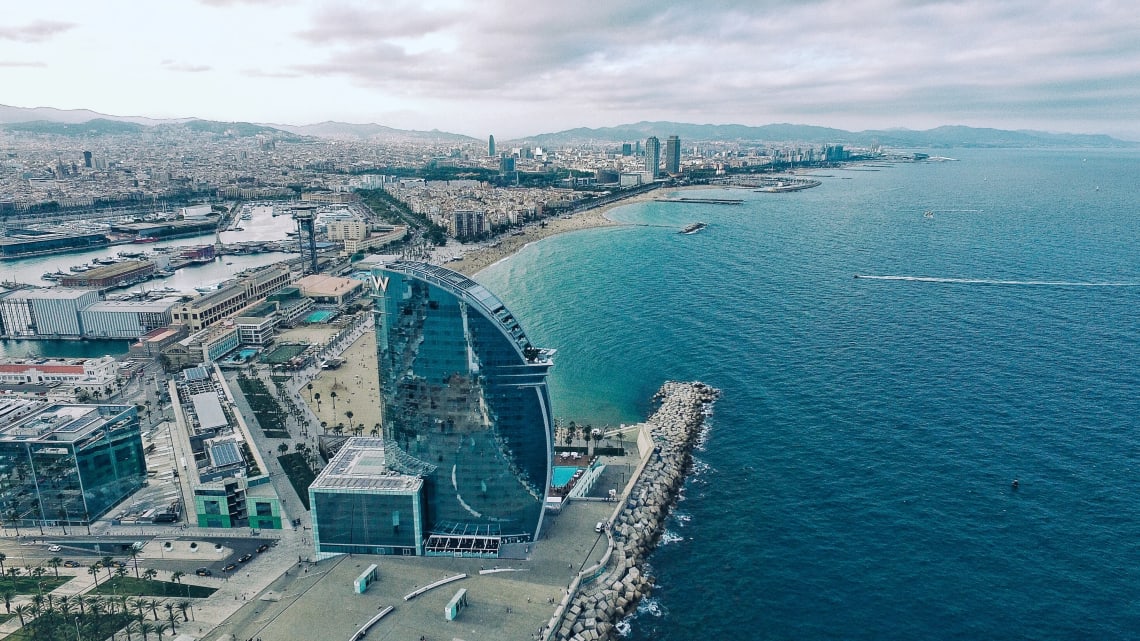 Best time to visit Barcelona
Last year, an estimated 32 million tourists visited Barcelona. Even during low season, the Catalan capital is full of tourists.
Want to travel on a budget and avoid huge crowds? Visit Barcelona between October and April. During this time prices are considerably lower, and you can walk around the city without being completely overwhelmed by throngs of tourists and long queues for the city's major attractions.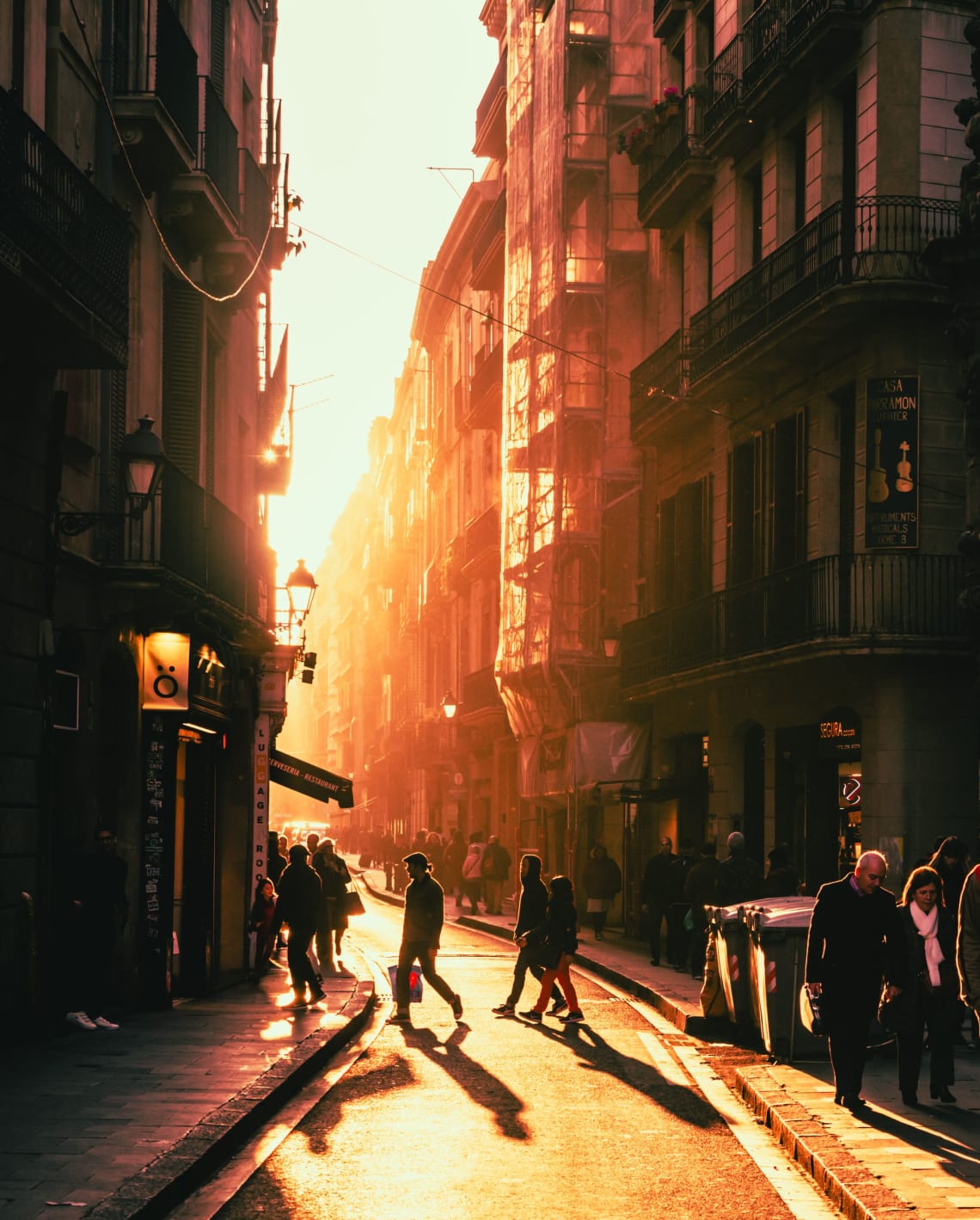 How to travel to Barcelona on a budget
There are many ways to get to the Catalan capital and many options for budget deals! How you travel to Barcelona will depend on the type of trip you are planning and of course, where you are coming from.
If you're already organizing to travel Europe on a budget, you can't miss passing through Barcelona!
El Prat Airport, 40 km away from city center, receives not only thousands of tourists per day, but also tons of domestic and international flights every single hour. If you need to travel long distances by plane to reach Barcelona, you can still get really cheap tickets. For example, if you fly with Level, you can find a ticket from Buenos Aires to Barcelona for 260 Euros, one-way (with only a carry-on, but still). For being such a long trip it's not a bad price, right?
Almost all low cost airline companies operate in El Prat Airport. And, if you don't have to arrive to Barcelona on a specific date, it's very easy to find cheap airfare.
Budget tip: If you want to go from the airport to the city, don't take the Metro. After you exit the Departures Hall, catch bus #46 (or N17 or N18 if you arrive later than 11:30 pm). The ticket will cost you only 2,20 Euros and you will reach the city center in 30 minutes.
Another budget option is to catch the train to Barcelona Sants Station and then take the metro to the area of your accommodation.
You can also take an Aerobus directly to the city center for 5,90 Euros one-way, or 10,20 Euros with return.
Whether you are really far from Barcelona or just a few hours away, you can find plenty of bus options to go in and out of the city. Of course, the further away you are, the longer the trip will take, and if you are coming from a different country in Europe, you'll probably have to travel overnight.
There are a lot of low cost bus companies that have insane offers throughout the year. But consider yourself warned — traveling on these buses definitely isn't the most comfortable thing you will do in your life.
Barcelona has a lot of train stations and all of them are really well-connected with Europe. You can find high-speed trains traveling from Barcelona to Madrid, or older trains traveling at night from Barcelona to Paris. If you're flexible about your itinerary, you should be able to find budget deals on tickets.
One of the main advantages of arriving to a city by train is that once you reach the station, you are already in the city center. A low cost plane ticket is always great, but it doesn't include the cost of transportation to the city center... and sometimes this can be surprisingly expensive!
As I mentioned before, Barcelona is really well-connected with most of Europe, and the roads are in really good condition. You won't have difficulties traveling to Barcelona by car, but finding a parking spot once you're in the city won't be easy.
If you are planning to travel to Barcelona by rental car, I recommend returning it once you arrive. Barcelona is made for walking, and also has fantastic public transportation. If you want to keep your rental car while you are in Barcelona, park it in a quiet neighborhood and leave it there for a few days. You can then pick it up once you leave the city.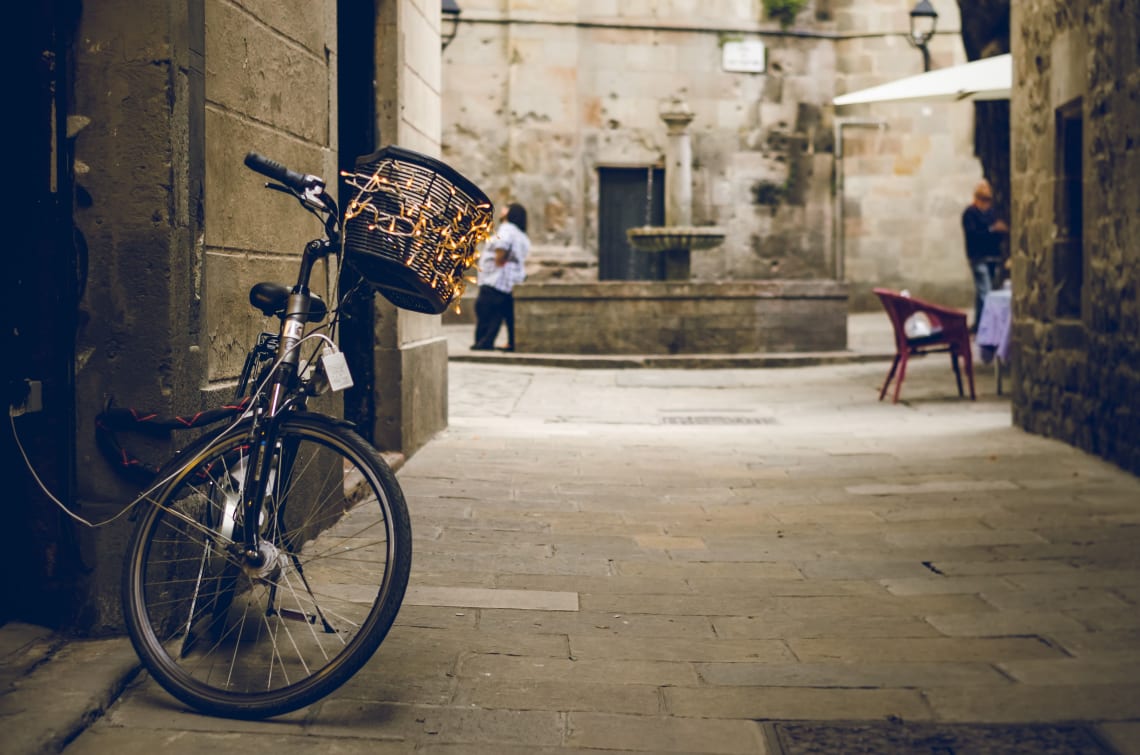 How to get around Barcelona on a budget
Barcelona has a really good public transportation system. The best way to get around Barcelona on a budget is to buy the T10 ticket. The T10 ticket entitles you to 10 journeys on the Barcelona transport system in the zone one area.
You can buy the T10 ticket in any metro or train station for 10 Euros. Basically, you end up paying 1 Euro per trip whereas if you buy a single ticket, you pay 2 Euros per trip. The T10 ticket is worth it.
If you have a travel buddy, one of you can buy the T10 and both of you can use it!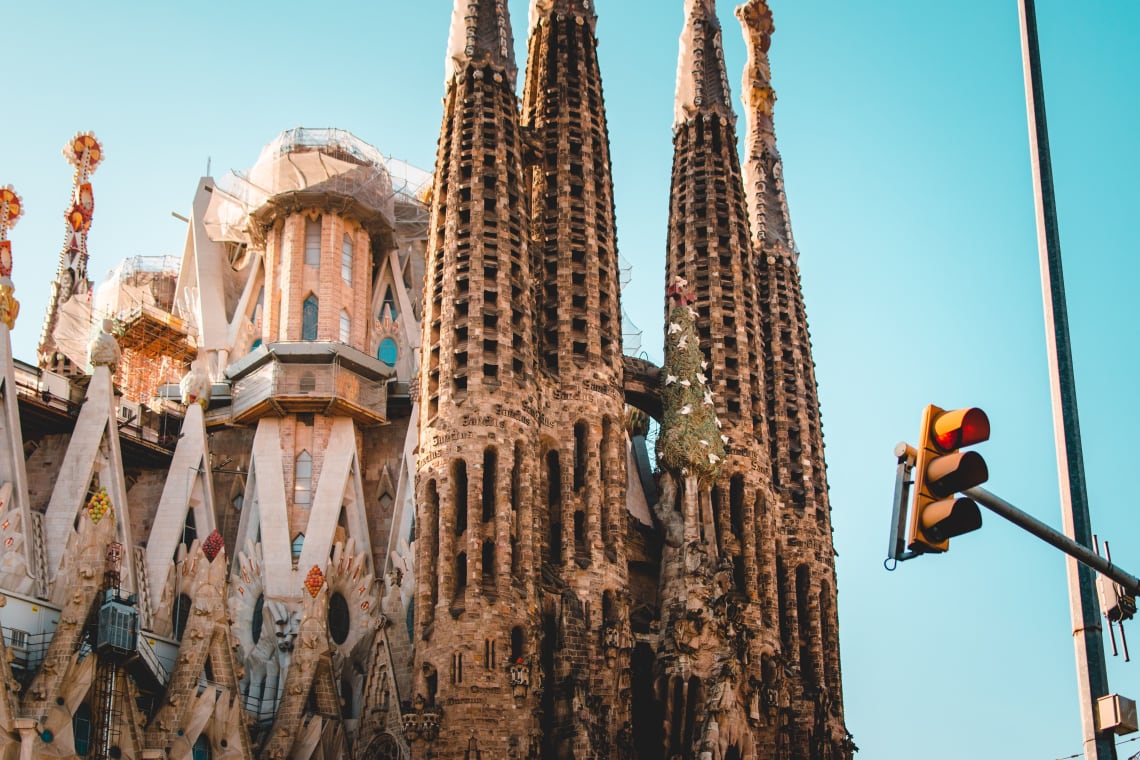 How to explore Barcelona on a budget
Barcelona has so many things to see and do. And as I mentioned earlier, Barcelona has a universal chemistry — an energy that seems to captivate everyone, regardless of individual preferences and personalities. Barcelona is a city that will synchronize with your energy and show you what you need to see.
I've listed my nine favorite ways to explore Barcelona on a budget. You cannot leave Barcelona without having visited these places.
1. Walk around the Born, the Raval and the Gothic Quarter
There is no better plan for Barcelona than to get lost. Walk without a specific direction, with no rush, with no plans or agenda. Do this in the Born, the Raval, and the Gothic Quarter — trust me, you won't regret it.
The small streets of these unique corners of the city have something incredibly special. It's so easy to get lost in their silence, unique acoustic, and beauty. You will simply fall in love.
I remember walking around the Gothic Quarter and listening to someone singing opera a few blocks away. I kept on walking and found a beautiful hidden square where I sat and journaled for hours.
Stop and visit Santa Maria del Mar Church and, if you are a museum fan, the Museu Picasso is a must see in Barcelona!

How to get to the Born, the Raval and the Gothic Quarter: Metro L4, Jaume I Station. If you are a bus fan, buses 17, 18, 40, 45 and 120. Personal recommendation: walk from your accommodation! Barcelona must be walked.
Pro tip: Walking in the Born, the Raval, and the Gothic Quarter is always incredible, but during the summer months it can be overwhelming. Tourism in Barcelona is crazy, and between May and September, there seems to be a never-ending sea of heads in every direction. Visit Barcelona between October and April and enjoy these neighborhoods in peace.
2. Watch the sunset from the Bunkers de Carmel or Park Guell
Watching the sunset is something I try to do in every new city I visit. I think it's something everyone should do when visiting new places.
There are two magic spots where to watch the sunset at Barcelona; Bunkers de Carmel, and Park Guell. Both have a nice panoramic view of the city, and offer a great show as the sun goes down. If you stay in Barcelona a while, make sure to visit both places.
How to get there:
Park Güell: Metro L3, Lesseps or Vallcarca Station. If you are a bus fan, buses H6, D40, 24 and V19.
Bunkers de Carmel: Bus 17 and, after that, walk for a few minutes. From Sagrada Familia, Bunkers de Carmel is a 30-minute walk. It's not an easy one but there are lovely views every step of the way!
Pro tip: Although the Bunkers are getting more and more touristic, they are still a more quiet place than Park Guell (one of the most touristic places in Europe). It doesn't matter which one you choose; bring a jacket, a good book and a take-away coffee, and no rush or agenda for the evening. Stay all the time you need.
3. Drink a coffee, a beer, a "Tinto de Verano", a vermouth, and eat a "Bocata"
If you are a coffee fan, there are many speciality coffee shops worth visiting in Barcelona. If you are a beer or wine fan, you'll find bars with incredible ambiance and tons of character. If you're a foodie, Barcelona is heaven.
From small hidden cafés in cozy neighborhoods to buzzing local bars and tapas spots, go out and eat and drink in Barcelona! Bring a good book and a journal and read and write for hours. People-watch and enjoy the city in all of its vibrance and aliveness.
4. Walk next to the Mediterranean Sea
Walk next to the sea from Barceloneta... to anywhere. Or from Poblenou. Or from Sitges. Or from wherever you want. But whatever you do in Barcelona, walk alongside the Mediterranean Sea.
With 100 miles of coastline stretching along the province, Barcelona is a sea and beach lover's dream come true. I don't know what what about the sea in Barcelona is so special... it's just beautiful. Its horizon hides a thousand stories.
Walk next to the sea and take some time for self-reflection or, if the sun is out, take a beach day on Playa de la Barceloneta!

If you enjoy coastal cities with lots of history, I'm sure you'll also love Alicante. Check out the Top things to do in Alicante: from beaches to castles.
5. Visit Sagrada Familia
I am not the biggest fan of going inside churches, cathedrals and religious monuments when I travel. Usually I feel content seeing them from the outside. However, there are a select few where I have felt compelled to enter. Sagrada Familia is one of them.
Sagrada Familia is absolutely captivating. It is not finished yet but it still has so many details and things to look at. The geometry, the details. Believe me, it is breathtaking.
The entrance ticket to Sagrada Familia costs 17 Euros. It's a bit pricey, I know, but it's a once-in-a-lifetime experience. If you want to purchase an audioguide, it's a bit more expensive, but worth it for the detailed explanation of the basilica's fascinating history.
During low season, Sagrada Familia's open hours are from 9 am to 6 pm (7 pm in March and October) and, during high season, from 9 am to 8 pm.
How to get to Sagrada Familia: Metro L2 and L5, Sagrada Familia Station. Bus 19, 33, 34, 43, 44, 50, 51, B20 and B24.
Pro tip: If you don't want to enter Sagrada Familia, sit at one of the nearby parks and enjoy the stunning view of the basilica instead.
6. Relax in Parc de la Ciutadella
Parc de la Ciutadella is in the center of the city just on the edge of the famous El Born District. It's about five minutes walking distance from the Arc de Triomf (L1), Barceloneta (L4), and Ciutadella Vila Olímpica (L4) metro stations.
The Parc is a green oasis in the middle of Barcelona. Even on the weekends, when tourists and locals walk around the park, you can find a peaceful moment to read a book and lay down in the grass.

7. Experience the cultural movement
Barcelona means culture. On every corner of the city, there is a sensory experience to be had.
Enjoy live music at a local bar; listen to a saxophonist in Parc de la Ciutadella; tour Casa Batllo, visit the Centre de Cultura Contemporània de Barcelona and the Museum of Contemporary Art.
Barcelona has so much to offer. Dive in and take advantage of the city's museums, cultural centers, and infinite pockets of artistry and history.
8. Appreciate Barcelona's architecture
I've already said that getting lost in Barcelona is the plan, right? Every street has its own magic. Around every corner is another marvel of architecture. Each neighborhood holds years and years of history, with dragons on balconies, magnificent churches, sculptures in tribute to great artists, and on and on.
Barcelona's architecture is so... Barcelona. What I mean by that is that Barcelona's architecture is something you will only see in Barcelona. When you walk Barcelona's streets, you know where you are. The style of Barcelona is unique in the world. It is its stamp, its seal.
Walking through Barcelona is like touring a museum; the city is a work of art in and of itself.
9. Enjoy the city view from Montjuic
Montjuic is a hill overlooking the Barcelona harbor with very photogenic views of Barcelona. If you don't take the cable car, the walk uphill can be quite a challenge, but the view from the top offers one of the most stunning views of the city. I don't visit Montjuic every time I am in Barcelona, but I can't deny it is a special place.
How to get to Montjuic: Right next to the funicular Station, lies the Montjuic's Cable Car. This ride takes you directly to the castle of Montjuic. Option number two is taking regular bus #150 which also stops at the castle. Option number three... hike!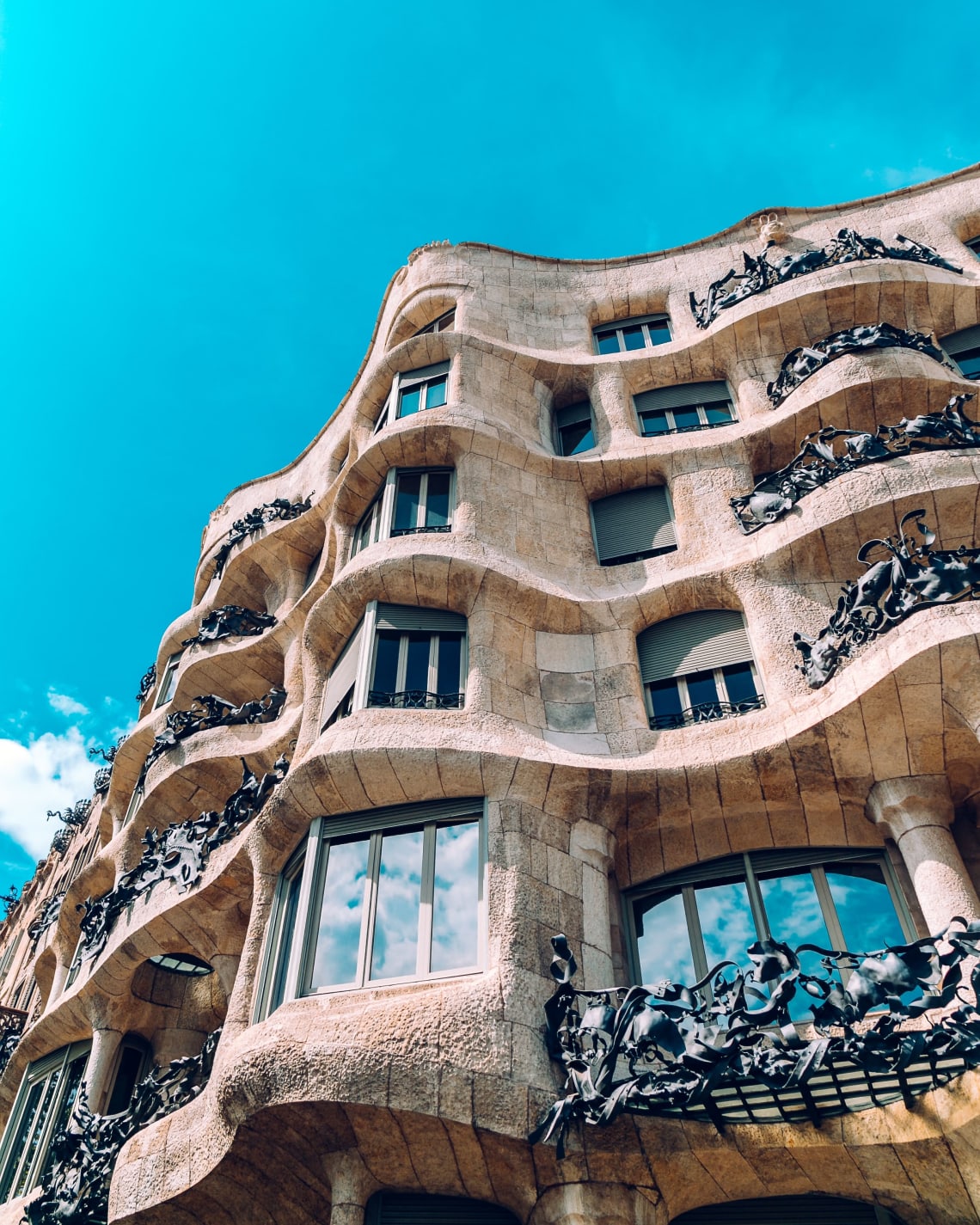 Where to stay in Barcelona on a budget
There are so many options for accommodation in Barcelona that it's overwhelming. From boutique hotels to quirky apartments to backpacker hostels, Barcelona has it all. The accommodation you choose should depend on the type of travel experience you're seeking.
I've been in Barcelona more than five times and I've stayed in hostels and Airbnb, and I've also done Couchsurfing. As is the case with every touristic city, prices can change dramatically between low and high season. You may have to pay insane prices if you visit Barcelona between June and August. But don't stress — it's totally possible to stay in Barcelona on a budget.
If you want to stay in hostel in Barcelona, I personally recommend Hostel 360 Arts & Culture, located a few minutes away from Plaza Catalunya. The location is ideal and with the exceptions of Park Guell and Bunkers de Carmel, every touristic place can be reached by foot. The hostel has six and eight-bedroom dorms and, during low season, you will pay around 16 Euros for a bed. Not bad.

Hostel 360 Arts & Culture also offers free dinner six nights per week (yes, really), free Sunday brunch, and tons of activities to enjoy with guests and hostel volunteers.
In case you go for a different hostel, always look for a place near Plaza Catalunya, Sagrada Familia or Passeig de Gracia. If you stay in one of these neighborhoods, you will be really close to all of Barcelona's main attractions.
If you are traveling as a couple, or if you are looking some privacy, I recommend looking for an Airbnb. Sants and Poblesec are great neighborhoods for budget Airbnbs; you can get good prices (~40 Euros) and still be considerably close to all the main attractions of Barcelona.
I've never stayed in hotels when I visited Barcelona but, as per what I've heard, I know prices can be crazy. If you still want to stay in a hotel, check for hotels in less touristic neighborhoods. Prices will be lower.
Finally, if you're a budget backpacker and want to save money while traveling, why not exchange your skills for accommodation and live like a local? Worldpackers offers an incredible variety of work exchange opportunities in Barcelona and all over Spain!

Another option is doing Couchsurfing. Couchsurfing is an online platform where people offer a room, a couch or even a mattress where you can sleep, in exchange for... nothing! Yep. Free. Couchsurfing is quite popular in Spain and, if you're on a budget, it's a great way of saving money.
However, Couchsurfing should not be used solely as a means to stay for free in the homes of locals. Couchsurfing is about sharing moments with your host. If you don't have the time or energy to connect with your host, you're better off going to a hostel, hotel, or Airbnb.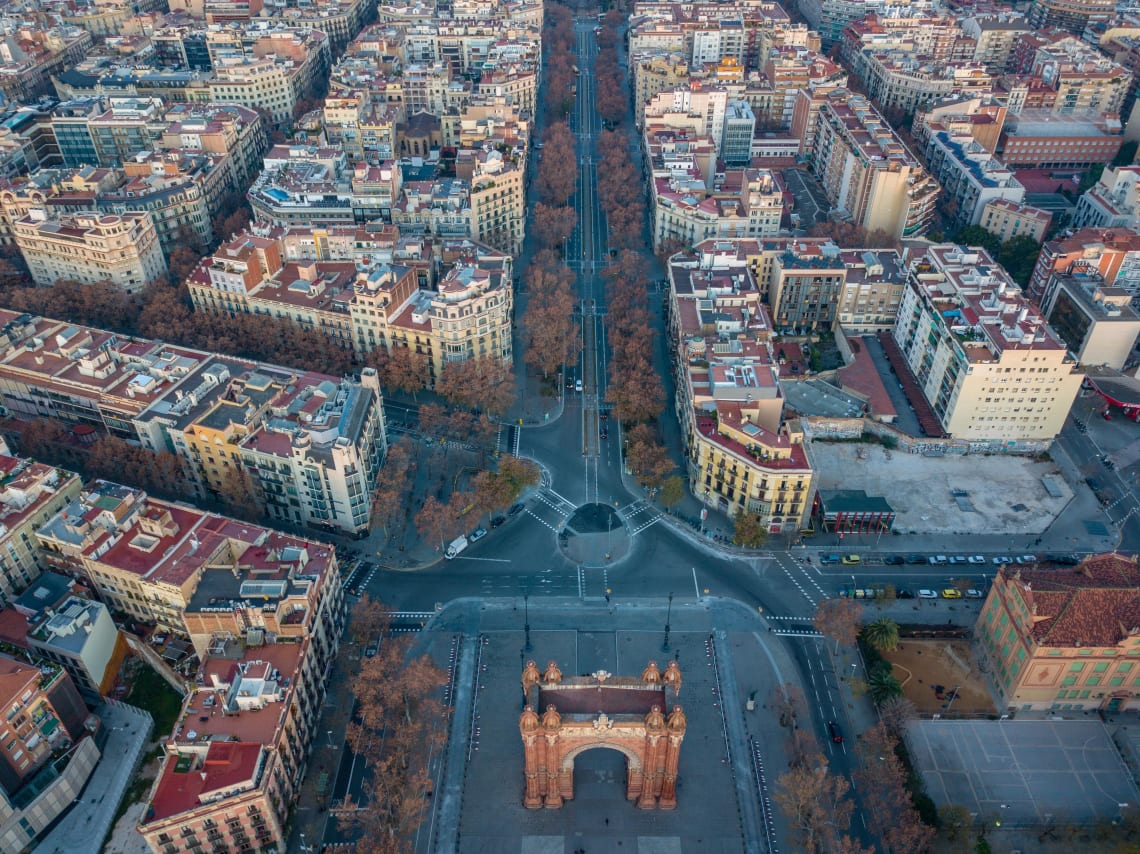 Where to eat in Barcelona on a budget
Barcelona (and all of Spain) has incredible gastronomy. The city boasts traditional Catalan cuisine and incredible seafood.
Depending on the neighborhood you want to eat in, prices can vary. A beer and some jamón Ibérico will surely be more expensive in the middle of La Rambla than in Sants.
Always try to do as the locals do and eat in local places, far away from the tourists. Local places always offer the best food, the best vibes and the best prices. If you are really hungry and you don't want to pay a lot of money, look for places offering a "menu del dia", or a daily menu. Daily menus have fixed prices and offer a starter, a main course, a dessert and a drink (and sometimes even a coffee). They usually cost around 10 Euros.
Finally, it's not possible to talk about food in Barcelona without mentioning La Boqueria. In the middle of La Rambla, this market used to be frequented by locals. Nowadays it is full of tourists. Nonetheless, it's still worth a visit. Try some Iberic ham or a fruit salad. The food is yummy and fresh (prices can be a little bit expensive though).
Budget tip: If you are staying in a hostel or Airbnb, go to Mercadona and buy groceries. There are also lots of small markets on Barcelona's street corners. Preparing your breakfast or dinner at home can save you lot of money!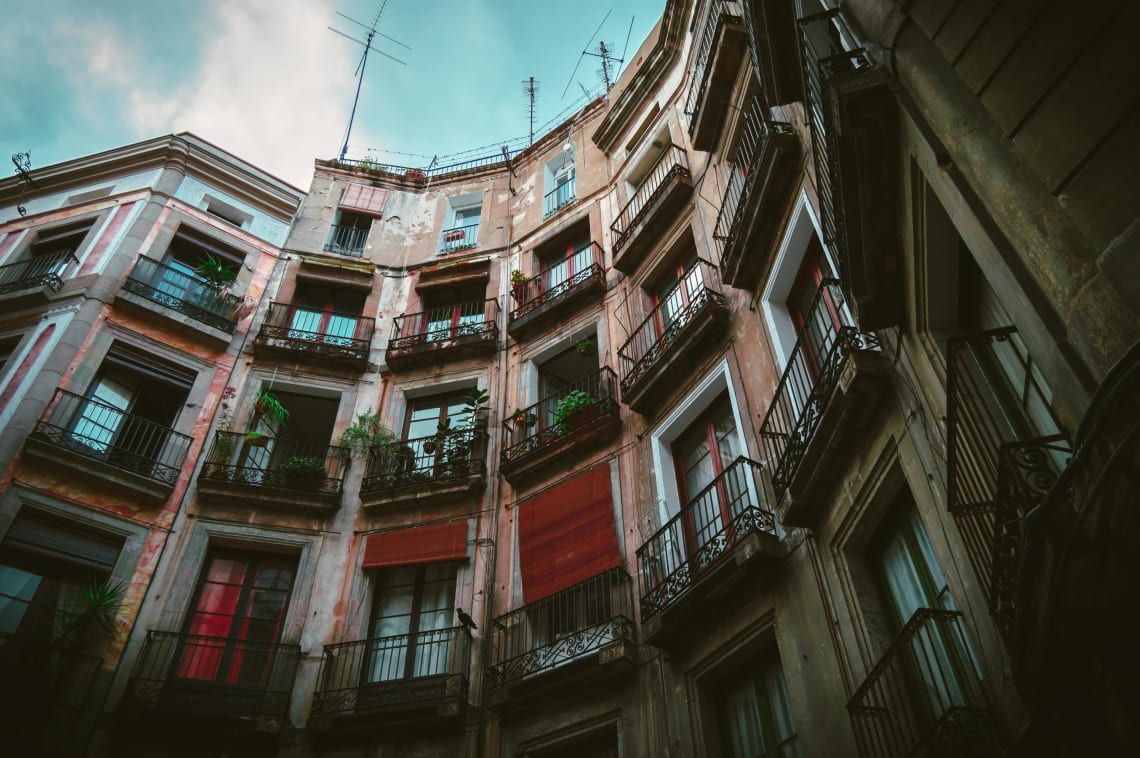 Nightlife in Barcelona
Barcelona has infinite nightlife options. Whether you're looking for a cozy tapas bar, live music, or a crazy disco, you can find it in Barcelona.
El Born and Gracia are some of Barcelona's best neighborhoods for nightlife. There are tons of lively bars to choose from.
If you are a huge fan of huge discos, the port area (just after Barceloneta) is the place to go. Famous and trendy clubs like Pacha and Opium are located in the port area.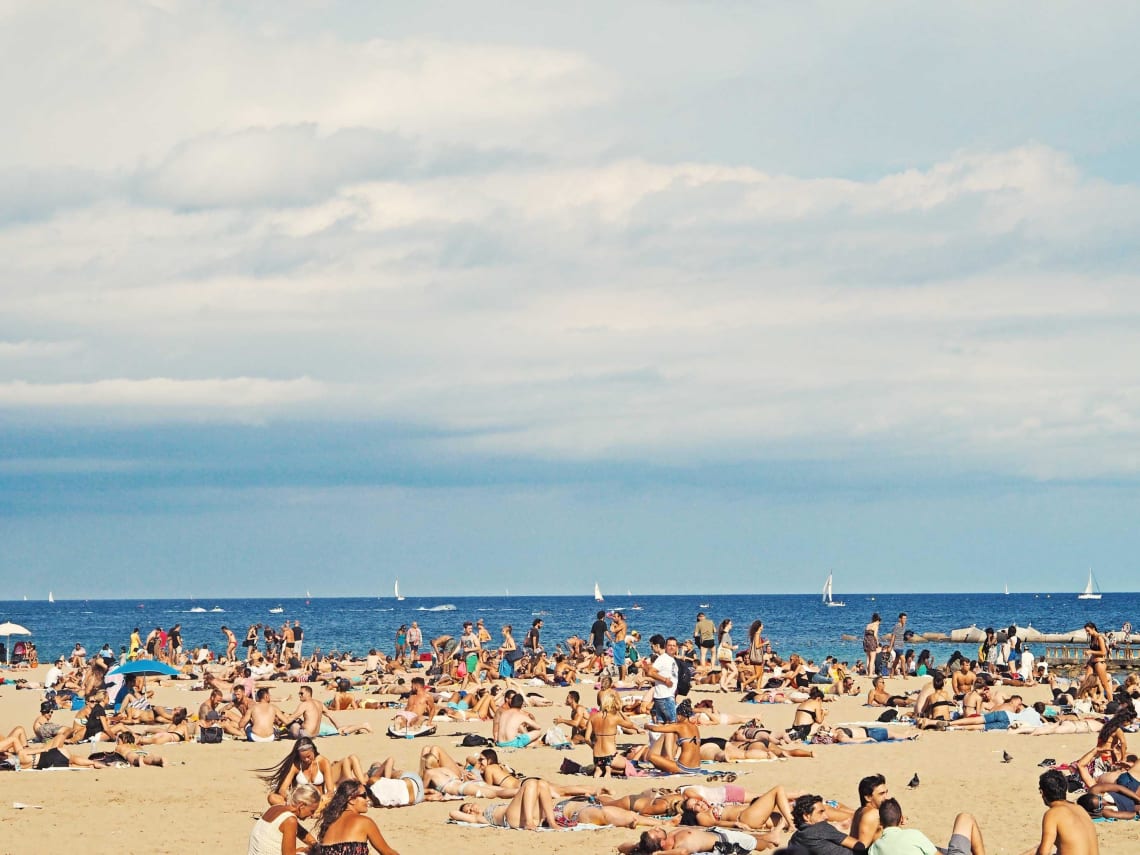 Personal recommendations
1. Walk around Barcelona
I won't ever get tired of saying this. There are cities that should be walked. And Barcelona is one of them. Almost all of Barcelona's attractions can be reached by foot and whether it's one of Gaudi's masterpieces or a Gothic building with an incredible facade, there is truly something beautiful to see around every corner.
2. Stay several days
You have to enjoy Barcelona. There is no sense in visiting the city for only for two or three days. Give yourself time.
3. Travel in middle or low season
Avoid going to Barcelona between June and August. The city will be full of tourists and you won't be comfortable.
If you can visit the city between October and November, or April and May, do it. There will be way less crowds and prices will be cheaper.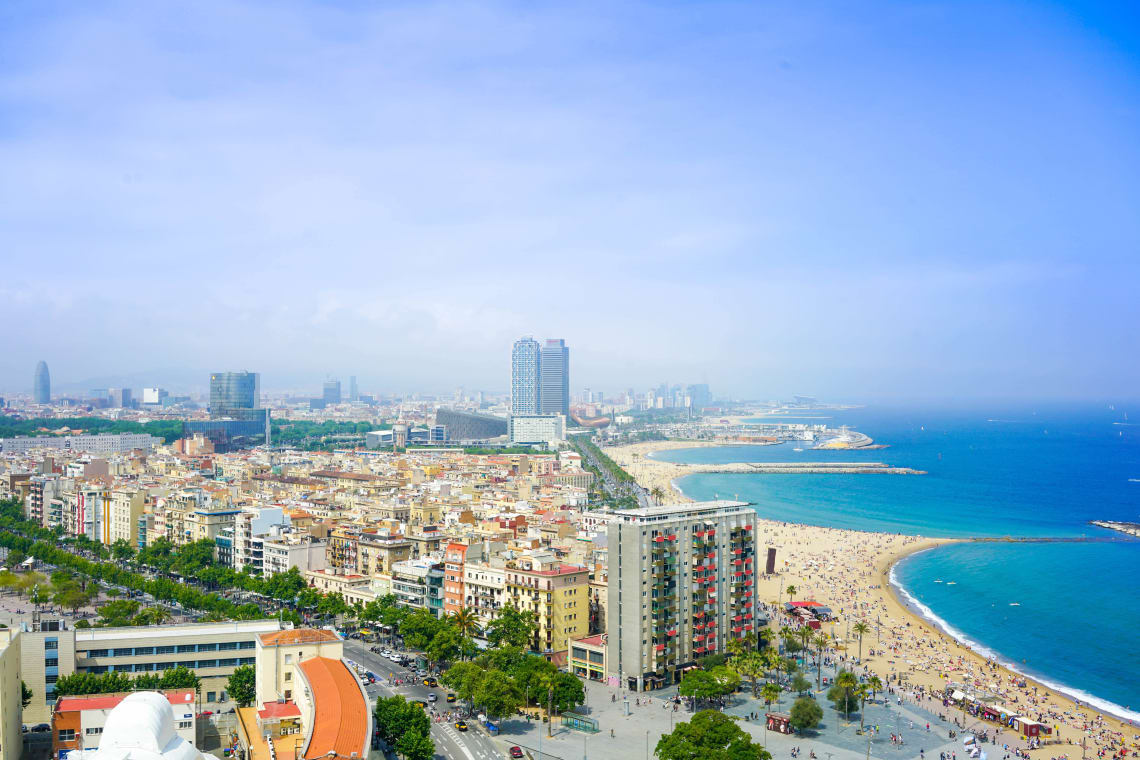 Barcelona is both laid back and easygoing, smart and sophisticated. Chats can last for hours, and it's easy to make friends fast. The city has an energy that makes it easy to connect — with locals, with other travelers, and ultimately, with the Catalan capital itself.
Use this guide to plan your dream Barcelona trip on a budget. Trust me, you won't be disappointed.