Top things to do in Alicante: from beaches to castles
Most people think of Madrid or Barcelona when Spain is mentioned, but the country has so much more to offer than those two big cities. Read on for your perfect budget getaway with the best things to do in Alicante.
6min
Alicante, located in Southeastern Costa Blanca, is a port city with various beaches and many activities to do in and around the city. A big bonus is that it's a cheaper area of Spain, and there are many volunteering opportunities.

With a little over 300 000 habitants, is one of the most visited cities in the Valencian region in Spain. The city has hundreds of direct flights to and from it, and if you're capable of traveling with just a small backpack, you can fly to Alicante for as cheap as 10$ on Ryanair!
The following article is split into themes, depending on what best floats your boat. Let's dive into the best things to do in Alicante...

Best things to do in Alicante: the beaches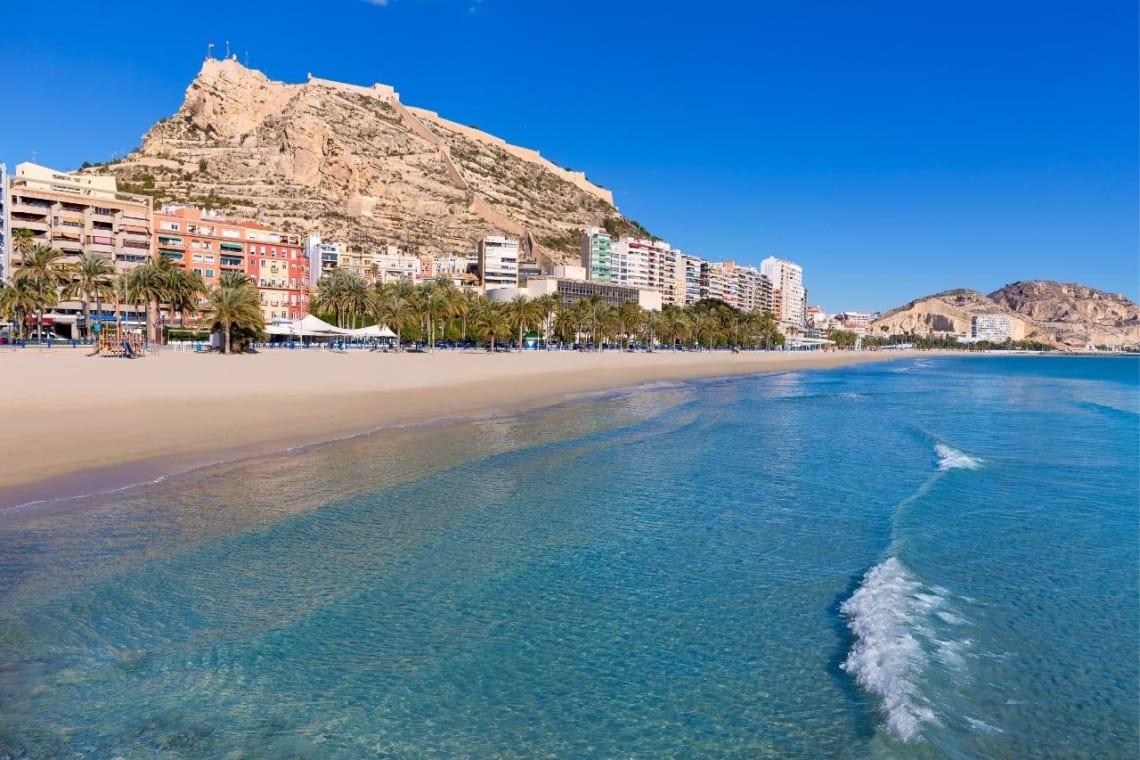 My personal favorite is Playa de San Juan, but it seems to compete with Platja del Postiguet and Playa de Guardamar.
Playa de San Juan is a little north of Alicante but I found the beach there to be wider with more space away from people. There are little bars and cafes all along, as well as many volleyball nets for people to freely use. It's also "that beach" with the Instagrammable shacks!
Platja del Postiguet is closer to Alicante city center, and evidently more touristy. You'll be spoiled for choice here too for bars and cafes, but if you chose to sunbathe on the sand, be sure to watch your belongings.
Finally, Playa de Guardamar is another big beach with restaurants and ice cream stands all around. The water is pretty shallow making it a perfect beach to bring the kids!
A few other top beaches in the area are:
Playa de Levante (Benidorm)
Playa del Portet (Moraira)
Platja de la Granadella (Jaeva / Xabia)

Playa del Arenal-Bol (Calpe)

Also be sure to check out the best traveling tips for going around Spain. The country has so much to offer from delicious food, to beaches, great cities, and a lot of culture!
Best things to do in Alicante city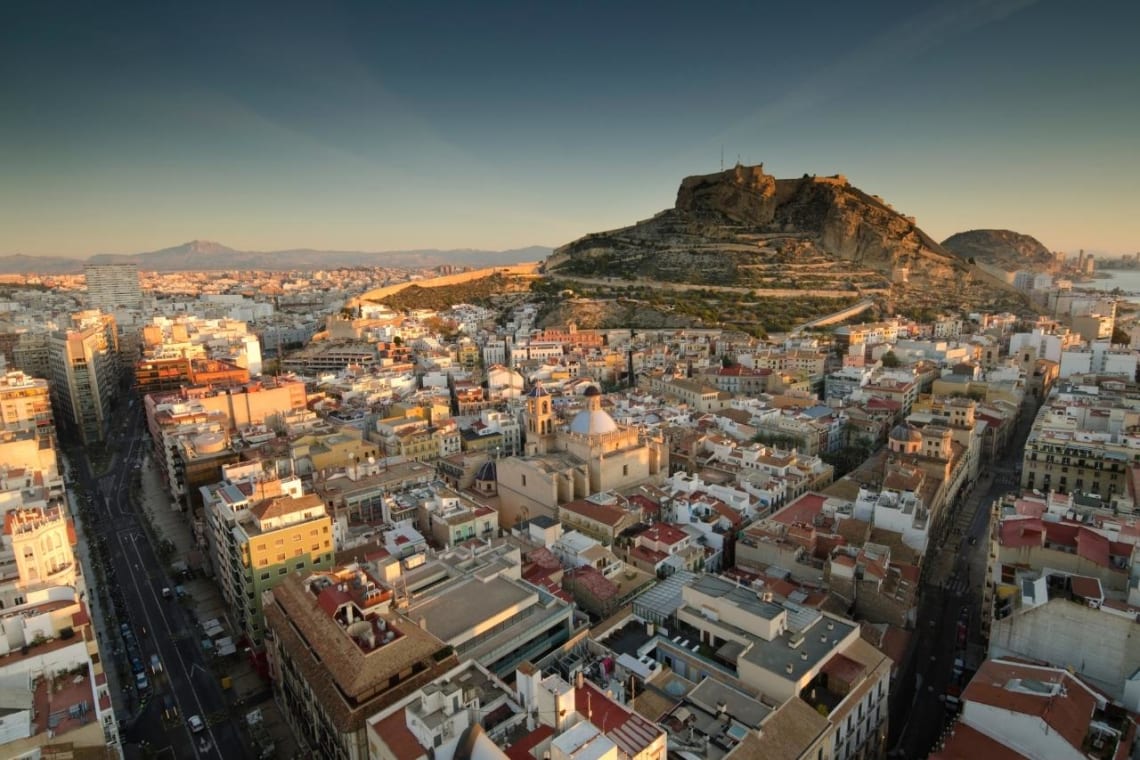 The city vibe
Alicante city center has a lot of hidden gems from cafes, bars, churches, and quaint little corners.
You will find a lot of things to do in Alicante besides relaxing on the beach, but here are some of my personal favorites:
For the best cakes, coffees, teas, and overall cafe to work or chill in Madness Speciality Coffee.
Sanoa offers an affordable yet delicious menu in a modern and cozy restaurant.
La Rambla and the port area is lovely for a stroll, perhaps even having a wander around the stalls and grabbing an ice cream.
Just behind the port there is a little tapas place that has the most unique tapas I ever had: Cerveceria Sento Rambla. Try the one called Ivan, which has a mix of sweet and salty. Don't be put off by the ingredients (foie gras, thin slice of beef, rocket salad and turon sauce) because the mix of them all makes it SO delicious.
A little beyond the Plaza de Toros can be found some mural street art; good for photos!
Alicante is also quite known for its nightlife: cheap drinks, beach bars, and clubs that go all night long.
A few good bars are: Oculto, Gatsby, Pinnochio and Altabirra, and for more of a club vibe: Sala Stereo, Clan Cabaret, Club Concerto. Techno Room Club... well the name says it all (and it's open till 1pm, yes, 1pm - those who know, know).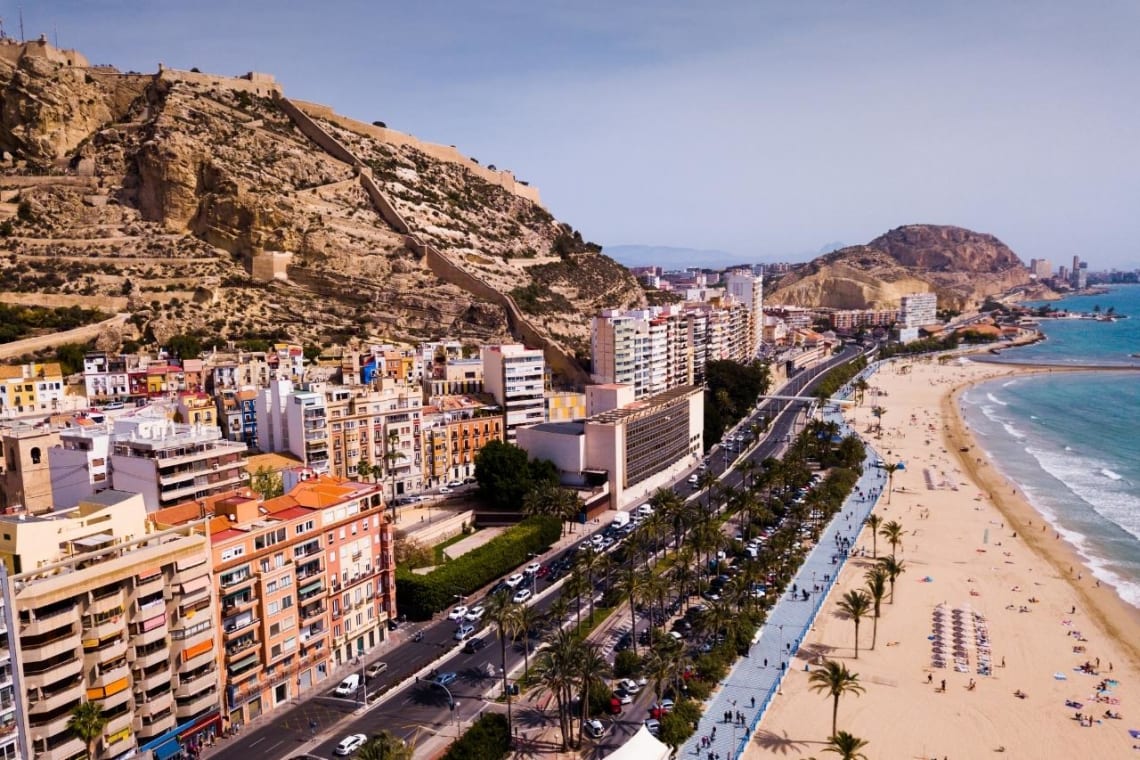 If you have some time on your hands and are looking for a budget friendly place to stay, Worldpackers has the perfect volunteering experience in the heart of the city.
Hostel Olé is located in the city center, close to most of the night life, and asks for basic general tasks in exchange of accommodation, breakfast, lunch, discounts on tours and events and more. They are in very high demand given the great 5-star reviews they have (also voted one of the best Worldpackers hosts in 2021), so make sure you apply early to get a chance to stay there and experience living in Alicante!
Check out all the volunteering opportunities in Alicante.
Historical adventures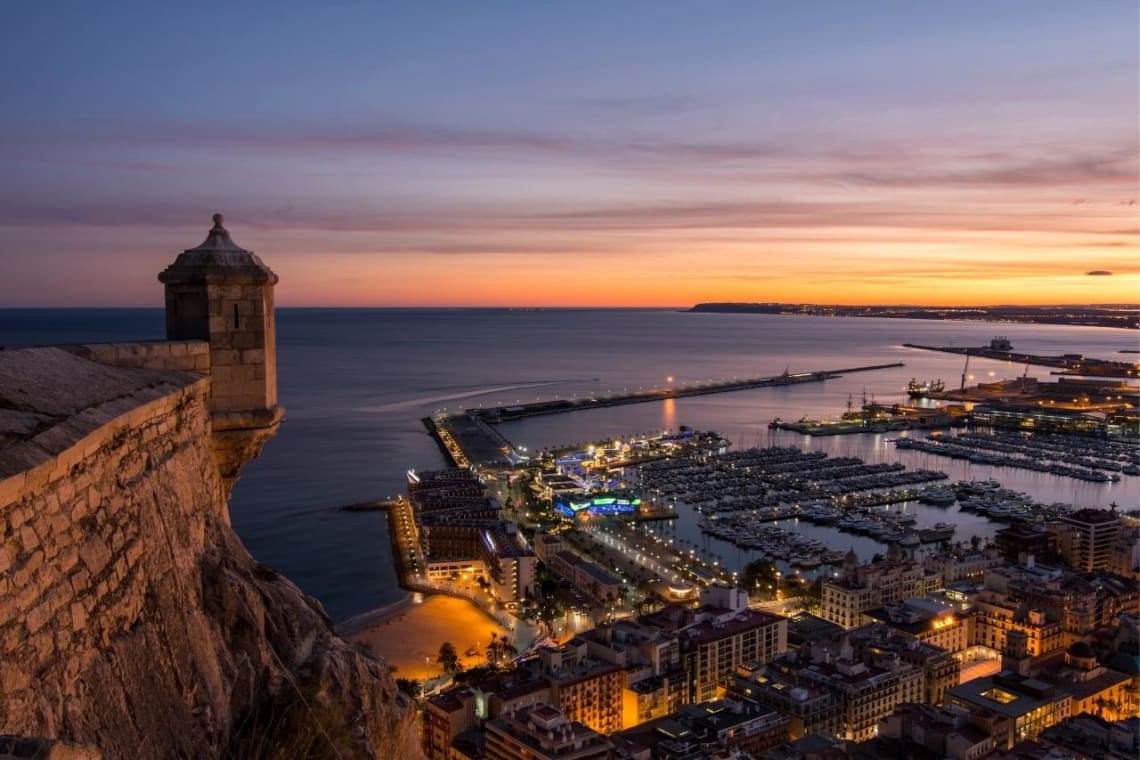 One of the most famous things to visit in Alicante is the Castillo de Santa Bárbara. Located on top of Mount Benacantil, the castle and surroundings overlook not only the port, the old town, but also most of Alicante's Bay.
It's a nice little hike up there on a sunny day, and once up there you can browse around the historical artifact, the museum, as well as grab a coffee on the terrace and perhaps even browse the shop.
In the castle you will find the MUSA, the museum in a unique enclave. It explains everything about the history of Alicante through photographs, objects, historical documents and many works of art from different civilisations that occupied Alicante over the years.

On a trip up there I discovered how Alicante got its name:
The urban legend says that the caliph at the time wanted to find the perfect husband for his daughter Cantara, but she was in love with Ali. When the caliph ordered her to marry Almanzor, Ali, followed by Cantara, both jumped off the cliff and thus the name Alicante was born (in Spanish Ali cante means "Ali sang"). One of the facades of the castle also apparently depicts the face of the Moor... what do you think?
Best things to do in Alicante: around the city
For nature lovers
There are two hotspots for hiking lovers just a little outside of Alicante.

The first is the nature reserve of El Maigmo, the latter being the highest peak of the Maigmó massif at 1296m above sea level.
All around this area you can enjoy hikes through pine trees and shrubbery, and once at the peak, be blown away by the panoramic views over neighbouring towns, greenery, and the coast.
More specifically, there is a 2.1km trail beginning at the famous Balcón de Alicante. It is a short but intense climb to the Sierra del Maigmó - you will need hiking shoes.
The second spot is La Zafra nature reserve, a little more south. A simple Google search will show you the best hiking trails ranging from beginners to more advance routes.
Road trips

Alicante is a really good departure destination for road trips. Renting a car with friends is always fun, but going by public transportation is also an option (and cheaper). Now that the tram is fully operational along the coast, you can actually hop on it and enjoy the sea views to any of the following cities: El Campello, Villajoyosa, Benidorm and Denia.

A little up North the coast is a renowned beach destination: Benidorm (37 min by car), and down south the city of Elche (30 min) then further down, the beach town of Torrevieja (1h). Murcia (1h) and Cartagena (1h30) are a little more South and make a good weekend trip with friends.

If you're planning on going North from the city center, just 1h away is another great volunteering experience in Gaianes. Cau del Mussol asks for only 25h of gardening per week in exchange of a place to stay and most meals. The house is located in the middle of the valley- perfect for nature lovers or after spending some time in the city of Alicante.

Within the same region is another experience that Worldpackers offers: El Puente in Tarbena. Joby, the owner, owns over 2 hectares and needs help maintaining his property. The volunteer opportunity consists of 30h per week of cleaning, gardening and general mainteinance works in exchange of all your meals, a private room and pickup!

Don't miss out the Ultimate Spain travel itinerary.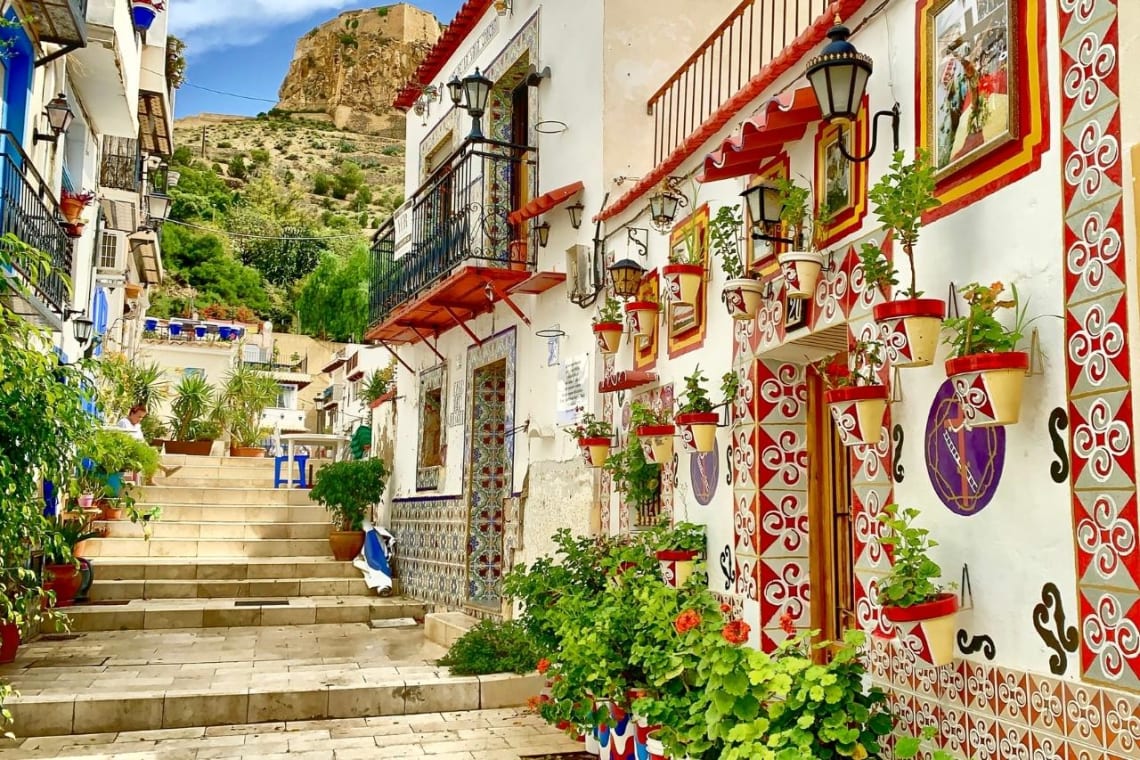 The city of Alicante has been underestimated but it really is a great destination, especially to travel on a budget.
If no volunteering opportunities appeal to you, you can always use Couchsurfing to stay with locals, or find cheap hostels on sites like Hostelworld.
One of the reasons why I love this region so much is the accessibility to beaches, nature, cities (plus Ibiza isn't too far) and it's very budget-friendly. I hope you enjoy it as much as I do.

Did you like these ideas? Subscribe to the Worldpackers Community for free and start saving your favorite volunteer positions until you are ready to get verified.

Hasta luego!
Keep planning your trip to Spain with these articles: