Things to do in Tenerife: much more than beautiful beaches
Let's travel to the largest of the Canary islands of Spain with this guide about things to do in Tenerife: there's much more than just nice beaches.
9min
Tenerife was never one of those destinations at the top of my travel list, but a recent trip there gave me a whole new outlook on this island.
Despite certain areas being heavily populated by the British, the island has so much to offer in terms of nature, Spanish culture, and fun - there is such a variety of things to do in Tenerife for all ages.
There is a mix of everything from luxury resorts, family getaways, to backpackers's hostel, and all the activities one could do in between. The best part of the island: you can actually stay for free in Tenerife, thanks to Worldpackers.

As we're all different types of travellers, I have decided to divide this article into different sections. Do keep an open mind and check out all of the best things do to in Tenerife, as I'm sure you will find lots of inspiration for your next trip there!
If you're hesitant about the language barrier, the answer is no - even if Tenerife is part of Spain, you do not need to speak Spanish to travel to Tenerife.
If you're wondering how to travel to this paradisiac island on a budget, then keep reading... here are some of the best places to visit in Spain.
Planning a trip to Spain? Keep reading: Ultimate Spain travel itinerary and 10 tips for traveling around Spain.
1. Things to do in Tenerife for the nature-lovers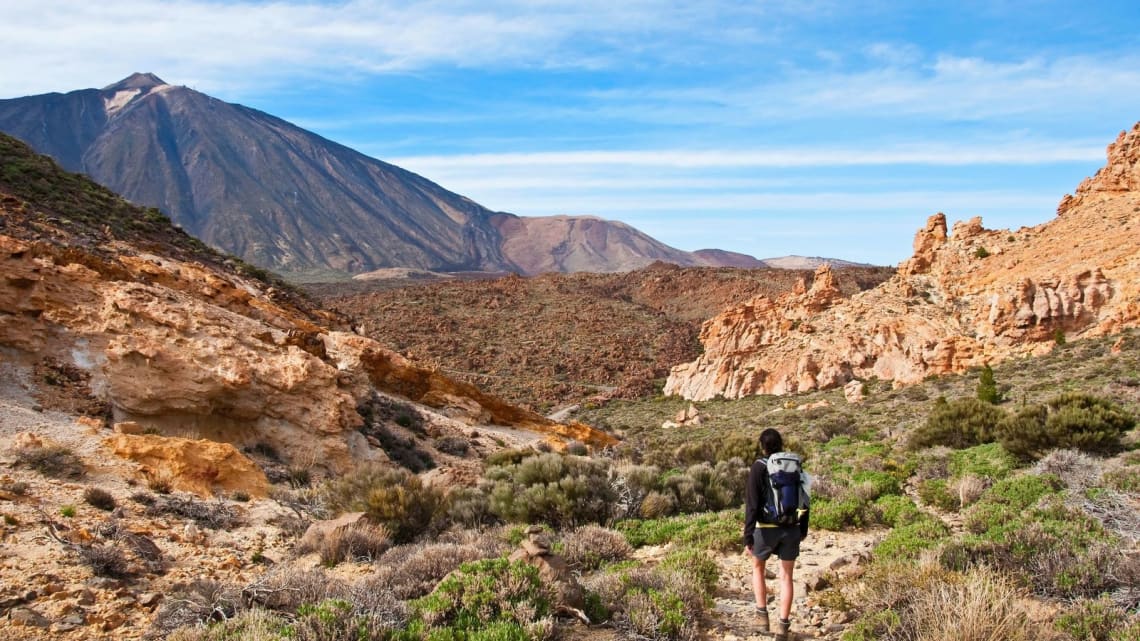 Hiking and more
Tenerife is a great destination for nature lovers. From volcano hikes, to beaches, to water sports activities, you'll be spoiled for choice. No need to Google "places of interest near me" in Tenerife as you have everything at arm's length!

Amongst the many hostels that are more travel/nature-oriented, there is Puerto Nest Hostel in Puerto de la Cruz that caught my eye. The volunteering experience consists of 25h of "work" per week in exchange of accommodation, breakfast, free use of bikes, surfboards and discounts for activities and accommodation all around the island. They are usually in high demand as the Nest hostels are quite famous around the island, so make sure you apply ahead of time!

Nest hostels are all over the island but this particular one is located not too far from the Teide National Park - the absolute spot if you're into hiking.
It is said that most of the best things to do in Tenerife are located in and around Teide, which can sometimes even be snow-capped! Did you know that the Teide volcano is at height of 3718 meters, making it the highest peak in the country?
The anthophiles will also love this: around the Teide you can find unique species, such as the Echium Wildpretii (Tajinaste) which only grows in spring, or the Teide violet, a flower that can only be admired above 2,500 meters of altitude.

Another area that's great for hiking is the Anaga Rural Park, located over the mountains of La Laguna and Santa Cruz.
A typical route would be to start at Cruz del Carmen Visitors Centre and hike through the enchanted bay leaf scented forest of Laurisilva. Another short hike includes the Route of the Traditions or the Path of the Senses, and keen riders can also discover certain trails via horses.
The hikes are free but you need a (free) permit for the summit, which you need to register in advance for.

Aside from hiking and even perhaps climbing to the summit, the Teide National Park is also renowned for stargazing. 83 of the 88 officially recognised constellations can be seen from the whole park. There are tours available but what's better than getting some tea, a blanket, and just watching the starry night sky?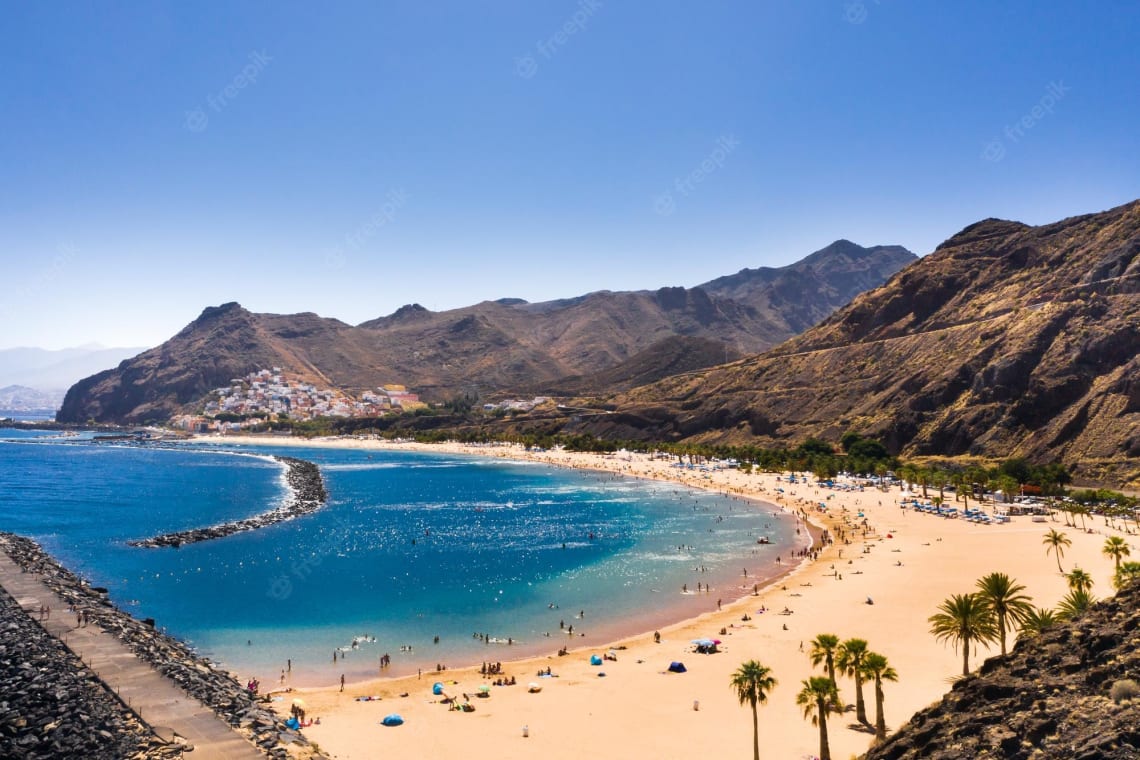 Best beaches in Tenerife
Tenerife is also very much known, evidently, for its beaches. Some of the best beaches are hidden in Taganana's lower crevices.
For a golden sand beach, Playa de Las Teresitas is your go-to. The uniqueness about this beach is that the sand was imported from former Spanish colonies in the Sahara, and the water is also much more calmer to swim in all year round.
For one of the best black-sand beaches, Benijo beach will be worth the drive to. Not only is it known as one of the best beaches in Spain, but it will also give you an excellent view of the Roques de Anaga, two monolithic rocks forming an emblematic monument of the island.
Ever seen a Drago Tree? Didn't think so (I had no idea either what it was before); but in the 15th century historical quarter you can see the Drago Milenario in Icod de los Vinos, the oldest known drago to date.
If you love coastal towns with lots of history, you should also have Alicante in mind for your itinerary. Check out the Top things to do in Alicante: from beaches to castles.
2. Things to do in Tenerife for the (solo) budget-travellers/digital nomads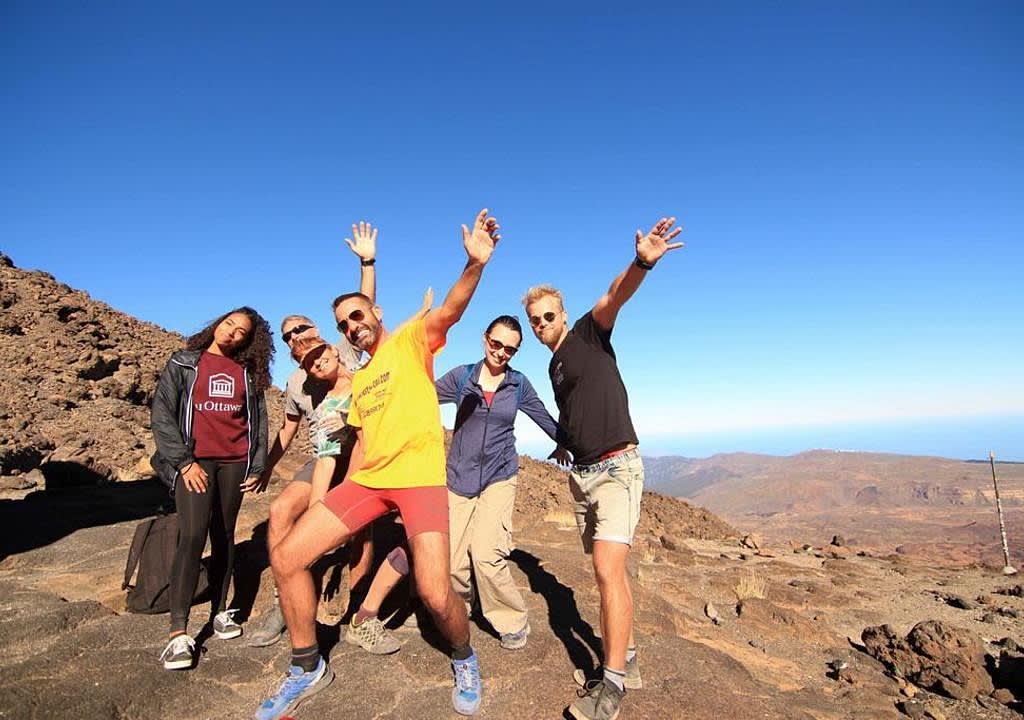 First and foremost, if you're a digital nomad on a budget, I have the perfect accommodation for you: Ikigai coliving. In exchange of just a few hours per week, you'll get one of the 7 private rooms in this lovely co-living in Puerto de la Cruz. The workload is simple and easy (can vary between daily cleaning, social media, check-ins, organizing weekly events and other tasks) in exchange of the perfect location you'll be in, surrounded by banana trees, volcanoes, and the ocean.

Once there, aside from meeting other like-minded travellers, you'll be close to the gorgeous black sand beach Playa El Bollullo, as well as Playa Jardín and Playa Martianez.
At most beaches you can always rent a sun bed for the day if you're not a fan of the sand, or simply whip out your Decathlon travel towel and enjoy the view. Be sure to always bring a bottle of water with you and some snacks!
If you don't want to volunteer that many hours per week (most Worldpackers volunteer opportunities in Tenerife are around 25h per week), Duque Nest Hostel in Puerto de la Cruz asks only 16h of basic maintenance/handyman work, with 3 days off!

For those who like to wander around, Tenerife is actually quite well equipped with public transportation. Get a bus pass (or pay per each individual trip, on board) and go around the island. The actual distances from one town to another isn't that far, but the buses do run on their schedules so organise your time well.
By local buses, you can get to the Teide National Park, which is the island's number 1 attraction as we have seen. It is much easier to rent a car to enter and hike the trails, but you can also access it on your own.
More about digital nomadism in the Complete guide to digital nomad jobs.
3. Tenerife for the party animals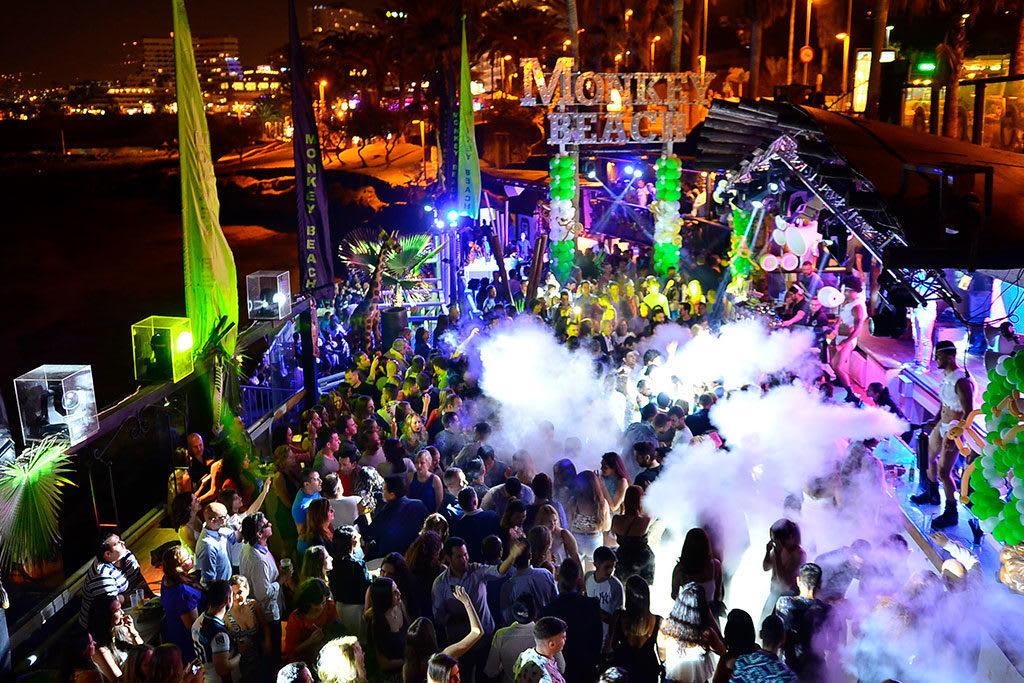 Let's brainstorm your ideal few days in Tenerife if you're a party animal.

After a morning lazing at a lagoon (Lago Martianez is one of the top ones), you head off in the afternoon to try your very first barraquito: a typical Canary Islands liqueur coffee made with espresso, condensed and frothed milk, lemon, cinnamon and the secret ingredient: Licor 43 or Tía María.

With all that energy, you stroll around Calle Mequinez, known for its street art. Thanks to the Puerto Street Art Project that began in 2014, Puerto de la Cruz's historical quarter is getting more and more known for its open air art museum vibe.

Once you've hunted down enough murals, head back to your hostel to get changed and ready for the night.
By this time, you've been volunteering at The Tree House and decided to go out tonight since you're on your 2 days off (and you get discounts on pubs, drinks, and tours). Since you share a dorm with other volunteers and have access to the common kitchen, you've made loads of friends from all over the world and have a group to go try some local food for dinner before going to party.
Since you've also met some locals, you head to a guachinche (makeshift side-road restaurant) to try out some local delicacies: garbanzas, churros de pescado, mojo, papas arrugadas, gofio... to name a few.

Amongst the cheap beer and sangria, the night falls and now it's time to take your pick of...
Where to go out in Tenerife
South Tenerife:
LeClub Beach Club and Otelo2 in Costa ADeja
Achaman Discopub
Papagayo Beach Club or Tramps Tenerife in Playa de las Americas
Casa Blanca in Los Cristianos and Punta Cana for the electro music lovers
North Tenerife:
Los Reunidos, Mojos y Mojitos in Santa Cruz
pedestrian street Calle de la Noria
Azucar, Mansion Lounge in Puerto de la Cruz
Blanco Bar
Gay bars: Anderson, Tabasco, Vampis (club)
The drinks are flowing, you're meeting new people, dancing the night away, and before you know it, the sun rises and you've had a wonderful night out. Thankfully you have a second day off to recover, before being back in action at the hostel!
4. Things to do in Tenerife for the couples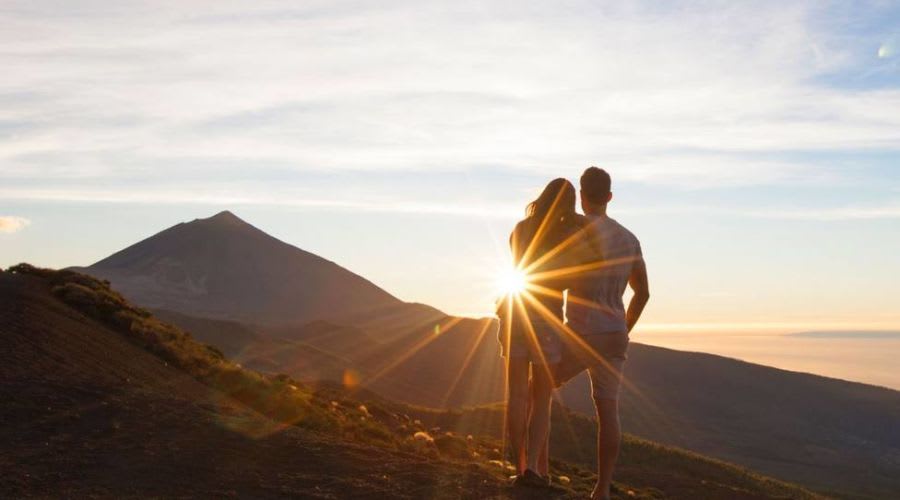 Depending on what type of romantic getaway you're thinking of, some volunteering opportunities on Worldpackers accept couples. This is a great way to travel on a budget (or sometimes even for free) with your loved one, and 3 hostels in Tenerife accept couples as volunteers.

Campobase.box is a small hostel in El Medano offering a place to stay in exchange of a few hours per day (25h total per week). They have 5 star reviews and from personal experience, El Medano is definitely a place to visit in Tenerife. It's smaller, more local, and the beaches are vast and spacious.
Patio Hostel in Santa Cruz de Tenerife is another hostel that accepts pairs. Their requirements are a little more strict (ages between 22-45, intermediate English and Spanish speakers, stay between 4-6 weeks) but you get 4 days off per week and a lot of perks. Keep in mind that all volunteer opportunities (once you're a Worldpackers member) offers support, insurance, and verification of all hosts.
Aside from volunteering with your partner, stargazing and getting lost in the Teide National Park or in one of the many beaches, Tenerife also offers a few wine tours.
Around 8000 hectares of the island are dedicated to wine production and Tenerife has 5 wine trademarks - not that bad for such a "small" island! So if you're feeling up for some wine tasing, Casa del Vino in El Sauzal is not only a great place to learn about wine and the industry in Tenerife, but it's also a great place to awaken all taste buds in your palet.

On a nice day, visit the "village at the end of the world", aka Taganana. It isn't the easiest to get to; Taganana means 'surrounded by mountains' in the ancient dialect of the Guanches (Tenerife's original inhabitants) so the roads are very windy to get there. But if you do make it, be sure to visit Nuestra Señora de las Nieves (the fourth oldest church in Tenerife, built in 1515) and El Bailadero viewpoint.

5. Tenerife for the families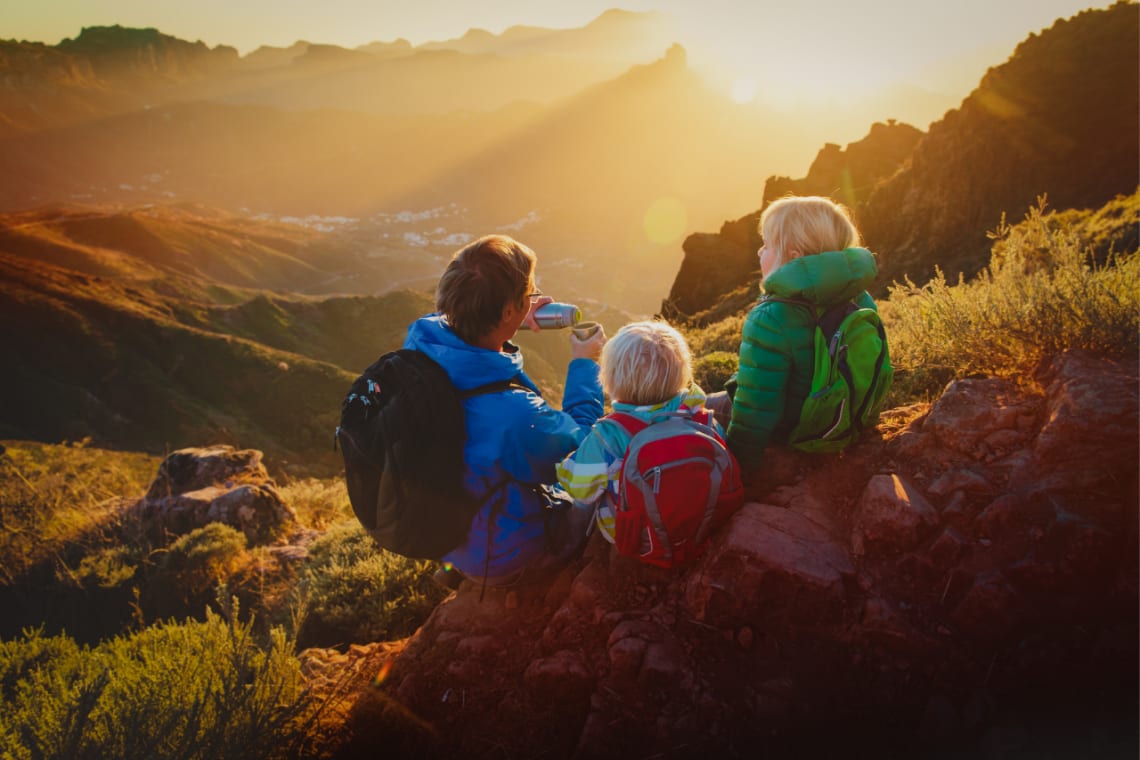 Aside from the various aforementioned activities and things to do in Tenerife, here are a few extra ones that make for unique experiences and unforgettable memories in Tenerife with your family.
There is one big water park in Tenerife called Siam Park, voted #1 in the world for 7 years in a row. It is a Thai influences amusement park, with its terrifying ride called 'Tower of Power' that jettisons riders through shark-infested waters in a protective plastic bubble.
A single adult ticket for non-residents is 38€, children's 26€, and under 2 year olds is free.
There is also a smaller water park which could be better for younger kids called Aqualand. Prices are roughly the same as Siam Park.
Whale and dolphin watching are great activities to do as a family to see these animals in their natural habitat. Tours can be a little pricey, but it'll be worth the day trip. There are up to 21 different species of whales (including pilot and sperm whales) all along the coast of Tenerife so plenty to see!
The cheapest you can find would be around 20€ for a couple of hours with snorkelling included, but more complete ones can go up to 70-80€ per person. Departure points are all around the island.
A cable car ride up mount Teide could also be worthwhile for a fun morning or afternoon. It goes all the way up to the peak, which is almost 12,000 ft above sea level.
A one-way ride up varies in price whether you're a resident (14 €) or a tourist (37 €). Child rates are lower (9,50 € for residents and 18,50 € for non residents). The jaw-dropping landscapes and views are said to be worth the fee!
Golfing, paragliding, surfing, kitesurfing are other activities that can be found on the island and that are all budget-dependent.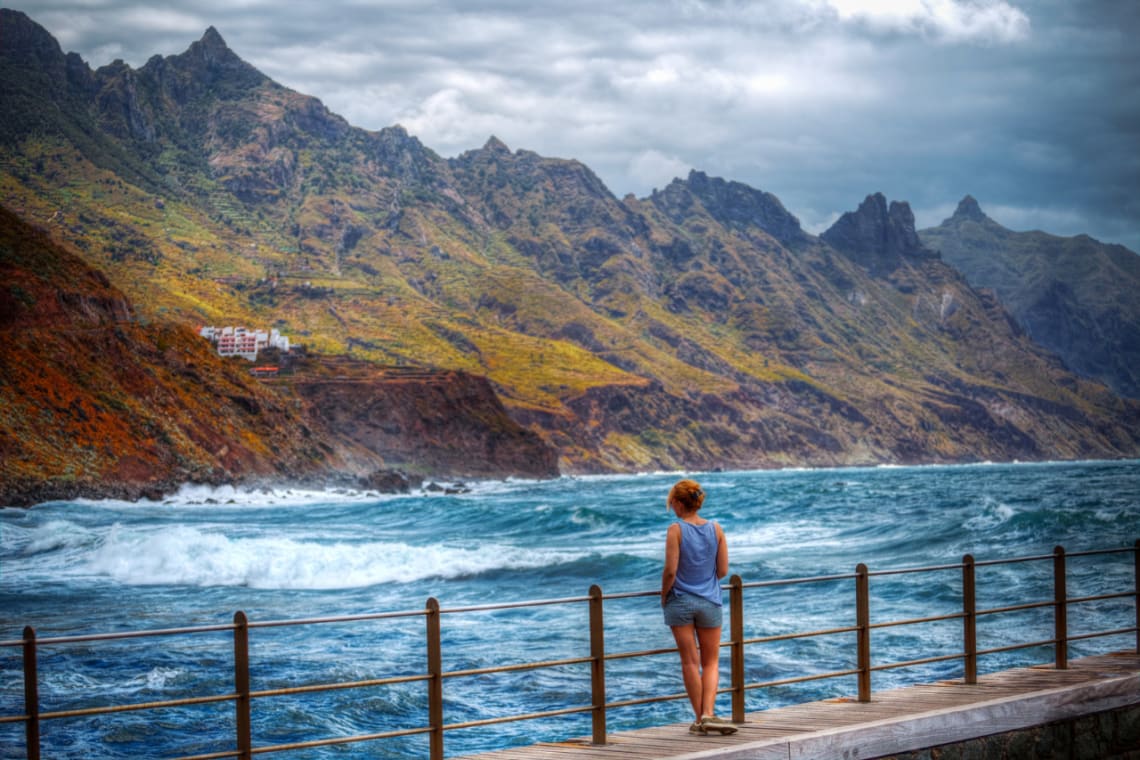 Overall, I would recommend spending at least 2-4 weeks in Tenerife (which is perfect as it is the average stay for most volunteering opportunities) in order to fully grasp the essence of the island. Tenerife is quite well connected with flights going in and out on a daily basis, from 2 airports (North and South).
I hope this article has helped you tailor your next trip to Tenerife! Hasta pronto!
If you love beaches, check out wich are the best beaches in Europe according to our travel experts.