10 tips for traveling around Spain
Ten things to bear in mind in order to really immerse yourself in Spanish culture and experience the best the country has to offer.
6min
With a warm climate, idyllic coastlines and some of Europe's liveliest cities and best festivals, Spain is a hugely popular travel destination.
However there are many factors you need to bear in mind in order to really immerse yourself in Spanish culture and experience the best the country has to offer.
Here are ten tips for traveling around Spain:
1. Adapt to Spanish time

2. Indulge in tapas culture

3. Head north

4. Travel by bus to save money

5. Try to take in at least one big festival

6. Look out for local celebrations and festivities

7. Explore the different neighborhoods

8. Try regional dishes and drinks
9. Book visits to the major attractions online

10. Don't come in the middle of summer

---
1. Adapt to Spanish time
While adapting to new time-zones is a regular challenge for travelers, visitors to Spain have the added complication of getting used to the country's late schedule. Spanish 'afternoon' lasts until around 8:00 pm, the time when most restaurants open up for the evening.
Most Spaniards don't eat their evening meal until even later than that with the sight of groups of friends and families out dining well past 10:00 pm common in many parts of the country, particularly Madrid which has a notoriously late schedule.
The sooner you can get in sync with this, the easier it will be to really get the best out of travel in Spain. That's particularly true if you're planning to experience the country's nightlife which starts and ends late with bars tending to fill up from 11:00 pm at the weekend while many Spaniards won't even consider going to a nightclub before at least 2:00 am.
2. Indulge in tapas culture
Spain is famous for its tapas but many visitors don't have a clear idea of how the country's tapas culture actually works. While there are many tapas style restaurants, the smaller local bars tend to have a selection of ready-made tapas that you can choose from, with the selection varying by the region.
However in many parts of Spain, you will be given some free tapas whenever you order a drink. This can vary from a small montadito (little sandwich) or some olives right up to a sizable portion of food. If you're not a fussy eater, it's entirely possible to fill up on free tapas without actually ordering any food and this can be an effective money-saving strategy for budget travelers.
3. Head north
Some of Spain's best food is found in the north of the country where tapas comes in the form of tasty pinchos or pintxos (in the Basque Country). While many visitors from abroad head straight for the Costa del Sol or Costa Brava, Spain's north coast is frequently overlooked, principally because it has a considerably wetter and more unpredictable climate.
However in many respects the north is the most beautiful and interesting part of the country. The northern regions of Galicia, Asturias, Cantabria and the Basque Country boast some of the best countryside in Spain with rolling green hills and loads of great hiking routes and spectacular bays to explore. Culturally these regions are also unique and offer a real contrast to other parts of the country.
4. Travel by bus to save money
Spain does have an excellent high-speed rail network, operated by Renfe but unfortunately it can be very expensive to use. For the longer distance trips, it's highly advisable to book as far in advance as possible.
Budget backpackers though will most likely find that traveling around Spain by bus is the best way to go with almost all the major towns and cities connected by affordable and regular coach services.
5. Try to take in at least one big festival
There are no shortage of fiestas to choose from in Spain with some of the world's most famous celebrations taking place there each year. The Valencian region holds two of the biggest with the spectacular Fallas celebrations in the city of Valencia and the very messy 'La Tomatina' festival occuring in August in the nearby town of Buñol. Meanwhile Spain's most well-known festival is San Fermín which features bull runs on the streets of Pamplona every summer.
Easter is also celebrated with large parades in some cities, particularly in Andalusia. In the city of Seville, huge Easter parades are followed two weeks later by the Feria de Abril, another of Spain's grandest festivals when the city virtually shuts down for a week of partying and dancing sevillanas.
6. Look out for local celebrations and festivities
Even if you can't manage to time your trip to fit in one of the big festivals, it's worth looking out for any local celebrations. All of Spain's 17 autonomous communities have their own regional or national day and with local identity such a key part of life throughout the country, these are important celebrations for many people.
Not only that, but many districts even within cities have their own individual celebrations and festivals, particularly during the summer months. Barcelona in particular boasts an array of weird but wonderful neighborhood festivals while smaller cities have their own versions of the Feria in Seville.
7. Explore the different neighborhoods
Getting out and exploring the different neighborhoods is a great idea in a city like Barcelona where central areas are almost completely overrun by tourists at weekends and during peak times of the year. While La Rambla and the most central beach area in Barcelona may be nice to experience, it would be unwise to spend all your time around there with huge crowds and many overpriced and low quality bars, restaurants and gimmicky attractions. These kinds of areas do also unfortunately attract pickpockets and thieves.
Instead head to neighborhoods such as Gràcia in Barcelona and Mālāsana in Madrid to find the places where the locals go and get a more authentic experience of urban life in Spain. Malaga is another touristic city where you can find some real gems if you do your research into the different neighborhoods.
8. Try regional dishes and drinks
Spain is a very regionalized country with a host of different languages and competing identities. This manifests itself in terms of Spain's cuisine too with many regional specialities. Valencia is the birthplace of the paella and the best place to try it. Andalusia boasts the Gazpacho, a refreshing cold soup that cools its residents down during the hot summer months.
For culinary lovers though, northern Spain should be top of your list of priorities with regions such as Galicia, Asturias and the Basque Country all priding themselves on their cuisine. Drinking habits are also slightly different up north with cider drunk widely in Asturias while Kalimotxo (wine mixed with coke) is popular in the Basque Country.
9. Book visits to the major attractions online
One thing that travelers in Spain need to be aware of, before they even set foot in the country, is that visits to a few of the major sites and attractions do need to be booked in advance. Tickets for the Alhambra in Granada for example regularly sell out, sometimes even weeks in advance during holiday periods. Therefore some advanced planning will be necessary.
Other famous attractions such as the Sagrada Familia in Barcelona can be visited by purchasing a ticket on the day but it's cheaper and quicker to buy your tickets online and avoid the queues.
10. Don't come in the middle of summer
If you're planning a trip that will include a visit to several different parts of Spain, avoiding the peak summer period, between late July and throughout August, is advisable.
Not only are many of the coastal towns and resorts overcrowded and more expensive during this period, but many of the inland cities are scorching hot with sightseeing in the likes of Madrid and Seville really quite an unpleasant experience with temperatures regularly topping 40°C.
Late spring, early summer, or even early autumn still serves up warm weather in virtually all of Spain and you will be able to take advantage of cheaper prices with most Spaniards still at school or work during this period.
Find out the best time to visit Spain during the summer: The ultimate summer vacation in Spain: what to do, visit and eat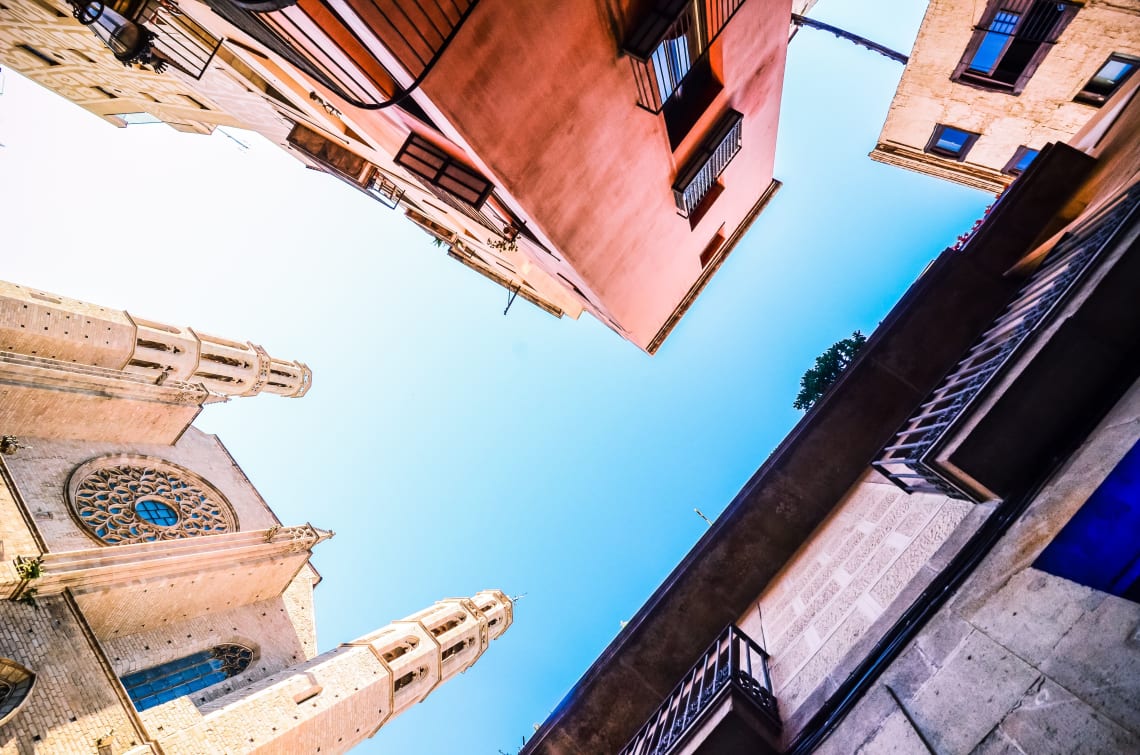 And finally, try to learn some Spanish to make your experience even more amazing. Here are some tips on how to learn Spanish on your own while traveling
Do you have any other travel tips worth knowing before a trip to Spain? Let us know in the comments!