The comprehensive guide to couple travel
Traveling as a couple will double the fun, the ease and the experiences while helping to halve your budget. Learn all of the couple travel tips, tricks and ideas we've picked up after 5 years together.
16min
Traveling the world will give you some of the most intense and unforgettable experiences of your life and traveling as a couple allows you to share these moments with the one you love. But two people doesn't have to mean twice the cost. You can totally travel as a couple on a budget... your wallet and your relationship will thank you for it.

I spent around 15 years traveling the world alone before I met my soulmate, and those 15 years were glorious. Ultimate freedom with nobody to worry about but myself. Wake when you want, move on whenever you wish and rest your head wherever you choose.
I've been with my partner, Carol, for five years now and it's like upgrading from Economy to Business Class.
Are there compromises? Yes.
Have I had to change my travel style? Yes.
Do I have any regrets? Absolutely not (and I'm not just saying that because my girlfriend is sat behind me right now).
Am I saving more money? Hell yes!
While traveling solo has tons of benefits, I'm only now appreciating how much fun traveling as a couple can be. Contrary to my previously held belief, it's both liberating and encourages so many more adventures. I'm also noticing my budget is stretching much further, which is an absolute winner!
In this guide I'll cover every aspect of couple travel and, to ensure it's not just a one-sided opinion, my girlfriend Carol will also be adding her insights, thoughts and opinions.
Borrowing a trick from Carol's journalism training I thought it'd make the most sense to break it down into the Four W's and H — Who, Why, Where, When and How.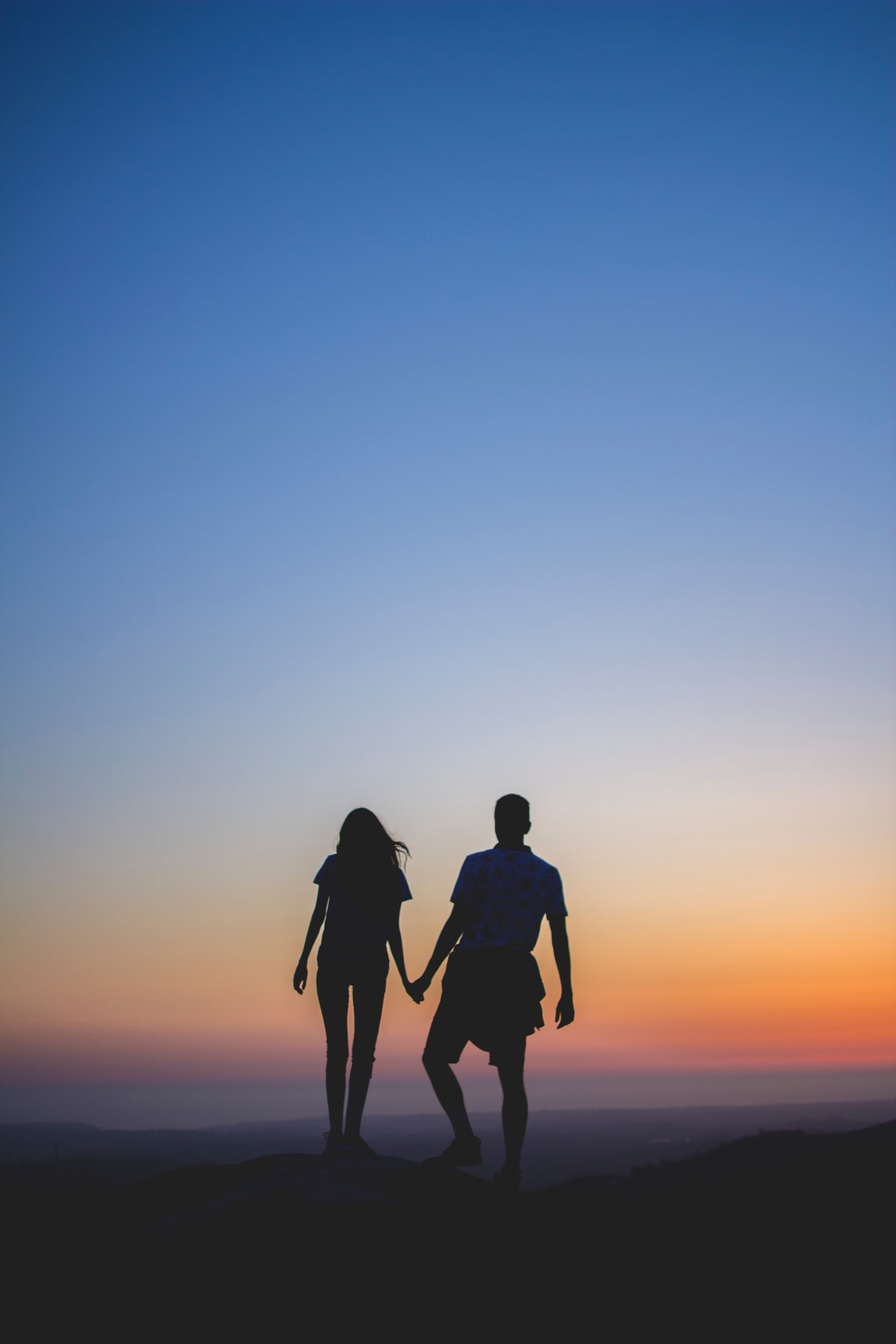 Who to travel with
This may seem like an odd question, but it's certainly worth considering before you embark on a vacation together. While 'the real world' can be full of relationship challenges, throw in the uncertainty and random elements of travel and the stress and strain can be too much for some relationships to endure.
People say that taking a vacation with your partner can make or break the relationship, and that's completely true. You're potentially going to be together 24/7. How often do you spend 24 hours a day, 7 days a week with the same person? Work? Not at all. At home? Even as a baby you get time to sleep alone. The closest I'd say you come is if you move in with your partner, but even then the day is broken up by work.
When you're traveling together it's usually side by side, day in day out, night and day.
That level of contact can do crazy things to people!
You're going to learn things about this person that no-one else on the planet knows, maybe not even themselves (we can sometimes be unaware of our own little idiosyncrasies). You will grow to develop a deep understanding of who they are and what makes them tick.
They say opposites attract, and while this is true in many, many situations... if your travel style, routines, habits, wants and desires are so vastly different from your partner then you could be in for a long trip!
I'm presuming that self-development is part of your reason for traveling, so you'll certainly want to be with someone who challenges, encourages and motivates you. While you'll be learning about them, they'll also be learning everything about you. You'll be opening yourself completely to them, so you'll want to feel comfortable and secure in their presence.
You're also going to want to discuss your budget beforehand too. Be honest about how much you have and how much you're willing to spend. For ease, transparency and track-ability I'd recommend pooling your funds, although it's not always possible.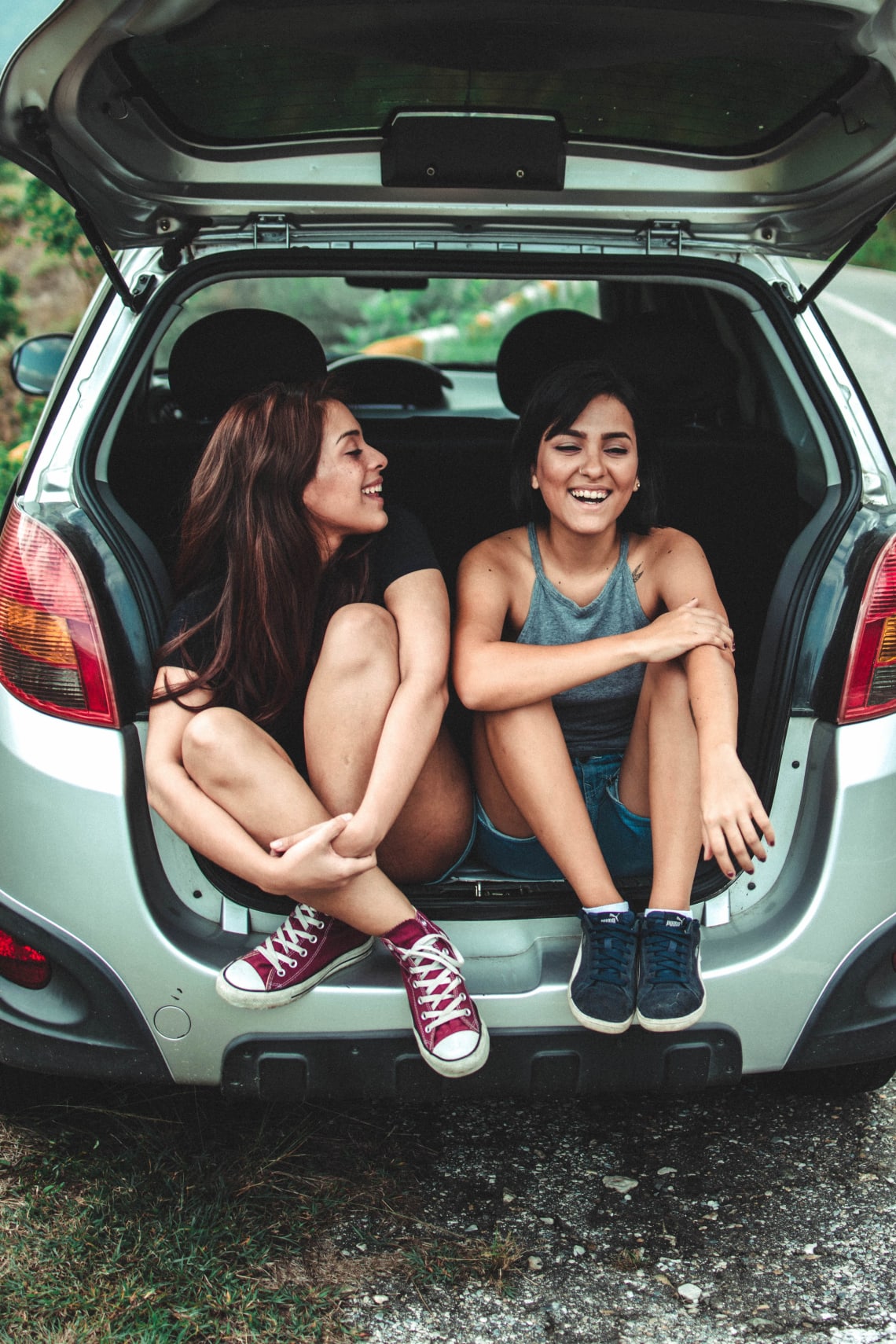 Why travel as a couple?
So many times when traveling alone I'd stumble upon something spectacular — a wonder of nature, a funny situation or something jaw-dropping. Your brain can't quite comprehend it, so you spin round to get a second opinion and there's no-one there.
While a photo is worth a thousand words (and a video a few more), they can never capture the entire flavor of a moment. Nothing beats the feeling of turning to a friend or loved one, seeing their jaw as wide open as yours, and then sharing your thoughts and reactions.
Memory is a fickle thing, so recalling the event (aided by the other person's perspective) helps cement it in your memory that bit deeper. Plus when you go to remember it years down the line, who you were with is yet another anchor to help recall the memory.
The more you experience together, the stronger your bond grows. Study after study has proven the benefits of traveling with a loved one, from increased empathy to an improved love life.
My personal favorite reason why I love traveling with my partner? As well as the love of my life, she's also my best friend... and who doesn't want to go on holiday with their best friend? You develop a hive-mind, anticipating and enjoying the good times, consoling each other during the bad and helping pick each other up when you're down.
While those reasons are intangible, there are more practical reasons for traveling together.
Two heads are better than one. Part of long term traveling is problem-solving. From the simple questions of how to get from A to B, to researching about visas to where the hell am I and how do I make enough money to feed myself.
They're all questions that have popped up over the years. Thankfully I was able to solve them all but I've noticed that problem solving with a partner is SO MUCH easier!
You each bring different skills, different talents and attributes to the table. Maybe you struggle with languages but your partner is a linguistic ninja. One of you may have infinite patience while the other has a short temper. By combining your skills you're twice as likely to succeed no matter what the universe throws at you.
If you're going down the digital nomad route then dividing the workload between two can save a ton of time, improve productivity and increase output massively. Social Media, content creation, editing, promoting, networking... they all suck up your time and can be overwhelming if you're on your own. Check out these practical tips on how to be a digital nomad, and split the workload in half for double the results!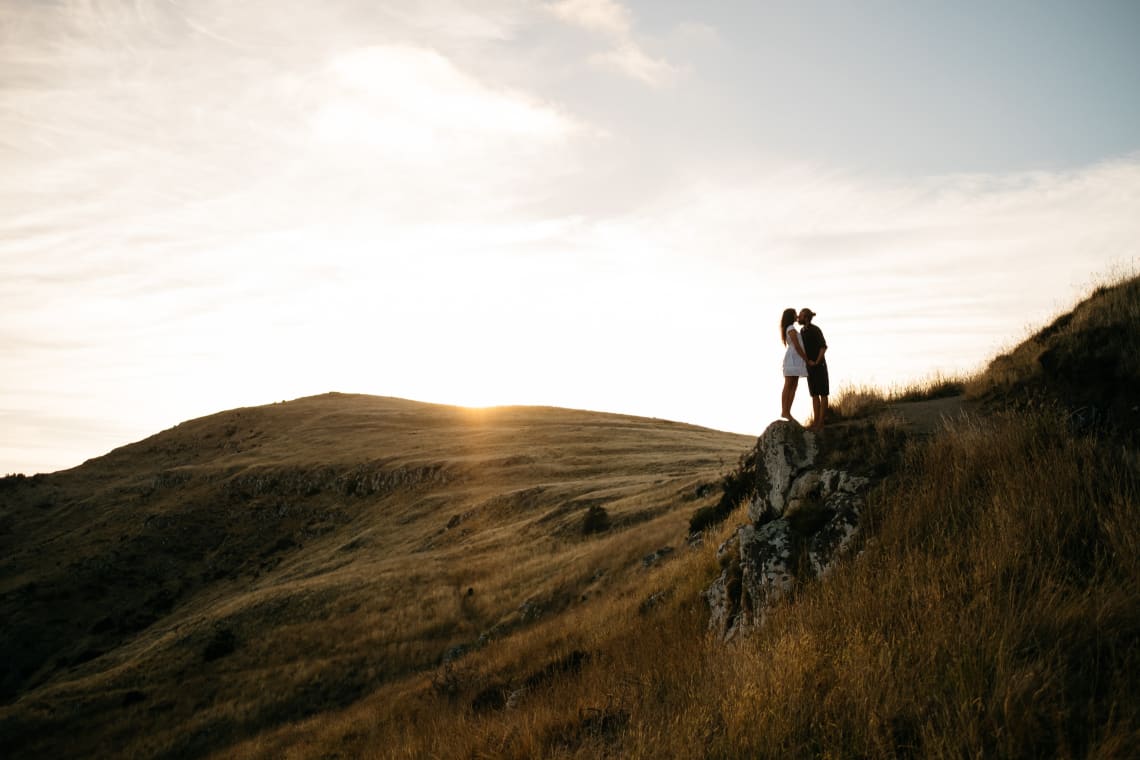 Where to travel as a couple
This will completely depend on you as a couple, but there are a few universal truths.
When you're in the planning stage, speak up! While you may only want to make your partner happy, if you agree to something you know you won't enjoy, it's a recipe for disaster.
If you love the cold and she hates it, yes, you can compromise and go 'just this one time', but will you be happy knowing your other half is absolutely miserable?
I'd recommend starting off small. Plan a day trip, then a weekend away. If they're both smooth operations then go for a week away together. This way you're spending more time together while gradually increasing the exposure to the potential obstacles/stresses that come with extended travel.
It's during this learning curve that you may also discover new likes or dislikes. Perhaps it never came up before but now you know your partner hates sleeping on trains. Maybe you're terrified of small airplanes. These are things that may never have come up in your daily lives, but you can use them to shape future trips.
Another side benefit of this style of gradual travel is learning how to deal with conflict. If you're constantly arguing and fighting, chances are you're not cut out for traveling together. Some level of disagreement is inevitable, it's how you process it and move on that's the important thing.
If you go for a weekend away, have a disagreement but then learn from that for the next trip, your relationship grows and you'll be stronger for it.
Europe is probably the best choice for couples to start their travel journey together. 28 countries all sandwiched together, each offering a different slice of travel magic.
Whatever your passion, you'll find it in Europe — food, adventure, romance, epic photos. There's so much to see and do that you'll be able to create lifelong memories with your partner in no time at all. And, while it's home to some of the most expensive cities in the world, you can definitely travel Europe on a budget, check out our travel hacking tips for budget travellers.
So, where are the best places to travel as a couple in Europe?
1. Paris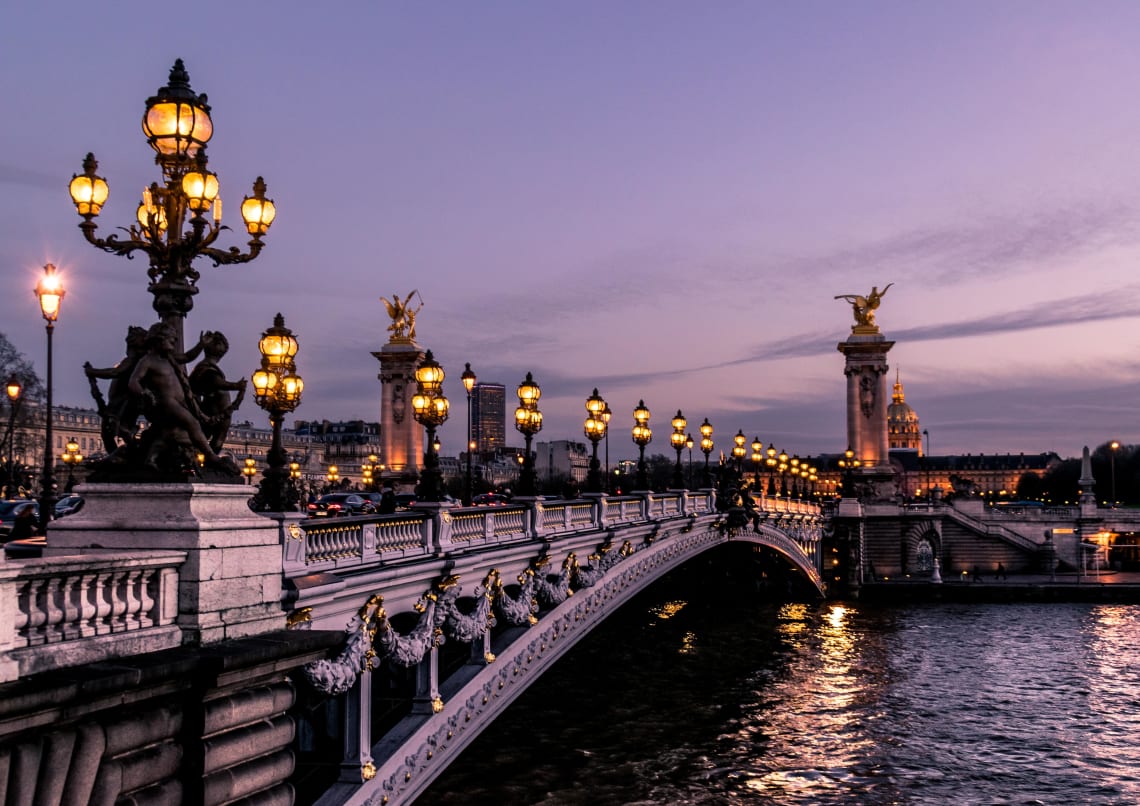 The city of love coupled with the language of love... that's a whole lotta love! Paris is on practically all travel bucket-lists ever created, and rightfully so. It's a beautiful city with lots to see and do, and plenty of it for free!
The classic attractions are the Eiffel Tower (tickets to climb the tower range from €10,20 up to 25, depending on how excited you are about climbing the hundreds of steps) and the Champs-Élysées (a 2 km tree-lined street leading from the Place de la Concorde to the Arc de Triomphe). Whatever season you choose and whatever time of day, it's a stunning walk.
After the photo opportunities it's time to fill your belly with all the tasty Parisian pastries, warming onion soups or meaty bourguignons.
Another benefit of traveling as a couple is that you get to try twice as much food compared to traveling alone. You each order separate courses and get twice as much French foody fun!
Most of the big museums offer discounted or even free days, but it's equally enjoyable to just grab a croissant on the Canal Saint-Martin and watch the world go by.
2. Venice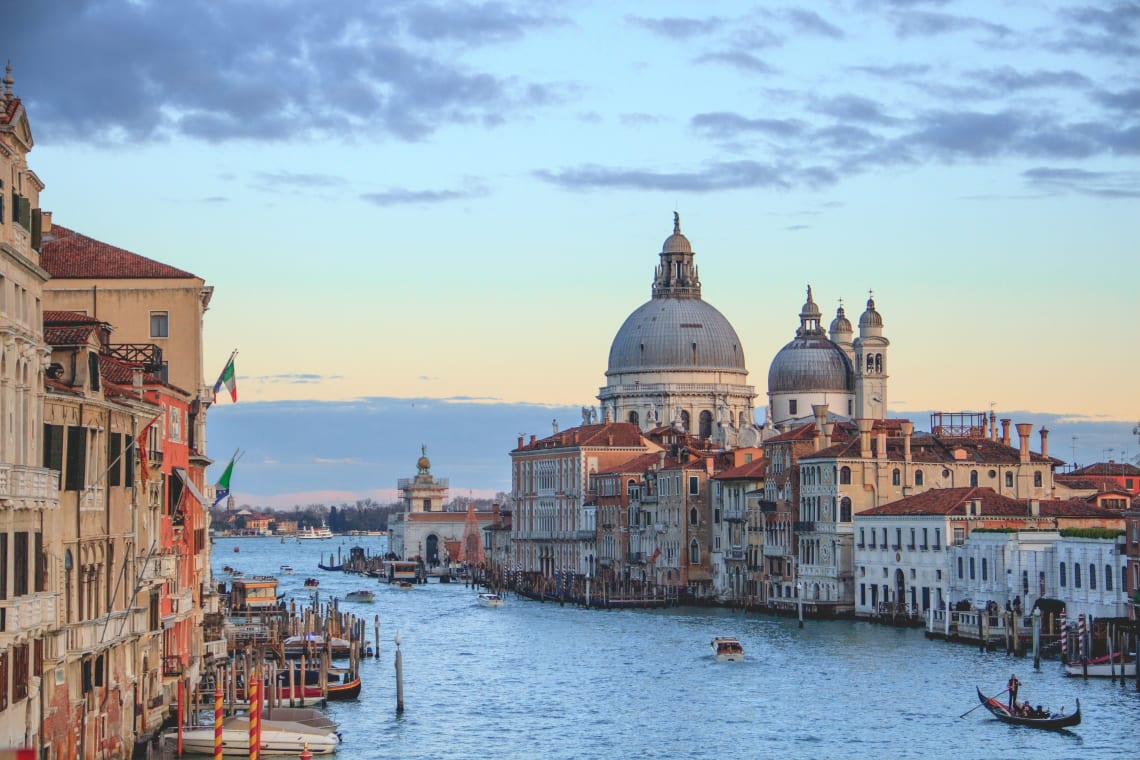 Venice, the floating city, will leave you with a thousand romantic memories. With no cars or bikes allowed on the streets, there's plenty of time whilst walking to fall in love all over again.
The canals are the main highways, and who hasn't dreamt about taking a gondola ride down the narrow paths whilst being serenaded by your stripe wearing gondolier? Gondola rides aren't so cheap (€80 for 40 minutes) so if you want the boating experience then take a water taxi (€13 base rate + €1.80 per minute afterwards).
Or even cheaper is just to wander around. You can discover so many amazing little hidden gems around every corner. If in doubt, walk.
For accommodation, save money by staying outside the main centre. There's lots of budget accommodation just a short journey away from the main islands.
If you want to stay in Venice for no money at all, consider working in exchange for accommodation and other benefits with a Worldpackers work exchange. There are some top-rated Worldpackers hosts in Venice, so what better way to experience the city than with a solid base beneath you, local guides all around you and no worries about accommodation?
3. Lisbon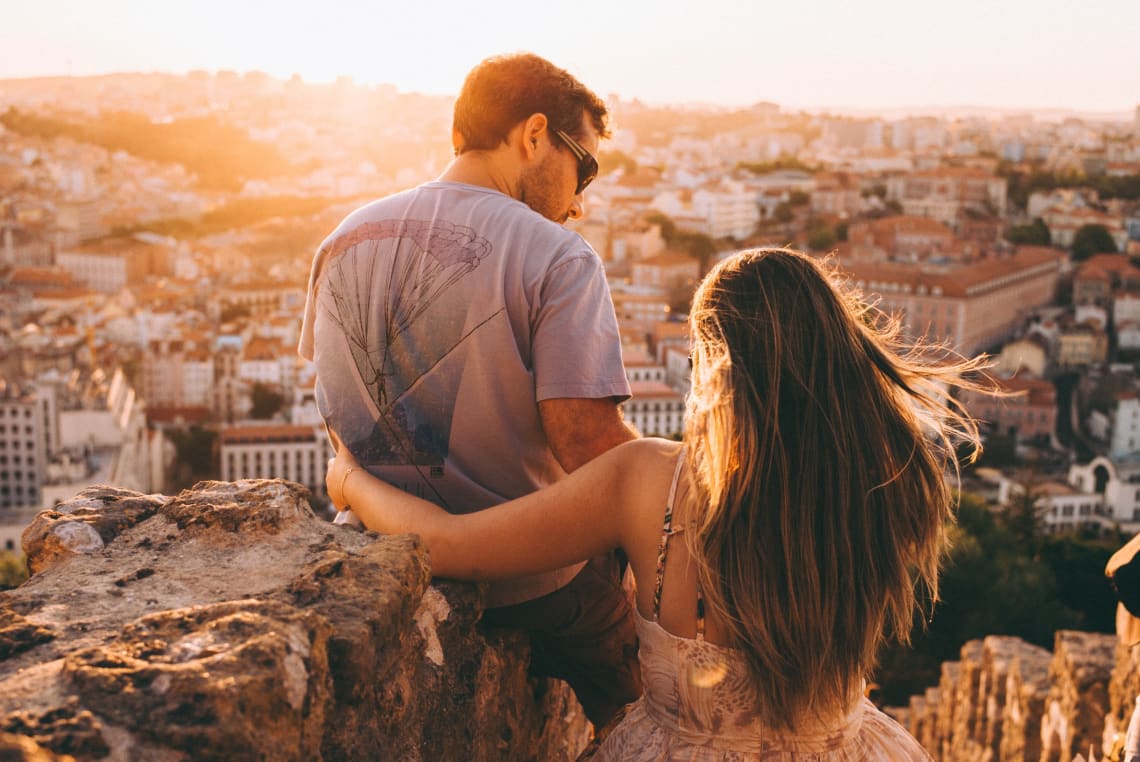 Lisbon has everything. Culture, history, nightlife, beaches, food. If you can't find happiness there as a couple, cut up your passport now!
While it's entirely possible to spend an absolute fortune enjoying life to the max, Lisbon is definitely a great travel destination for couples.
Spend a day or two getting lost in the winding streets of Alfama, the oldest area in the city, packed full of beautiful architecture, street art, cute little cafes and delicious restaurants.
Lisbon is also one of the best cities for digital nomads, featuring a great infrastructure and community. If you want to save on accommodation and stay in Lisbon for free, there's also tons of fantastic Worldpackers projects in Lisbon to choose from, making it a dream destination for everyone.
Those are the three top destinations I'd recommend for couples planning their first trip together
.
Europe has a fantastic infrastructure meaning moving from country to country is stress-free and usually pretty cheap.
There are lots of budget airlines like Ryanair and EasyJet which offer flights at ridiculously cheap rates (just remember to travel light as they make their money with additional baggage charges).
Other ways to travel across Europe are buses and trains which are clean, reliable and secure. I travelled from Toulouse (in the south of France) to Munich, Germany using Flixbus and it cost me €24 (1200 km crossing four countries for the price of a meal in London).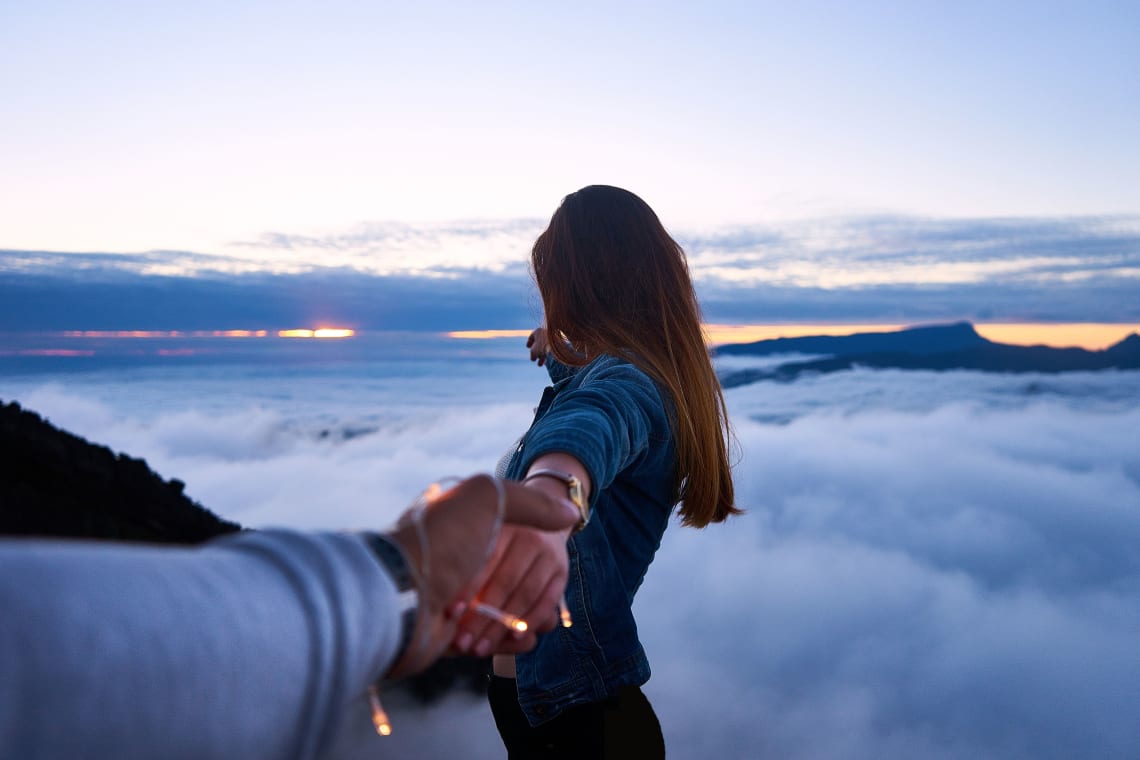 Where to travel as a young couple
For younger couples wanting more of an adventure, work in Australia is probably the prime choice.
Getting a Working Holiday visa is relatively easy and gives you a year to explore the magnificent island with the option to work if your money starts to run out.
I met hundreds of couples traveling together when I was backpacking around Oz. The natural beauty, adventure, wild interior and vibrancy are intoxicating. You'll definitely create a lifetime worth of memories as you travel around, and you may not want to leave.
Australia also has an excellent infrastructure based around tourism, so getting around and staying safe is pretty easy. It's much wilder than Europe with the snakes and spiders, but it's easy enough to avoid them.
After Australia the natural path is to head to Vietnam, Cambodia, Laos and Thailand. The backpacker trail is one walked by thousands of couples every year. It's wild, exotic and a dream destination for adrenaline junkies and beach bums alike.
They are well catered for tourists, but with less rules, regulations and limits it can be a little more testing for the relationship. Here are some other summer travel ideas.
If your relationship has held firm through Europe, Australia and Southeast Asia then I'd say you'd be fully prepared for a South American road-trip, Indian adventure or African experience. The world is your oyster!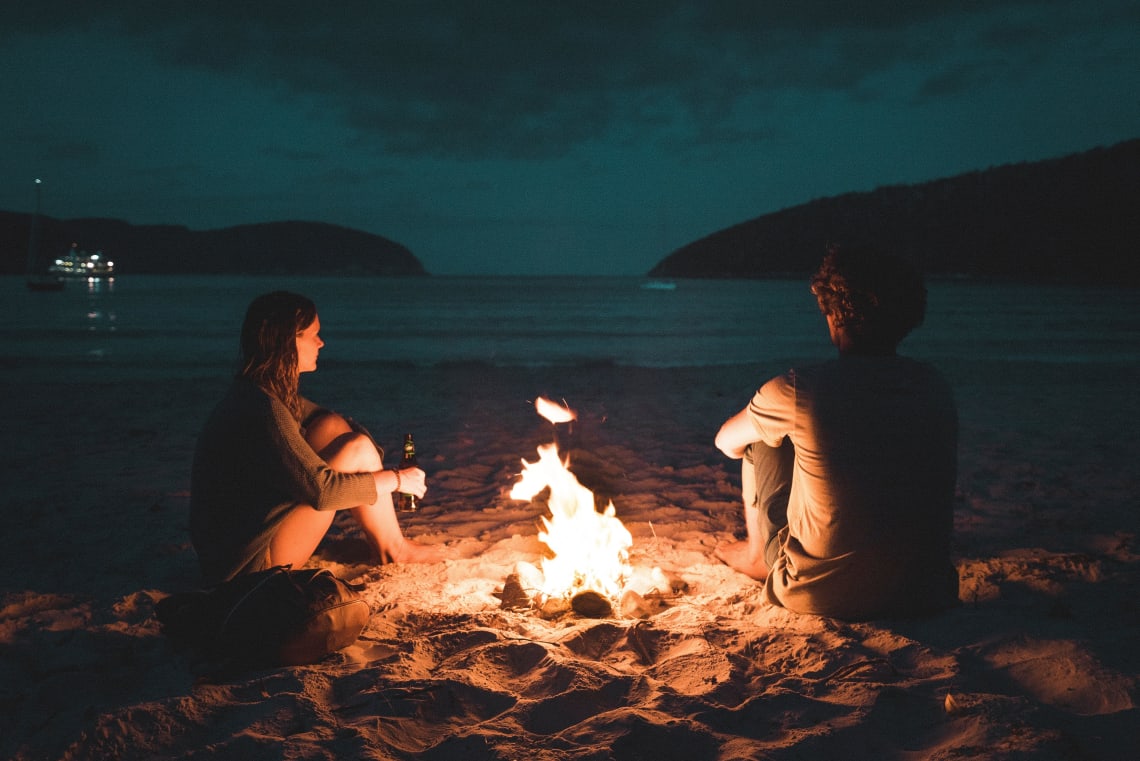 When to travel as a couple
Regardless of if it's love at first sight, it's probably best waiting a little time before suggesting running away together.
There have been plenty of scientific studies and they all seem to suggest the same timeframe. Three months is the sweet spot when considering when to travel as a couple.
The awkwardness has hopefully passed, you're becoming comfortable in each others company but you're still in the exploratory phase. You still surprise each other and have those "Oh" moments, but you've also developed a level of trust that means you can let your guard down and take a trip together.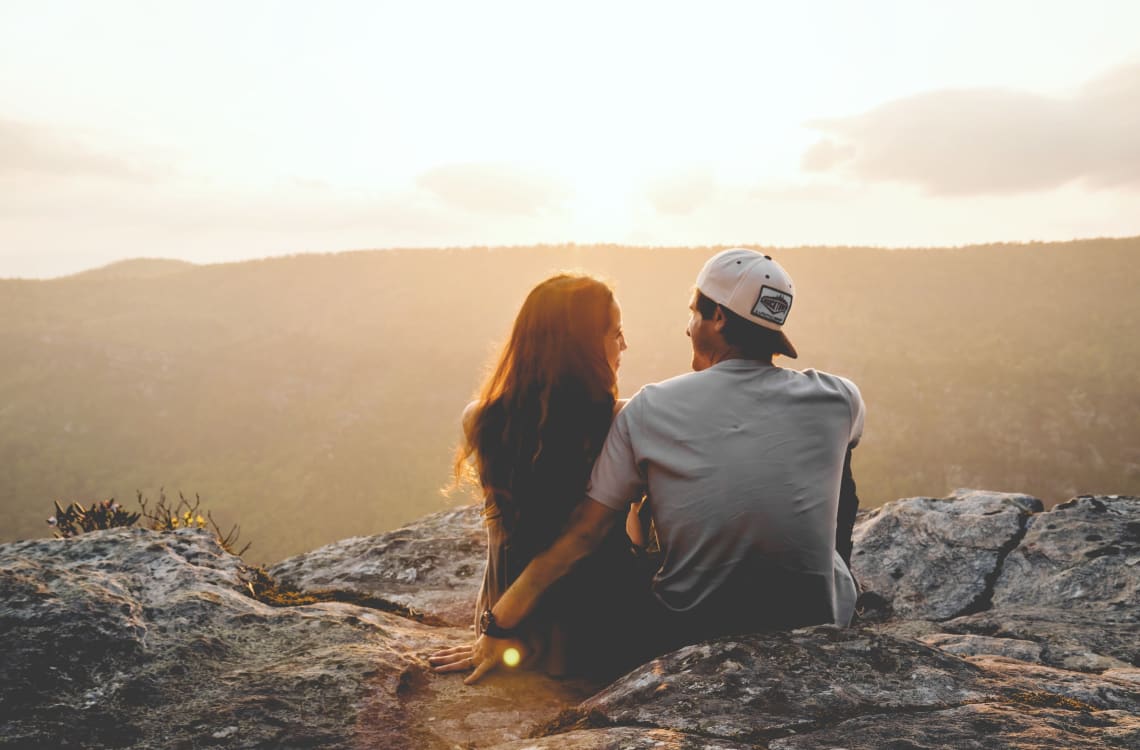 How to travel cheap as a couple
When you're traveling solo you'll need 1 of everything — 1 camera, 1 tent, 1 set of toiletries, 1 set of adaptors and cables, etc. When you travel with your partner it creates opportunities to halve everything. One of most things is plenty. This reduces your initial costs, insurance premiums and weight in your backpack.
Here are some pro tips to save money and travel cheap as a couple:
Save money on food
Save money on food by sharing the main meal. While this isn't ideal everywhere (and probably frowned upon in some classier establishments, 9 times out of 10 it will be fine. Order your own starters or desserts and split the main.
Save money on accommodation
Accommodation for one person will often only be slightly cheaper than for two. Multi-person dorms will be cheaper alone, but if you're wanting any kind of privacy then it'll usually cost you more if you're alone. With a partner you can halve the cost.
Camping can save you a lot of money, but it can also be a little daunting camping alone. A designated campsite is different, but when you're wild camping it can lead to some sleepless nights as you lay, clutching your torch like a lightsaber, listening to every little noise outside. There's safety in numbers, plus one of you can guard the tent while the other goes supply shopping or to the toilet.
Worldpackers currently offers a Couple and Friends Plan for couples or two friends traveling together. The plan costs a mere $59 (paid once and valid for one year) and gives you and your significant other full access to use Worldpackers as Verified Members.
Together, you can apply to any Worldpackers host that accepts doubles! Remember that it's only possible to apply for volunteer positions if both profiles are completed and if both of you fulfill the characteristics required on the position description.
Save money on transportation
While I always try and take night buses when going long distances, not everyone enjoys the cramped sleeping arrangements. If the country you're traveling through operates night trains they can be much more comfortable. They can also be a little scary as you'll either be sleeping in a cabin with other people or out in the open carriages. Having a partner to snuggle with removes all those fears (plus it means two chances to wake up in time and not miss your stop).
While hiring a car sounds like a huge expense, depending on your destination, it can be the cheapest option. If you want to visit the middle of nowhere public transport may not be an option, taxis can be super expensive and hitchhiking too risky. If you hire a car as a couple you can split the driving and the costs.
Money is the source of most arguments, so make sure you have an honest and open discussion before you travel. It's also wise to re-evaluate your budget every month. See what worked, what didn't. What were your biggest expenses? Were they necessary? How can you avoid or learn from them next time?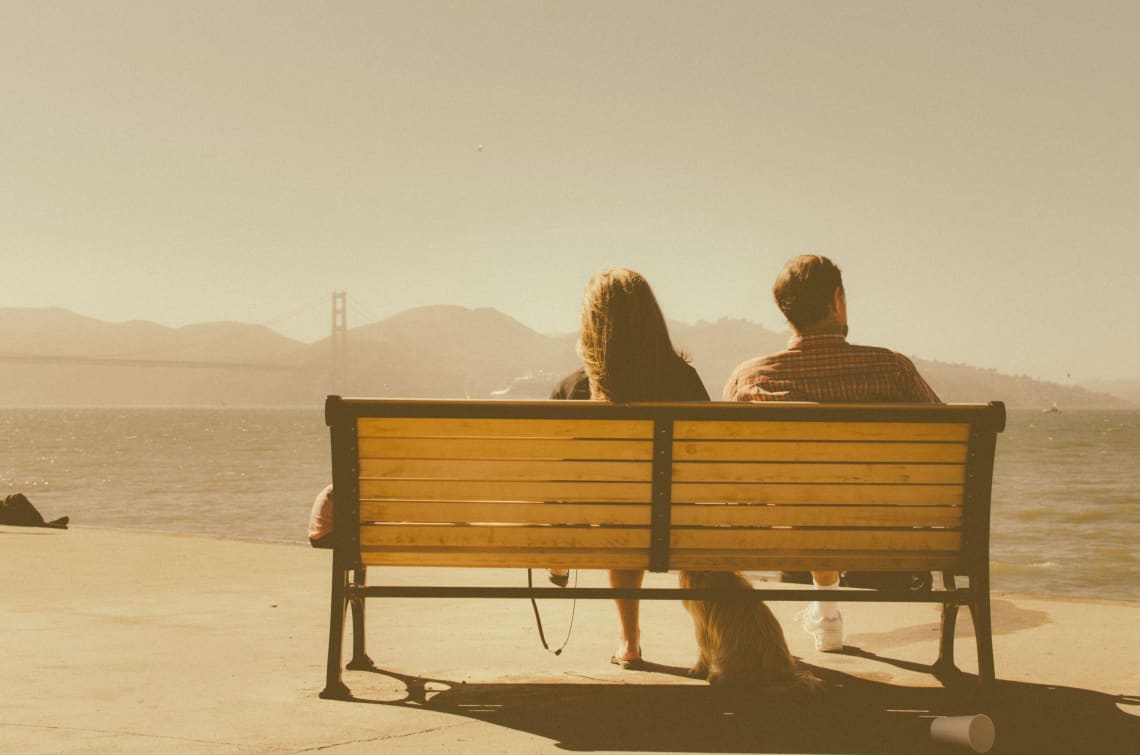 How to work and travel as a couple
If done well, working and traveling as a couple is a dream! Depending on what work you do, with a partner you'll have:
A business partner.
A personal cheerleader.
A sounding board to bounce ideas off.
A shoulder to cry on when things go wrong.
Someone to celebrate with when they go right.
A personal photographer/videographer.
Someone to keep you accountable.
Someone to spread the expenses with.
Someone to spread the workload with.
It can take some time to find your groove so don't expect it to be a smooth operation from the start. Discuss your strengths and weaknesses and work to them, but be flexible. You're going to be learning new skills and abilities as your business grows, so don't be surprised if your individual roles and responsibilities change over time.
Perhaps the best advice I can give is to plan. Plan, plan, plan.
While spontaneity is great for adventure and excitement, it's not the best when you're trying to get work done. You'll want to know where you'll be sleeping for the next few weeks at least, where you'll be working and what projects you've got coming up.
Working and traveling together as digital nomads is a full-time job, and you'll need to treat it as one. You can choose when you'll work, but you'll need to put in the hours and master the art of balancing work and play as a digital nomad.
If you need inspiration for what to actually do and how to do it, check out my article on how to travel the world full-time as a digital nomad (after finishing this one, obviously).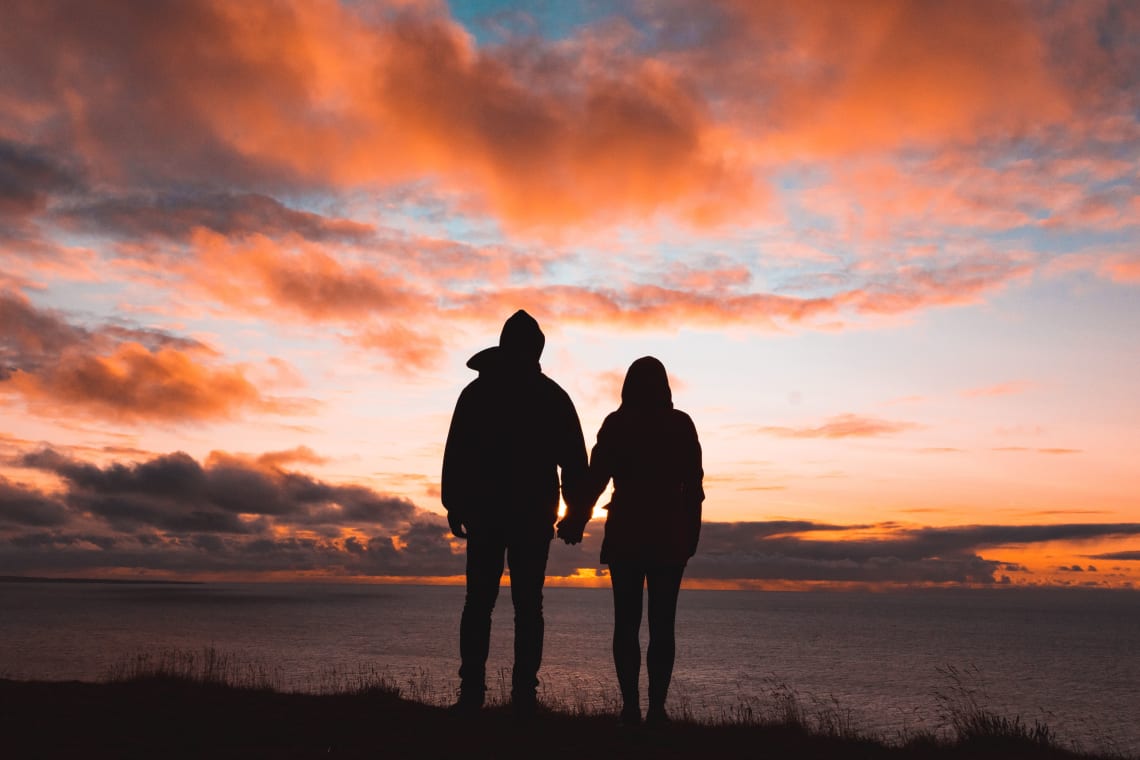 How to travel better as a couple
You are a team. Forget compromise and separate personalities for a minute... if you're planning to travel long term with your partner then you need to establish a team mentality.
Things will go wrong and you will make mistakes... that's a fact. If you do somehow manage to travel an entire year without a single incident then you need to bottle that up and sell it, because you'll become a millionaire!
While it may be your first instinct to blame the other or shake your head, don't! What happens to one happens to both and you need to learn to support each other unconditionally.
Another tip that I'm constantly working on myself is just talking. I've grown up internalizing everything. Whatever happens, good or bad, I go quiet, process it internally and then move on. When you're traveling with someone else that can lead to issues.
If the other person doesn't know what you're thinking or how you're feeling it can cause misunderstandings. Talk to each other. Share the good, but also share the bad. As you vocalize your opinions you'll also gain a new perspective on them. Sometimes saying something out loud can make you realize how silly/genius it actually is.
And do it nicely! It is not only important to talk, but to be nice while doing it. Stress can lead to arguments snowballing out of control.
One question I'd recommend you also keep in mind is how to travel the world as a couple and keep the romance alive.
You're going to become a team, best friends and develop a hive-mind... but you're also a couple. If you're not constantly working on it, it's easy for the romance to slip away and you just become two buddies wandering the world.
While that's no bad thing, I'm presuming it's not the outcome you desire. So how do you keep the romance fresh and alive when you're living in each other's pocket?
Date nights are always a winner. While it can be amazing to splash out occasionally and do something lavish, it doesn't have to destroy your budget. Candles and a bottle of wine in a surprise location can do it. Maybe a homemade picnic looking out over the Mediterranean Sea?
Anything that helps to break the travel mindset and remind you exactly why you decided to run away together. Surprises can be fun too. Leave a cute note hidden in a coat pocket (obviously check it's their coat first), a chocolate bar under the pillow or flowers in the room. Little things go a long way.
It also helps to take a ton of photos together. Life on the road moves by at a tremendous pace and it can be healthy for the relationship to stop occasionally and reflect on all that you've been through together.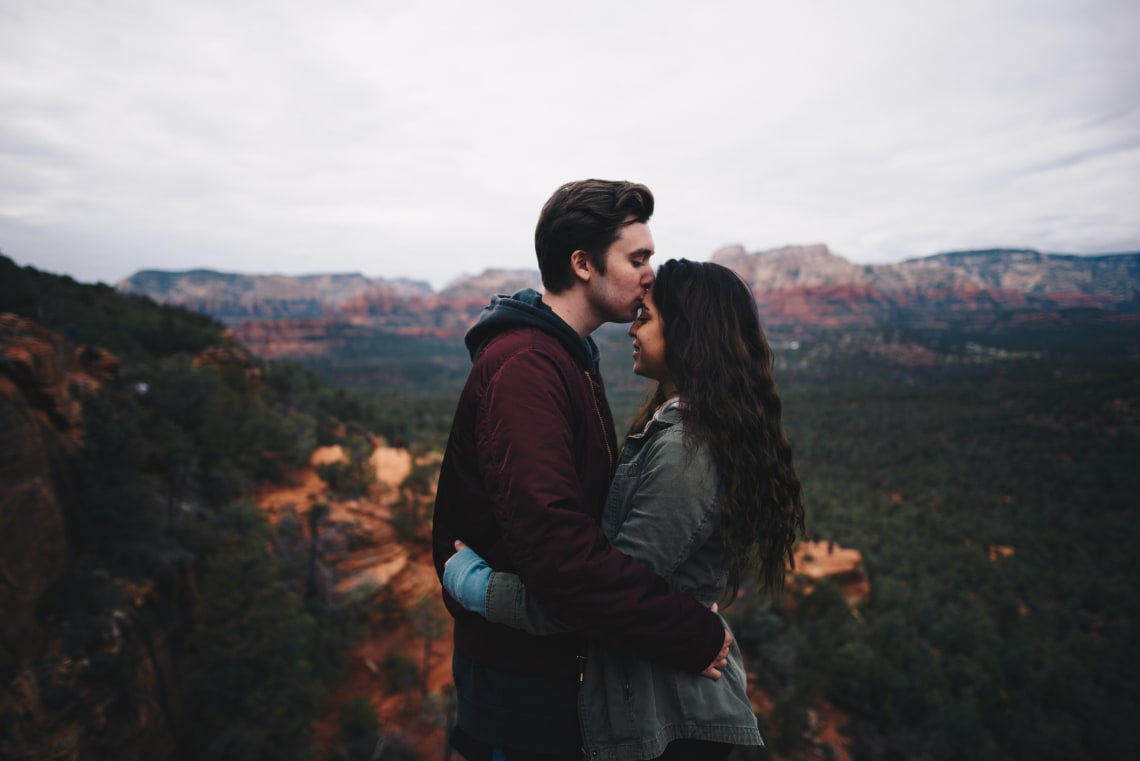 Couple tips
After writing this post I asked around all my travel couple friends for their tips and advice. I was not disappointed, and I hope you won't be either:
"Make a point of kissing each other in every place you go. It's your very first kiss in that new country/city/town and it'll help you to start your trip with a smile on your face. Also make a note of anything you missed on this trip. That way you learn from it when planning your next adventure."
"You don't have to spend every waking minute together. Sometimes it's refreshing to spend an afternoon apart exploring different things. When you meet back in the evening you've got different experiences and adventures to share and, if you feel you missed out, you can be their tour guide the next day."
"The more you learn about your partner, the more you'll learn about yourself."
I hope this post helped to answer any lingering questions or doubts you might have had about couple travel. It's not always plain sailing, but neither is life.
The benefits of traveling as a couple far outweigh any tiny negatives. You'll gain so much while also saving so much on money and stress.