The best things to do in Medellín, Colombia: top 14 places to visit and where to stay
Discover the best things to do while you are in Medellín, Colombia, as well as where to stay and how to get some amazing volunteer opportunities in the city.
8min
Capital of the Antioquia province of Colombia, Medellín is a bustling city surrounded by mountains, valleys, and natural beauty.
Boasting the nickname, "City of Eternal Spring", Medellín has beautiful weather year-round, with warm temperatures and often sunny skies. There can be some rain, but most of the year you'll find pleasant weather in Medellín, so there is no bad time to visit.
Surrounded by the peaks of the Andes Mountains, the city is framed with stunning nature and wildlife. There are lots of adorable small towns nearby that are full of friendly locals. Even in the big city itself, the locals are incredibly warm and welcoming.
Medellín is the perfect place to come to practice your Spanish and learn about Colombia's history through its museums and architecture. Indulge in amazing local food and coffee, experience the nightlife, and just enjoy your time in this beautiful South American City.
In the late 1900s, Medellín was not considered a safe country to visit due to high crime rates. However, that has completely changed. Medellín is now considered one of Colombia's safest cities, partly due to a rise in tourism and improvements in infrastructure.
It is also an affordable city in South America to visit! So whether you're a backpacker looking to explore on a budget, or just a traveler looking to experience the best of Colombian culture, nightlife, and cuisine, here are some of the best things to do in Medellín!
The 14 Best Things To Do In Medellín, Colombia
Medellín is an amazing city with lots to do. 3-5 days is a good time frame to spend here, though you could easily spend a week or more exploring all the areas outside the city.
If you have a few weeks or months to spend in Medellín, consider doing a work exchange so you can work for your accommodation. It will save you money and allow you to get an immersive cultural experience. We'll touch on this more after listing the top things to do in Medellín.
Tour Plaza Minorista Market
Exploring the local market is always a fun thing to do in any Latin American city. The Plaza Minorista market in Medellín is no exception!
Head here to buy cheap fresh products, sample some local foods like corn arepas, or practice your Spanish with the local vendors.
Visit An Art Museum
Medellín is home to some amazing museums, particularly when it comes to art.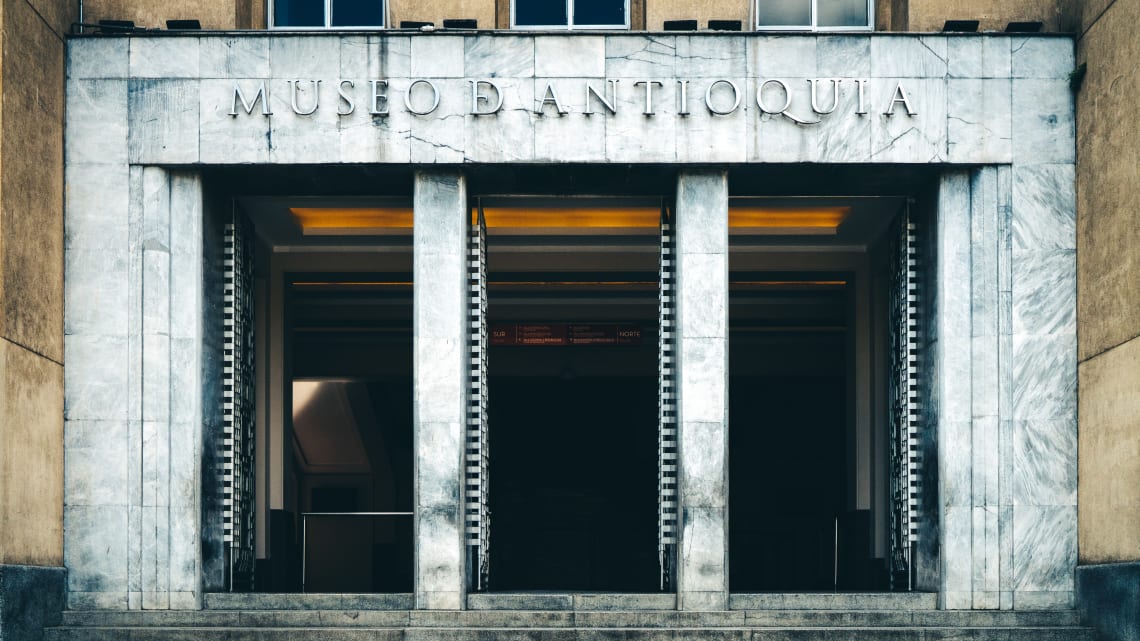 Museo de Antioquia is a former city hall that has been turned into a fascinating museum. This art museum houses a huge collection of Fernando Botero's works, who is one of the country's most famous artists.
Another art museum to check out is the Museo de Arte Moderno, which specialized in modern art. Check out the videos, paintings, sculptures, and theater to see the work of some of Colombia's best modern artists.

Relax in a Park
A great way to escape the hustle and bustle of the big city is to find a green space. Medellín has some lovely parks where you can listen to live music, have a picnic, people-watch, and rest your legs during a day of sightseeing.
Parque Berrío is a popular park in Medellín. It's more like a plaza with some nice green spaces, and there are plenty of local vendors here selling snacks and souvenirs.
Another great spot is Parque Lleras. This is the heart of Medellín's nightlife, so there will be lots happening if you come later in the day. But even in the afternoons, you can find street food and live music here.
Ride The Metrocable Up To Parque Arví
Another one of the top things to do in Medellín is ride the metrocable up to Parque Arví. This hilltop park is full of hiking trails and is also home to an ecological nature reserve.
The metrocable, which is a sort of cable car, takes you up the mountainside so you can enjoy panoramic views of Medellín and the surrounding nature on your ride up.
Visit Parque Explora
Parque Explora is actually not a park. It's an interactive discovery center based on science! This is a great place to bring the whole family, as there is plenty here to entertain people of all ages.
Parque Explora is home to a science museum and one of South America's largest aquariums. Participate in the interactive exhibits, visit the planetarium, and enjoy learning new things.
Take A Day Trip to Guatapé
Easily one of the most popular things to do in Medellín is visit Guatapé. This small town lies about 2 hours away from Medellín, however, so it is an entire day activity. You can also spend a few days here, but most travelers just book a day trip from Medellín.
Guatapé is a colorful town that sits next to a gorgeous lake. It's an incredibly scenic location, and the best views can be found atop El Peñol, a granite monolith. There are lots of stone steps, and it's no easy feat to reach the top, but the views over Guatapé are worth the climb.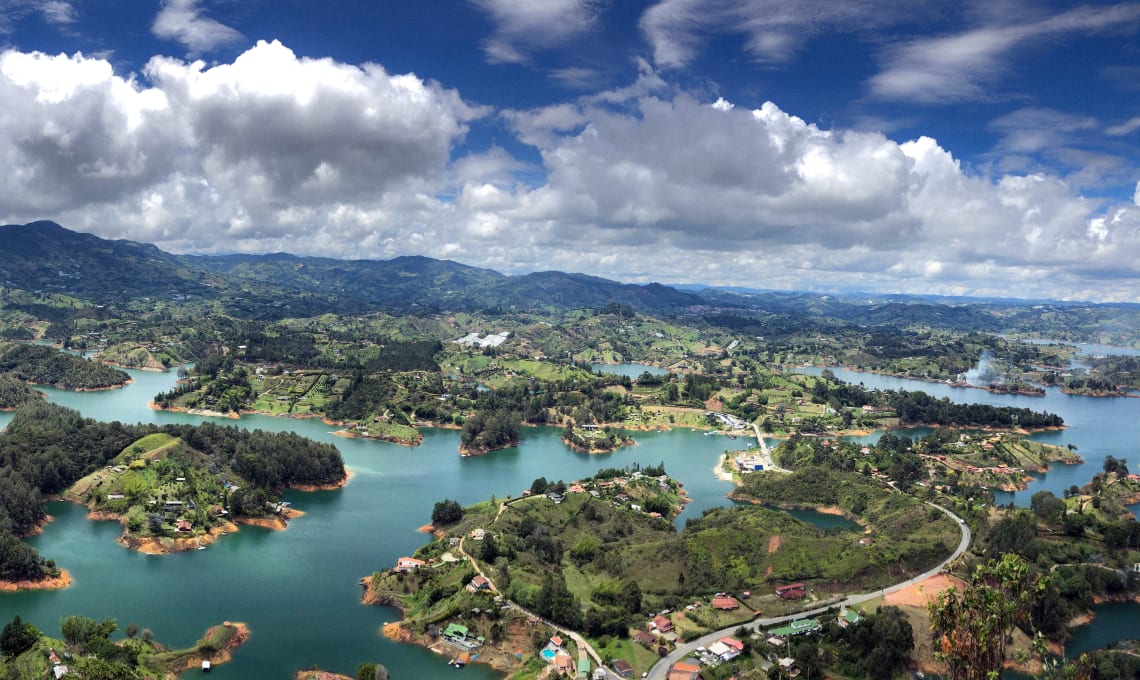 Visit the Botanical Gardens
Medellín's Botanical Gardens are another one of the top attractions in the city. Home to thousands of flower species, as well as lots of exotic birds, this is a beautiful place to spend an afternoon.
Wander through the orchid and cactus gardens, check out the butterfly garden, and see if there are any events, concerts, or festivals on at the gardens when you're in town.
Wander Around Plaza Botero
In the heart of downtown Medellín, you can find Plaza Botero, one of the city's most visited landmarks. This Plaza is a great place to begin your exploration of the city. There is some amazing architecture, as well as plenty of street vendors selling local handicrafts and street food.
Grab a bite to eat, hear some local street musicians, people watch, and admire your surroundings. Plaza Botero is also home to numerous sculptures by the famous artist, Fernando Botero, hence the name of the plaza!
Go On A Local Tour
If you're feeling a bit overwhelmed at the idea of exploring Medellín on your own, you can always book a local walking tour.
Real City Tours is a local company that hosts free walking tours of the city. You can explore with a local guide and learn so much about the history and culture of Medellín.
Other types of tours you can find in Medellín include Pablo Escobar tours and local food tours. If you're staying in a hostel, just ask the staff about the best tours on offer. They will have all the information you need!
Learn About Local History at Casa De La Memoria
This enlightening museum is an interesting Medellín attraction. Casa De La Memoria teaches visitors about Colombia's tragic and dramatic history.
From the Civil War, to gang violence and drug cartels, Colombia has a tumultuous history. Though much of the tragedy is in the past and Colombia is a very safe place to visit now, it is still interesting to visit the museum and learn more.
Casa De La Memoria focuses on educating its visitors, and it's completely free.
See the Street Art of Comuna 13
This neighborhood used to be one of the most dangerous in the city, but locals in Medellín have come together to transform this neighborhood into one of the top things to do in Medellín.
Escalators and improved infrastructure and safety measures have made the area much more accessible and approachable, for locals and tourists alike.
Local artists have also contributed some impressive street art and murals here in order to draw more visitors to the neighborhood.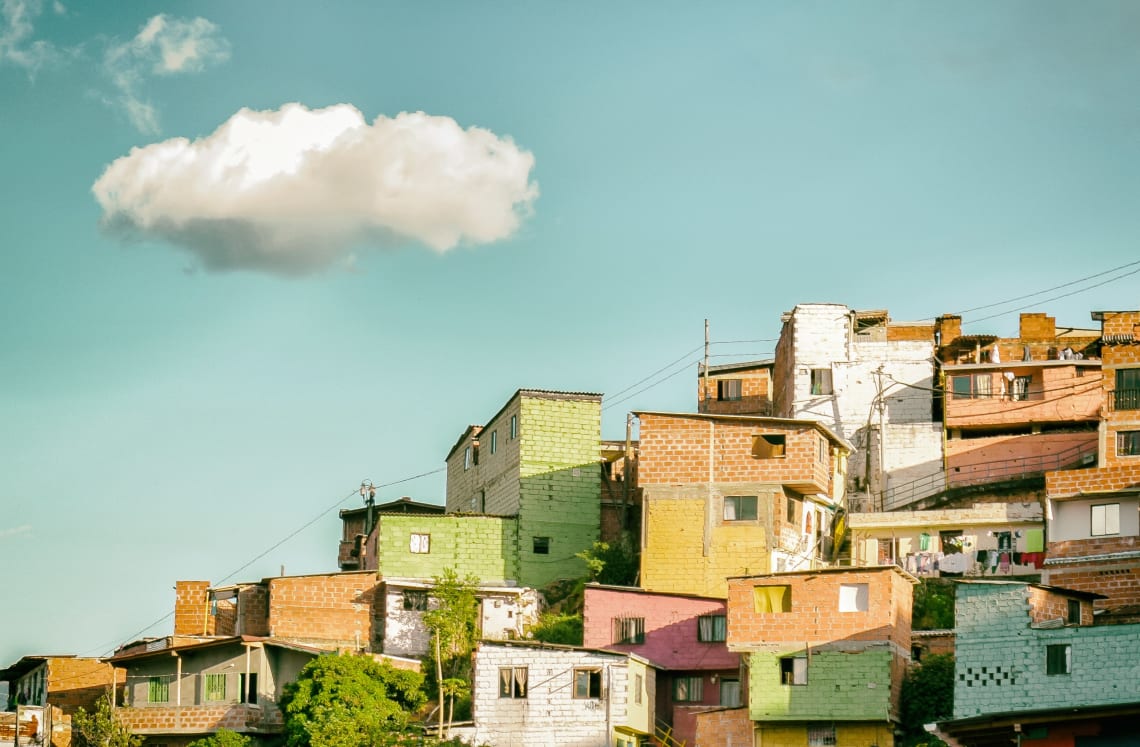 Watch a Football Game
Football, or futbol, is the most popular sport in Colombia, and locals are extremely passionate about it. Attending a local football match is a fun experience to have when visiting Medellín.
The city has two local teams: Atlético Nacional and Independiente Medellín. You can buy tickets for as cheap as 10-20 USD.
Go to a Brewery
Medellín has a growing craft beer scene, with lots of breweries offering tours and tastings. After a big day of exploring, there is nothing quite like relaxing with a cold beer.
Though there are lots of top-notch breweries scattered around the city, some of the best ones are 20 Mission Cerveza, Medellín Beer Factory, and 3 Cordilleras.
Visit Cañon del Río Claro Reserva Natural
Last on our list of the best things to do in Medellín is visit the nature reserve of Cañon del Río Claro. Full of dramatic natural scenery and thriving wildlife, this place is perfect for adventurous travelers who want a day outside in nature.
Located 3 hours outside the city, this is also best visited as a day trip or as a few days trip from Medellín. There are lots of cozy lodges to stay in, as well as canyons, caverns, and rivers to explore.
Enjoy rafting on the river, hiking through gorges, birdwatching in the rainforest, and ziplining over the treetops.
Where To Stay In Medellín Colombia
Here is a quick overview of some unique neighborhoods and areas to stay in:
El Poblado
This is the most upscale neighborhood that is popular among tourists. Accommodations here are a bit pricier, but the infrastructure and amenities are top-notch and the area is super safe.
Laureles
Laureles has a quieter, more laid-back vibe, with lots of fun bars and restaurants in the area. It sure is one of the best places to stay for first-time visitors.
Belén
Located just south of Laureles, Belén is an affordable place to stay in Medellín. Expect to see lots of locals and few tourists, and expect to pay a cheaper price here for accommodation.
Envigado
This neighborhood is safe and quiet, but it's a bit far from most of the attractions in downtown Medellín. This is a great place to live or stay for a while, but if you're just visiting you may want to stay somewhere closer to the city center.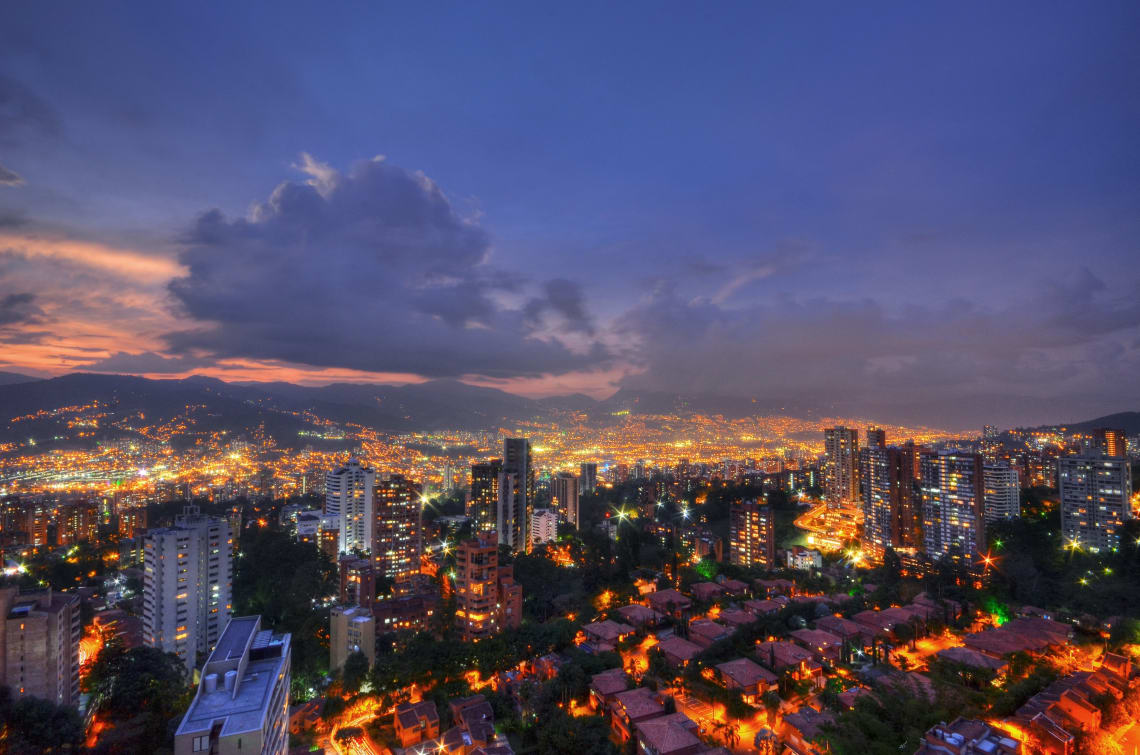 Volunteering In Medellín Colombia
If you're looking for a more culturally immersive experience in Medellín, consider doing a Worldpackers work exchange. You can live and work amongst locals and other travelers, which is a great way to make friends and learn more about the local lifestyle.
There are 10 awesome work exchanges in Medellín that you can apply for on the Worldpackers website. For an idea of what to expect, here are 3 of the top-rated Medellín work exchanges:
Work in a hostel: administration & reception, bartending, cleaning
This hostel is looking for volunteers to work 26 hours per week. In exchange, you get to stay in a staff dorm, enjoy free parties and discounts on drinks in the bar, and enjoy a social, fun environment in the heart of Medellín.
Work for an NGO: cooking/kitchen hand, bartending
A cultural heritage site in downtown Medellín, La Chispa is looking for volunteers to help with cooking and other tasks. You will work alongside other volunteers, and get to enjoy day trips in and around the city and free dinners.
Work in a hostel: painting, decorating, arts, handyman
There is another fun hostel in downtown Medellín that needs volunteers to help around the establishment. Help with manual labor and decorating in exchange for a free bed in a shared dorm with breakfast and laundry included.
Things To Do In Medellín Colombia Wrap-Up
Thanks for reading our guide to the best things to do in Medellín! It is a vibrant and exciting city that is only becoming more and more popular among travelers and backpackers.
Want to learn more about planning your trip to Colombia? By subscribing to the WP pack plan you have unlimited access to +120 courses at Worldpackers Academy, the travel school made by travelers!
This makes it easier to research work exchanges and get access to exclusive travel content made by other Worldpackers travelers.