16 photos to inspire you to visit Peru
I was in Peru for just over two weeks. For the duration of that time, I stared wide-eyed entranced by the sights, the plants, the animals, the fabulous architecture, the mountainous countryside and graffiti art in the city.
10min
In the early hours of Christmas Eve, I crossed the border into Peru on a night bus coming from Ecuador. Bleary-eyed, I greeted the immigration officer, got my entry stamp into the country and re-boarded the bus which then made its way along tiny coastal towns en-route to Piura.
Peru is the fourth country I've visited in South America. This highly-anticipated trip was one I booked in order to spend the holidays with my younger brother and his girlfriend. After reading about a fellow backpacker's incredible experience doing a work exchange in Peru, I knew that this adventure was going to be special.
Our itinerary was loose and largely unplanned but when I set foot in the busy, coastal city of Piura, I knew I had a mini layover until evening where I'd fly to Lima. From there, we had three more destinations: the desert town of Huacachina, Cusco and then a five-day trek past glacial peaks and jungly river valleys to Peru's grandest icon of all: Machu Picchu.

It's worth noting that there are so many unique Worldpackers exchange opportunities in Peru that I urge anyone who wants to visit Machu Picchu or explore the country to do it this way.
Doing a work exchange is an excellent way to save money on the road while also deepening your travel experience. You can immerse in the local culture while helping out at a hostel, NGO, school, farm, permaculture project, eco lodge, and the list goes on.
I was in the country for just over two weeks. For the duration of that time, I stared wide-eyed entranced by the sights, the plants, the animals, the fabulous architecture, the mountainous countryside and graffiti art in the city.
Peru is a place that varies greatly in its geographical diversity and the scenery, I found, was striking in every location. I must have snapped hundreds of shots but below are 16 of my favorites.
16 stunning photos to inspire you to take a trip to Peru
Locals observing an oceanside sunset, Lima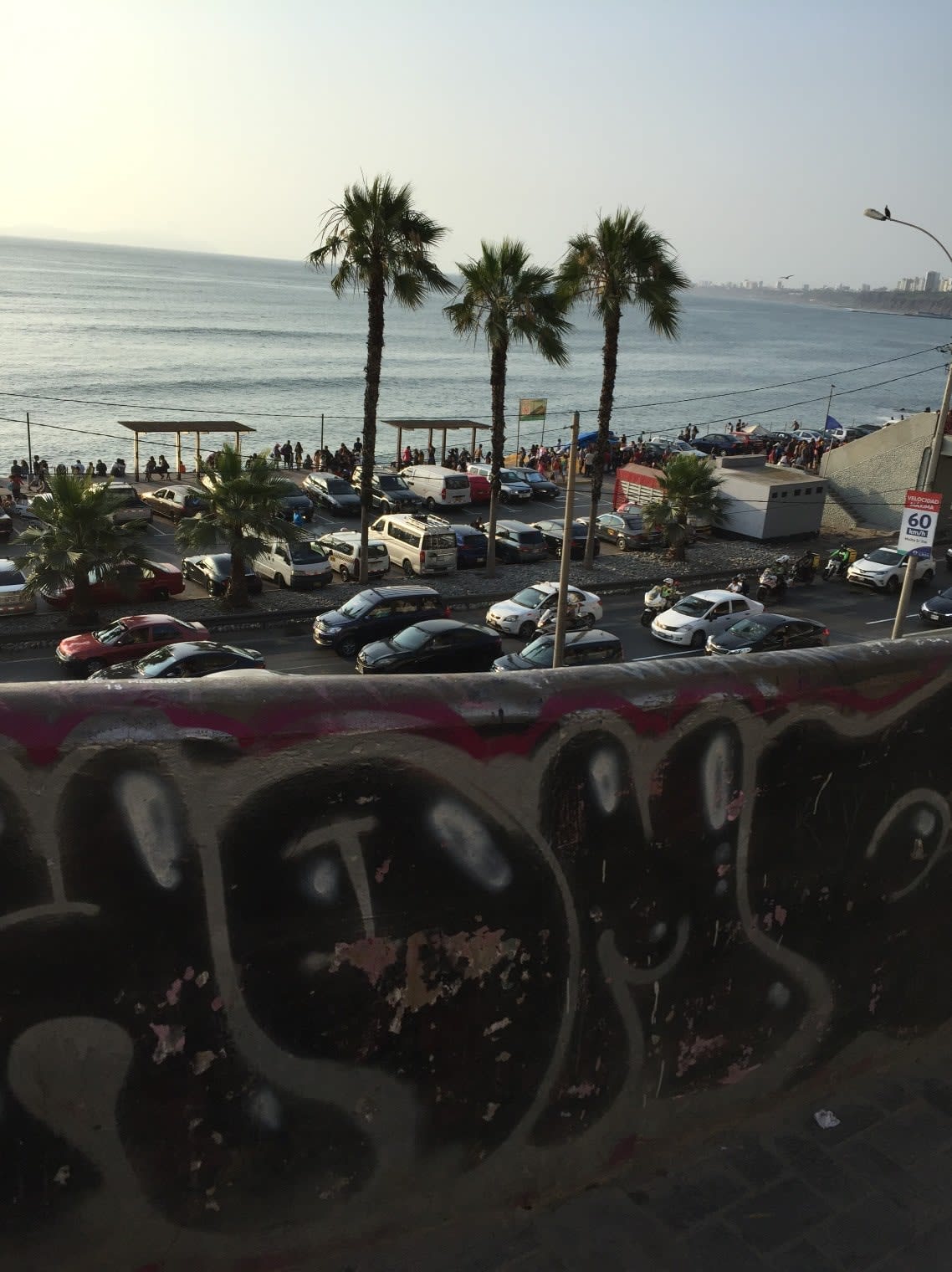 Before I left my little apartment in Ecuador, friends who had previously traveled to Peru casually mentioned that Lima wouldn't be my favorite spot in the country.
It has a reputation among backpackers too for being a get-in-get-out kind of spot. As in, you fly in, spend a day or two... and leave.
I had low expectations for Lima and was pleasantly surprised. The above shot was taken on Christmas Day as sun-kissed locals were getting ready to watch the sunset. It was beautiful. When the sun did sink below the horizon, we treated ourselves to ceviche (yes, it's world-famous for a reason) and Pisco sours (I recommend more than one but that's just me).
My only regret about my visit to Lima was not spending more time down at the beaches where music blared and vendors were selling mouth-watering cheap eats.
Next time...
Dancers performing at Iglesia Y Convento La Merced, Lima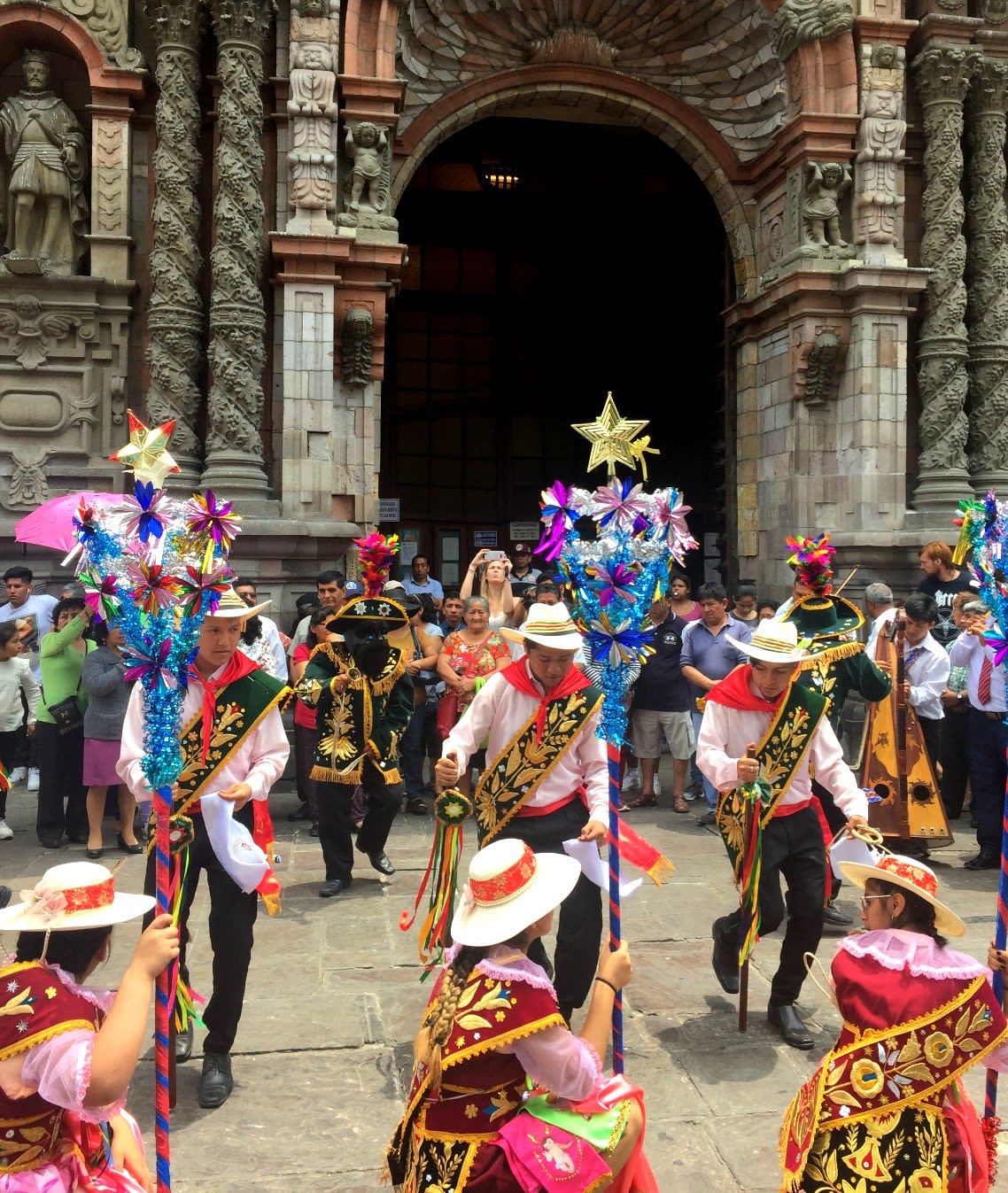 So far from the Christmas Day traditions from snowy Canada, we headed to Lima's El Centro on the morning of December 25th without any plan or direction. As we ventured away from Plaza De Armas and past Iglesia Y Convento La Merced, we spotted a crowd enjoying this dance performance.
What I loved most was their ornate and colorful clothing. We stopped in our tracks for a few minutes watching the dancers and their perfectly-coordinated steps. This was a moment that proved that sometimes when traveling, it's best to just wander without worrying about times or final destinations.
That's when you see the best stuff! After that, we enjoyed El Centro's many beautiful squares, impressive architecture and sipped on beers while we listened to yet another lively performance.
A quiet moment in Barranco, Lima's hippest neighborhood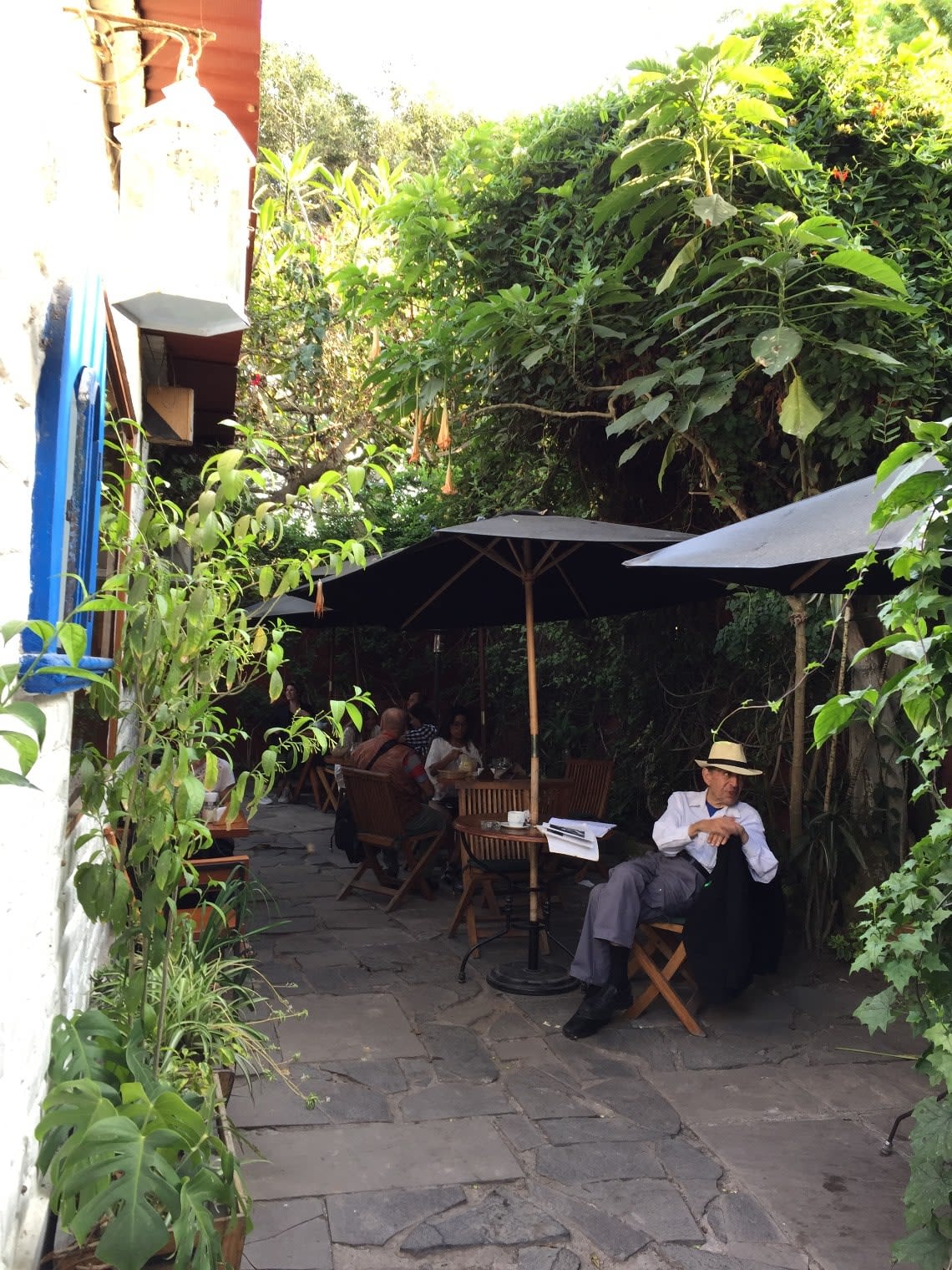 The quiet, leafy backyard of the appropriately-named La Bodega Verde was the image of tranquility. Peaceful little spots like this, I feel, are exactly what weary travelers need.
When I pictured Lima, I thought of tall towers, busy roads and the congestion that comes with major urban hubs. It is, after all, the capital of Peru and one of the largest cities in all of South America.
This quaint café was calm and airy and nestled off a street in the Barranco neighborhood (which, by the way, was my favorite of those I visited). When I wandered into the yard, I snapped a quick shot of this dapper man. I loved the way he was so calmly enjoying the moment on a sunny afternoon.
I think there's something to take from recognizing that when traveling, it's all too easy to be taken up with bucket lists, itineraries, jam-packed days and over-priced tours. When I see this photo, I'm reminded that the simple moments are the most under-rated of all.
Street art, Barranco neighborhood, Lima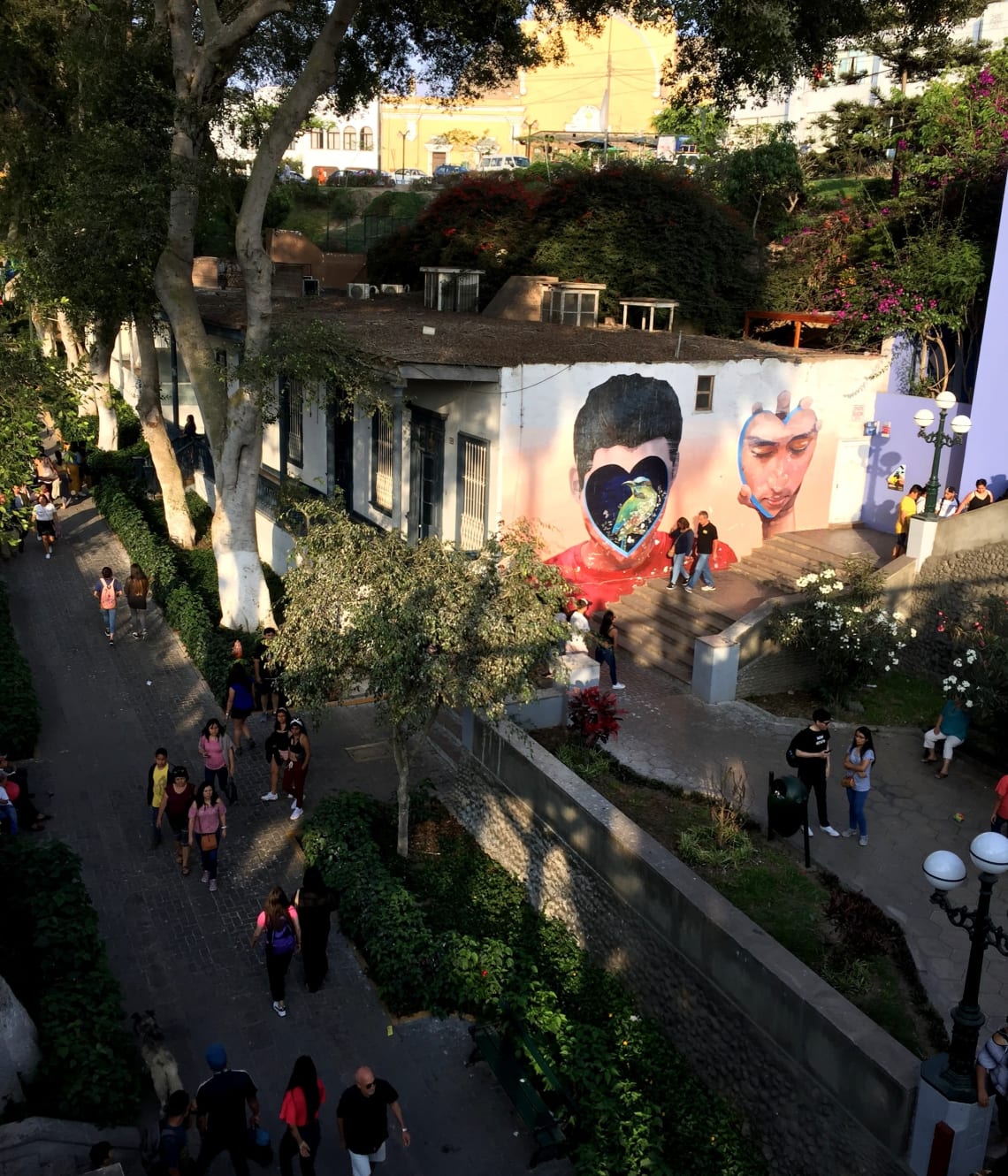 What I love about this photograph, again in the Barranco area of Lima, is the graffiti art featured here. It's hard to walk along this walkway towards the beach and miss these images.
Lima may have had a reputation for not being the most beautiful part of Peru but with its talents artists decorating city walls like this, I see evidence of the contrary.
The best thing about areas like this? Cash-strapped backpackers can enjoy its beauty for free.
Huacachina Oasis, Ica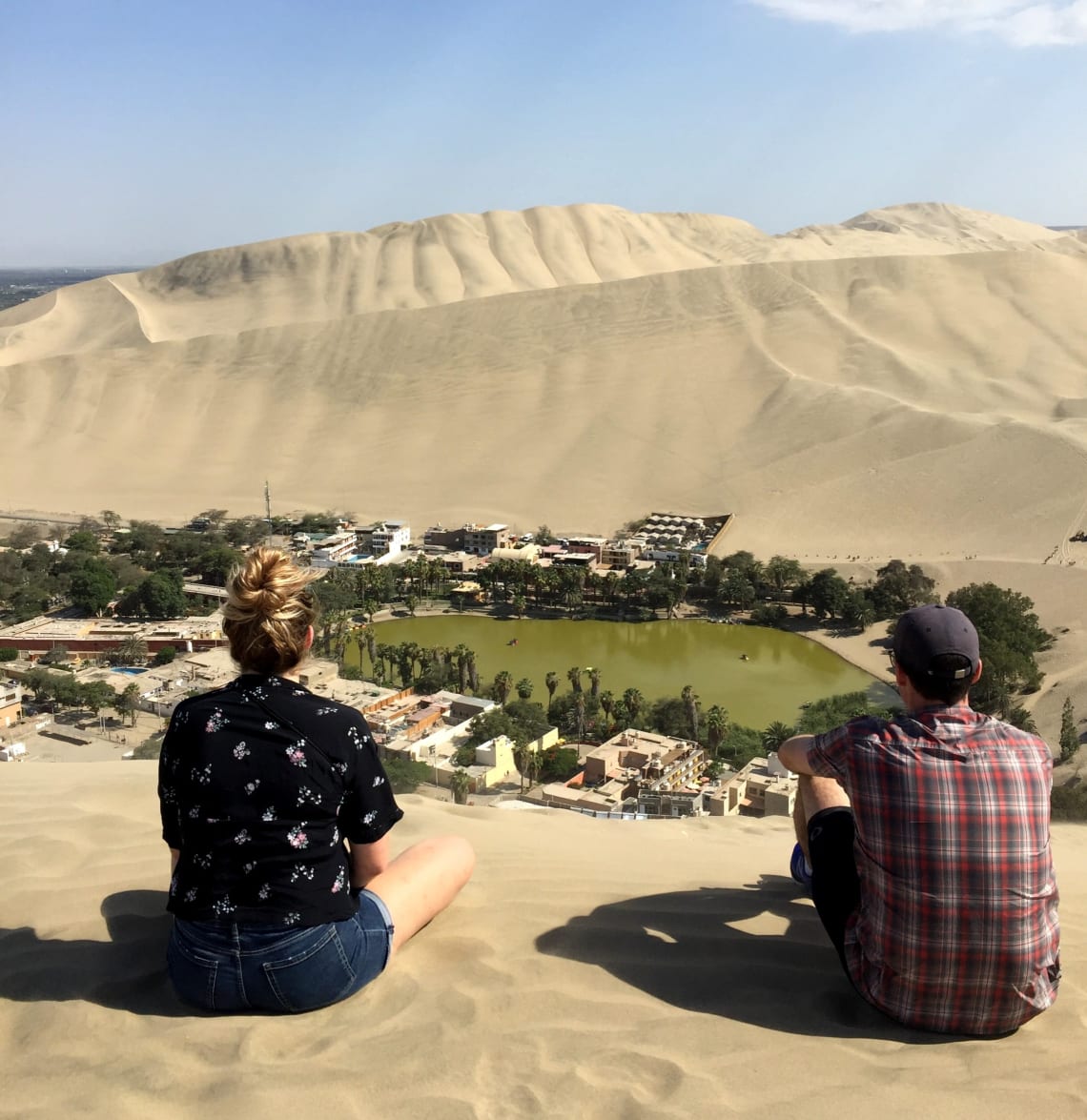 Five hours from Lima is Huacachina — the little oasis town in the middle of the desert. Outside of the city of Ica, this lake sits in the midst of towering sand dunes like the one my brother and his girlfriend are sitting on here.
From our hostel, we spotted other travelers walking along the sandy ridge to take in the town from above. We decided to do the same. It was sandy, it was hot and it was a tough effort. Mind you, we went in the middle of the day... not the best choice.
Still, the view of this random lake in the middle of nowhere was impeccable. No regrets!

Huacachina Desert, Ica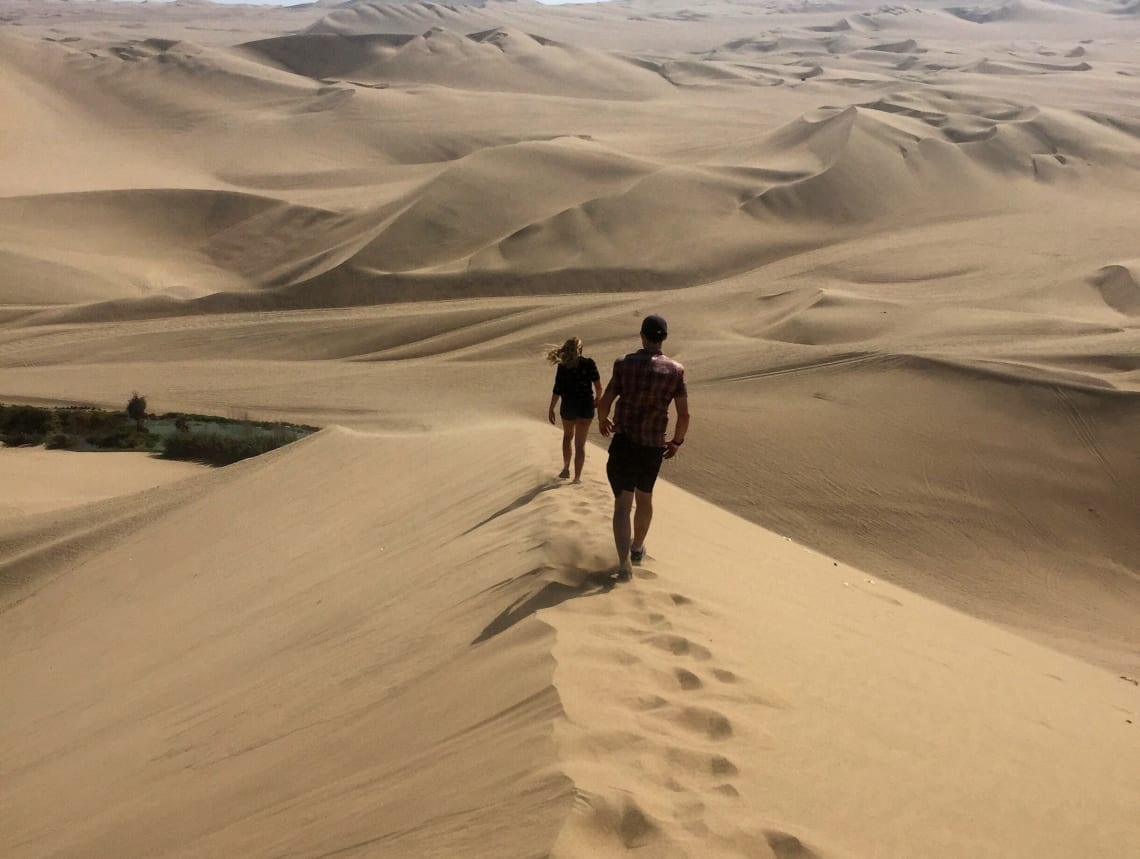 I stayed next to this desert lagoon for three nights. Huacachina is an incredible spot to bask in the sun, lounge poolside, and eat at the incredible restaurants that line the water's edge.
I'm an active traveler and so, when I get enough of all that relaxing, it's time to break a sweat. Walking in sand up an incline during a stifling-hot afternoon is a pretty good way to do that.
Here, we're on our way back towards the town and very much looking forward to a fresh fruit juice. This picture conveys what I most loved about this part of Peru: the desert stretches out in front of you and goes on seemingly forever.
The rolling and parched landscape is one of the most unique spots I've ever visited.

Dune buggies, Huacachina Desert, Ica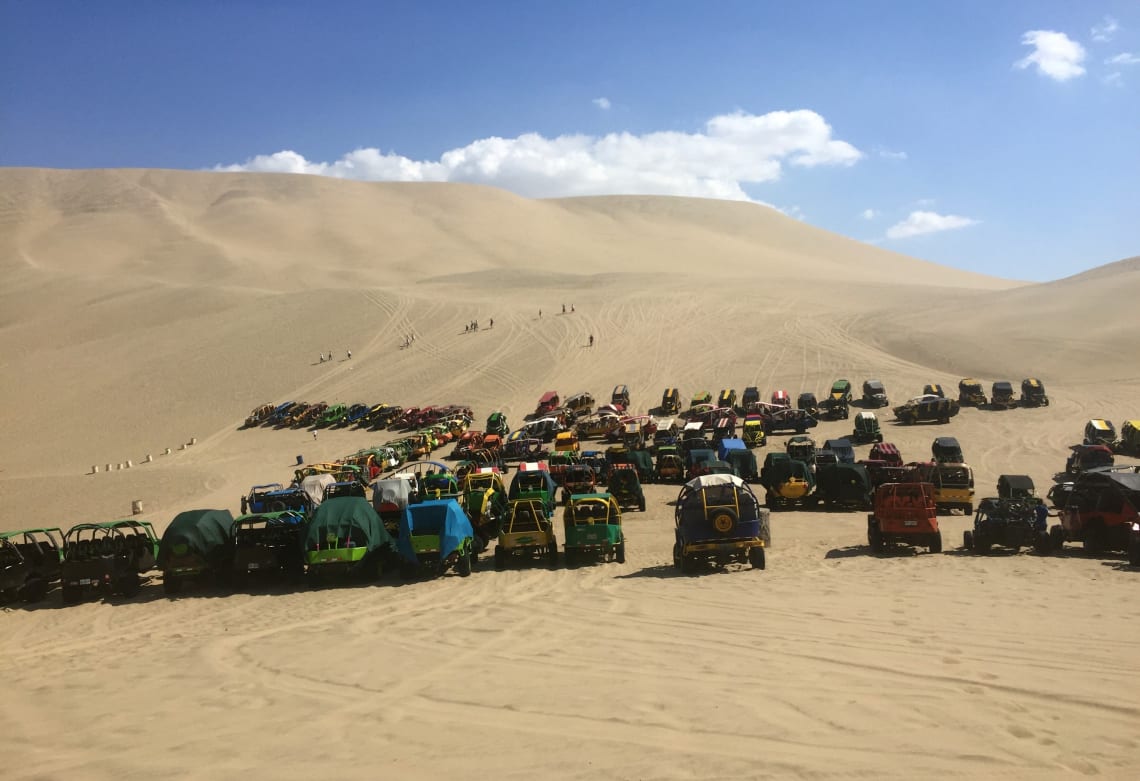 There are a couple things I have to say about the dune buggy tours in Huacachina.
1) They are kind of terrifying in a thrilling way.
2) They are an absolute must to anyone who visits either Huacachina or Ica.
I'm the first to admit that my heart skipped a beat and I almost peed my pants when I saw the edge of the shockingly steep dune we were about to go over. These rides seem to defy physics and the only way I can describe them is that they feel like you're on a rollercoaster... without the tracks.
They may look tame in this photo, but trust me, these buggies are a wild ride. Don't leave Huacachina before getting inside one of these. I forbid you.
Overlooking Cusco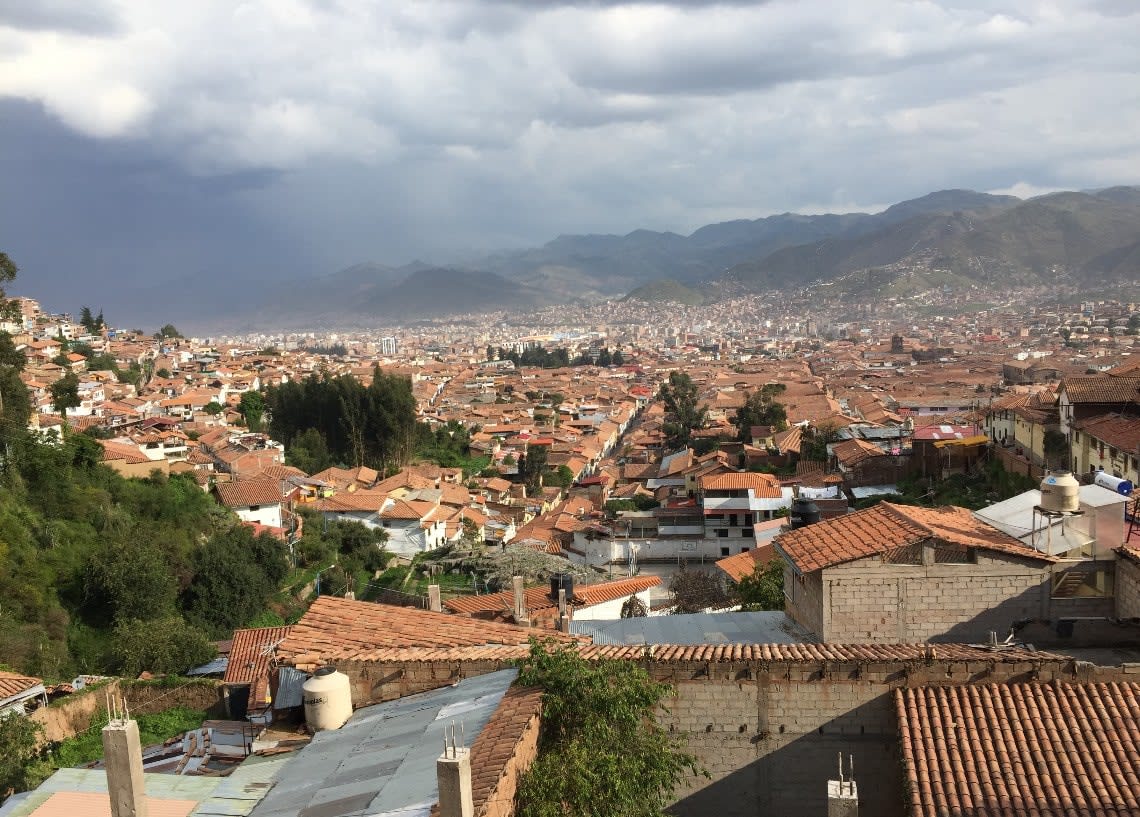 This is one of the best photos of Peru that I found in my collection.
Let me tell you: Cusco is a precious little gem and not a place that backpackers or travelers should even consider skipping.
There are lots of things to love about Cusco: the way it's surrounded by gorgeous mountains, the quaintness of its orange-topped homes, its multitude of amazing restaurants, the really friendly market ladies.
I arrived in Cusco early in the afternoon after making one of the biggest travel mistakes I've ever made: we didn't book a plane ticket well in advance. Over the holidays. *face-palm emoji.*
I have no idea what we were thinking but in the days before we had planned to leave to Cusco, we discovered that there were no reasonably-priced flights leaving from Lima or Pisco. At first, the idea of taking the 17-hour bus to Cusco seemed ridiculous (I'm aware that many budget-savvy travelers would take this option without a second thought. I'm not one of them.) but in the time that followed, it became our reality.
Cusco is a beautiful city and I liked it above all other locations I visited in Peru. The fact that I arrived after sitting on a bus for 17 hours made it all the more stunning. I took this photo after walking up the mountain.
When we saw the view, we made a unanimous decision to park out butts, grab a beer, and take in the views. It was a good call and probably the moment that I fell in love with this Peruvian city.
Plaza de Armas, Cusco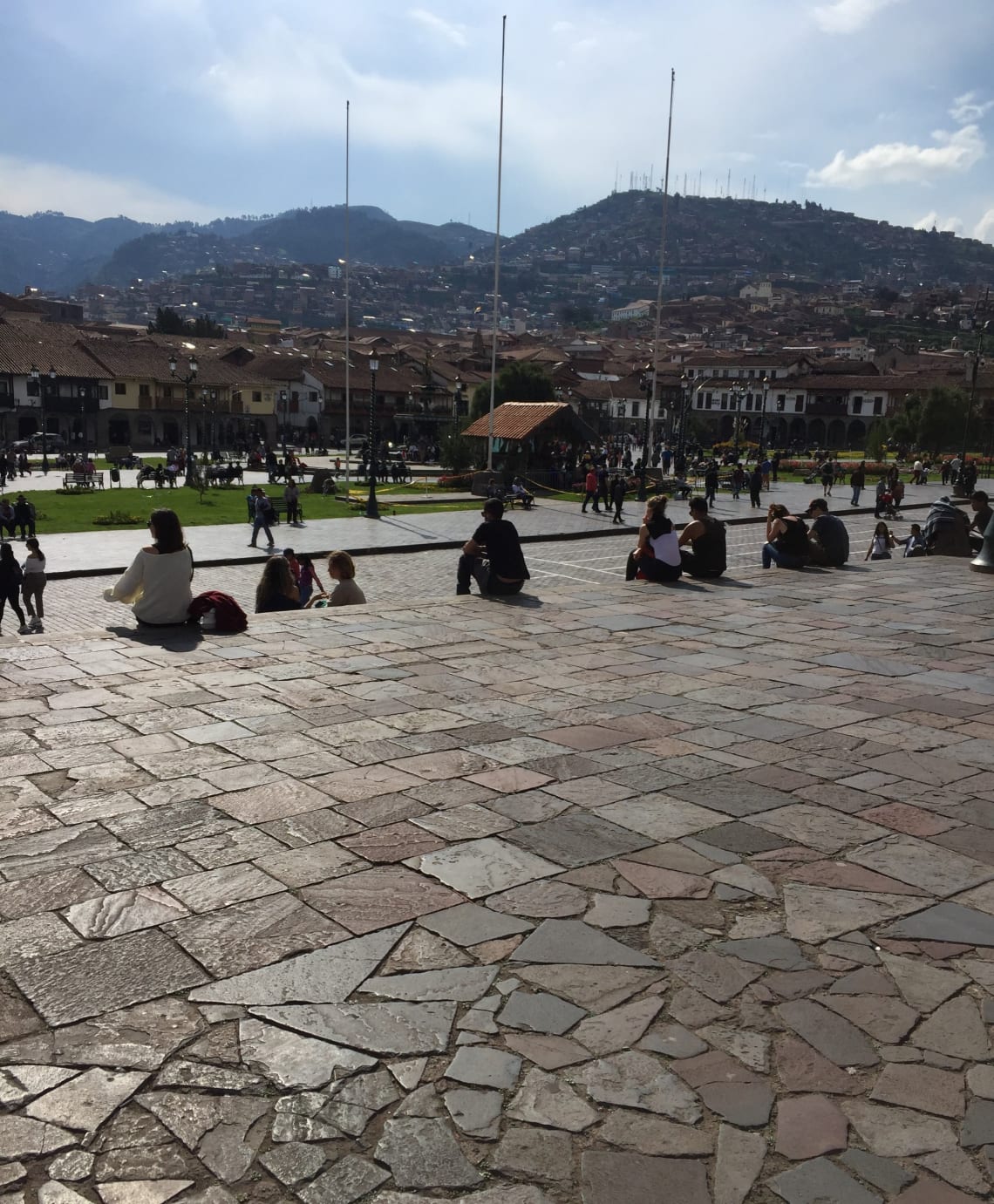 If you're backpacking in Peru, you will walk through the gorgeous Plaza De Armas. This is a pretty major hub in Cusco and a central location for tourists.
If you're booking a hostel, this is the region where you'll find the majority of them. When we strolled through here on a sunny afternoon, I couldn't help but notice how relaxed everyone seemed while lounging on the steps and catching the sun's rays.
What's especially pretty about this plaza (in my opinion) is the way the mountains hover in the background. While you're here, I suggest heading to Paddy's Irish Pub for a cozy, relaxing vibe.

Historic Center, Cusco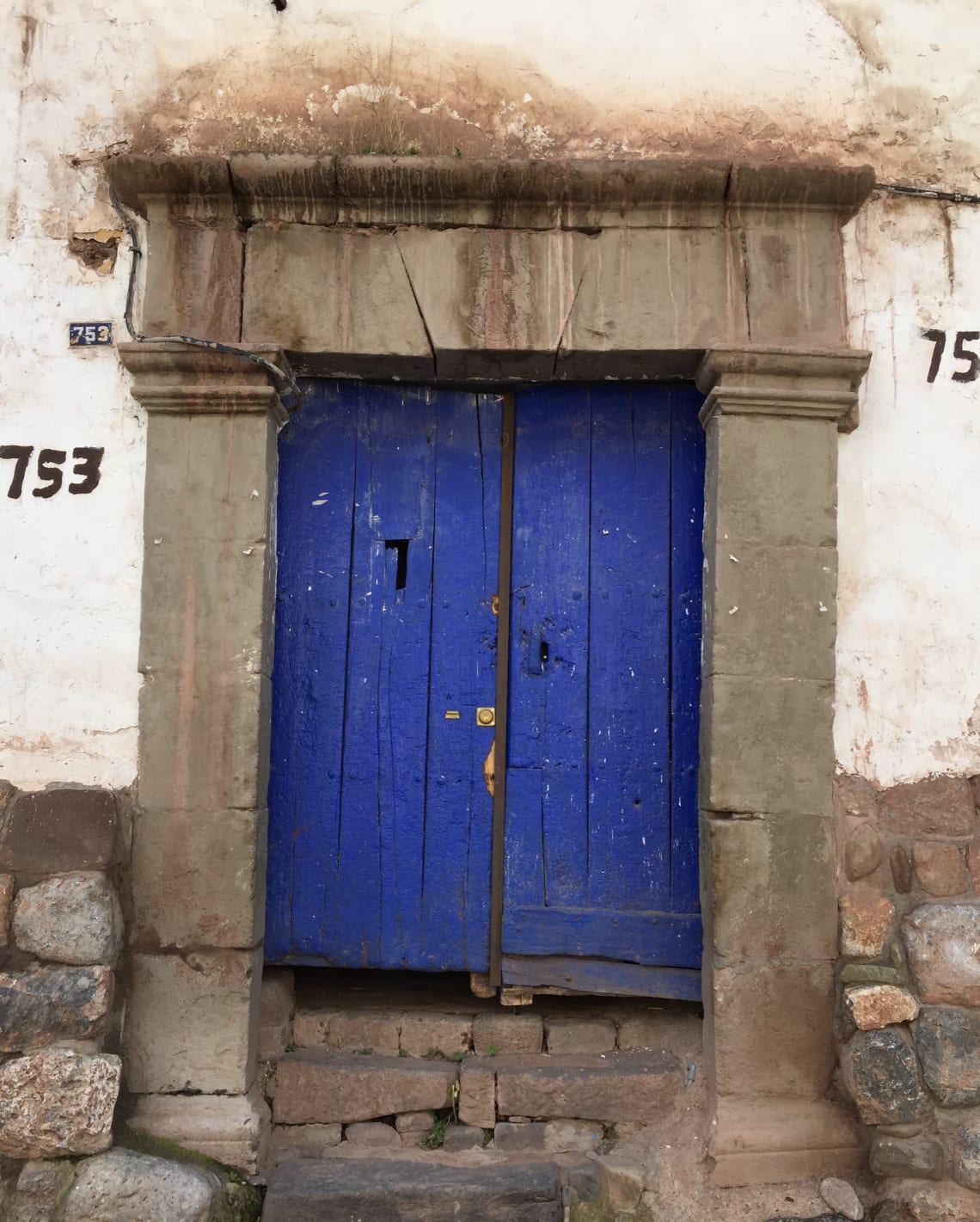 It's not all about the tours, the main attractions and the best-known spots. While traveling, I think it's important to look for beauty in the ordinary.
While wandering through Plaza De Armas, many people flocked to us aiming to sell day trips to brag-worthy locations. That's great but I also think that when you're over-scheduling with these tourist attractions, you miss the chance to wander at a slow pace and appreciate the small details.
As we sauntered around the historic center, I paused for a moment to look at this quaint little door and its rocky steps. It's the small little things like this that give a place its personality — don't overlook them.

Cusco Cathedral, Cusco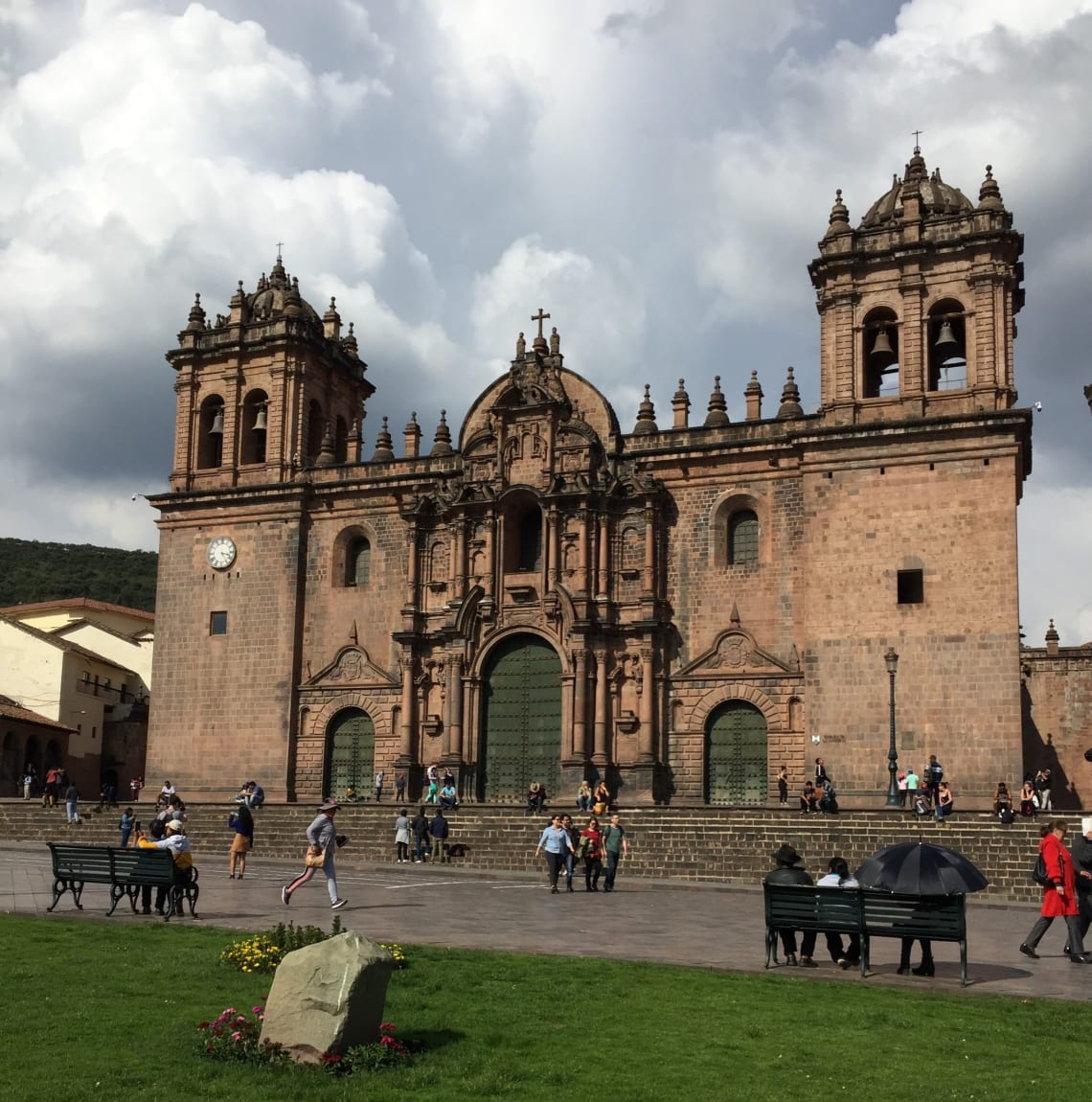 The Cusco Cathedral is awe-striking — especially for the history buff or architecture nerd in your group. For travelers on a budget, appreciating scenes like this cost absolutely nothing.
A couple of really cool facts about this beauty: it took nearly 100 years to build, was completed in the mid-1600s and is now a UNESCO World Heritage Site.
If you have some moments to spare, I suggest taking a coffee or fresh fruit juice to one of the benches here and just taking it all in.
Lake Humantay, Andean Mountains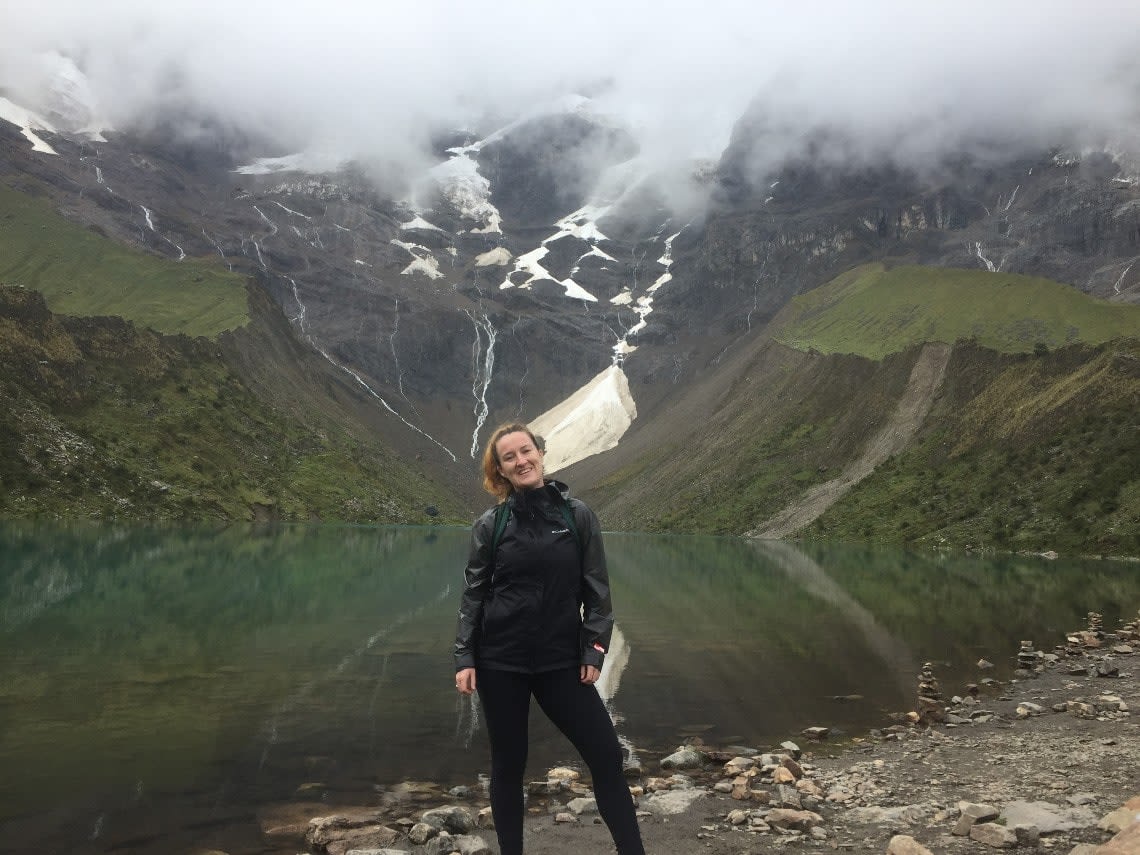 A trip to Peru offers plenty of opportunities for travelers to connect with nature.
My brother, his girlfriend, Miranda, and I are all avid outdoor enthusiasts and love hiking. Once we confirmed our travel to Peru, we made sure to book ourselves into a five-day trek leaving from the small little Andean town of Mollepata and going all the way past glacial peaks, the Salkantay Pass, through many jungly towns and cloud forests right through to Aguas Calientes and up to Machu Picchu.
This shot here is of me standing at Lake Humantay. After completing day one of the trek, this turquoise glacial lake is a rewarding site.
On my way up, I actually saw a small avalanche as a big ice chunk broke off the top of the mountain. Note the little stacks of stones that line the water's edge in the bottom right corner of this picture.
These stacks are little offerings that people make to the Incan goddess Pachamama and if visiting, you'll likely see groups of hikers constructing them.
Also note that not pictured here is my rough case of altitude sickness. We camped at 4,000m and though I live at altitude and hike to high elevation on a regular basis, I got hit with the illness that so often strikes hikers.
I'm smiling as if the illness wasn't real...
En route to Machu Picchu via the Salkantay Pass, Andean Mountains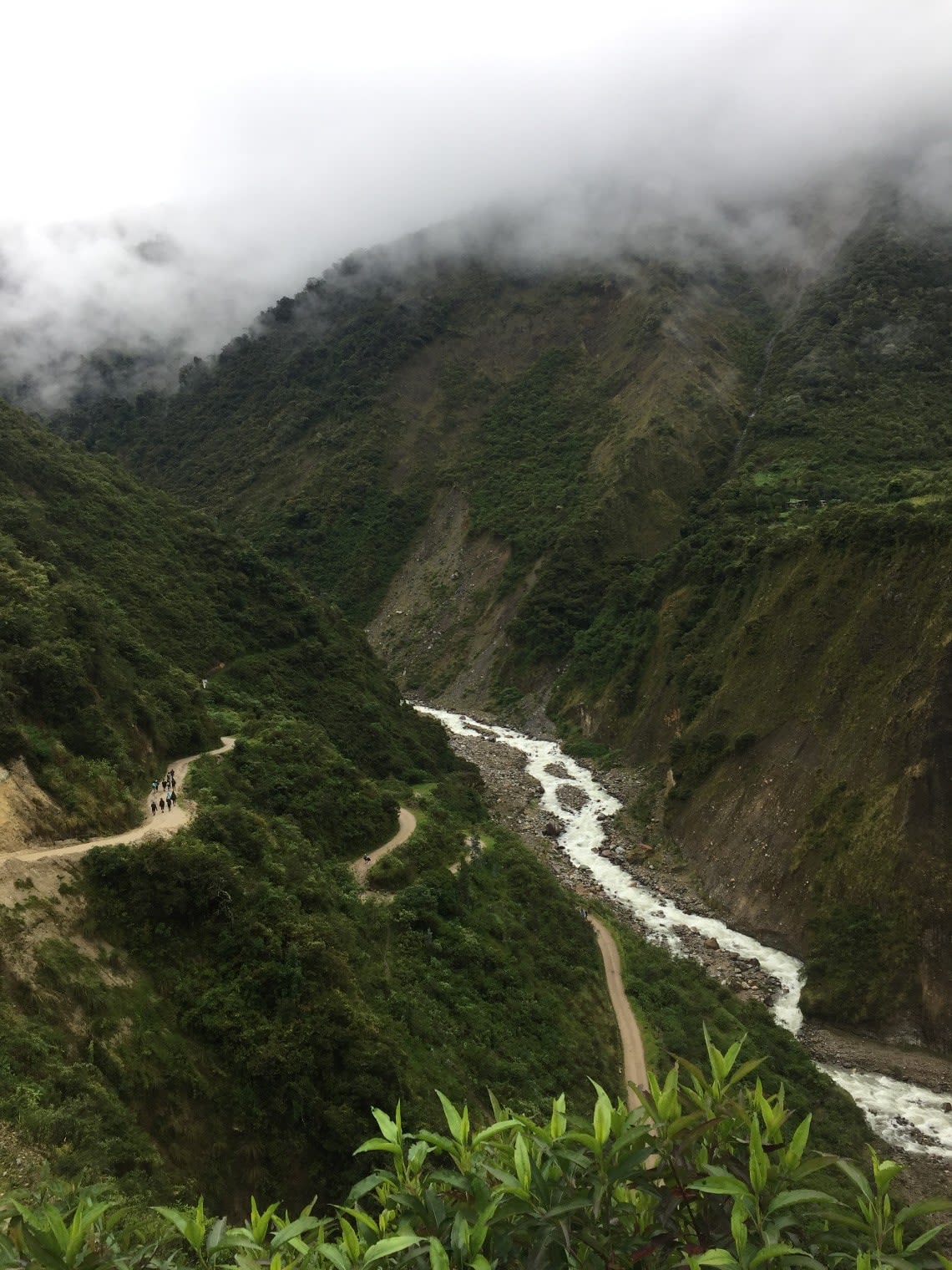 Rushing rivers and towering green mountains are some of the most beautiful sights of Peru. Trekking en route to Machu Picchu, they are also quite common.
The rushing river currents are quite intimidating in that you know you wouldn't stand a chance against their white rapids. The same goes with the mountain drop-offs: peering off a ledge, you understand that the Andean peaks are no joke.
Peru, for me, was a great place to really understand how much respect we must have for nature.
Trekking in the Sacred Valley of the Incas, Andean Mountains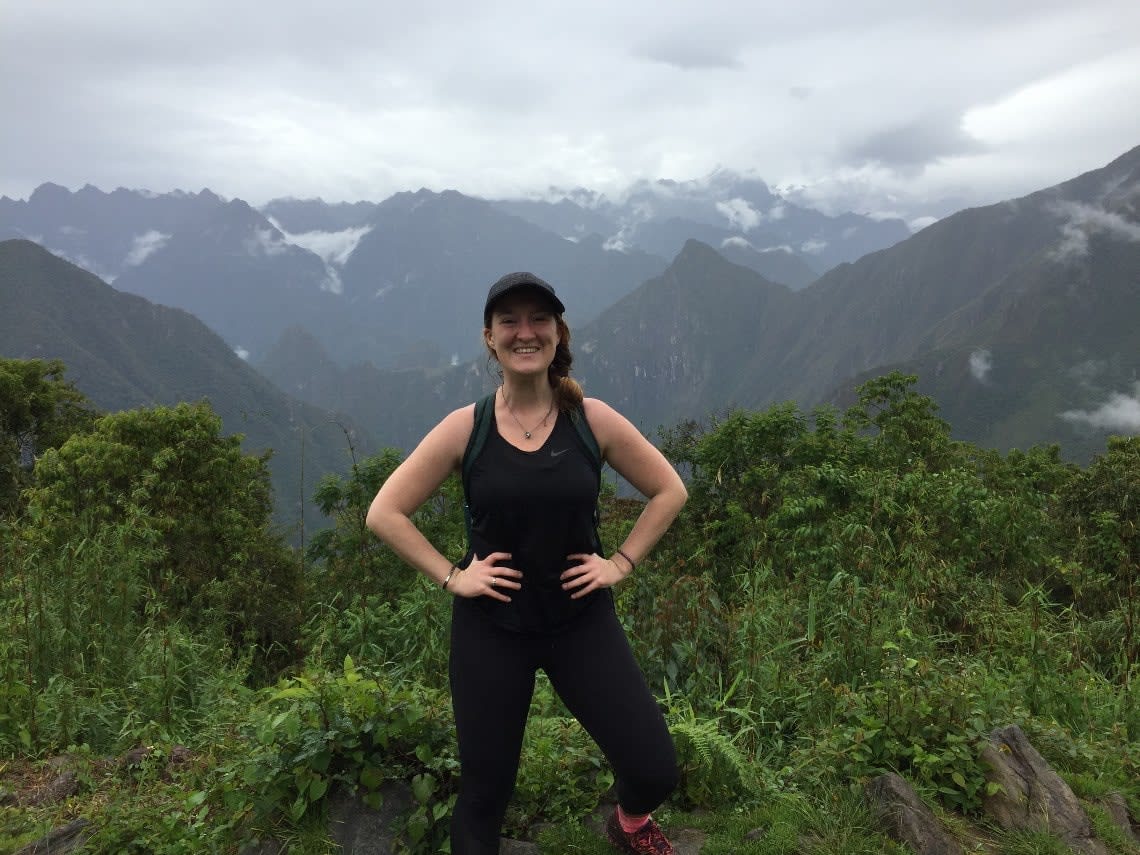 Can you see Machu Picchu mountain in the background?
I'm smiling wide here because as we trekked through cloud forests, I could feel that we were getting closer to Peru's most iconic place that draws crowds of tourists from around the world every single year.
One thing I especially loved about our five-day trek (and there was much to adore) was that I really felt like I had to work for the grand finale. The route to the Incan ruins was 75 kilometers and I felt a real sense of joy in this moment because seeing our endpoint meant I had accomplished so much and was within reach of the final goal.
Machu Picchu, Sacred Valley of the Incas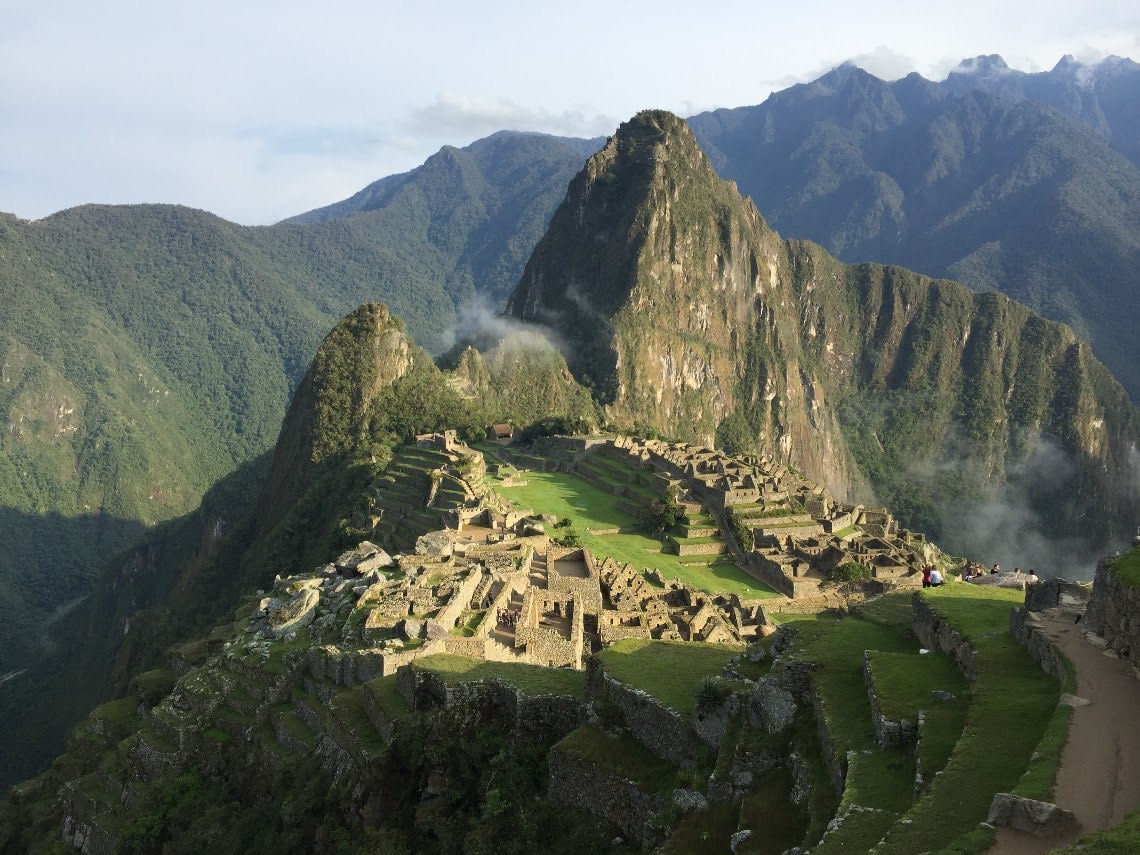 Machu Picchu is exactly as amazing as everyone says it is.
To get to this point here, we woke up at 4:00 a.m. and started trekking while it was still dark outside. Starting early in the morning was something I was appreciative for because a) it meant that we were starting at a cooler time of day (I was still sweating bullets though) and b) we beat the crowds!
The way the morning light hits the ruins here is something I just felt was incredibly magical. Machu Picchu is well-worth the visit and I do recommend getting up in the pre-dawn hours because arriving at the site at 6:30 a.m., was one of the most rewarding experiences I've ever had.
Resting llama, Machu Picchu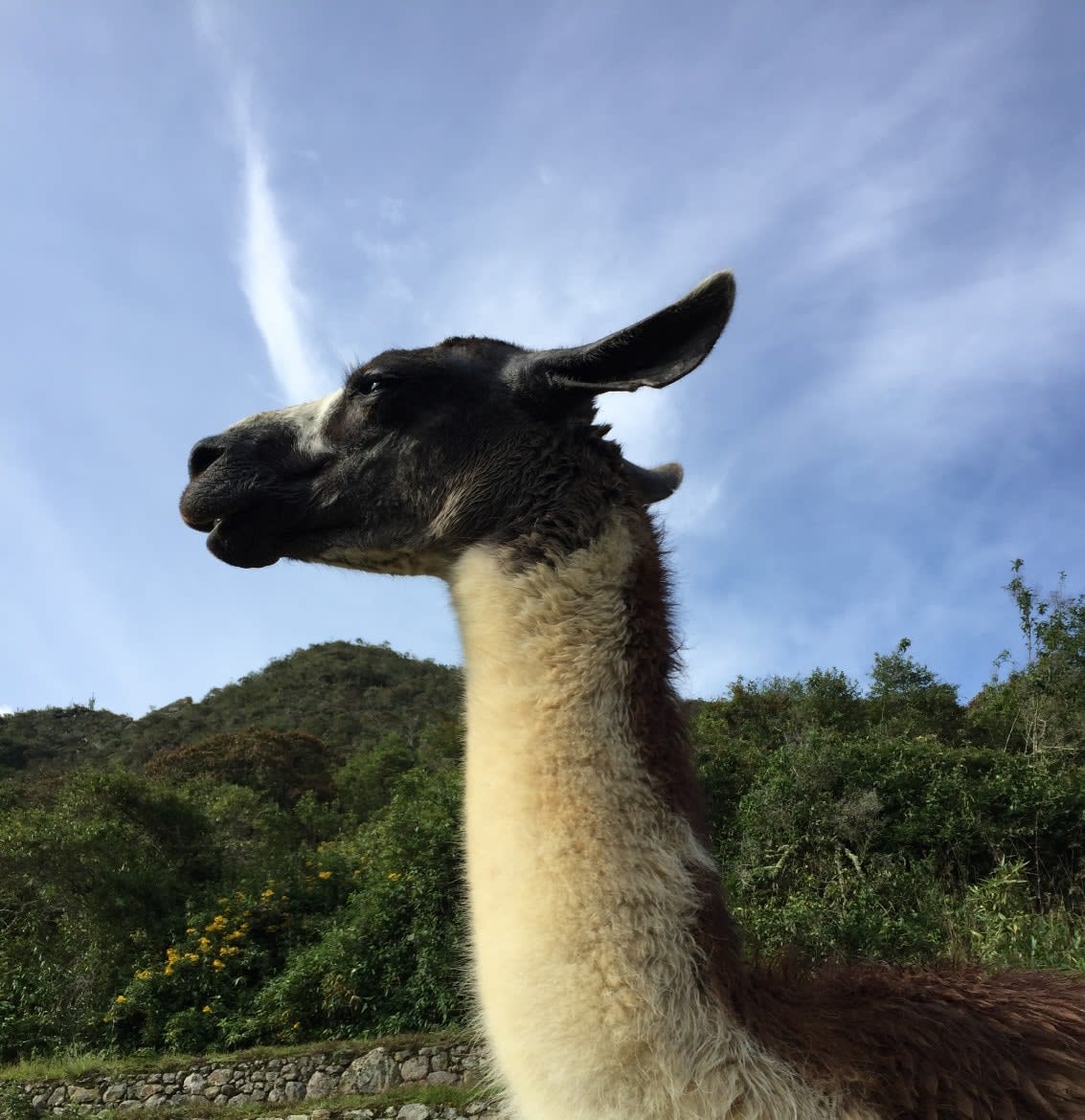 What's a photo essay of Peru without a snapshot of one of these special creatures?
Everyone loves to spot the adorable llamas and alpacas that roam the country. I bumped into this little guy both before and after climbing to the crumbly peak of Machu Picchu mountains and let me tell you, he was a welcoming vision upon returning after a hard effort like that.
Inspiration is great when planning a trip, but you need to do your homework too: check when is the best time to visit Peru to plan accordingly.
Hopefully, this guy alone inspires your trip to Peru! Keep travelling in South America, read more: