10 best offbeat places to visit in the USA
Want to explore the United States outside of the major cities? Some of the best places to visit in the USA are lesser-known. Here are 10 great offbeat destinations to get you started.
13min
When most people think of the best United States destinations, a handful of cities comes to mind: New York, Los Angeles, Miami, and Washington D.C., to name a few. But with over 18,000 cities and towns to choose from in the US, limiting yourself to just the biggest or most well-known USA destinations would be a mistake!
I've put together this list of 10 offbeat destinations for your US bucket list to highlight some of the lesser traveled places that are sure to make your trip to the United States more fun!
I've traveled extensively in the USA, and credit my ability to do so to Worldpackers. The ability to work in exchange for accommodation around the US has allowed me to save tons of money while traveling. In turn, I've been able to plan many of the USA trips I've always dreamt of doing.
Worldpackers has literally opened up new worlds to me, as I wouldn't otherwise be able to afford long-term travel, and especially not in the US. If you want to explore America and really experience all that the country has to offer, I highly recommend using Worldpackers to plan your trip.
The opportunities available for each USA destination listed in this article have been linked accordingly, so make sure to check them out as you read along!
Top 10 best offbeat places to visit in the USA
Denver, Colorado
Las Vegas, Nevada
New Orleans, Louisiana
Charleston, South Carolina
Sedona, Arizona
Asheville, North Carolina
San Antonio, Texas
St. Louis, Missouri
St. Augustine, Florida
Portland, Maine
1. Denver, Colorado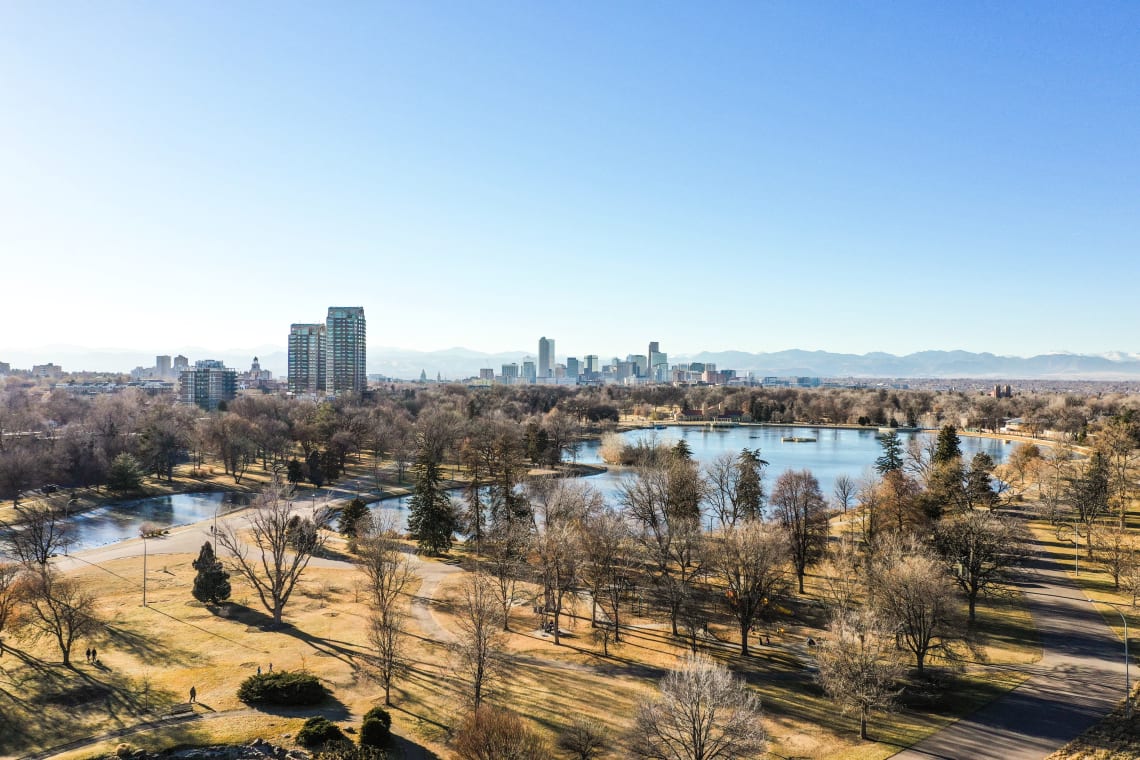 Denver, Colorado is easily one of the top places to visit in the USA as well as being one of the most popular places to visit in the USA during summer.
Denver is nicknamed The Mile High City because of its altitude of 5,280 feet, exactly one mile. The population sits at just over 600,000, giving Denver a big city feel with the added bonus of the beautiful backdrop of the Rocky Mountains in the distance.
The city was founded in 1858 as a gold mining town, and today visitors can enjoy several of the original buildings from the late 1800s while eating, drinking, and shopping under a canopy of string lights at Larimer Square.
Denver, where the very first cheeseburger was served in 1935, offers a great culinary scene as well as a reputation for fantastic cocktails and breweries. It's home to several museums and eight professional sports teams who play a diverse range of games, from American football to rugby.
Travelers can take in a concert at the one-of-a-kind Red Rocks Amphitheater or take a day trip to the magical Colorado Rocky Mountains and enjoy all the outdoor adventures they have to offer.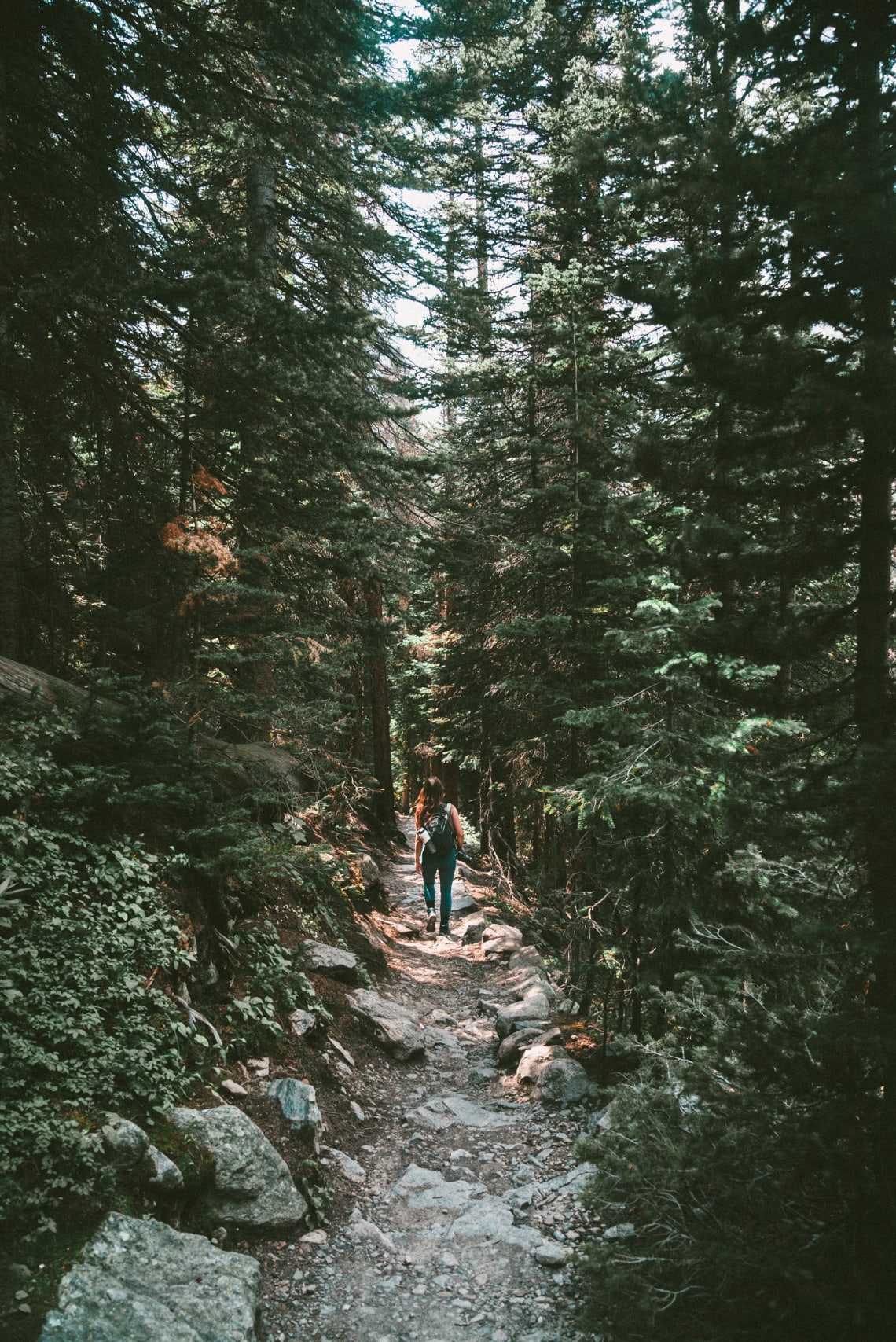 Don't forget to check out Worldpackers opportunities in Denver before you go!
Denver Bucket List:
Day trip to Pikes Peak and the Garden of the Gods
Enjoy the atmosphere at Larimer Square
Take in the beauty of Denver Botanic Gardens
Explore the history of the Old West at History Colorado Center
Tour the Denver Museum of Nature and Science
View the exhibits of Denver Art Museum
2. Las Vegas, Nevada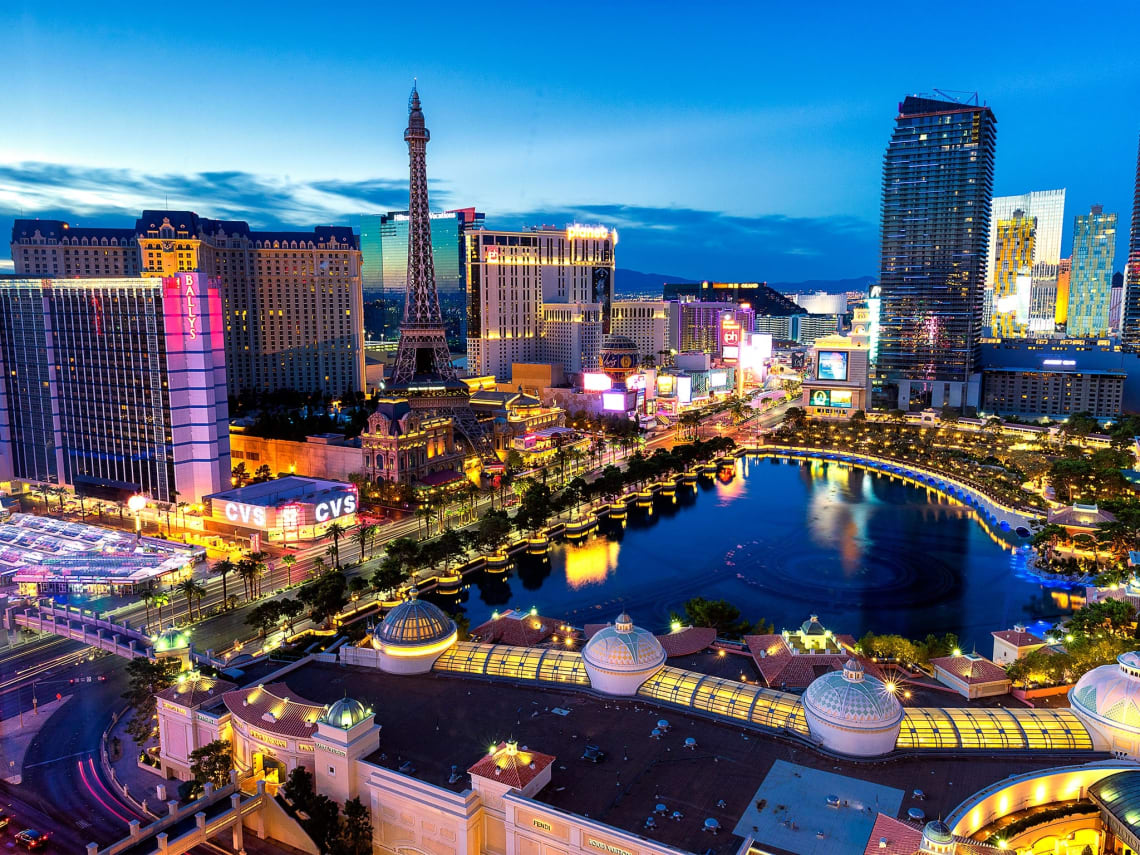 No best places to visit in the USA list would be complete without Las Vegas.
Las Vegas is known as America's playground, and it's an experience everyone should have at least once!
Over four miles of neon-lit miles of casinos, restaurants, and entertainment venues exist along the Las Vegas Strip, where it's impossible not to be swept up in the atmosphere of fun. There is a show for every interest along the Strip, whether you're looking for music, magic, or awe-inspiring acrobatics.
Want to take in the view from the top of the world's tallest ferris wheel? You can do that in Vegas. Operate heavy machinery for fun? Yep, you can do that in Vegas, too. Have an Elvis impersonator officiate your wedding? Also a possibility in Vegas, although I wouldn't necessarily advise it.
The point is that the opportunities for unique experiences and fun in Las Vegas are endless! Check out Las Vegas Worldpackers hosts to make sure you have time to explore them all.
Once you've had enough of the party, Las Vegas is in a fantastic location for day trips to some of America's most impressive national parks, including Grand Canyon National Park, Zion National Park, Bryce Canyon National Park, and more.
Las Vegas Bucket List:
Explore the Las Vegas Strip
Attend the free Bellagio Fountain Show
Drive through Valley of Fire State Park
Day trip to one of the nearby national parks, including Grand Canyon, Bryce, Death Valley, and Zion.
Tour the Hoover Dam
Explore the city and beyond with this article about Volunteering in Las Vegas: what to do as an adventure backpacker.
3. New Orleans, Louisiana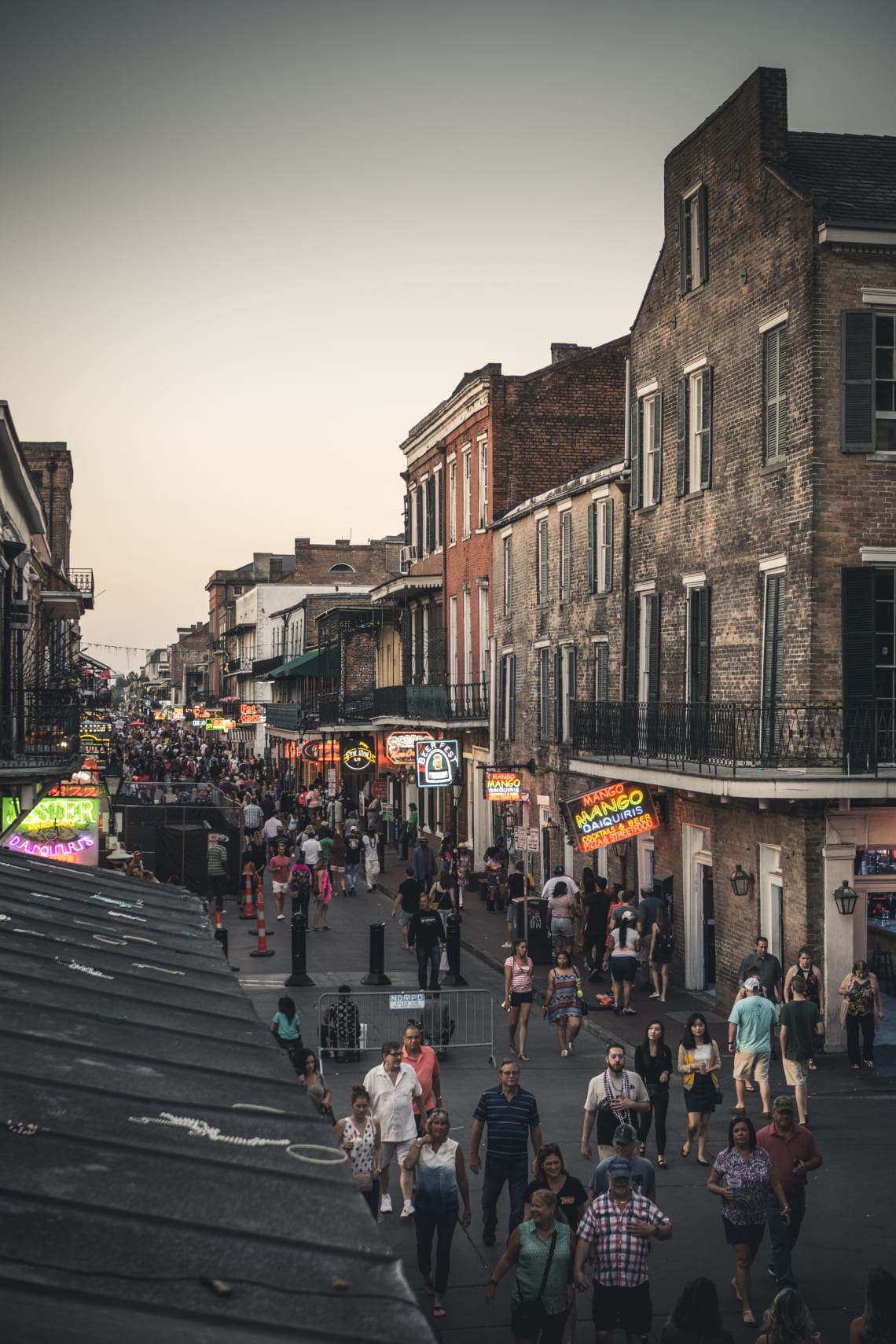 If you're looking for cool places to visit in the USA, New Orleans has to be on your list.

Now I may be a bit biased, but New Orleans is my favorite of all the United States cities I've ever visited. My first Worldpackers experience traveling as work exchanger in the USA was in New Orleans, and I spent almost two months there without ever running out of things to do.
The city has a rich and distinct culture and a long, interesting history. Pair that with an abundance of delicious food, a dash of the supernatural, and a thriving music scene and you've got a winner!
New Orleans was founded by the French in 1718, before the establishment of the United States itself. It was sold to Spain then back to France before finally being acquired by the United States in 1803. French and Spanish influences can still be seen today in the city's architecture and signature dishes.
No article featuring New Orleans would be complete without a nod to the city's party scene, which reaches its height during Mardi Gras celebrations in February but persists year round with the famous Bourbon Street and lesser known but equally fantastic Frenchmen Street, where live jazz music fills the air every night.
You don't want to forget to try a "hand grenade" cocktail while on Bourbon Street, but my advice is to sip slowly!
Take your time getting to know the city by participating in Worldpackers opportunities in New Orleans.
New Orleans Bucket List:
Take a guided walking tour of the French Quarter to learn about the city's history
Sample the creole and cajun food (one of my personal favorite restaurants is The Gumbo Shop on St. Peter!)
Shop for produce and souvenirs at the French Market
Enjoy the atmosphere of Bourbon Street and Frenchmen Street
Take a night time ghost tour for a bit of haunted history
Have a beignet and cafe au lait at Cafe du Monde
View the beautifully curated exhibits at the National WWII Museum
Be entertained by the street performers at Jackson Square
Take a day trip to nearby Whitney Plantation
Get up close with alligators, wild boar, and more in their natural habitats on a swamp tour boat
Read more: The 10 coolest and cheapest places to live in Oklahoma, US
4. Charleston, South Carolina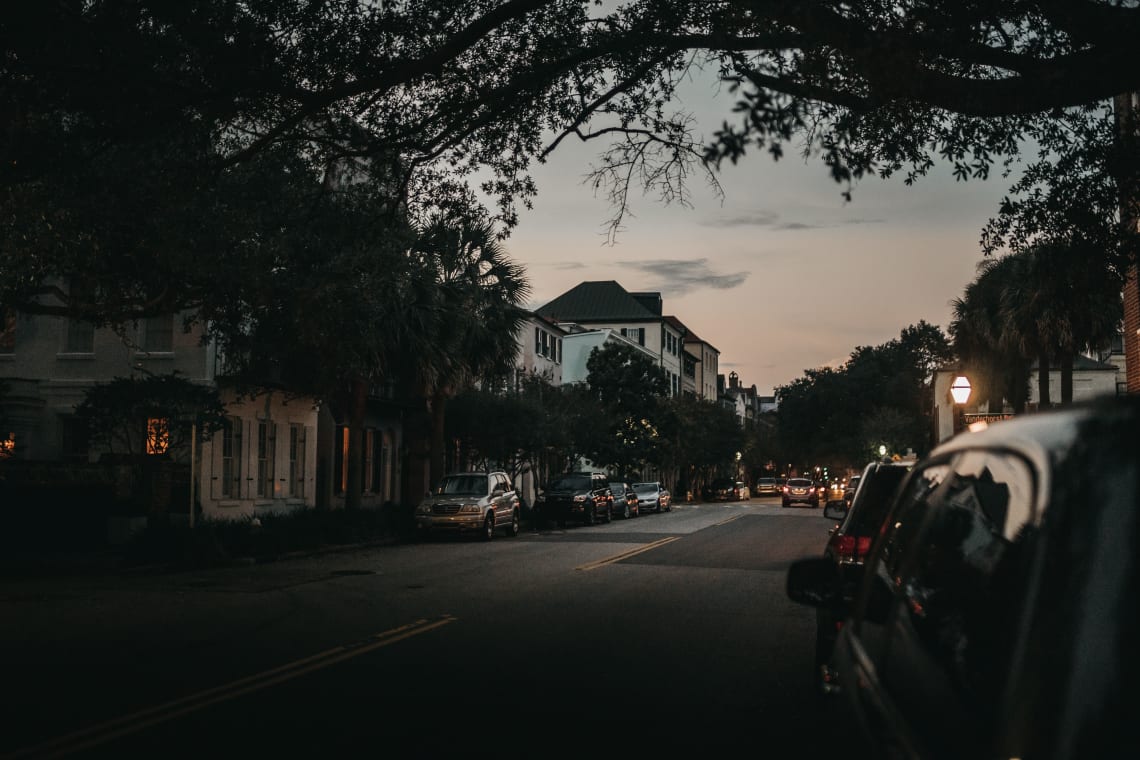 If you're looking for some quiet and relaxation in an idyllic setting, look no further than Charleston, South Carolina. With its magnificent oak trees, cobblestone streets, and antebellum architecture, Charleston is a beautiful place to be.
Established in 1670, Charleston is a historically significant port city known for its charm and southern hospitality. Charleston is also known for having an excellent food scene, and when I visited I didn't find a single restaurant that wasn't fantastic. There are also several great local breweries to check out.
Visitors can enjoy the food, shopping, and live music on the second Sunday of every month at the Second Sunday Street Fair on King Street, lounge on one of several sandy beaches nearby, take a boat tour of the Charleston Harbor, or capture the Instagram-worthy views on a stroll down The Battery.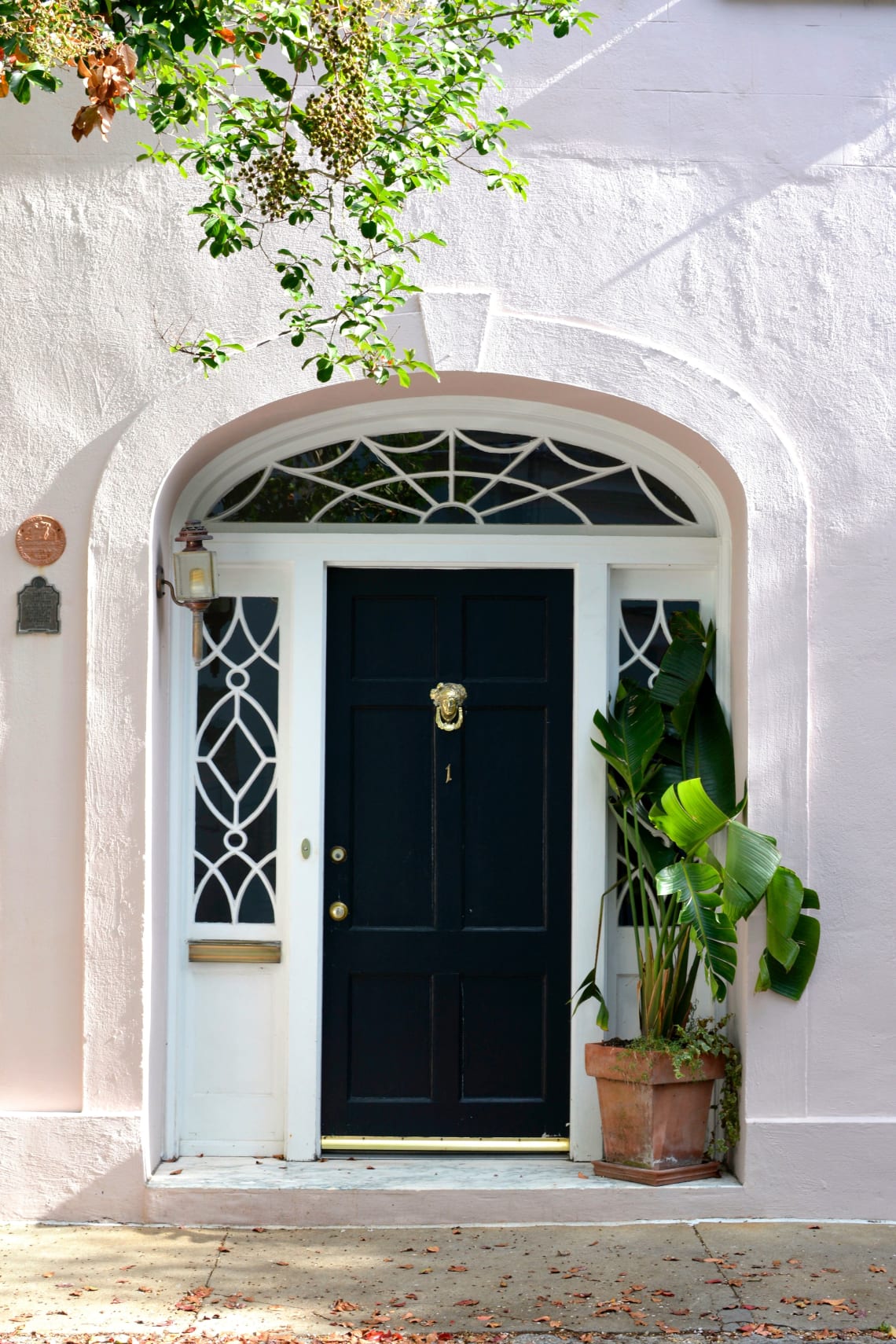 Enjoy everything the city has to offer with one of our Worldpackers hosts in Charleston.

Charleston Bucket List:
Enjoy a peaceful walk through Joe Riley Waterfront Park
Explore historic Fort Sumter, where the first shots of the US Civil War were fired
Tour an antebellum home
Stroll down the Battery for stunning views
Take in the sounds of the Charleston Jazz Orchestra at Charleston Music Hall
Take a trip to Sullivan's Island Beach
5. Sedona, Arizona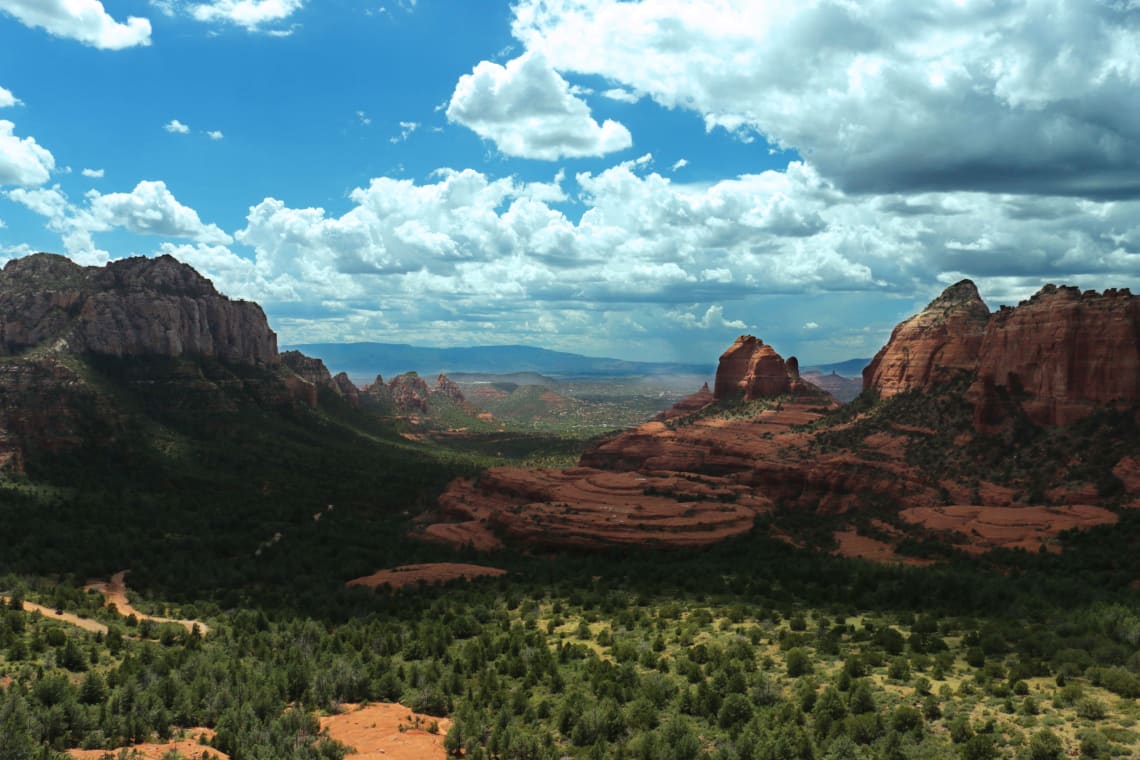 Sedona, which has been declared by some to be the most beautiful place in America, is a desert city with a quirky New Age vibe and spectacular views of the surrounding red rock formations.
The city certainly does a lot of things well. There's a thriving arts culture, with 23 art galleries, as well as a great food scene and, one of my personal favorites, the Verde Valley Wine Trail.
Sedona is a destination where you'll want to get outdoors. There is little light pollution, which makes for excellent stargazing.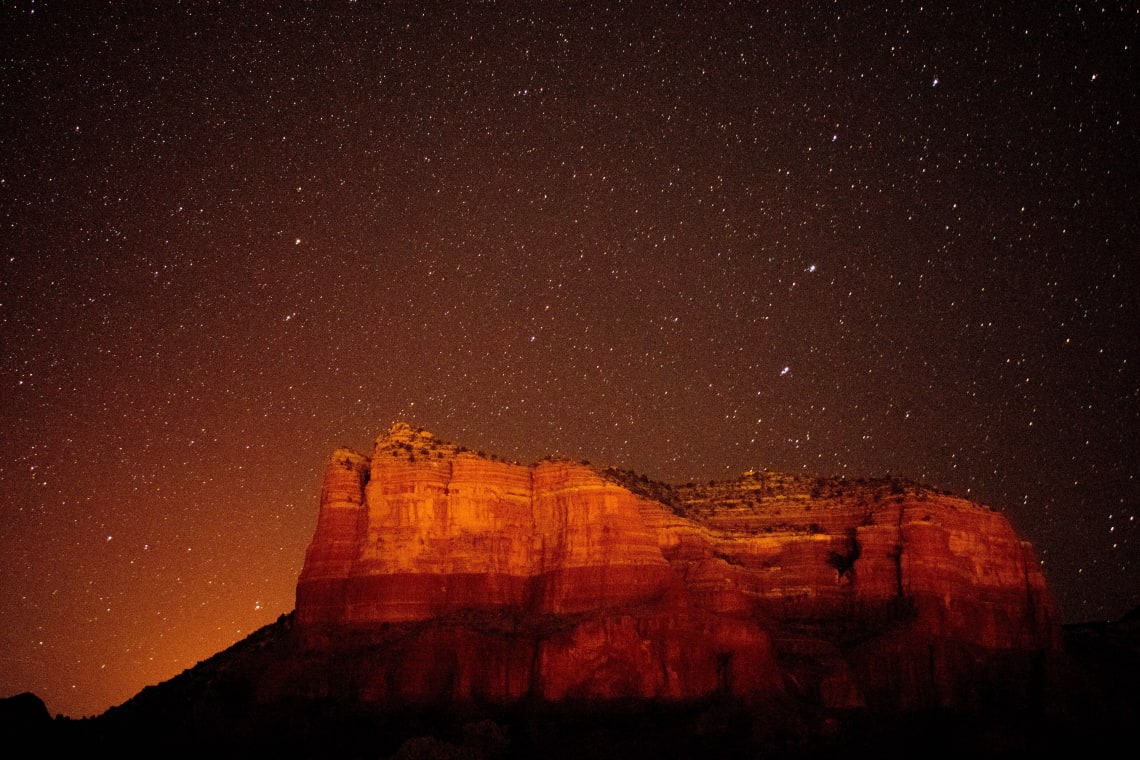 Nearby you'll find loads of chances for hiking, biking, rafting, and more. Another Sedona favorite is its hot air balloon experiences, which give visitors the chance to take in the awe inspiring scenery from high above the city streets.
Sedona Bucket List:
Fly high above Sedona in a hot air balloon
Experience the arts culture at one or more of the local art galleries
Sip your way down the Verde Valley Wine Trail
Ponder the universe while stargazing
Hike Devil's Bridge Trail
Explore the ruins at Palatki Heritage Site
6. Asheville, North Carolina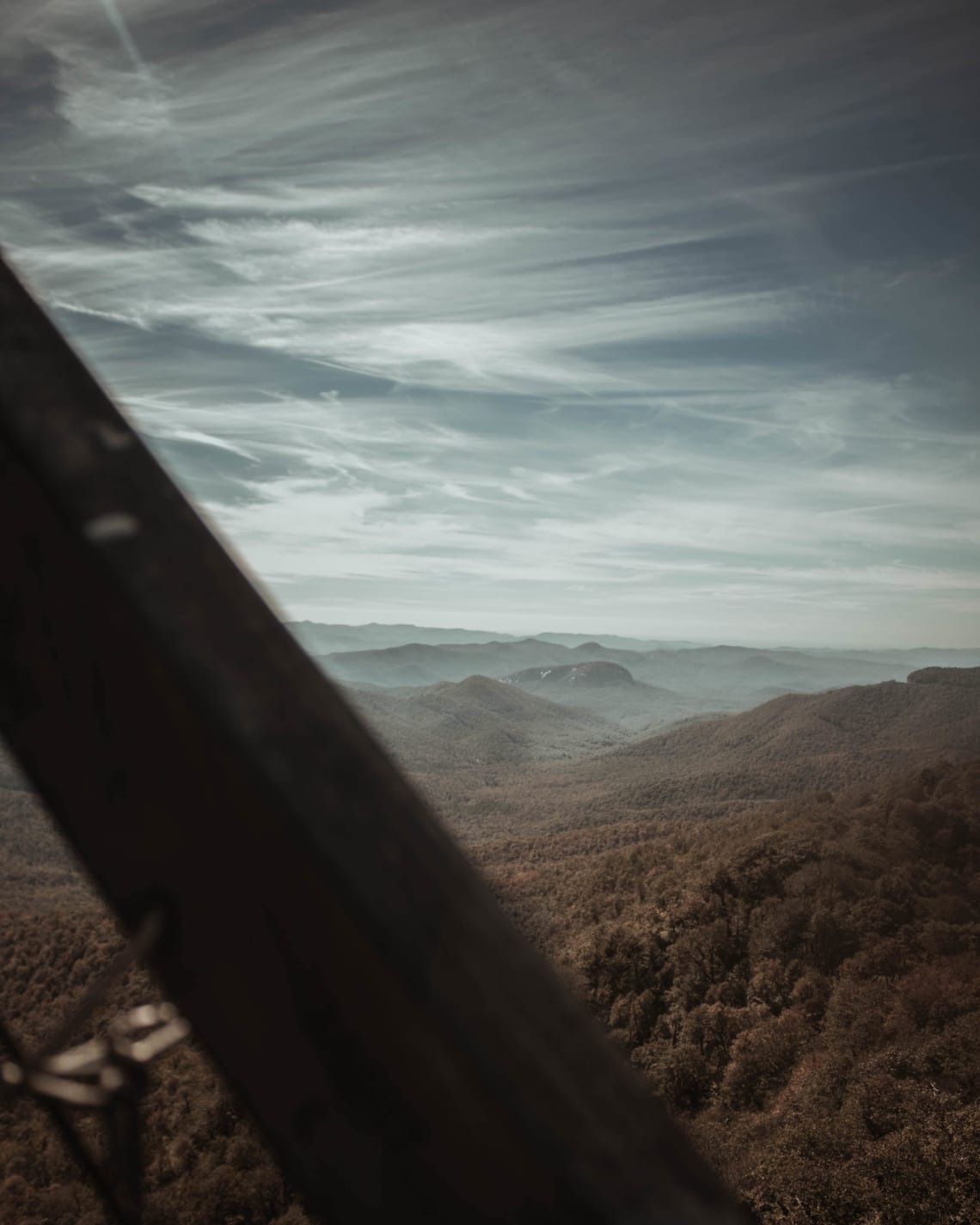 Asheville, North Carolina is another personal favorite of mine.
If the travel bug ever loses its grip on me long enough for me to settle down in the United States, Asheville is at the top of my list of places I would like to call home. Best described, I think, as a vibrant mountain town with a bohemian spirit, there's a little of everything and a lot to love here.
Asheville is very proud of its health-centered culture, and there are numerous spa and wellness activities for visitors, from rooftop yoga to outdoor tubs with relaxing mountain views to exciting salt cave spas. This destination is the perfect place to nurture your body and mind!
Keeping with the wellness focus, the food scene in Asheville, affectionately referred to as "Foodtopia" by the locals, puts a heavy emphasis on farm to table dining, priding itself on serving delicious and innovative dishes made from the freshest of ingredients.
Here you'll also find one of the highest rates of local breweries per capita in the United States, with 17 breweries for every 50,000 people, and many local wineries and vineyards available to tour.
Perhaps the most iconic Asheville attraction is Biltmore, a sprawling estate that includes America's largest private home, its beautifully landscaped gardens and a functioning farm, all of which date back to the 19th century.
The galleries and museums of the Art District downtown are another fun way to spend a day. And if all of that wasn't enough, there are the majestic Blue Ridge Mountains themselves to enjoy, with hiking, zip-lining, waterfall hunting, and more. Check out our Worldpackers hosts in and near Asheville for what's sure to be a fun, relaxing experience!
Asheville Bucket List:
Marvel at the grandeur of Biltmore
Enjoy the galleries and museums of the Downtown Art District
Hike a portion of the famous Appalachian Trail
Drive the scenic Blue Ridge Parkway
Search for waterfalls in Pisgah National Forest
Sample the offerings at one of the city's farmers markets
See another side of Asheville at Linville Caverns
Pamper yourself at one of the many spas or wellness programs
7. San Antonio, Texas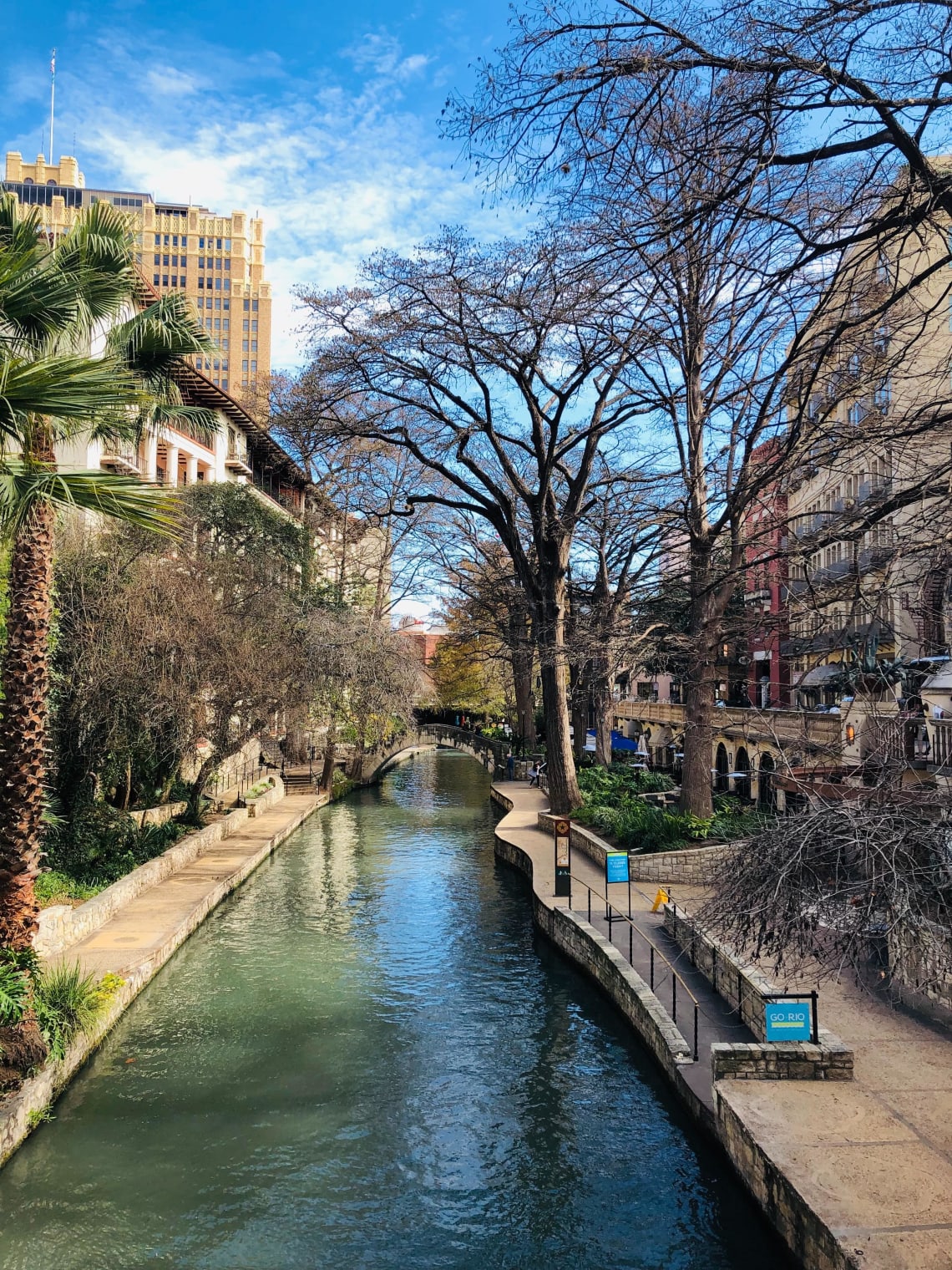 San Antonio is often overshadowed by more popular Texan cities such as Austin, Dallas, and Houston, but having experienced all four, I would choose San Antonio 9 times out of 10. (That 10th time I'd go to Austin, which is another fun destination and hosts the mega popular Austin City Limits Music Festival every year. Luckily, they're only about an hour's drive apart so you could visit both if you're so inclined.)
Like New Orleans, much of San Antonio's charm comes from its unique blend of cultures. In the case of San Antonio, it's heavy Spanish and Mexican influences with a bit of German heritage leftover from the influx of German settlers in the 1800s that create the vibe.
Today, there is a large Hispanic population in San Antonio, mostly of Mexican descent, with a great portion of the city's residents speaking both Spanish and English.
Remember the Alamo? In San Antonio, this is a statement, not a question. The famous site of The Battle of the Alamo brings around 2.5 million visitors to San Antonio every year and is a great little slice of history to explore.
After getting your history fix at the Alamo, head over to enjoy the ambiance as you shop, eat, and drink your way along the River Walk. If you're able to plan your visit during the annual Fiesta San Antonio celebration, you'll get to enjoy the extravagant floating parade, traditional live music, and other festivities. San Antonio is also a cheap vacation option.
Texas is one of the best places to visit in the USA in the fall or winter, as the weather is still relatively warm through fall and stays mild during the winter months. Check out our Worldpackers hosts in Austin to experience authentic Texas culture and then head down to explore San Antonio on your weekend off!
San Antonio Bucket List:
Spend some time enjoying all that the River Walk has to offer
Take a step back in time at the Alamo
Get your heart pumping on a roller coaster at Six Flags Fiesta Texas
Have a drink at one of the city's authentic German beer gardens
Explore the delicious Mexican cuisine
Enjoy the tranquility (and bubble tea!) at the Japanese Tea Garden
Visit the home of the world's largest bat colony at Natural Bridge Caverns
8. St. Louis, Missouri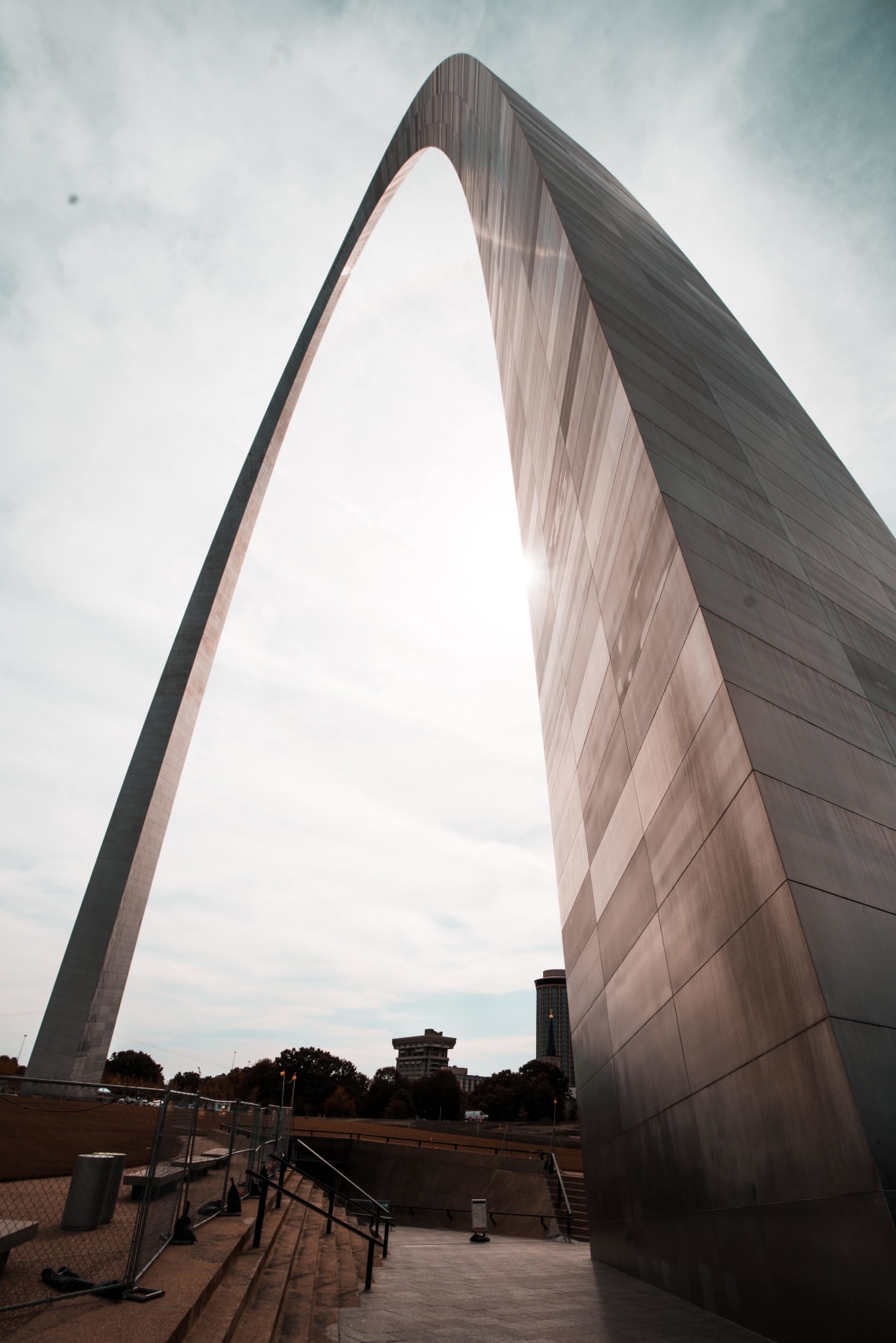 When deciding which best USA destinations to include in this list, St. Louis was a no-brainer.
St. Louis sits along the Mississippi River and features the iconic Gateway Arch, a 630 foot tall structure built to commemorate America's expansion westward.
If you're looking for good food and live music, the Soulard District is popular among tourists for its live blues music, restaurants featuring delicious barbecue and seafood dishes, and its annual Mardi Gras celebrations.
City Museum in St. Louis is also a favorite. Housed in an old shoe factory, the museum specializes in re-purposing industrial objects to form what's basically a giant playground for all ages.
There are four floors of fun plus the rooftop, which includes a Ferris wheel, the dome of an old planetarium, and more. City Museum is hands down the most fun museum I've ever been to, and I can't recommend it enough!
St. Louis is also known for having tons of free things to do, making it a great destination for budget travelers! You can visit the St. Louis Zoo, the 19th century Anheuser-Busch brewery, and several museums, all for free!
St. Louis Bucket List:
Visit Gateway Arch National Park
Embrace your inner child at City Museum
Eat barbecue while listening to live blues music in the Soulard District
View the collections for free at St. Louis Art Museum, Contemporary Arts Museum, or Pulitzer Arts Foundation
Marvel at the mosaics at Cathedral Basilica of St. Louis
Enjoy the green space at Forest Park
9. St. Augustine, Florida
Looking for nerdy places to visit in the USA?
Founded by Spanish explorers in 1565, St. Augustine is known for being the oldest city in the United States, but the area was inhabited by Native American tribes for several millennia before the Spanish ever set foot on the coast of Florida.
Modern travelers have plenty of opportunities to explore the area's long history through the city's many museums, memorials, and historical sites.
Explore Castillo de San Marcos, a centuries old fort with excellent views of both the city and the Atlantic Ocean. Take a "historical adventure tour" of the Spanish Quarter, a restored 18th century colonial village. And, of course, sip from Ponce de Leon's legendary Fountain of Youth for the chance at being forever young.
But St. Augustine isn't just for history buffs. You'll also find distilleries, wineries, parties held on pirate ships, an alligator farm, and 42 miles of beaches, among other fun experiences. It's a fantastic destination with enough quirky and unique experiences to please any kind of traveler.
Remember to check out Worldpackers hosts near St. Augustine while planning your trip!
St. Augustine Bucket List:
Explore the oldest masonry fort in the continental US at Castillo de San Marcos
Drink from Ponce de Leon's Fountain of Youth
Relax on one of the many beaches
Get up close and personal with alligators at St. Augustine Alligator Farm
Explore the dark side of St. Augustine's history on a ghost tour
Get your history fix at one of the city's many museums and historical sites
Stroll through Old City and enjoy the original Spanish colonial architecture
10. Portland, Maine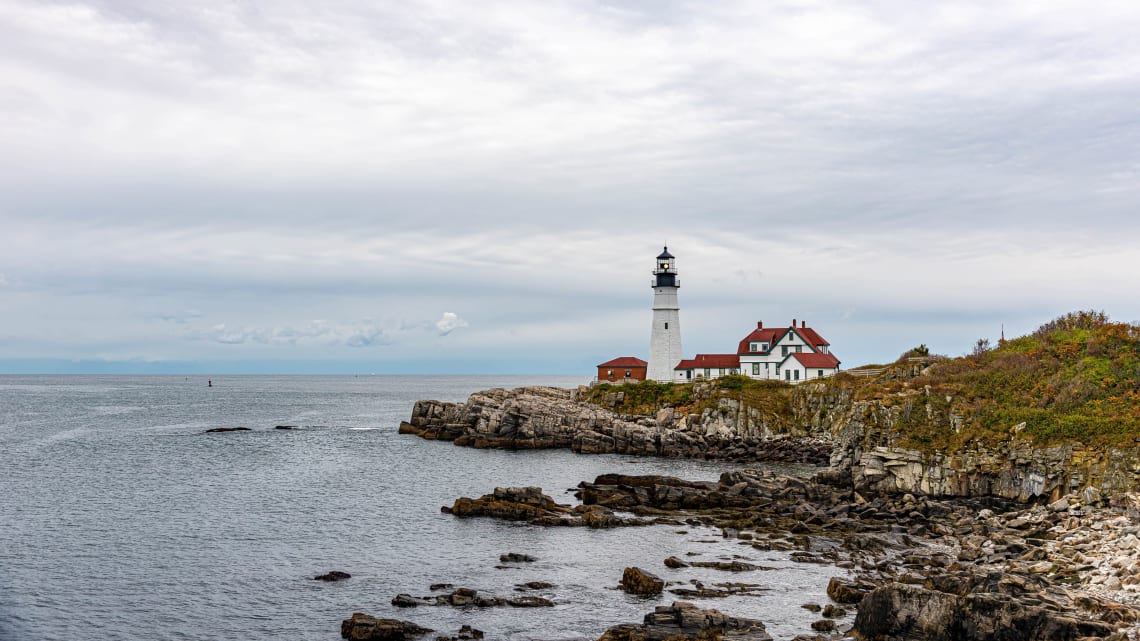 Last but definitely not least on our list of 10 great offbeat US destinations is Portland, Maine, not to be confused with Portland, Oregon on the opposite side of the country. Portland is the largest city in Maine, but it manages to maintain a charming small town feel.
Picture the classic coastal town with cobblestone streets, busy fishing wharves, and lighthouses sprinkled around a craggy coast. Now throw in the most microbreweries per capita in the United States, a food scene vibrant enough to earn Portland such titles as "The Foodiest Small Town in America" and "Restaurant City of the Year", and a reputation as a great destination for nightlife and live entertainment, and you've got Portland, Maine.
There's so much to eat and drink in Portland that there's no way to cover or even rank the best the city has to offer, but of course Maine is famous in the United States for its fresh seafood, and more specifically, lobster. Just make sure to bring your appetite when you come!
In Portland you'll find all the usual coastal activities like sailing and lighthouse touring, but there are also several small islands nearby to explore and enjoy. There's a fantastic arts and entertainment scene, with frequent chances to see live music, comedy shows, and street performers.
The Portland Symphony Orchestra is nationally known to put on a beautiful show, and the boutiques of Old Port are full of locally made art and crafts.
Portland Bucket List:
Explore the islands of Casco Bay
Indulge in freshly caught Maine lobster
Take in the sights, sounds, and smells of Commercial Street
Discover the artistic treasures housed at Portland Museum of Art
Spend an afternoon/evening shopping, eating, and drinking in Old Port
Visit the International Cryptozoology Museum, the only one of its kind in the world
Spot Humpbacks, Finbacks, or Minkes on a whale watching cruise
I hope this list of best offbeat USA destinations has inspired you to get off the beaten path and discover a little more of what the United States has to offer!
While the bigger cities are certainly traveler favorites for a reason, I feel like including some of these destinations in your travels will give you a much better idea of the enormous diversity that the United States has to offer.
When you're planning your next Worldpackers trip, make sure to check out what you need to know before visiting the USA, and don't forget to consider some of these fun, offbeat destinations, too!