Best Buddhist temples to visit in the USA
Did you know that there are hundreds of Buddhist temples, monasteries, and centers in the USA? Here are some of the best Buddhist temples in the USA and how to visit them.
6min
Buddhism is the fourth biggest religion in the world, but only 1% of the U.S. population (3 million people) recorded themselves as Buddhist in 2020.

With that in mind, it's slightly surprising that there are actually hundreds of Buddhist temples and monasteries scattered across the United States.
Instead of flying to Thailand, Vietnam, or China to visit a Buddhist temple, there might already be one on your doorstep if you live in the US. And if you're visiting America, a stop at a Buddhist temple can be an interesting addition to your trip.
In this article, you'll find out more about Buddhism in the USA and how to visit the best Buddhist temples, monasteries, and retreats. Plus how to volunteer at one!
What is Buddhism?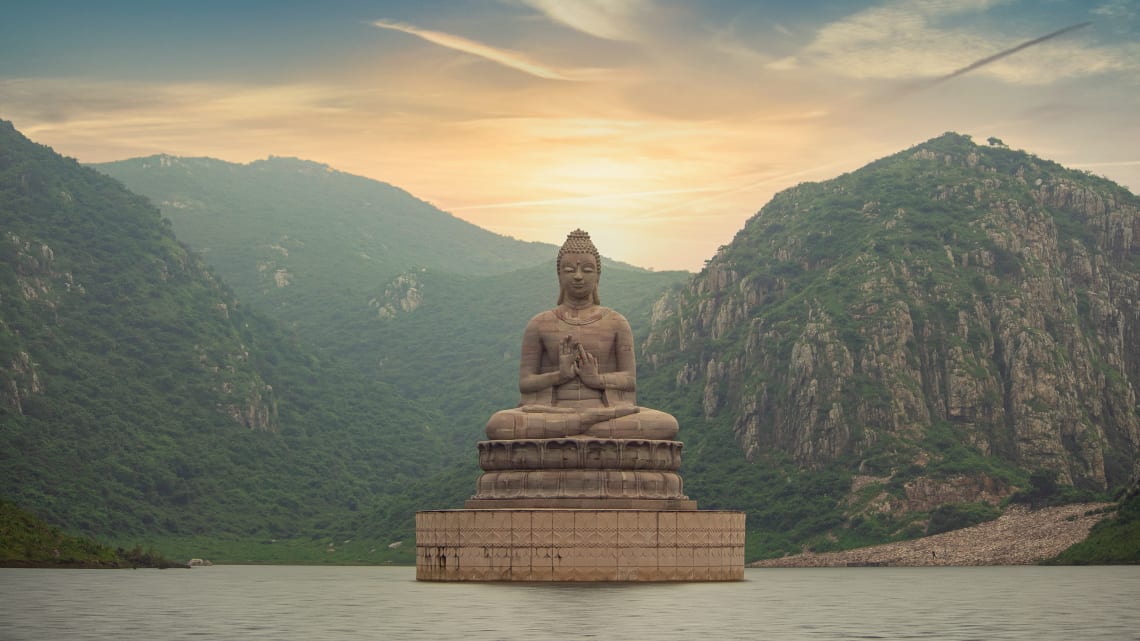 In case you've never heard of Buddhism before, it's a religion or philosophy that was developed from the teachings of the Buddha, a teacher who lived in northern India 2,500 years ago.
Buddhists believe that human life is one of suffering, and that spiritual and physical labor, acts of good, and meditation all contribute to achieving enlightenment.
Why did Buddhism grow in the USA?
Thanks to globalization and immigration, most of us live in multicultural societies with a number of religions, cultures, and ethnicities. But why did Buddhism and the number of Buddhist temples grow so much in the USA?
The Immigration Act of 1965 kicked it off, bringing the first wave of Asian immigrants. This was followed by a second wave, bringing hundreds of thousands from Vietnam, Laos, and Cambodia, following the end of the Vietnam War in 1975.
Between 1965 and 1990, the Chinese-American population quadrupled! And with this mass immigration, new cultures, and religions, such as Buddhism, were brought to America.
Nowadays, you'll find the largest populations of Buddhists concentrated in Hawaii and the West Coast, particularly in San Francisco.
The largest Buddhist temple in North America
Who would have thought that the largest Buddhist temple in the whole of North America is in Minnesota?
Watt Munisotaram is a Cambodian Buddhist temple in Hampton, Minnesota, built by the Minnesota Cambodian Buddhist Society, which was established in 1982.
The Buddhist temple now spans 40 acres of land and includes a large temple built in 2007, the old temple where the monks and priests live year-round, an outdoor shrine, and a stupa.
The new main temple is a work of art, boasting intricate details and rich colors. This is now where large gatherings and meditations happen.
You can use Watt Munisotaram's Facebook page to plan your visit around one of their ceremonies or festivals.
Other Buddhist temples and monasteries in the USA
Hsi Lai Temple
Visiting Hsi Lai Temple almost feels like you've been transported somewhere in Asia. The architecture of the temple is magnificent and grand. Add to that a mountain-top setting, and you can't really get much better than that!
Hsi Lai Temple is a mountain monastery in the northern Puente Hills in California. It serves as the North American regional headquarters for Go Guang Shan, a Buddhist organization from Taiwan.
Anyone can visit Hsi Lai Temple, but you will need to make an appointment before making the journey there. You can easily spend a couple of hours here, admiring the exterior of the temple and its stunning gardens.
Honpa Hongwanji Mission of Hawaii
Whilst it might not look like most of the Buddhist temples found in Asia, Honpa Hongwanji Mission of Hawaii is still an impressive building.
With roots extending back to 1889, the organization is a branch of Jodo Shinshu Buddhism. It quickly became a spiritual and cultural center of Japanese immigrant life and is growing into one of Hawaii's most influential religious communities.
And you're more than welcome to get involved! They offer Jodo Shinshu Buddhist learning and services that are a great way to learn more about the religion.
Can you just visit a Buddhist temple?
Yes! Even if you're not Buddhist you can enter a Buddhist temple. Generally, the people there will be very warm and welcoming to you.
What should you wear to a Buddhist temple?
You don't have to wear anything special to visit a Buddhist temple, just make sure that you're dressed respectfully. What do we mean by that?
Your knees and shoulders should be covered. If you're a guy, it's best to wear long pants rather than shorts.
A key thing to remember is to take your shoes off before you enter the temple. You'll probably see a large pile of shoes already outside the doors. When entering the temple, don't step on the threshold as it is seen as disrespectful.
Buddhist retreats in the USA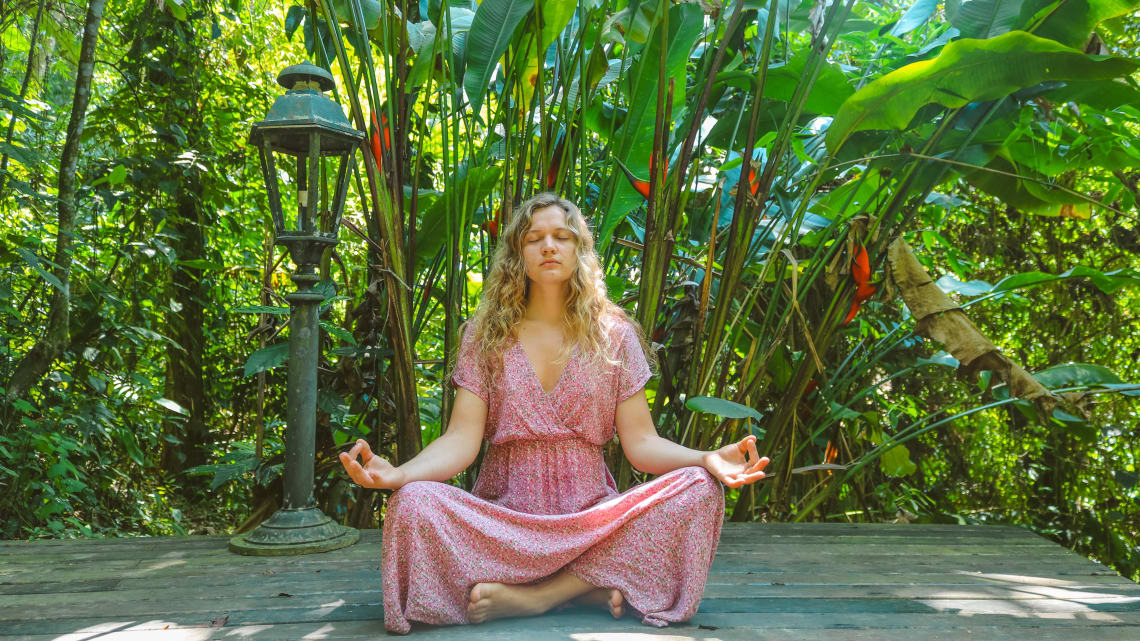 Buddhism is a fascinating religion that we can all learn a lot from — give generously to others, conquer the ego and free the soul, be kind to all — a lot of the lessons are simply what you should do to be a good person.
Joining a Buddhist retreat can be a great way to learn more about the religion, practice meditation, and figure some things out in your life. And there are plenty available in the USA.
Some highly recommended Buddhist retreats to check out in the USA are Zen Mountain Monastery, Shambhala Mountain Centre, and Spirit Rock Meditation Centre.
No retreat is the same, so make sure to do some research into what you'd like to experience. Is it a silent retreat that you're looking for? Do you want to work on your meditation practice? Or perhaps do some breathwork?
Volunteer at a Buddhist retreat in the USA
If you're not quite ready to fully immerse yourself in a Buddhist retreat, then volunteering at one can be a great way to get a glimpse at what life is like, and dip your toe in the water. It's also an awesome way to experience one without having to pay hundreds of dollars!
One way you can do this is through Worldpackers, an online platform and community that connects travelers with incredible hosts all around the world.
Here are just two amazing opportunities where you can get volunteer at a Buddhist retreat:
Give a helping hand to a Buddhist meditation retreat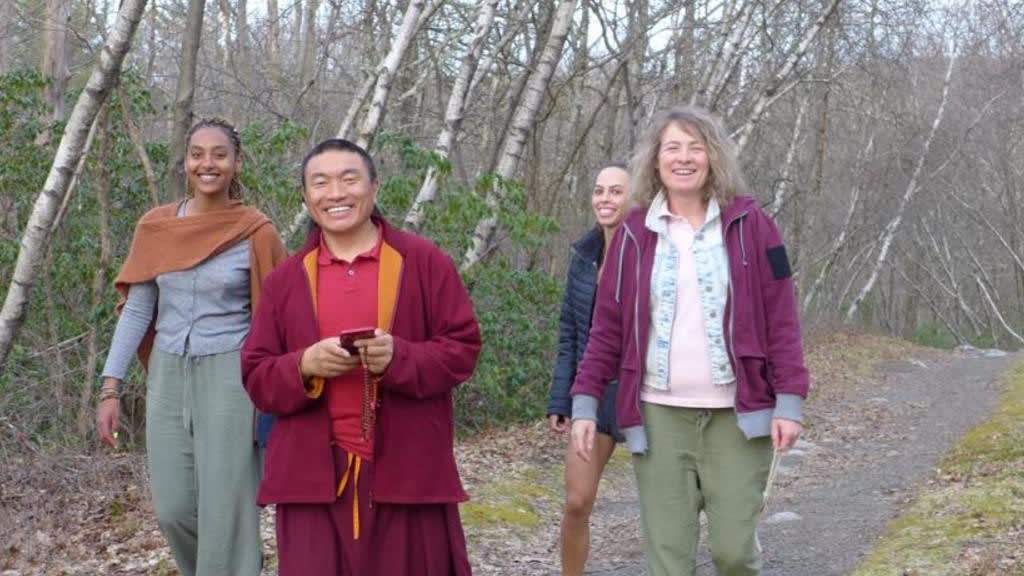 Ever been to Cragsmoor in the US? Probably not! It's pretty small and has a population of around 450 people. That's where you'll find Dharmakaya, a Buddhist meditation retreat.
Volunteering here is likely to be a life-changing experience. You'll get the opportunity to work closely with the teachers at the retreat to bring extraordinary programs to their guests. In exchange for 6-8 hours of help a day, you'll get free attendance to most sessions, meditation practice, 3 delicious vegetarian meals a day, and a private bedroom.
Or if you fancy getting your hands dirty, you can also help to build trails and maintain the gardens at the same Buddhist retreat.
Help with maintenance at a Buddhist retreat center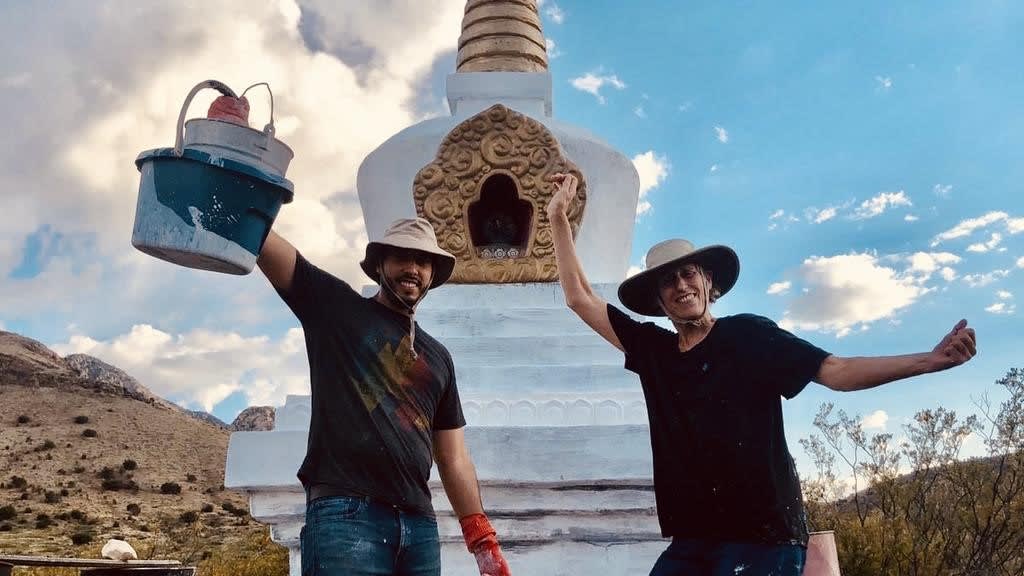 Another Buddhist retreat can be found in Bowie, Maryland. They're offering you the chance to help out with general maintenance at the retreat — painting, landscaping, and keeping their buildings and facilities in good shape.
The retreat practices the tradition of Je Tsongkhapa, something that you'll be able to learn all about. In return for your time, they offer philosophy classes, meditation, yoga, and even Tibetan language classes. It's the perfect opportunity for self-growth and discovery.
Alongside getting access to the retreat, for free, you'll also get accommodation and some of your food provided for you.
If you're looking to escape life, and learn something new about a religion or yourself, then volunteering here would be the perfect place.
Is yoga more your thing? Here are the 12 best yoga retreats in the world!
Exploring different cultures and religions doesn't always mean hopping on a plane and discovering a distant country. Unbeknownst to most of us, we have an endless list of places to explore on our own doorstep.
Did you know there were so many Buddhist temples in the USA? Most probably didn't. So I pose the question 'what does your own country have to offer that you didn't know about?'
If you like these tips, follow Worldpackers social media to keep up with the news: we are on Instagram, Tiktok, and YouTube!