The ultimate Worldpackers UK travel guide
It wasn't until I started exploring what was on my own doorstep that I realized how incredible these little islands actually are. Use this comprehensive travel guide to plan the ultimate trip to the UK.
35min
The United Kingdom — home of The Queen, fish and chips and The Beatles. You'd be forgiven for thinking that, due to the tiny size, you could see everything the UK has to offer in one short trip.
You would be wrong.
Born and bred in Manchester, it took me a while to explore my own country. Everywhere else just seemed much more exotic — Australia, Israel, Fiji... why would I want to stay in this cold, wet country when the rest of the planet is so much more exciting?
It wasn't until I started exploring what was on my own doorstep that I realized how incredible these little islands actually are.
Allow me to take you on a guided tour of the British Isles. You'll learn a little history, some of the absolute highlights (there are far too many for one simple guide, but at least you'll get a good flavor) and I'll sprinkle in some local knowledge to ensure your trip runs as smoothly as possible.
From Buckingham Palace in London to Bog Snorkeling in Wales, from summiting the Scottish Mountains to walking with giants in Northern Ireland, we'll explore why you absolutely have to visit the UK at least once in your life and why life exists outside of London.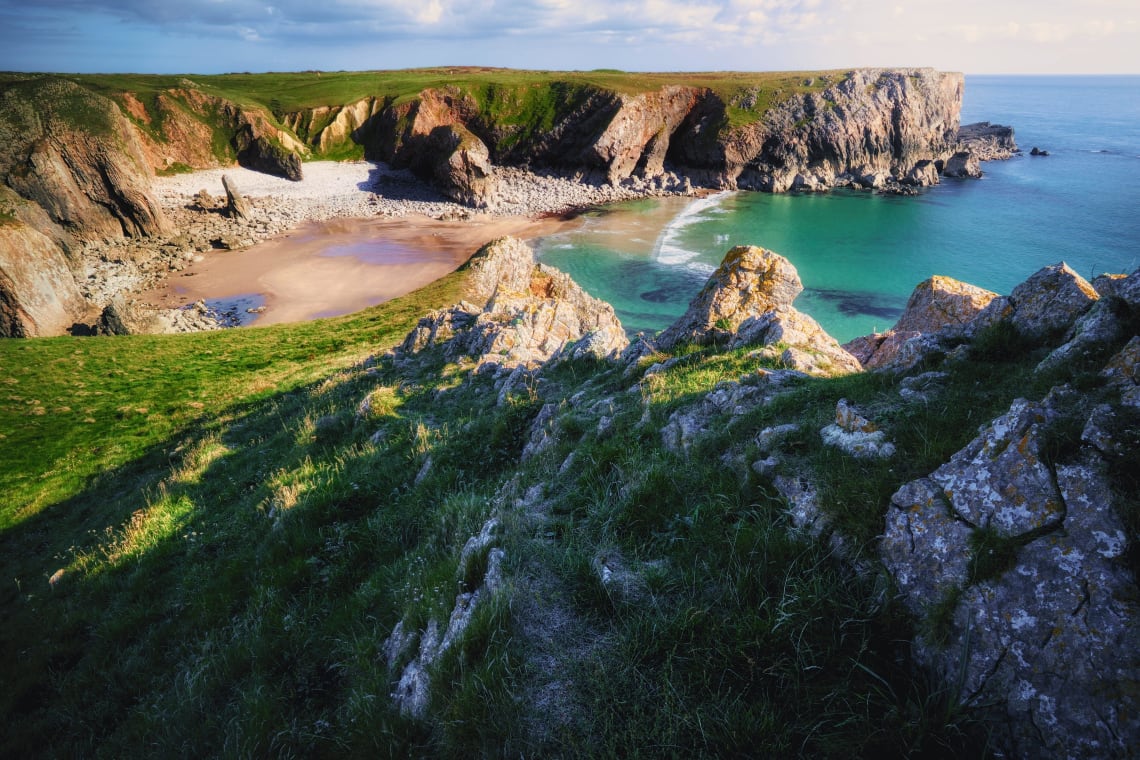 Where is the UK located?
The United Kingdom is located off the north west coast of Europe, separated from its nearest mainland neighbor (France) by the English Channel.
Let me (hopefully) clear up one confusing question straight away — What's the difference between The United Kingdom, Great Britain and The British Isles? And what do you call the people to avoid insulting anyone?
The United Kingdom is an 'Island Nation' made up of four separate countries: England, Scotland, Wales and Northern Ireland. Often shortened to just 'UK', the full official title is 'The United Kingdom of Great Britain and Northern Ireland.'
Great Britain refers to the biggest island, and consists of England, Scotland and Wales.
The British Isles is the entire collection of islands (almost 6000), including England, Scotland, Wales, Northern Ireland (NI) and also The Republic of Ireland (which borders Northern Ireland but is a completely separate country). The Republic of Ireland does not recognize this name however, and it's rarely used outside of textbooks.
And then there's The British Islands. Not to be confused with the British Isles, The British Islands refers to the UK plus the Isle of Man, the Bailiwick of Jersey, and the Bailiwick of Guernsey. These three are not part of the UK, but are 'Crown Dependencies.'
Confused? You're not alone.
What is the best way to refer to someone from the UK? Although there are no borders between the countries, they all have very distinct identities.
Referring to someone from Wales, Scotland or NI as English will guarantee you a frosty glare (and usually a short history lesson). The safest way to avoid upsetting anyone is to ask "are you from the UK?" They will usually respond with "yes, I'm British/English/Scottish/Welsh/Northern Irish", and then you can use that from then on.
Some of the history and culture of the UK
English is the main language spoken across all the lands, although each country also has its own. In Scotland you can find people speaking Scots and Scottish Gaelic, a different form of Gaelic is also spoken by some in Northern Ireland and Welsh/Cymru has received 'official status' in Wales.
If you can learn a few phrases in each local language (Duolingo covers them all), you'll make a lot of new friends. As with speaking any foreign language, making the effort is greatly appreciated and will open up new opportunities and adventures.
It's not essential though. Basic English will be fine across the whole of the UK, although you'll discover huge variations in accent and dialect from city to city. If you're expecting everyone to speak like The Queen or Harry Potter then you'll be in for a shock.
Challenge Time: If you fancy a particular challenge head to the town of Dudley in the West Midlands. The local accent is a thing of true beauty and makes my ears smile every time I hear it.
As diverse as the accents are, you'll find an equally diverse mixture of cultural differences spread across the UK.
There are the traditional stereotypes of everyone from Harrogate, Windsor and Eton speaking like Hugh Grant, drinking afternoon tea and hunting foxes on horseback. While it still holds some truth, it's still just a stereotype.
Equally, a classic Northerner will be drinking warm beer, swearing profusely and enjoying his free time playing 'shin-kicking' (I've tried it... it's not fun).
While these may be funny to think about, they're mostly just exaggerations of historical stereotypes.
For a very real cultural debate make a note of what the locals call a bread roll. The small bready creation is called a multitude of names across the whole land. In the south it's mostly a bread roll. As you move further north it's called a bap, cob, breadcake, muffin, bun, teacake, over-bottom, scuffler, batch, stottie or barm (and several more regional variations).
You can tell a lot about a person by how they name their bread.
Another commonly held belief is that people are friendlier and more open in the north. Not wanting to be controversial, but I'd agree. Try to strike up a conversation with a stranger on a bus in London and they'll look at you like you're crazy. Try the same in York or Sheffield and be prepared to miss several buses as the conversation goes on and on.
That's not saying everyone from London is rude and cold. It's just a different pace of life in the capital and people are forever rushing around.
How much it costs to travel to the UK
The currency in the UK is Pound Sterling (£). It's roughly the same value as the Dollar (£1=$1.2) and Euro (£1=€1.1). It has been fluctuating recently due to the uncertainty around Brexit, but it's a stable currency so deviations are rare.
This means that, like it or not, prices are consistent. The UK isn't a particularly cheap destination. Depending on your lifestyle it's completely possible to live on a budget, see plenty of free sights and attractions and generally have a good time. However, if you want to really explore the UK, you'll need some savings.
Most big cities have free museums, galleries and tours you can take. If you only choose these free options you can still get a fantastic insight into British culture and its rich history — The Museum of Science and Industry in Manchester is superb, The National Gallery and British Museum will blow your mind and the Tate Modern in Liverpool will leave you scratching your head at the artwork.
The main expenses in the UK, as with anywhere in the world, are accommodation and transport. Being such a hub of aviation, it's usually easy to find cheap airfare to the UK. However, getting around can be costly. There are cheap travel options for getting around the UK, but they're usually much slower and less comfortable, but we'll get to that later. Cheap accommodation is a little more difficult, but not impossible.
I travel down from Manchester to London three or four times a year on average. Here's a breakdown of the average cost for seven nights.
Bus: around £30 return (taking an overnight bus)
Accommodation: Budget hostel on the outskirts of London city center — £100 for 7 nights
Transport: Subways and buses — £46.80 (with an Oyster Card)
Food and drink: Usually very cheap breakfast and one good meal out per day with a drink — £150
Total: £326.80.
That's mostly just visiting friends and being a casual tourist, taking a few free tours and plenty of photos. If I paid for some galleries and museums and had a wild night or two then the cost would easily creep up around £500.
Obviously that could be cheaper if I ate at home every day and traveled less, but it's still an expensive trip. If I was working at a Worldpackers placement then I could easily reduce that total by up to 80%.
With no accommodation costs and a daily free meal the price would drop massively. You could probably survive on £50 or £60 a week. You'd also have access to local knowledge and advice — the cheapest markets to visit and hidden or little known attractions (four times I visited London in 2017 and four times I failed to find the pub owned by Gandalf (Sir Ian McKellen)).
Now consider those savings as you volunteer with Worldpackers all over the UK. The only big expense would be transport between destinations, but we've got that covered too.
And if you think volunteering in England is just hostels and muddy farms, think again.
Do you like the open sea? Then become a pirate in Brixham or wrap up warm as you work on the Scottish island of Raasay. Work on the set of Game of Thrones in Northern Ireland or sing for your meals in the Welsh valleys.
They are some of the more magical projects on offer by Worldpackers in the UK. If you want a little less adrenaline there are plenty of hostels scattered around that require daily cleaning and maintenance, receptions to man and farms to assist on.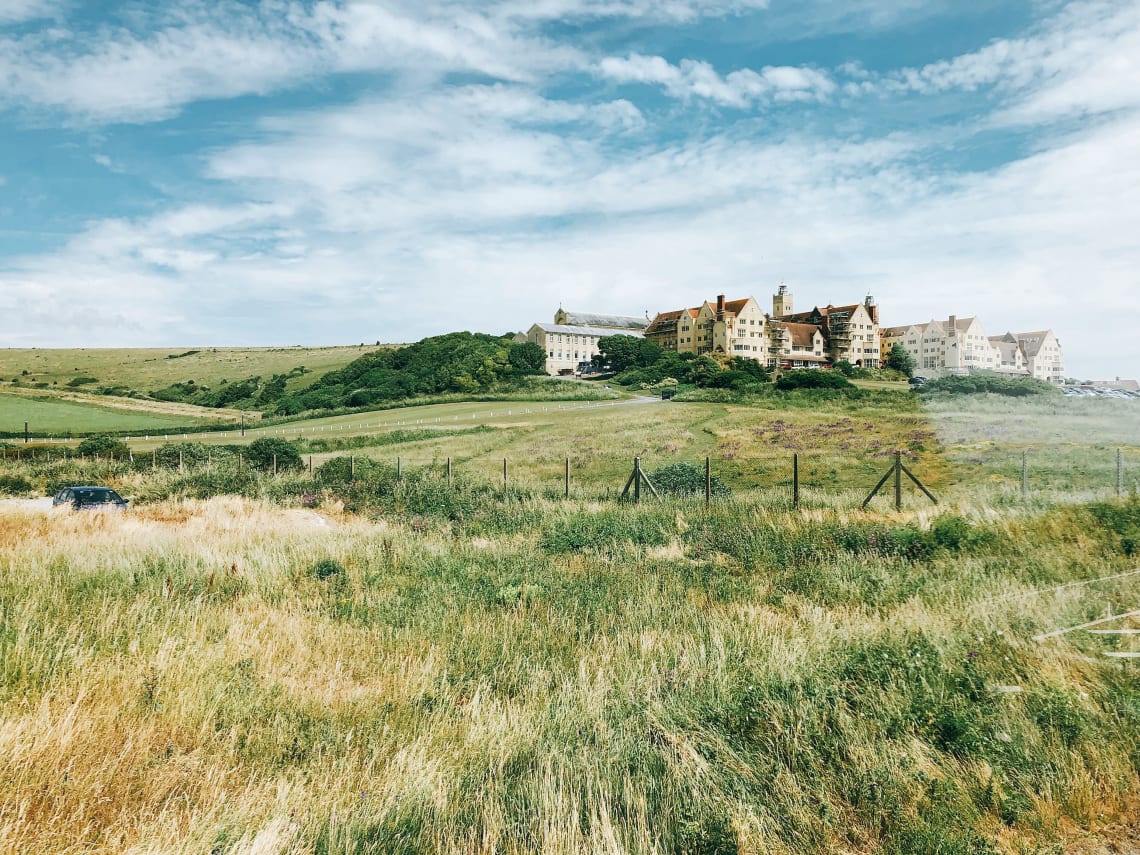 When you should travel to the UK
The UK has a reputation for being cold, wet and grey. While this was certainly a staple of my early years, it's also greatly exaggerated. It's certainly true that you'll get more use from an umbrella than a bikini, but bring both!
Choosing when to visit the UK can have a massive impact on your experience.
Winter — December, January, February
Spring — March, April, May
Summer — June, July, August
Autumn — September, October, November
The average temperature in the UK in winter is 0-2 degrees (32F). If you're dreaming of a white Christmas then you'll need some luck. While they're not unheard of, it usually snows in January and February.
While the first two months are cold and miserable, March is when the party really starts. It's cool and breezy, but usually with clear blue skies. March, April and May are the best times to visit the UK if you're interested in walking, hiking or generally enjoying the outdoors (and there's A LOT to explore). You'll still need to dress up warm, but the weather just gets better and better.
The English Summer is a funny thing. While not as apocalyptic as some would have you believe, they're less than reliable. One glorious hot and sunny week at the end of spring (15-18 degrees) may not be seen again for a few weeks, with grey and rain sweeping in between. July and August usually have a week or two of glorious 20+ degrees between them.
September is another beautiful time to go walking, camera in hand, through the stately gardens, Manor Houses and the endless castles of Wales. The warmth of summer is still at your back, but the leaves are starting to fall from the trees.
It starts to get dark again when the clocks change towards the end of October. Daylight saving begins, meaning the clocks go back 1 hour (they go forward again during British Summer Time at the end of March). Keep this in mind if you're traveling in the UK during these times as it could affect your travel plans.
School holidays are another thing to keep in mind. They massively affect prices, and delaying your trip by just a week or two could lead to huge savings.
While they vary from school to school, the long summer break usually lasts six weeks from mid-July until the end of August. Christmas Holidays are mid-December until mid-January (normally two weeks) and another two-week break for Easter around April.
In terms of what to pack when traveling to the UK, your wardrobe will vary depending on the season. For winter and spring I'd recommend a good waterproof, windproof jacket. Scotland can get bitterly cold so definitely consider some thermal under-layers.
In the summer, shorts and a t-shirt or a light dress will be fine during the day. Flip-flops are okay for the beach, but you may be asked to change in some restaurants/bars.
And for the spring and autumn, it's always wise to keep an umbrella handy for the frequent unscheduled showers.
How long should you stay in the UK?
This is a tough one. Just to visit the big cities — London, Cardiff, Birmingham, Liverpool, Manchester, Edinburgh and Belfast, you'd need at least three or four days in each, and even then you'd be chasing around like a lunatic.
I'll give you some rough times based on someone who is reasonably active, takes a lot of photos and wants to sample some of the local food and entertainment.
London — 1 crazy intense week, or 2 relaxed weeks
Cardiff and Manchester — 3 or 4 days each
Birmingham, Liverpool and Belfast — 4 or 5 days each
Edinburgh and Belfast — 5 to 7 days each
If you just visited those cities you'd have a nice idea of city life in the UK, but you would be missing out on the true flavor. The stately homes (the kind you see in Pride and Prejudice and films of English Aristocracy) are usually located in the countryside and require some planning to get to.
You could easily spend a week or three hiking through the Scottish hills (a Scottish hill over 3000 feet is called a Munro, there are 282 of them and the challenge to climb them all is known as Munro Bagging).
Northern Ireland has some of the most beautiful countrysides in the whole of Europe, and there are over 1500 castles to visit and explore across the whole of the UK.
So how long does it take to visit the UK? To experience everything? A lifetime. To have a great time and really get a feel for the place? I would say two or three months.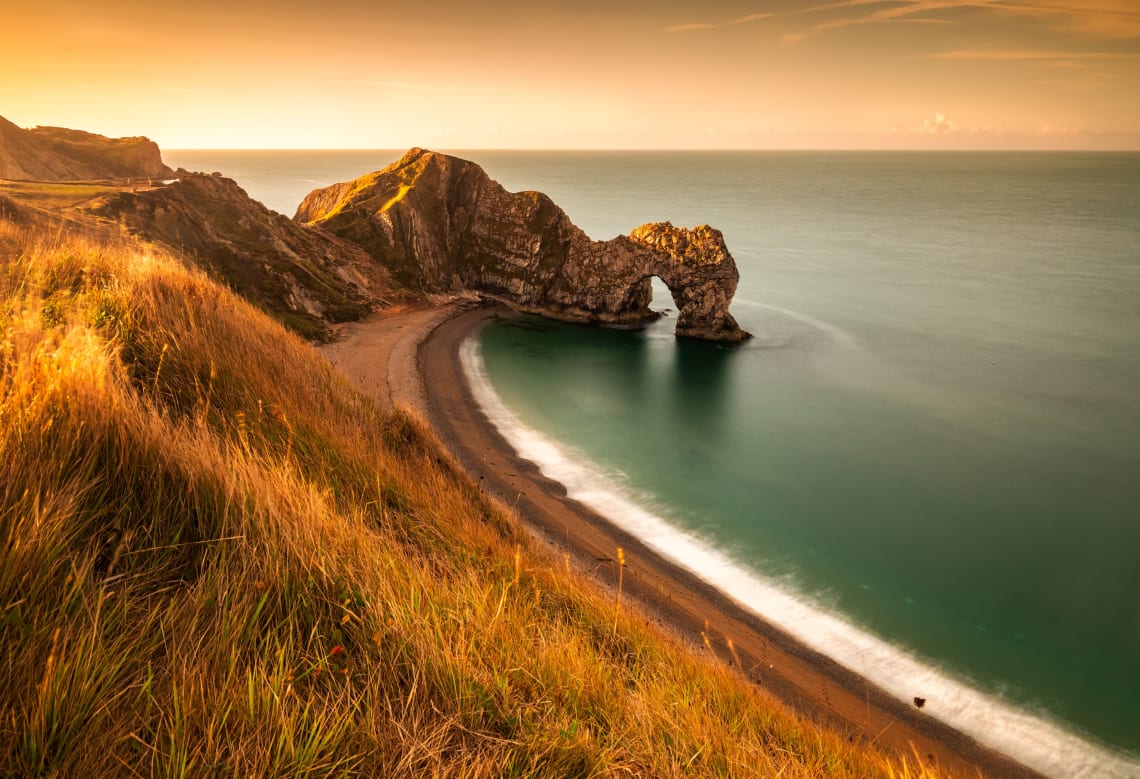 How to get to the UK
By air

The five biggest airports in the UK are:
Heathrow (London)
Gatwick (London)
Manchester
Stansted (London)
Luton (London)
You can understand why most people start their UK trip in London but, if you are, check your ticket. Some of the airports are located miles outside of the city and require much longer journeys.
If you're flying into Heathrow, you can take the London Underground (around 1 hour) into the city centre. This is one of the cheapest options, costing between £3.10 and £6, depending if you have an Oyster Card (a top-up travel card available in most stations and used on the underground, overground and buses).
If you're arriving late at night then the Underground may not be running. If that's the case there is a cheap bus service (the N9) which departs from the Heathrow Bus Station. It costs £1.50, but you can only get on using a contactless credit card or an Oyster Card. Pick one up from one of the machines in the station and top it up before going to the bus station. The bus also takes around an hour.
The fastest option by far is the train. It takes approximately 15 minutes, and if you book in advance you can find discounted fares, although paying on the day will cost around £20.
Gatwick is around 90 minutes away from London, and bus tickets range from £2 to £10. The train takes 30 minutes and prices vary from £8 to £20.
Manchester Airport is linked to the city centre by bus, train or tram. Out of the three options, I ALWAYS take the train. The bus and tram take a lifetime and don't save you any money. The train takes around 20 minutes and costs between £2.90 and £6.30.
Stansted is popular for flying budget airlines to Europe. It's around 40 miles outside London and isn't on the underground network. To get there you'll need to take either a train or coach. The train takes 45 minutes and costs between £7 and £18.10. The coach takes close to 90 minutes and costs between £2 and £10.
Luton is another budget-friendly airport. 30 miles outside London you can take the 35 minute train, £2-£10, or 90 minute coach, £2 — £11.
You can also take a taxi from any of the above airports into the city center, but be prepared to pay around £100 or more.
By sea
You can enter the UK by ferry from several ports, with Dover in the south of England and Holyhead in Wales being the most popular.
The train from Dover to London takes around two hours and can cost as little as £11 if booked in advance.
From Holyhead to Liverpool also takes around two hours by train and costs around £20 (use ticket splitting via Train Split).
All the same rules apply with entry via ferry. You'll still need your passport, visa (if required) and to go through security checkpoints.
By train
You can get from Paris to London in 2 hours 16 minutes by taking the Eurostar train. It arrives in St. Pancreas station in central London and you can find tickets for as low as £50 if you book in advance.
Whichever way you choose to enter the UK, be sure to check if you need a visa to enter. Visa requirements vary depending on your passport and if you're from outside the EU then you may need to apply for a visa before departing. Check the UK Government Website for specific details when planning your trip.
Where to stay in the UK
Do you love the city life and the hectic social scene? Are you interested in long walks in the countryside? Do you want to feel the sea breeze on your face? Or do you just want to supercharge your Social Media accounts with stunning photos? If you answered yes to any or all of the above, you're in luck! The UK has them all.
1. London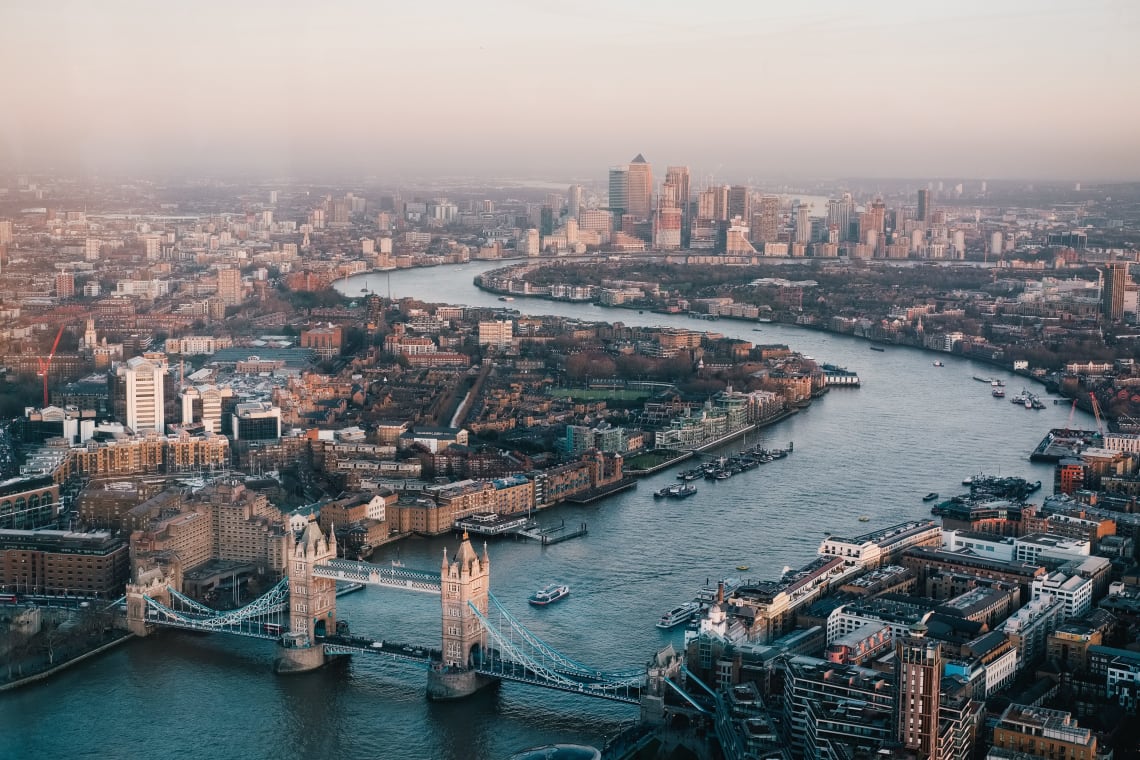 The obvious starting place would be London (it wouldn't be the ultimate UK travel guide without it). It's the capital of the UK and jam-packed full of things to see and do.
You can literally walk around exploring for days and never be bored. According to Wikipedia, London has been termed the world's most ______ city:
Powerful
Desirable
Influential
Visited
Expensive
Innovative
Sustainable
Investment-friendly
Popular for work
Vegetarian-friendly
The expensive part is true for those living and working in London, but it's totally possible to visit London on a budget. As previously discussed, doing a work exchange in London will save you a ton of money. You can also use that as a base to go out exploring on your free days.
The list of attractions in London could fill a guide on its own, so here's just a few:
Houses of Parliament (free)
National Gallery (free)
Tate Modern (free)
Tower Bridge (from £12)
National Theatre (from £15)
Big Ben (from £15)
St Paul's Cathedral (from £18)
Westminster Abbey (from £21)
Buckingham Palace (from £25)
The Shard (from £27)
Madame Tussauds (from £29)
London Eye (from £37)
Be sure to finish your day with a Waterloo sunset. The inspiration for the famous Kinks song comes from watching the sunset from the neighborhood of Lambeth, Waterloo. It's quite a sight to see.
You can also use London as a base to go exploring the south coast. Cities like Canterbury and Hastings have massive historical importance and are only one hour away by train. Alternatively spend your days off by the beach in Brighton. Visiting the Brighton Pavilion is worth the one hour trip alone.
A fascinating fact about London — the Tower of London is home to six ravens. Dating back to the 17th Century, the ravens must remain to stand guard. The reasoning behind it is based on logic and sound scientific thinking: "If the Tower of London ravens are lost or fly away, the Crown will fall and Britain with it."
The ravens are cared for by the Royally appointed Ravenmaster, will attack if they feel threatened and they're officially enlisted as soldiers of the Kingdom.
You can read more about London on: Best places to stay in London
2. Cardiff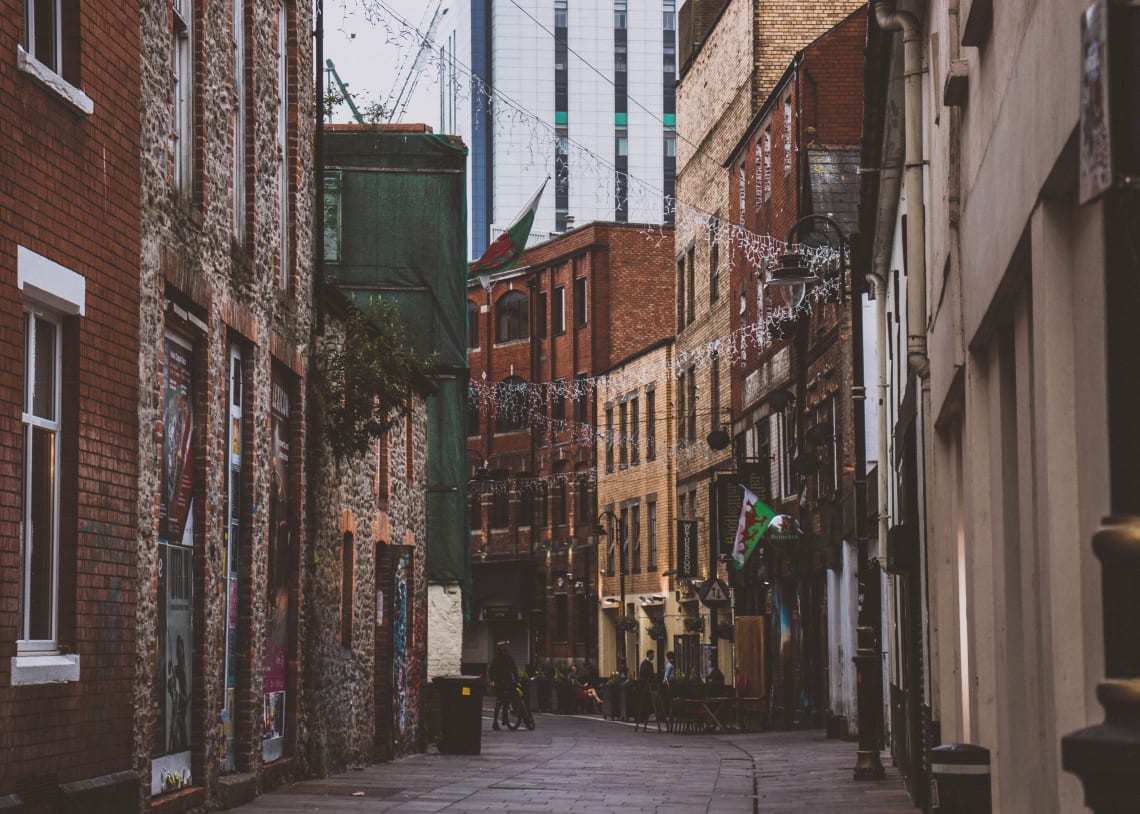 From one capital to another, Cardiff (the capital of Wales) should definitely be on your list of places to visit in the UK. Compared to London it's tiny, but it has lots of character, plenty to see and do plus it's a great base for exploring Wales.
If you can time your stay in Cardiff with a live rugby match then you're guaranteed an unforgettable time. Rugby may not be your favorite sport, but it's practically a religion in Wales. And, unlike football/soccer where the rival fans are kept apart for fear of trouble, rugby fans are awesome!
Singing, dancing and partying in the streets are standard whether Wales win or lose and everyone's invited to join in, regardless of team colors, nationality or even if you like rugby or not. You'll soon find yourself caught up in the singing and cheering. Just remember to drink lots of water before going to bed.
After exploring Cardiff Castle and the surrounding city then use it as a base to visit some of the most beautiful beaches in the UK. A two hour train ride will get you to The Gower Peninsular, named the UK's first Area of Outstanding Natural Beauty. It's home to epic limestone cliffs, endless sand dunes and beaches that rival those of Southeast Asia.
If you're visiting in the spring or autumn then a visit to The Brecon Beacons National Park is a must! Natural beauty and rolling green hills (snowcapped in the colder months) are the perfect backdrop for a hike and, with practically no light or sound pollution, The Beacons are an ideal spot for camping under the stars.
3. York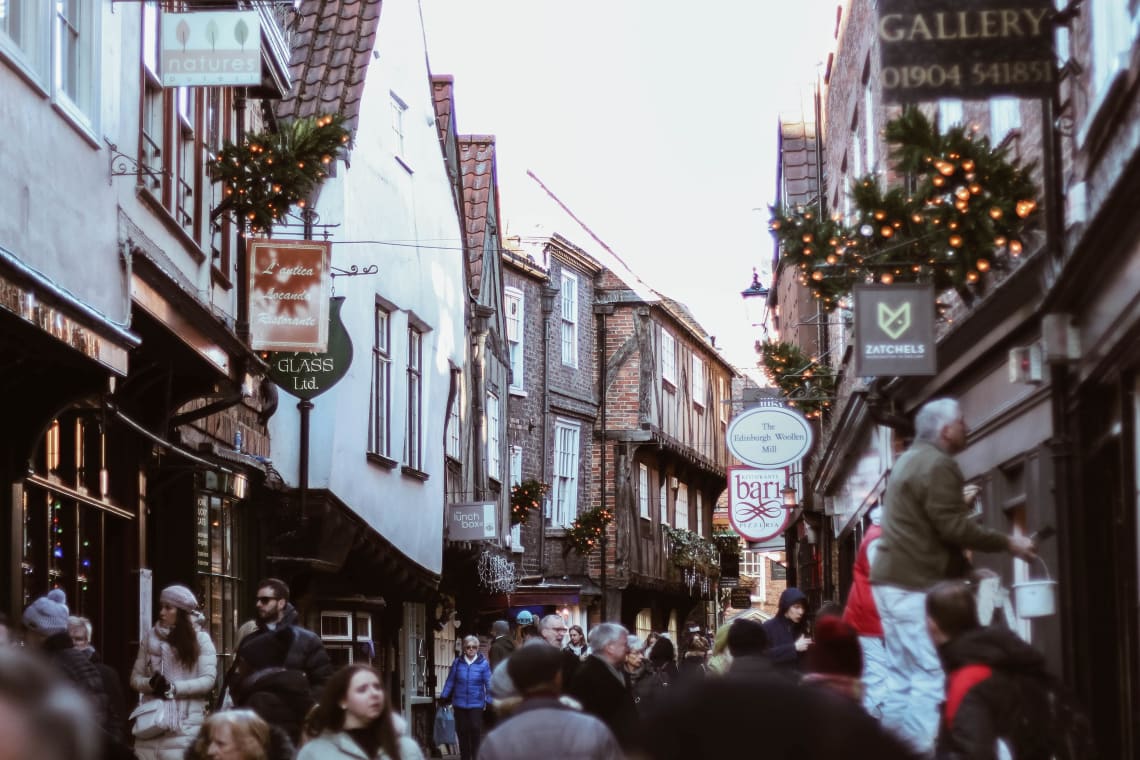 People visit the UK for the history, and one of the finest examples is the city of York. There's no need for a time machine as you'll be transported back to medieval times. From the old cobbled streets to the well-preserved shop fronts, from the city walls to the magnificent Cathedral, you must visit York.
Once the capital of England (way back in the Viking days), it's now one of the most visited tourist destinations in the UK, and with good reason. The oldest shopping street in Europe (first mentioned in The Doomsday Book in 1086), The Shambles could be lifted straight from a Harry Potter movie and will guarantee some epic photos.
York is also one of the most haunted places in Europe. There are regular 'ghost walks' around the city. Meet at the King's Arms Pub, pay your £5 and try not to scream (other famous UK ghost walks include Canterbury, Durham, Chester and Stratford).
York Minster Cathedral took over 200 years to complete and you'll know why when you see the intricacy of the architecture. Home to the finest collection of medieval stained glass windows in the world, climb the 275 steps to reach the top of the tower (Lantern Tower) for a spectacular view of the city.
4. Liverpool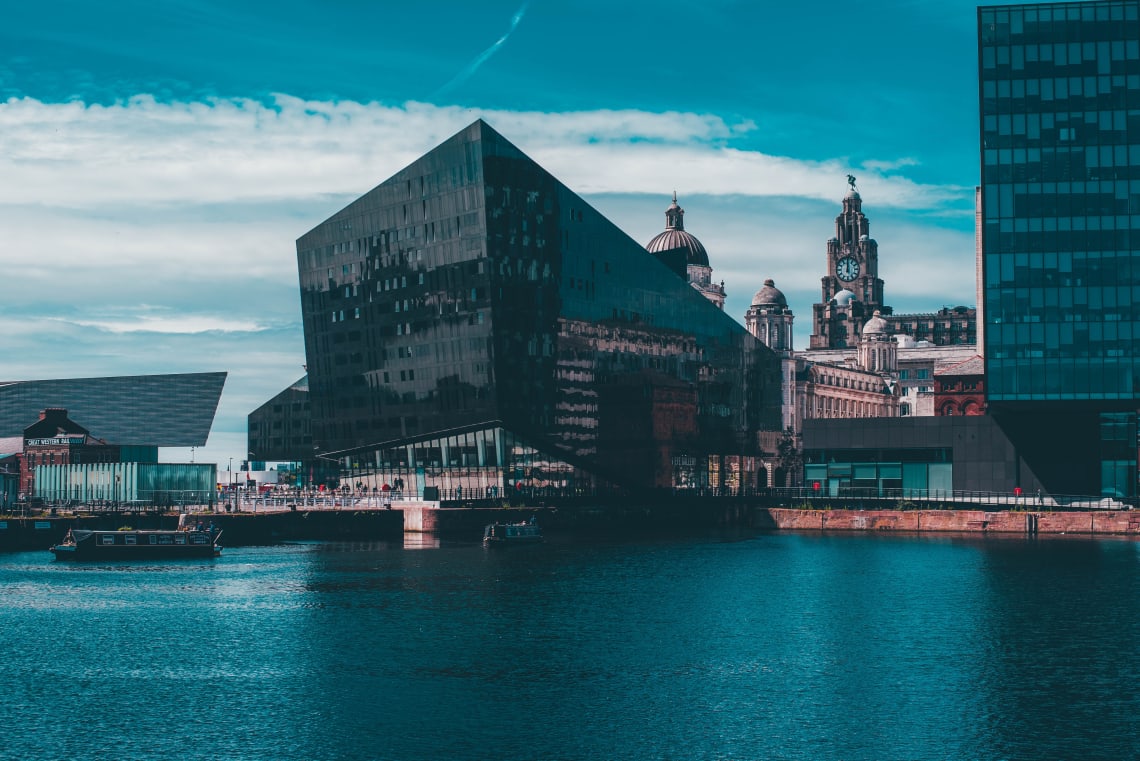 Liverpool is a fantastic city. The accent has been the punchline of jokes since the beginning of time, but it is a beautiful city.
Obviously it's the home of The Beatles, and you can find a million and one Beatle related things to fill your days — The Beatles store, statue, the Experience, McCartney and Lennon's childhood homes, The Cavern Club, Penny Lane, etc. The only thing missing is the classic Abbey Road street crossing, but you can see that when you're in London.
Apart from The Beatles, is there anything else to do in Liverpool?
Actually yes, lots!
Sticking with the music theme, Liverpudlians (people from Liverpool) have produced more number one singles than any other city in the world, making it the official World Capital of Pop. It hosts several music festivals throughout the year, including:
Creamfields
International Music Festival
Fusion
Pride
Beatleweek
British Musical Fireworks Championship
Brazilica Festival
6Music
International Jazz Festival
Sound City
You'll also find two incredible cathedrals and a shopping center to please the most diehard shopaholic. Galleries and museums will fill any spare seconds you have, and buskers and excellent street music will accompany you wherever you walk.

5. Manchester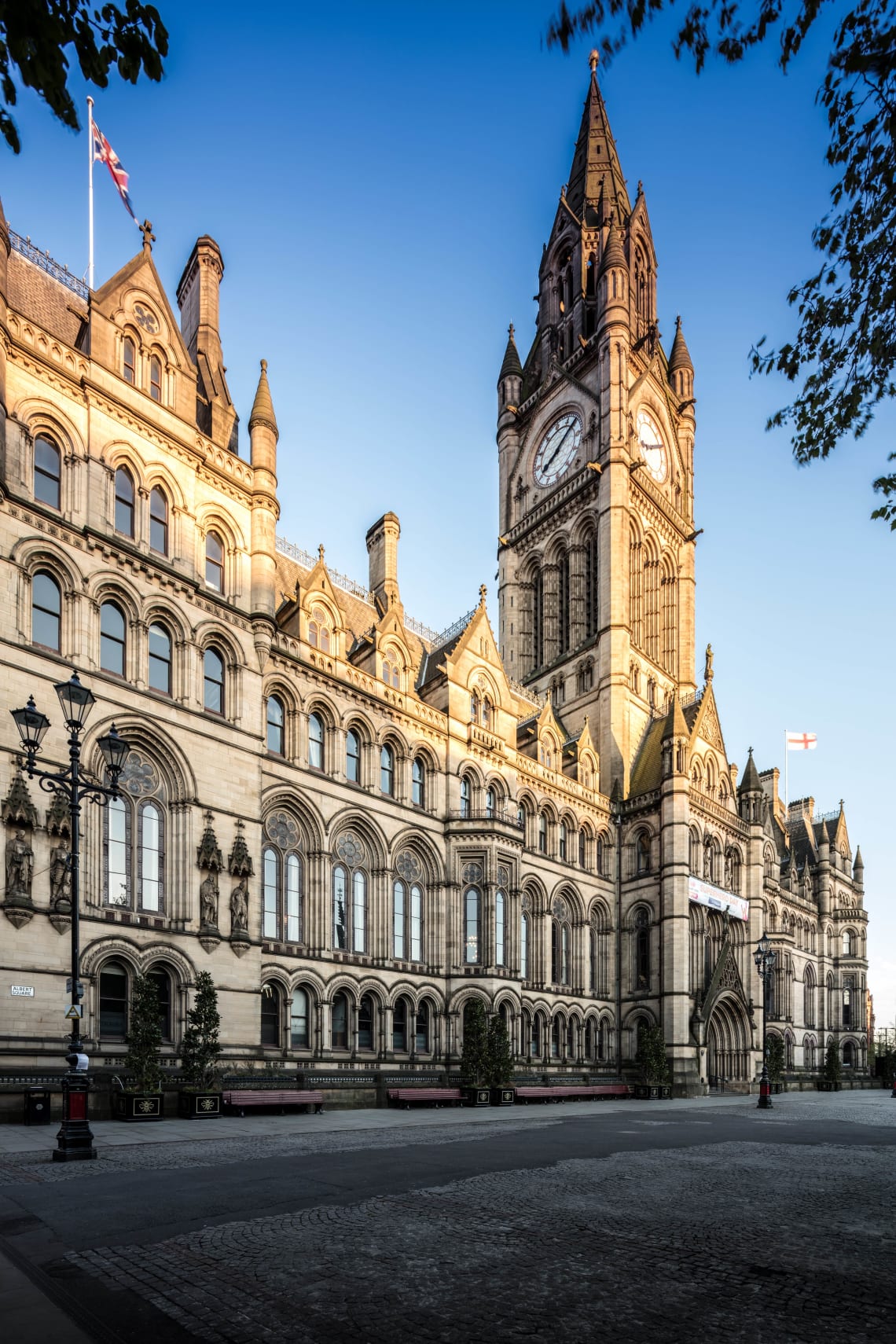 Writing about your own hometown was initially daunting, but then I think back to how excited I get to show fellow travelers around when they visit.
I'm not a big football fan, but there's no escaping the sport in Manchester. Home to two of the biggest football clubs on the planet, it's also the first question I'm asked when I tell where I'm from — "Manchester United or Manchester City?"
Both stadiums are close to the city centre and are equally spectacular arenas. When there's no match on you can hear the sounds of international artists performing — The Rolling Stones, Bruce Springsteen, Coldplay, Jay-Z etc
As for music, we've produced one or two famous people:
Oasis
The 1975
Harry Styles
The Verve
The Smiths
New Order
Take That
The music scene in Manchester is still thriving, with a multitude of venues catering for every style your ears could possibly desire.
When I'm showing friends around, to offer the most diverse experience possible, I'll show them the following places:
The John Rylands Library (free) — A phenomenal neo-Gothic library opened in 1900. Haunting, beautiful and dripping in history.
Manchester Town Hall/Central Library (free) — Stood side by side, they deliver a one-two punch of stunning architecture.
The Circus Tavern — Claiming to be the smallest pub in Europe, it is tiny! Dating back to 1790, drinking a pint in there when it's full is a special experience indeed.
Furcats/The Cat Café — Manchester caters for not just humans but their felines too. Furcats in Chorlton is a one-stop boutique for all things catty whilst you can actually sit down and enjoy a cup of tea whilst surrounded by the little critters in the café.
Manchester Art Gallery (free) — Jaw dropping exhibitions and paintings from around the globe.
And then there's all the other free museums and galleries — People's History Museum, Manchester Museum, Castlefield Gallery, Science and Industry Museum, etc.
6. Edinburgh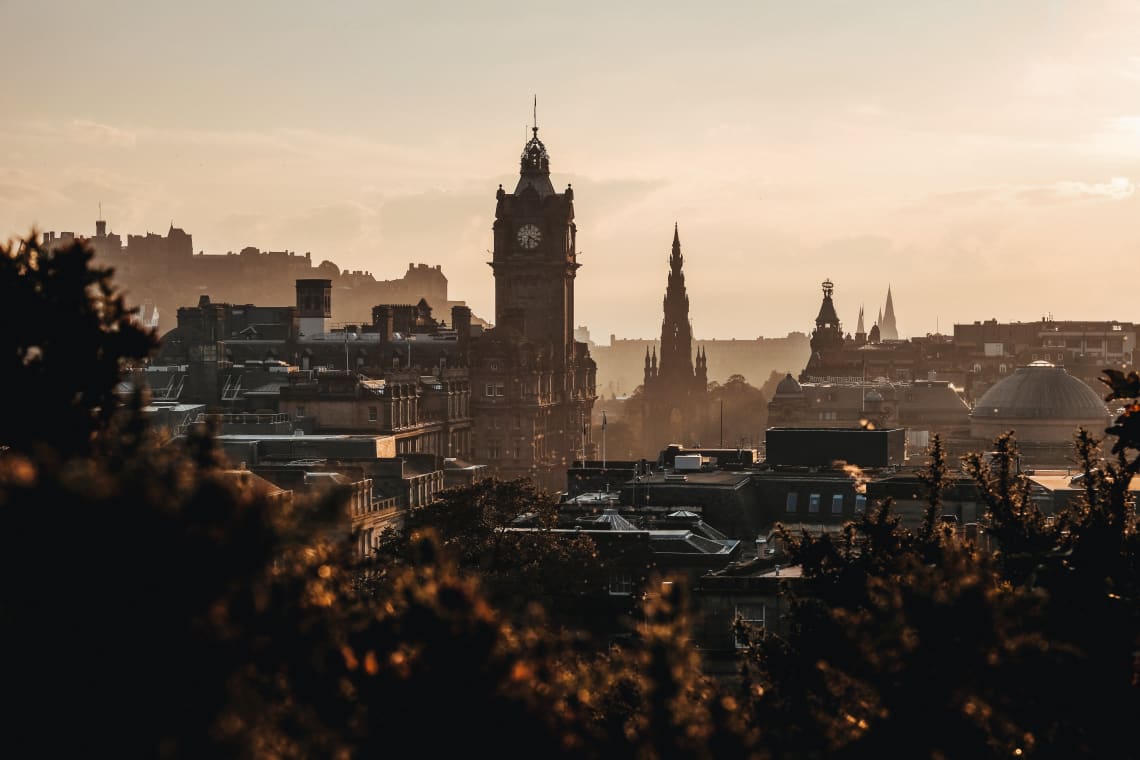 No ultimate UK travel guide could ever be without Edinburgh. It has the almost perfect balance of history, culture, energy, beauty and craziness.
Edinburgh is the city of festivals, covering all bases with:
Science Festival — April
International Film Festival — June
Jazz and Blues Fest — July
International Book Festival — August
Arts Festival — July/August
Military Tattoo — August
The Fringe Festival — August
Hogmanay — December
The Hogmanay is world-renowned as one of the best New Year parties on the planet. While it's not the cheapest party ever (normally between £60-170) it's possible to pick up early bird tickets for as low as £20.
In between festivals, it's impossible to miss Edinburgh Castle. With a history dating back to 2nd century AD, it dominates the skyline. The view from the top is well worth the effort of the hike up, although you can take the hop on-hop off bus too.
While you're exploring the city keep an eye out for all the famous movie locations Edinburgh has hosted — Trainspotting/T2, Avengers Infinity War, Chariots of Fire, The Da Vinci Code, etc.
If you're suffering from the New Year blues, stick around until January 25th and join in the Burns Night celebrations. Scotland's most famous poet, Robert Burns, is honored with an epic night of celebrations... singing, dancing, drinking and more dancing! If you have no idea who Mr. Burns is now, by the end of the night you certainly will.
Worldpackers in the UK
When you're planning where you'll be staying and which Worldpackers projects are right for you, here's a short selection to give you some ideas.
Portrush, Northern Ireland: Re-enact your favorite scenes from Game of Thrones! Plenty of scenes were filmed in Northern Ireland, mainly due to the spectacular natural beauty. Perhaps the most famous attraction is the Giant's Causeway, but there's much, much more than that to discover.
Edinburgh Festival:

While only available during the festival season, this is a fantastic opportunity. You'll be helping on the campsites, dealing with members of the public and potentially performers too. The festival atmosphere is incredible, so each day would be an adventure.

Work on a pirate ship:

Brixham is located on the south west coast of the UK, near some of the most beautiful beaches we have to offer. What better way to enjoy the coast than to work on a pirate ship? The Golden Hind is a popular tourist attraction and you'll be making sure the landlubbers have a barrel of laughs.

Help the horses:

Shropshire is a delightful part of the UK, and you've got the opportunity to muck in and help some horses. If you've got any experience of horseplay then you'll be in equestrian heaven.
Things to do in the UK
1. Stonehenge
Located in Wiltshire, Stonehenge is one of the most famous of the ancient wonders of the world. Built around 5000 years ago, scientists still have no idea how the ancient people managed to transport the 25 ton stones (some as far as 140 miles).
Prebook your tickets online — £19 entrance fee for adults — take the train from London Waterloo to Salisbury (1.5 hours).
2. Visit Bath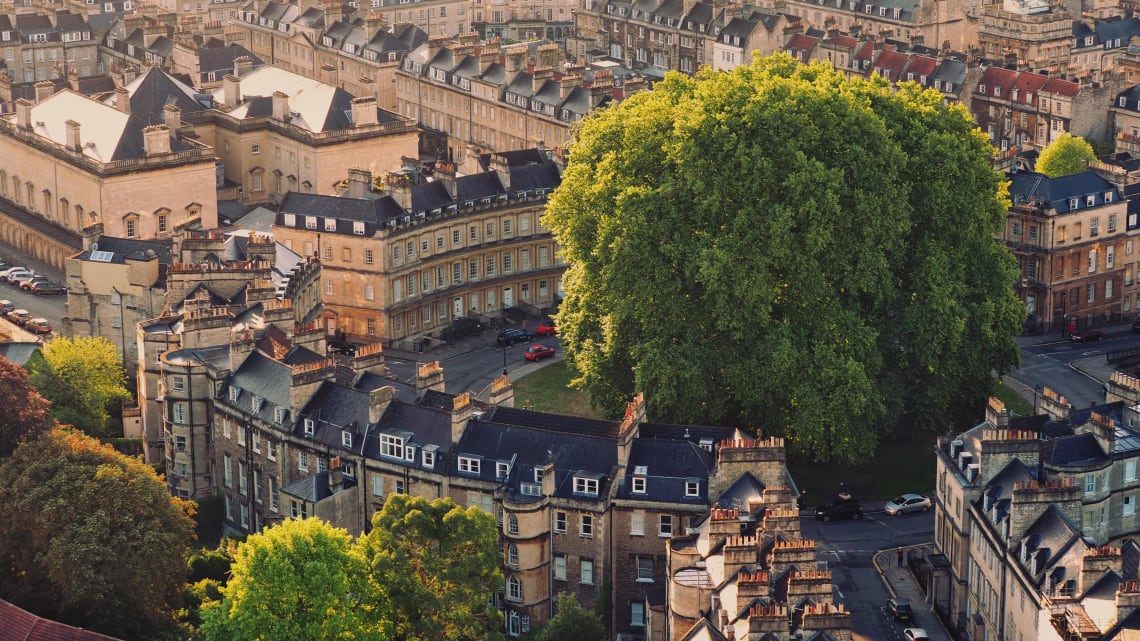 An hour and a half by train from London, the entire city of Bath has been designated as a UNESCO World Heritage Site. That should be an indicator of just how special Bath is.
Take a tour of the Roman Baths (starting from £18) or soak in the nearby Modern Baths (starting at £36), or save your money and enjoy many of the free attractions in Bath.
Bath Abbey, known as the Lantern of the West, is a fine starting point. Then take a stroll across Pulteney Bridge, made famous in the movie Les Miserables (other films shot in Bath include The Duchess, Persuasion and Vanity Fair.
Have your camera ready as you explore the finest examples of Georgian architecture in the whole of the UK with The Circus and The Royal Crescent.
Bath is small enough to explore in a day, although you'll also want to devote an hour for afternoon tea in one of the many super cute little tea rooms.
If you need to burn off the calories from too much cake, take the Bath Skyline walk. It's a 10km, 4 hour circular tour, taking in the meadows and tree-lined hills surrounding Bath. It's described as moderate difficulty, but the view of the city and surrounding countryside are worth every drop of sweat.
3. The Lake District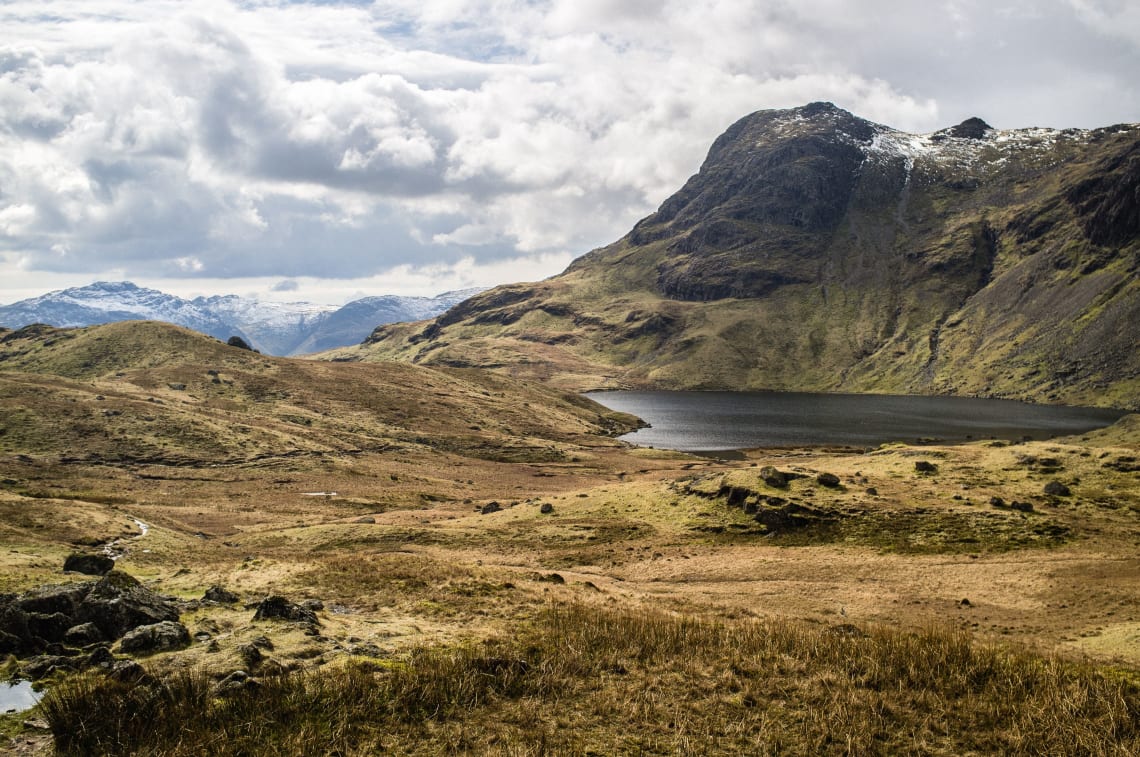 The Lake District is easily one of the most special places in the whole of the UK. Likened to New Zealand for the epic green hills and jaw-dropping lakes, The Lake District will certainly provide endless photo opportunities.
The Lakes are easily accessible from most major cities (an hour and a half on the train from Manchester, three hours from London). You can spend weeks wandering the hills, valleys and lakes and still never run out of "WHOA!" moments.
If you're a photographer, be prepared to break the internet.
It's the home of England's highest mountain, Scafell Pike, but we'll cover that in the next section. If you're a hiker, rambler or just a fresh air lover then you'll be in heaven. There are hundreds of walks from a 2km stroll around lake Keswick to a 23km epic from ground level up to the mountain top.
Lakes, wildlife, countryside... you'll certainly get your fill.
And at the end, why not relax in one of many tiny local pubs and enjoy a hearty meal and refreshing cold beer? The Queen's Head Inn (Ambleside), The Church House Inn (Torver) and The Crafty Baa (Windermere) are particular favorites where the food is plentiful, delicious and with a fine selection of local beers to wash the pain of sore feet away.
4. Watch a play at the Minack Theatre, Cornwall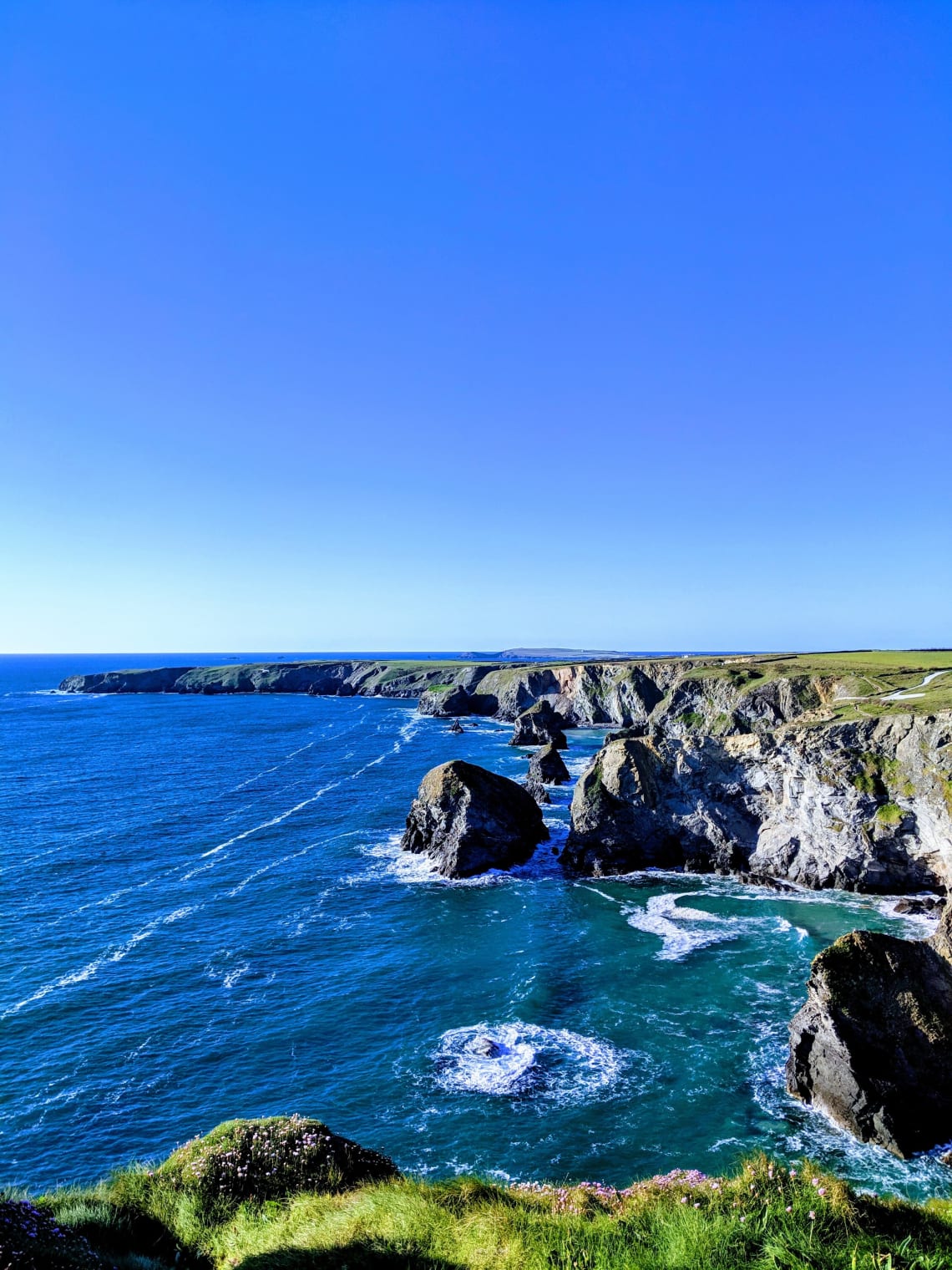 Carved directly into a granite cliff and overlooking the Atlantic Ocean, The Minack Theatre is truly spectacular.
The open-air theatre had its first performance in 1932, although it looks like it was built hundreds of years ago. It was originally constructed for a performance of Shakespeare's The Tempest. The dramatic backdrop of the sea crashing into the Porthcurno Bay below raises the performances to a completely new level.
And the best part? Tickets start as low as £5!
It runs from April until September and you're asked to dress appropriately as, regardless of the weather, "the show must go on!" Watching a play about storms, whilst sat in a storm? That's like 4D theatre!
If plays aren't your thing then it's still totally worth visiting as the Porthcurno Beach below is beautiful plus there are plenty of gentle walks all along the cliffs offering breathtaking views.
The final bonus of coming is that you're only 6km away from Land's End, the most westerly point of the UK, and a starting point for many a charity walk (ending at John o' Groats, the most northernmost point of Scotland, 1,349 km away).
5. Walk along Hadrian's Wall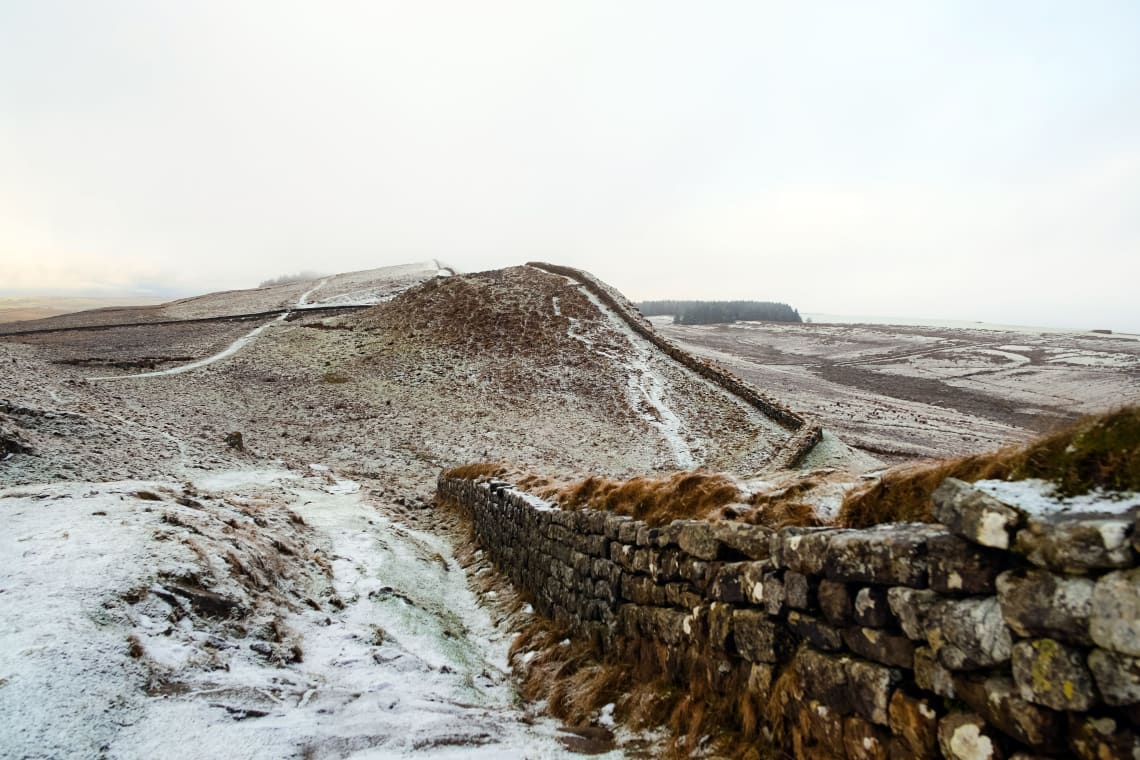 Although walls are all the rage these days, the Roman Empire began building this one in 122 AD. The Emperor Hadrian commissioned it to go from sea to shining sea, spanning 80 Roman Miles (117km). Its purpose is thought to be to keep out the barbarian hordes of the north, although no written explanation survived.
While not as jaw-dropping as The Great Wall of China, it's still the largest Roman archaeological feature anywhere on Earth. Coincidently, in 2018, the organizations who care for the Chinese wall and this joined forces to help promote tourism and conservation.
The National Trust walk is only open during the summer months due to the path going through fields and meadows. The full hike lasts for 135km and is broken up into six manageable stages.
It's a popular misconception that the wall is the dividing line between England and Scotland. The actual border is further north (over 100km away on the east coast).
6. Watch a game of cricket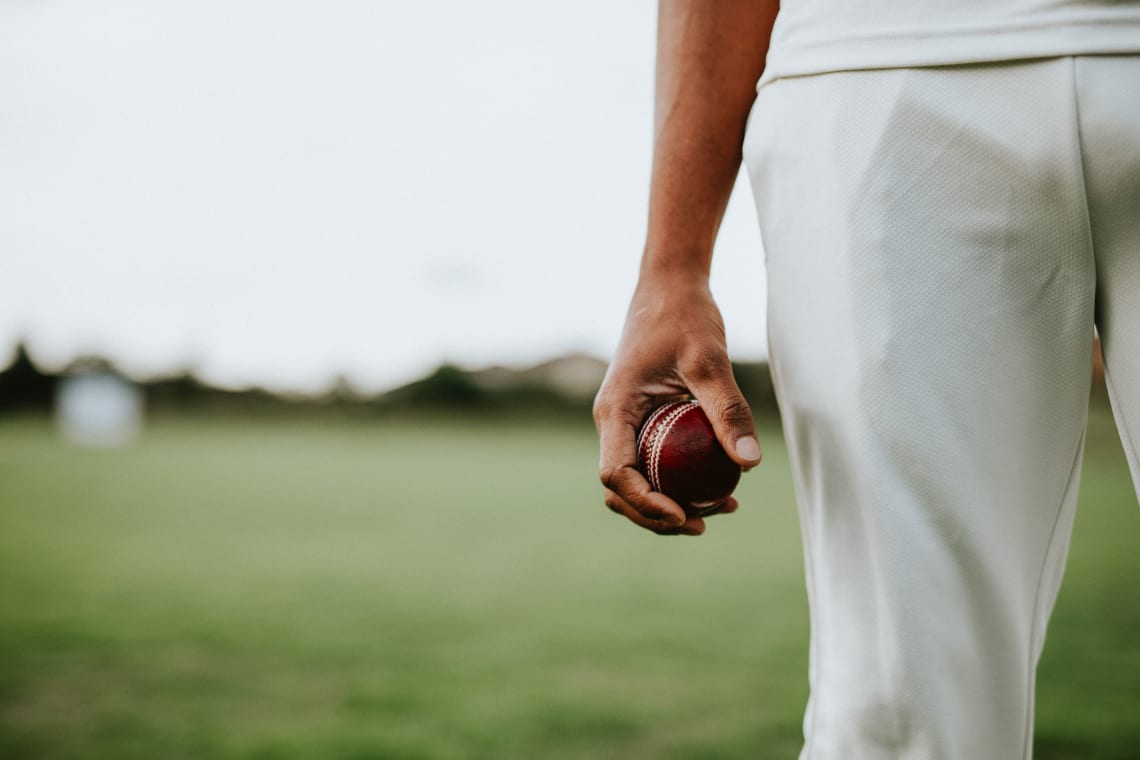 There are few things more quintessentially English than a game of cricket. No screaming commentators, no cheerleaders (although technically they have them in the T20 games) and no fans charging the pitch after a victory.
Although cricket is catching up with the times, a classic cricket match is amazing. By amazing I mean they last for hours, there's very little action, most of the people watching are either asleep, drunk or a combination of the two and the most anyone ever celebrates is with a gentle clap (before drifting back to sleep).
Located 50 minutes from Birmingham, Worcester County Cricket Club play at a beautiful ground called New Road. Founded in 1865, they've got plenty of history. Tickets start at £16. Matches can last anywhere from a few hours to 5 days (T20 Cricket is by far the most exciting) and the season runs from March until September.
The late great entertainer Robin Williams described it thus: "Cricket is basically baseball on valium."
I'd say that's a fairly accurate description. You may not be converted to becoming a lifelong fan, but I guarantee it's a unique sporting experience unlike any other.
7. Take a Punt on the river Cam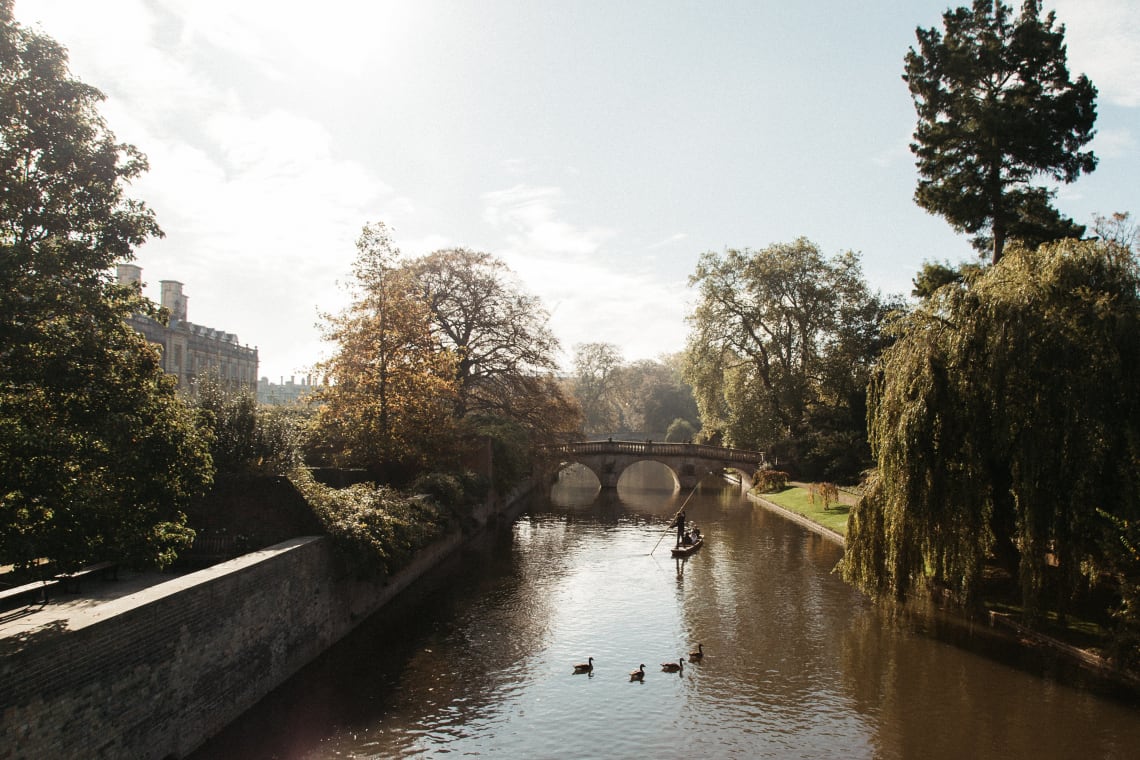 If that sentence made no sense at all, welcome to England!
A punt is a flat bottomed boat, similar to an Italian gondola, and the river Cam runs through the delightful city of Cambridge.
Cambridge is world famous for the University and, to a lesser degree, the annual boat race against Oxford. It's not the cheapest city in the world, but you would be foolish not to visit.
With a history dating back to the Bronze Age, the city is a photographers dream. You could spend days wandering around exploring the streets of Cambridge, or you could get a unique perspective by taking a boat ride.
The UK has been using canal boats since the Roman times. Initially for transporting goods, there is now a fantastic tourism industry all over the UK. From 126 feet high above the ground at Pontcysyllte Aqueduct to the Caledonian Canal in Scotland (which leads to the world famous Loch Ness), a canal boat ride will stay with you a lifetime.
The boat rides around Cambridge last around an hour and starts at £10 per person (book in advance for discounts). They'll take you around all the sites, including King's College Chapel, the Wren Library and the college backs.
They run all year round (except Christmas Day) and the season you choose will determine your experience. Winter will be freezing yet with the chance of snow-capped trees and picture-perfect sidewalks, spring will be crisp and clear with new leaves blossoming, summer will be glorious and warm and autumn will be an explosion of reds and oranges as the leaves begin to fall.
8. Complete the 3 Peak Challenge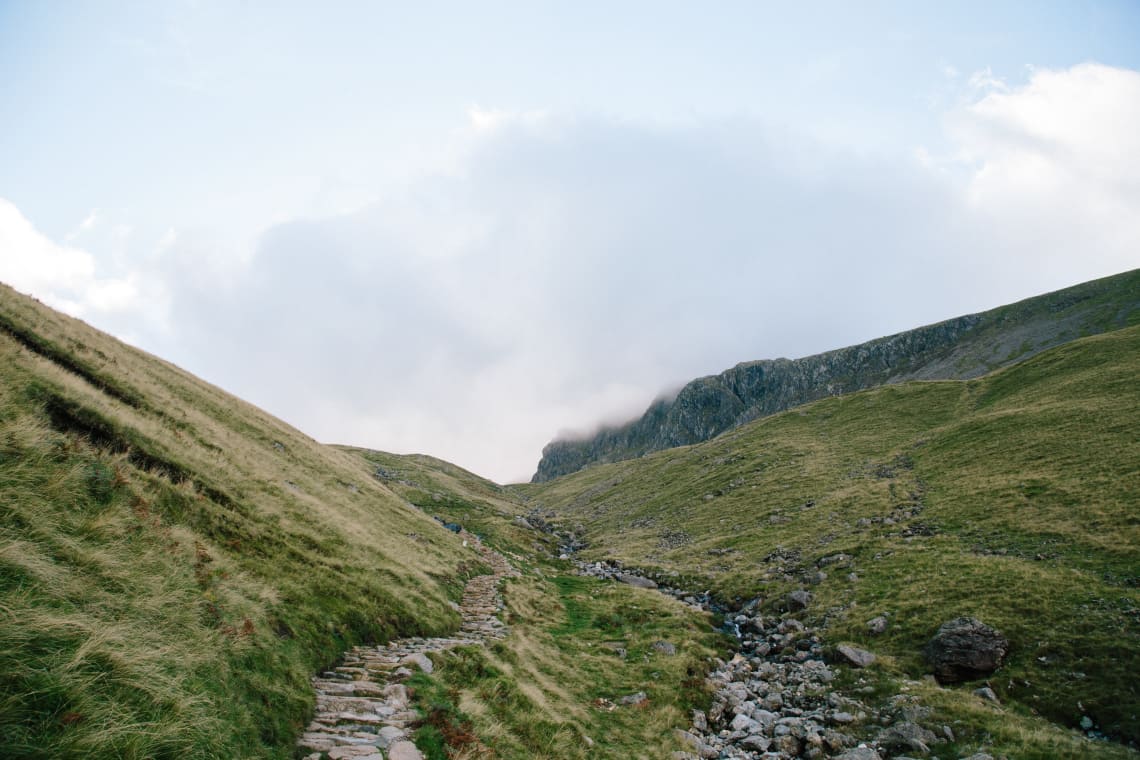 The UK is a city-dwellers dream, but it's also a playground for the outdoors lovers. Whatever your activity level, we have you covered.
Rock climbing is hugely popular all over the UK (Stanage Edge, Derbyshire, is my particular favorite), or maybe Coasteering (throwing yourself off a cliff into the ocean) in Wales is more your thing.
If you want to see the beauty of the UK outdoors whilst giving yourself a challenge, try the 3 Peak Challenge. To complete it you'll need to summit the three highest peaks in England (Scafell Pike, 978m), Scotland (Ben Nevis, 1345m) and Wales (Snowdon, 1085m).
None are hard, technical climbs, although there will be a bit of scrambling.
The official challenge is to complete all three within 24 hours, and doing so is a challenge indeed! You can sign up with an official group, or go solo. Either way, it's a fantastic experience.
9. Explore Highclere Castle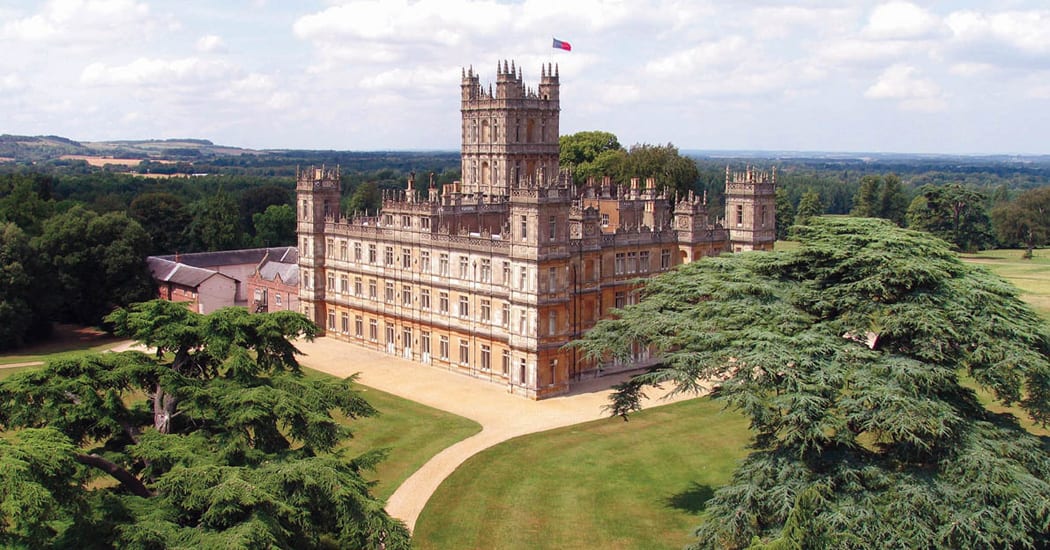 While the name may not ring any bells, it will be instantly recognizable to any fans of the television series Downton Abbey. It was also where the British comedy series Jeeves and Wooster was filmed.
Regardless of if you've ever watched them or are not a fan, Highclere Castle is still a truly spectacular building. The 6000 acre estate can be found in Hampshire (a 1 hour train ride from London) and makes for an incredible day out from the capital.
Opened in 1842, it has been described as being "large enough to hold half a village." Featuring 300 rooms and its very own Egyptian Exhibition (it's the home of The Earl of Carnarvon who was amongst the team who discovered the Tomb of Tutankhamun), there's plenty to explore.
Feel like royalty for a day as you wander the exquisite grounds and opulent rooms. Your camera will thank you for it.
Tickets start at £7 for just the gardens or £23 for the full experience.
Other stately homes worth a mention include Chatsworth House in Derbyshire and Osborne House on the Isle of Wight (although there are hundreds of stunning Country Homes all around the UK).
Where and what to eat in the UK
Unlike France or Italy, food isn't the first thing that springs to mind for most visitors to the UK. There are currently 20 two-star Michelin star chefs here, but you don't need to break the bank to experience quality food.
1. Fish and chips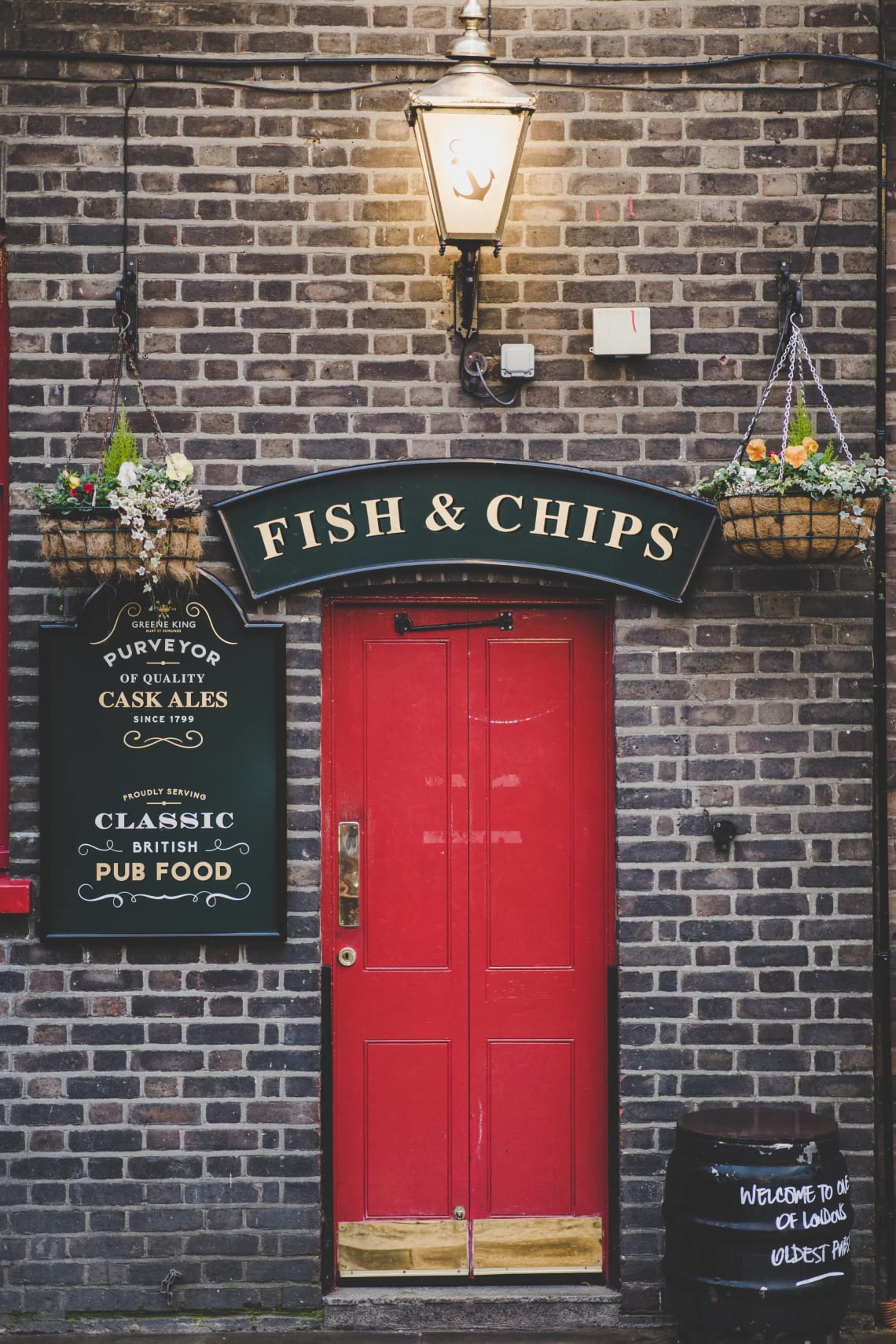 Arguably the national dish of the UK, a good plate of fish and chips is a heavenly experience. First appearing in the 1860s, it quickly became a part of British life with fish and chip shops seemingly popping up on every street corner.
A fresh cod fillet deep fried in a crispy beer batter with thick cut chips covered in a splash of vinegar... I'm literally drooling while I type this. The crunch of the batter, the soft flakes of the fish and the salty, floury chips with the sharpness of the vinegar combine to transport your mouth to a higher dimension.
Millers Fish & Chips in Haxby, North Yorkshire was recently awarded the prestigious title of Best Fish and Chip Shop in the UK, where a serving costs only £6... absolute bargain!
2. Curry and rice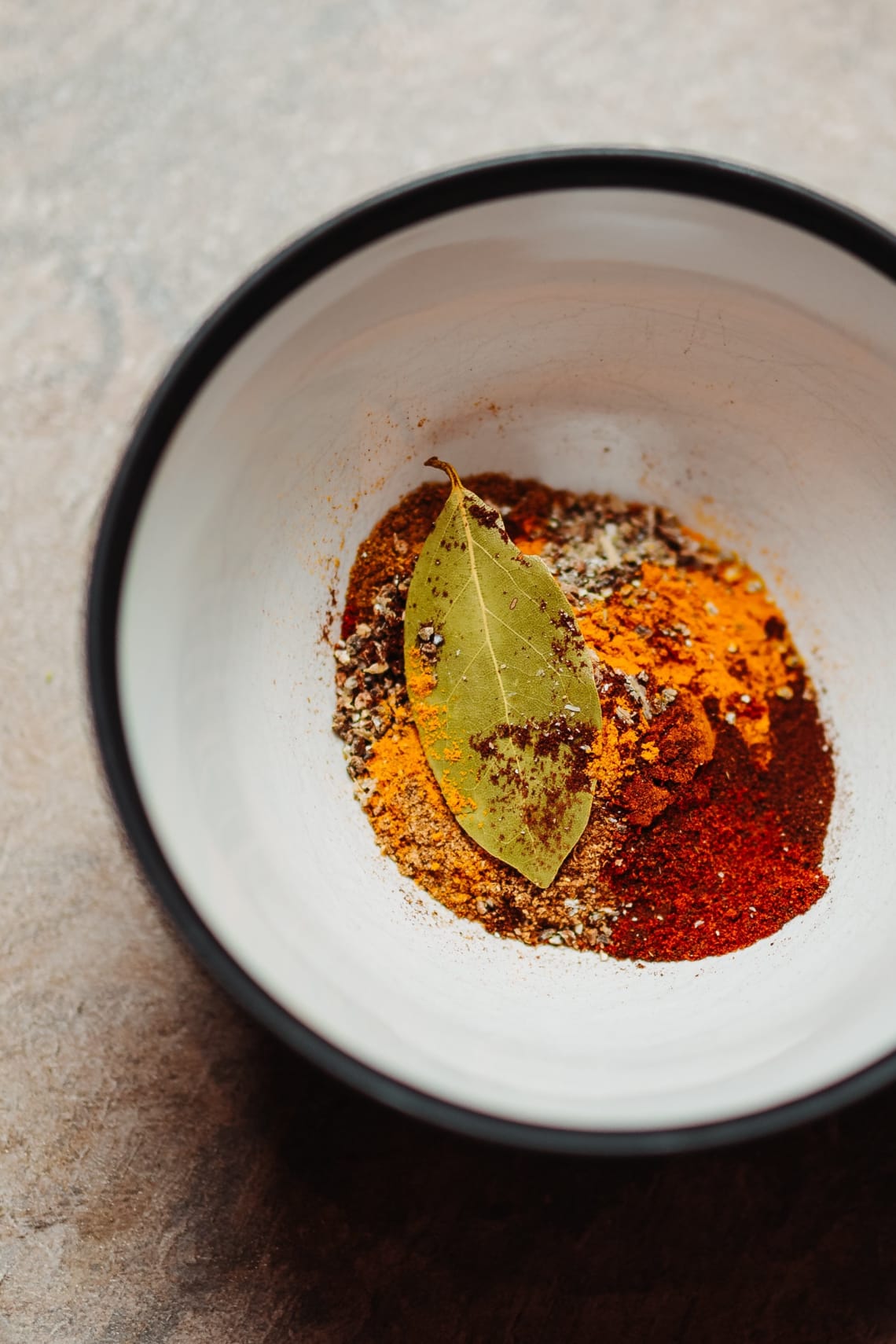 The origins of this dish are shrouded in mystery (well, there's a bit of debate), but how it became the go-to dish in the UK is unsure.
Tikka masala, Balti, Korma, Bhuna or the eye-watering Vindaloo... tons of the stuff are eaten every week across the UK. Whether at the end of the night after an evening in the pub or a sit-down meal with the family, curry is one of the favorites around the country.
The versatility is probably one of the key factors. Meat eaters, vegetarians, vegans... there's a curry for everyone. Spicy, mild, creamy or mouth-melting, you can find a dish to suit all palates.
With over 9000 curry restaurants spread across the UK, The Curry Palace in Cottenham, Cambridge was recently named champion of champions. It's the perfect stop after your boat ride around the river Cam! A Palace Special will set you back £11.95, which again is a bargain!
3. Afternoon tea
The origins of Afternoon Tea are not as old as you'd think. They trace back to a hungry Duchess in 1840.
The Duchess in question was Anne, the seventh Duchess of Bedford, and she became unhappy with the wait between lunch and dinner. On a whim she ordered tea, bread and butter delivered to her room... and it snowballed from there.
It became so popular that by the late 1800s it became tradition for ladies to change into long gowns, hats and gloves specifically to enjoy this afternoon delight.
Afternoon tea, beginning at 4pm, consists of the tea (served in delicate china teacups) and a selection of cakes and small sandwiches. In the modern UK household it's mainly faded away to be replaced with a hot mug of tea or coffee, but there are plenty of tearooms around the UK where you can have the true experience.
Devonshire Cream Tea is perhaps the most well known, so alongside the sweet tea you would also be served freshly baked scones, a fruity jam and fresh, thick Devon clotted cream.
A word of warning... although (or perhaps because of the fact) it's a highly sought after bucket-list item, it's usually not cheap. The winner of the Afternoon Tea Awards 2018, Coworth Park in Ascot, charge £43 per person (which is cheap compared to some other establishments).
The best option is to go directly to the source, straight to Devon or Cornwall, find a quaint little cafe and enjoy it for a fraction of the price.
4. A Full English Breakfast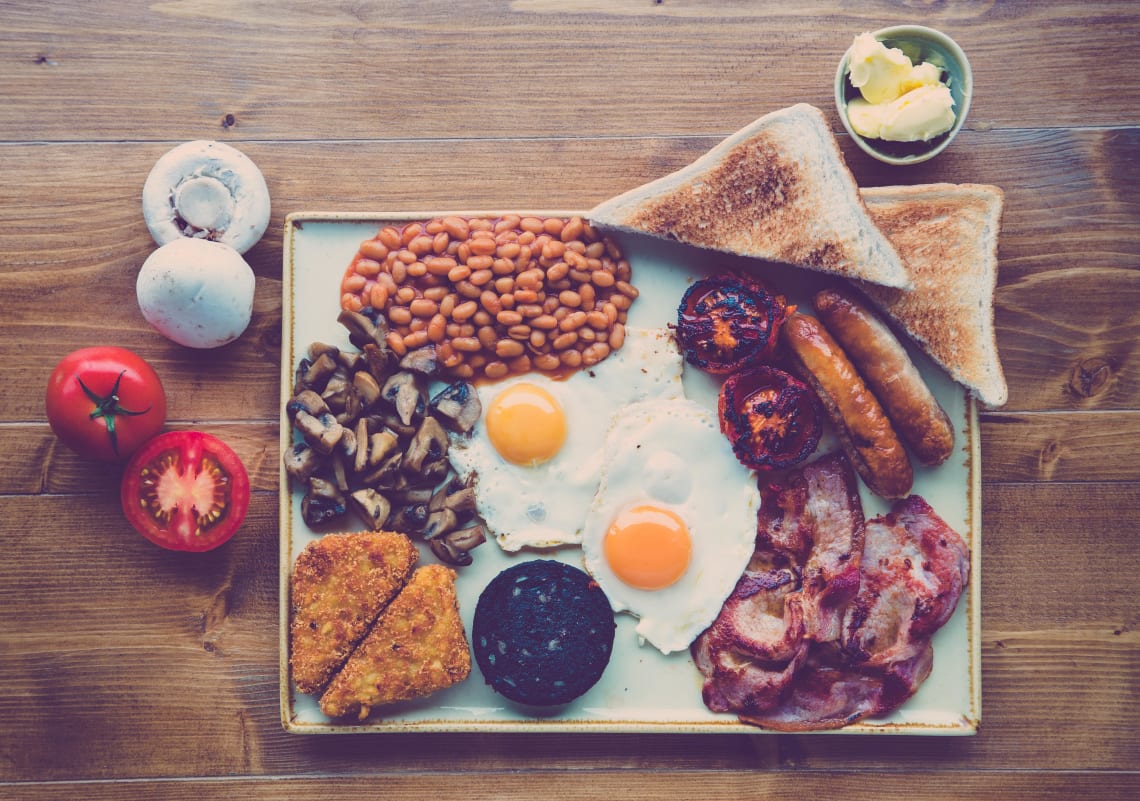 From the classy and sophisticated to the heart-stoppingly unhealthy. A Full English Breakfast is not for the faint of heart. While most of the civilized world enjoy cereal, fruits or a croissant for breakfast, here in England we like to do things differently.
Usually reserved for a Sunday morning/afternoon, the Full English is a beast of a meal.
Fried eggs (plural), bacon, sausage, mushrooms, hash brown, black pudding, grilled tomato, toast (or fried bread) and beans. This is usually washed down with a piping hot, strong cup of Yorkshire tea.
If you can move comfortably after eating it, you didn't eat enough.
While there are Breakfast Awards, you don't need them. You can find amazing versions all over the land, each offering their own slight twist or variation — white pudding, spam, haggis, chips/fries, soda bread, fried onions etc
Good luck.
Getting around in the UK
Firstly some definitions.
I apologize if this seems basic, but definitions are different around the world and this should hopefully help clear up any uncertainty.
Bus vs Coach: While it's common to hear people say they took a bus from say Manchester to Glasgow, they're actually referring to taking a coach. As a rule, buses are inner city while coaches go much further.
In London you cannot pay on buses with cash, only contactless card or using an Oyster Card. Everywhere else in the UK, you can pay with cash on buses (some also accept contactless cards) but coaches must be booked in advance (online or in the bus terminals).
One observation from living in multiple countries, when taking a bus in the UK you'll usually need to state your destination to the driver and your fare will depend on that. For example, in South America they tend to have flat fares, so you can travel one stop or 20 for the same price. In the UK, that's not the case. Your fare will depend on your destination.
The Metrolink (or Metro or tram) is a 'light rail system.' Newcastle, Manchester, Glasgow, Edinburgh, Nottingham and London have variations of them, although in London it's known as The Underground or the Subway. You must buy your ticket before boarding the Metrolink as they don't have machines onboard and you could face a fine if caught.
While the UK rail service is mostly reliable and usually the fastest means of getting from point A to B, it's also the most expensive. It's possible to find cheap fares, but you normally need to book well in advance to get a good deal.
A slower, but much cheaper, alternative is to take a coach between cities. Megabus is normally the cheapest option with fares as low as £1.
Here's a quick comparison:
Journey: Manchester to London for the first weekend in August, 2019.
Train:

Leaving Manchester at 08:15, arriving in London at 10:21 (2 hours, 6 minutes),

£25

Megabus:

Leaving Manchester at 08:20, arriving in London at 14:00 (5 hours, 40 minutes),

£6.51
If you have the extra time, you will normally make huge savings using Megabus.
When you're inside the city, the options to get around are either walking (remember we drive on the other side of the road), the tram or cycling.
Most cities have some form of designated cycle lanes, although sadly they're not as cycle-friendly as some other European countries. While some cities have hire bikes, others (like Manchester) have discontinued the program due to vandalism.
If you do choose to cycle, always wear a helmet and always chain your bike up securely when not in use.
A great place for bikepacking the countryside is the Chiltern Hills.
Another observation from long term traveling is that hitchhiking, although only illegal on motorways, is not so common. If you're going to try it then apparently Service Stations are the place to find a ride, although I've never personally seen anyone succeeding.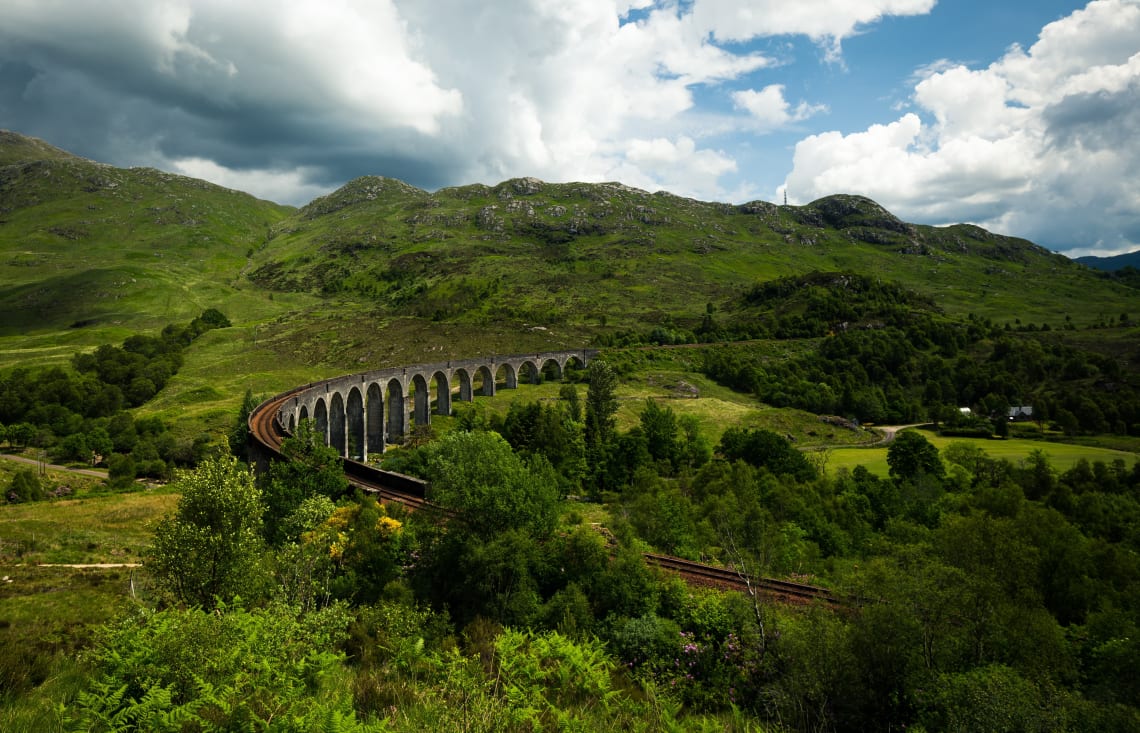 General tips for backpackers and travel on a budget
The UK is an expensive place to visit, there's no getting around it. If you're only here for a short time and the clock is against you then you'll probably need to take some trains or even some domestic flights (again, book in advance for good deals).
Here are some other general tips on how to travel on a budget in the UK.
1. Save on trains
If you need to book a train, don't just accept the return price. Bizarrely it can often be cheaper to book two single tickets rather than the return. Also, look into ticket splitting.
For example, a standard one-way train ticket from London to Edinburgh on 19th August costs £73.
If you use ticket splitting, it searches for cheaper options — London to Berwick-upon-Tweed £50.50, Berwick to Edinburgh £6 (total 4hrs 20 minutes) at a cost of £56.50.
It's exactly the same journey, same times and exactly the same trains. The only difference is that you'll save £16.50.
2. Sign up for discount/voucher websites
You'll need some flexibility as you'll never know what offers are coming up, but websites like HotUKdeals and Groupon often have some great savings on activities or restaurants. It's all online, so register with the sites and then show your code when you get to the restaurant.
3. Get a 'Taste of UK' card
The Taste of UK card offers regular discounts and promotions for restaurants around the UK. Again, it helps if you're spontaneous, but you can usually find some fantastic offers and savings. The card costs only £1 for the first 90 days and you can register through the website.
4. Happy Hour
The UK loves happy hours. They love them so much that it's rarely for just an hour. You can often find bars or pubs with happy hours that last the entire afternoon or evening. Google Maps even has a search for 'Happy Hours near me' so time your social events around them for big savings.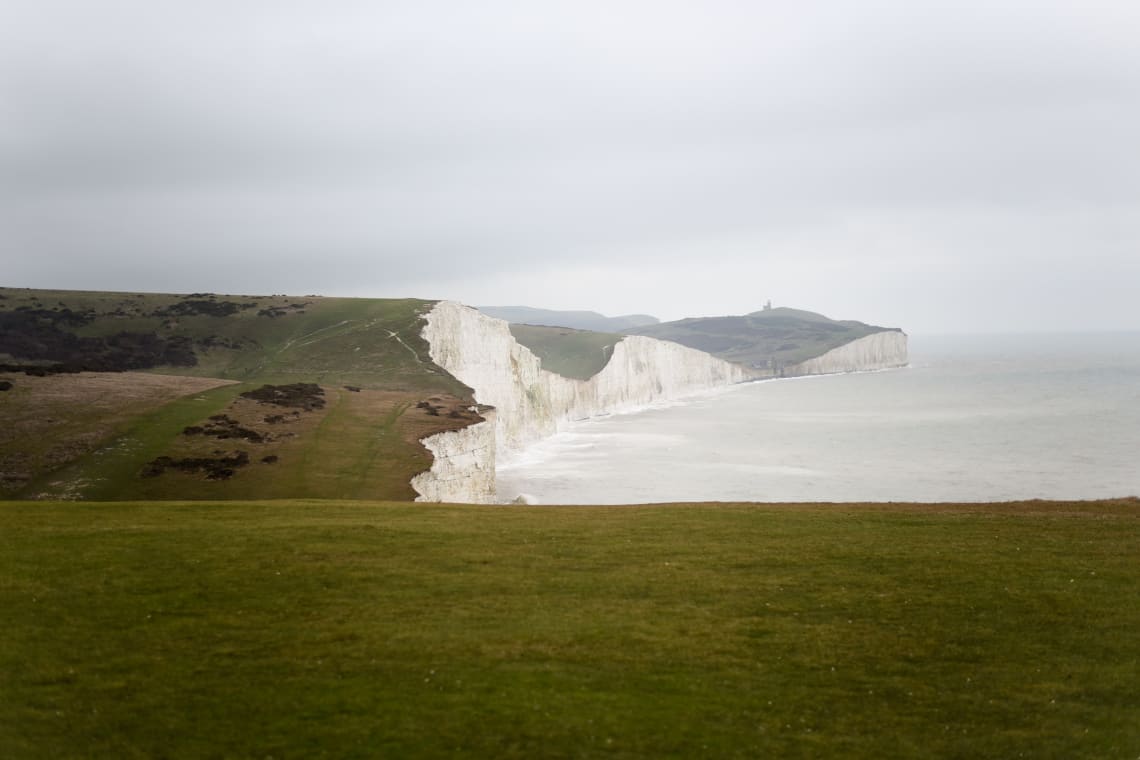 Unusual UK Festivals you must visit
This is a bonus section, as the UK calendar is chock full of weird and wonderful festivals.
Officially called the 'Cooper's Hill Cheese Rolling and Wake', the first written record dates back to 1826. A 4kg wheel of Double Gloucester cheese is rolled from the top of a hill and contestants must chase after it. The winner is the one who either catches it or crosses the finish line first. It takes place every year on the 2nd Bank Holiday in May.
Check online for videos... it's insane.
If you fancy a shot at winning the cheese then you can just show up on the day and enter... it's that simple. Medics are on hand to treat the various injuries that inevitably occur).
You would be forgiven for having never heard of this festival, but you can thank me later.
This festival takes place on the last Tuesday in January on the Shetland Islands, Scotland, and celebrates the Norse/Viking influence in the region.
There are plenty of Thor lookalikes, fire, marches, singing and a little drinking, with the culmination being a Viking galley boat being set alight.
In 2012 I had the pleasure of taking part in this most prestigious of races. The sleepy little Yorkshire village comes alive every summer when teams from around the world arrive to race through the narrow winding roads of Oxenhope.
What makes this race unique? Teams of two must carry a 20kg bale of straw for 4km, with the course passing the five local pubs. At each pub the team must stop, drink a beer and then carry on racing.
It sounds pretty simple, except that the straw is heavy and awkward, the beer is less than cold and the hills are pretty steep. Most people are usually wearing ridiculous fancy dress, although some do take it quite seriously.
The entire event is to raise money for local charities, so contestants are asked to raise a minimum of £20 (so far they've raised almost £500,000). Medals are awarded for all participants so everyone's a winner (although I believe we finished 24th).
Another Scottish event, this one dates back to the 11th Century or even earlier. I hope you packed your kilt.
Over 3000 competitors take part in a multitude of events testing raw strength, brute force and skill. The games mostly take place over the weekends spanning from May until September.
The Highland games are a huge celebration of Scottish culture and tradition, and it's not all just sports. Dancing and music play a massive part in the celebrations too. Bagpipes are the classic Scottish instrument, but you'll also hear plenty of fiddles and harps too. Try your hand at Highland dancing too. It's much harder than it looks!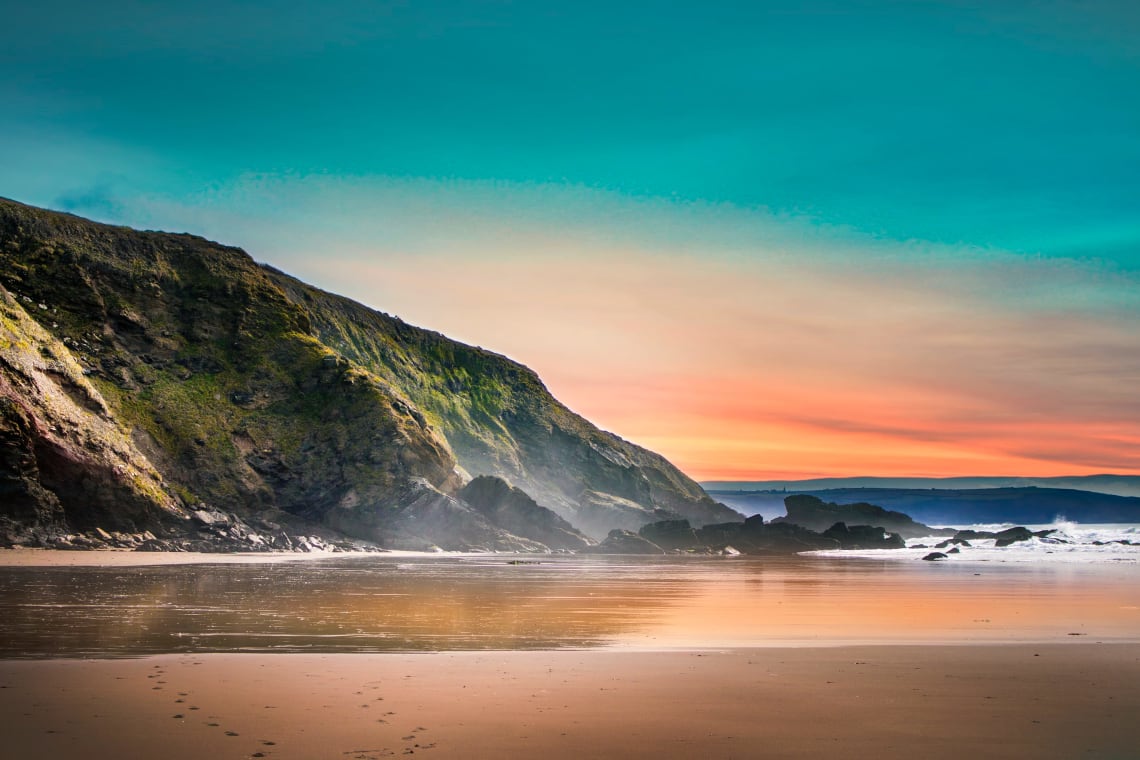 As modern and pioneering as the UK is, it's also jam-packed full of quirky, ancient and unique experiences you won't find anywhere else on the planet. From the pomp and spectacle of the Royal Family to the organized chaos of a Wednesday night pub quiz (another must-do experience), you absolutely must visit the UK at least once in your life.
The British may have a reputation for being cold or distant, but scratch a little beneath the surface and you'll see the true warmth and character. Don't be surprised if people randomly start talking to you at a bus stop or in a bar.
British humor can also be a little unusual for some as it's normally thick with sarcasm and self-deprecation (laughing at ourselves), but I guess that's part of our charm. We don't take ourselves too seriously.
The UK is quite unlike anywhere else on the planet. From the massive amount of history packed into the tiny islands, the breathtaking beauty of the countryside, the music and movie culture, the weird and wonderful local traditions and an untold amount of photo opportunities... I hope this ultimate guide to the UK has given you a good idea of what to expect.