10 epic (and mostly free) things to do in a day in Sao Paulo
What makes Brazil's largest city so special? What cool things are there to do in Sao Paulo? I was also curious if it's possible to experience Sao Paulo on a budget, and guess what? It definitely is!
8min
Sao Paulo... the 8th richest city in the world, home to 40 million people and the largest helicopter fleet in the world (470 registered choppers apparently).
While it's famous the world round, I'll be honest with you... I don't actually know why. Rio de Janeiro has the beaches and the Sugarloaf Mountain, Salvador has the brightly colored Pelourinho square, but what is there to do in Sao Paulo?
10 new people per hour... that's the number of people who come to live in Sao Paulo... every hour! Every day... that's 240 per day, 1680 per week, 87360 per year! The economic capital is attracting people from all over the country.
What makes Sao Paulo so special? What cool things are there to do in Sao Paulo? I was also curious to know if it's possible to travel around Sao Paulo on a budget and you know what? It definitely is!
Before you travel to Brazil's largest city, make sure to look through the Worldpackers projects on offer in Sao Paulo. This will save you money on your accommodation, give you a base from which to explore and introduce you to real Paulistas.
If you want to be in the heart of the city then you can opt for a work exchange in Sao Paulo and choose from a multitude of hotels, hostels or pousadas with tasks ranging from party planner to night shift reception to handyman. If you want to get out of the city you can look at eco programs in Sao Paulo and have your choice of farms where gardening, animal care, content writing and social media creation are all available.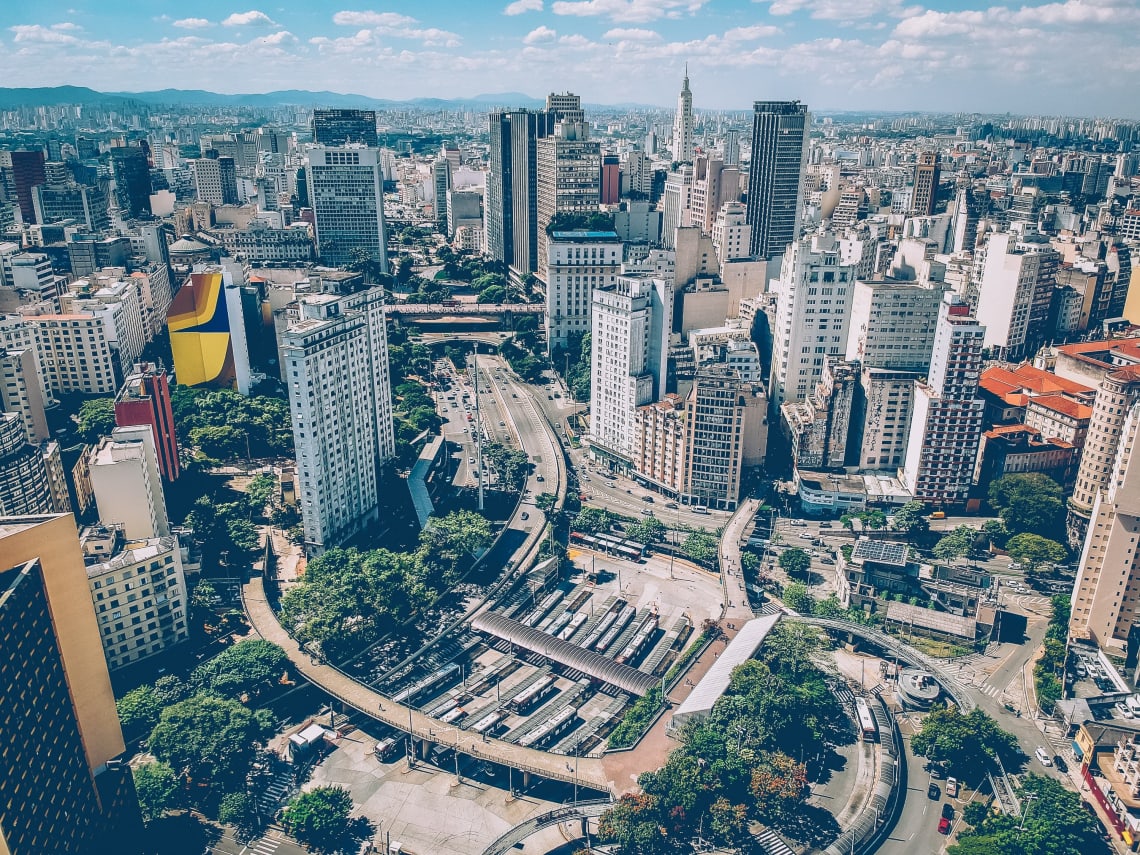 Traveling to Sao Paulo
To get to Sao Paulo you either fly or take the bus. From Rio de Janeiro the bus is usually half the price of a flight, but if time is precious then a flight is the best option.
If you do arrive by bus then be prepared for the madness of the main bus station, Rodoviaria Tiete. It's huge, the queues are insane and people don't mess around when it comes to getting on and off. It's normal for a bit of pushing and shoving so be prepared.
Is Sao Paulo safe?
I wrote an extensive article answering the commonly asked question, "is Brazil safe?" Check it out to learn more about how to stay safe when visiting Sao Paulo (and Brazil generally).

Getting around Sao Paulo
To travel on the subway/metro in Sao Paulo you'll either need a travel card or fill up your pockets with individual travel tickets (R$3.90 per trip). As I didn't know how many trips I would take I bought 10 (I ended up giving a few away at the end of the trip, much to the confusion of the recipients — apparently random acts of kindness are rare at the bus station).
Once you have the ticket it also grants you access to free travel on buses too, depending on your journey. Navigating the Sao Paulo Metro (also called Subway/Underground) is fairly simple.
It's clean, punctual, efficient and air-conditioned. They can get super crowded at rush hour though so keep that in mind when planning your trip.
Now that you know how to get around, you're probably wondering about the top things to see in Sao Paulo. I've put together this list of my top 10 things do in Sao Paulo. Added bonus — most of them are free!
Read on to discover how to spend an epic day in Sao Paulo.
10 epic (and mostly free) things to do in a day in Sao Paulo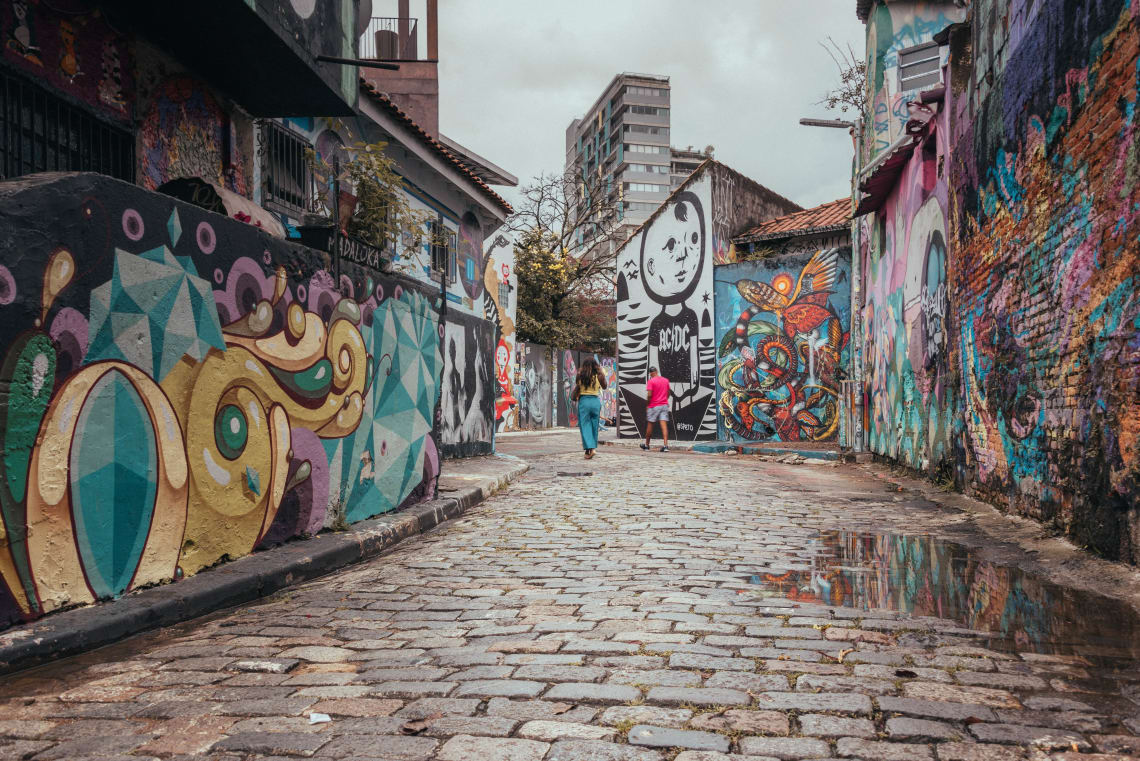 1. Explore Vila Madalena and Beco do Batman
My first stop was Vila Madalena, a bohemian hotspot. Here you'll find Beco do Batman (Batman Alley). Besides having the coolest name ever it's also home to some of the incredible graffiti. It's only a small alleyway and you can probably experience it all in half an hour, but it's a special 30 minutes (and completely free).
If you're feeling a little hungry then Vila Madalena also has plenty of options. If money is no object then you can feast like a king. If money is an object then you're still fine... which leads me to the next thing to do in Sao Paulo.
2. Eat at a "kilo" restaurant
On almost every street in Brazilian cities you'll find restaurant signs that say "comida por quilo", (food per kilogram) indicating that food is sold by the kilo regardless of its kind.
Kilo restaurants in Brazil can be hit or miss. A kilo restaurant essentially just means self-service. You fill up your plate with as much or as little as you wish and then pay by the kilo. Time it right and you can get an amazing plate of food for R$14 ($3).
There are plenty of kilo restaurants in Vila Madalena, so have a bite to eat before heading to the next stop on this best things to do in Sao Paulo itinerary.
3. Escape from the city in Ibirapuera Park
Vila Madalena Subway is on the Green Line. From here it's just six stops until Paraiso station. Once here it's a short walk to Ibirapuera park.
Ibirapuera park is a fantastic stretch of 158 hectares, modeled after an English country park it has lakes, museums and hosts annual festivals. Entry is free and I wholeheartedly recommend renting a bike for R$5 per hour... an absolute bargain!
It's the perfect escape from the madness of the big city and offers a million and one photo opportunities. In Sao Paulo, Ibirapuera park is definitely one of the best things to see!
4. Walk Avenida Paulista
When your batteries are recharged hop back onto the green line and go to Paulista station. You exit here onto Avenida Paulista, one of the most famous avenues in Sao Paulo.
Formerly home to mansions of the millionaire elite, it's now the economic centre of the city.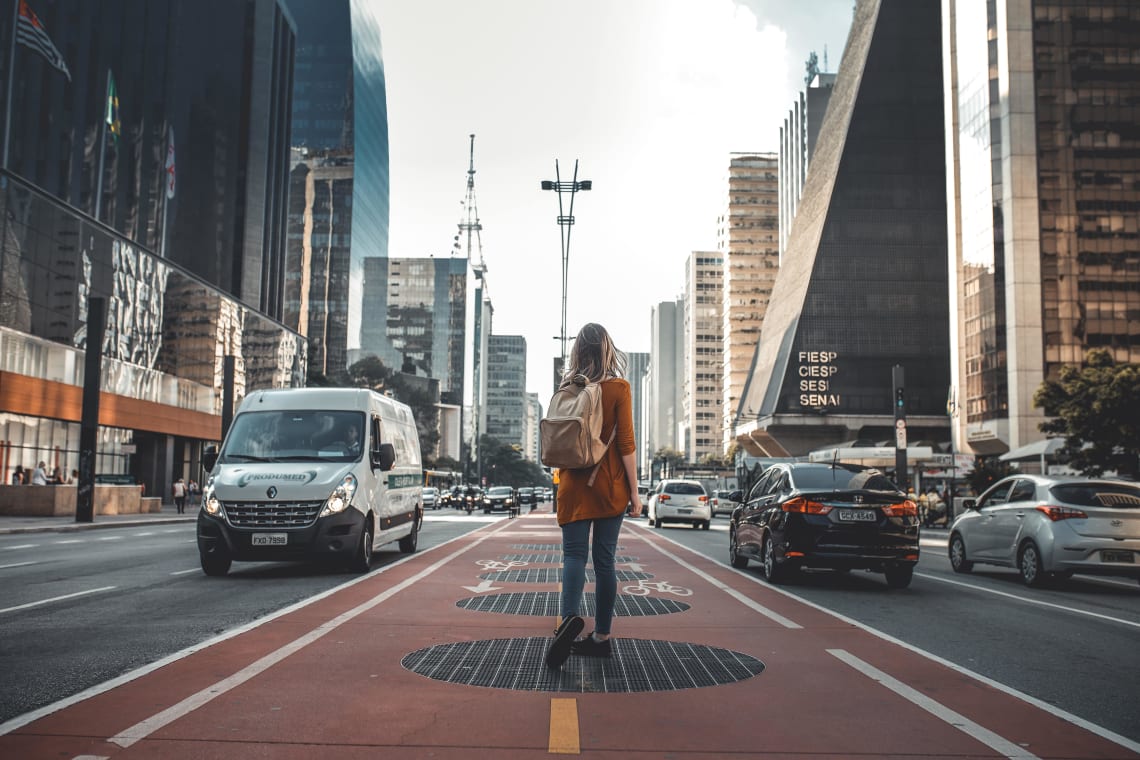 5. See the views of the city from Edifício Copan
For a spectacular view of the city make your way to Edifício Copan at 13:30. At 14:00 they open their doors for visitors to go up to the roof but get there early to avoid the queue. How much is the entry fee to Edifício Copan? FREE!
Queue up at gate F, sign your name and country of origin and then you're escorted up 31 floors in the elevator. There are a couple of stairs between floors 31 and 32 but nothing extreme, and then you walk out to an incredible panoramic view of the city.
It's not the prettiest city in the world by any stretch, but I don't believe it claims to be. The view from the top of Edifício Copan is spectacular though.
Edifício Italia is nearby, slightly taller and also offers amazing views with a terrace bar but there's an entry fee of R$30 (unless you buy food from the expensive menu). Italia opens to the public at 15:00 if you want to enjoy a drink with the view.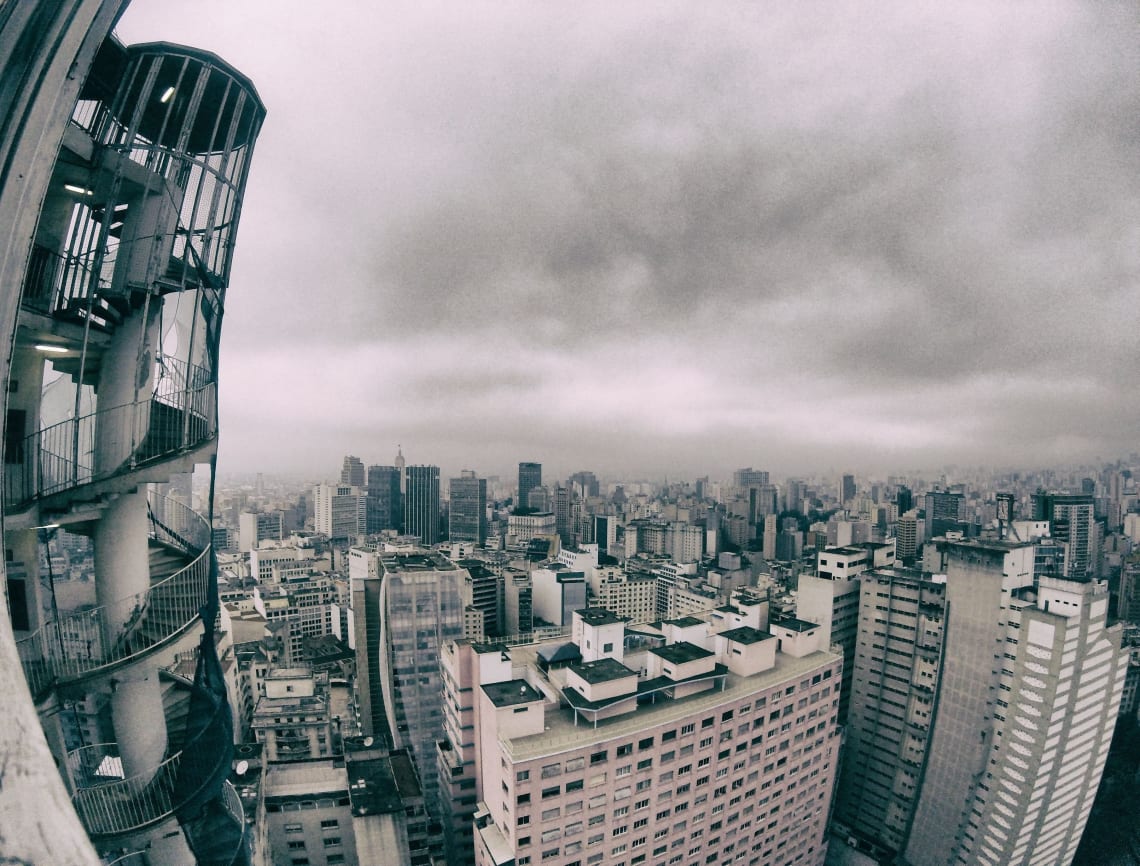 6. Check out a cultural center
Head back down whenever you're ready and take in one or all of the many cultural centers located nearby. One thing Sao Paulo definitely does right is making cultural centers and exhibitions available to the public. Lots of them are free and they cover a massive spectrum of topics.
Instituto Moreira Salles is almost right outside the Paulista Subway station, offers free entry and is home to an exhibition centre, galleries and a theatre. The architecture is interesting and modern and the views out over the city are worth a look.
7. Visit the Catedral da Sé
The Sao Paulo Cathedral or, Catedral da Sé, is one of the five largest neo-Gothic temples in the world. You can pay for a guided historical visit within the cathedral, or just admire the spectacular architecture and enormous spires from the outside for free!
The front of the cathedral is considered the very center of the city of São Paulo and is considered one of the major Sao Paulo downtown attractions.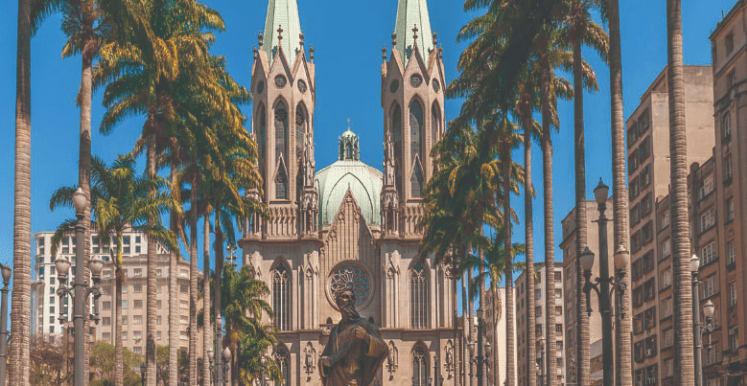 8. Have drinks and sample local flavors at the Mercado Municipal
There are a multitude of other cultural centers, exhibition halls and music venues to explore, but I imagine you may be getting hungry by now. On Avenida Paulista head to the Republica subway and take the Yellow line one stop to Luz station. From there it's a short 10 minute walk to the Mercado Municipal.
If you're claustrophobic then this may not be the best place to go, but it's certainly an experience! 12,000 square meters of indoor market with over 300 stalls. Food, drink, fruits, veg, spices and condiments... you'll be truly spoilt for choice. Have a drink and sample local flavors, but save your appetite for...
9. Eat a Mortadella sandwich
But, as you're in Sao Paulo, do as the Paulistas do.
The Mortadella sandwich is synonymous with the city. It's an absolute beast of a sandwich featuring never ending layers of Ceratti Mortadella meat, melted cheese, a slice of lettuce and held tentatively together in a bread roll.
10oz of meat... they are huge! You can find multiple variations featuring chicken, bacon, tuna etc and range from around R$30 to R$40 each. One between two people will be plenty so it doesn't have to break the bank.
Hocca Bar is the Mercado's most popular place to eat the famous mortadella sandwich as well as pastel de bacalhau, a deep-fried thin crust pie filled with salt cod.

10. Try local fruit
After that meal you'll be ready to head back to your hostel for a serious bit of belly rubbing! If meat isn't your thing then you can easily substitute it with all the free fruit from the nearby stalls.
We stopped to figure out what exactly these alien fruits were and ended up trying one of everything. They have exotic fruits and vegetables from across the globe and are happy for you to try.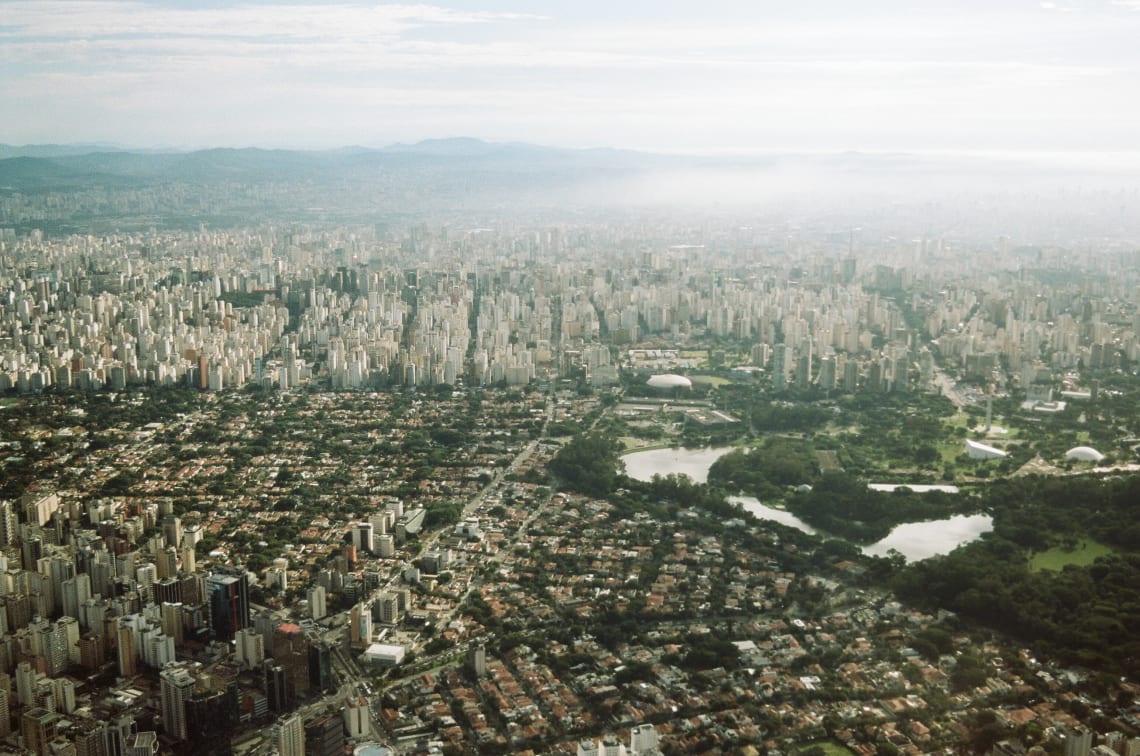 So... how did you enjoy Sao Paulo?
We've had street art, lush greenery, jaw-dropping views, culture and then a giant meal to end the day. And it all costs the price of a few subway tickets plus food. Not bad for exploring the 8th richest city in the world, right?
There are thousands of other places to see and explore (I highly recommend checking out the Worldpackers ultimate Brazil travel guide to learn more) but hopefully now you know it's possible to travel around Sao Paulo on a budget and still have an amazing experience.
Exchanging a few hours a week at a Worldpackers project will introduce you to local people with local knowledge of the best things to see and do in Sao Paulo, plus fellow travelers from all over the world to explore with, trade stories and form awesome friendships.