Is Cancun safe for travel? Tips for travellers in 2022
'Is Cancun safe?' is one of the most frequently asked questions about Mexico's famous beachfront city. The real question is, should we still be asking that? In this article, we'll see how safe Cancun really is, and some tips for a safer travel.
8min
Cancun is Mexico's most visited city. It's also the most visited city in Latin America, and the 44th most visited place in the world!

Its 13 miles of white-sand beaches and idyllic turquoise waters are too much for visitors to resist. The idea of relaxing in luxury all-inclusive resorts and visiting one of the 7 Wonders of the World, Chichen Itza, have people from all over the world flocking to Cancun.
If it was as dangerous as the headlines say it is, do you think so many people would travel to Cancun?
In this guide, I talk about whether Cancun is safe to travel to, providing facts as well as personal experience, and tips on how to stay safe in Cancun.
Why is Cancun considered dangerous?
Reading various articles and news reports online, it's easy to get sucked into a black hole of googling 'is Cancun dangerous?' I'm not going to hide the truth from you, the numbers aren't pretty. In 2021, there were 337 murders in Cancun, mostly due to conflicts between rival gangs and cartels.
Whilst there is no denying that these horrific events do happen in Cancun, the information is often not put into perspective. Remember that the media needs big stories to make money. They focus on the worst aspects and incidents of a country, as that's sadly what people like to read.
For example, you might read that Cancun is the sixth most dangerous city in Mexico according to the number of homicides — 64 per 100,000 people. Reading this, you might reconsider travelling to Cancun.
But, there are cities in the United States that people wouldn't think twice about visiting, yet their homicide rates are just as high. St. Louis had a homicide rate of 65 per 100,000 people, whilst Baltimore was 58.
How safe is Cancun for tourists?
Cancun is safe for tourists. Most of the violence that I mentioned above is between cartels and gangs in Cancun. The vast majority of tourists that visit Cancun (6.15 million in 2019) have an incredible time soaking up the sun on the beach, indulging in delicious Mexican food and leave feeling rejuvenated.
Tourism makes up 49.6% of Cancun's annual GDP. It's an important source of income and one that the government, nor the locals, want to lose. For this reason, there are 40,000 police officers stationed throughout the state of Quintana Roo, which also includes Cancun.
My personal experience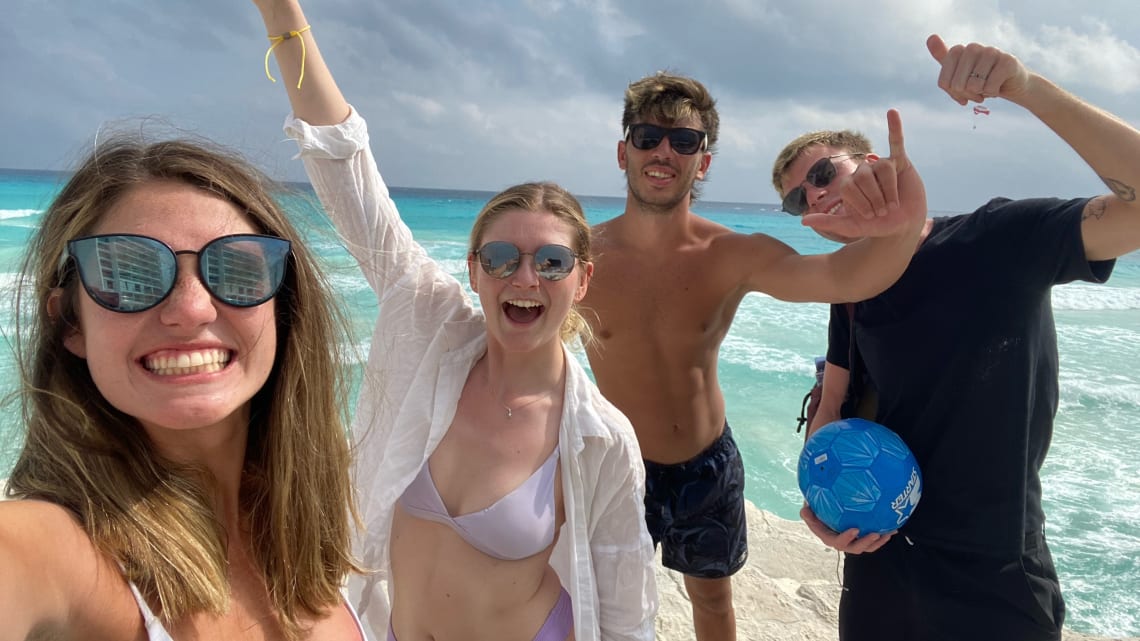 I spent 2 and a half months as a solo female traveller in Mexico. After a bad bout of sunburn, one of my weeks ended up being in Cancun.
While Cancun may not be my vibe (it's too touristy for me), I never felt unsafe, or had a bad experience. I stayed both in Downtown Cancun and the Hotel Zone.
I've discussed the topic of safety in Mexico with a number of locals, as I'm a firm believer that most of Mexico doesn't deserve its unsafe reputation.
Most of the violence isn't towards tourists
As a tourist in Mexico, you're pretty much safe from violent crimes. The majority of crime that gives Mexico its bad reputation is drug related, and usually between cartels.
The cartels usually don't mess with the tourists. Why? They own a lot of the tourist businesses such as hotels, restaurants and bars. If attacks start happening to tourists, tourism drops. That's bad business for the cartels and less money in their pockets. It financially doesn't make sense for them to harm tourists.
Of course, there have been occasions in the past few years where tourists have sadly got caught in cartel conflicts, but this usually isn't the intention.
Is Cancun safe for solo female travellers?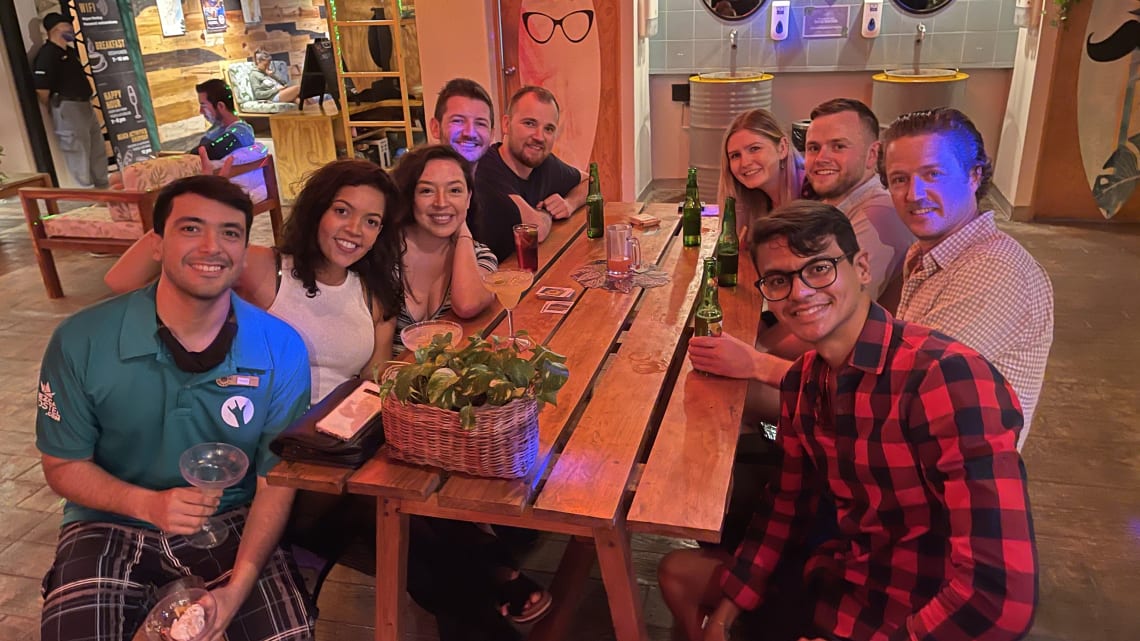 Cancun is a hub for backpackers. It's home to one of Mexico's international airports and therefore is often travellers first or last stop in Mexico.
Backpackers are also attracted by Cancun's vibrant nightlife and popular hostels that have become destinations in themselves.
With an abundance of travellers, it's super easy to make friends. It's unlikely that you'll stay solo for long. Whilst you can walk around the popular tourist areas at night, I never did it by myself. I made friends with people at the hostel, and went out with them at night.
If you're worried about being alone in Cancun, joining a work exchange can be a great way to meet people and immerse yourself in local life. We'll talk about it later in this article.
Safest places to stay in Cancun
There are two main areas for tourists to stay in Cancun — Downtown and the Hotel Zone. This is where the majority of tourist infrastructure and things to do in Cancun are situated.
The Hotel Zone
When you look at a map of Cancun, the Hotel Zone is the large strip of sand reaching out into the sea. It's where you'll find most of Cancun's best beaches, as well as the all-inclusive resorts, hotels, restaurants, bars and beach clubs. It's essentially a tourist bubble.
Tourism is an important source of income for Mexico, so the Mexican government have made strong efforts to keep this area safe.
The Hotel Zone is a hub for parties, which means that there are people on the street all night. It's relatively safe to walk to your hotel at night, but if in doubt always get a taxi.
Downtown Cancun
A lot of people choose to stay in Downtown Cancun as it is close to the bus station, has cheaper accommodation and offers a more local experience. It's a bustling part of the city that is full of markets, local restaurants (with some of the best tacos) and local businesses.
Whilst this is still a safe area to stay, walking around at night can be a bit more sketchy than in the Hotel Zone. Taxis are relatively cheap in Cancun, that sometimes it's not worth taking the risk.
Are taxis safe in Cancun?
For the most part, taxis in Cancun are safe. You can recognise the official taxis by their white exterior and dark green line down each side, with a 'taxi' sign on top.
All official taxis should also have their unique taxi number clearly printed on both sides of the taxi.
Whilst they might be safe, are they honest? Most of the time no. If they see that you're a tourist, they'll want to charge you a tourist price. Ask them to put on their metre, or agree on a price before getting in.
Can you use Uber in Cancun?
I always prefer to use Uber over local taxis. I feel safer knowing that the rides are tracked and I can see reviews for the driver.
Uber is available in Cancun, however you probably won't be able to use it. The local taxi union aren't big fans of Uber and have essentially blocked it from operating.
Even if you can get an Uber ride (which is hard), it's better not to use it. If other taxis realise that you're in an Uber, they may stop the car and make you get out.
Is public transport safe in Cancun?
Taxis in Cancun are some of the most expensive in the whole of Mexico. Thankfully, there is public transport in Cancun that is relatively easy to use and safe.
There are four buses that run between Downtown Cancun and The Hotel Zone – R1, R2, R15 and R27. You can flag these down off the street or wait for them to stop outside the pharmacy by the ADO bus station in Downtown.
Tips on how to stay safe in Cancun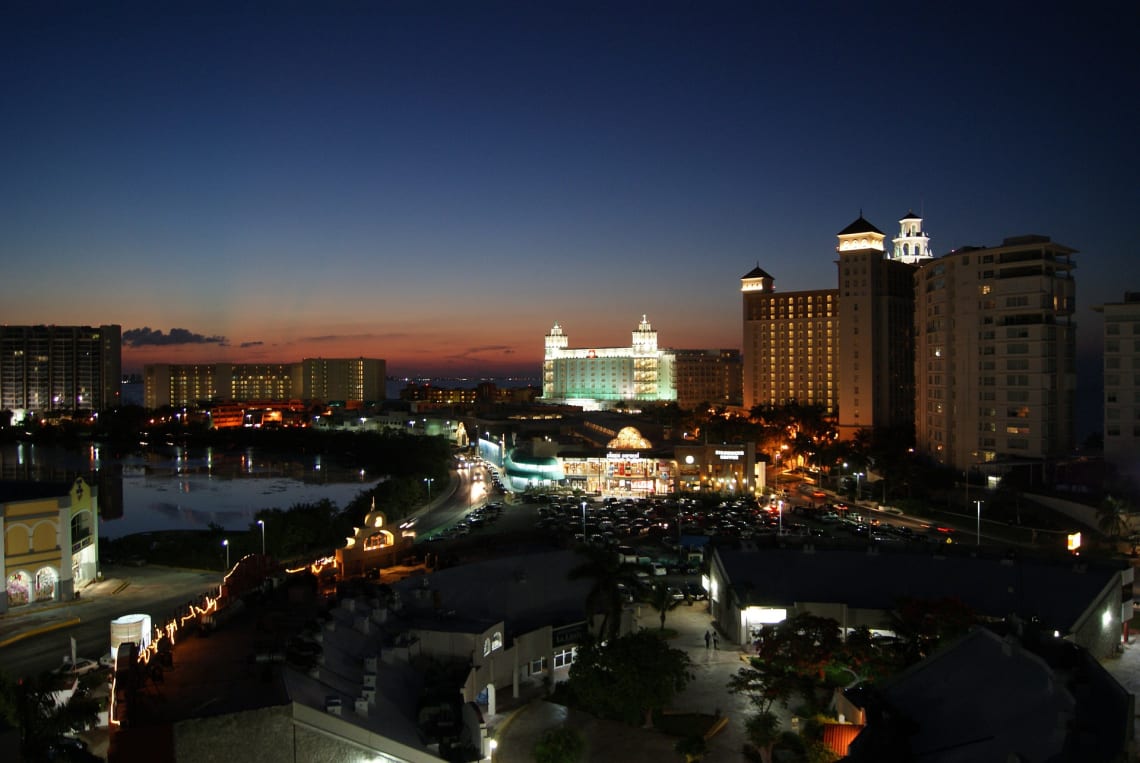 I think we've established that on the whole, Cancun is a safe area for tourists to travel to. However, like with every city around the world, there is still the possibility of petty theft and unfortunate incidents.
To help you avoid these as much as possible, here are my tips on how to stay safe in Cancun:
1. Stay away from drugs
As I've mentioned above, the majority of violent crimes that occur in Cancun are related to drugs and the cartels. Buying drugs in Cancun increases the chances of you becoming involved in one of these incidents.
2. Ask your accommodation on their recommendations for staying safe
The staff at your accommodation should know better than anyone what safety precautions you should practise. If they tell you not to walk around after dark, it's best to follow that advice.
It's also worth asking if there are areas that you should avoid and any extra tips they have for you.
3. Don't carry more cash than you need
This applies to everywhere, not just Cancun. In the unfortunate event that you do end up being robbed, at least it won't be all of your money if you leave the rest at your accommodation.
4. Keep your phone and belongings close to you
Try to keep your valuables out of sight. If people around you don't know what you have, they're less likely to steal something from you. Instead they'll target the person showing off their new Iphone 13. Don't let that be you!
Bum bags and money belts can be great storing your valuables in. They can be put under clothes, and away from prying eyes.
5. Learn some Spanish
Speaking even a little bit of Spanish makes you look less like a tourist, and a less likely target for theft.
You may also make some local friends using your Spanish, which can keep you safer (and it's a lot of fun!)
6. Volunteer with Worldpackers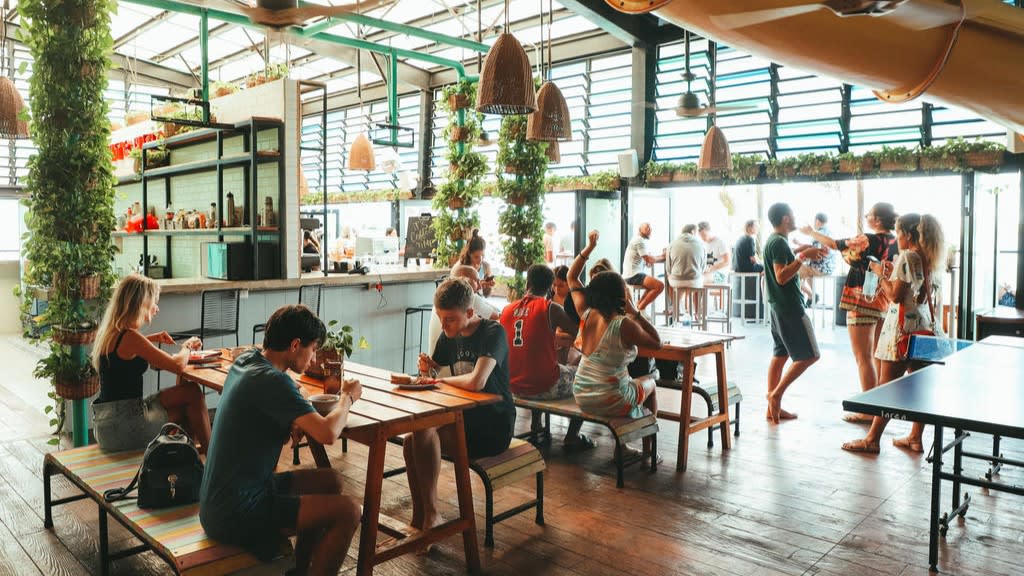 If you're nervous about travelling to Cancun, consider volunteering.
Joining a work exchange can often feel like joining a family. The host is there to help you settle in, provide advice on the area and give you a glimpse at local life.
For added peace of mind, Worldpackers offer insurance for volunteers. If for some reason the host does not abide by what was previously agreed, Worldpackers will help you find another host nearby or relocate you in a hostel for up to 3 nights.
7. Go with your gut instinct
A lot of the time, staying safe is about using your common sense and listening to your gut instinct. If something doesn't feel right to you, don't ignore it!
If you have to spend a bit more money to stay safe and listen to your intuition, do it. It's not worth the risk.
How safe is travel to Cancun in 2022?
It's hard to hear through all of the noise regarding Cancun's safety. But once you do, you realise that Cancun is a safe place for tourists to travel to.
Without having been to a place, it can be hard to judge whether it is safe or not. One of the best ways to discover the answer is to ask people who have been there recently themselves.
Instagram, YouTube, online blogs, and even TikTok can be great resources if you don't know anyone personally.
So what are you waiting for? Buy that ticket to Cancun!
Want to learn more about planning your trip? By subscribing to the WP pack plan you have unlimited access to +120 courses at Worldpackers Academy, the travel school made by travelers!