The ultimate summer vacation in Spain: what to do, visit and eat
What better way to spend your summer than soaking up the sun with Mediterranean waves lapping at your feet? Sounds ideal! This article helps you to have the best summer vacation in Spain.
7min
Spain is one of my favorite countries in the world. My obsession started from a very young age, as my parents adored the Spanish island of Menorca. So much so that I went there every single year of my life until I was 15 years old.

Since then, my exploration of mainland Spain has continued and grown deeper. I've swapped out the all-inclusive hotels for a more authentic experience of Spain. Fully immersing myself in the Spanish culture and eating every piece of tapas that I can get my hands on.
Now I've been to Spain over 20 times, and I plan for that number to keep on growing.
Why should you visit Spain this summer?
I could go on and on about all of the reasons why you should visit Spain, but I'll keep it short so you can get onto the more exciting parts of this article.
Whatever you're looking for, Spain has it — beaches, islands, thriving cities, mountains, countryside villages, culture, amazing food and sunshine!
I love the way of life in Spain. The laid-back vibe, where there are always people drinking and laughing on the streets, no matter the time of day. The word 'mañana' describes the Spanish lifestyle so perfectly, especially in the south. The sunshine seems to bring a mentality that there's never a reason to rush.
If that hasn't convinced you to book your flights to Spain already, continue reading to find out the best summer destinations in Spain, what should be on your Spanish bucket list, and a bit about all of the incredible food you can indulge in.
Weather and climate: how to prepare for a summer in Spain
Summer in Spain runs from June to September. Daytime temperatures average around 30 degrees, but this depends on where you visit in Spain. Head to the north and you'll find cooler and more bearable temperatures.
If you visit some of the cities in the south of Spain during August, prepare to be sweating A LOT! In cities like Cordoba and Seville, temperatures can get higher than 40 degrees.
Out of the summer months, I recommend visiting in June or September. The temperatures aren't as high, and neither are the prices or the number of tourists. During July and August, beaches are packed full of both locals and tourists enjoying the sun. Businesses take advantage of this surge in demand and you'll find everything to be a lot more expensive.
Not sure what to bring on your beach holiday to Spain? Check out this essential beach packing list.
Exploring the best of Spain's summer destinations
Spain's beach towns in particular come alive during the summer months. They're the best places to visit during the summer months to escape the heat, get a tan and enjoy refreshing drinks in the sun.
If you're more of a city person than a beach person, you're in luck. Spain has a number of beautiful cities with great beaches too. It's the best of both worlds!
Here are 5 places that I recommend visiting this summer in Spain:
Malaga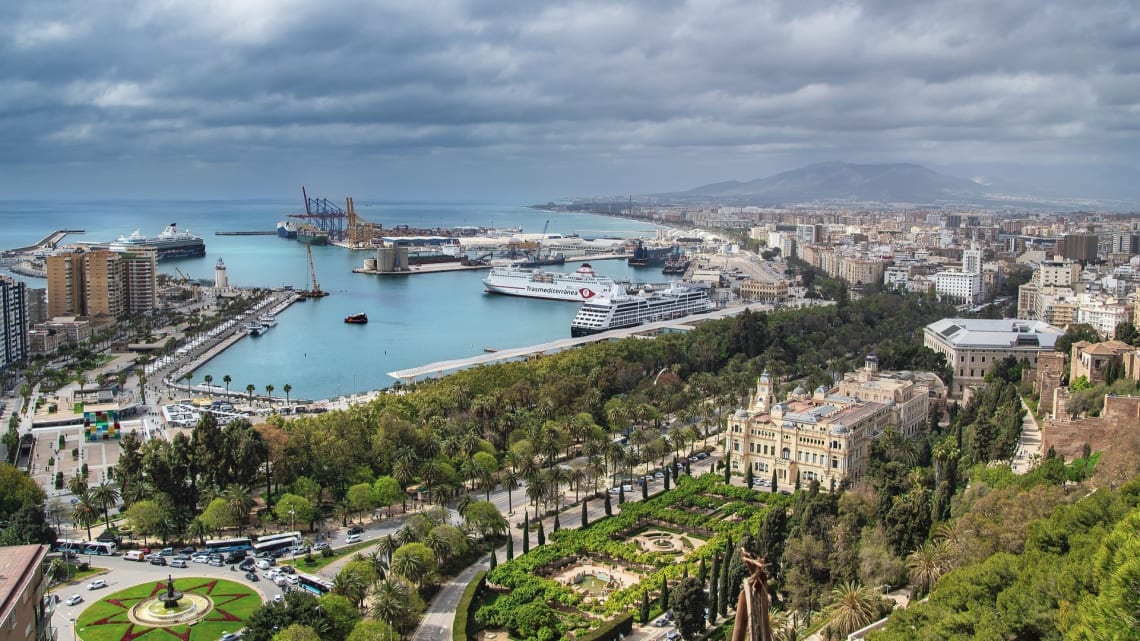 Malaga surprised me hugely! It's a stunning city that boasts a brilliant combination of the new and the old. There are so many historical sites for you to visit in Malaga — Castillo de Gibralfaro, Cathedral of Malaga, and Alcazaba. The narrow cobblestone streets also add to the historic feel and are ideal for getting lost in.
Then alongside this, there's a modern shopping street, quirky cafes, and hipster restaurants popping up all over the city. The city itself is reason enough to visit, but couple that with a large, golden-sand beach and you've got everything you could possibly need.
It's also a great location to visit other popular places in Andalusia such as Nerja, El Chorro, and the infamous Marbella.
Best places to eat in Malaga
Casa Lola is one of the most famous tapas restaurants in Malaga, and for good reason. You might have to queue, but the delicious bite-size dishes are definitely worth it.
If Casa Lola is too busy, La Tranca is a great alternative for tasty tapas. The atmosphere is fantastic and the staff is so much fun.
Barcelona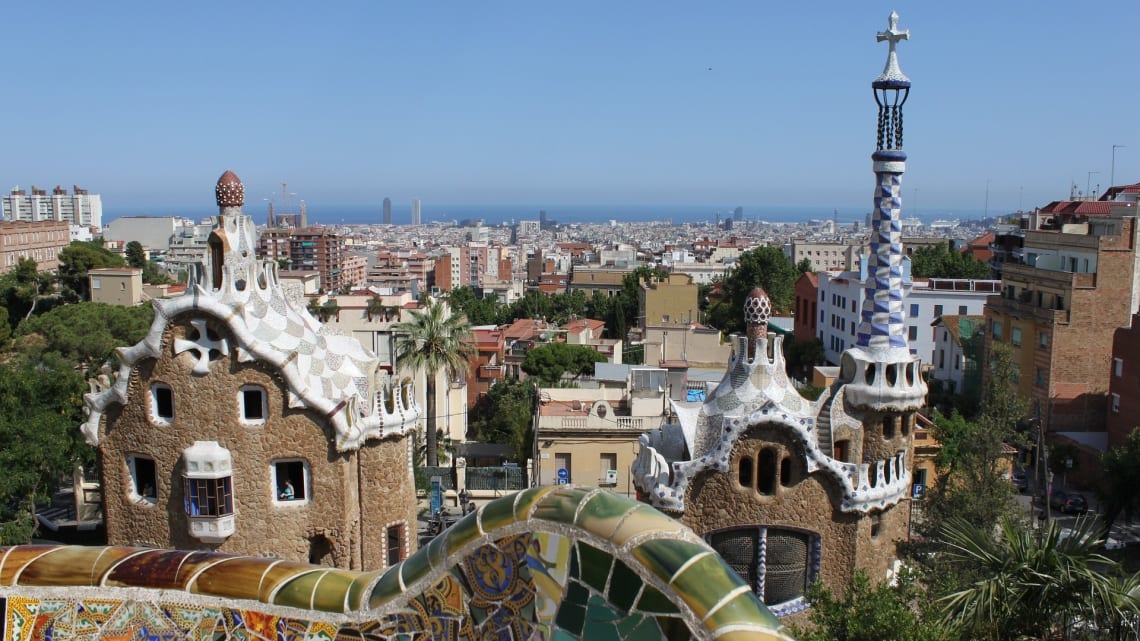 Of course, Barcelona has to be on this list. It's one of the most popular summer destinations for both short weekend trips and week-long holidays. In between visiting the sites like La Sagrada Familia, or getting a picture from the iconic Park Güell, you can spend your days lounging on the beach.
Summer evenings spent in the streets of Barcelona, sipping a glass of sangria or an ice-cold cerveza are unforgettable. You'll always find live music and a lively atmosphere as people wake up from their siestas.
Barcelona can be expensive, so here's how to travel it on a budget.
Best places to eat in Barcelona
If you're a meat or seafood lover then head to 9 Nine restaurant. Their steak is succulent and delicious, whilst their seafood is full of flavor and beautifully presented.
Looking for a tapas bar? Bodega Biarritz 1881 Tapas Bar is a winner with its cute decor and mouth-watering plates.
Tarifa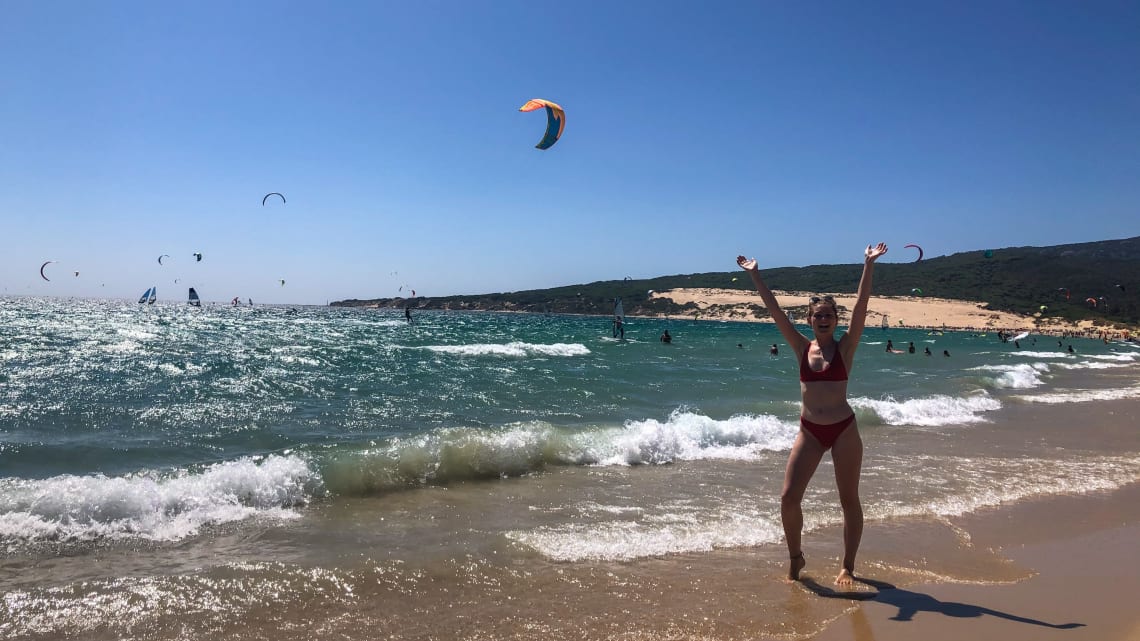 You'll find Tarifa in the very south of Spain. So far south that on a clear day, you can see Morocco. One of the best things about Tarifa is that it's not on everyone's radar yet, so it's managed to maintain a small beach town vibe.
It's best known for its perfect watersport conditions. It's quite windy, so you'll find that Tarifa's skies will be filled with kites from the kitesurfers below. Surfing and windsurfing are also popular spots here. It's a very relaxed town, filled with chilled people and a great vibe.
Best places to eat in Tarifa
Tarifa is full of cute cafes, but Cafe Azul is amongst the best. Head here for a delicious breakfast, brunch, or lunch. I promise you'll leave happy.
Just across the road from Cafe Azul, Chilimosa Comida serves delicious vegan and vegetarian food with a Spanish twist.
Valencia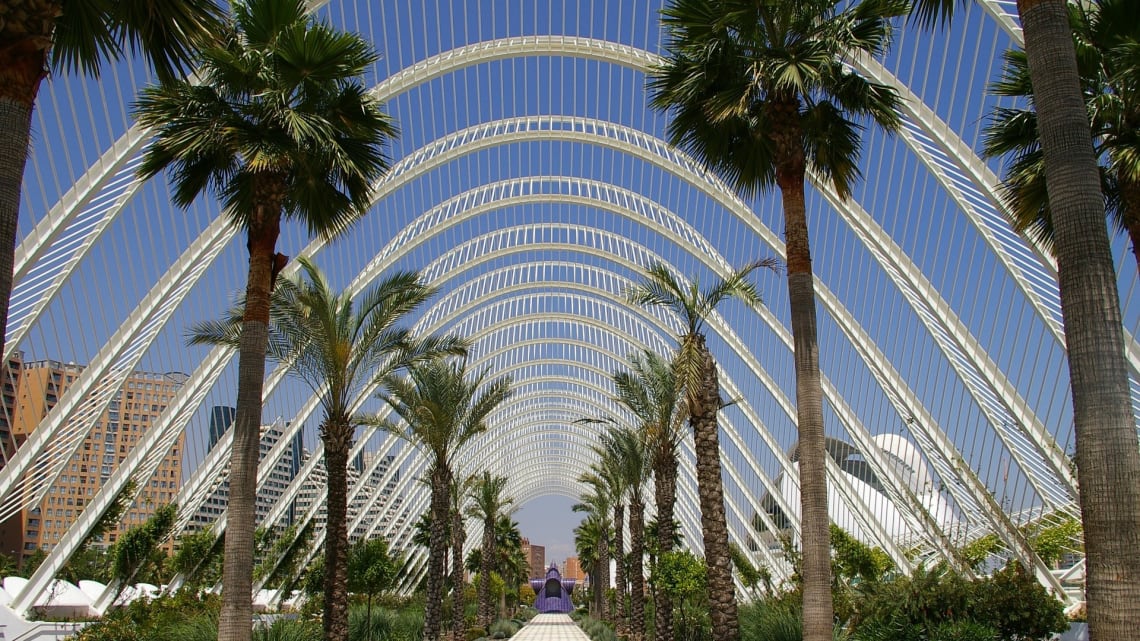 Spain's famous dish, paella, came from Valencia. Enough said? If it takes more than that to convince you to visit a place, how about the fact that the nightlife is awesome, most of the museums are free and there are a number of great beaches nearby.
Valencia is Spain's third biggest city and offers a more modern glance at Spanish life. It has a historic center, but there are also a number of futuristic structures to admire such as the planetarium and oceanarium.
Best places to eat in Valencia
From the outside, El Rinconet is nothing to shout about, but you'll certainly be telling all of your friends about their tasty tapas once you've had a bite.
Restaurante Grillo boasts creative tapas dishes and some of the best meat you'll ever try in your life.
San Sebastian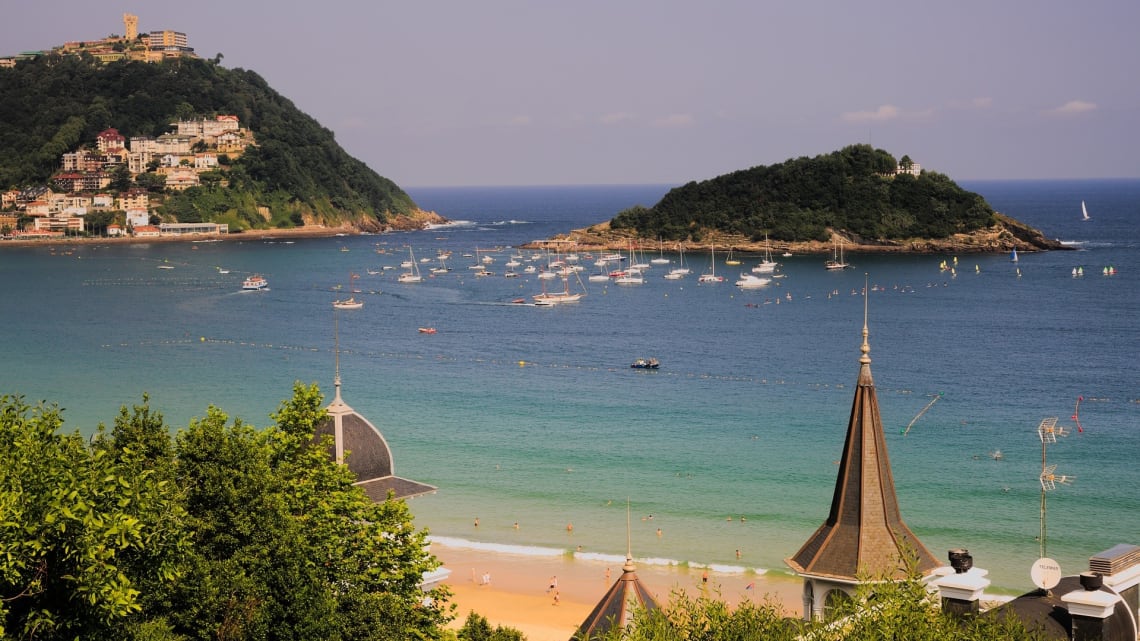 In the north, situated within Spain's mountainous Basque Country is San Sebastian. It's another gorgeous Spanish city with a to-die-for beach. It's considered one of the best city beaches in Europe. It's San Sebastian's food scene that's really put it on the map though.
It boasts the second most Michelin stars per capita in the world! Basque cuisine is delicious, but pair this with some of the best chefs in the world and you're guaranteed an unforgettable meal and experience.
Best places to eat in San Sebastian
If you can afford to visit a Michelin Star restaurant in San Sebastian, then you should. Akelarre is a 3 Michelin Star restaurant with the most incredible view overlooking the sea. It goes without saying that the food is phenomenal.
A slightly more affordable option, but still very much tasty is Restaurante Ikaitz. Their presentation and tastes are incredible.
Other places to visit in Spain during the shoulder months
Both of the destinations below are two of my favorite cities in Spain, but I wouldn't recommend visiting them in July or August. It's simply too hot, with temperatures going above 40 degrees.
In that kind of heat, it's too hot to do a lot of exploring, and the heat really tires you out. Instead, visit these places in April, May, June, September, or October. They'll still be relatively hot.
Seville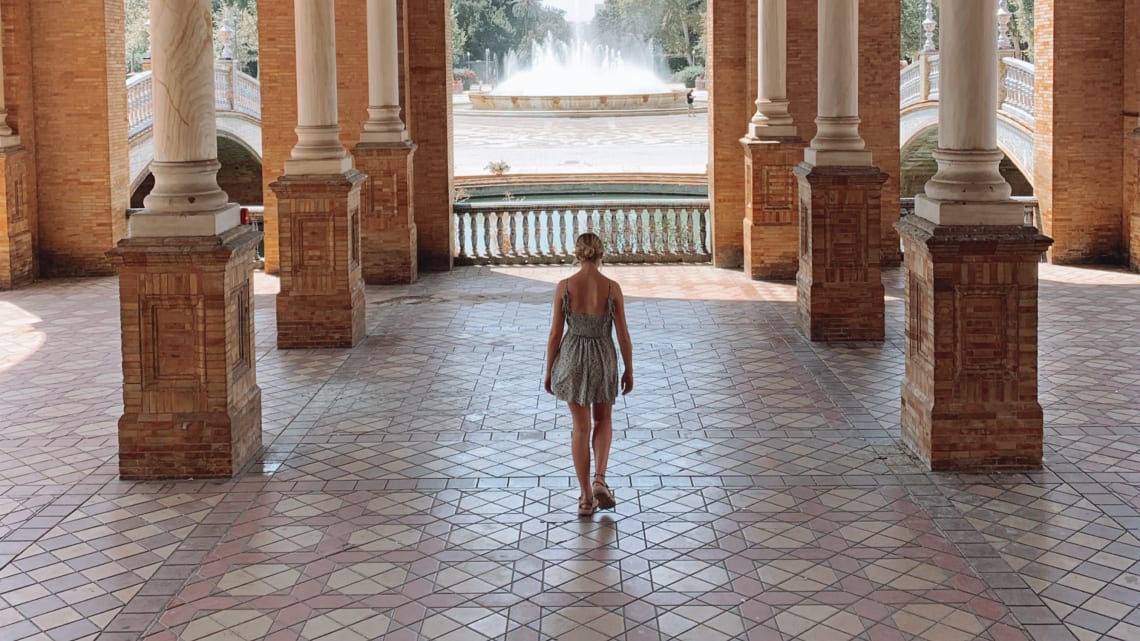 Seville is one of my favorite cities in the world! It's so rich with culture and literally everywhere you look is beautiful.
The tapas are some of the best I've tried, the narrow streets are perfect for wandering, and watching flamenco in the Plaza de Espana is one of my favorite memories.
Ronda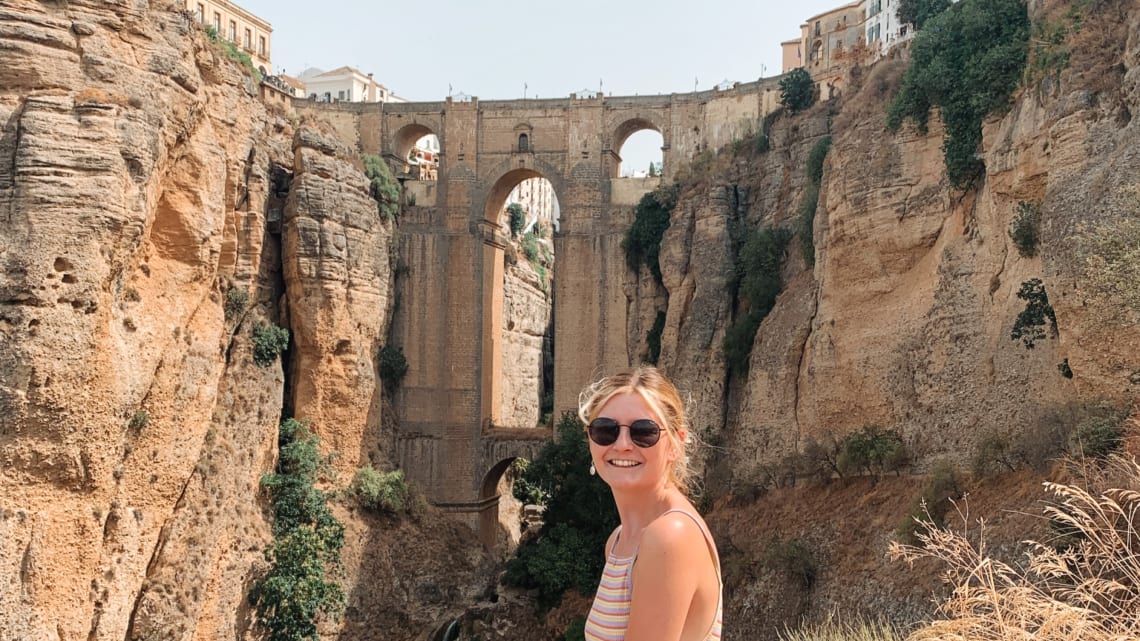 I loved that Ronda isn't as popular as some other Spanish cities. It definitely felt like there were fewer tourists here, giving a more authentic experience and thankfully, cheaper prices.
We enjoyed delicious tapas for €1. Most of my time here was spent eating and drinking because it was so good and so cheap.
Your Spanish bucket list
Spain is famous for so many things — its music, food, culture, historical sites, and much more.
Here is a Spain bucket list to get you going and ensure that you get a rich Spanish experience:
Watch a flamenco show
Taste as much tapas as you can
Take a siesta
Try sangria or tinto de verano
Demolish a paella
Practice a bit of Spanish
Accommodation in Spain during the summer
During the summer months, prices in Spain soar. Even hostels can be over €40 a night just for a dorm bed! Some people opt for all-inclusive resorts, others prefer an Airbnb, but whatever you pick, it's likely to be expensive.
If you still want to enjoy the Spanish summer but don't want to spend that kind of money, then consider volunteering. There are over 200 exchange opportunities on Worldpackers in Spain. Here are some of my favorites:
As well as the unforgettable cultural exchange and skills that you get from volunteering, you'll also get free accommodation and sometimes even food.
Have you booked your plane ticket yet?
Spain has been a staple summer destination for people from all over the world for years now. That's because it has so much to offer and ticks all the right boxes. Will you be heading to Spain this summer?
Want to learn more about planning your trip? By subscribing to the WP pack plan you have unlimited access to +120 courses at Worldpackers Academy, the travel school made by travelers!