5 amazing affordable winter vacations in the world
I'm going to tell you about some of the best affordable winter vacations so you can get the "hygge feeling" next holiday season!
8min
'I really can't stay, I've got to go away... baby it's cold outside'
Indeed, in many countries it is cold outside! Tis' the season to be jolly, and what better way to get yourself in the festive spirit than to take a trip away. The Danish word 'Hygge' (pronounced 'hoo-gah') perfectly captures that feeling of cosiness that everybody wants to have at this time of year.
The word has so much more meaning than just 'cosy'- it's that feeling of warmth, happiness and togetherness. It's a difficult word to describe, but imagine being surrounded by ones you love, whilst drinking a hot chocolate by the glow of a warm fire - that's hygge.
Hygge is something that many seek at this time of year, perhaps by visiting Christmas markets, drinking your favourite festive drinks, or simply, getting cosied up with a loved one. It's all about appreciating what we have around us - every little thing.
Now, why am I talking so much about this Danish word? Well, it's because that's what I think is the best part about Winter, and well, Winter holidays. So, I'm going to tell you about some of the best affordable winter vacations so you can get that hygge feeling.
Meet 5 affordable winter vacations worldwide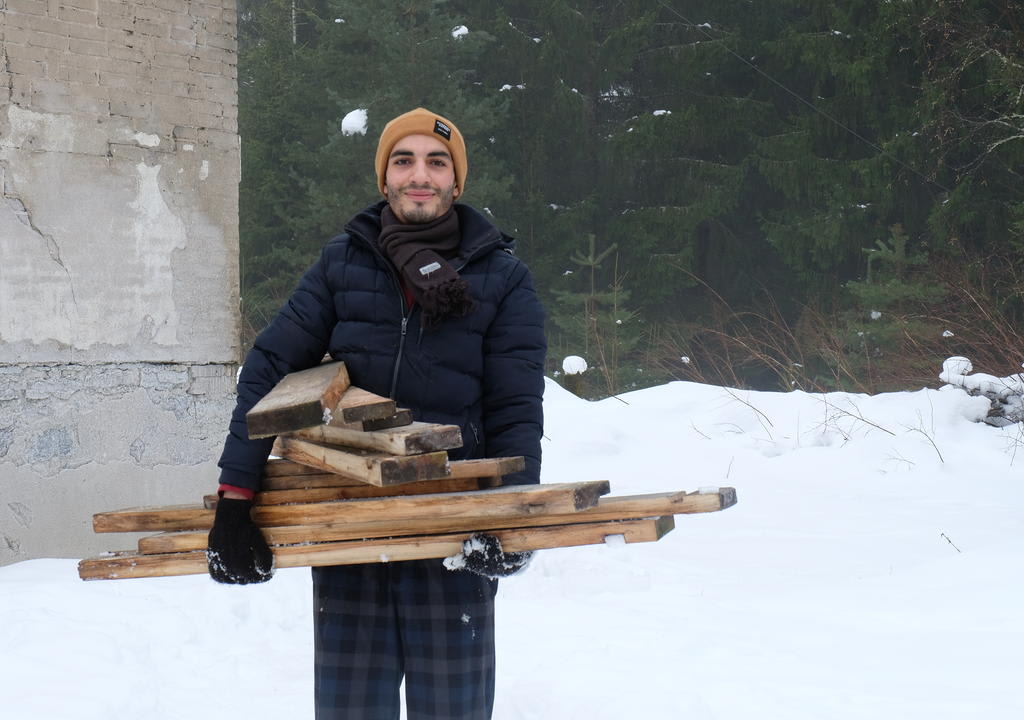 Winter time can be expensive - there's food, higher heating bills and for some, presents. It's a generous time when we tend to give a lot, but we need to remember to take care of ourselves too. So why not treat yourself this Winter?
In this article, I'm going to share some tips on how to volunteer abroad with Worldpackers so you can save money, live unique experiences, develop new skills and make a positive impact in the world.

WP offers a lot of different types of projects worldwide in which you can help and be helped, as you will see throughout the text.
Without further ado, here's some of the best affordable Winter vacations across the globe (in no particular order):
1. Have a white Christmas in Lithuania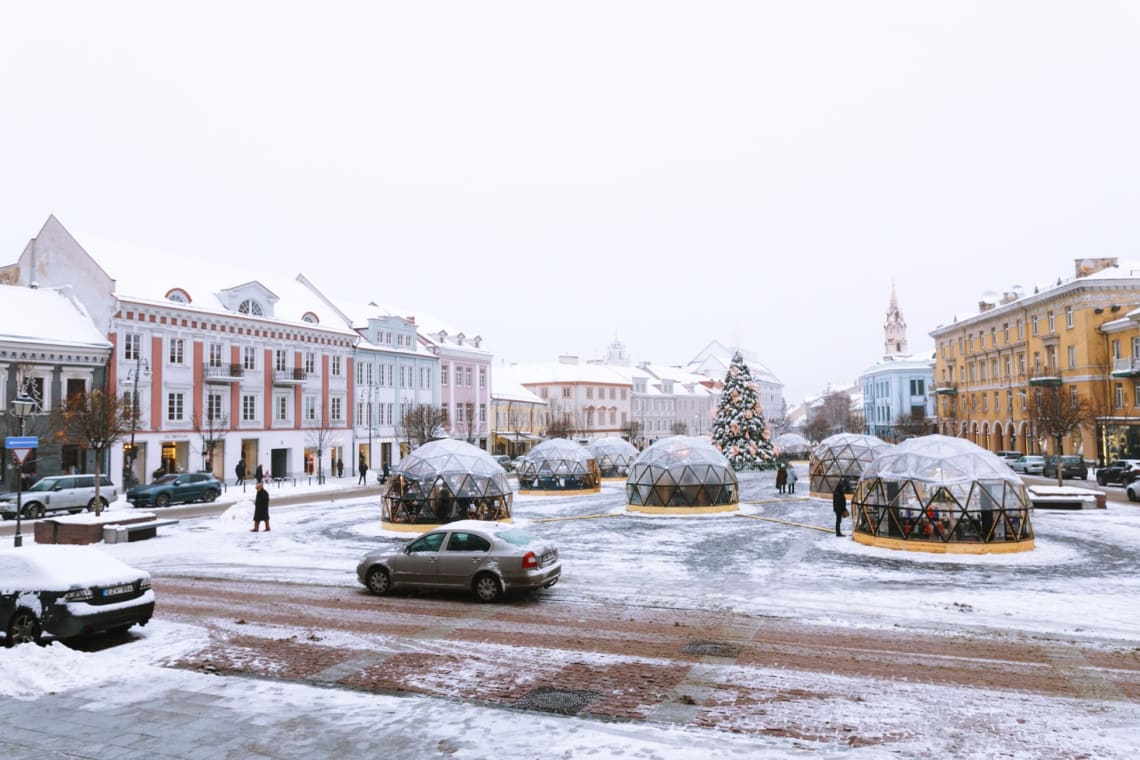 Lithuania is a good place to start living the dream of a white Christmas. It gets pretty cold, or freezing for that matter around the months of January and February so depending on your liking of cold weather, December may be a better time to visit.

However if you are a big fan of the snow and ice, then get your layers at the ready! The capital city of Lithuania, Vilnius, is fantastic for those who love the adrenaline rush of racing down a hill on skis or a snowboard. Check out Liepkalnis - the best location in Vilnius for snow sports.
Other super cool things to do in Lithuania during winter time include: skating on Lake Galve, hot air ballooning, visiting the festive markets, and warming up in a steam bath before taking a very quick dip in a nearby frozen lake (not for the faint hearted).
And after all those wonderful but very cold activities, you'll be more than tempted to cosy up with some hearty food. Luckily, that's Lithuania's style - lots of root veg, carbs, meat and dairy.
Eastern countries tend to have this type of heavier cuisine so not the most ideal for vegetarians and vegans, however we are in 2021 and so there are a lot more options on the menu.
Some traditional dishes to try would be: Cepelinai (dumplings with pork with sour cream and bacon sauce - yum!), Fried Bread (Kepta Duona) which is the perfect accompaniment for a good beer, potato pancakes and lastly for those with a sweet tooth, Raguolis (also known as Sakotis) which is a cake made on a spit-like cooker so it drips and ends up spiky, pretty cool!
If you're looking to volunteer in Lithuania, take a look at this cosy hostel looking for a pub crawl leader!
2. Visit Lake Tahoe, California, next winter!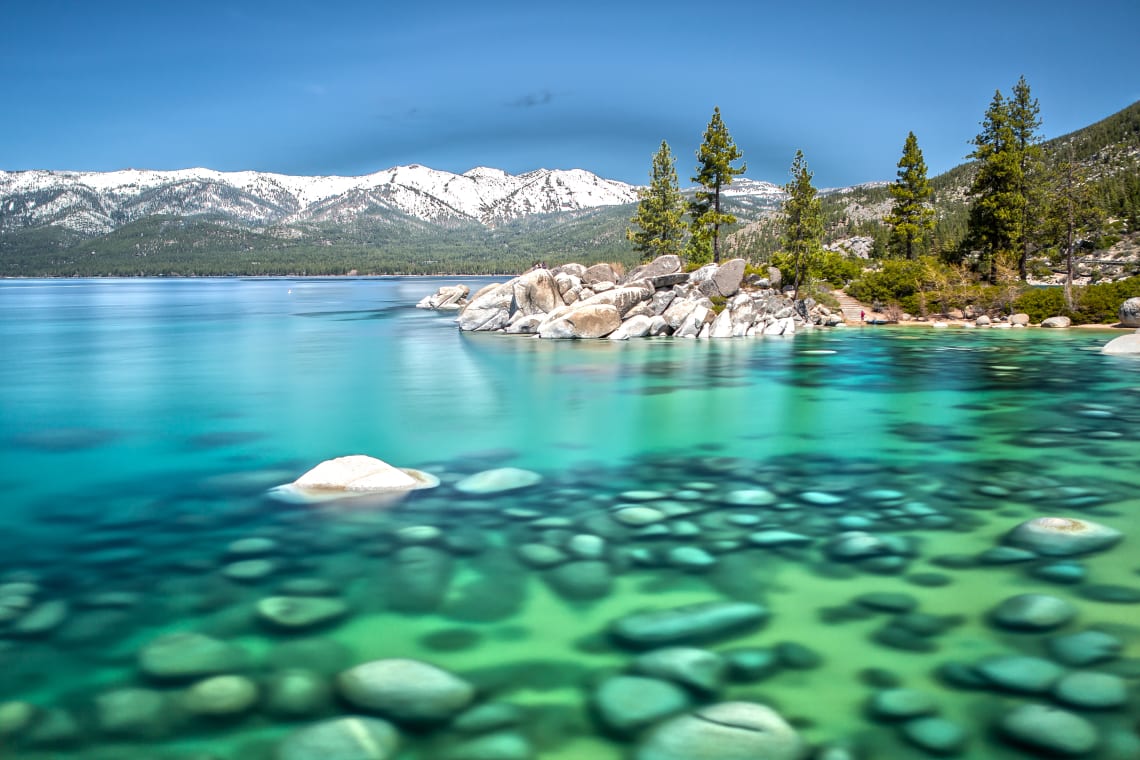 At 22 miles long, ranked the 10th deepest lake in the world and surrounded by incredible peaks, Lake Tahoe is not a destination to skip out on.
It's beauty alone is a good enough reason to visit, but there's also plenty to do in the cities around the lake. It's a great destination for those looking for affordable winter vacations in the USA and especially for families.
Another fantastic location for snow-filled fun, Lake Tahoe is the ideal place to really get adventurous and have a great time.
It's well known for skiing and with some of the best mountains and drop cliffs out there, you can truly show off your skills. If that's a bit too daring for you, then you can also go tubing and sledding in South Lake Tahoe, or even better, go ice skating at the Heavenly Village.
Afterwards, you can warm up with a hot chocolate (or something a little stronger) and take a stroll around the shops and eateries to truly get that festive feeling.
Close by to the lake is the city of Reno, and whilst it's not the most glamorous, it's got plenty of attractions so you'll never be out of things to do! From museums, walking tours and casinos, this city is great for all ages.
Fun fact, it's known as 'the biggest little city in the world' as despite it's size, it has plenty of opportunity and ambition.
See our top work exchange positions in this location:

3. Live a freezing experience in Estonia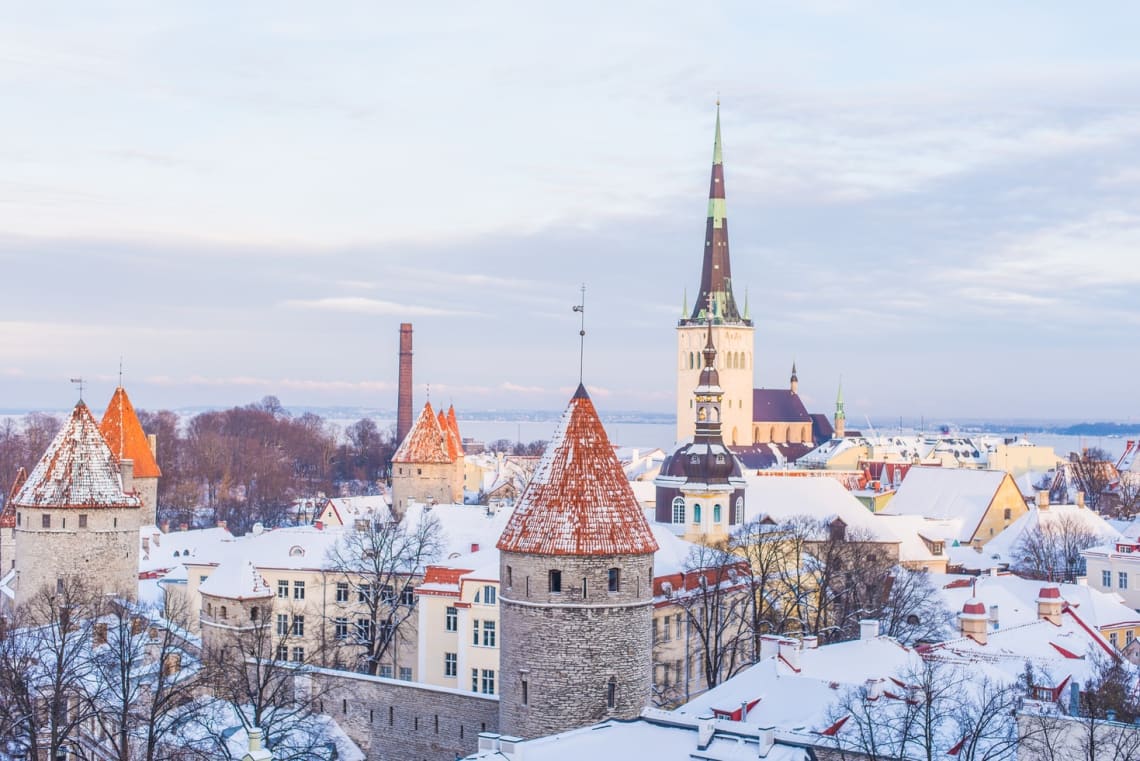 If you're a lover of old town charm, medieval surroundings and the countryside then Estonia is perfect for you. During Winter, it does get absolutely freezing so make sure to pack your extra warm gloves - you'll certainly need them.
The capital, Tallinn, boasts a beautiful, glowing old town that has that warmth and charm you may be looking for. The Christmas market in the Tallinn Town Hall Square is so magical you may even feel you've been transported to the North Pole!
Try some traditional food being sold in the small huts, say hello to Santa Claus, see some wonderful weekend performances and gaze at the most beautiful Christmas tree.
Estonia is like the fairy-tale land you wouldn't think existed, but does. You can sled with huskies, go ice fishing, ice skate and even walk behind the frozen Jägala waterfall (how awesome!).
If you want something a bit cosier you can wander around the streets and get warm in a nice café or restaurant to try some tasty food.
Feast on some of the most traditional foods such as sprats (fish), verivorst (blood sausage), rosolje (potato and beetroot salad) and dumplings, or something a little sweeter - find some mulled wine and gingerbread at the market!
Make sure to check out Worldpackers work exchange and volunteer programs in Estonia!

4. Plan your next trip to Ukraine in January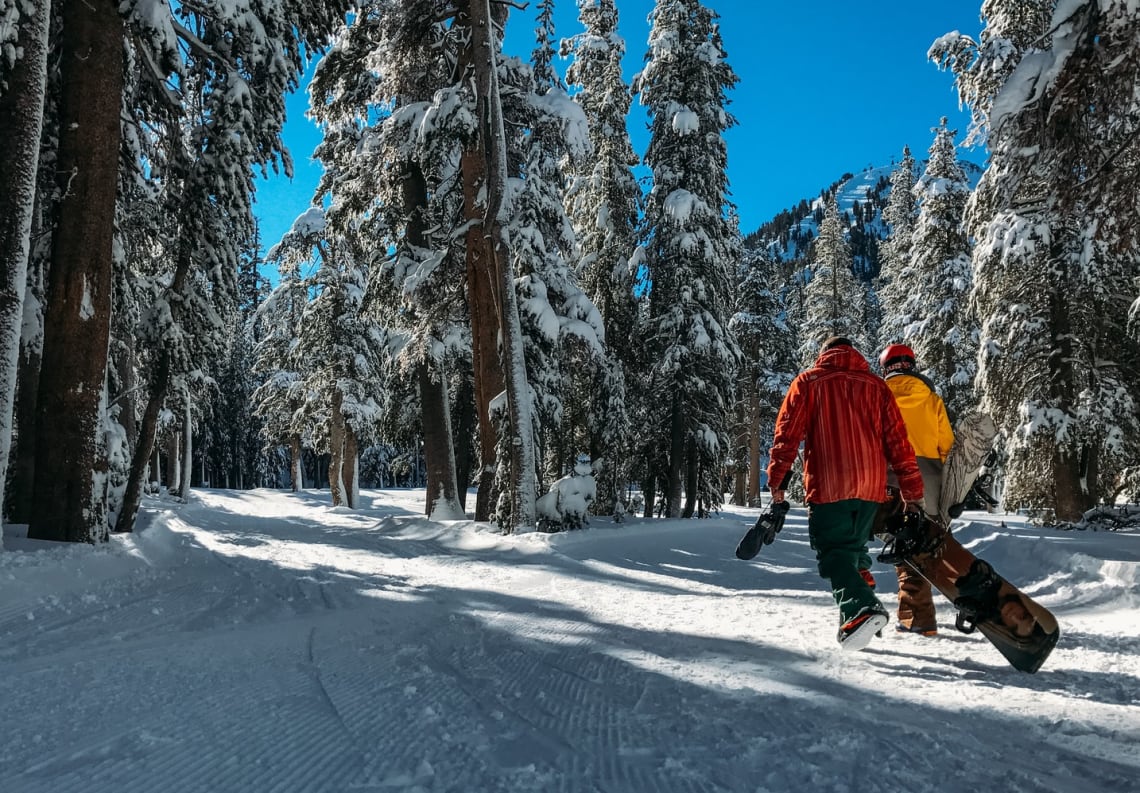 Ukraine is super snowy and has some of the coolest things to do during winter time, so if you're looking for a trip slightly out of the ordinary, then this is an ideal location for you.
Also if you didn't already know, Ukraine tends to celebrate Christmas on 7th January, so some festivities may not kick off until later on in December, unlike most other countries.
So, what does Ukraine have to offer during Winter? Well, the question should be more like what doesn't it have? You can go skiing in the Carpathians (it's super cheap to learn here too), visit the Chinese New Year Lantern Festival in Kyiv, explore snow covered castles like the ones in Kamianets-Podilskyi, walk through the Optymistychna Cave, take a dip in the Kosino resort fountain of Illusion and attend the carnival.
Lastly, one of the absolute best things to do is visit the Festival of Chocolate in Lviv (whaaat! I know. Heaven, right?).
And if that doesn't sound tempting enough, Ukraine is also famously known for their pampukh (doughnuts) and even has a Pampukh Festival.
Ukraine, you really have it all don't you? Definitely seems like one for the bucket list for those who a) have a sweet tooth and b) like to have fun, and both of those things go very well together.
5. Have the best winter of your life in Scotland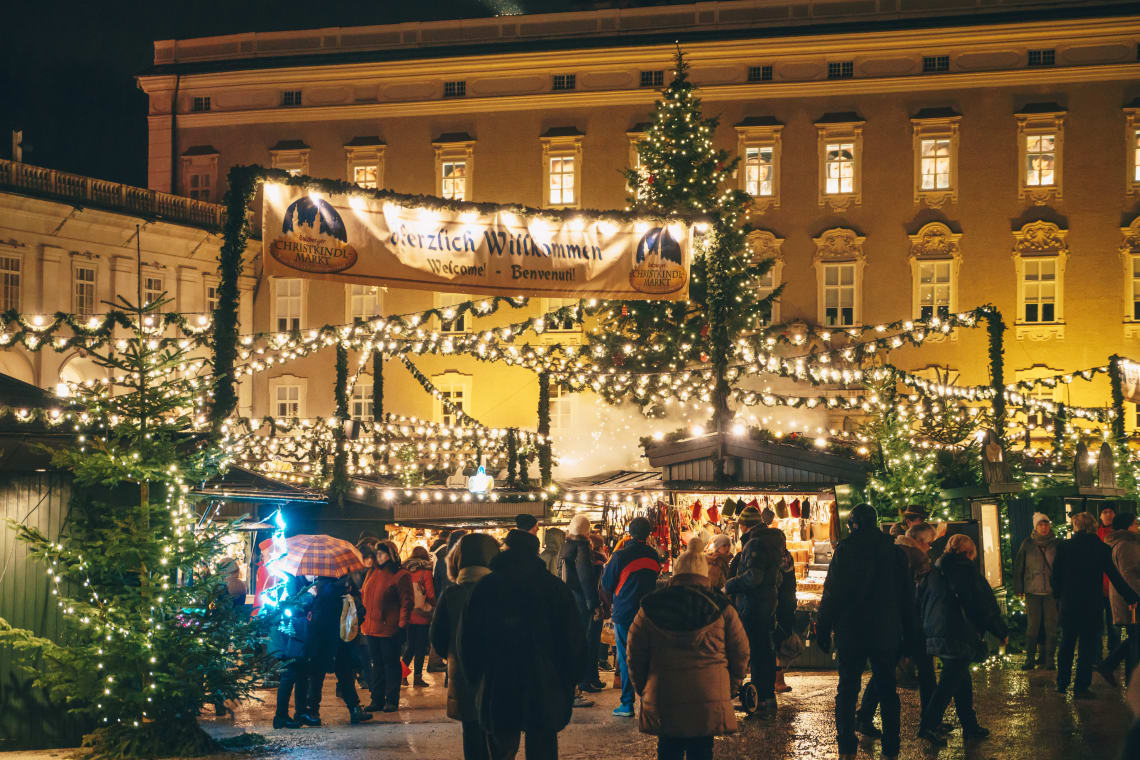 Not one of the cheapest places to travel, but it is definitely worth visiting (I may be a little biased, but it is absolutely stunning and doesn't always get the credit it deserves).
The bigger cities like Glasgow and Edinburgh can be pricier, and if you're staying in a fancy hotel in the highlands then yes, there will be a higher budget but overall Scotland is pretty cheap and a lot of the best activities don't cost much.
A small town like Oban is the perfect getaway for all kinds of travellers and there is plenty to do over the winter time. Oban holds the winter festival every year, making the town feel a little like a winter wonderland.
There's Christmas markets, games to play, parades, whiskey and gin tastings, kids activities and much more. The best thing about Oban is that you have the best of both worlds with enough civilization to feel connected, but you're also in the centre of majestic mountains and gorgeous lochs.
Nearby is Glen Coe, which is one of the most beautiful places. It has plenty of hills to climb of varying levels, so whether you're a pro hiker or not, you won't be out of your comfort zone.
After a long and cold hike, you can stop by the Kings House Hotel for a warm meal and something to drink. Why not keep it traditional and try some haggis, neeps and tatties? If that's not your thing, I recommend a good pie or some fish and chips - the fish won't get much fresher than it does by the coast.
If you're really into winter sports you could also visit Fort William which is only an hour drive from Oban, and has a fantastic ski slope to practice on before going solo on the big hills!
You can visit Scotland as Worldpackers volunteer and help in some positions:

Well, there you go. If these places don't make you want to go on a winter holiday right now then I don't know what will! Aren't they incredible? If you do go somewhere nice (and cold), be sure to wrap up warm and enjoy the festive period.
Keep reading about budget travel tips like this cheap CA vacations article listing the best free attractions and places to stay in California.
Also, feel able to join the Worldpackers community for free, explore some of the WP Academy courses for travellers and save your preferred positions for later.