15 best places to visit in Brussels
No trip to western Europe would be complete without visiting Brussels, Belgium's capital city. Read on to discover all the best places to visit in Brussels, as well as practical travel advice for exploring Belgium on a budget.
16min
Belgium is a small but powerful country. Belgium has played a significant role in European and world history, and it is the current headquarters for the European Union.
It is also an amazing tourist destination. Because it is a small country, it is located only a few hours away from the Netherlands, France, Luxembourg, Germany, and the United Kingdom. You can easily fit Belgium into a tour around Europe.
No trip to Belgium would be complete without visiting Brussels, the capital city. Brussels is a charming city with a lot of history and a lot of fun things to do. The city is relatively small, so it makes a great weekend trip from other nearby European countries.
In addition to the incredible landmarks, monuments, museums, and parks, Brussels is a gastronomic superstar. From the crispy fries served in paper cones, to the loaded Belgian waffles, to the world-famous Belgian beer, there is no shortage of comfort foods to try in Brussels.
In this article, I'll list all the best places to visit in Brussels as well as some other useful travel tips. I'll touch upon general knowledge of Belgium, the best places to visit in Brussels, what to eat and drink in Brussels, the best time to visit, how to get around the city, and helpful safety tips.
I'll also highlight a few Worldpackers work exchanges in Brussels and around Belgium, so travelers who want a deeper cultural experience can volunteer if they want to.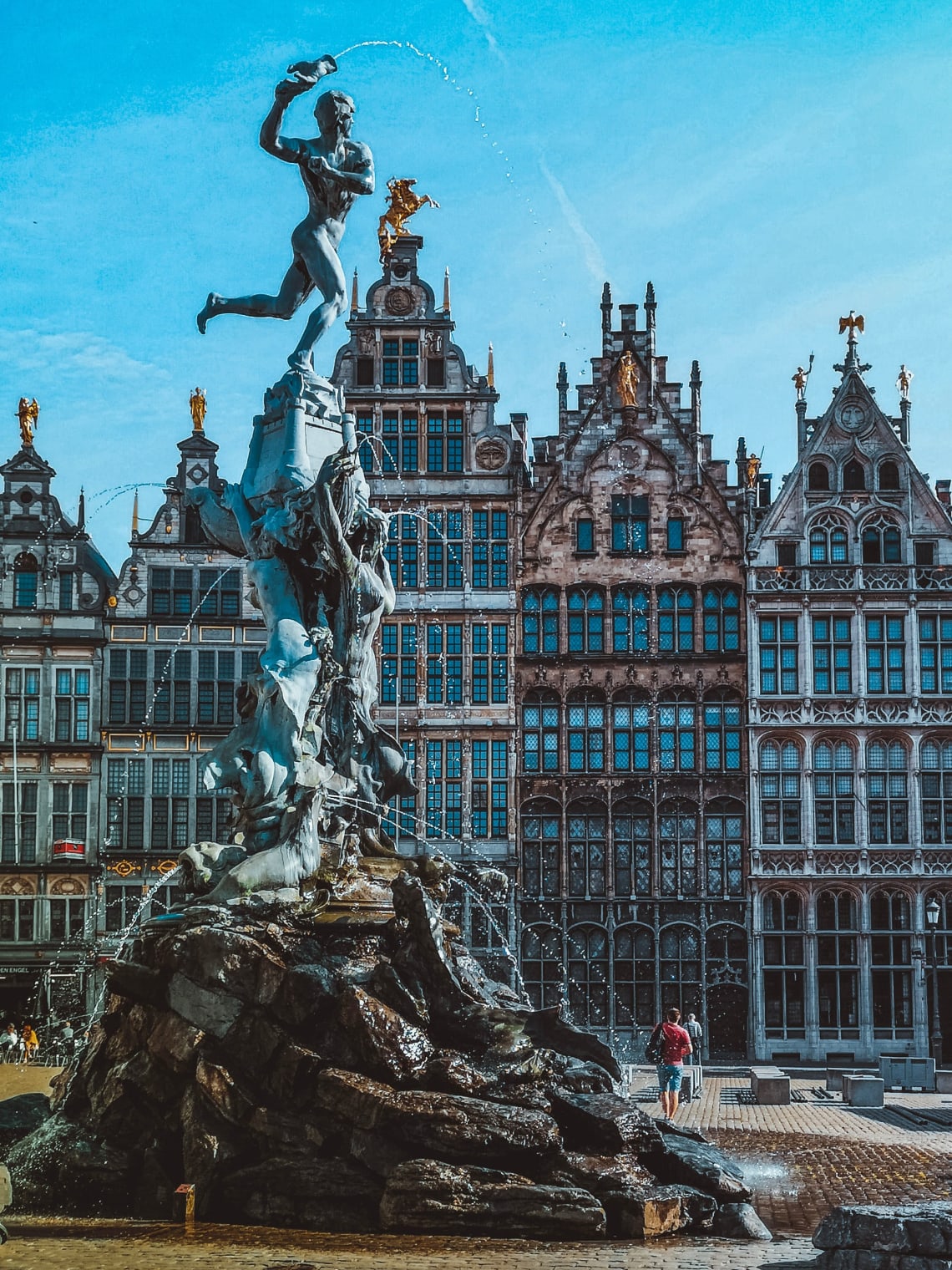 General knowledge of Belgium
Language: French, Flemish
Currency: Euro (€)
Population: 11.4 million (The population of Brussels is 174,383)
Religion: The main religion is Christianity, with Roman Catholicism being the most popular denomination.
Visas: People from most nationalities do not need a visa for a stay of less than 90 days.
Political significance: Headquarters for the European Union
Best places to visit in Brussels
Brussels has lots of amazing tourist attractions that are affordable, if not free. Here are all the best places to visit in Brussels, most of which are located in the city center and are very accessible for travelers.
1. The Grand Place
2. The Museum of Musical Instruments
3. Atomium
4. The Museum of Cocoa and Chocolate
5. Place du Jeu de Balle Market
6. Manneken Pis
7. Bois de la Cambre Park
8. The Gothic Cathedral of St. Michael and St. Gudula
9. Galeries Royales Saint-Hubert
10. Cinquantenaire Park
11. The Royal Palace of Brussels and Brussels Park
12. Train World and Schaerbeek Station
13. Winter Wonders
14. The European District
15. Mont des Arts
---
1. The Grand Place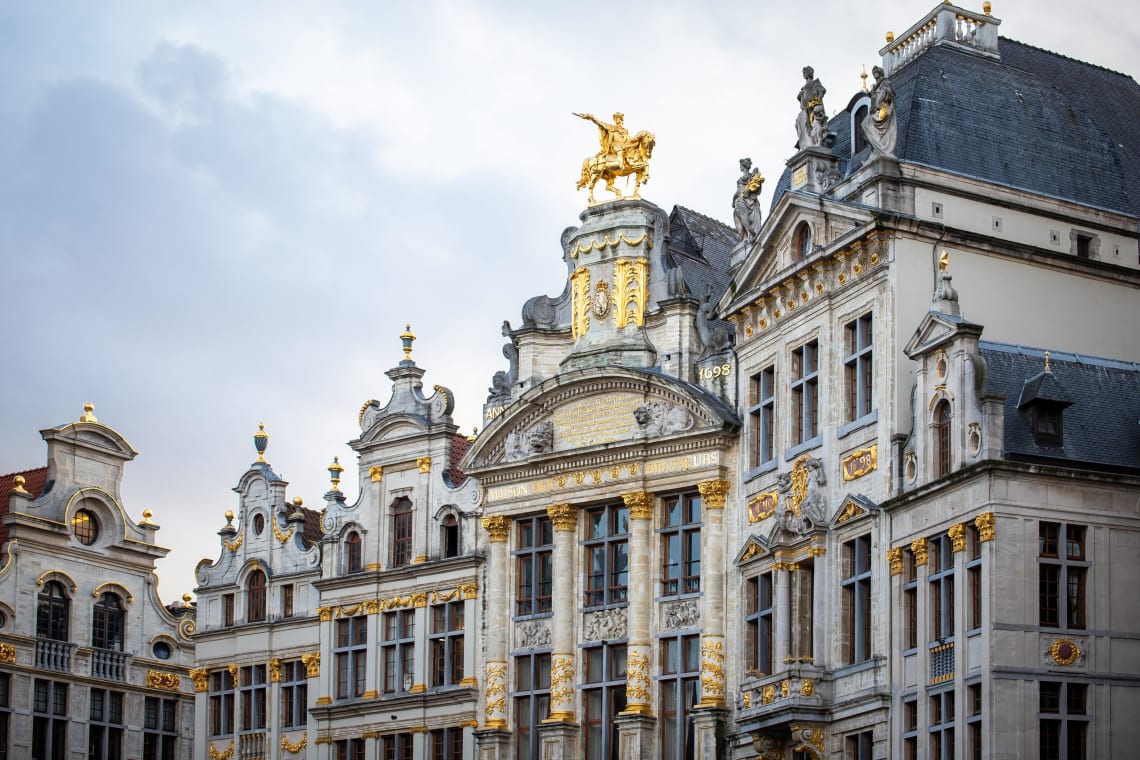 The Grand Place is the main square of Brussels, and it is easily one of the city's best attractions.
Quaint cobblestones fill the ground and incredible gold-trimmed buildings surround the square. The most famous building in the Grand Place is the magnificent Town Hall that was built in the early 15th Century.
The architecture and historical significance of the Grand Place is very impressive, and the spot has been named a UNESCO World Heritage Site.
This is one of the best places to visit in Brussels for free, and also one of the best places to visit in Brussels during Christmas because the square fills up with charming markets. Even outside the Christmas Season, sometimes you can find a little flower market in the Grand Place on weekends.
2. The Museum of Musical Instruments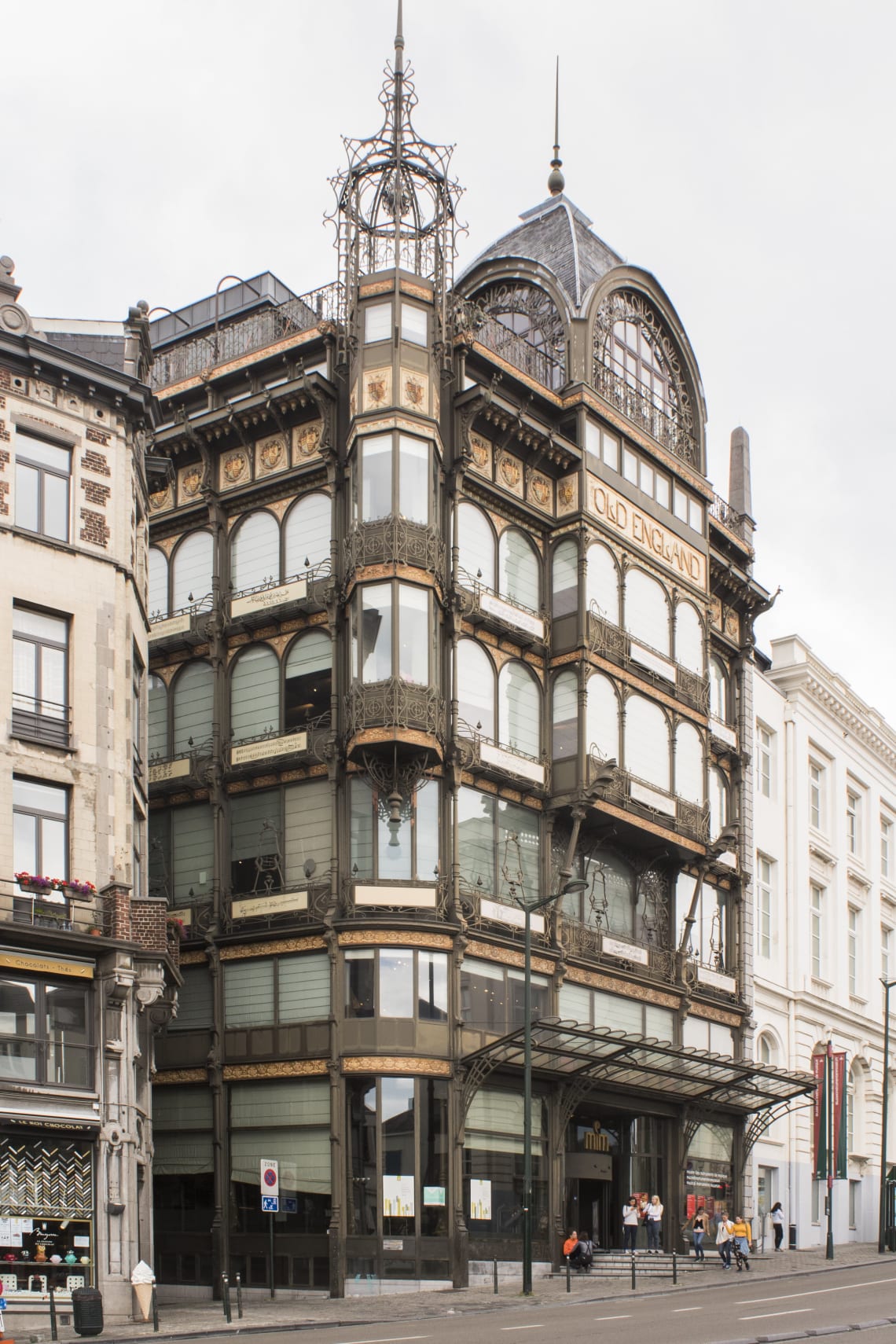 For a small fee of €6, you can enter the Museum of Musical Instruments and embark on a journey through time. The museum displays instruments from lots of different periods in history, some of them small and simple, some of them massive and magnificent.
There are over 7,000 instruments to view, and you'll get a headset that plays the instrument for you when you stand in front of it. This is super cool because you'll be staring at a weird instrument from the middle ages, having no clue what it sounds like, and then your headphones will actually play the music for you so you can understand the instrument better.
On the tenth floor of the museum, you can witness an amazing view of the city. The museum is open on Tuesdays through Fridays from 9:30 am to 5 pm, and Saturdays and Sundays from 10 am to 5 pm.
3. Atomium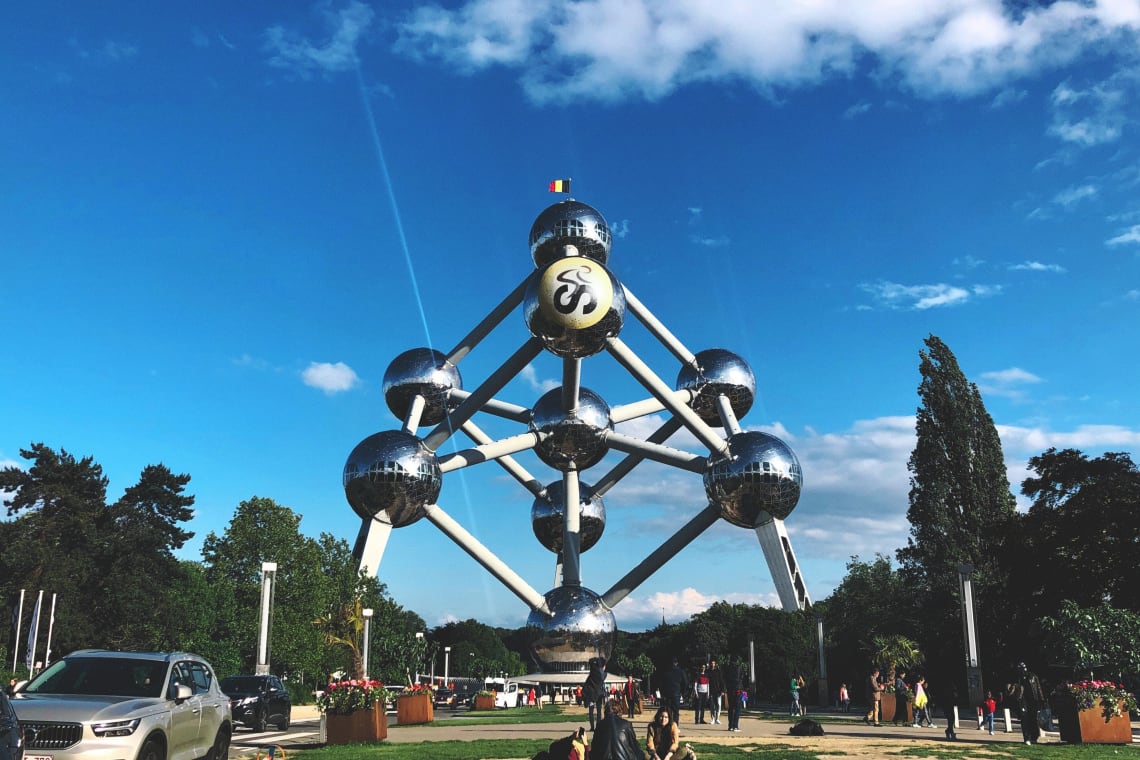 Originally created for the Brussels World's Fair in 1958, Atomium is now a significant landmark and museum of the city. The massive iron spheres are meant to show the composition of an iron crystal, and the whole structure stands at 102 meters tall.
Designed by engineer André Waterkeyn, the landmark symbolizes the importance of science. To enter Atomium, it costs €12 and you can visit all but three of the spheres. Inside is an exhibition that changes from year to year.
The top sphere has a nice restaurant, aunt here are also event spaces inside for various happenings in Brussels. Atomium is open every day from 10 am to 6 pm.
4. The Museum of Cocoa and Chocolate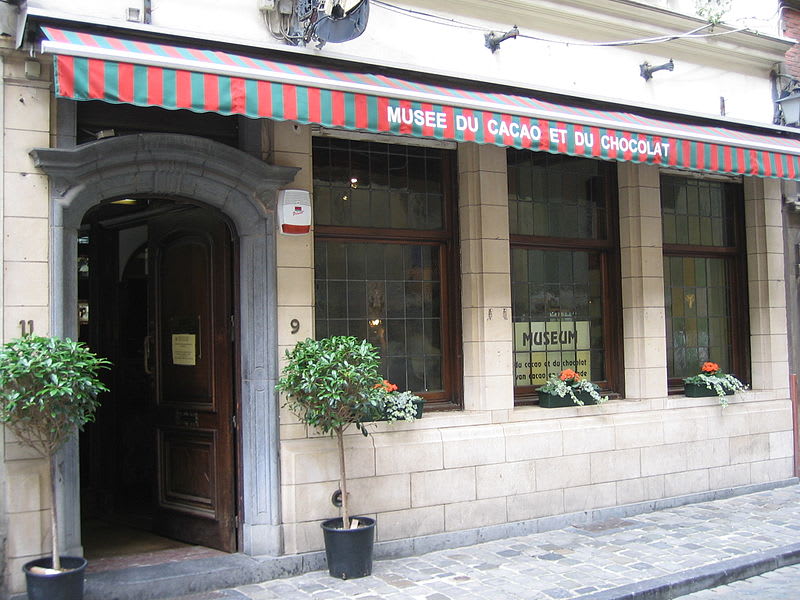 Locally known as the Le Musée du Cacao et du Chocolat, the Chocolate Museum is an amazing place to visit if you're a chocoholic or just a food lover in general.
Belgian chocolate is world-famous, so why not learn a bit more about how the heavenly treat is made?
The Museum of Cocoa and Chocolate has a lot of interesting chocolate sculptures and informative exhibits, as well as lots of free samples and a spinning wheel pouring out melted chocolate for dipping. You can also watch a demonstration to see exactly what the chocolate making process is like.
The museum is open every day from 10 am to 5 pm, and the entry fee is €6.
5. Place du Jeu de Balle Market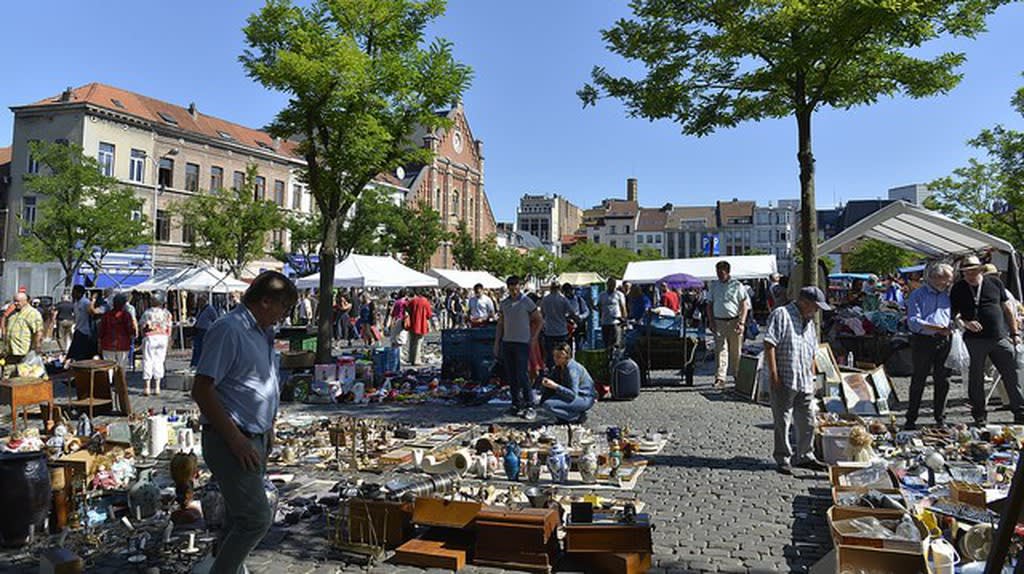 This outdoor flea market is also known as the "Old Market" to locals, maybe because the market has been running since 1873. This is one of the most-visited markets in Brussels, and it is open every single day.
The flea market is massive, and you can find everything here from vintage clothes, shoes and accessories, to books, CDs and records, to sculptures and artwork. The theme of the market leans towards the vintage side, so you'll find lots of antiques and unique items.
Even if you don't plan on buying anything, walking through the market is a fun and interesting experience. You'll see lots of cool stuff, including artifacts and antiques from hundreds of years ago.
The market takes place in the Marolles District, where markets and merchants have been thriving since the 17th Century. At 7 am the market opens, and it closes at 2 pm on weekdays and 3 pm on weekends.
6. Manneken Pis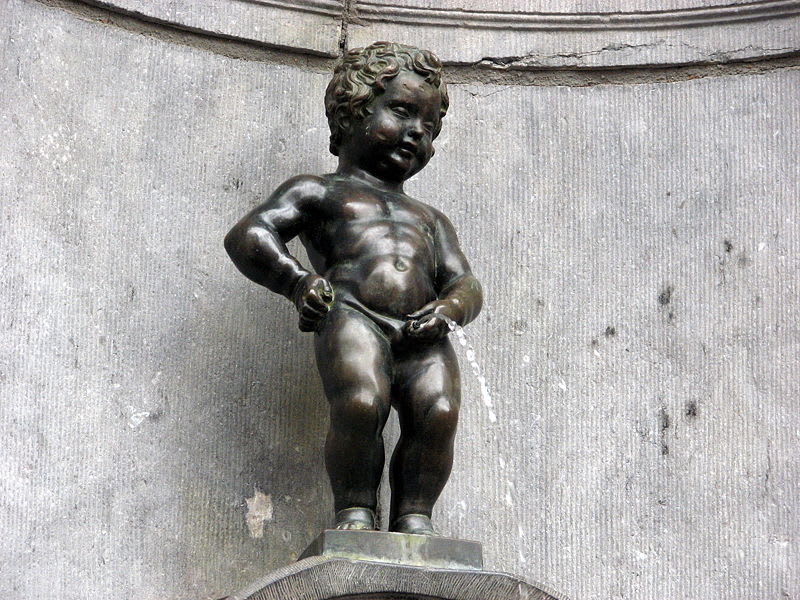 This is one of Brussels' weirdest and most famous landmarks. Manneken Pis is a small bronze statue of a little boy peeing in the fountain below. Locals dress the boy up for events in the city, and even though the statue is silly it has become a vital part of the framework of Brussels.
He represents the joy and lightheartedness of Brussels' citizens, and tourists flock from all over the city to snap a photo of the little boy. This is an easy place to visit in Brussels for free, so if you're in the area you might as well stop by.
7. Bois de la Cambre Park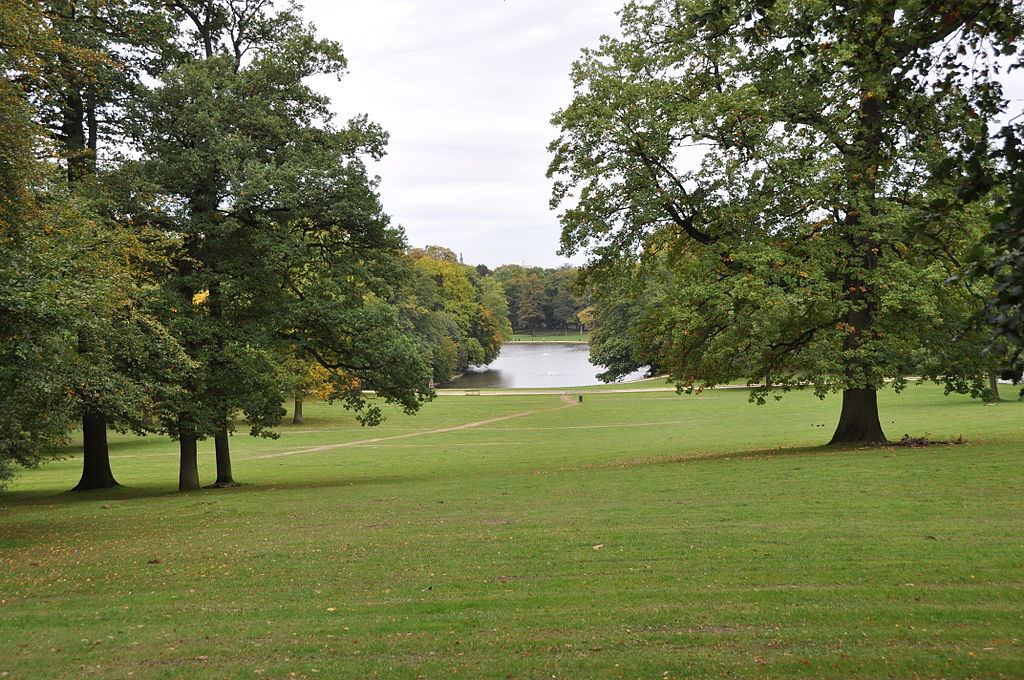 Just south of the city center lies Bois de la Cambre Park, a public green space that provides an escape from the busy city. The park borders the Sonian Forest and covers over 100 hectares.
You can come here for a day to explore the forest and its walking trails, have a picnic in the grass amongst local families, or to take a short boat ride on the lake.
The park is closed to cars on weekends, so it is a great spot for biking, running, or roller blading without worrying about car traffic. It is also completely free to visit!
8. The Gothic Cathedral of St. Michael and St. Gudula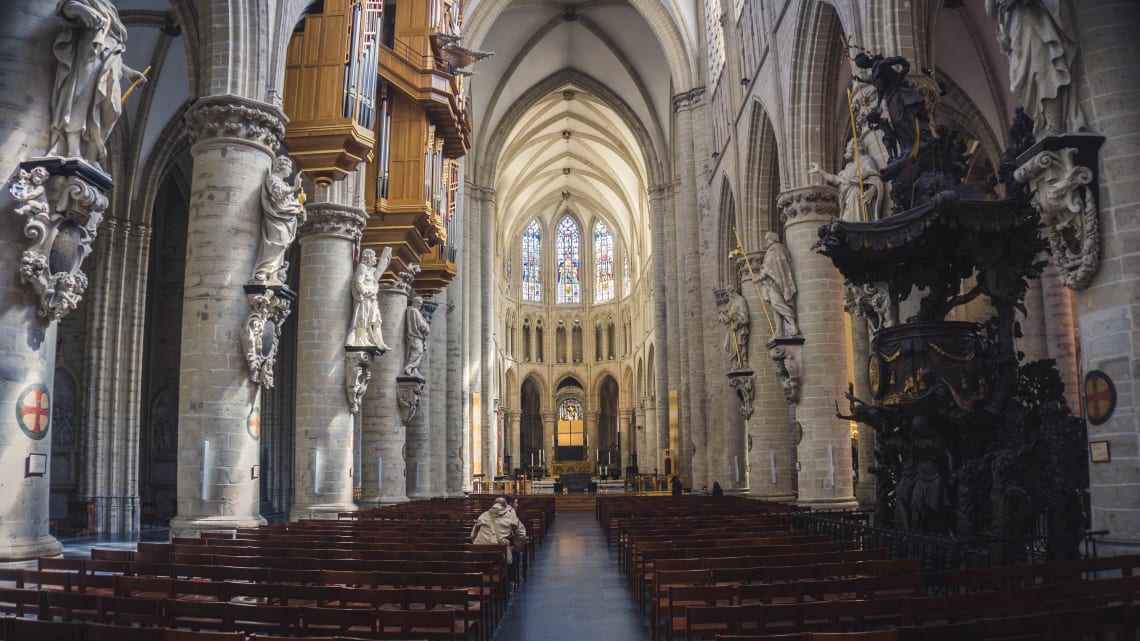 This gothic style Roman Catholic Church is located on Treurenberg Hill and is a beautiful addition to the urban landscape of Brussels. In addition to the Grand Place, this is also one of the best places to visit in Brussels during Christmas as you can often find carolers and concerts here.
It costs only €1 to enter the cathedral, and the opening hours are from 7:30 am to 6 pm on Mondays through Fridays, 7:30 am to 3:30 pm on Saturdays, and 2 pm to 6 pm on Sundays.
9. Galeries Royales Saint-Hubert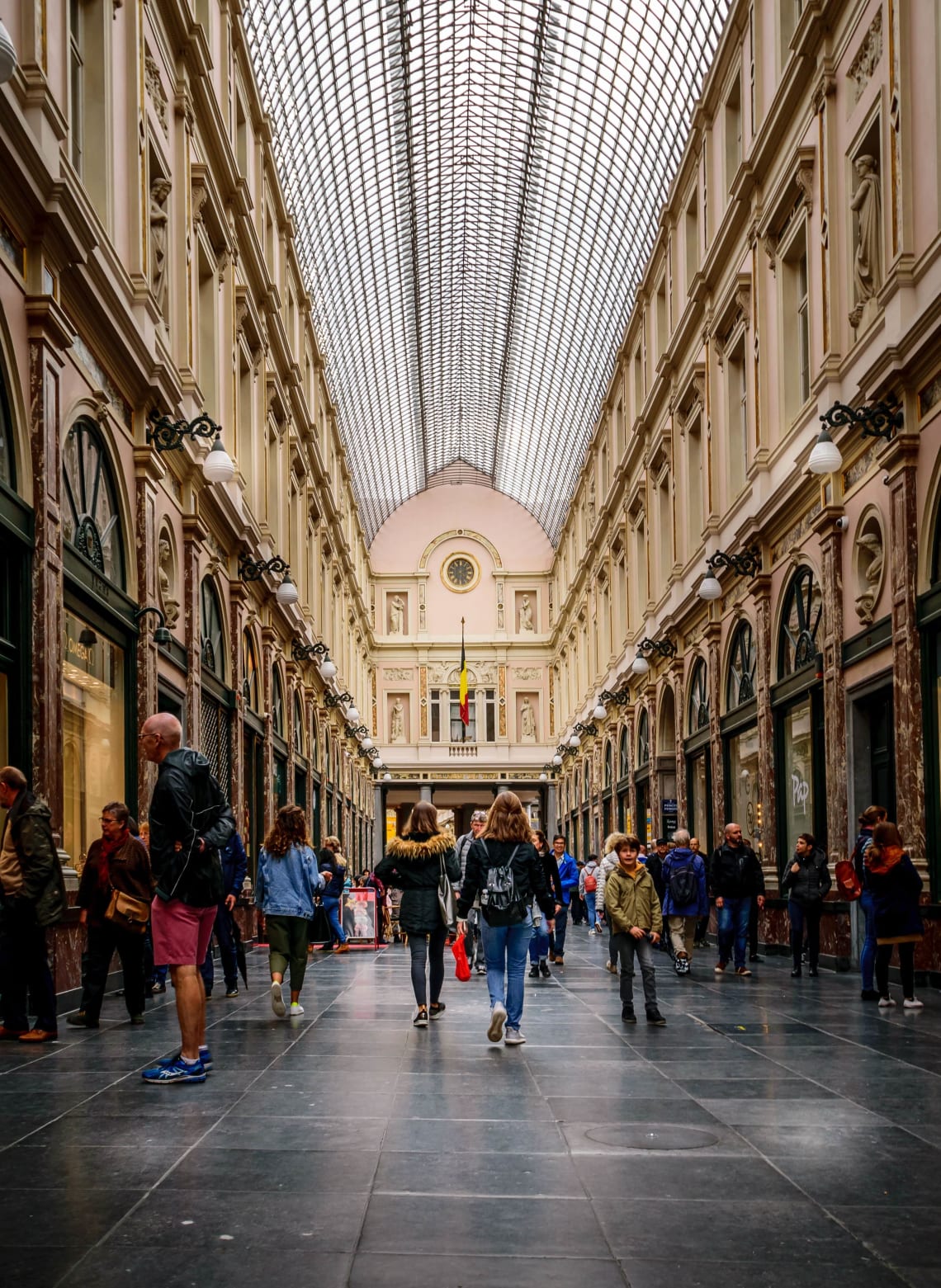 For those who like to shop, this is one of the best places to visit in Brussels. Built in the middle 1800s, this indoor shopping center is much more beautiful than your average mall. The ornate decoration, arched windows, and rustic styling makes the shopping center a stunning place to visit even if you don't plan on shopping.
There are three halls: the King's Gallery, the Queen's Gallery and the Princes' Gallery. All three are long and spacious with high ceilings, so this is the perfect place to come and window-shop on a rainy day.
10. Cinquantenaire Park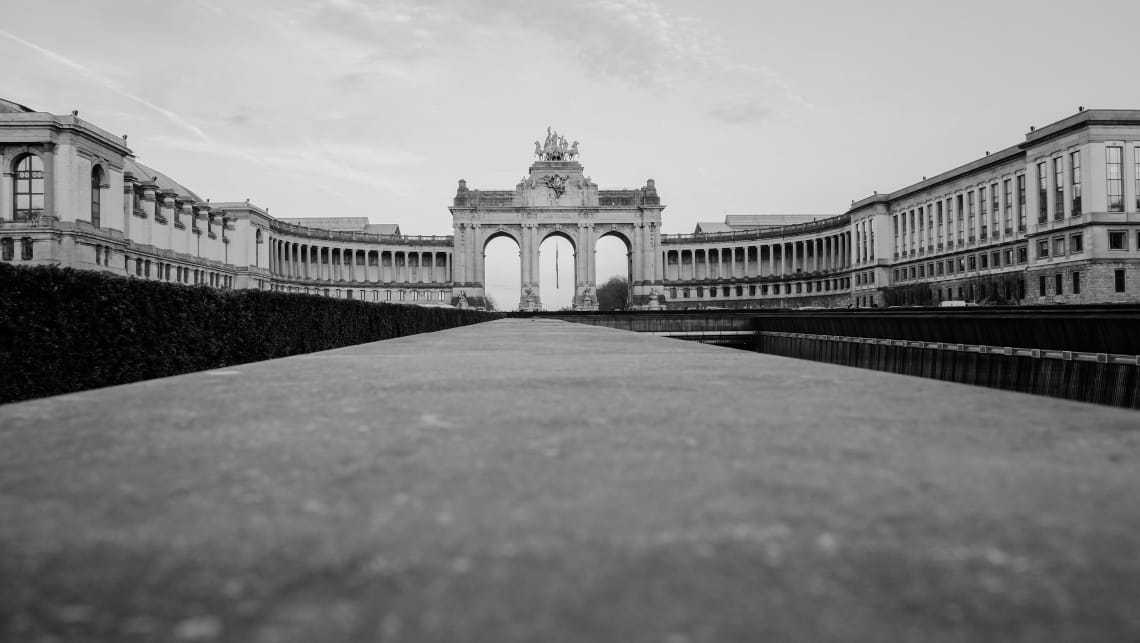 Also known as Jubelpark, this wide green space has lots of museums and monuments in addition to the beautiful gardens, picnic tables, and fountains. The park was built in the 1800s by King Leopold II in order to celebrate 50 years of Belgian independence.
There are three museums in the park: Autoworld, the Royal Military Museum and the Cinquantenaire Museum of Art. The most famous landmark in Cinquantenaire Park is the Arcade du Cinquantenaire, which is a magnificent and regal triple arch right in the middle of the park.
11. The Royal Palace of Brussels and Brussels Park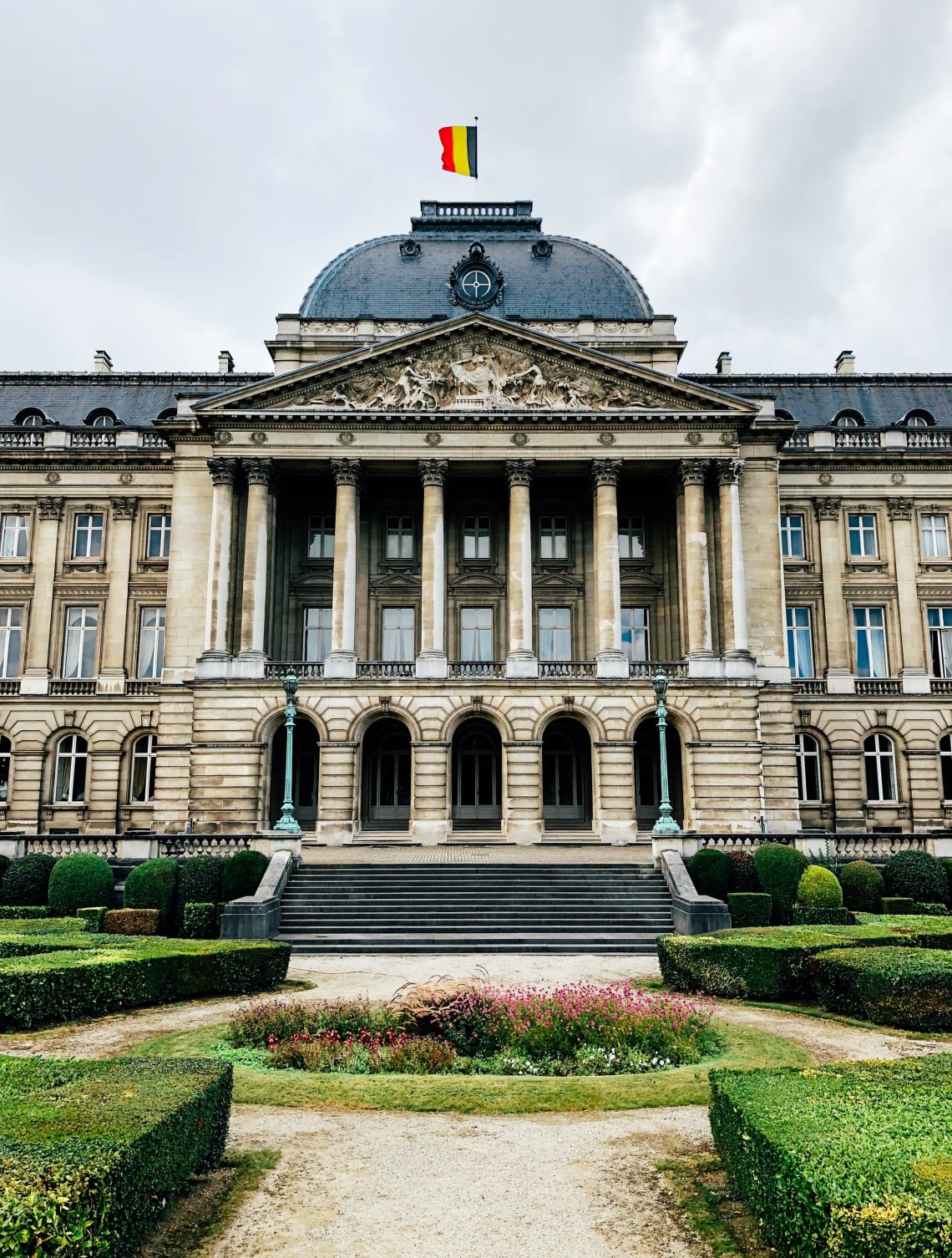 The Royal Palace of Brussels used to be the home for the Royal Family, but they now live in the Royal Palace of Laeken just outside the city. But the King of Belgium still used the Palace of Brussels as his headquarters, so it is a very important building to the city and the country.
The Palace is only open to the public in the summer. During July and August, you can enter the palace for free between the hours of 10:30 am to 5 pm (closed on Mondays). This is a great opportunity to witness the grandeur of one of Brussels' most significant buildings. Even for the rest of the year when the palace is closed to the public, it is still amazing to admire the building from the outside.
Brussels Park, also known as Warandepark, is located right next to the palace and is the largest public park inside the city center. So if you don't have enough time to venture to one of the further parks, this is a great stop inside the city for a picnic or a stroll.
12. Train World and Schaerbeek Station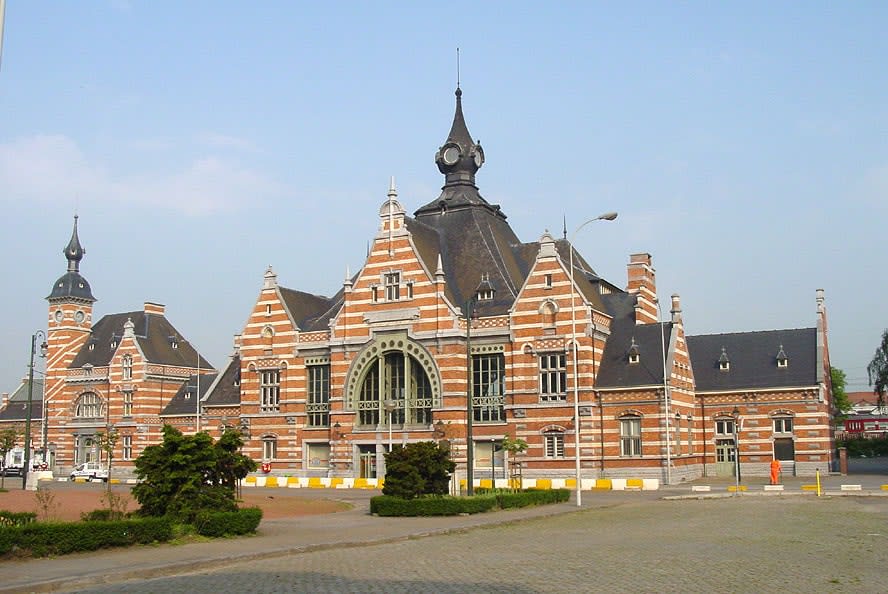 Train World is a relatively new museum in Brussels. It opened in 2015 inside Schaerbeek Station, a rustic red and white striped train station that is a famous landmark in the city.
The museum is, of course, about trains. It has the oldest preserved train in Europe on display, as well as lots of other cool pieces of locomotives throughout history. For those who love trains and learning about history, this is the place for you.
Train World is open from 10 am to 5 pm every day except Mondays. The last admission is at 3:30 pm because they recommend close to 2 hours for a visit. Tickets are €12 for people ages 18-64, and €9 for anyone outside that age range.
13. Winter Wonders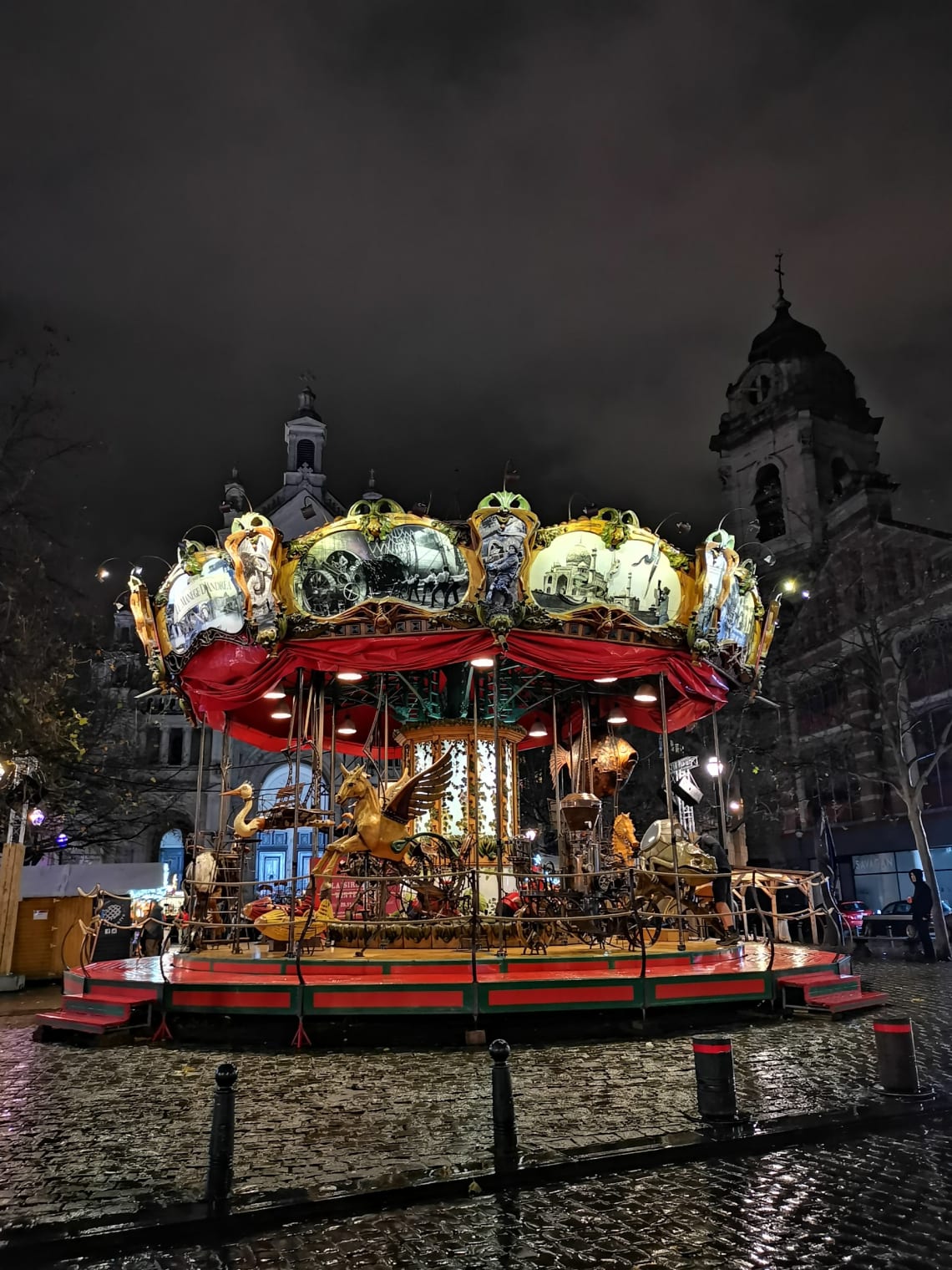 If you are visiting Brussels during the wintertime, you have to check out the Christmas markets. The entire "Winter Wonders" phenomenon is a collection of different Christmas-themed events and locations, and within the realm of Winter Wonders is all the places to visit in Brussels during Christmas.
The Grand Place is one of the most exciting parts of Winter Wonders to visit. Other public squares in the city that become festive are the Place de la Monnaie, the Place Sainte-Catherine, the Place de Brouckère and the Marché aux Poissons.
Common finds in Winter Wonders are lively Christmas markets selling trinkets, food, and drinks, Christmas trees, light shows, a ferris wheel, merry go rounds and other carnival rides, music performances, and parades.
14. The European District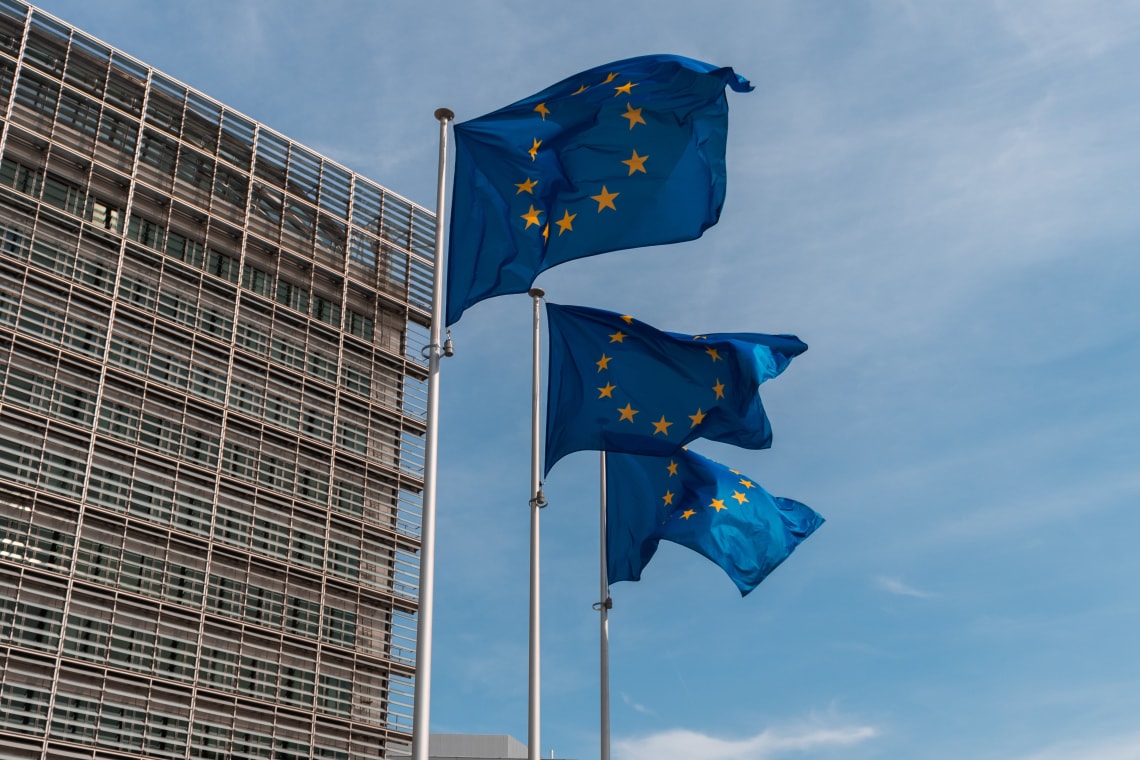 Brussels is the headquarters for the organization that serves to guide and unite some countries in Europe through economics, politics, and social rights: the European Union. This is such an influential part of European culture and history, so it is cool to see the place where all the magic happens.
The European District is the area where all the European Union offices are based, including the European Commission, the European Parliament, and the Council of Ministers. In the evenings, lots of EU employees hang out in the nearby parks and bars, so it is a very lively area to experience at night.
15. Mont des Arts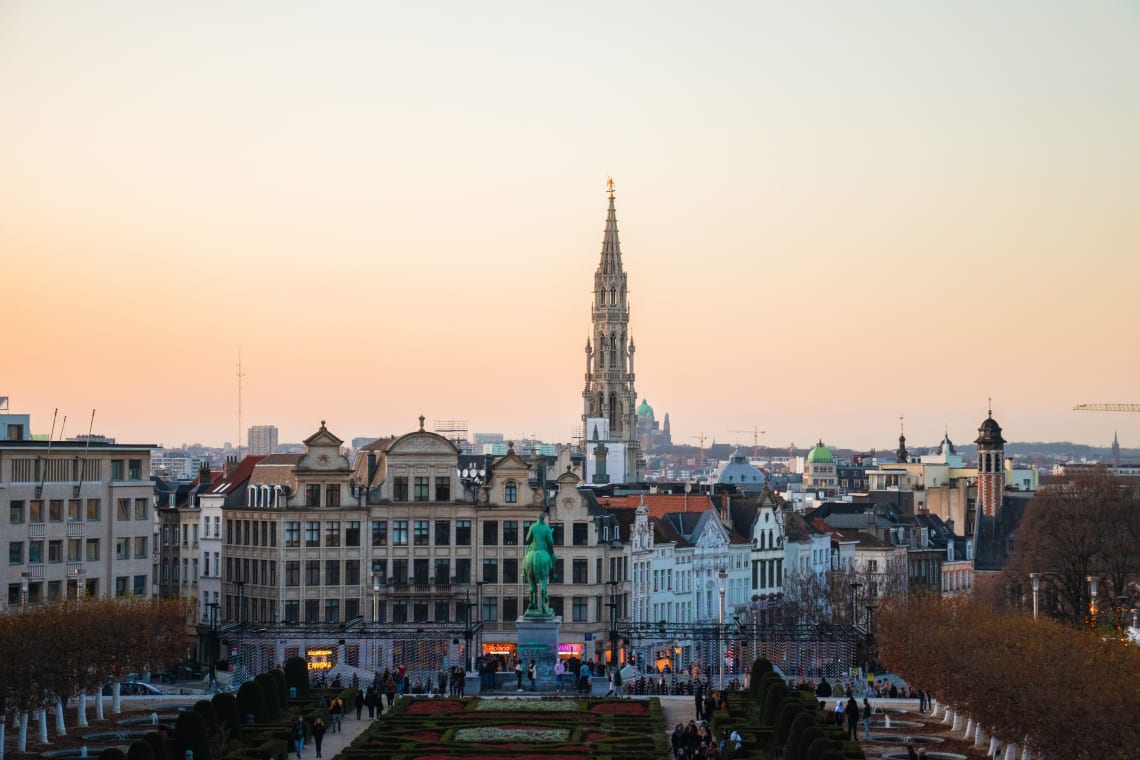 One of the best places to visit in Brussels for free is Mont des Arts, which translates to "Mountain of Arts." This is an area in central Brussels and was built under the orders of Leopold II. This king clearly had a lot of influence over the city and created lots of monuments that remain in modern Brussels.
In Mont des Arts, you can find landscaped gardens, statues, fountains, and other displays of public art, stairs leading up to a spectacular view, lots of museums, the Royal Library of Belgium and the National Archives of Belgium.
Many of the other Brussels attractions are located within walking distance of this central hub, so you'll definitely pass through here a few times while exploring Brussels. Mont des Arts is great for photo opportunities and for acting as a starting point for sightseeing in Brussels.
What to eat in Brussels
Belgium has so many local foods that are simply delicious. No visit to Belgium is complete without indulging in a few of the country's specialties.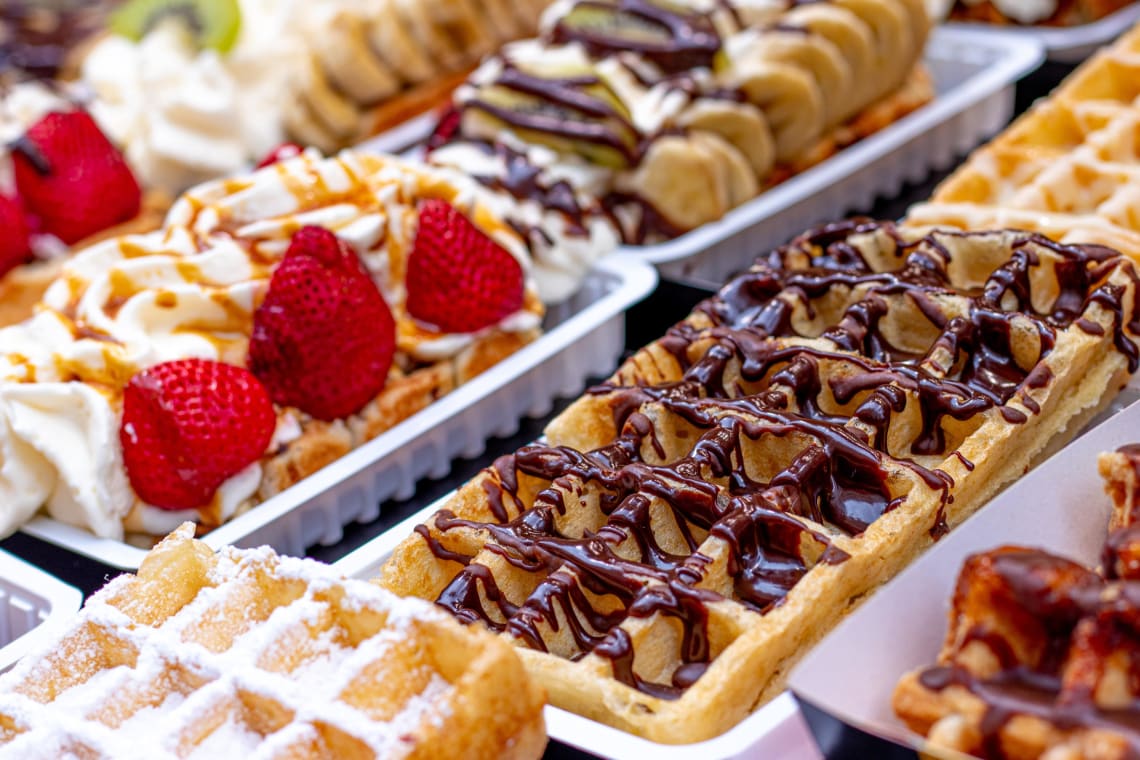 Brussels is quite cosmopolitan, so you can find lots of international cuisines in addition to the local classics. There is a Chinatown in the city where you can find delicious Chinese food, and all the usual international restaurants, like Italian, Thai, American, Indian and Japanese are scattered all over the city.
But for those who want to taste the staple food items of Belgium, here are the best foods to try in Belgium.
The Belgian Waffle
Belgian waffles are heavenly. They are light and fluffy, but large and thick at the same time. You can get them topped with everything under the sun, and they are cheap and plentiful in Brussels.
There are two main types of Belgian waffles: the Brussels waffle and the Liege waffle. A classic, fluffy Brussels waffle is the most popular, whereas the Leige waffle is a bit denser and doughier with sugar chunks caramelized into the dough.
You can't walk a few blocks through Brussels without finding a waffle shop. But some of the best cafés or restaurants to find classic Belgian waffles are Gaufres de Bruxelles, Maison Dandoy, Mokafé, and the café located right next to Manneken Pis, Le Funambule.
Pomme Frittes
For those who think french fries are French, think again. Classic french fries were actually created in Belgium, and the locals refer to them as "pomme frites." However, Belgian fries are much better than your average French fry from McDonalds.
They are soft on the inside and extra crispy on the outside, mainly because they are always cut by hand and fried twice. Sometimes they are cooked in animal fat for extra flavor, and they are usually served in a paper or cardboard cone with sauces on the side.
You can find Belgian fries in restaurants and cafés, but most locals get them from little stands or stalls in the street. Some of the best places to try high quality Belgian fries are Fritland, Belgian Frites, Chez Fernand and Chez Clémentine.
Belgian Chocolate
For those who love chocolate, (and seriously, who doesn't love chocolate?) Belgium has some of the best chocolate in the world.
Lots of well-known chocolate companies around the world, like Godiva, Neuhaus, and Côte d'Or, were founded in Brussels. There is an abundance of chocolate shops all over the city, in addition to the Chocolate Museum.
Pierre Marcolini is one of the greats, Laurent Gerbaud specializes in dark chocolate, and Zaabär Chocolate Factory and Planète Chocolat both have chocolate-making workshops available. In any of these shops you can buy chocolate bars, truffles, drinking chocolate and other snacks, all in unique flavors or just plain.
All you have to do is wander to any chocolate shop you see and taste anything your heart desires; you definitely won't be disappointed.
Pastries and Desserts
If waffles and chocolate aren't enough, indulge in some of Belgium's best pastries. People normally associate lots of desserts with France, including éclairs and macarons, but you can still find high quality ones in Belgium due to the close geographical proximity.
Éclairs et Gourmandises is an amazing bakery that sells sweet and savory éclairs. Ladurée is a famous Paris-based dessert shop that also has a location in Brussels, so you can try these colorful little treats there.
Other pastries that are native to Belgium are mattentaart, a flaky pastry stuffed with cheesecake, Flemish beignets, hot dough balls sprinkled with powdered sugar, and merveilleux, little meringue cakes covered in cream, chocolate chips, and any other desired toppings like fruit or nuts.
Like chocolate shops, bakeries and pastry shops are scattered all over Brussels so you won't have any trouble finding some sweet treats in the city. Some of the most famous bakeries in Brussels are Les Temps des Tartines, Charli, and Chouconut.
Where to drink in Brussels
Heading to a pub, bar or restaurant for a glass of beer or wine is a widespread part of European culture. But beer is definitely the most cherished beverage in Belgium.
The Belgians have been making beer for hundreds of years now, and their beer is known and loved all over the globe. There are so many different beers produced in Belgium that you just have to ask the locals what they recommend.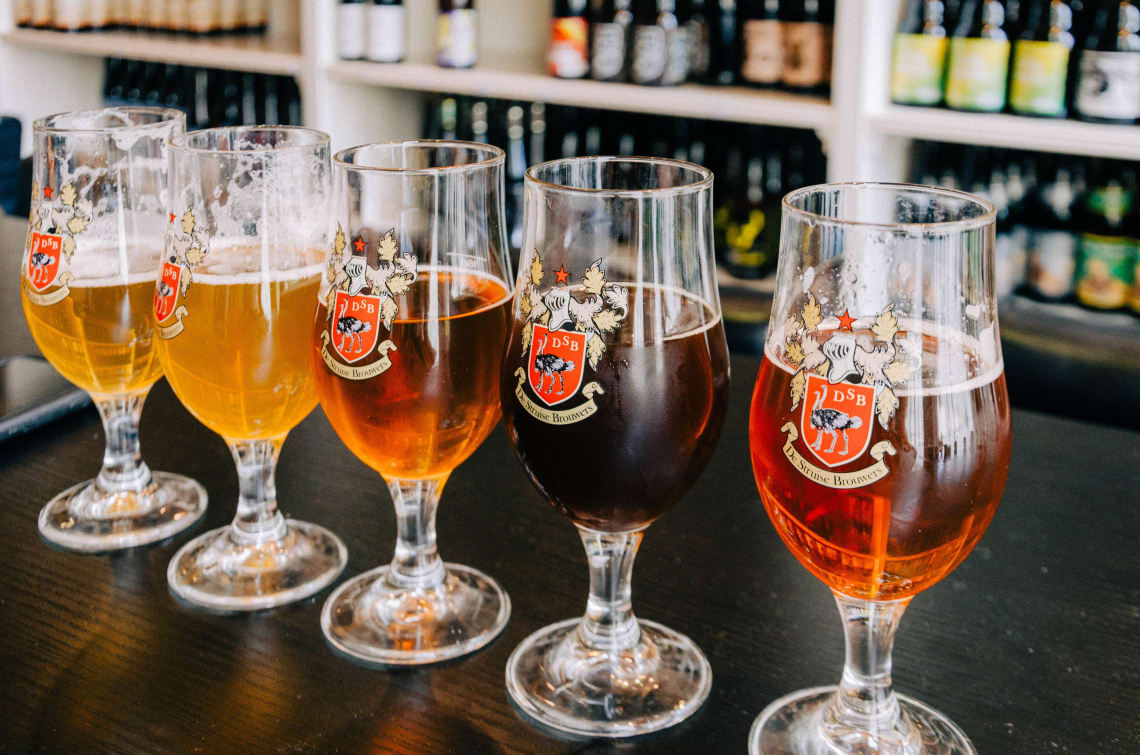 If you're a beer fanatic, you can definitely learn a lot about Belgian beer just by talking to the local bartenders and brewers. Even if you are not a huge fan of beer, kick back in a bar and order a glass or two just to taste the country's favorite beverage.
Delirium Café is the most famous place to drink beer in Brussels. This café holds the Guinness World Record for the most beers offered in one establishment. They sell over 2,000 beers, so you have lots of options when ordering a drink!
Toone is a classy bar that also doubles as a puppet theater, and L'Archiduc Bar is a rustic jazz bar with lots of high quality international wine options.
Other highly rated and unique places to drink around Brussels are Goupil Le Fol Wine Bar and À La Mort Subite.
The best time of year to visit Brussels
Located in northern Europe, Belgium has a temperate climate, meaning the summers are warm and the winters are cold.
Summer has the nicest weather, with warm temperatures and sunny days that are perfect for exploring. Because summer is peak tourist season, the city's attractions get a bit more crowded and flights are a little more expensive.
The winter can get very cold and bitter, so the weather is not ideal. But the charming Christmas Markets that fill the city in December make the cold seem cheerful and festive rather than dreary. Brussels is magical at Christmastime, and because this is the off-season the flights to Belgium will be a bit cheaper.
Spring and Autumn are probably the best times to visit Belgium. The weather is favorable and the crowds are tame. But there really is not any bad time to visit Belgium!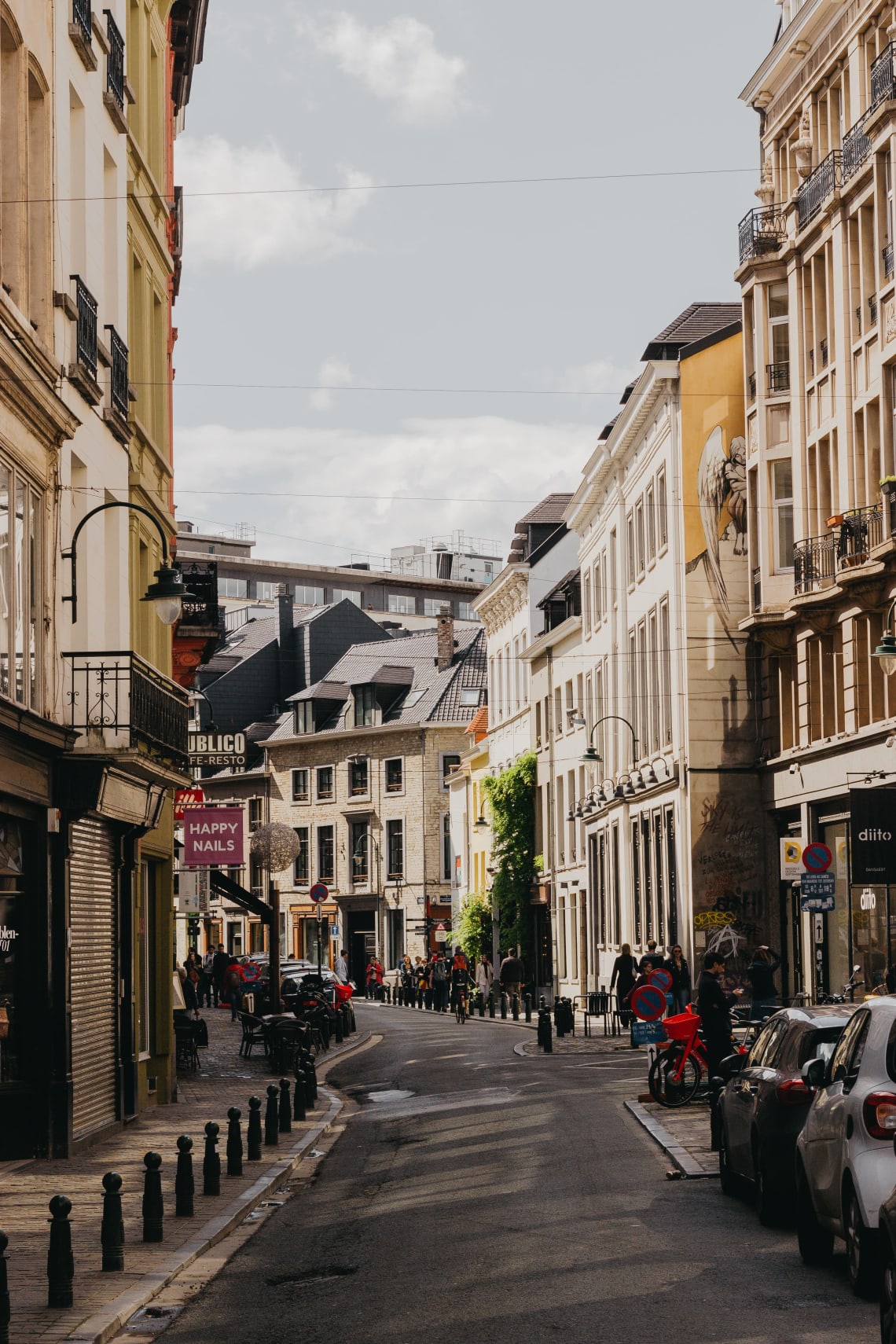 Safety in Brussels
Brussels is, overall, an extremely safe city for travelers to visit. Public transport is straightforward, though you can pretty much walk anywhere.
The biggest concern while traveling to Brussels is petty crime like theft and pickpocketing. To avoid these issues, follow simple travel safety tips and just keep your wits about you while exploring the city. Try to avoid walking alone, especially at night. While walking through crowded areas, keep a close eye on your belongings and leave most of your valuables locked up in a safe in your hostel or hotel.
The biggest crowds you'll find in Brussels are in the Grand Place and in the Christmas Markets. Just be smart while exploring these areas, especially at busy times. If you use common sense, you shouldn't have any problems in Brussels.
How to get around Brussels
Walking
This is easily the best way to get around Brussels. The city is small and pedestrian-friendly, so it is very simple to reach all the best attractions on foot. You should probably have a map or a navigation app like Maps.Me or Google Maps to help you navigate your way around.
Biking
It is very common to hire bikes in Brussels so you can travel more quickly around the city. Some popular bike rental places are CyCLO, Pro Velo, Blue-bike, and Swapfiets. Jump and Billy Bike also offer shared electric bikes for rent.
Metro
The metro in Brussels is very simple. It has only six lines, and a one hour ticket costs €2,10. You always have to validate your ticket before you get on the subway to avoid being charged a fine.
Bus or Tram
The bus is a bit slower than the metro and a ticket also costs €2,10. The tram is another great public transport option, as it runs on its own tracks and doesn't interfere with road traffic.
You can buy a bus or tram ticket in a metro station or local newsstand. On the bus, you can even buy a ticket from the driver, but it is recommended to buy your ticket beforehand just in case the driver runs out of tickets. If you plan on taking lots of public transport, you can get an unlimited one day pass for only €6.
Traveling in and out of Brussels
Europe has such an advanced system of public transportation that traveling around is a breeze.
Trains and long-distance buses are cheap and easy when traveling to other cities in Belgium or to other nearby countries. Brussels also has an international airport for flying in and out of the country.
For those who really want to save money while traveling, you can also take an overnight bus to and from Brussels to nearby cities like Amsterdam, Paris or London. Overnight buses aren't the most comfortable, but they are super cheap and they help you save money for a night's accommodation.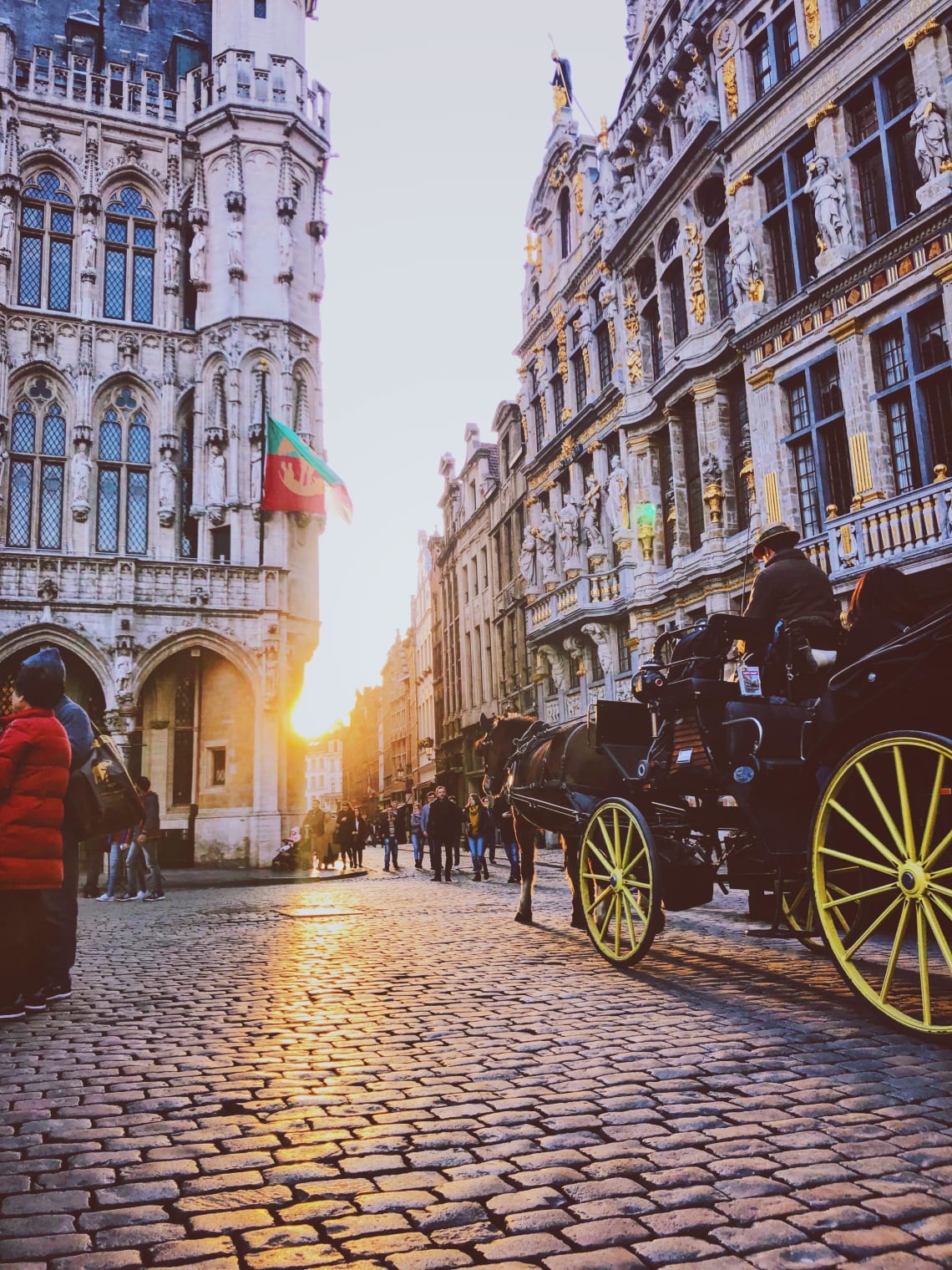 Worldpackers experiences in Brussels
If you have a few weeks or more to spend in Brussels, why not try something different than the average tourist experience?
Doing a work exchange allows you to live like a local while working in exchange for free accommodation. This means you can experience the local culture more in-depth while saving money.
For budget travelers who are keen to learn about different ways of life and have enriching cultural exchanges, this is the perfect opportunity.

There are two amazing volunteering opportunities within Brussels, both of them in hostels. Hostels are amazing places to do a work exchange because they are social environments where you can meet lots of locals and other travelers. You are bound to make close new friends, and you'll have ample time to explore Brussels on your time off.

This hostel needs housekeepers and bartenders. You will work 27 hours per week with one day off, and you'll have free breakfast, lunch and dinner in addition to a free bed in a shared staff dorm. You will also get free laundry and events, and you'll get to learn some useful new skills.

This hostel needs kitchen-hands, gardeners, housekeepers, and reception workers. There are different jobs here to suit all sorts of skill sets, and you'll have three days off per week plus free breakfast.
If you are traveling around Belgium, there are plenty of other work exchanges available around the country. For example, you can volunteer at a holistic retreat center in Kapelle-op-den-Bos, help out with garden projects at a retreat center in Galmaarden, or learn about permaculture at an eco-farm in Heist-op-den-Berg. These volunteer experiences allow you to get outside, connect with nature and work with your hands.

For those who prefer the cities and like the idea of working in a fun, social hostel, you can also volunteer in hostels in Bruges or Antwerp.
So head on over to Belgium, do a work exchange, explore Brussels, eat lots of waffles and chocolate, drink beer, and enjoy yourself!