Top reasons why volunteering is important for personal development
Why is volunteering important? It's more about yourself than you might guess. It's beneficial for you, your community and it's a great way promote the change you expect in the world.
6min
Volunteering is the essence of connection, growth, and fulfillment. Providing many benefits, it's definitely worth doing your bit to help.

Let's start with the basics, what is volunteering? It is essentially unpaid work; providing a service for the benefit of others and helping a community to thrive.
The range of volunteering work is endless; gardening, digital marketing, cooking, cleaning, social care, education, etc. Whatever you can think of, you can probably help out in some way, but there's more to it than just the work itself.
Sometimes people think of volunteering as long hours in a community centre, but that's not always the case. There are so many opportunities out there now it doesn't have to be so constricted.
In fact, you can volunteer anywhere in the world if you fancy it, and you can give as much time as that suits you. It should be something you enjoy and look forward to do, make sure you feel comfortable with the required task and the applications's conditions.
Check this guide to learn more about How to find volunteering opportunities around the world using Worldpackers.
So why do people volunteer?
If you want know, why is volunteering important? We need talk about why do people volunteer too! Well, do you ever find yourself feeling a bit lost, perhaps searching for new life meaning? Often when people think about this, they need something to give themselves purpose, and what better way to do that than volunteering.
Think about it like this, have you ever lent your friend a shoulder to cry on, and in return they buy you a gift as gratitude for your kindness? You gave them something quite simple, but their appreciation was so great they gave back to you. Maybe it hasn't gone quite like that, but you get the point.
With volunteering, you might do X amount of hours a week, but you have provided a community with growth, nurture, and knowledge. That alone is enough to make you feel fulfilled, but there's more to it than just that.
What you can gain from volunteering is priceless, excuse the pun, and this can range from things like meeting new people, all the way to progressing your career. In-between those you have other benefits like improving your mental and physical well-being, and who can argue with that! Whether you volunteer in your local community or travel abroad, you're bound to have the best time and feel so rewarded for your work.
You might also like: What is a Staycation and why now is the best time to have one
Why is volunteering important to the world?
Again, volunteering provides a good deal getting to learn new skills and experiences, good well-being, cultural enrichment, building confidence, and of course, strong relationships around the map.

Creating meaningful connections with others is powerful and it's one of the best parts of volunteering. It has a very positive effect on our well-being.
Volunteering improves sense of purpose and personal accomplishment. Whilst you are giving your time for the benefit of others, you are also benefiting yourself at the same time, win-win game, right?
It can also help improve mental health issues such as anxiety and depression. Whilst your mind may be frazzled and you may be feeling low, knowing that you're making a difference in someone else's life is a sure way to boost your serotonin. It may give you back that sense of control you may be missing.
Aside from your own benefits, the core reason for volunteering is, of course, to help people. Have you ever noticed that often doing something for others unasked feels so much better than just doing it for profit? That's because you're taking the initiative to help out of the kindness of your heart.
When you volunteer, you see that difference you're making for a community, you take part in the change we want in the world.
Why is volunteering important for the community?
Besides the personal benefits, the importance of volunteering in your community allows you to focus on what you can do for others. And that's crucial.
What you offer can help a community to grow and help sustain the work that has already been done, without the worry of relying on profit. Often communities might not have enough funding to grow and so they need the generous help of others to get by.
The great thing is, you don't have to volunteer for months if you don't want to. Giving just a few hours of your time will have a positive impact and will always be highly appreciated.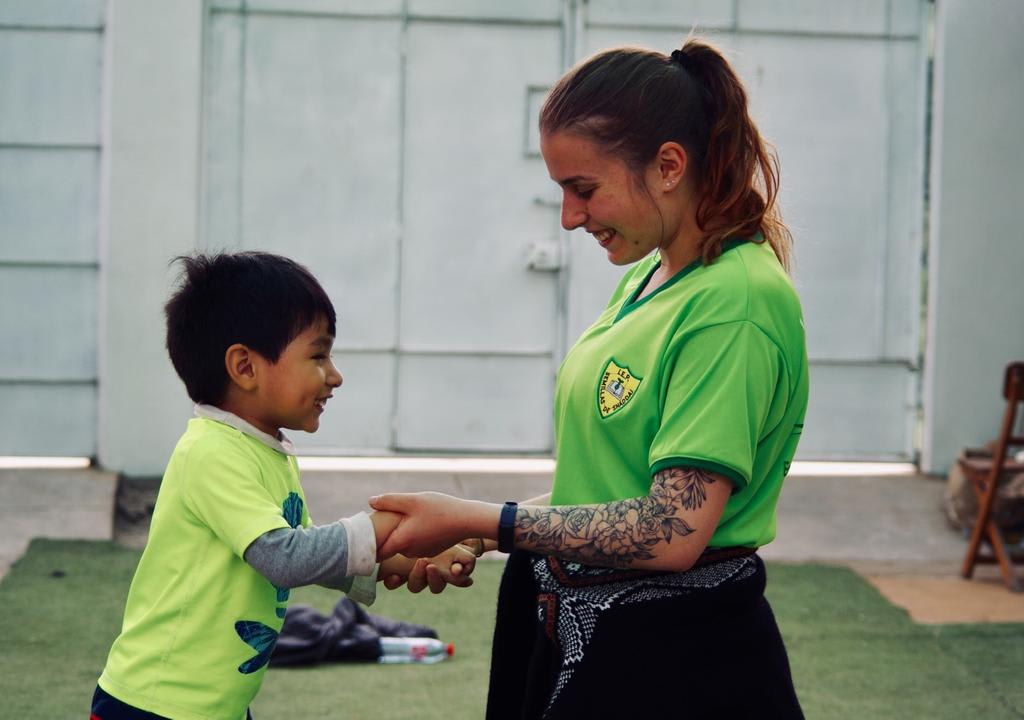 Alongside the community growing itself, it gets people more involved in what is going on and therefore creates stronger connections.
Gathering people together to do a bit of gardening is practically group therapy, and you can make friends whilst doing so! The best part? After all your hard work, you'll get to see just how big an impact you made, and there's no better feeling than that.
Volunteering is such an authentic way to give a little of your time for a good cause. To you, it might just be a few hours, but to the community, it's a lifetime of honor and prosperity.
Keep reading: How to include (and leverage) travel on your resume and How to practice self-care when traveling
The importance of volunteering in you community
Your community is your home, and so it must be cherished and respected. Think about it like this, if you bought your own house, you'd want to make it look nice and welcoming right? Well, that's what local communities want to do.
That's where you can help; by giving some of your free time you can make sure your community keeps flourishing.
As you volunteer you will find out that you learn, not just related to the work you're doing, but the way you're doing it and why matters to the people you're doing it for.
Additionally, whilst you're volunteering you may meet people in your community you never knew, completely outside your social bubble but with the same goals you have. That's how you make social network through meaningful hard work.
How come volunteering may change the path of your career, or even so, your life?

Volunteering is a great example to show you're willing to put in the work for others, rather than just yourself. Often it is expected money in return for labor, but volunteering brings to the spot an alternative value: it is a selfless act we often forget to take the time to appreciate what we already have and be grateful for it. Remember always be humble to learn and sharing.
Why is volunteering important? Read more in our articles:
How to start volunteering in 4 steps
1. Define what type of volunteering you want to do
Make yourself these questions and start by narrowing these options down: What type of job are you looking for? Locally or volunteering abroad? How many hours are you available?
Since 2014, Worldpackers is a global community for aware travelers and welcoming hosts that connects thousands of unique experiences, promoting personal development and world changing through volunteer jobs. You can help the world become more sustainable while you visit different cultures.

2. Look at places to volunteer
If you want to volunteer locally, reach out to your community centre, NGOs, libraries, hostel, teaching languages, and so many places.
If you're looking to volunteer, Worldpackers is a great site for finding fantastic volunteer opportunities, and it makes it easier to have all the communication and details on one site.
3. Start applying!
Whether local or abroad, just get your name out there. The more you apply and make yourself known, the more opportunities will arise.
4. Get out there and do it
Whatever you end up doing, and wherever it is, it will provide you with so much joy and fulfillment you'll wonder why you didn't start sooner.
Just go enjoy yourself and see what difference you can make to the volunteering world. After all, it has so much to offer, and you have so much to give.
Keep reading about volunteering and personal development with Worldpackers, look: