How to choose the best travel backpack
What should you look for in a quality travel backpack? How can the perfect backpack make travel easier? How does the way you travel influence the kind of backpack you need?
10min
So... you booked your flight. Or you decided yourself to hitchhike all the way from Alaska to Argentina. Or you bought a bus ticket. It doesn't matter — your trip is starting soon.
Your life is going to change in a way that you cannot imagine.
The day is coming and you realize you haven't packed yet. That stressful moment where you have to decide what to take with you, and what to leave behind. But let me ask you a question. Have you decided where to put all those clothes and accessories?
Are you taking a big suitcase with wheels on it, or have you chosen a backpack?
It seems like a not-so-important question. But believe me, it is. Choosing the right piece of luggage is one of the most important things you should do before traveling.
Ultimately, your chosen luggage will be the place where you keep all of your belongings. Your entire life! And you have to be comfortable with it.
Let's talk a little bit more about it.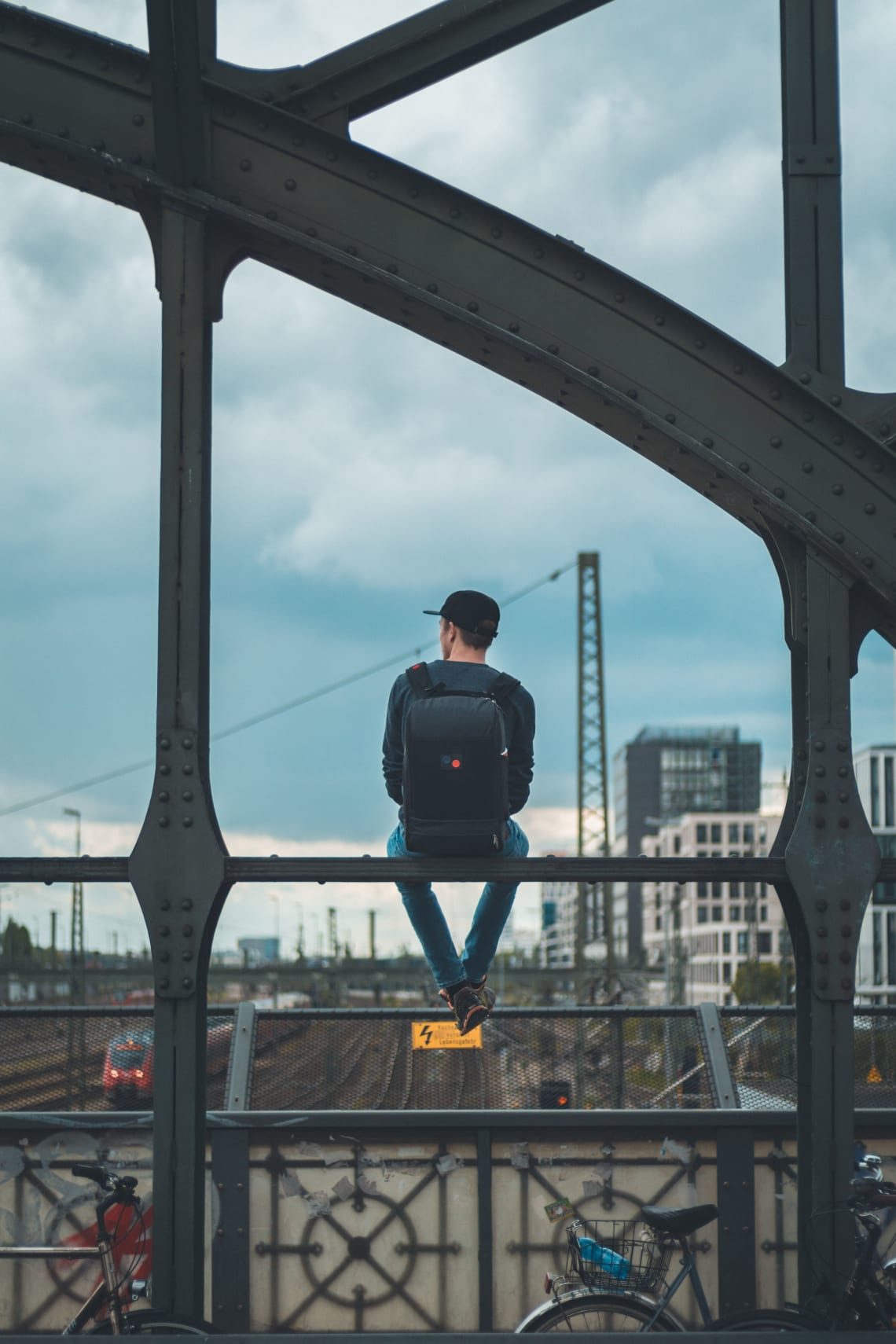 Why choose to travel with a backpack?

Have you ever thought about how can a great quality backpack make your travel dreams easier?
Traveling with a suitcase with wheels can be... fancy.
Imagine yourself going into the airport with that expensive piece of luggage, almost an extension of your arm. But have you thought about how comfortable it would be to have a suitcase with wheels on the streets of Rome? How about on the dirt roads of Myanmar? Even the Metro in London or Madrid! And this is not even to mention how much you will suffer when your suitcase's wheels brake, and you will need to carry all of its weight on your arms.
Think about a good, quality backpack. Something comfortable. Something with enough pockets, not too small, not too big.
Consider how things will become easier because of it. A backpack can fit in many more places than a suitcase can. You can even take it with you on the plane, as a carry-on, and not have to wait half an hour at those annoying carousal belts at the airport. Imagine how much money you will save. And your luggage will never get lost!
Using a backpack will give you one of the most important things when traveling... flexibility.
You will feel more agile as you won't need to drag around your luggage with wheels. You can choose to travel to Sapa, in the mountains of Vietnam, and not worry about how to carry your things. Well, at least personally, I think having a backpack strapped to your back with a good hip-strap is much better than carrying your big suitcase in your arms all the way up, right?
If you travel with a backpack, you can always drink that morning takeaway coffee you love. How would you do it otherwise, if you have have one hand carrying your suitcase and one hand using Google maps?
See? Backpacks make life easier.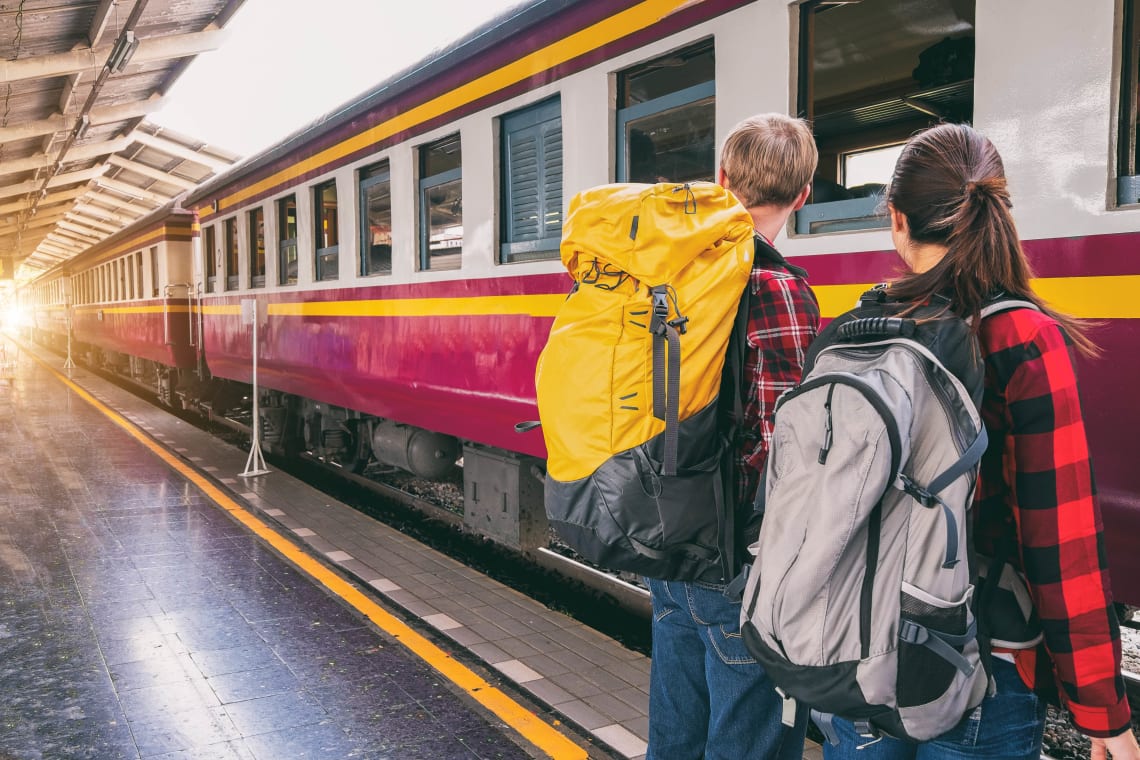 How does the way you travel influence the kind of backpack you need?

Okay, let's say my words so far have convinced you and now you want to take a backpack with you. So it's time for a new question.
What should you look for in a quality travel backpack? Or, how do you pick the best travel backpack? In order to answer this question, you have to think carefully about what kind of trip you're going to take.
For example, for the last year I have been traveling with a 38 liter Kathmandu carry-on backpack I bought in New Zealand.
But, for the past year, I've lived always in summer climates (I chase the sun as I travel). And at the time I bought my current backpack, I was well-aware of my intention to travel with the sun. Since I am always in cities with good weather, I don't have to carry heavy stuff. Only a few jackets, a few jeans or trousers and one big warm jacket I always take with me on the plane.
There were a few more reasons why I picked this backpack. One of them was that me and my girlfriend were traveling on a budget. We had planned a big trip around Asia and Europe, with stops along the way to volunteer in different countries with Worldpackers.
This meant we needed to save all the money we could. Having a carry-on backpack saves huge amounts of money in luggage fees. Not only can we take any low cost flight we want, but we don't have to worry about adding an extra piece of luggage and paying a silly amount of money.
Furthermore, apart from money, we are winning time. And that's THE most important thing about only traveling with a carry-on backpack. We can go to the airport only one hour before our plane leaves; no need to go to the counter two or three hours before. We check in online, go through security check and that's it, straight to our gate. We don't have to wait for our luggage at the carousal belt, after landing. We go straight from the plane to the bus or metro.
I personally will always be in favor of having a carry-on backpack that fits comfortably in the overhead compartment, but, of course, my way of traveling is not the only one. You have to be honest with yourself and choose your backpack carefully according to your trip's purpose.
For instance, if you are planning a trip to Andorra in the winter season, you may have to think about buying a bigger backpack, maybe 58 or 65 liters. Maybe even 70.
If you are going to travel for one year through Southeast Asia as a photographer, then you will need a big backpack where you can put your clothes, as well as a carry-on where you can put your camera equipment.
Of course, you do not always know your itinerary. You may plan only the first two months of you trip, and then see what happens. In those cases, just take the basics. If you need something else, you can buy it on the road. But always leave a few liters free in your backpack, just in case.
Keep reading: The greatest travel hacking guide you need for a stress-free trip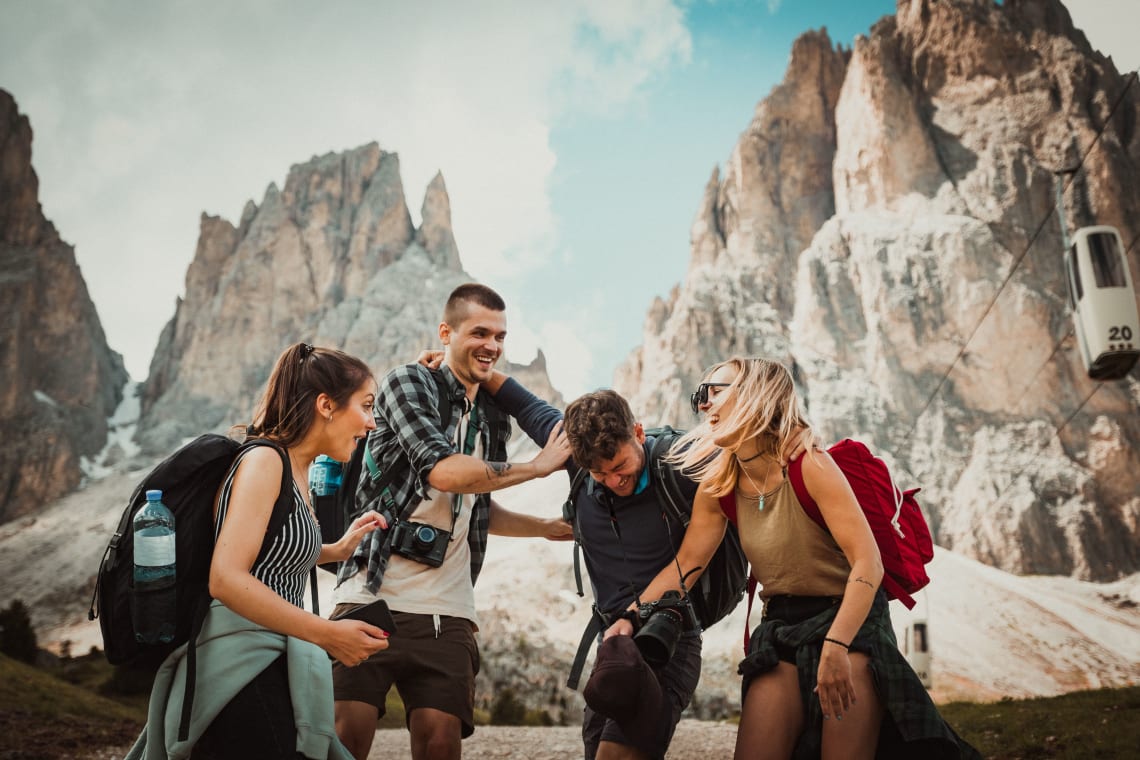 How to choose the absolute best travel backpack: a step-by-step guide
There are a lot of factors to consider when choosing the right backpack for you. Don't buy something only for the brand and don't buy a backpack in a hurry. Take your time. Each of these factors is important and not considering all of them can affect your journey in a negative way.
1. Size
As I said before, I will always recommend to travel with a backpack of, at the most, 38 liters. But, as I said before too, every trip is different and your backpack has to fit the purpose of your trip.
If you are traveling to Europe in June, for two moths, why taking a 70 liter backpack? Try to have more discipline and fit all your belongings in a 40 liter backpack. You will save money and time. And your back won't hurt that much.
If you are taking a gap year and planning to go to Nepal to hike around the Himalayas, then ski in the French Alps and also stop through Australia for a nap on the beach, then you may consider having a bigger backpack, between 58 and 70 liters. You will need to carry a variety of clothes and accessory items that probably won't fit in a smaller backpack.
There is no one single truth when it comes to the right size of the ideal travel backpack. Every size has it pros and cons. Just be honest with yourself and think ahead about the full picture of your travel plans and goals.
2. Straps
Knowing how many straps your backpack has and where are they located is a key factor.
Hip straps are a MUST in any backpack you consider choosing. Putting all the weight on your back is a fatal mistake and will damage your body in ways you cannot imagine.
The weight of your backpack should be distributed equally onto your body. Having a hip-strap helps facilitate the upper part of your body to carry your backpack in a more "clever" and functional way.
Having a backpack that is supportive for your body will positively impact your journey in so many ways.
3. Pockets
Shirts, jeans and flip flops are not the only things you will take with you. What about your passport? Or your wallet? Or your laptop? You won't want to stash these things between your clothes or all in a single giant pocket. It's not practical.
You need a backpack with enough pockets to carry all the things you need, and make them easily accessible to you. Enough pockets, not thousands of them. Having too many pockets with no use is not good either.
Imagine you are going through passport control and you have to look through all of your clothes to find the passport you hid somewhere. Or imagine that you have to pay for a coffee and you can't find your wallet, as its tucked somewhere between your shirts.
Travel backpacks with practical, functional pockets are the way to go.
For example, having a pocket in your backpack's hip-strap is really convenient for storing your cellphone or passport. Having a secret pocket is really important when it comes hiding your money or important papers. Having a "cushioned" pocket where you can put your laptop is a must if you don't want to damage it.
4. Weight
Even if your airline company lets you take 30 kg in your backpack, don't put too much weight in it. Your body will be the one carrying all of that weight! And while you may deal with it well for the first day, or the first week, there will undoubtedly be a point where your body will say "ENOUGH!"
There seems to be an unspoken rule that says, "if there is free space in your backpack, fill it." I'm not sure who invented that rule, but it is a lie.
It doesn't matter if you travel with free space in your backpack. The free space is a good thing! You may need to fill it later.
The kilos you are not putting into your backpack will make your life easier someday in the future, when you need to buy some special gear for a location, or lose a bus and have to walk five km to reach your hostel.
5. Material
What material do you want your travel backpack to be made of? This is an important factor to consider as well.
Polyester, leather, canvas, nylon. Which material is best-suited to the purpose of your trip? Will you be in really hot countries? Will you travel to Asia during the rainy season? Will you travel on sandy and dusty roads?
When it comes to your travel backpack's material, consider every factor of your trip and then make your choice.
Knowing the purpose and goals of your trip will determine the success and functionality of your backpack.
6. Comfort
Welcome to the most important thing of all to consider when choosing a backpack!
It doesn't matter if your backpack's color is not beautiful, or if it costs 20 or 50 more dollars than one from a different brand... if you are comfortable with your travel backpack, then it's the right one for you.
As I said at the beginning of this article, your backpack will carry all of your belongings. Your life will be in it. And you have to like it, and you have to feel comfortable with it. There is no point in buying something that will make your travel experience more difficult.
Your journey will have good moments. But also difficult ones. You will cry sometimes, your plans will need to be changed and so many other things.
No matter what happens, your backpack will be always with you. So, that's why you have to feel comfortable with it. It has to merge with your body.
What are the best travel backpacks out there?
There are a lot of different brands out there, in addition to different models and styles. Here is a list of the ones I think are the best:
1. Kathmandu Litehaul 38L Carry-On Pack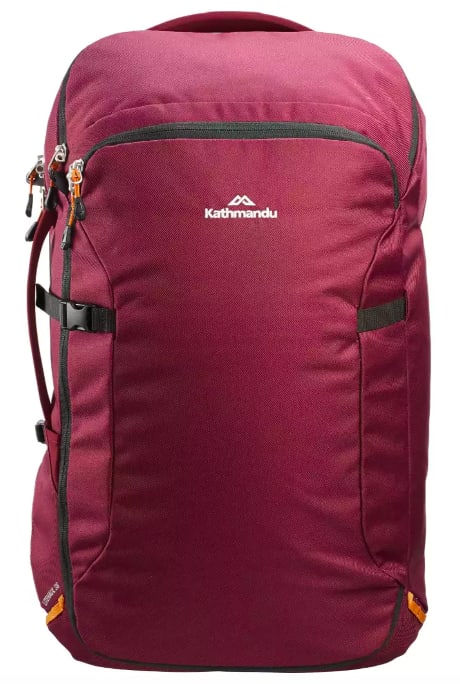 The Kathmandu Litehaul is the backpack I travel with. I just love it. Flexible, with enough pockets and so comfortable. It fits under your front seat, or above it. You can take it everywhere without hitting people when you turn around.
2. Tortuga Outbreaker Backpack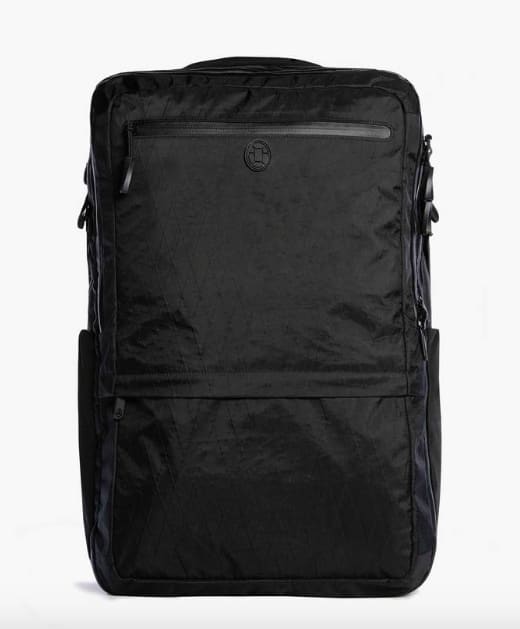 Tortuga's backpacks became more popular these past years. The founders of this brand got tired of not finding the right backpack for their trips. So they decided to create their own backpack. And they did a good job!
The Tortuga Outbreaker combines the ergonomics and portability of a backpack with the obsessive organization and easy packing of a suitcase.
3. Quechua Easyfit Men's 70 Litre Backpack
The Quechua Easyfit is an economic but good choice when it comes to picking a travel backpack. The price is decent, and the quality is solid.
I traveled with a 70 liter Quechua backpack — really similar to the Easyfit Men's Backpack — in Southeast Asia and Australia. It was comfortable, flexible, and the pockets were on point. Three years later, I sold it... as good as new!
4. Tortuga Setout Laptop Backpack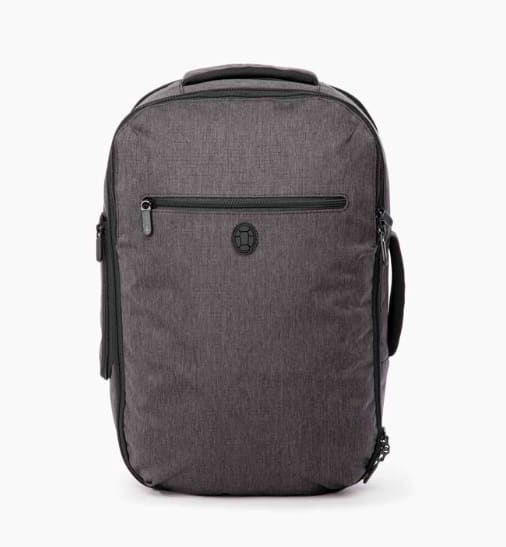 The Tortuga Setout Laptop Backpack is a versatile secondary bag with considered details for air travelers. It fits under the seat of most airplanes and has space for you to carry all your electronics, chargers, a change of clothes, and any in-flight essentials.
5. Kathmandu Hybrid 70L Trolley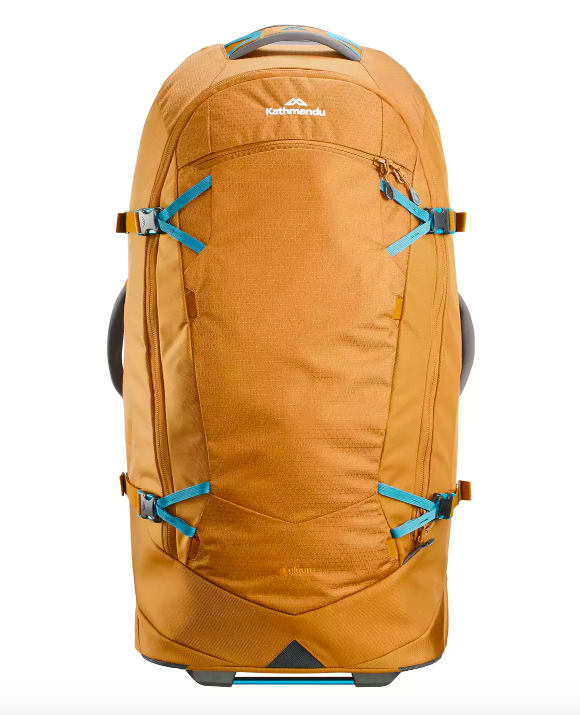 My girlfriend used the Kathmandu Hybrid 70L Trolley for almost 3 years. It is a very lightweight hybrid, durable and good-looking backpack.
The Kathmandu Hybrid also has wheels in the case that your back is too tired and your environment's conditions will allow for you to wheel it. I mean, travel can be unpredictable, right?
6. Nomatic Travel Bag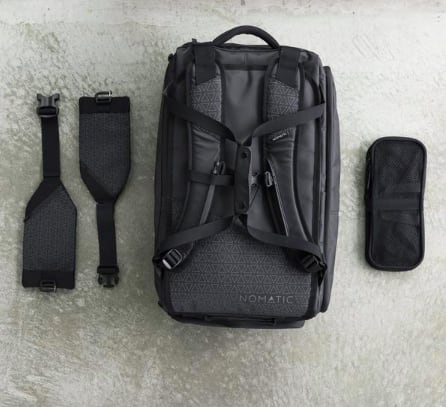 The Nomatic Travel Bag, apart from being elegant, is one of the most functional backpacks out there. Not only is it carry-on size, but it also has a laundry bag and ton of great pockets. Made with a durable material, it has even a shoes pocket.
Quite a good choice if you are an organized person that doesn't want to carry much weight.
To sum it all up...
There are lot of backpacks out there, not just these six I wrote above. Look for your backpack carefully. Take your time. Don't do it in a rush.
As I said before, your backpack will go with you for all of your travels.
Check out the best Worldpackers hosts to volunteer at in 2019, and get inspired to pack your new travel backpack and start discovering this big beautiful world!