Surfing Portugal: best spots and tips to the next surf season
The ultimate guide to surfing Portugal, including when and where to surf as well as some of the best volunteer surf houses Portugal.
9min
Have you always dreamed of surfing Portugal? This stunning country has so much to offer in terms of culture, cuisine, history, and landscape. A highlight of Portugal is the magnificent coastline dotted with beaches and surfing spots.
From the small beginner waves of Porto or Cascais to the thundering mountain of water known as Nazare, Portugal has a wide variety of waves that cater to surfers of all levels.
Whether you want to learn surfing, or you're a skilled surfer looking for new and exciting waves, Portugal is the place to be. There are lots of amazing surf houses in Portugal where you can immerse yourself in the culture and surf with locals or other travelers.
In this ultimate travel guide, we'll dive into all you need to know about surfing in Portugal. We'll cover the best surf spots and surf houses, the best time of year for surfing, and more details about the waves in Portugal.
Hopefully, all these details will get you excited to plan your next Portugal surfing adventure!
The ultimate guide to surfing Portugal
Where to go surfing in Portugal?
Portugal is a relatively small country in western Europe, where the entire western and southern coast of the country touches the Atlantic Ocean.
With so much coastline, there are tons of incredible surfing spots with waves of all sizes. All around the country, you can find amazing surf spots that are suitable for beginner, intermediate and advanced surfers.
Generally, the best waves can be found in the middle of the west coast, between Porto and Lisbon. There are a few surf spots south of Lisbon, but as you head deeper south near Lagos and the Algarve, the beaches are protected from the Atlantic and the sea is flat.
You can surf in the north of Portugal as well, and there are some great waves around Porto. But most of the best surfing spots are between Porto and Lisbon.
What is the best time for surfing in Portugal?
Portugal is blessed with great surf conditions and nice weather year-round.
The water temperature never gets too cold, so even in winter, you can surf with a wetsuit. In summer, the weather is hot and sunny so you can surf without a wetsuit.
In general, summer is the best time to surf in Portugal for beginners. The weather is warm and the waves are small, so visit between May and September. Summer waves reach an average of 3-5 feet, though you can find beginner waves that are much smaller.
The only downside to summer surfing in Portugal is that the crowds in the water may increase. But there are so many surf spots in Portugal that you can just search for a quieter, less crowded beach.
Winter is ideal for advanced surfers, from roughly November to February. The winter swells in the Atlantic bring bigger, more powerful waves. Waves can reach anywhere from 6-15 feet.
The shoulder seasons of autumn and spring also have good waves. Just always check the forecast before you go out so you know if the swell is right for your surfing level. Shoulder seasons also see cheaper flight prices to Portugal and cheaper prices for surf houses in Portugal.
The best surf spots in Portugal to stay
Now that you have a general idea of where to surf in Portugal, we'll discuss the best places to go and stay. Here are some specific towns and cities in Portugal where surfing is popular.
For each location, we'll also include some of the best Worldpackers hosts. Volunteering with Worldpackers while surfing Portugal is a great idea, especially for solo travelers who want to experience the real local culture.
Staying with one of these Worldpackers hosts allows you to live in a social environment with locals and travelers. The locals will help you find the best surfing beaches, and ensure that you stay safe. If you're volunteering, you may also have the perk of enjoying surfboard rentals and surf lessons in exchange for your work hours.
Here are some of the best surf spots and surf houses in Portugal!
1. Porto
As the second largest city in Portugal, Porto is a stunning city that is popular among tourists. This city in northern Portugal is full of colorful architecture, delicious food, and fun activities: one of them being surfing!
Just outside the city center of Porto, there is a stretch of golden sand beaches with waves suitable for all levels. The best thing about surfing in Porto is that the waves aren't as crowded! Many travelers to Portugal flock to the south, but the north of Portugal is also gorgeous and still has warm weather for most of the year.
The closest beach to the city center is Luz, which is within walking distance from downtown Porto. Luz is more suited towards intermediate and advanced surfers, as the swell can get pretty big.
Beginners looking to surf near Porto can head to Matosinhos, International Beach, Miramar, and Leca Beach. Matosinhos Beach in particular is perfect for learning to surf, as this long stretch of beach has lots of small beach breaks. There is also a reef break for intermediate surfers.
Volunteering in Porto
If you really want an immersive surfing experience in Porto, you can volunteer at a hostel with Worldpackers. You'll work from roughly 9 am to 2 pm completing chores like cleaning, cooking, and gardening. In exchange, you get a free stay in a staff dorm right on Matosinhos Beach.
You can use the surfboards at any time, so hit the beach in the afternoons and learn to surf! The hostel is located near a metro stop for heading into the city center of Porto.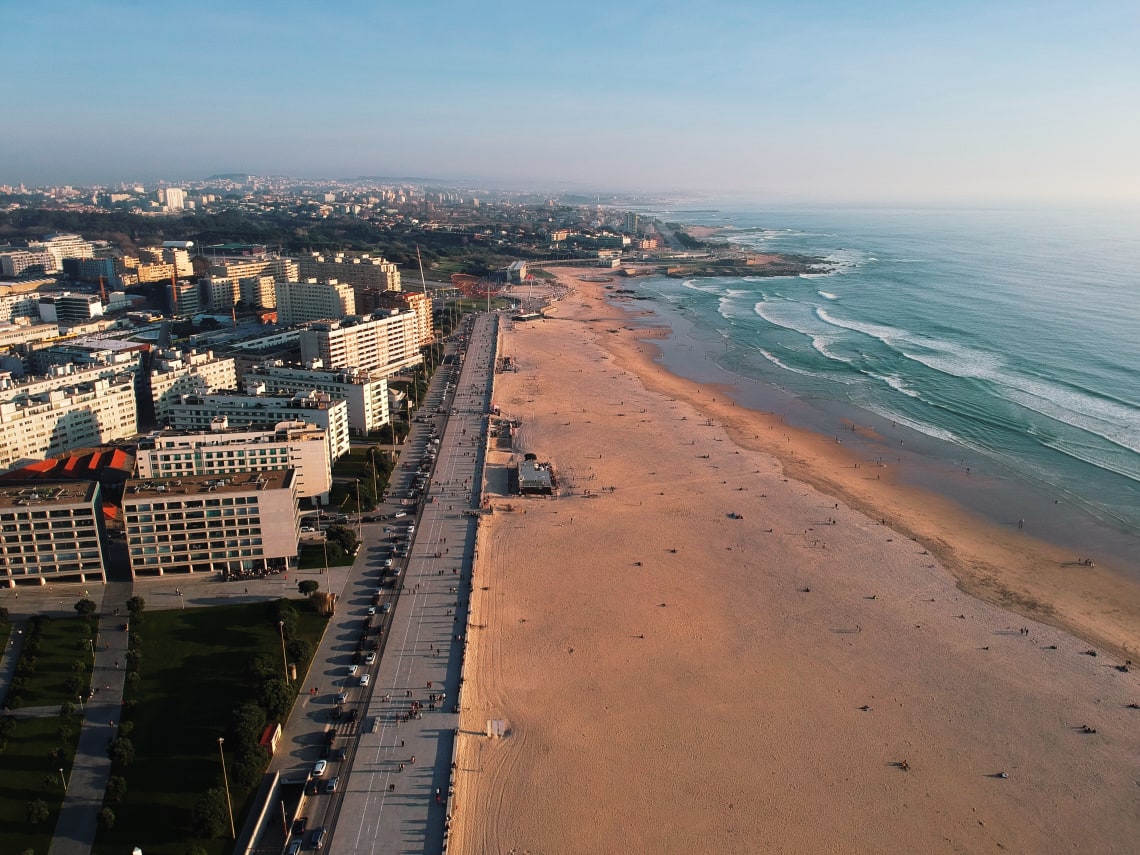 2. Costa da Caparica
Located just south of Lisbon, Costa da Caparica is a civil Parish of Portugal that is dotted with lovely beaches. The coastline stretches for about 30km, and there is beach after beach with layers of amazing waves.
It's one of the most popular surf getaway spots from Lisbon, so the waves can be a bit crowded. But if you're willing to drive around and explore, you're sure to find a quieter beach with fewer crowds. There are left and right hand beach breaks that are great year-round.
Cova do Vapor is a great beach for intermediate to advanced surfers, whereas Fonte da Telha has smaller waves for beginners.
Volunteering in Costa da Caparica
Because this is such a popular surf spot near Lisbon, there are two highly rated volunteer opportunities in Costa da Caparica in Worldpackers platform.
The first is a surf camp that needs help with childcare and assisting with the camp.
If you've never surfed before, this is the best work exchange to try.
You'll be in a friendly environment where the local staff are actual surf instructors. They will happily share their knowledge with you and help you learn the ropes of surfing.
The second work exchange is a mystic hostel right on the beach. Enjoy surfboard rentals, bike rentals, and yoga classes in exchange for work in reception and housekeeping.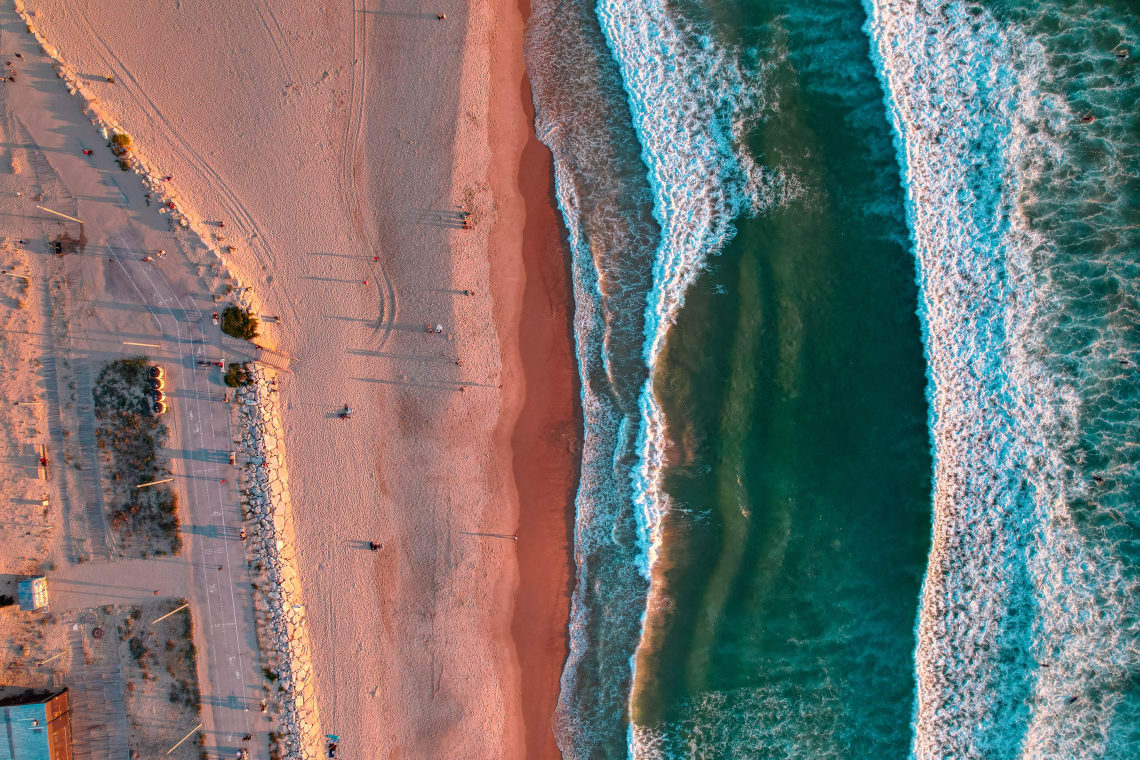 3. Peniche
Peniche is another one of the top spots for surfing Portugal. It is actually sometimes considered the capital of the surf Portugal scene.
This spot is 90km north of Lisbon and has lots of beach breaks with a few reef breaks scattered in there. The surf is good year round here, as Peniche is a small peninsula surrounded by waves that suit different types of wind and swell directions.
Peniche is perfect for beginner surfers from May to September because the waves are smaller in summer. Advanced surfers will prefer the winter months of September to May when the Atlantic swells increase in size and power.
Some of the top beaches in Peniche for surfing, which suit surfers of all levels year-round, include Cantinho Da Baia, Areia Branca, Santa Rita, and Foz do Arelho. The reef break known as Lagide on the other side of Cantinho Da Baia is also a local favorite.
Volunteering in Peniche
If you're looking to volunteer at some of the best surf houses Portugal, this is the place to go. This work exchange involves working in housekeeping and reception for a top-rated surf hostel near the beach.
Enjoy free surf lessons and board rentals in exchange for your work. This surf hostel has 22 positive reviews from past travelers who have always wanted to learn to surf in Portugal!
An alternative option is working as a yoga instructor in Peniche. This work exchange involves teaching yoga to guests at the hostel near the beach.
Of course, this one is only available for yoga instructors, but surfing and yoga often go hand in hand so it's a great way to learn surfing in addition to your yoga!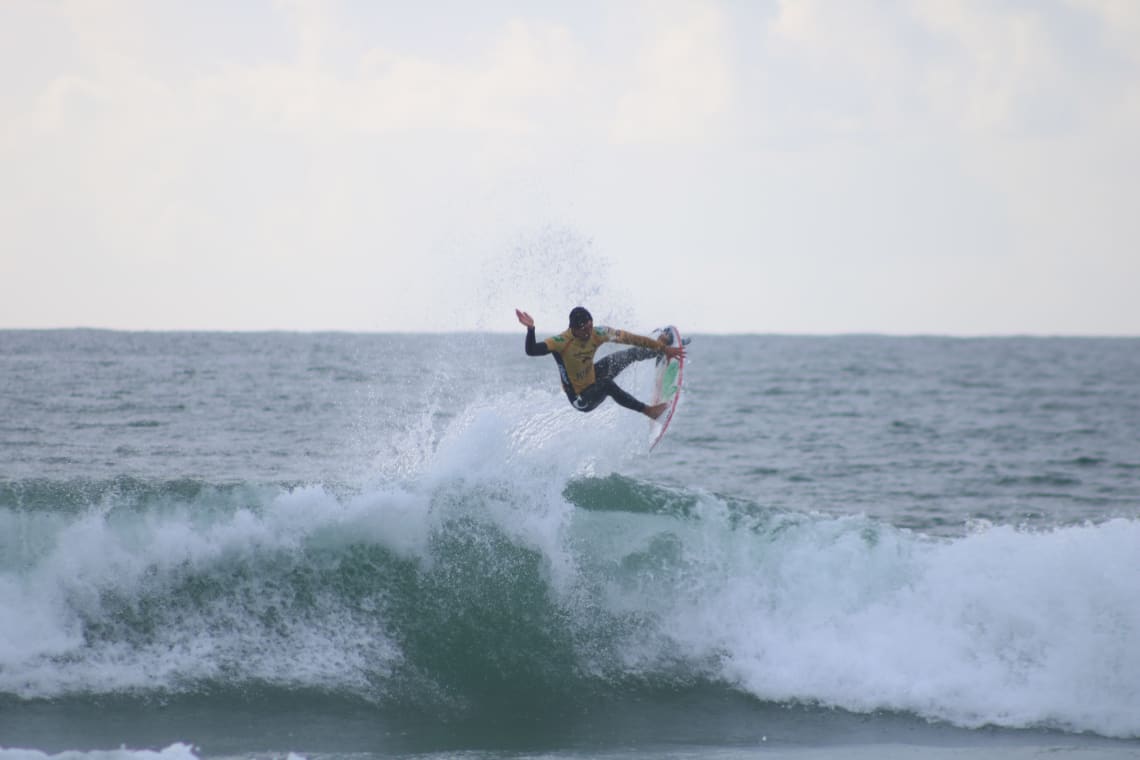 4. Ericeira
Another one of the top spots to surf Portugal is Ericeira, a charming coastal town in the municipality of Mafra just 35 km from Lisbon.
This is the perfect place to learn to surf in Portugal. There is a great local surf school and you can rent surfboards in town for affordable prices. The summer months bring warm water and small waves that are ideal for beginners.
Foz do Lizandro, Ribeira D'Ilhas, and São Julião are the best waves for beginners. Advanced surfers will also love Ericeira, as there are some amazing spots to get barreled.
Coxos is one of the town's most famous rights, and Crazy Left is one of the only lefts in town. Crazy Left is for advanced surfers only, as is Cave, a heavy reef break.
Volunteering in Ericeira
For a relaxing volunteering experience near the beach, this work exchange involves working in a guesthouse on the hills. The guesthouse overlooks the ocean and is a peaceful spot, unlike a busy party hostel.
You can help your host with administration and reception work, and enjoy surfing on your days off.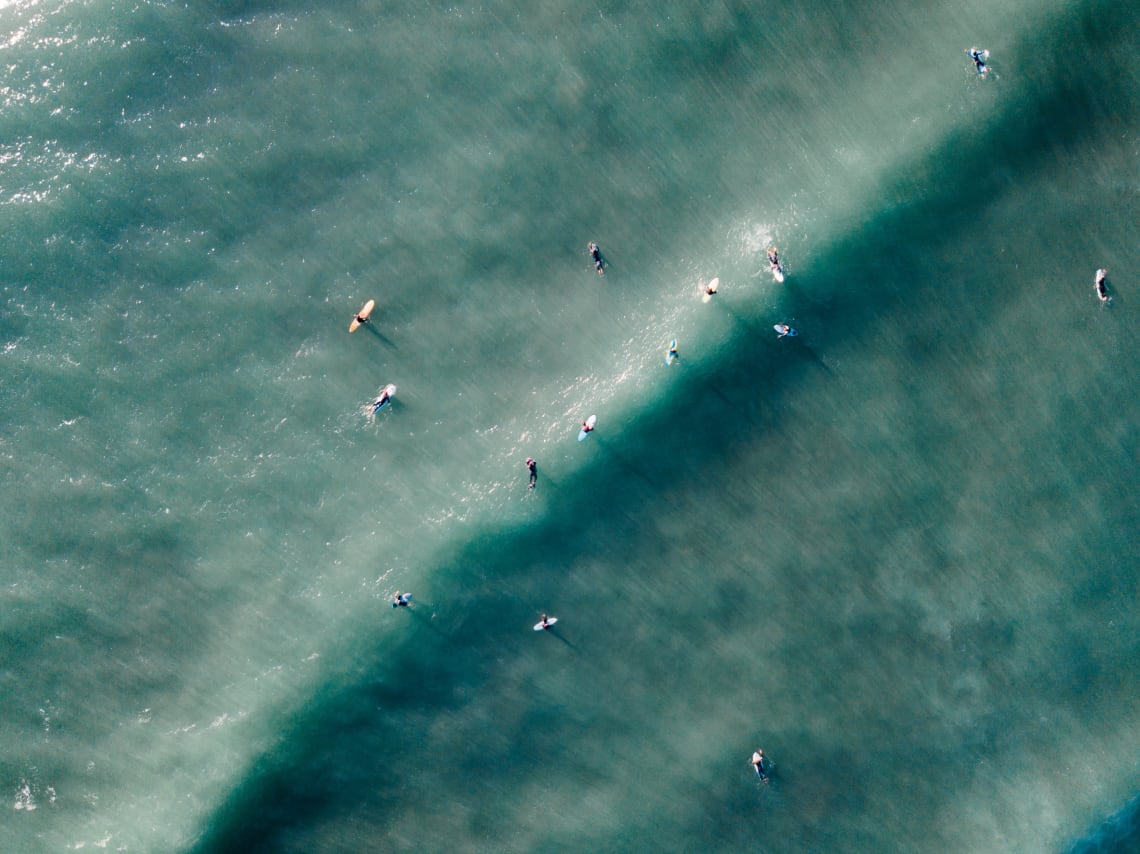 5. Cascais
Though most of the best surfing Portugal spots are suitable for surfers of all levels, Cascais is considered the most beginner-friendly surf spot.
Cascais is a small and lively town near Lisbon with multiple surf schools. Located in a bay, the beaches are protected from the heavy Atlantic swells so you'll find smaller and more relaxed waves here.
Praia do Guincho and São Pedro do Estoril are nice beginner waves. Praia da Ribeira is the main beach in town. It's very protected so the waves are super small, but it's crowded. Sometimes the water is even flat, in which case you should ditch the surfboard and opt for a stand-up paddle board!
However there are some waves further out that offer more advanced waves, so don't skip Cascais if you're an intermediate surfer! Praia da Ursa is a 30-minute drive north and is a gorgeous beach with great intermediate waves.
Carcavelos is another top wave in the area for advanced surfers. This left-hand point break can get crowded but it's a favorite among locals and skilled surfers.
Volunteering in Cascais
There is a super fun work exchange opportunity in Cascais for travelers looking to enjoy the surf and have a great time.
This hostel needs help with a variety of tasks, from reception to party promotion to surf lesson help and housekeeping or gardening. You'll work roughly 30 hours per week and get to enjoy a social atmosphere with lots of parties and group surfing sessions in your free time.
6. Nazare
Nazare is famously known as the biggest surfable wave on the planet! With waves that get up to 80 feet, this world-famous wave is one of the tallest, most powerful, and most dangerous waves in the world.
So it should go without saying that Nazare is only for the elite surfers of the world, definitely not for beginners! But if you're interested in surfing Portugal, Nazare is an incredible place to go. Just standing on the lookout platform and watching the massive waves is a once-in-a-lifetime chance.
Sometimes the swell isn't as intense and the waves drop to a more normal size of between 5-15 feet. Intermediate and advanced surfers can still enjoy a safe and enjoyable surf in Nazare.
There is truly no other place like this in the world, so bring your camera, and a rainjacket to stay dry, and come to Nazare to watch the bravest surfers in the world take on this monster of a wave. The town of Nazare itself also has a rich Portuguese culture and nice beaches, so it's worth stopping by.
There are no work exchange opportunities in Nazare itself. But the town is just a 50-minute drive north of Peniche, so you can volunteer there and visit Nazare on a day trip.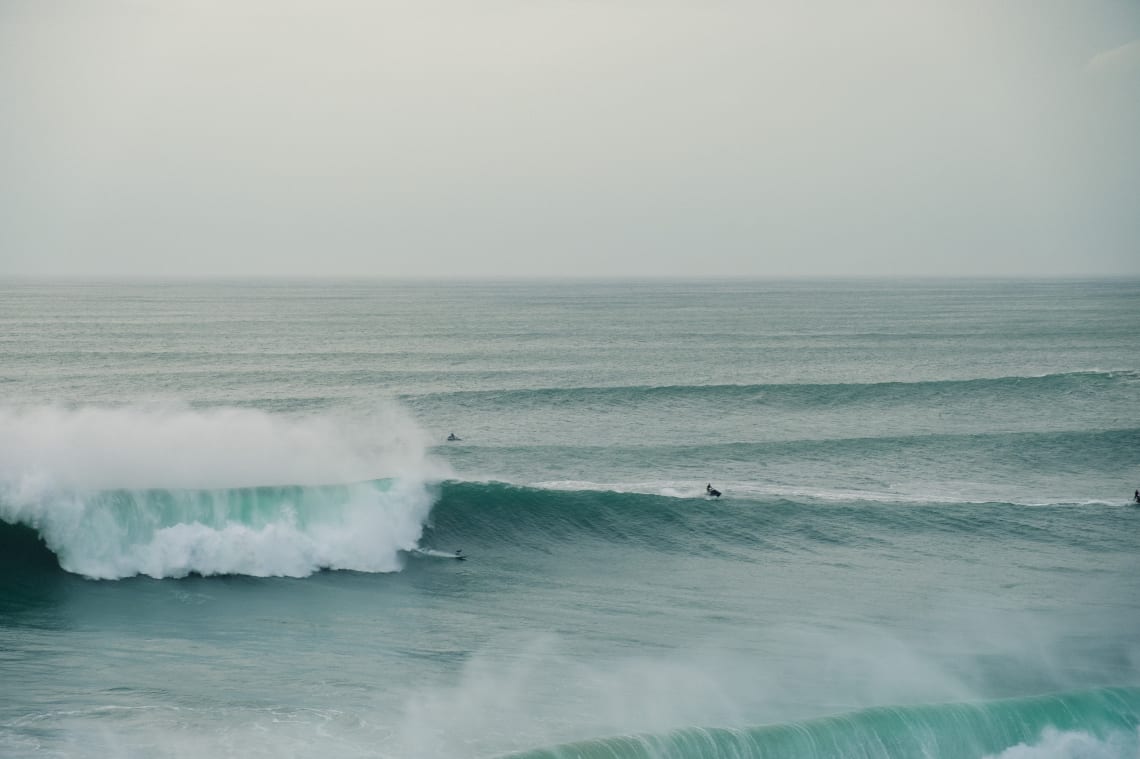 Surfing Portugal wrap up
Whether you're backpacking around Europe or you're just looking for a one-time epic surf location, Portugal is a diverse and gorgeous country.
There are so many cool volunteering opportunities as well that will help you get to know some locals and save money on accommodation.
Are you interested in learning more about volunteering with Worldpackers in Portugal?
Subscribe to the Worldpackers Community for free and start saving your favorite volunteer positions until you are ready to get verified.
Also, check out these articles about Portugal: