The ultimate Worldpackers Ireland travel guide
Dia Dhuit! Welcome to your ultimate travel guide to the Emerald Isle. Read on to explore the counties and personalities of Ireland — you'll quickly be adding this gem above other islands on your bucket list!
10min
From good whiskey to stunning landscapes, the Emerald Isle has so much more to offer than Guinness and the Blarney Stone (although both have their merits). When visiting the rolling green hills of this incredible place, you'll quickly learn that the Irish are a unique, hilarious, and incredibly good-hearted people.
Although I'm of Irish descent, my first trip to Ireland was only a few months ago, as a 30-year-old traveler who has made it a point to visit only those countries that require backpacking equipment and sunscreen throughout the year. While you could definitely backpack around Ireland, you most likely won't need sunscreen.
Ireland doesn't need sunshine to warm your heart. In the words of Garth Brooks, I can still see "your rolling fields of green and fences made from stone." This country will quickly become a part of you, somewhere you return to again and again, perhaps not in body but in soul.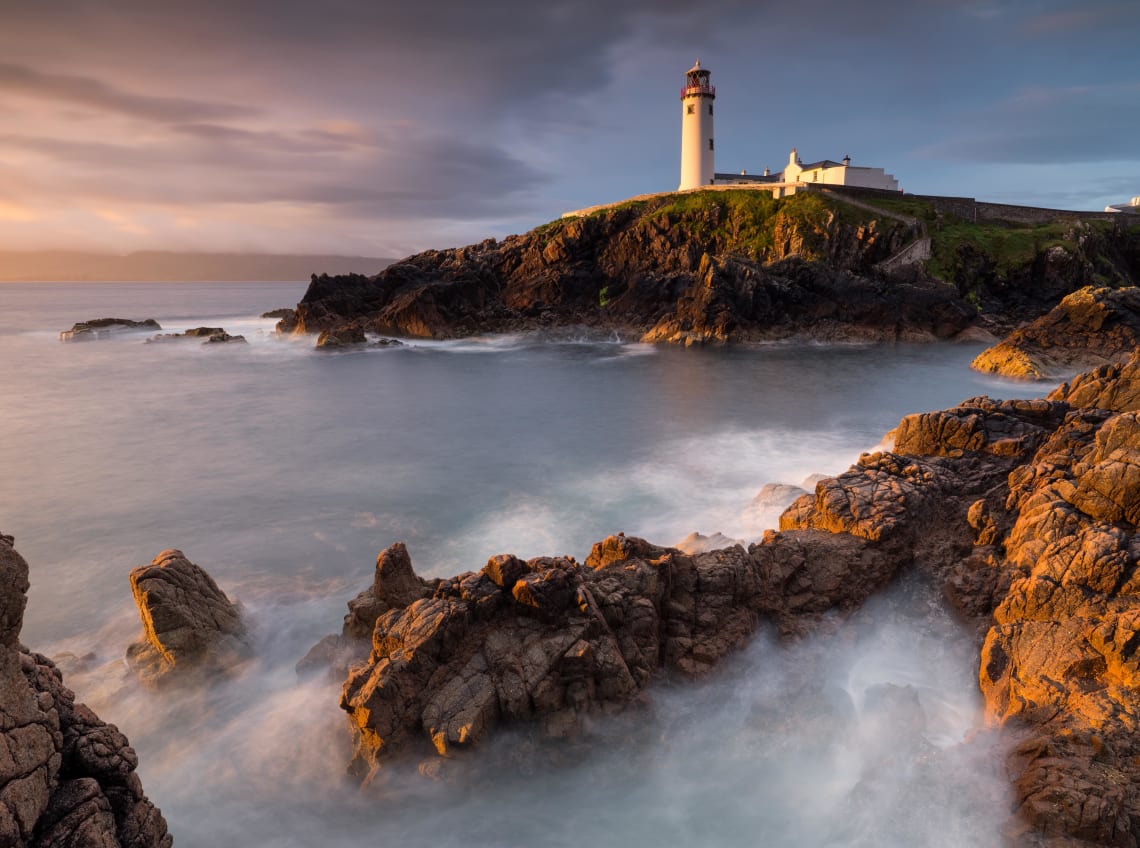 Location and history of Ireland
The charm of Ireland is in its cozy pubs and smiling locals, but there's also a grandeur rarely matched.
Located directly west of the United Kingdom and approximately the size of West Virginia, this grandeur is in large part due to its landscape — limestone cliffs descending steeply into crashing waves, castle ruins in the foreground, screeching gulls and puffins creating a cacophony of noise matched only by the silence of the seemingly judgmental, colorful sheep. Why colorful you ask? They are painted by their owners to indicate whose property they are, resulting in rainbow sheep!
Ireland's location is partly responsible for its remarkable, turbulent history. The island has been inhabited since at least 10,000 BCE, and there are many prehistoric sites, such as Newgrange in County Meath, that predate even Stonehenge and the Egyptian pyramids!
From early on in Ireland's history, it's been the target of invaders both near and far. From Viking raids to Norman settlement to British imperialism, Ireland was never a boring place to be, especially around Dublin.
If you're a reader (if not, re-evaluate your free time) check out Edward Rutherford's book "The Princes of Ireland" and its sequel "The Rebels of Ireland" for an in-depth look at the history of Dublin through the eyes of fictional characters. It was an incredible introduction to a country with such a complex past.
Part of this complexity is that in Ireland, the past is still very present. Northern Ireland is still a part of the United Kingdom, a separation that resulted from years of civil war and unrest. The heated political climate is still very much felt in Northern Ireland and elsewhere.
The Irish are incredibly proud of their country, for good reason. They went through hell and back to gain their independence — something that happened only about 90 years ago. Walking the streets (and frequenting the pubs) of the Temple Bar area of Dublin, you're sure to see images of the leaders of the Easter Rising, now heralded as heroes, pictured in street art and framed in local establishments.
Any Irishman you meet will likely be more than happy to educate you on their legacy, so lend your ear and perhaps buy a round — it's going to be a long conversation!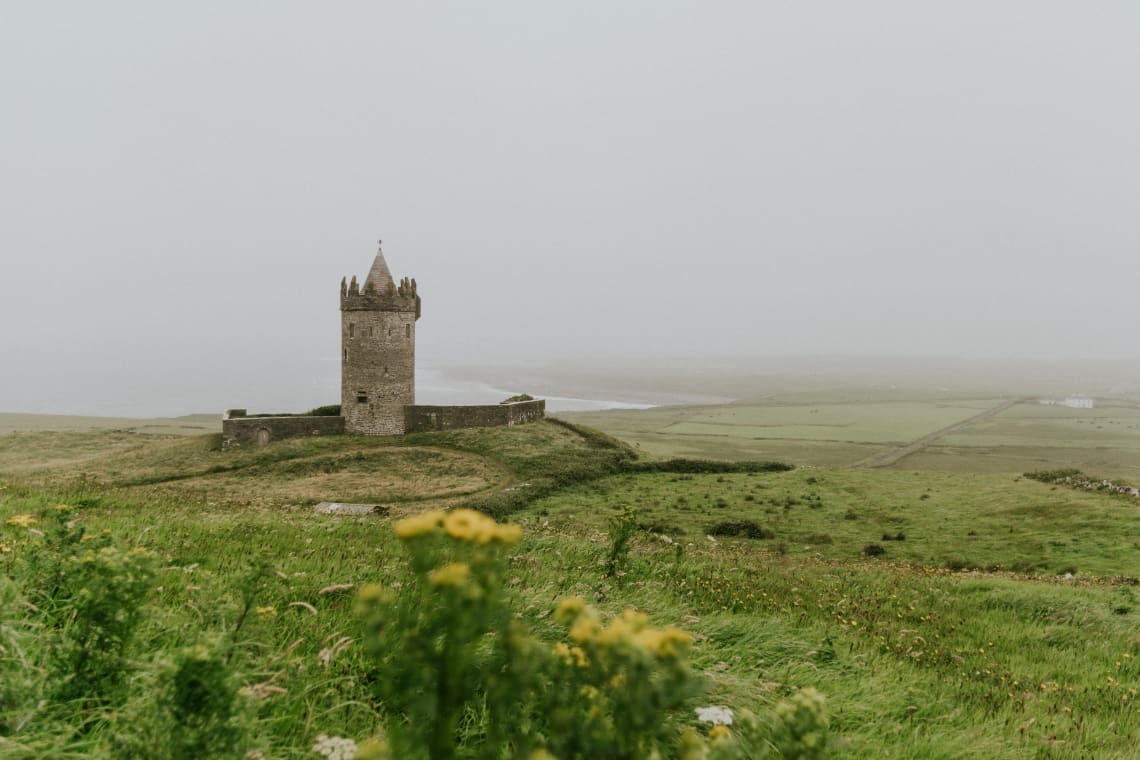 How much it costs to travel to Ireland
Southern Ireland uses the Euro while Northern Ireland, being a part of the UK, uses the pound. Most Northern Ireland destinations do accept the Euro, but they'll tack on a "service fee." So, be prepared!
Order some pounds prior to your trip if you plan on heading North. You'll want at least some cash for tolls, small expenses, and tips (not necessary but much appreciated).
When you should travel to Ireland
Peak tourist season in Ireland is May through August, and it does get a wee bit crowded!
Consider going in late April or September. You'll be gambling a bit with the weather, but you'll save money and never have to worry about where to stay! Dress in layers and bring an umbrella.
Plan to stay in Ireland at least 10 days! The biggest mistake travelers make in Ireland is not allowing themselves enough time in each place. If you have big goals for your trip, build in extra time for roadside photo stops, curvy drives along the Wild Atlantic Way, and hangovers from nights at the pub.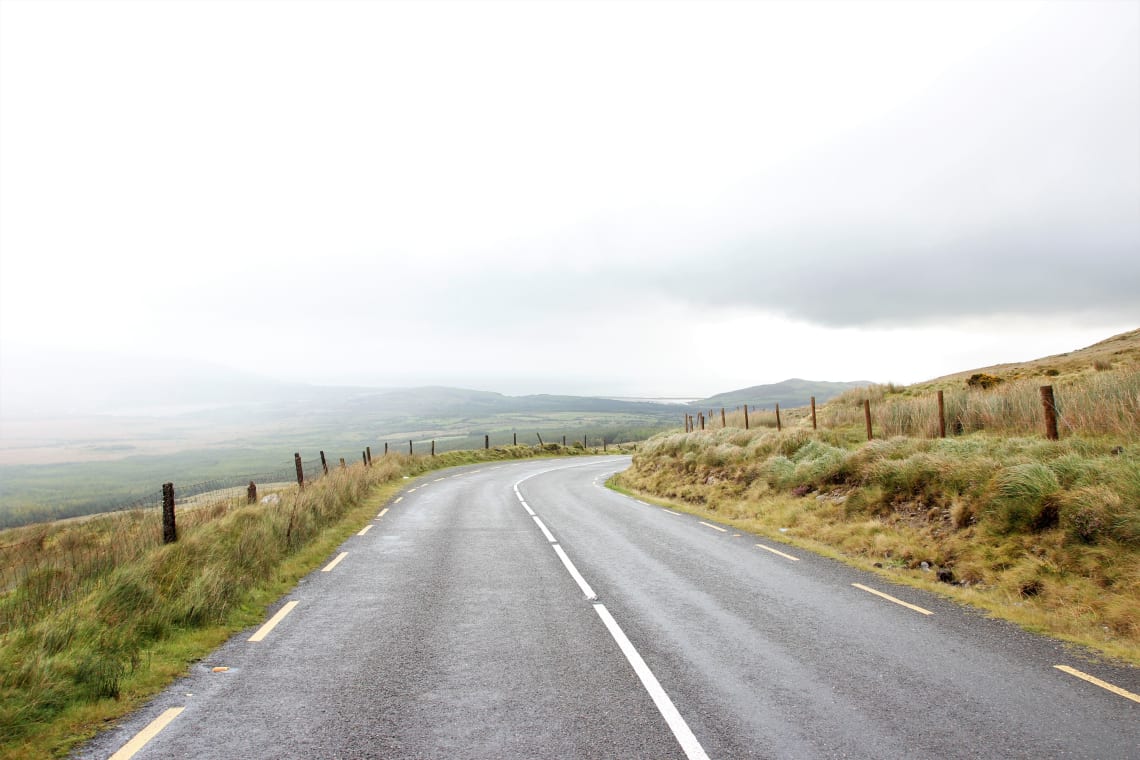 Getting around in Ireland
Many choose to hop a tour bus on their travel around Ireland, but I would encourage potential travelers to opt for renting a car or utilizing public transportation. While you will need to navigate driving on the left and extremely narrow roads, you'll be able to stop along the way to take in gorgeous views and even take the road less traveled.
On my recent trip, we were able to get rental car insurance covered by booking through my credit card company. Just make sure you're covered for Northern Ireland as well! You'll want to choose a teeny tiny car for the teeny tiny (hazardous) roads. We found that the advantages of having a car far outweighed any disadvantages. Plus, you can always park it and take the bus or train!
Accommodation in Ireland
Picture this: waking up to birds chirping, windows open, the smell of a full Irish breakfast wafting to you from the downstairs kitchen where you can just hear the clinking of silverware from your fellow traveler's meals. Needless to say, Bed & Breakfasts are a great way to go in Ireland!
You can actually book B&B's on Airbnb (makes sense), which is increasingly popular there. We stayed in an Airbnb each night, each one better than the last! All of our hosts were incredibly welcoming, providing us with directions, fun things to do, tips on local attractions, and even food and drink!
Not quite in your price range? Try visiting the Worldpackers site for work exchange opportunities in Ireland. Whether you want to travel on a budget or have a more local experience, you're sure to have a blast world-packing your way around Ireland!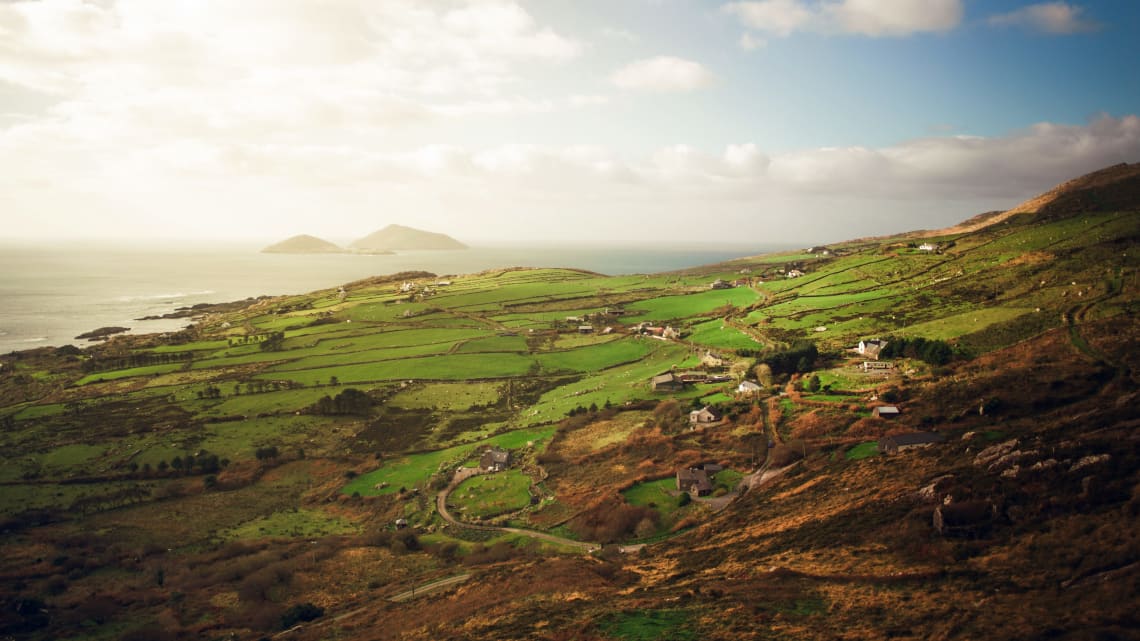 Experiencing local life in Ireland
If there's one thing you take away from this article, it should be this: take a few days in one town or village to really experience local life in Ireland.
Tourists often pick a pretty village in the Irish countryside to have lunch on their way to larger towns/cities. My most memorable experience in Ireland was in a one-pub town in County Mayo beautifully situated on a peninsula jutting into the Atlantic Ocean.
Each morning, my mom (who was traveling with me) and I would awaken to a train of cows passing by our open windows. Their moos would herald the start of another glorious day of walking on the beach, picnicking by the seaside cliffs, exploring local ruins and relaxing in our quaint cottage.
The caretakers of our cottage often stopped by to chat and we got to know many of the locals. We even learned a bit of the Irish language (Irish Gaelic). Turned out staying in one place for a while was our most memorable experience!
Top 10 places to visit in Ireland
We fit a TON of incredible locales into our Ireland trip, and you can too!
Here are 10 destinations and activities you won't want to miss, following our journey south to north.
1. Dublin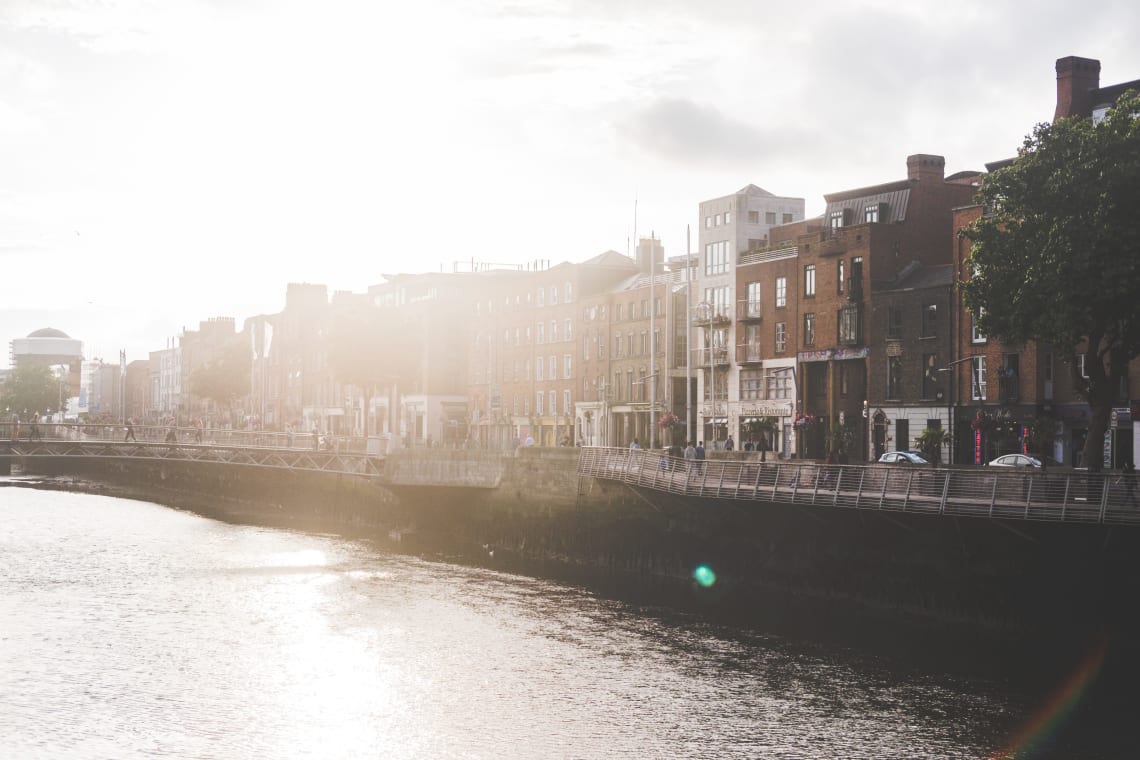 From the trendy Temple Bar area to historic Trinity College, Dublin is a fast-growing international city that has it all. If you only have a couple of days here, make sure to book a tour of Trinity College which includes the ancient Book of Kells, a gorgeous manuscript which is considered Ireland's greatest national treasure.
Switch gears a bit and take a tour of the Guinness Factory across the River Liffey. You'll be rewarded for your newfound beer knowledge with a pint at the rooftop bar! You'll also want to check out Dublin Castle and meander down Grafton Street. If you have more time, get a bit lost and discover the many other cool streets of Dublin.
2. Glendalough, County Wicklow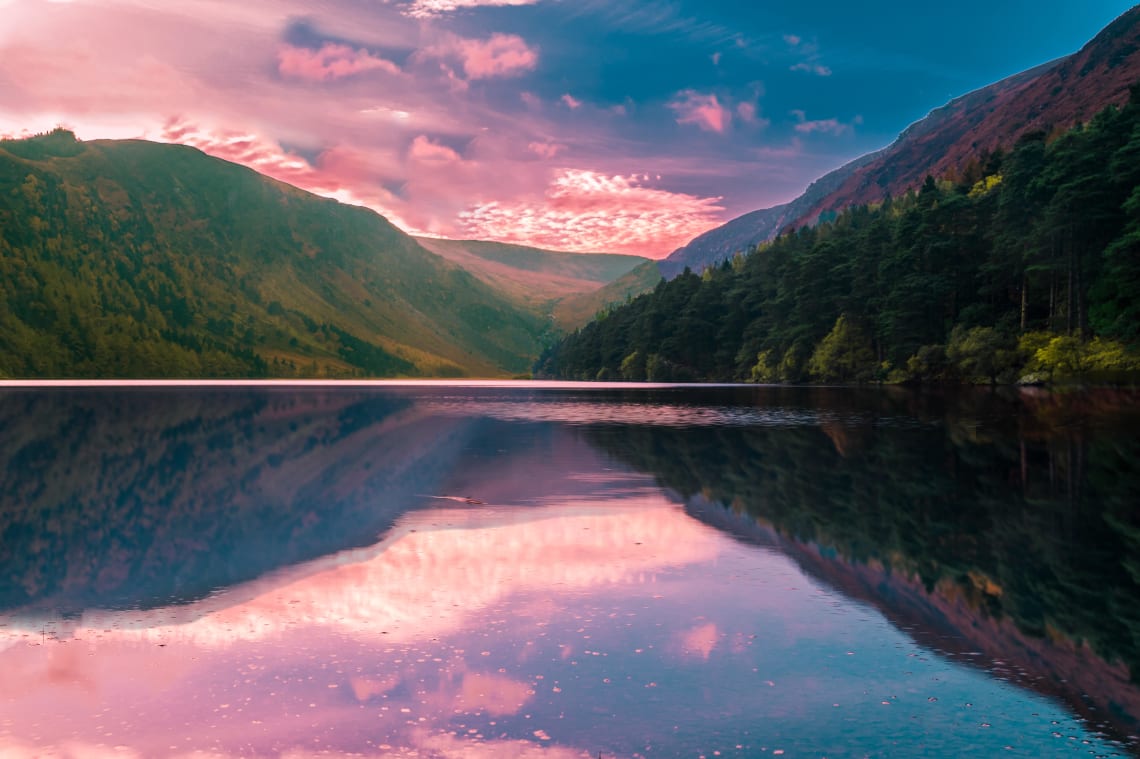 "The valley of the two lakes" is awe-inspiring, even in the rain, which is how we saw it! The ancient monastic city of Glendalough is an archaeological marvel, featured in history books the world over. The most famous landmark at the site is the round tower, built almost 1,000 years ago by the monks of St. Kevin's monastery. This place is a haven for history buffs!
3. Kinsale, County Cork
In Kinsale we were lucky enough to find accommodation directly on the stunning cliffs which typify this port city. Cliff walks at sunset and incredible restaurants are a couple of things you can expect to fall in love with in Kinsale.
Interesting fact: the British ocean liner Lusitania sunk directly off the Old Head of Kinsale after being struck by a German torpedo during the First World War, and there's a small museum you can visit here with information on the historic (and tragic) event.
4. Ring of Kerry/Dingle Peninsula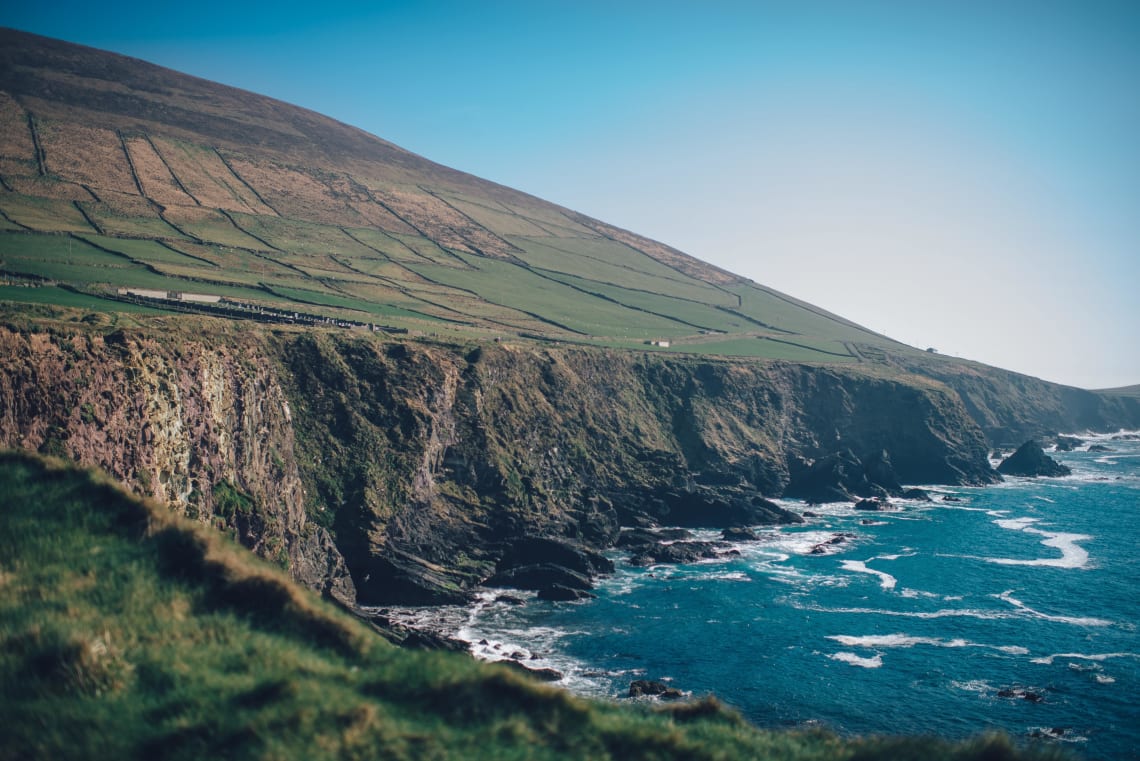 Most likely you'll see why the Ring of Kerry is so popular with tourists in your guide book or other research on Ireland, however you should not overlook the Dingle Peninsula! With breathtaking views and less tour buses, driving the Wild Atlantic Way (the scenic "highway" that travels all the way up the west coast of Ireland) around Dingle is something you can't miss. Plus, what a fun name!
5. Mount Brandon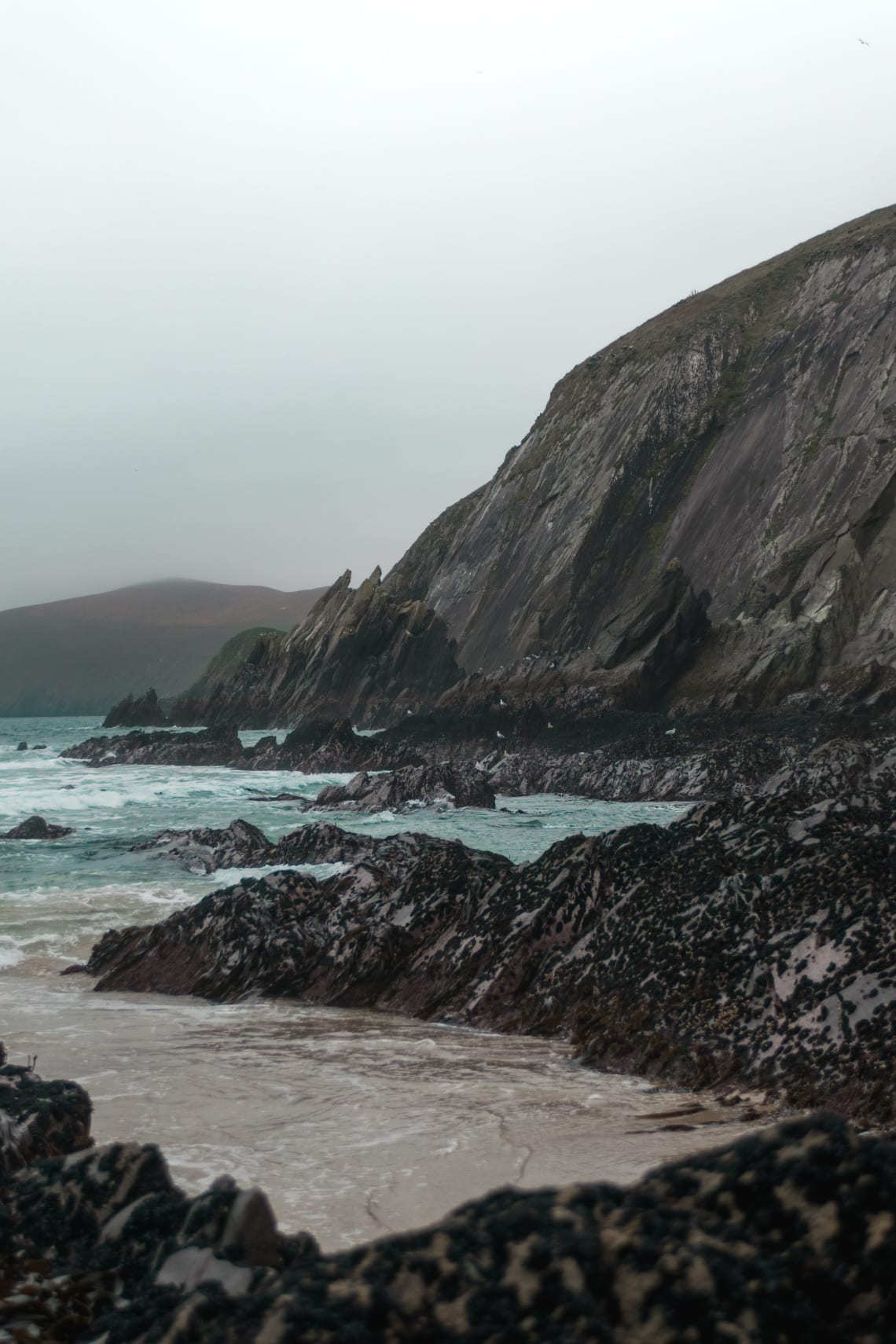 One amazing activity you can do while on the Dingle Peninsula is trekking up Mount Brandon. The most direct way to the summit is by The Saint's Route, which is marked by large crosses. If the climb doesn't take your breath away, the views sure will!
6. Cliffs of Moher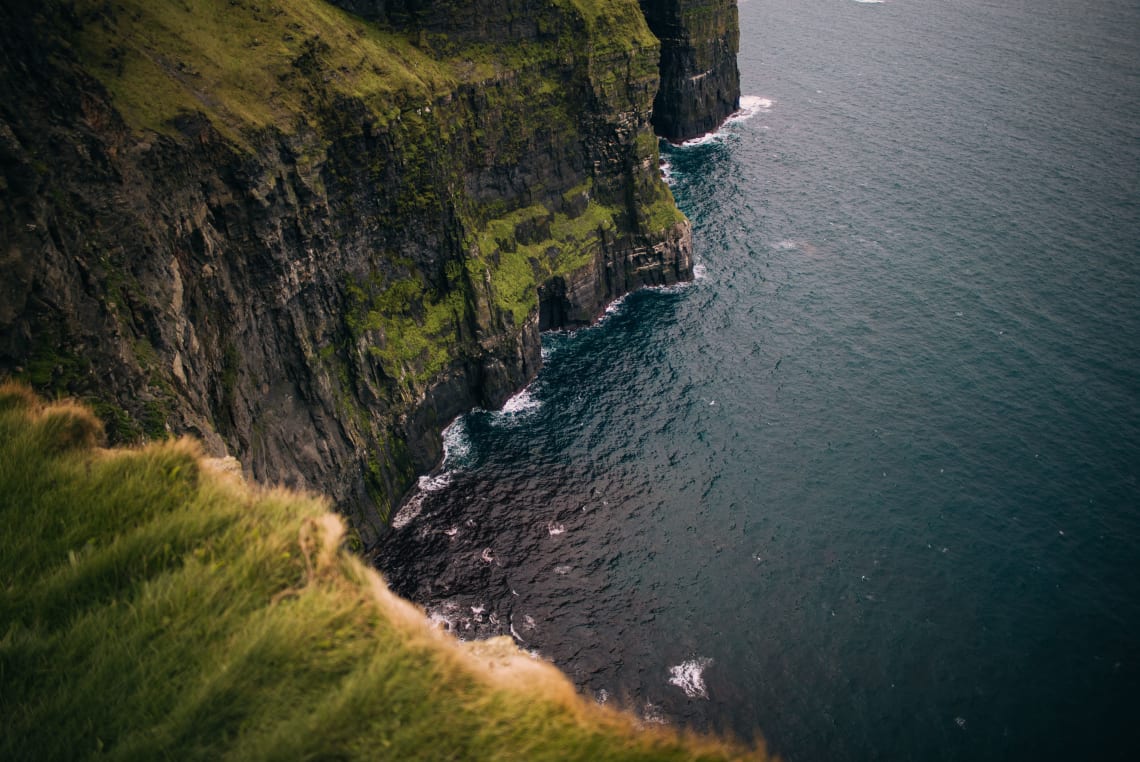 Although this was the most touristy place we visited, it didn't disappoint. The Cliffs of Moher rise 214 meters over the Atlantic Ocean and are the most visited natural attraction in Ireland. While most are satisfied with a quick photo in front of the epic backdrop, you can spend hours walking the cliffs and taking in the views.
Pro-tip: Arrive after 7 pm and you may avoid the parking/admission fee.
7. Galway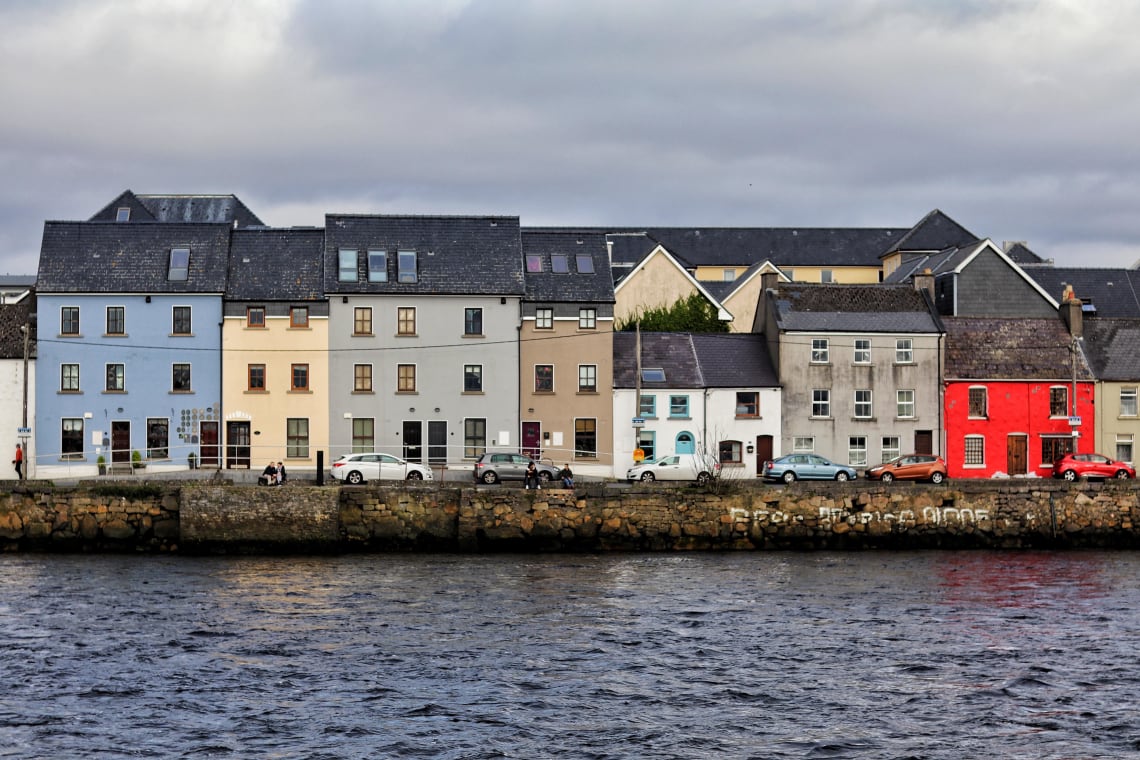 There are many fun places to stay in Galway, but I'd highly recommend the trendy neighborhood of Salthill. It's got great nightlife (you can even check out where Ed Sheeran's hit single "Galway Girl" was filmed in O'Connor's pub), and it's a short walk to the busier downtown area.
You can walk along the waterfront, take in the Spanish Arch, and pick up some coffee before making your way to the shopping district and central Eyre Square. If you have an extra day here, hop a ferry to the Aran Islands!
8. Donegal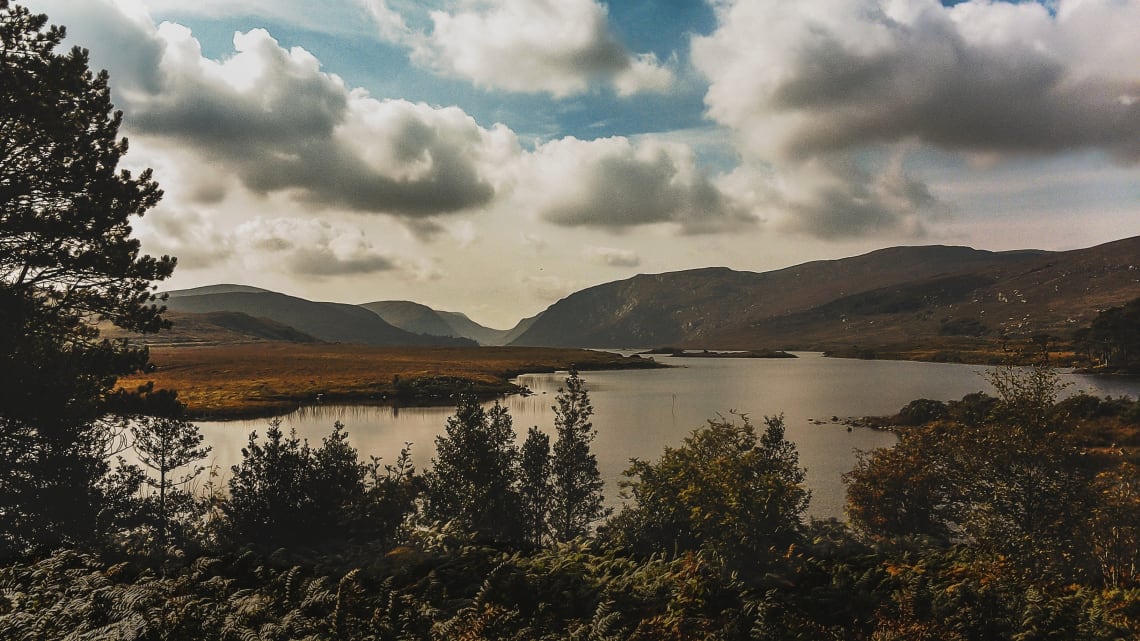 Donegal Castle was my favorite castle in Ireland, and we visited quite a few! Situated directly in the middle of town, it is not very large, but has a remarkable history. Walking through the lower halls and climbing the stairs to the incredible main room, with its enormous fireplace and coat of arms, you can envision what it must have been like to live there.
County Donegal, like much of Ireland, has much to offer in a historical sense, from ancient abbeys to Neolithic tombs. Donegal also has the second largest Irish speaking area, with Irish being the language of instruction in many schools.
9. Giant's Causeway and Bushmills Distillery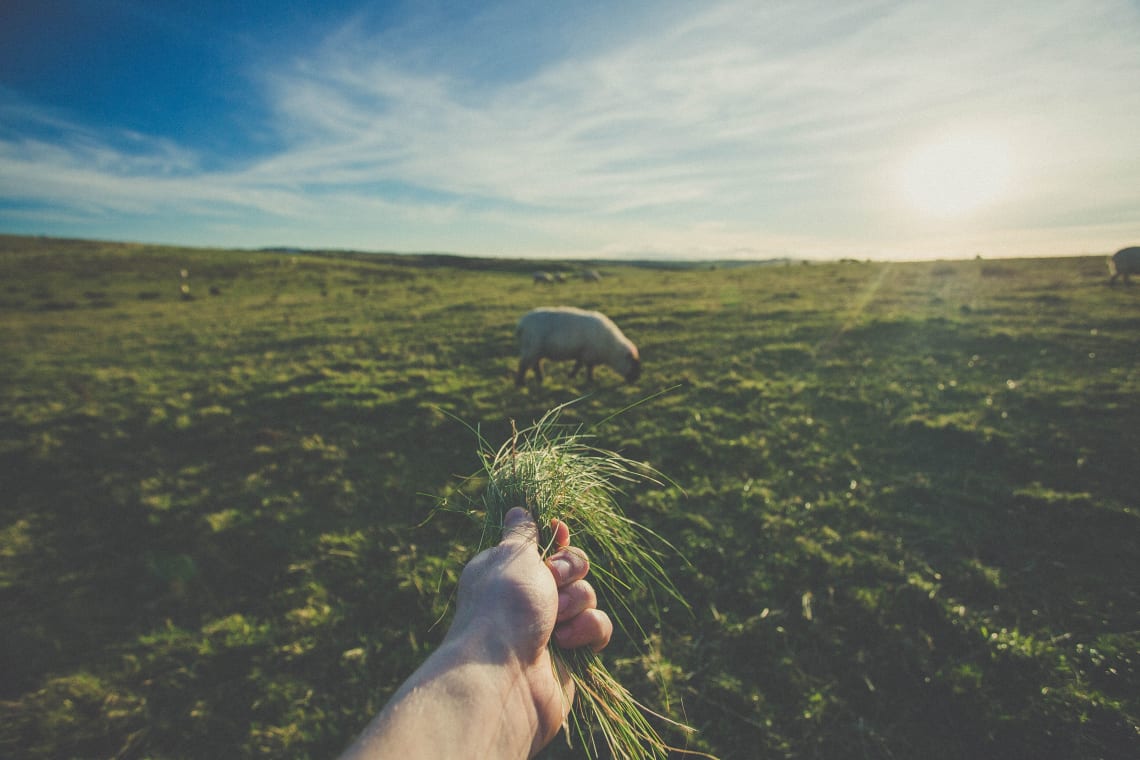 When planning your journey, don't forget to build in enough time for Northern Ireland! Usually crossing the border between the south and north is no issue but be prepared to stop and show your identification regardless. If driving, note the change in traffic signs and speed limit markers.
I'd recommend staying at least one night in Portrush, which is a vibrant town on the North Coast, close to the Giant's Causeway, a must-see UNESCO World Heritage Site.
The Giant's Causeway is most known for its hexagonal basalt columns which resulted from past volcanic activity. Legend goes that these columns were laid by an Irish giant trying to reach his opposing Scottish giant across the channel for battle. Seems the Scots and Irish argue over more than who makes the best whiskey/whisky!
Don't leave the Portrush area without stopping for a tour at the Bushmills Distillery. It was honestly one of the best tours I've had, and you'll learn loads about whiskey-making at the world's oldest licensed distillery. It's only made better by a sample of their product at the end of the tour!
To learn more about Northern Ireland and travel in the UK, check out the ultimate UK travel guide.
10. Belfast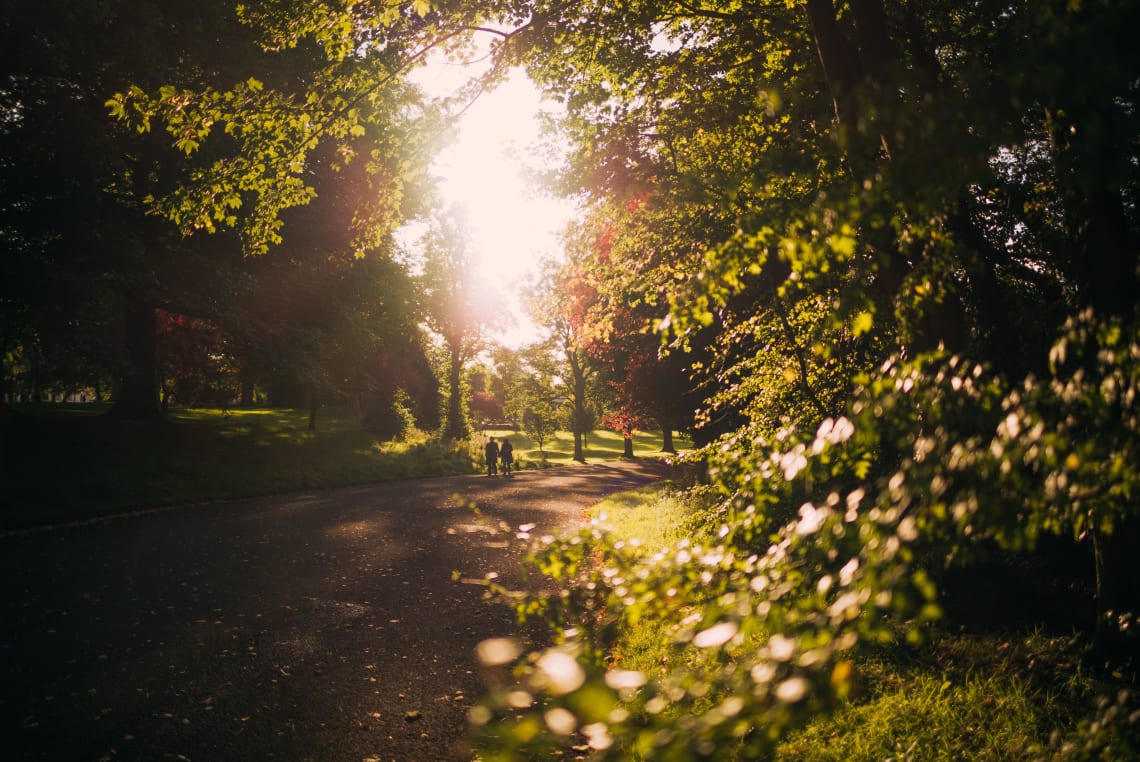 On your way to Belfast, if you have a car, you may be inclined to stop by some Game of Thrones locations. I'd recommend the Dark Hedges, which are only a short drive from Portrush, and Castle Ward (Winterfell) which is located on a gorgeous property in County Down.
Belfast itself is the capital and largest city of Northern Ireland, and well worth a visit! During The Troubles, Belfast was a pretty dangerous place, but it's been booming economically and commercially in recent years. I'd recommend checking out St. George's market and the Titanic exhibition.
Worldpackers in Ireland
Have I mentioned yet that there are Worldpackers opportunities in almost all of these incredible places? Whether you're into animal care, website development, language instruction, or even gardening, there's a place for you on the Emerald Isle!
Check out all of the amazing opportunities for work exchange, social impact, and eco programs to explore Ireland's many counties and personalities... while living like a local!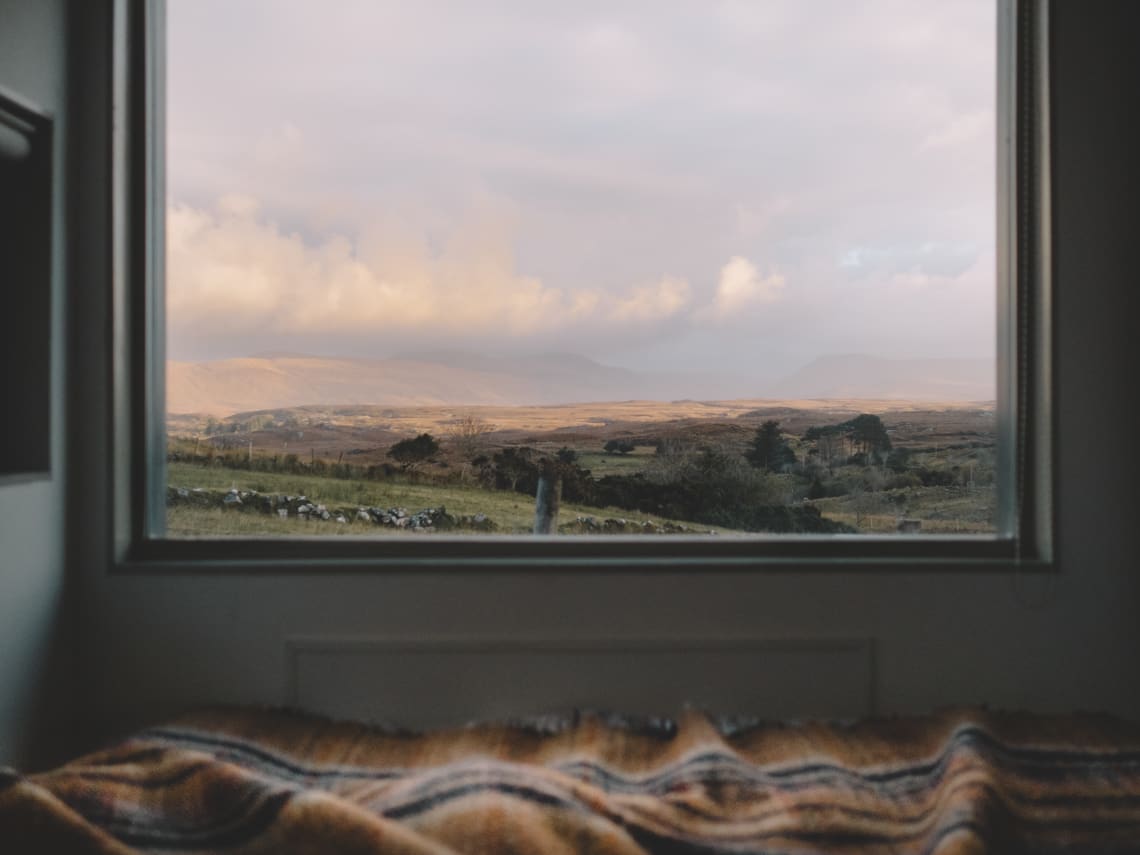 There is nowhere in the world like Ireland. There's nowhere you'll feel how beautiful life is. I don't know if it's something in the water, or the personalities of the people who call it home, but Ireland has a music to it that begs you to sing along.
I hope this ultimate Ireland travel guide has inspired you to take the next step towards your own Irish journey!