The ultimate Worldpackers Morocco travel guide
Dreaming about traveling to Morocco? From the Sahara to the Souks, the mountains to the Medinas, Morocco is bursting with beauty and culture. Here's your ultimate guide to visiting this North African gem.
19min
Although Morocco is not at the top of everyone's list when it comes to new places to travel, I had a huge desire to visit the country. I dreamt of visiting this amazing country for years and when my friend suggested a last minute trip I couldn't have packed my bags quick enough. Maybe I am biased as I have Moroccan ancestry, but Morocco soon became one of my favorite countries in the world and I would not hesitate to visit again and again.
From the Sahara to the Souks, the mountains to the Medinas, Morocco is bursting with beauty and culture.

I spent 10 days traveling around the south of Morocco in January 2018. I took transport from city to city with the locals, I ate tagines until my stomach was bursting, I filled up on Moroccan tea at every place we stopped, I visited the most beautiful Mosques and oldest landmarks, I had the most amazing Hammam in Essaouira, I took a breathtaking journey through the Atlas Mountains to the Dades Valleys, and I rode a camel in the desert at sunset.
Morocco is located in the northwest corner of Africa, bordered by the North Atlantic Ocean and the Mediterranean Sea and surrounded by Algeria and the western Sahara.
This enchanting country is home to the Atlas Mountains, the infamous Marrakech Medina — a UNESCO World Heritage Site, the beautiful blue city of Chefchaouen, the Hassan II Mosque in Casablanca and the majestic gold-orange sand dunes of the Erg Chebbi in the eastern Sahara region.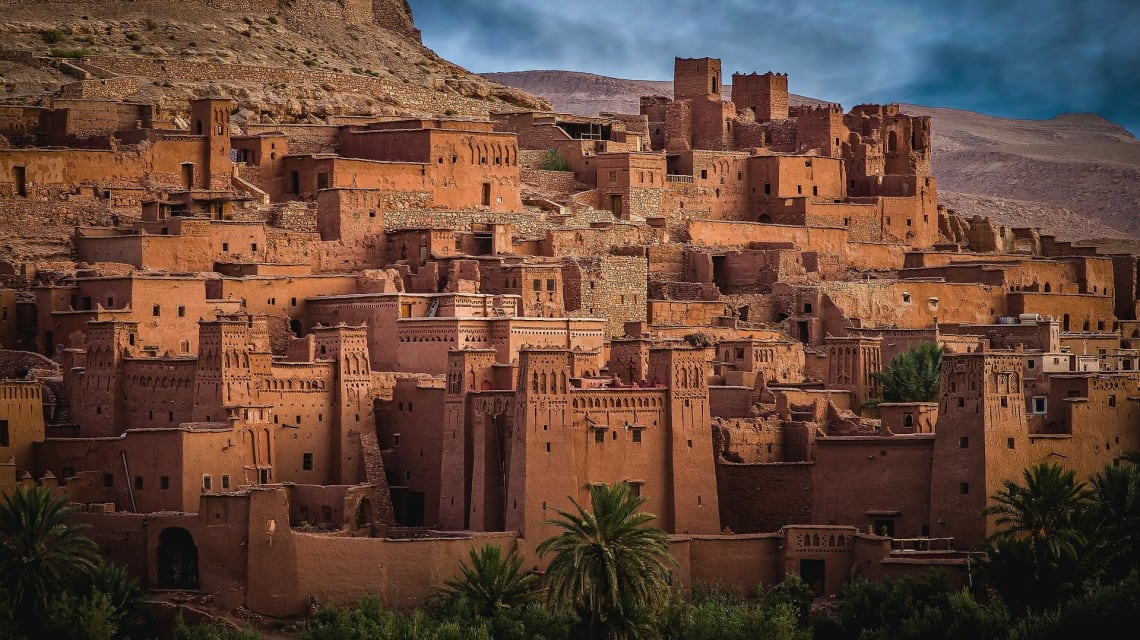 A brief history of Morocco
Morocco is a fascinating country with exceptional amounts of history and culture, beginning with the Berbers around 2000 years before there was ever any any recorded history.
Morocco has been invaded countless times over the past centuries, starting with the Phoenician colonization in 12 BC and then eventually by the Byzantine Empire in the 6th century AD. By the 8th century, the Arabs ruled under a Moorish dynasty and the Berbers lived united in Islamic faith and Arabic language.
In 1906, France and Spain were given the permission to police Moroccan ports and collect custom fees. Morocco became a French protectorate in 1912 by the Treaty of Fez until 1956, while Spain continued to operate its costal protectorate until 1975. Morocco remains independent and has been ruled by King Mohammed VI since the death of his father, King Hassan II in 1999.
The two official spoken languages of Morocco are Arabic and Berber. French is widely spoken as a second language across the country, although Spanish is more common in the North. English is understood by a lot of locals but it's is not as popular a language as French.
A simple 'Shukran' (Thank you) is much appreciated and really puts a smile on peoples faces. It's always worth learning a few of the basic greetings and phrases wherever you go. Hello, goodbye, please and thank you can get you a lot further with locals and go a long way if you're ever lost and or in need of help.
Getting to Morocco
Morocco is very accessible; whether it be by bus, ferry or plane, you have a lot of options for getting there.
1. Ferry
Morocco has four ferry ports (all in the north): Tangier, Tangier Med, Al Hoceima and Nador.
You can arrive by ferry from the following countries: Spain (Algeciras, Almeria, Barcelona, Malaga, Motril and Tarifa), Italy (Genoa and Savona), and France (Sete).
2. Airplane
There are twenty five airports in Morocco which makes traveling by air easily the best option. Located in Casablanca and named in honor of the King, Mohammed V International Airport is the country's largest airport and handles the majority of international flights.
Marrakech Menara Airport is also very large and is a popular choice for European airlines. It is located just 6 km from Marrakech which makes it easily accessible by bus, train and taxi. Other popular airports include Rabat, Agadir, Fez and Tangier.
Most European countries offer direct flights to Morocco, and the ones that do not offer connecting flights.
To get to Morocco from the United States the only direct flights available are with the Royal Air Maroc airline; however, there are many connecting flights through other countries.
3. Vehicle
Travel to Morocco by land border is perfectly fine when driving from Spain or France via passenger/car ferries.
Otherwise, it is not the best option as the road on the Algerian border is closed and the route between Morocco and Mauritania is not very safe as you will need to travel through the Western Sahara. This area has a high risk warning for land mines, banditry and kidnapping, and it is advised to skip it and find an alternate entry or exit method.
4. Visas
Citizens of all European countries, Australia, New Zealand, Canada, USA, and Japan can enter Morocco without a visa and stay for up to 90 days, providing they have a passport that is valid for at least 6 months from the time of the issued entrance stamp.
If your country is not listed above, check with the Moroccan Embassy or Consulate before making travel plans and arrangements.
When entering Morocco, you must provide tickets and documents to show your exit from the country country/onward journey. Should you wish to stay longer than 90 days, you must contact the Consulate of Morocco within your country to obtain a visa.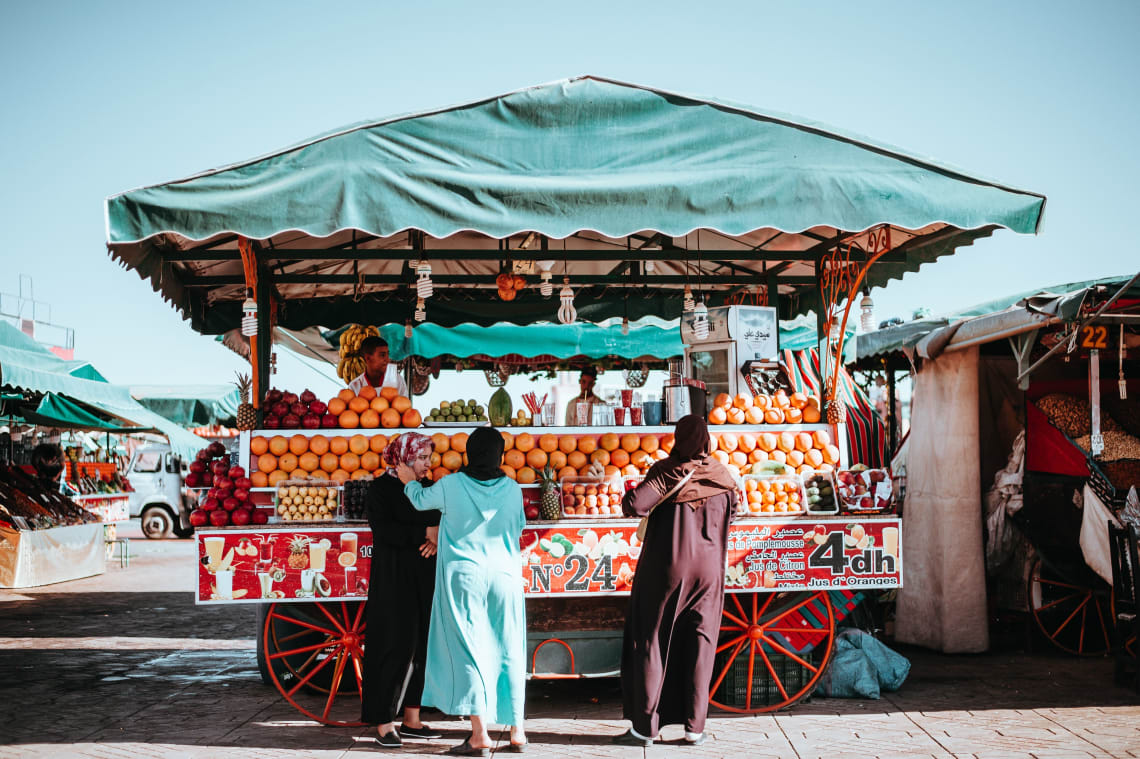 Getting around
A lot of people underestimate how large Morocco actually is. There are several ways to make your way around Morocco and navigate this stunning country smoothly.
1. Trains
The train network, operated by ONCF, has been said to be one of the best in Africa. While it's possible to book a ticket at the station, it's a first-come-first-serve basis and seats tend to fill up quickly, especially during holidays. Tickets in advance can be purchased through the ONCF website. It is also possible to get an overnight train.
2. Bus
I traveled from city-to-city via bus. The cost was cheap and the journey wasn't too bad. I used the locals bus which stopped at a lot of places along the way. The bus gets full fast, so don't expect to have two seats to yourself!
The journeys from Agadir to Marrakech, Marrakech to Essaouira and Essaouira back to Agadir cost approximately €6 each way. The largest bus companies are Supratours and CTM, which are more popular with tourists. You can purchase tickets for busses online, and there's always a charge of €1 (or more if you prefer) to the guy who loads your luggage under the bus, so make sure to carry small change with you.
3. Car
Renting a car in Morocco can be pretty expensive. The language barriers when trying to rent can be complicated, and often-hidden charges also add up!
If you're traveling within the city, local busses and taxis are really cheap and the way to go.
We paid €0.40 to get from Marrakech to Gueliz, and just €1 to return by taxi! Whenever you take a taxi in Morocco be sure that the meter is working, or that you discuss the price (and come to an agreement) with the driver first.
Grande taxis are usually shared with others and are better for long distance journeys, whereas vein petit taxis go straight to your destination. You can flag either down in the street.
4. Flying
There are tons of domestic flights within Morocco, but these tend to be pretty expensive. Use sites like Skyscanner to find the best deals.
Travel costs
When traveling to Morocco, it's important to know that the Moroccan Dirham (Dh) is a closed currency. This means it's extremely difficult to convert money outside of the country, and it is prohibited to take more than 1000 Dh out of the country. You will be asked to declare any Moroccan currency upon leaving and entering to so always be sure to exchange any Dirhams you have left when you're leaving.
I made the mistake of exchanging around €200 in the airport since I wasn't sure how easy it would be to convert my money once I got into the city. I was charged around €20 to do this in the airport.
Using the local ATMs was so much cheaper; the set fee was usually €2 per transaction and most ATMS had a withdrawal limit of €200. Always be sure let your bank know where you are traveling to and check their policies on foreign transaction fees.
I was shocked at how little I spent traveling around for 10 days. I found a budget flight from England to Agadir and back — for €80!
In the 10 days I was in Morocco, I spent just €350.
I arranged my transport from the airport before I got to Agadir and used a private company just to be extra safe as I arrived around 3am. There is a fixed rate of 200 Dh per taxi, not per person, from Agadir Airport to any hotel (220 Dh if you include a tip). Busses from the airport are cheaper, but only run from 06.30 hr until 23.30 hr. Always be sure to agree with the price of the fare before you get into a taxi; even if there is a fixed rate, drivers will try and charge more.
I stayed in a very nice hotel in Agadir for €30 per night. I took the local bus from Agadir to Marrakech, Marrakech to Essaouira and Essaouira back to Agadir for roughly €5-8 each trip. In Marrakech, I stayed in the Majorelle Hostel and they had a sister hostel in Essaouira which they kindly called and arranged a discount for my stay. Both hostels cost me around €5 per night.
I took a 3 day tour from my hostel in Marrakech to the Merzouga desert. We drove through the Atlas Mountains and visited some amazing places such as Ouarzazate and Aït Benhaddou, and stayed one night in the Dades Valleys and one night in the Merzouga desert. This tour cost just €55 and was the experience of a lifetime.
When it came to food, I tried to keep the price down as much as possible, although prices and what I ate or drank varied from city-to-city.
Typically, in casual restaurants, you can expect to pay anything from €3 to €20 per meal. In upper-class spots, meals start from around €12. In places like Marrakech and Essaouira where alcohol isn't popular, you can expect to pay about €4-€6 per beer.
Exchanging your skills for accommodation is one option to cut costs drastically. Not only will you save a lot of money on accommodation, but if you're lucky enough, you can find a hostel that provides 3 meals a day, free laundry, free language lessons, and even free tours!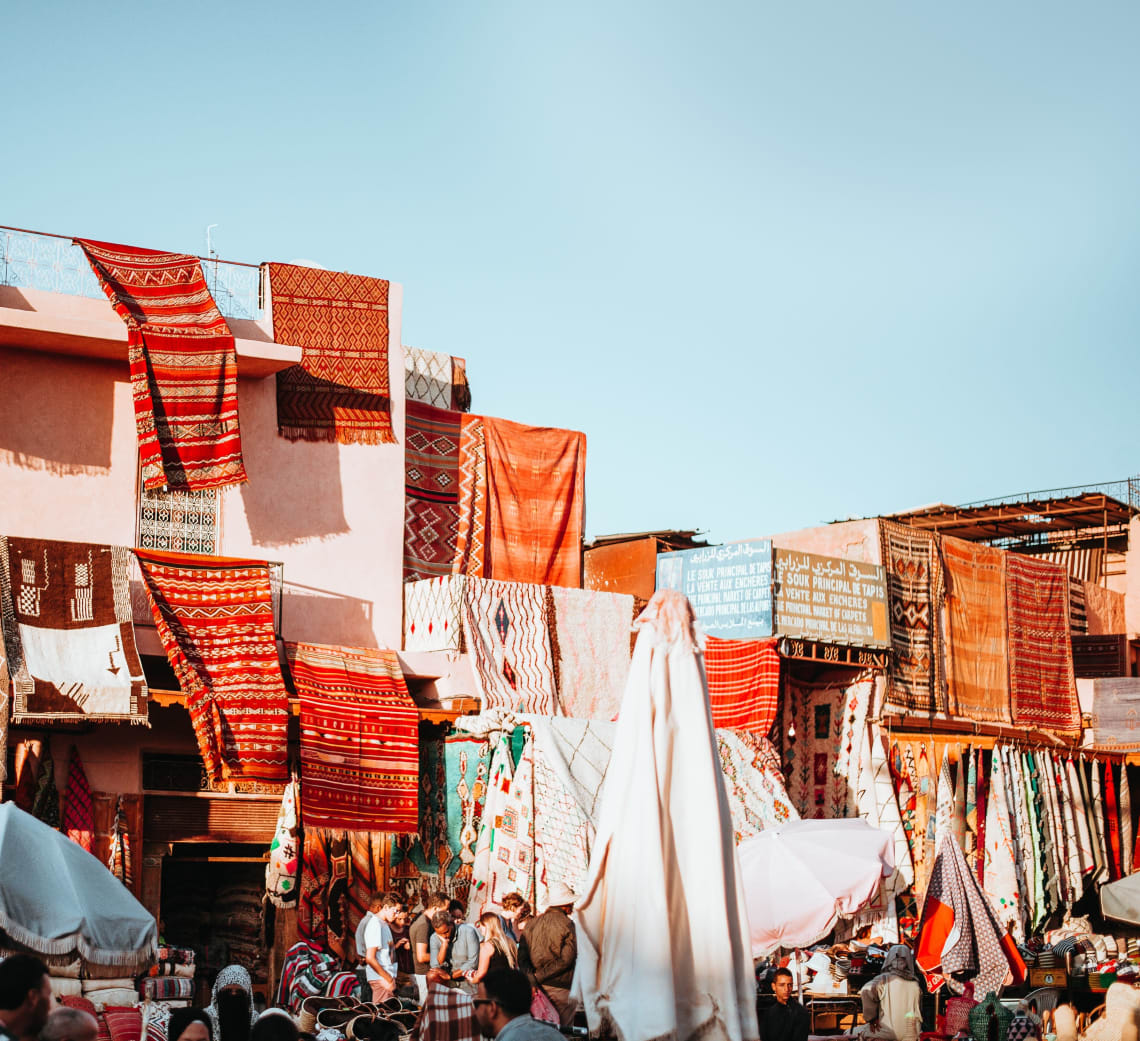 When is the best time to travel to Morocco?
The best time to travel to Morocco really depends on the purpose of your trip as the climate varies between season and region. Although overall the climate is more tropical than dry, this can change significantly depending on location.
For those wanting to avoid the scorching sun and the huge crowds of tourists, April and May and September through November are the better months to visit. For those wanting to surf and ski, winter months would be best.
Morocco's sun can be highly uncomfortable for people that aren't used to such extreme heat, with highs of up to around 40 C in Marrakech, Fez and the Sahara (the further south you go, the closer to the desert you will be). If you are planning your trip during the especially hot months, I would recommend heading to one of Morocco's coastal regions, such as Essaouira or Rabat.
Winter in Morocco lasts from December to January. Snowfall is heavy on the Atlas Mountains, and the coastal region and north experience a lot of rainfall. The south and the Inlands stay very dry, although temperatures drop dramatically at night.
In the time I spent in Marrakech (in January) it rained twice. The days were typically around about 15 to 20 C, but once the sun went down this would drop significantly, especially in the Dades Valleys and the Sahara. The night I spent in the Valleys was the coldest I've ever felt in my life, so I can't stress enough how important it is to take plenty of warm clothes during the winter. Thermals or a warm coat are a must!
When visiting Morocco in the summer, take Ramadan dates into consideration. During this holy Islamic time, Muslims fast from sunrise to sunset, meaning no food or water is drank at this time. A lot of restaurants and eateries close throughout the day, so finding food can be a bit more difficult. If you do visit during Ramadan, make sure to be respectful of those fasting.
How long should you stay?
I was in Morocco for 10 days and this just wasn't long enough. My purpose was to travel and see as many places as possible, but I left feeling like I still had so much more to see and do. I stayed for 3 days in Marrakech but definitely would have extended for a week or more if I'd have had the time as Marrakech is abundant with fantastic history and culture.
If you want a full experience, I would recommend staying for two weeks or more if your schedule allows. If you're not much of a traveler and like to be in the same place for your trip, I would recommend one week to ten days.
If you're staying in one of the central cities, this makes it much easier to get a bus to the other cities for day trips.
Always check with your hostel first if they provide tours and activities; this can save you a good amount of time and money as tour companies tend to be more expensive.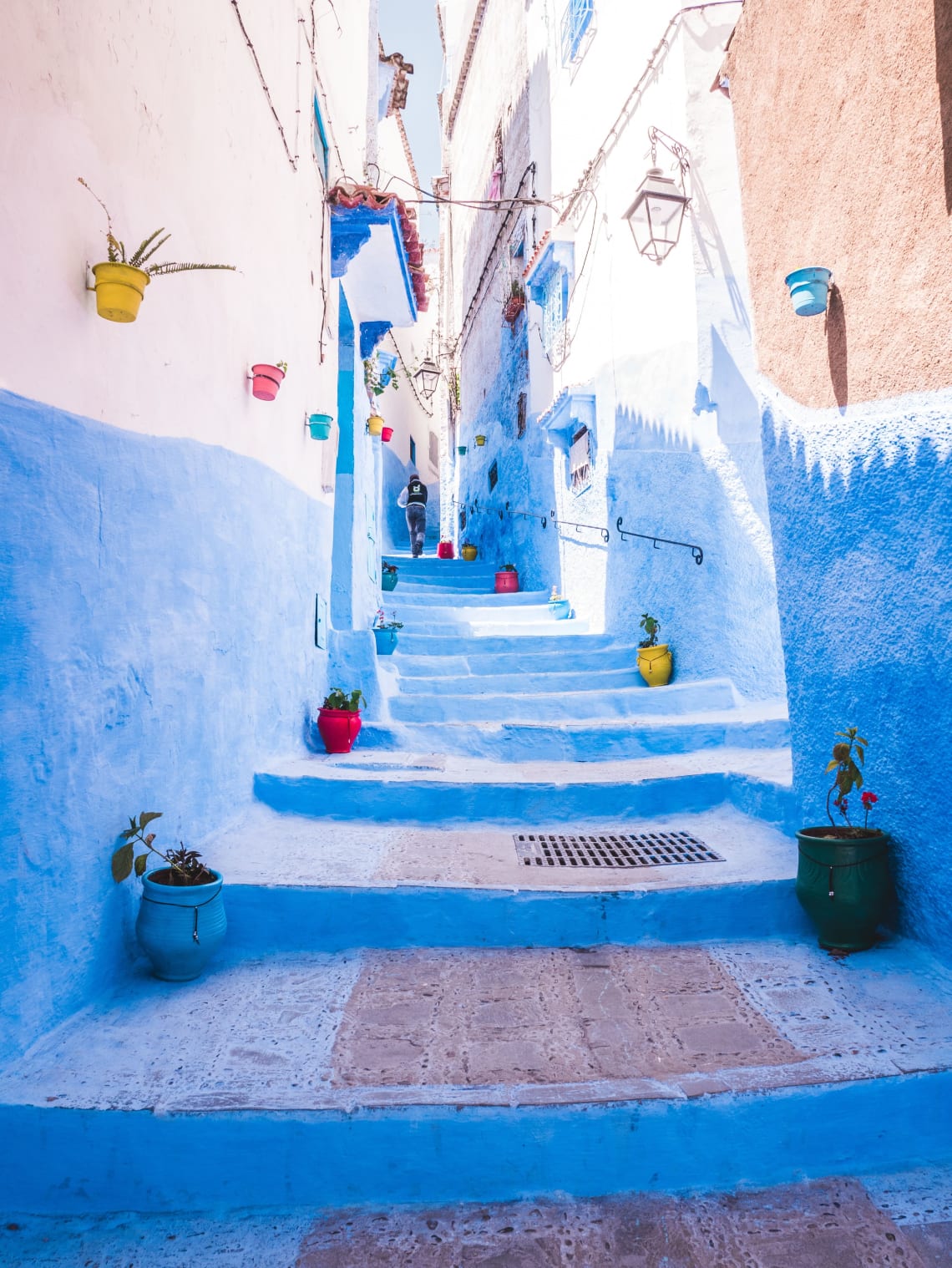 The ultimate Morocco travel guide
Morocco is an extremely hospitable and welcoming country. That's not to say you shouldn't behave in a certain way while you're there. Learning and respecting the etiquette is extremely important when traveling to any country. Here's a few things to keep in mind.
1. Dress modestly
It is considered offensive for women to have their shoulders or legs on display in most parts of Morocco, especially in rural villages. That being said, it can be typical to see women dressed in shorts and a t-shirt in the more touristic and modern areas such as Agadir, Rabat, Casablanca, etc.
I prefer to respect the culture and dress modestly. This also helps avoid unwanted attention, especially from men. I wore a headscarf for a lot of my trip which made me feel a lot more comfortable walking past men, especially when they were in large groups.
I also wore minimal — if any — makeup while I was away. This might seem a little extreme to some people but Morocco can be a little overwhelming for female travelers so wearing a lot of makeup can certainly attract the wrong attention. It's also pretty common for female tourists to wear a wedding ring at all times as a buffer from unwanted male attention.
2. Avoid eye contact
This may sound silly, but avoiding eye contact or saying hello to people in the streets and the markets will certainly help prevent you from being hassled or roped into buying something you probably don't want, for a price you wouldn't want to pay.
If you're an assertive person and know how to bargain or say 'no' and mean it then this shouldn't be an issue. Personally, I enjoyed the hustle and bustle of it all, and so long as you keep a close eye on your belongings, I don't see any problem with stopping to look in shops or chat with the locals.
3. Watch out for the pickpockets
Pickpockets in Morocco are rife. It's known for people to cut through bag straps in order to take off with them, so be very careful and make sure to keep your bag shut and close at hand. I used a money belt that was strapped to my stomach underneath my clothes at all times, and felt very secure this way.
4. Tipping
As with anywhere in the world, although it is not obligatory, you are expected to tip workers. In casual food spots I would typically tip around 5 Dh, whereas the upper-class restaurants usually add the service charge on to the bill.
*Unfortunately, of the many helpful and friendly people you meet along the way, many will expect a tip even if they are not providing a service! Whether it's giving you some basic information or directions on where to go, people will expect some kind of payment. It's up to you how you wish to navigate this; my personal recommendation is to have a few coins on hand and be prepared to give a clear and firm "thank you."
5. Learn to bargain
Learning to bargain in Moroccan Medinas and souks is an absolute must! If you feel like "that's just not me" or "I don't think I can do that" then I would advise you to save your money and not purchase anything at all. The merchants expect you to bargain, and will always tell you a price way above what the item is worth. Haggling in the souks also includes the places that have "fixed price" signs. There's barely such a thing as a fixed price in Morocco!
Always be aware of how low the currency conversion; putting 10 Dh down as a tip might sound like a lot, but converted it's roundabout €1.
A great rule-of-thumb is to always keep some small change and hand and to tip anyone that provides you with a service; hotel staff, porters, your driver, your guide, etc.
6. Greetings and handshakes
It's always worth knowing a few basic words when it comes to languages and meeting locals in foreign countries. "As-salāmu ʿalaykum" (pronounced Ah-salam-a-lay-kum) is the basic greeting in the Arabic language, and translates to "peace be upon you." The response to this is "wa ʿalaykumu s-salām" (wa-a-lay-kum-salam) which means peace be upon you, too. This is definitely worth learning if you are going to any Muslim country.
Handshaking will always be with your right hand. Be aware never to extend your left had as this hand is considered to be the hand used for the toilet and is therefore unclean. If your hands are full then its typical for the other person to shake your wrist.
7. Male and female interaction
Contact between a male and female in public is strictly limited to a handshake. Whether married or not, couples will rarely touch in public, and I would recommend sticking to this rule, even if you're just with a friend.
Where should you stay?
Marrakech
Marrakech is a city with many fascinating Medinas and neighborhoods, and is the most captivating place I have traveled to. The Red City, founded in 1070, is now a UNESCO Heritage site that began with the Berbers and a collection of tents.
The Djemaa el-Fna is is at the heart of the Medina, and nothing can prepare you for the mythical adventure of what truly feels like going back in time. The sounds of the ancient Berber music and the snake charmers flutes bring a sense of tranquility as you make your way through the hustle and bustle of one of the oldest neighborhoods in Morocco.

Gueliz
Just a stone's throw away from ancient Marrakech is Gueliz, which is quite the contrast from the narrow winding alleyways of Marrakech's souks and chaotic Djemaa el-Fna square.
It takes around 5-10 minutes on a local bus to get from the the old town to the new, which was designed and built by the French in the early 1900s. With modern shops, beautiful parks and it's wide boulevards Gueliz is a very different experience. Gueliz is home to the famous Majorelle Gardens, numerous shopping outlets and multiple stylish hotels and restaurants, and is perfect for those seeking a more modern vibe.
Essaouira
Previously known as Mogador due to the Portuguese establishment in the 16th century, this coastal town should definitely be on your list of places to visit. The Essaouira Medina is so old and so authentic — it has remained unchanged for hundreds of years!
Hollywood films have been shot in Essaouira's age-old neighborhoods, which makes it more of an attraction for tourists.
Visiting the port for fresh fish is an absolute must for seafood lovers. From shrimps to shark, there's something for everyone, and why not pay one of the locals 10Dh to cook it for you on the spot?
Coastline Essaouira is also a popular surf spot... so what are you waiting for? Surf boards at the ready!
If you really want to explore and get to know Morocco's culture, then a Worldpackers experience could be just what you're looking for.
Not only will this cut the costs of your travels tremendously, but you'll also gain real insight into what it's really like to live like a local. Here's a list of some awesome hosts that have some incredible exchanges to offer:
Equity Point is a Worldpackers top host and is great for budget travelers! (Marrakech)
Create videos in exchange for a local Marrakech home-stay!
Funky Fez gives volunteers 3 days off per week, plus free tours! (Fez)

Plus so many other options. Make sure to check out the full list of Worldpackers' awesome work exchange and volunteer programs in Morocco!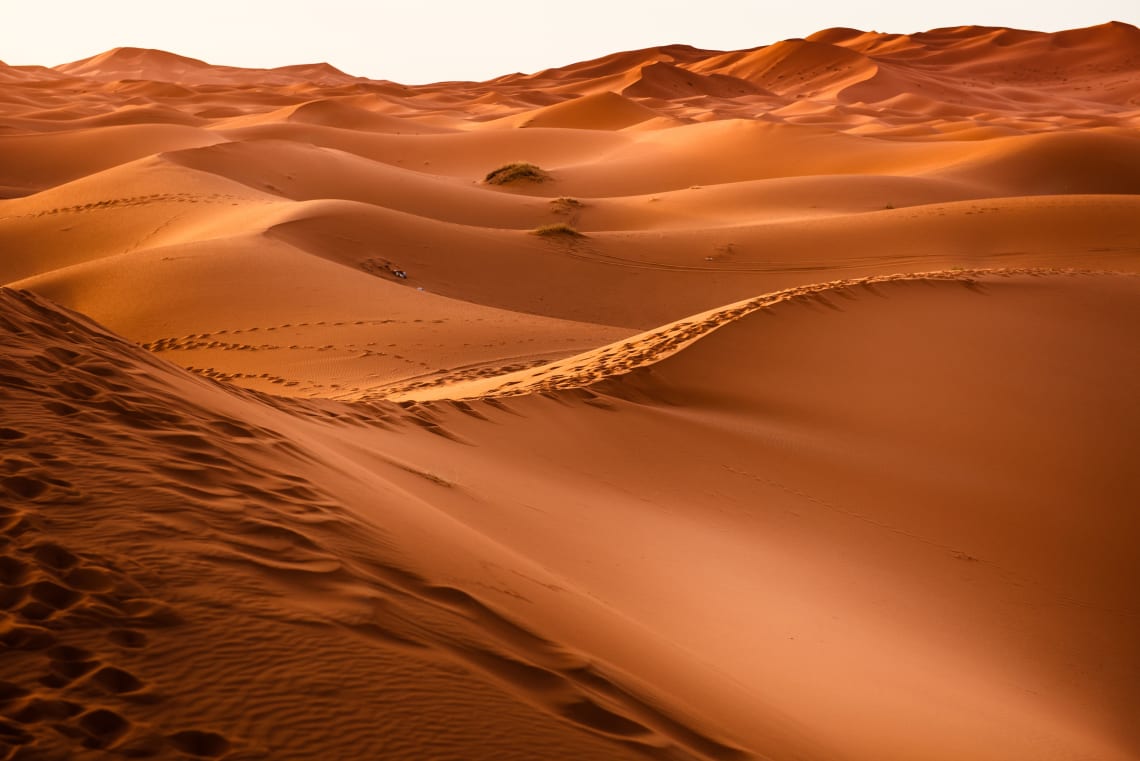 Must-see spots and activities
Morocco certainly has no shortage of historical monuments and ancient wonder. This is a list of places you must see and activities you must do when visiting Morocco.
More inspiration in Where to go in Africa: Top 9 countries for an unforgettable experience.
Visit the Dades Valleys
We visited Boumalne Dades as part of an excursion. We journeyed through the Atlas Mountains, stopping off at so many scenic places along the way for photos. Once we got to the Valleys I was completely in awe; the scenery is something else entirely.
I also visited Monkey Fingers Canyon at night, and I saw the Milky Way. I've never felt so overwhelmed by the magnificence and grandeur of nature. I laid on the ground looking up at the stars, and saw shooting star after shooting star after shooting star.
Stay in the Sahara Desert
Staying in the Sahara was the second night of our excursion following the Dades Valleys, and it certainly did not disappoint. Trekking into the desert on camels at sunset was setting was an magical feeling. Although it took a little while to feel comfortable on the camel, the journey was so charming and peaceful. We ate tagine and listened to Berber music under the stars all night, gazed at the Milky Way and saw endless amounts of shooting stars. The journey back at sunrise was remarkable. Miles and miles of beautiful gold-orange sand dunes and the silhouettes of the camels is something I'll remember forever. I'd strongly advise staying in the desert for several days. I paid around €60 for 3 days.
The Old Tannery
Located somewhere between the labyrinth walls of Marrakech, the old tannery is a must-visit. Although it smells terrible, seeing how leather is made is a one-of-a-kind experience.
Be aware: if you're not willing to buy merchandise, the workers will demand a higher payment for the guided tour (even though it's free for anyone to walk around). I think I paid around 200Dh (€20).
Ouzoud Falls
This is the highest waterfall in north Africa and one of Morocco's most photographed natural wonders. A day tour costs around €20.
Learn to cook the Moroccan way
Moroccan cuisine contains Berber, Arab, French and Spanish influences and is famous for its fragrant spices and various cooking methods. Ask your accommodation for information on where you can sign up for a class.
Indulge in a traditional Hammam
This was an experience I wasn't fully prepared for. My whole naked body was scrubbed by two other practically naked women alongside other women that I'd never met before!
Nonetheless, I soon adjusted and it was such a relaxing experience. I almost missed our coach back to Agadir because I got extra treatments. I left feeling the cleanest I've ever felt! For only €11!
Stay in a riad
Many of these traditional Moroccan homes have been converted into beautiful, luxurious hotels. Mostly situated in the walls of Marrakech and Fez, you can stay in one of these architectural masterpieces for as little as €30.
Drink Moroccan mint tea
Moroccan tea, or Moroccan whiskey as it's often referred to as, is the most popular drink across the country. Served from a silver teapot and poured from high above, this is a must-try for everyone.
Moroccan cuisine
Moroccan food is one of my favorite foods! I love a traditional tagine followed by Moroccan Whiskey (mint tea).
Whilst in Agadir, I stumbled upon a small bar that was tucked away just off the seafront and served an amazing fish soup. Beer was only €2, which was the cheapest price we paid while in Morocco.
Once I got to Marrakech, I pretty much lived off street food, paying around 6Dh (€0.55) for a chicken kebab or living off of home-baked pastries and breads from one of the many small patisseries and stalls.
If I went to eat out, I would usually choose the €3 pizza and chips rather than the €7 tagine or the €13 fish.
I ate at Djemaa el-Fna square and never will again. I assumed (and I'm sure many others do, too) that this food would be so authentic and tasty. I was wrong. The place is created for tourists and the quality of food was the worst I'd eaten while I was in Morocco.
I spent just one evening and one day in Essaouira and ate the most incredible seafood! All the fish sold down by the port is freshly caught, so amazing and so cheap! Less than €3 for fish and a whole plate of king prawns! And for just €1 they will clean it and cook if for you on the grills right by the port! The fish is served with bread and lemon and is so delicious. Be sure to tip an extra ~20Dh (€2).
I didn't end up eating in any of the smaller, more traditional Moroccan places as I'd read that they are usually just for men, and that women who enter are seen as prostitutes. My information could might be wrong so it's worth reading up on, but I didn't want to take any chances.
Last tips
Say no to hennas! The henna lady will not think twice about grabbing your hand and starting to paint a henna, with or without your consent. She'll insist over and over again that her service is free and then try to charge an extortionate price and call the police over when you refuse.
Give cigarettes or food to people on the street. There are often people living in the streets of the souks, so be polite and offer a pastry or something small. Pennies for you, but a huge deal for someone else! Cigarettes are only around €1.80 for 20, so even if you don't smoke sometimes it's worth carrying around a pack to offer to people begging.
Don't walk around alone at night! This is pretty self explanatory, especially for women. Be prepared to receive a lot more attention than you usually would. People are so kind and friendly but sometimes it's hard to avoid the attention, which is why I ultimately opted for a head scarf and modest clothing during my stay.
Carry tissues and sanitizer! Morocco's toilet system is different to say the least. I would not leave my hostel without these.
To sum it all up, this blog post is only a few of the reasons that I fell completely in love with Morocco, and I cannot wait to go back and volunteer for a more full, authentic experience.