Where to go in Africa: Top 9 countries for an unforgettable experience
If you are wondering where to go in Africa, you a re in the right place... Let's talk about my top 9 picks of African countries to have an amazing getaway vacation.
13min


Sitting at one of the biggest continents on the beautiful planet we live on, Africa is a great and welcoming travel destination with 54 gorgeous and cultural countries.
Whether you want to volunteer at a school or chill by the beautiful crystal clear water at a clean beach, the choice is yours when it comes to the African continent. You pick your vacation destination for a safari, pyramid touring, or island hopping!
Every country has its own unique culture and amazingly stunning landscape, but I've picked 9 countries to start off with. Of course, this very short list does not and could not capture the beauty of the entire continent, but these countries are some of the best ones to get started out with for first time travelers...
Where to go in Africa: Egypt
One of Africa's most popular tourist destinations, this Northern African country has a history that is unmatched.
This country is quite large and filled with so much history, a traveler would probably need at least 2 months worth of exploring, relaxing, and resting to even make a dent in the sites and activities here.
I absolutely adored my time in Egypt and was blessed enough to get a chance to spend 2 weeks exploring Cairo/Giza, Luxor and Aswan. Listed below are some activities I got a chance to participate in as well as great Egyptian tourist attractions: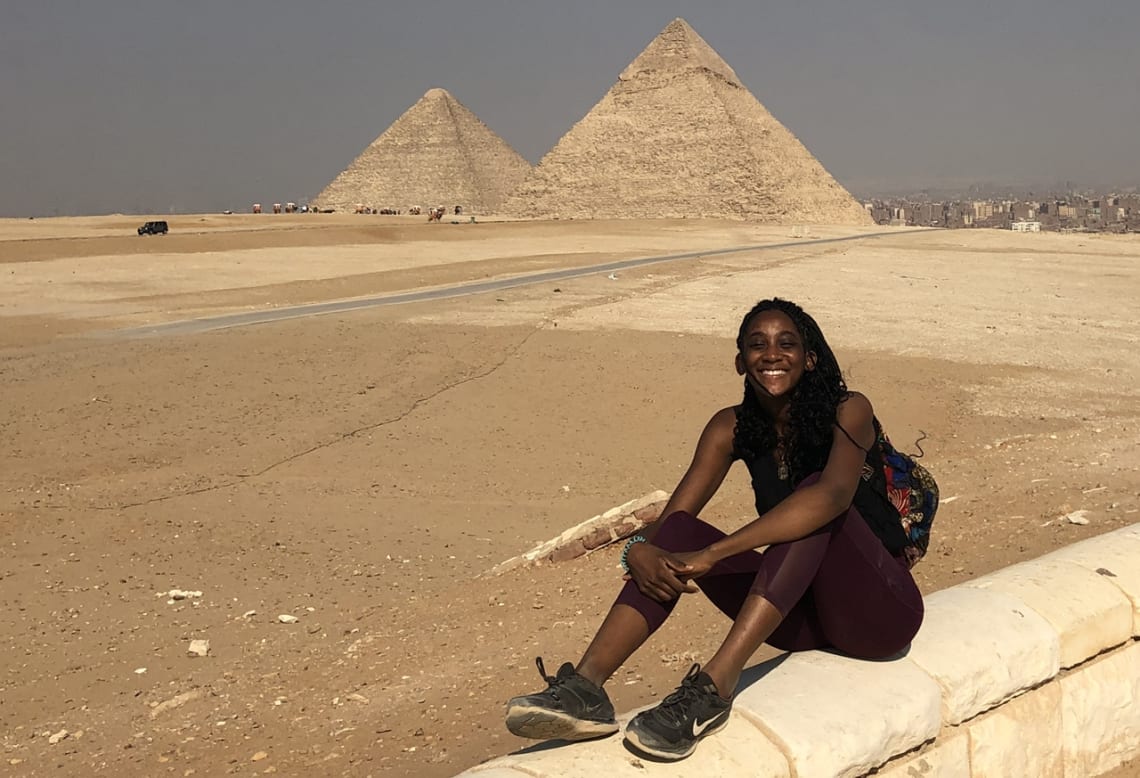 Giza: the "must-do" of any trip to Egypt
Of course when we think of Egypt we automatically picture the great pyramids as well as the Sphinx. They're such a lovely sight for the eye as well as the Giza pyramids have many activities to do at the site.
Truly a perfect getaway for a solo traveler or the entire family, you can just go to the site to take pictures, enter inside a few of the pyramids, or ride a camel or horse around the vicinity.
Wander around Cairo
If you're in Cairo you have to visit the Egyptian Museum located in downtown! A lot of the Egyptilogists have placed some sensitive and delicate artifacts from their original homes into this museum to be further protected.
Going here with a tour guide (or even by yourself) will be a huge eye opener to the amazing history that has taken place in Ancient Egypt.
Before you leave Cairo (and Egypt in general) you simply have to get a few perfume oils. These oils smell absolutely delightful and have no alcohol included. All the ingredients are sourced in Egypt as well making them a perfect gift for self or family/friends back home.
Sail the Nile River in Luxor
Have you ever ridden on a hot air balloon before? Neither did I before flying over the valley of the Kings and the Nile RIver to cross to the East Bank. Such a stunning and life changing experience, this tourist attraction is highly suggested for every tourist that finds themself in Luxor.
Once your feet have safely landed on the ground, head to the Valley of the Kings to see some ancient tombs as well as the Queen Hatshepsut Temple.
Luxor is probably the perfect place to sail the Nile River. I took a boat ride in Cairo as well as Luxor and Luxor was far cleaner. The Cairo Nile River gave off a green tint, you could tell it was extremely dirty. Whereas the Nile River in Luxor was a beautiful blue and I also got to sail on a beautiful hot day with not a cloud in the sky. Overall an amazing experience every tourist should get the opportunity to experience.
End off your trip by eating some traditional Egyptian food by the Nile River and visiting the 2 temples in Luxor.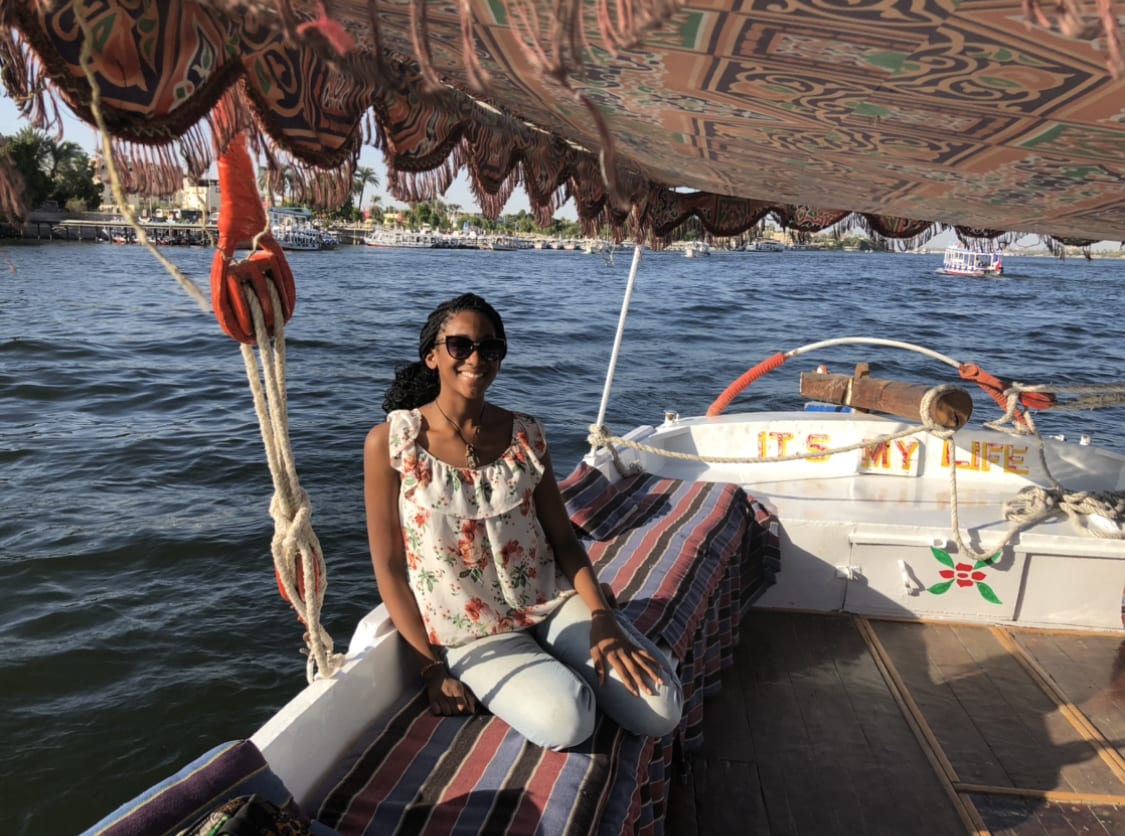 Visit Hurghada, the laid back beach town
Known as the laid back beach town, Hurghada has beautiful waters, and is located along the Red Sea coast of the country.
Tourists love to go here to snorkel, enjoy the beach, and explore deep sea scuba diving as well.
If chilling by the water and sun are more of your vibe then a trip to Hurghada is awaiting your arrival.
Get to know a Nubian village in Aswan
With buckets of sunshine and little to no rain, Aswan is the border city nearby the next country of Sudan.
It is known to be the Nubian village and some of the oldest Egyptian people. While you're here, go for a tour of a Nubian village and visit the infamous Ras Simbel. This site is located about 2-3 hours away so your tour bus will leave very early in the day, be sure to bring snacks with you.
You can also sail the Nile river in Aswan as it is known to have even clearer water than Luxor. Stock up on some beautiful Nubian spices and souvenirs before heading back home as a once in a lifetime unforgettable physical memory.
The forms of transportation in Egypt include: train, bus, flying, and river cruising. Depending on what type of person you are, enjoy your preferred method of transportation while adventuring through a beautifully old country.
If you are a student and have identification, you will be able to get 50% off all attractions including the museums, pyramids, and historical sites so be sure to bring your student ID with you to get a great deal!
Where to go in Africa: Morocco
Another country located in North-Western Africa sitting in between the Atlantic Ocean and Mediterranean Sea with deep roots in world history, is Morocco.
There are so many reasons to travel to Morocco, a backpacker or luxury traveler would be equally satisfied.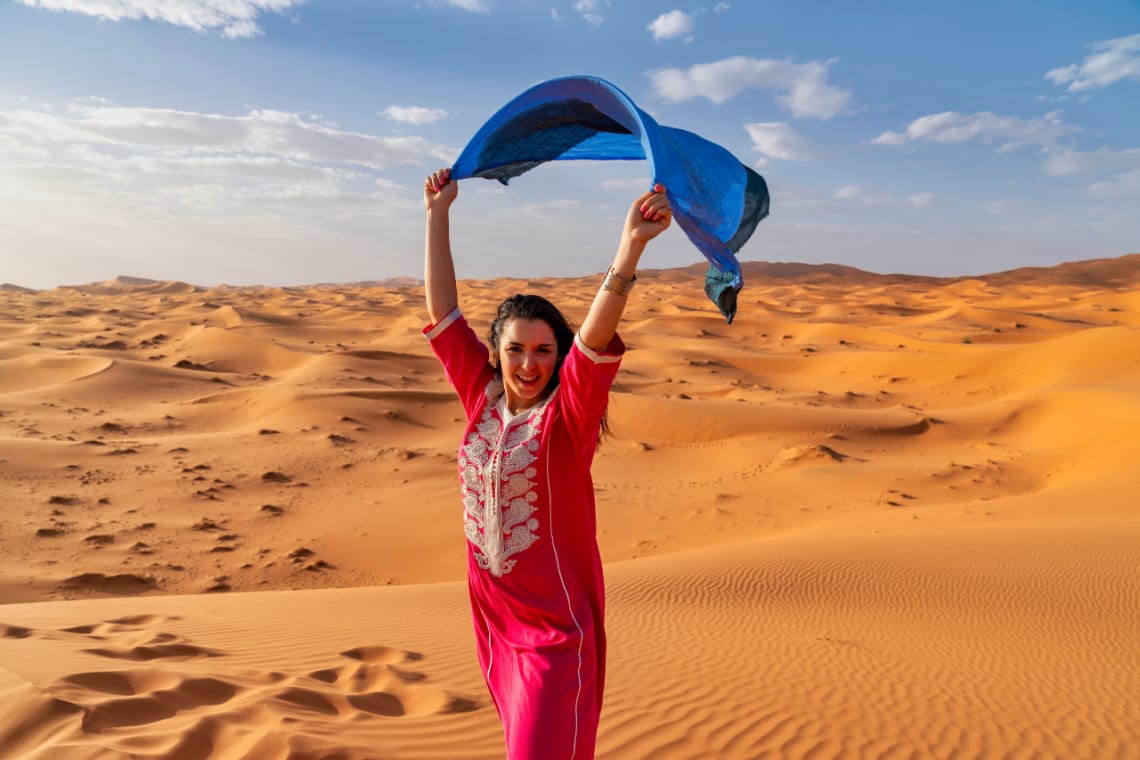 Casablanca, your gateway to Morroco
The capital of Morocco and most likely the city you'll be flying into, Casablanca is a nice place to stay for a few days, but no longer than that.
One of the most popular and well visited tourist sites in the capital is the Hassan II Mosque. The architecture of the building and the story behind it will leave you surprised.
Consider a visit to The King's Palace for the outside's colors and design as going inside is now allowed. The name of the city is actually Portuguese translating to White House.
Walk the blue alleys of Chefchaouen
Probably the biggest tourist spot in Morocco people usually flock to as soon as they step foot here is to see the blue painted walls and stairs.
There are so many things to do in this city other than just looking at the magnificent blue such as: going to the market, shopping for souvenirs, experiencing nightlife, or even receiving a traditional massage.
It is such a unique spot and not only makes for beautifully blue pictures but will also leave its mark in your travel memoirs.
Head to Erg Chebbi for sand dunes
Erg Chebbi consists of sand dunes that go on for miles and miles. Tourists mostly come here for the long camel rides where they can enjoy the scenery of endless sand dunes that seem to go on forever.
Enjoy a camel ride across the Moroccan Sahara Desert and be sure to bring your phone or camera as you'll want to take a lot of pictures!
Experience the Sahara Desert is definitely among the most unique places to stay for cheap around the world.
Conquer the tallest mountain in North Africa: Jebel Toubkal
If you're a fan of hiking and mountains, then this is the attraction for you!
Jebel Toubkal is the tallest mountain in North Africa and holds sites that are so beautiful to the human eye.
The entire hike is about 37 miles, or 60 kilometers, and takes visitors a few days to complete, so pack camping gear if you would like to conquer this trail.
Realx in Agadir Beach
Settled on the Atlantic Ocean, this beach city offers swimmable waters.
This destination is a great spot to hit up for a relaxing stay by the water and stay by a nice resort to take your mind off any and all stressors.
Don't miss the Fes Medina
This medina (Arabic for city, nowaday referring to the old quarters) is one of the oldest in all of Northern Africa and a must visit for tourists.
Fes has one of the oldest universities in not only Africa but the entire world as well! Don't miss out on getting Arabic spices before leaving this amazing culture rich city.
Planning a trip to Morocco, check this out: The ultimate Worldpackers Morocco travel guide
Where to go in Africa: South Africa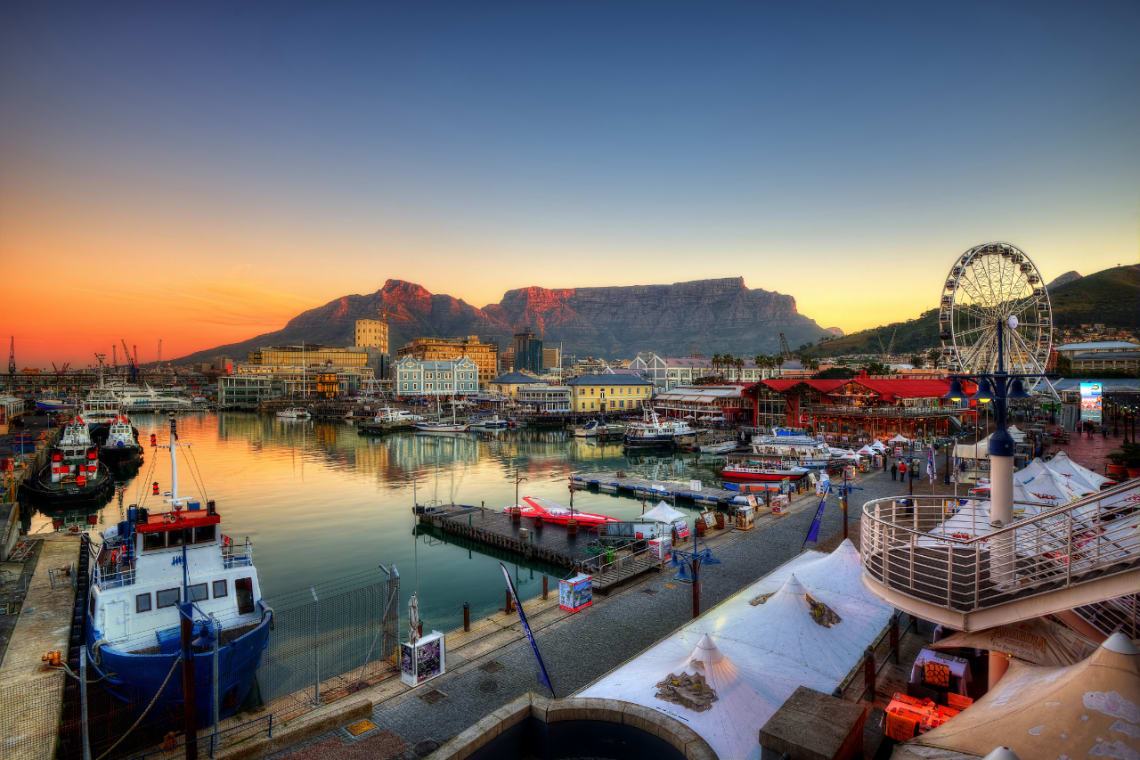 Visit the capital city of South Africa: Johannesburg
Also known as Jo'burg, this city is one of the many capitals of Africa's fast developing nation South Africa. There are lots of interestings things to do in this artsy and chic city, you won't get bored.
Visit the Apartheid Museum to learn more about the history and separation between different races, enjoy a walking tour around Maboneng Center, or take a helicopter ride over the city if you're up for it!
Learn about the recent past of South Africa in Soweto
The most famous township of Southern Africa, this city has so much history. If you want to learn more about South Africa's unfair apartheid history make sure you spend a few days in Soweto.
Check out the Mandela House to see where the late president, Nelson Mandela and his family used to live.
Enjoy the coastal city of Cape Town
For beautiful beaches, watersports, and an overall great vacation, head to Cape Town!
Located on the western coast of the country, Cape Town offers lots of fun for solo travelers and families.
Enjoy an array of water activities: visitors can kayak, surf, or even penguin watch! Wine tours occur weekly and are a great way to taste all of South Africa's stunning drinks.
Cape Town also offers zip lining, helicopter rides, mountain biking, walking tours, and basically anything you can think of.
Plan your trip to South Africa with The ultimate Worldpackers South Africa travel guide.
Where to go in Africa: Tanzania and Zanzibar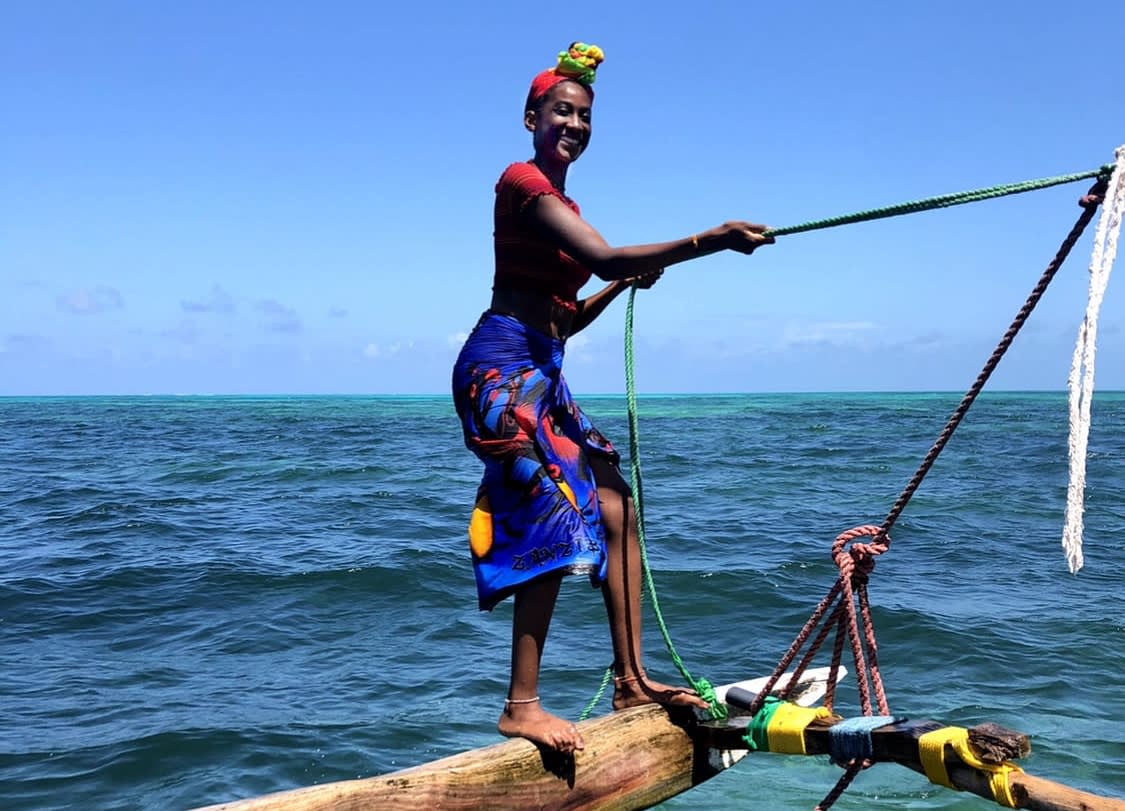 What to do in Dar es Salaam
Home to the largest international airport in the country, Dar es Salaam is a city of heat, beaches, and Swahili culture.
No more than a few days is needed to explore this city, but while you are here you can go to the infamous Kariakoo Market to buy amazingly priced fruits and vegetables, fabrics, or souvenirs.
Take a day trip to Coco Beach and try some fried cassava served with pilipili (hot sauce) or, if you're looking for a cleaner swimmable beach, head to Mbudya Island for the day. This island is reserved for tourism, people are required to leave before the day ends unless they want to camp.
Want to go on a safari? Arusha is the place
Many people head to Tanzania for their stunning safaris, and Arusha, a northern mountain town situated quite close to Kenya, is where all of the magic happens.
Of course, there are safaris located all across the country but Arusha is home to 5 of the most popular trips including: Ngorongoro, Serengeti, Lake Manyara, Tarangire, and Arusha National Park.
Serengeti and Ngorongoro have been named as the most beautiful safaris in Tanzania, but Arusha National Park is a great budget alternative and perfect for those who have their own car rental as hikes and getting out of the car are permitted in certain areas.
Head to Moshi for Mount Kilimanjaro views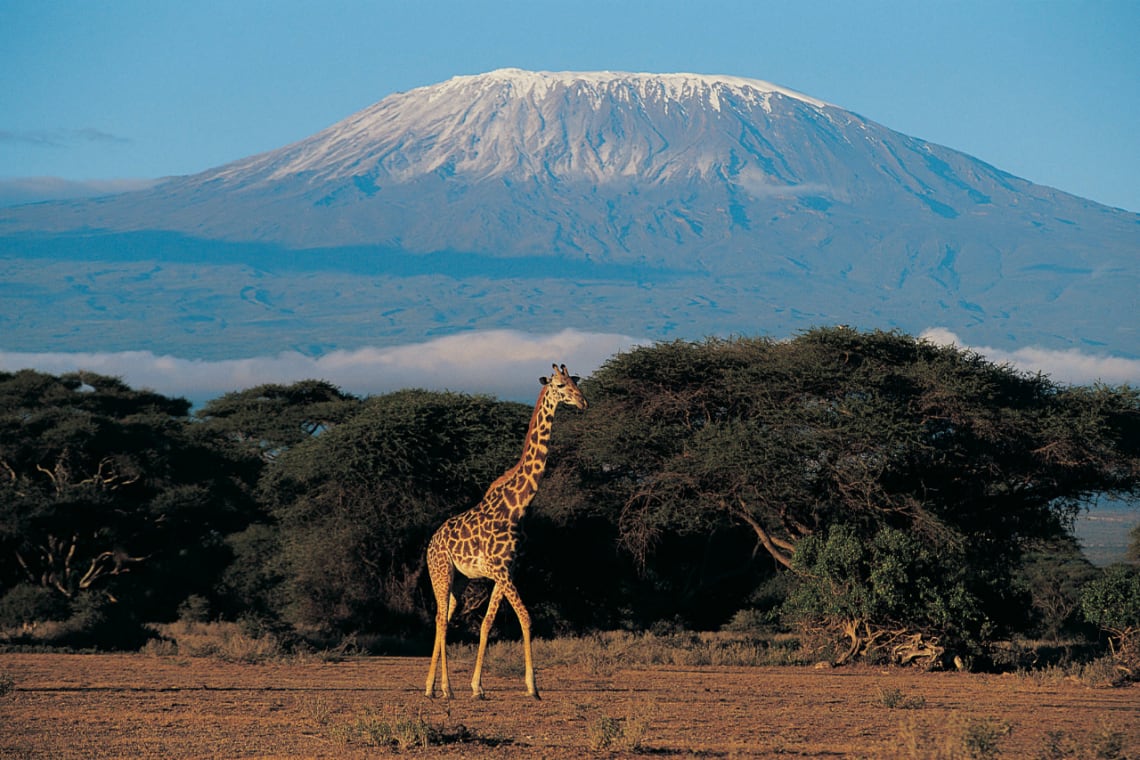 Contrary to popular belief, Africa's highest mountain is actually located in Tanzania and not Kenya.
Swing over to Moshi Town and take a quick hike by the base of this world famous mountain. Maybe if you're lucky enough, you'll go on a cloudless day and see the top of the mountain.
You can either fly into the Moshi airport, or take a bus from the Dar es Salaam or Arusha city center.
Don't miss Zanzibar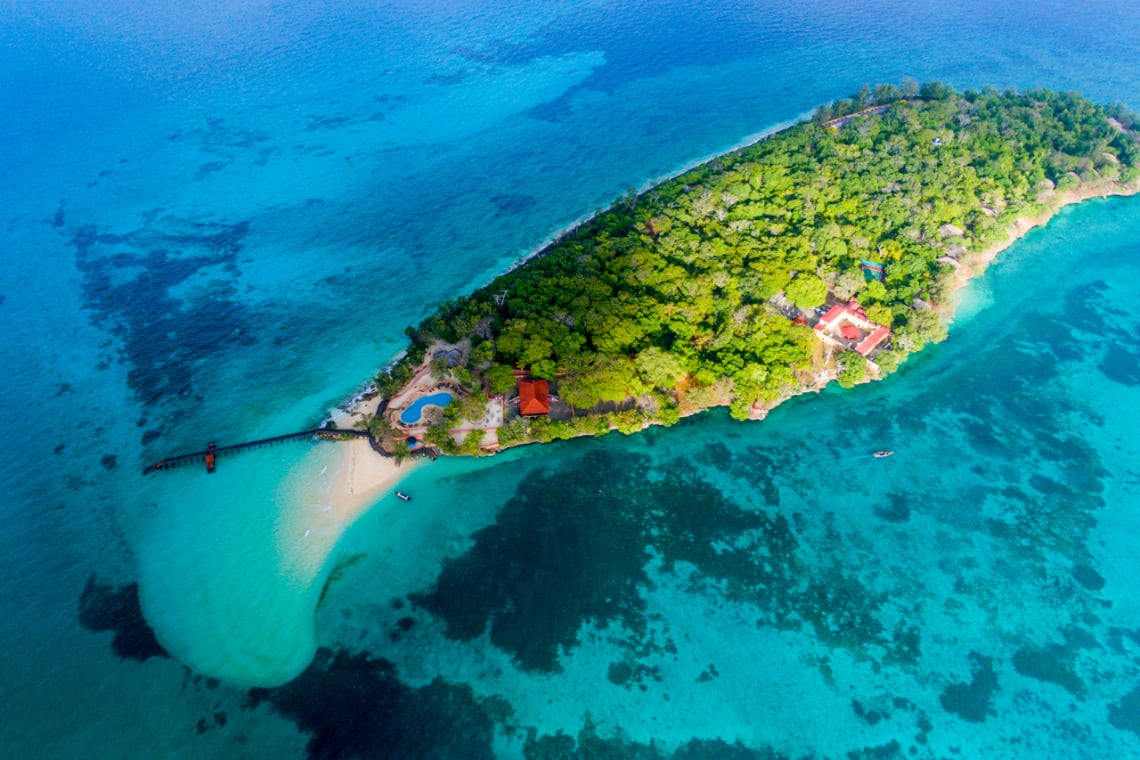 One of the most visited places in Tanzania is probably the beautiful and well known Zanzibar or Unguja island.
This little island has a special political condition, so when you go there by ferry (or flight) you'll need to fill out another immigration form and receive a Zanzibar stamp in your passport.
Zanzibar is filled with fun activities to partake in: visit the spice farms located in the North-eastern part of the island and get a chance to see an array of tropical fruits including starfruit, jackfruit, durian, and soursop.
Visit the city center of Stone Town, Fort Udhali at night to experience Zanzibar nightlife and enjoy different food such as shawarma, chapati pizza, or the Tanzanian classic- chipsi aka french fries.
Zanzibar is home to an endless amount of beautiful beaches starting in Paje, Jambiani, and Nungwi.
Visit Prison Island for a day trip of petting decades-old humongous turtles and take a swim by the nearby beach when you're done. If you don't like to pet turtles, then consider swimming with them! On another side of the island offers a tourist attraction to swim and take majestic photos with turtles.

Where to go in Africa: Kenya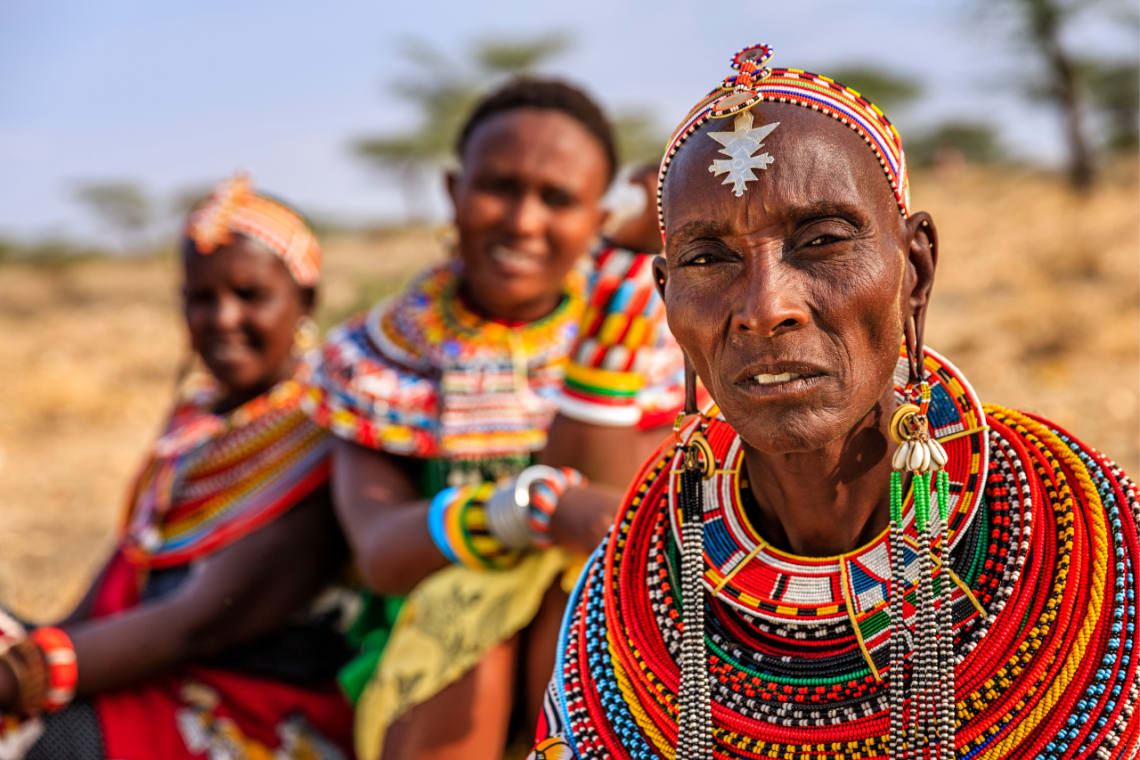 Nairobi, your gateway to Kenya
Probably the most developed city in Eastern Africa, Nariobi is a delight for all types of travelers.
Nairobi is most likely where you'll be flying into as it is the capital of Kenya, but don't worry, there are plenty of fun activities to do in this beautiful coastal city.
Consider a one day safari where you'll see giraffes, elephants, zebras, and maybe even a lion!
Relax in beautiful Lamu Island
Lamu is a small gorgeous Kenyan island similar to Zanzibar in Tanzania, with its Arab influences and Swahili culture.
You can enjoy one of many empty beaches, sail the Indian ocean in a traditional Kenyan dhow boat. Don't forget to check out the vegetable market to strike up a convo with locals and drink a delicious coconut before you leave this quiet island.
Where to go in Africa: Uganda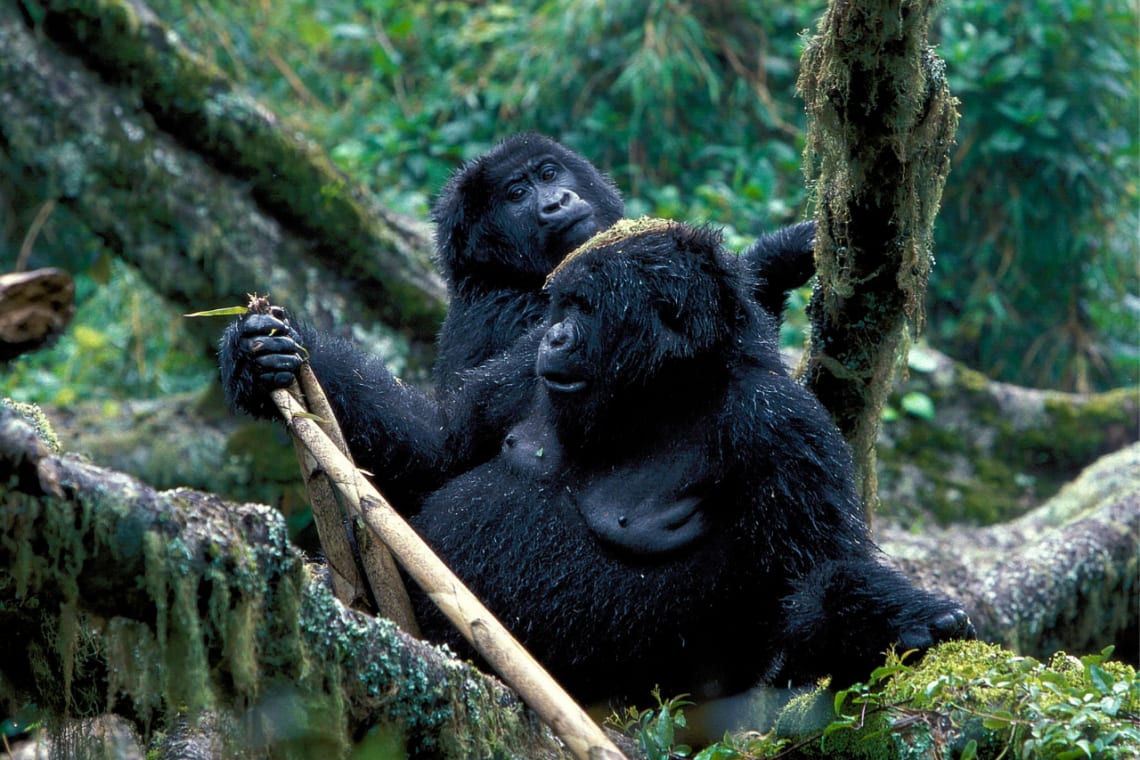 Start in Kampala and head to the forest for gorilla spotting
Visit the Uganda National Cultural Center for live theater and a show of traditional Ugandan drumming and dances.
Check out the craft market for beautiful African fabrics, paintings, baskets, and drums. If you're an adventure seeker, be sure to catch a boda boda ride which is basically like uber on a motorcycle.
Uganda is also one of the many African countries with gorillas; Bwindi Forest is one of the most popular sites for gorilla spotting.
Go to Uganda's one of many safaris or visit the crater lakes, Uganda has a lot to offer for nature lovers. Lake Victoria is the largest lake in Africa and borders 3 countries (Kenya, Tanzania, and Uganda).
Beautiful sites have been reported from the Ugandan side which also makes it a beloved tourist attraction in this country. People have said Uganda has some of the best food in East Africa, so be sure to eat some traditional food before heading out of this beautiful country.
Where to go in Africa: Zambia and Zimbabwe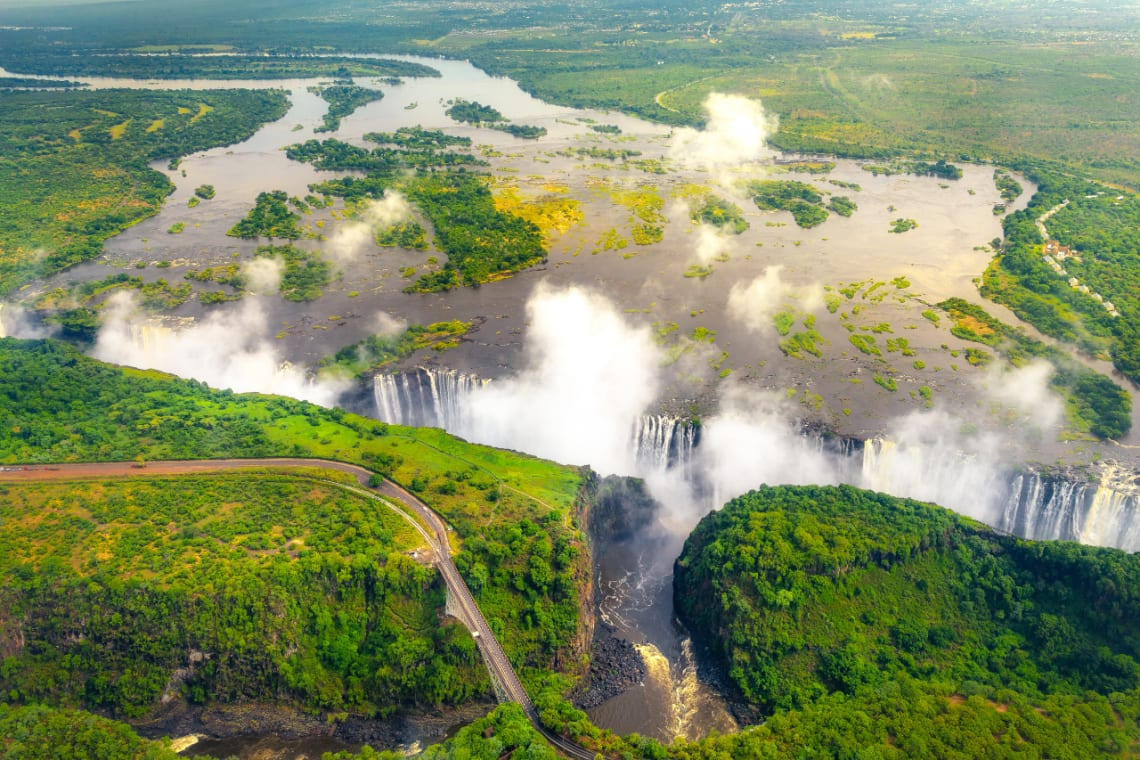 Get marvelled by jaw-dropping Victoria Falls
Victoria Falls is a gorgeous waterfall, similar to Niagara Falls or Iguazu Falls, that borders the two African countries of Zambia and Zimbabwe.
If nature is your thing, this is the destination for you. Often said to have better views from the Zimbabwean side, Victoria Falls should be on everyone's bucket list if they have plans to visit the African continent.
Where to go in Africa: Ethiopia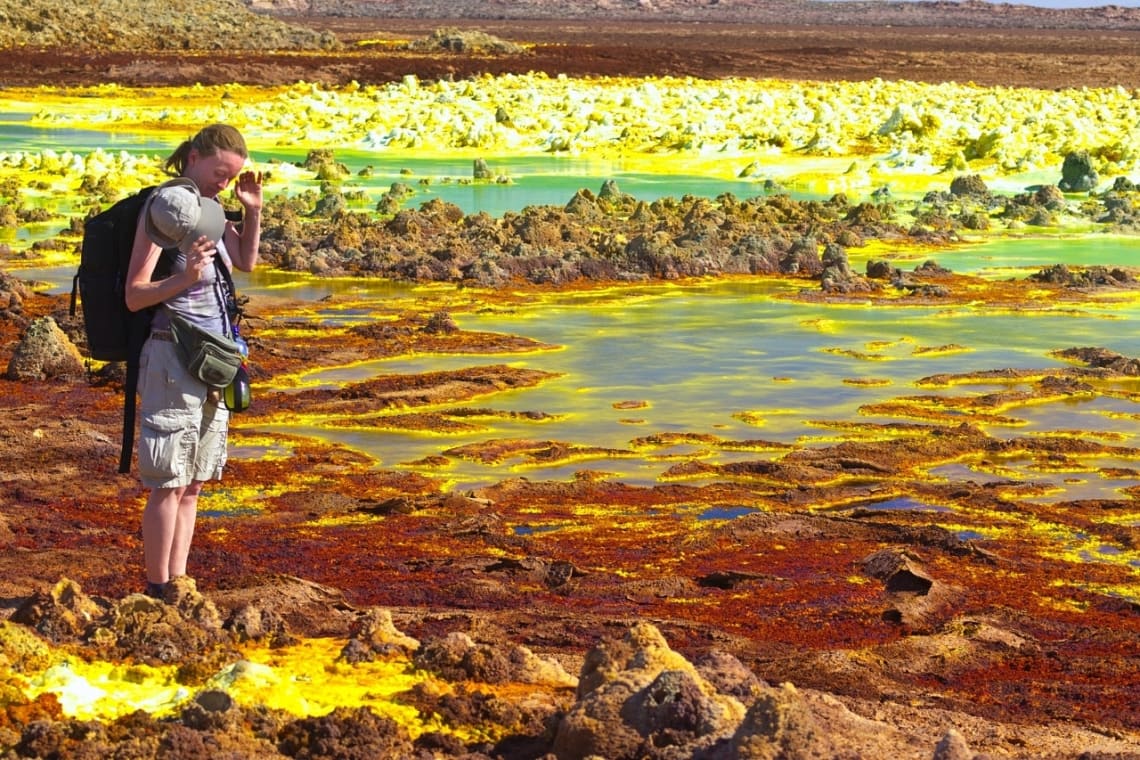 Personally one of my favorite ethnic foods out of all the countries on earth, Ethiopia is commonly referred to as the cradle of mankind.

Go to the National Museum of Ethiopia in Addis Ababa for an extreme cultural experience of one of the oldest cultures on earth and the only African country to have never been colonized.
An don't miss the otherworldly natural landscape of Danakil Depression, being careful with the extreme heat, as this is one of the hottest places on earth.
Where to go in Africa: Seychelles
Seychelles is a tiny East African archipielago located in the Indian Ocean and is home to extremely beautiful sites.

As this country is made up of about 115 islands, hopping from island to island is a popular and thrilling activity looking for picture-perfect beaches.
How much does a trip to Africa cost?
Depending on your travel style, a trip to Africa can either be very affordable or extremely expensive.
If a safari trip is a part of your itinerary and you're traveling alone, be sure to look for group offerings at backpacker hostels as sharing a car with another person will be a lot more affordable than going alone. Always look out for deals and partner with locals so that you can have an authentic and affordable experience as well.
The tickets are the most expensive part of planning a trip to an African country as they can get up to as much as USD 700 one way if coming from the United States.
The best thing to do in order to budget and save money is to plan accordingly, don't visit during summer months (May, Juny, July) as plane tickets will be extremely expensive. If the destination you're heading to is sunny all year round, consider heading there during a month when tourism is not as popular and snag some good deals.
I check for all of my flights on two sites: Kiwi.com and Skyscanner.com. These websites will help you to find the most affordable plane tickets anywhere in the world.
Also, check this article for info on how to save on plane tickets: How to find cheap airfare anytime of year.
Opportunities for volunteering in Africa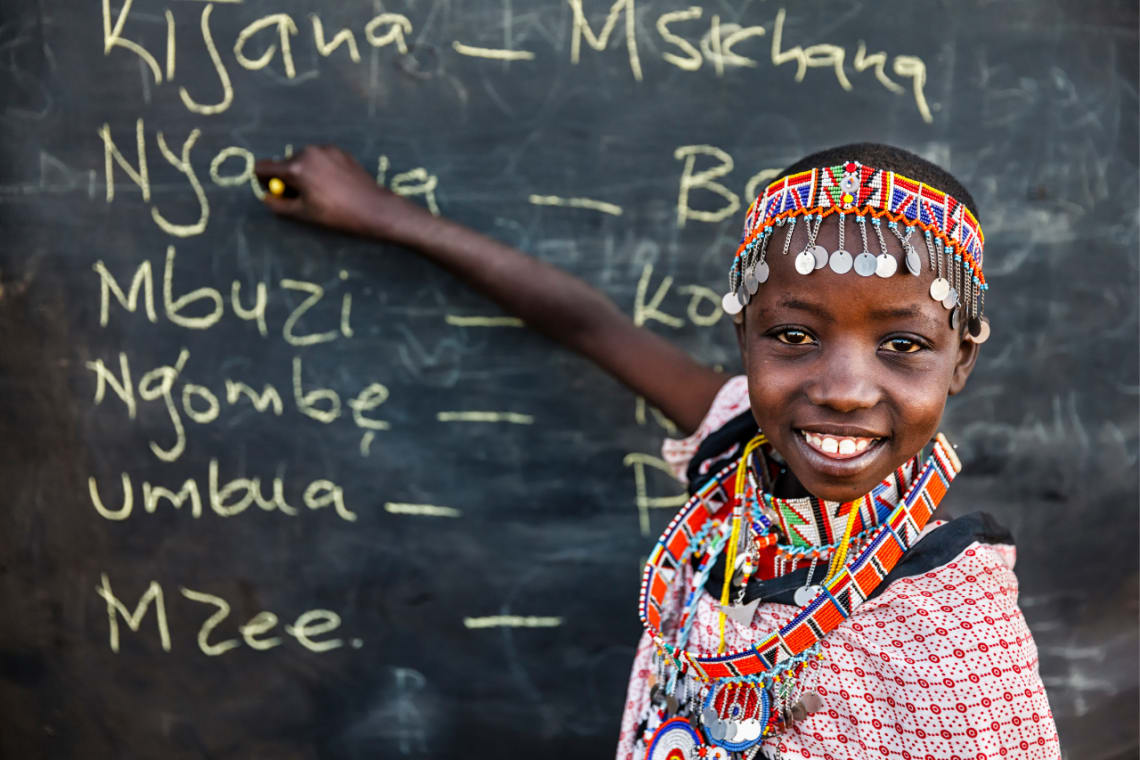 If volunteering at schools and NGOs as well as environmental and social impact are more of your style, consider taking up a work-exchange volunteer opportunity with Worldpackers in any of the 54 countries in the continent.
Not only will you recieve free accommodation in exchange for your efforts, you'll leave having made an extreme impact on a small community, school, or village as well as your own heart.
Here I'll mention some of the projects, but there are hundreds of volunteer opportunities in Africa.
Volunteering in Kenya
Explore the safaris and crystal blue beaches of Kenya on your off days! Visit Mombasa and volunteer at a school where you can teach different subjects as well as help the children to learn sports!
If you're not skilled in the physical area, consider helping with website design/development or help out with photography and marketing.
Check all the opportunities for volunteering in Kenya.
Volunteering in Zambia
See Victoria falls on a backpacker's budget on your off days and help out this Zambian lodge/backpackers hostel! You'll help them with photography, social media, and party promotion so if these are up your alley then make this trip!
Head to Livinsgton to have a social impact on a Zambian school by helping children to read and engaging in outdoor sports and activities. In exchange you'll get a room to yourself and free dinner every night!
These are just two of all the volunteering possibilities in Zambia.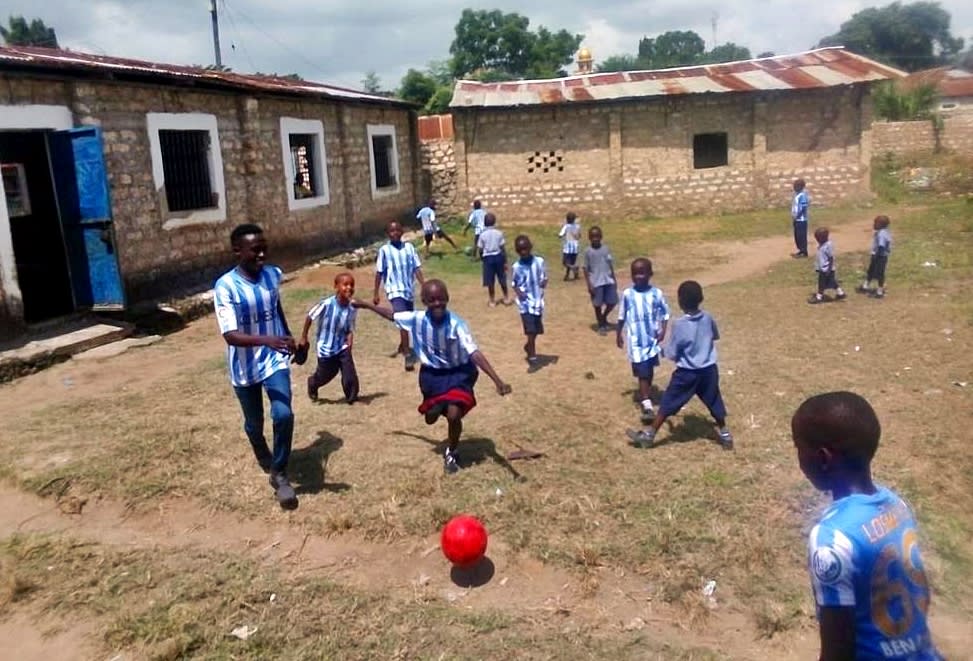 Volunteering in Uganda
Make a stop in Uganda to help teach children different languages, coach sports, as well as take care of youngins. In return, relax in your private room, enjoy breakfast , lunch, and dinner, and reap the benefits of helping other people.
See more volunteer projects in Uganda.
Volunteering in Rwanda
Benefit from free accommodation at this hostel in Nyarugenge and help them out by creating social media content, photography, and website development! If you're skilled in the social media world and are on Instagram, Facebook, or twitter then this is the position for you!
Help disabled children and making a change in their lives by taking part of this project.
Check all the opportunities for volunteering in Rwanda.

If you want to know more about Worldpackers, check How to volunteer abroad using Worldpackers and Traveling with Worldpackers: your top questions answered.
Africa is such a beautiful continent that does not receive the recognition it truly deserves.
Being one of the most diverse and culture filled continents, this region of the world definitely has a lot to offer to travelers looking for an adventure or a simple getaway vacation.