The budget-friendly travel guide to Malta: how to get around and the best places to stay
The ultimate travel guide to Malta for backpackers, including where to stay, what to do, what to eat, how to get around, and even some volunteer opportunities.
7min
Malta is a very special country in Europe. This archipelago of islands in the Mediterranean Sea is often overlooked by travelers in Europe, especially by its other neighboring countries with islands such as Spain, Portugal, Italy, Croatia, or Greece.
Some of you may even be wondering: Where is Malta? Floating in-between Northern Africa and Sicily in the south of Italy, Malta is a multicultural island nation. English, Maltese, and Italian are all spoken in Malta.
With hints of North African, Italian, Spanish, and English culture all blended together in Malta, you can experience a truly unique way of life here.
Malta is also the name of the country's largest island. There are other smaller islands, such as Gozo and Comino, but chances are you'll spend most of your time on Malta island.
Wander through historic cities, admire the fantastic architecture, taste flavorful food, lounge on the stunning beaches, and meet some friendly locals. Malta is a warm and welcoming country that doesn't suffer from the high prices or crowds of tourists that other Mediterranean destinations do.
So let's get into this Malta travel guide and discuss everything you may need to know to prepare for your trip!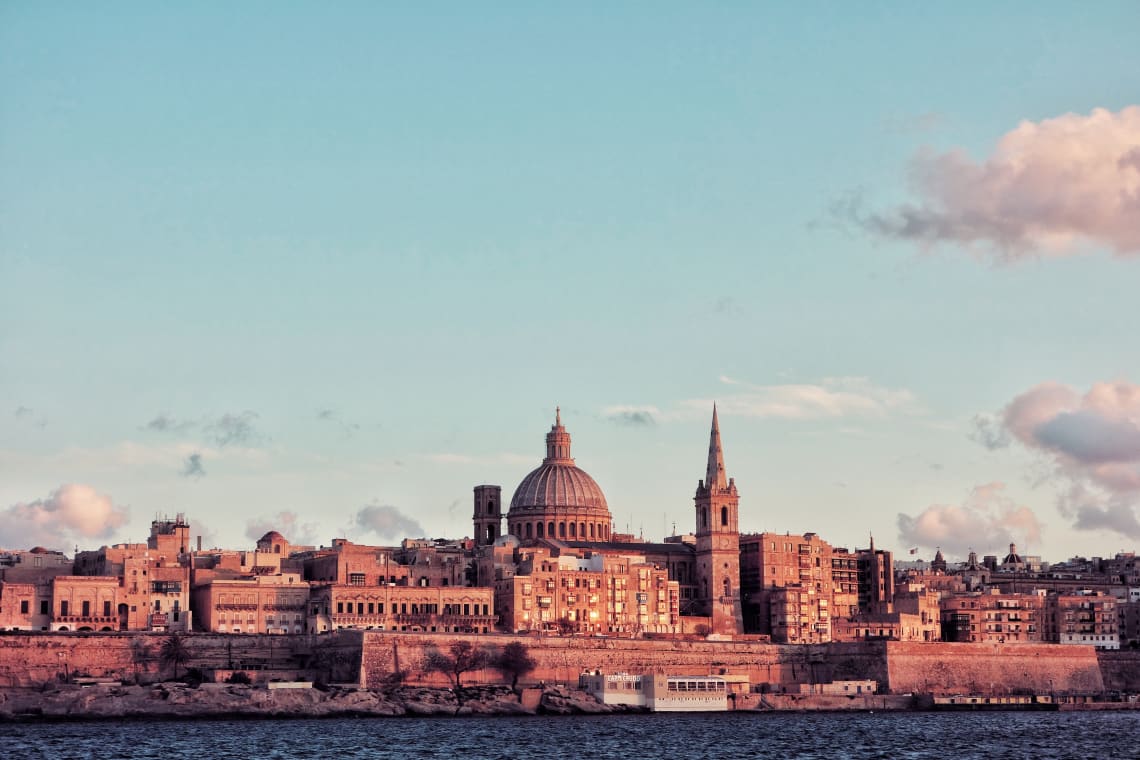 This Malta travel guide will focus on backpackers. So everything we discuss will be low budget! We'll discuss how to pack and prepare, what to do in Malta, what to eat, how to get around, where to stay, and where to volunteer.
How to pack and prepare for travel to Malta
First of all, consider the most important things when planning a trip to Malta.
Think about visas and travel insurance to ensure you can stay safe while exploring. These types of things depend on your nationality and how long you are staying.
Most visitors to Malta do not need any visa for a stay of less than 90 days. But always double-check on reputable government websites to ensure you don't need a visa.
Also, consider getting travel insurance to cover the costs in case you encounter any problems abroad. If you're volunteering with Worldpackers in Malta, you can get Worldpackers insurance.
As for packing, you'll just need to pack as you would for any European holiday. Packing differs for every person, but here is a general outline:
Comfortable clothes and shoes for exploring

A nice outfit for going out

Bathing suits and sandals

Towel

Toiletries and/or medications

Electronics and chargers such as camera, headphones, laptop, phone, etc.

Travel adaptor (you'll find English 3-prong as well as European 2-prong outlets in Malta)

Reusable water bottle (tap water is safe to drink in Malta, though it doesn't taste the best)

Small bag for going to the beach or going on day trips

Credit card for withdrawing cash from local ATMs (Malta uses Euros)

Things to see and do in Malta
Here are some of the top activities that should be included in any travel guide to Malta!
Hit the beach
Being an island nation, there are so many beaches surrounding the islands. Definitely try to make room for at least a couple of beach days!
Some of the best beaches in Malta are:
Blue Lagoon near Comino (this is one of the top sights in all of Malta!)

Ramla Beach, north Gozo

Inland Sea Dive Site, west Gozo (not that sandy, better for swimming and diving)

Mellieħa Bay, north Malta

Golden Bay, northwest Malta

Ghadira Beach, north Malta

Għajn Tuffieħa, west Malta

Balluta Bay Beach, east Malta near Valletta

Fond Ghadir Beach, east Malta near Valletta

Go snorkeling or diving
There is flourishing marine life in the waters around Malta. There are also some really cool underwater ruins and sights to see, particularly around the island of Gozo.
Go scuba diving if you're certified and experienced, or stick to a casual snorkel near the surface if you're looking for something cheaper and easier.
Hiking
Malta and Gozo Islands both have a Coastal Walk that circles the entire island. Girgenti Country Trail is another lovely day hike where you'll pass the countryside and castles.
Marfa Watchtowers Route, the Mdina Trail, and the Zurrieq Loop are some other easy day hikes where you can admire the stunning scenery of the island.
Road trip or rent a bicycle
If you plan on seeing a lot of Malta, including the small local towns outside the capital city of Valletta, consider renting a car. Car rentals are affordable, and you can explore the islands at your leisure. This is a great way to see the authentic local towns and see more off-the-beaten-path areas.
For traveling shorter distances, you could also rent a bicycle. A daily bike rental generally costs around 10-15 Euros per day.
Boat cruise around the islands
Because Malta is an archipelago of multiple islands, consider booking a boat cruise. This is one of the pricier things to do in Malta (most tours cost around 50 Euros), but it is an incredible way to sightsee from the water.
You can book boat cruises at any local tourism office in Malta. Most boat cruises leave from the main island of Malta and sail between Gozo and Comino, the only other inhabited islands of the Malta archipelago.
Top sights in Malta
Valletta: The nation's capital city. Tops sights include Barrakka Gardens and St. Johns Co-Cathedral. A free walking tour is a great way to sightsee this historic and scenic city that is also a UNESCO World Heritage Site.
Mdina: A quiet and ancient city known for its ancient underground Roman tunnels (St. Paul's Catacombs).
The Three Cities: Three gorgeous, historic cities called Vittoriosa, Senglea, and Cospicua, are just a short boat ride away from Valletta.
Birgu: Find this historic fortified city just right south of the Grand Harbor and spend a few hours wandering through the winding alleyways.
Hypogeum: A 5,000-year-old temple near Valletta that is also a UNESCO World Heritage Site.
Hagar Qim temples: Impressive collection of temples from about 3,500 BCE.
​​Marsaxlokk Fishing Village: A charming and colorful local village on the eastern side of Malta. Visit the local fish market if you're here on a Sunday.
St. Peter's Pool: A natural swimming hole near Marsaxlokk Fishing Village.
The Citadel: 16th Century fortress on the island of Gozo.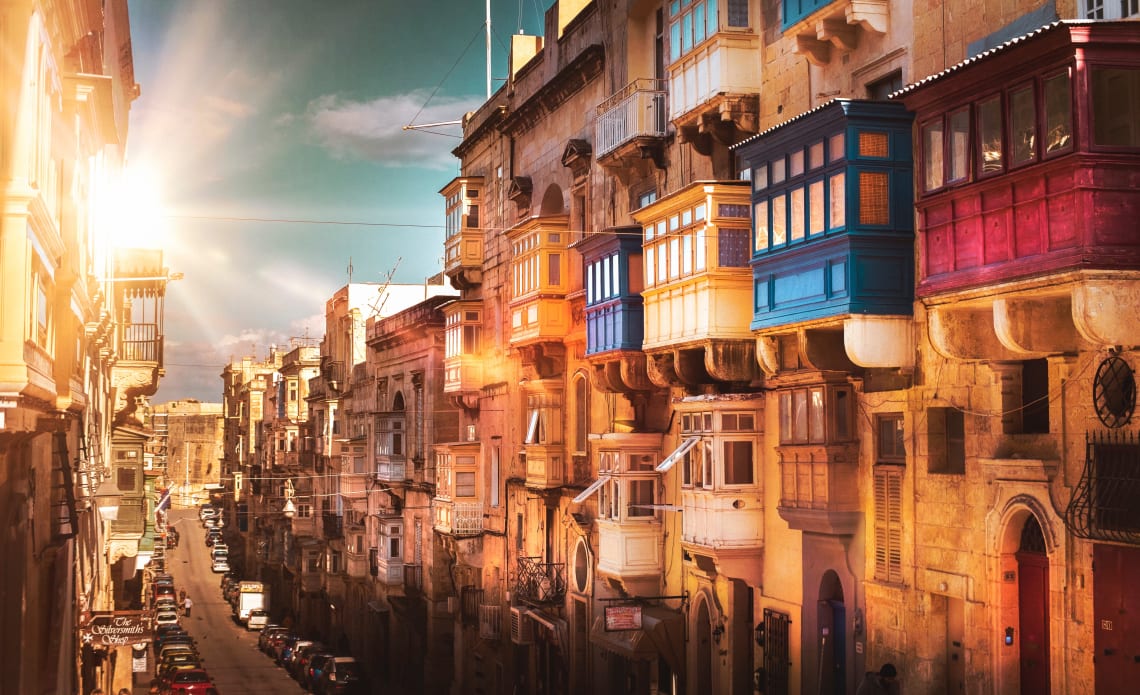 What to eat in Malta
With influences from Africa and Europe, there is a wide range of unique dishes to try in Malta. Most local dishes revolve around meat or seafood. Seafood lovers will be in heaven, as the island nation boasts lots of freshly caught seafood.
Some dishes and drinks to try include:
Ftira, Maltese bread usually used for sandwiches

Gozitan ftira, Goza's version of ftira, served flat like a pizza

Stuffat tal-fenek, Rabbit stew, the national dish

Bigilla, a mashed bean dip

Kapunata, a Maltese version of ratatouille

Alijotta, fish stew

Pastizzi, a handheld pastry filled with savory meats, cheeses, and veggies

Lampuki, white fish also known as mahi mahi or dolphinfish

Imqaret, a sweet, date-filled pastry

Ċisk, the local beer

Kinnie, the local go-to soft drink

How to get around Malta
Getting around Malta is pretty straightforward. You'll mainly be using buses and ferries in addition to walking or driving a rental car if you have one.
But walking is the best way to explore Malta! It's free and a great way to sightsee. Although if you need to travel longer distances, here are some options:
Rental car
This is a fun way to explore Malta on your own schedule. Car rentals are pretty cheap here, costing around 15-30 Euros per day. Keep in mind, you drive on the left-hand side of the road in Malta, and most rental cars are manual transmissions. Drivers in Malta are also a bit crazy, so drive carefully!
Public bus
The buses are the cheapest and easiest ways to travel around Malta if you aren't renting a car. A one-way ticket is 1.50-2 Euros, and they travel to all the main towns and hotspots.
However, the buses can be crowded and hectic, and they are a slower way to get around than using a rental car. Just leave plenty of time before a flight or a tour if you're taking the bus.
Taxis
If you're short on time, taxis can come in handy. They are quicker than the bus, but they're pretty pricey. The base fare is 6 Euros and they only increase after that. But Malta is a small island so you shouldn't have to travel too far.
Use the official white taxi cabs only. Malta doesn't have Uber or other rideshare apps, so if you're on a budget try to avoid taking taxis too often.
Ferry
Ferries are the main form of transport between islands. Book your ferry tickets in advance so they don't sell out, especially in summer. Ferries around Maltese islands cost around 5-10 Euros, and they run roughly every hour. You can also take the ferry to Sicily in Italy, which costs around 100 Euros.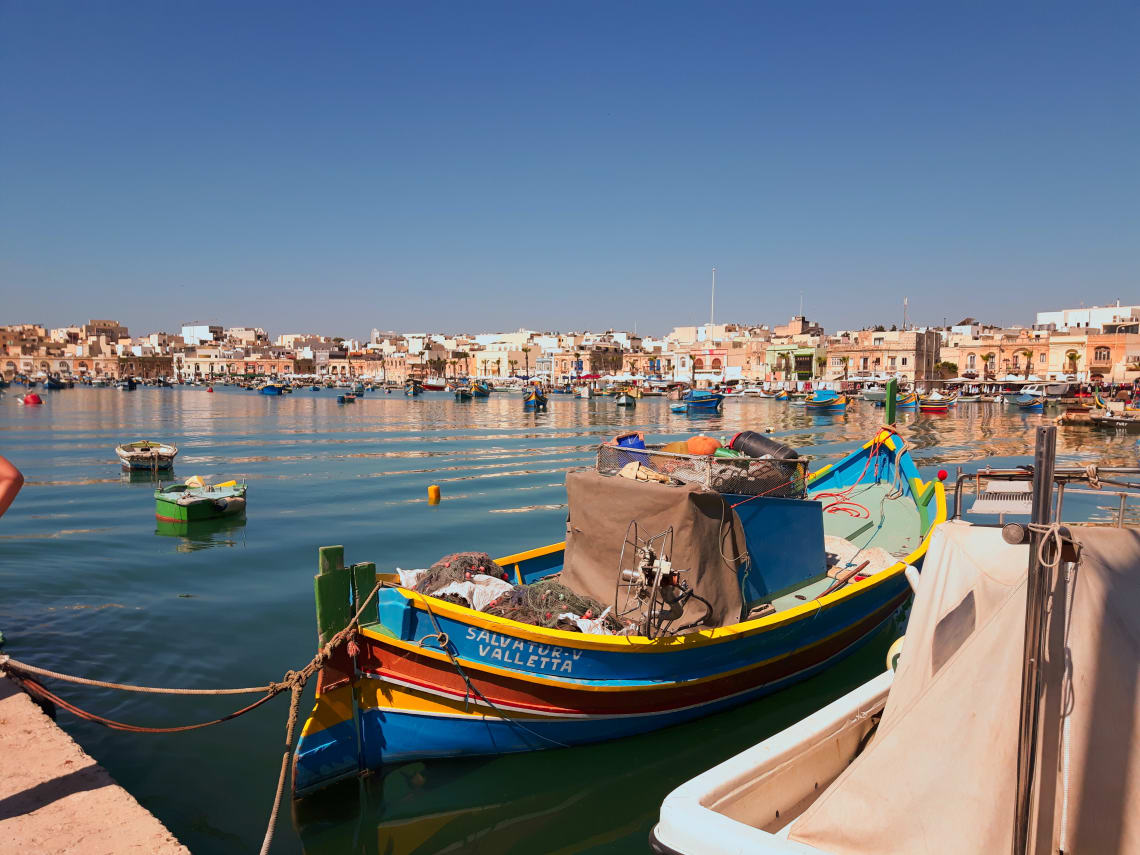 Best accommodations in Malta
For this backpackers' travel guide to Malta, I'll focus mainly on budget accommodations, like hostels. There are plenty of nice hotels around, as well as guesthouses.
No matter what your budget is, I'd recommend staying in or near Valletta. The capital city is where most of the attractions are, and most other attractions are easily reachable on day trips from Valletta.
But there are also hostels in St. Julian's and other towns just north of Valletta. There are also two hostels in Gozo if you want to spend some time enjoying another island.
Most hostels cost between 15 and 20 Euros per night for a dorm bed.
You can also volunteer in Malta using Worldpackers! This is a great way to live with locals, meet other people, and learn more about the local culture through an immersive experience. You can also save money because you're working in exchange for your accommodation.
There are many work exchange opportunities in Malta!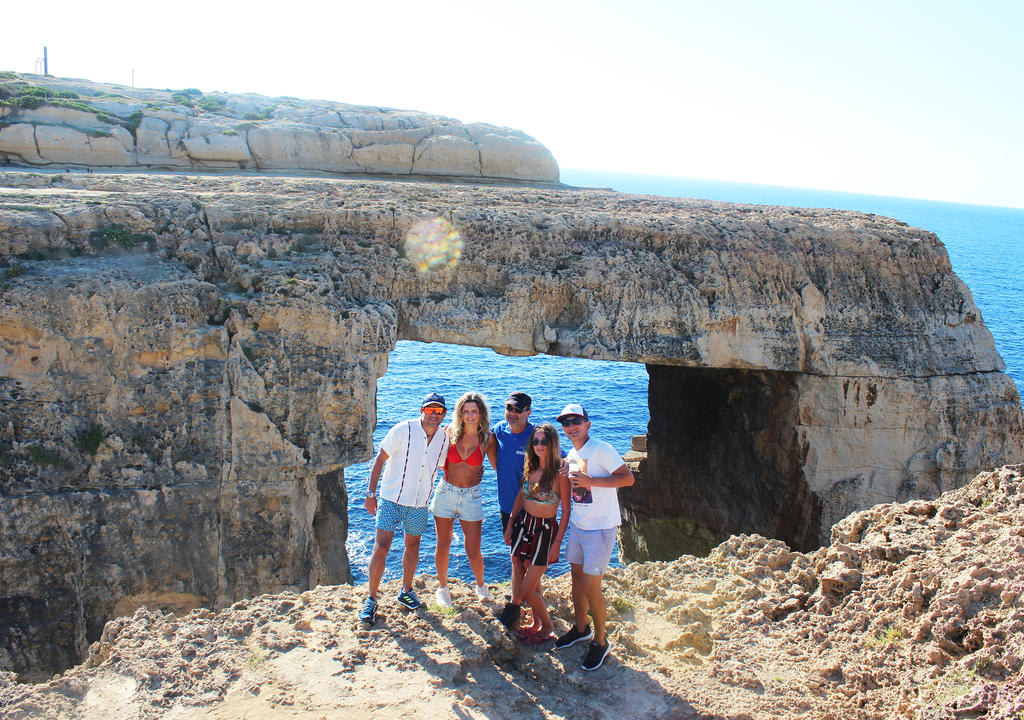 Thanks for reading this Malta travel guide!
Want to learn more about planning your trip to Malta? By subscribing to the WP pack plan you have unlimited access to +120 courses at Worldpackers Academy, the travel school made by travelers.

Enjoy your trip to Malta!