How to travel Greece on a budget: tips from a backpacker
Greece is a great place for solo travelers, couples, friends and families but how much does a typical trip cost? Read on and discover how to travel Greece on a budget.
8min
Each travel destination is unique with its own twists and turns, but one thing you'll find in common is a couple of backpackers finding ways to stretch their very last dollar.
Greece is a country that can be as affordable or as expensive as you make it. Many people travel here for weddings, anniversaries, girls getaways, or simply just for exploring sake which makes a few of the islands a bit more pricey than others.
With Greece, it just all depends on how you budget and spend your money, just as any other destination. Let's go ahead, I'll share with you my tips to travel Greece on a budget.
How to travel to Greece on a budget? Find the cheapest time
I know it may seem tempting to book that flight during the summer time when you see everyone on instagram and tiktok having the time of their lives in Santorini or Mykonos, but a smart budget backpacker always considers all options.
The same with many other hit destinations, traveling to Greece in the summertime is going to be more expensive than traveling off season. Now you're probably asking, "well when is the cheapest time for me to visit, Tiff?" Don't worry, I've got you.
The low season for traveling Greece starts at fall time and ends around the beginning of spring.
The country does not see many tourists during this time so locals are relaxed and flight prices are too.
To give an example, a flight from New York City to Greece during June or July (peak travel time) would range between $350 USD to as high as $450 USD. Towards the middle to end of August, the prices drop tremendously and tickets can be found for as low as $148 USD (I'm using a popular United States departure point, as I am an American national). All flight prices are reported using the Kiwi.com budget flight finder website.
Scanning for affordable flights on cheap airline sites such as kiwi.com and skyscanner.com also show a noticeable comparison in price to other flight scanners.
See, the time of travel makes a huge difference! Although the flight prices may be cheaper during low season, tourists have reported many businesses to be closed during this time so it's best to pick and choose your battles.
How to travel to Greece on a budget? Find the cheapest accommodation
One thing about Europe is that many of the countries are extremely tiny compared those in South America, North America or Asia, but they have a reliable hostel system setup for backpackers and explorers.
The place I love to look for affordable accommodation is hostelworld.com. The site gathers all hostels in the city of your choice in one searching pool so finding your preferred stay is very simple.
Another form of affordable accommodation can also be searching for private rooms on airbnb.
If you plan on booking a hostel bed during the prime season (summer time) it's best to look for a bunk ASAP. Rooms in popular islands go out extremely quickly so it's best to be prepared than regretful.
The best way to save money on accommodation is to volunteer in a work exchange opportunity with the Worldpackers program, but we'll talk more about that later on in the article.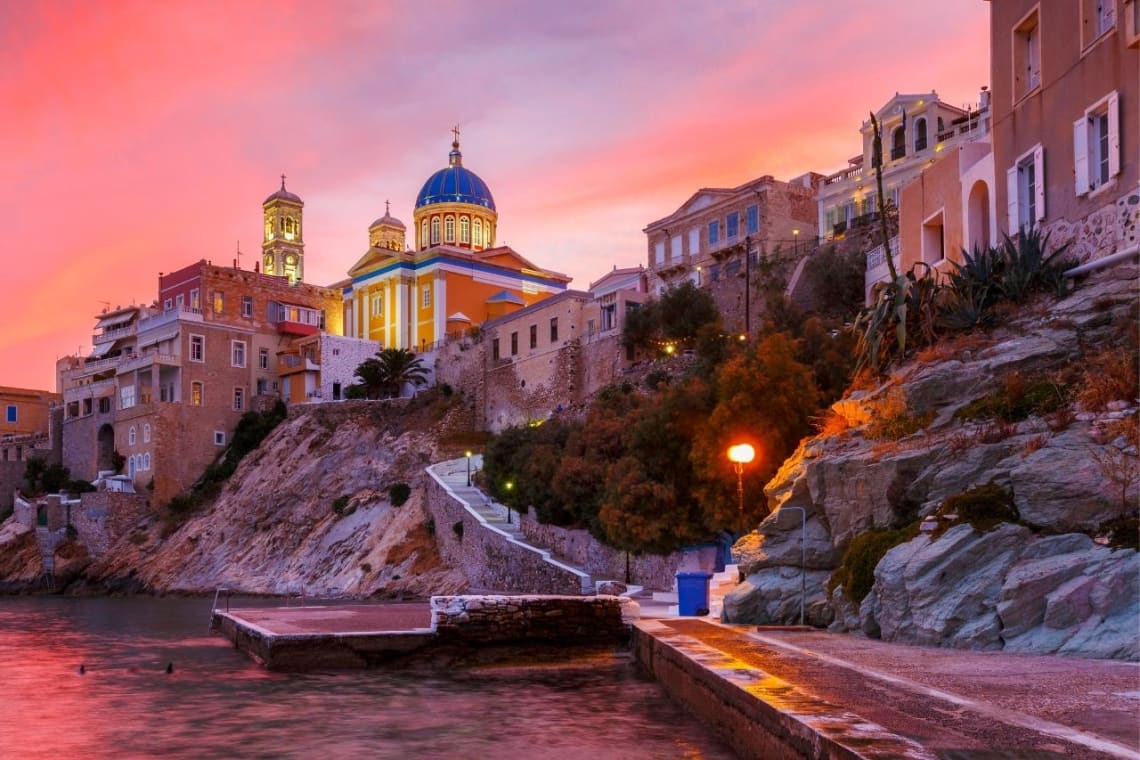 How to travel to Greece on a budget? Eat and drink for less
Now we've gotten to the fun (and delicious) part of the article: Mediterranean food is loved all around the world by many people, including myself. Although the country offers delectable food, it is still important to be cautious of prices as things can get expensive quickly.
One of the best ways to save money on food in Greece is to eat at one of the many street vendors. There are so many meals for under 10 euros such as: shawarma, falafel, souvlaki, skepasti, and of course the famous gyros.
Besides getting scrumptious street food, travelers can also get easy and cheap groceries to cook. I've stayed in hostels all around the world in countries with the most exotic and unique food and I've seen people eat peanut butter and jelly sandwiches. There is no shame in making a quick cheap meal to save a few bucks for fun activities and plane tickets.
Just be sure to try all the street food on your bucket list before leaving. And of course, get creative and purpose local veggies and attempt to create your own take on a classic Greek dish. I always love to get groceries and recreate local dishes of new countries I visit.
Even though Greek food is extremely tasty, some dishes contain a lot of meat, a concern for vegetarians and vegans. If you are a fellow veggie eater like myself, don't worry, there are plenty of vegan restaurants in Athens and all over the islands, you just have to do some research.
A great app vegans use to find grubs is "Happy Cow". It has saved people on many occasions and is sometimes better than just typing the word "vegan" into google maps.

Read this article to learn more about maintaining a vegan diet while traveling.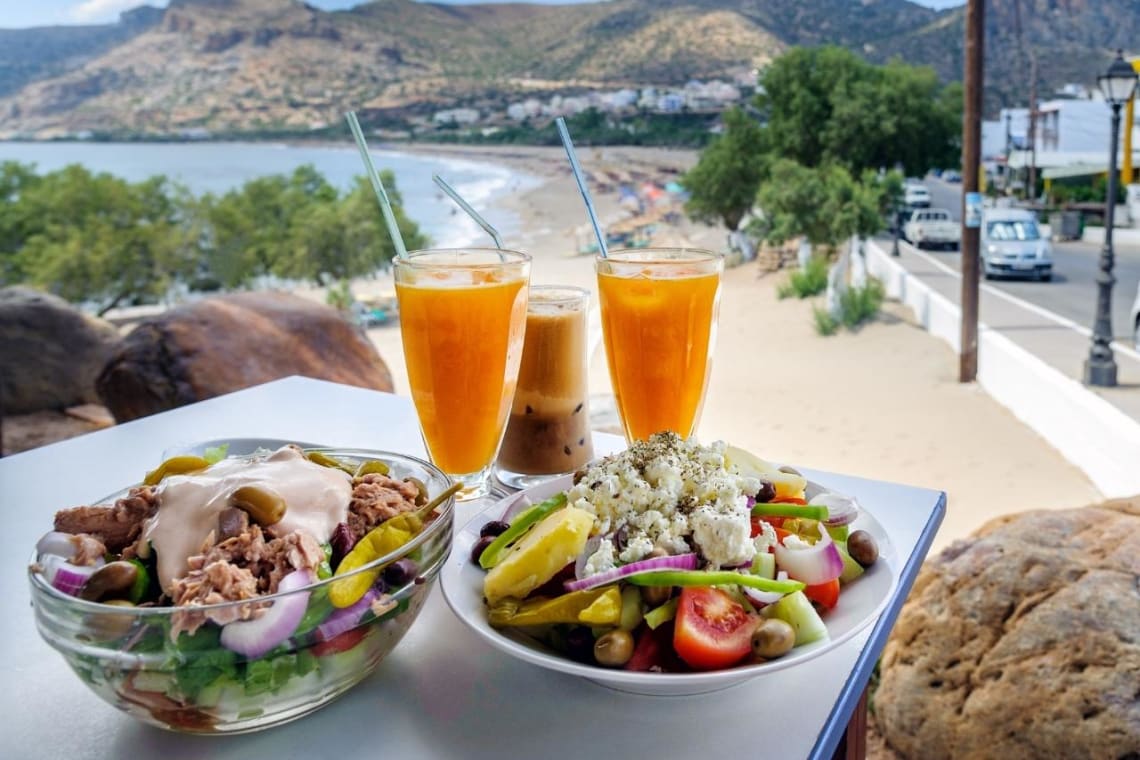 How to travel to Greece on a budget? Pack less to save more
When traveling to Greece or any European country for that matter, it's better to pack light.
Most European budget airlines only accept a free personal item or carry on and the more bags to check in may cost nearly the price of another ticket.
To many people it may seem impossible to pack all items into carryon sized luggage, but having a minimalist mindset is the best way to take on travel. A traveler can take off with a small suitcase but when planning an adventure packed trip, I typically like to take a 40 L backpack.
Here is an example of a small list of items I would pack for a Greek island hopping budget adventure:

Packing cubes for maximum storage organization

Season appropriate clothing for one week (if staying longer, washing will be your best friend!)

2 pairs of shoes maximum (bigger one wearing to the airport)

Reusable water bottle (with a clip to attach to backpack)

2 chargers

Scarf or long skirt (for women in religious areas)

Flowy dress (for stunning pictures in at the Santorini Blue dome church)

Important medications

1 thin foldable jacket (for chilly airplane rides)

I typically like to use a method of purchasing certain items when arriving at my destination. For example, unless you like a very specific or rare toothpaste, it may be better to buy one once you get to the Greece.
A huge tip for traveling light is to wear your heaviest or thickest clothes on the plane (or train, or bus) before reaching Greece as they will take up much space in the luggage.
To learn more about packing like a professional minimalist, check out this article.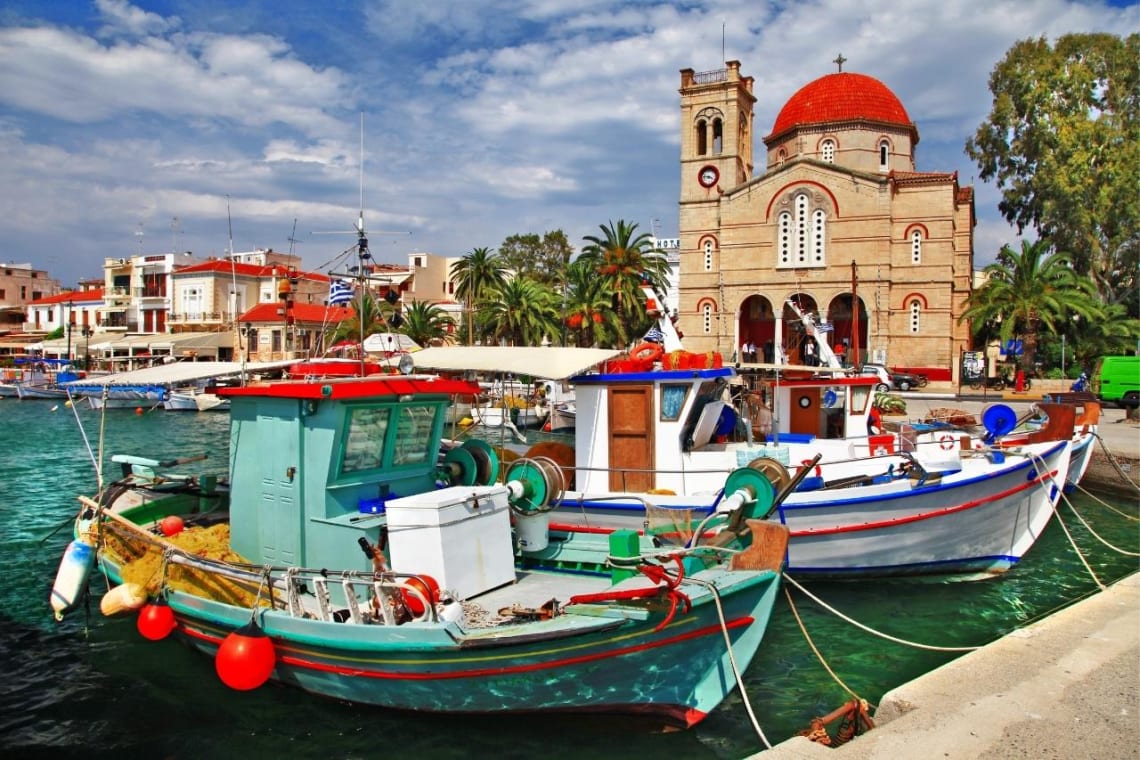 How to travel to Greece on a budget? Fun things to do for cheap
You don't have to spend an arm and a leg to have a good time. Plenty of backpackers have made their best memories while abroad (or traveling at home) without spending any money.
Fun does not necessarily mean more money and it does not have to be overly expensive. Greece consists of several islands and their mainland, including popular places like Athens, Mykonos, Crete, Santorini, Corfu, Paros, Milos, and Zakynthos.
Santorini is definitely the most popular Greek island of them all but it will certainly be a whole lot easier to find cheap or free things to do in lesser known/lesser visited islands.
Here is a list of cheap or free things to do in varying Greek locations. Quick tip: if you plan on seeing multiple historical sites in the Athens area, it may be a consideration to obtain a multi pass.
Enjoy a fruit picnic at the National Park in Athens.

Take a free walking tour of Mykonos city.

Go on a walking tour (self guided or with a local friend) of Athens city.

Visit Zeus Olympian temple for 4 euro entrance fee.


Swim in the beautiful Mediterranean sea for free.



Try delicious Greek street food for under 10 euros (etc: gyros, Falafel, Loukoumades, Koulori).

Grab a blanket, a camera, and enjoy a world class sunset on Santorini island.


Take free pictures at the insta famous blue top church in Santorini.



See, traveling on a budget does not define a traveler or their ability to have fun. Despite the activities listed above, there are so many more fun things people can do while visiting Greece on a budget.
There have been many travellers who took off with little to nothing in their bank accounts and still managed to see the world.
When traveling Greece, or any destination, on a budget, it is about maintaining a specific and goal oriented financial mindset. Also, snagging a Worldpackers volunteer opportunity with a Greek host may allow travelers to see and do more things for free.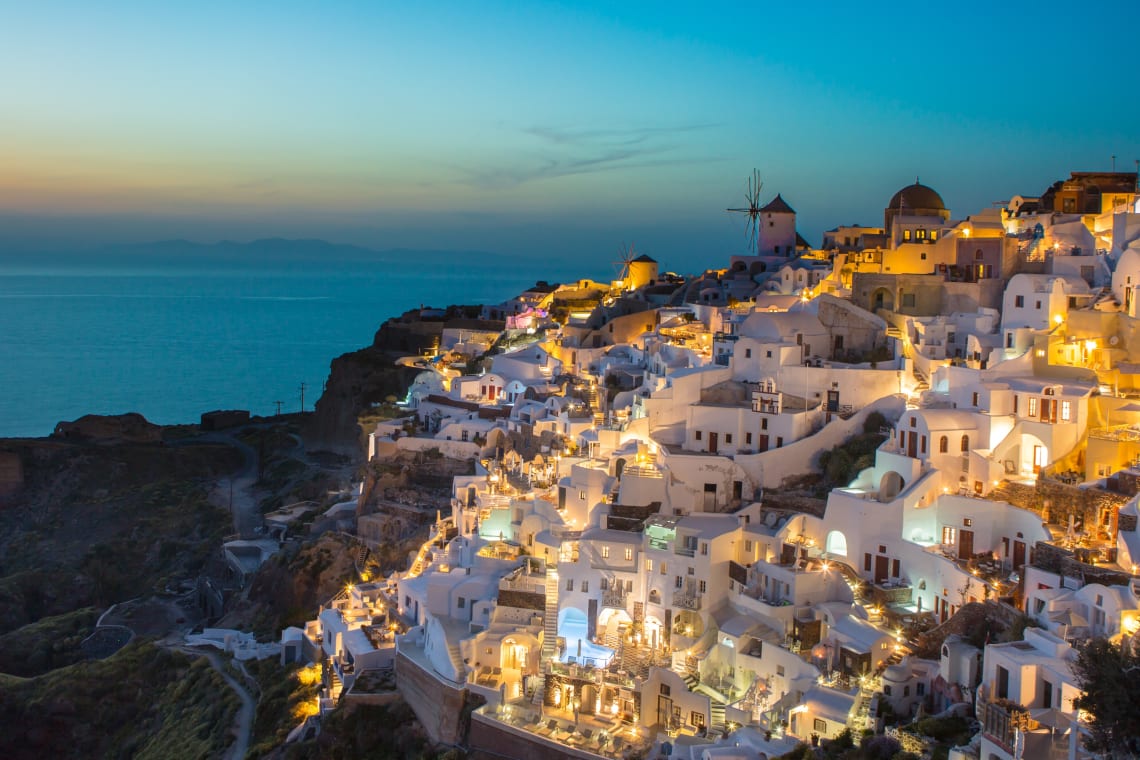 Quick tips for budget backpackers in Greece
Alright backpackers, we just discussed some great methods for saving money while traveling to Greece. Before we proceed to talk about the best way to save money while traveling Greece on a budget (work exchange with Worldpackers), I would like to share a few other tips and/or reiterate the advice we have already gone over that will immensely help backpackers pinc their pennies while in Greece:
If need be, fly to the cheapest European destination and take a $10 flight (or train) to Athens.

Take an overnight ferry to other islands and save almost half the price of a speedy ferry ticket.

Rent a moped as cheap transportation and see the beautiful surrounding area.

Visit less traveled to islands such as Corfu and Milos to save money.

Stay updated with free days for museums and historical sites.

Book accommodation far in advance, prices go up closer to date.

Bring a university student ID for ½ entrance fees.

Here is the cheapest way to travel to Greece: Work exchange with Worldpackers
Now we've arrived at the fun part: free accommodation.
As mentioned before, Worldpackers is a program that allows travelers of all nationalities across the globe to have the chance of budget travel. I myself have used the platform in three different countries and was able to save thousands of dollars!
It's quite simple, go to the Worldpacker's website and type in the country or city (in this case Greece) of your desire. Then scroll and view the exchanges in your destination, pick the one best for you and get ready for the trip of a lifetime!
In exchange for the accommodation, travelers offer their skills whether it may be social media, content creation, gardening, or reception. Greece has over 40 opportunities in various islands and locations so having a budget backpacker experience here will be a breeze.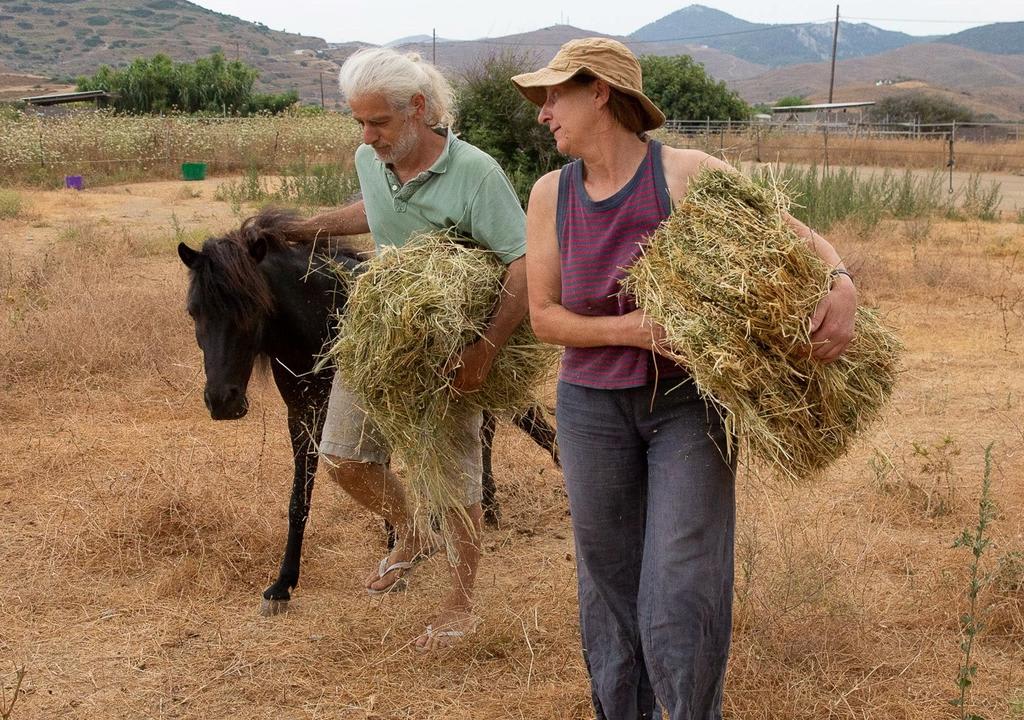 Check 5 projects to volunteer with Worldpackers!
Help with reception work at a small Milos guest house.
Teach sports at a chill and laid back Corfu hostel.
Get the glamping experience on Kos island.
Become an au pair and learn how to garden.
Help with cleaning and administration at Chameleon Youth hostel.
Do the above exchanges not float your boat? Check all the opportunities to volunteer in Greece with Worldpackers.
Want to learn more about planning your Mediterranean Greek trip? By subscribing to the WP pack plan you have unlimited access to +120 courses at Worldpackers Academy, the travel school made by travelers!