How to plan a Greek island hopping: The perfect guide to traveling Greece
Greece is possibly the top summer destination, everyone wants to be there. It's a country with lots to do and many places to visit with gorgeous beaches and ancient history. Here is how to plan a Greek island hopping.
9min
Greece is located in the south eastern part of Europe near Albania, Italy, and Turkey. People from all over the world flock to Greece during the summer time.

Although Greece is a dream destination for many, a trip needs to be planned accordingly and in advance. Traveling Greece in the summertime can be very expensive so booking in advance will help a ton.
How to plan a Greek island hopping: Plan the days
Creating a schedule will be your best friend when planning to island hop in Greece. The summer months of May to August are the most popular and expensive times to visit Greece.
If it is a necessity to travel to Greece during the high season, it is so important to plan in advance and book tickets as well as accommodation.

The hottest months also fall in July and August where temperatures can reach a scorching 100 degrees Fahrenheit (38 celcius)! If you're not a fan of the heat, it may not be the best idea to island hop Greece during the summertime.
Greece sees a little bit of rainfall during their winter months and it won't be as pleasant of a visit during this time of year. This is also the low season so many businesses may be closed and reopen starting May.
The cheapest time of the year to travel and island hop Greece on a budget starts September and ends around November. In September, the weather is nowhere near as hot as July and is still warm enough to enjoy.
Decide how many days you wish to spend in each location. For example: fly in through Athens for 3 days, then Santorini for 4 days, then Paros for 3 days and etc.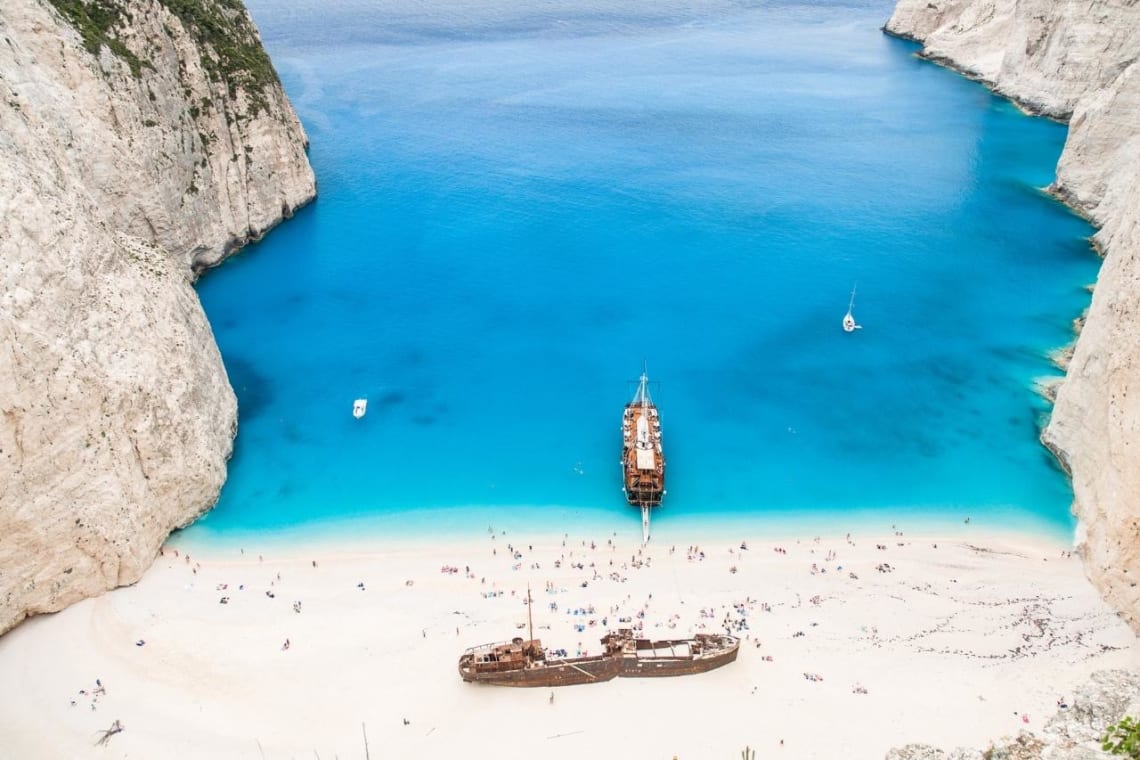 Plan a budget for your

Greek island hopping (how much to expect to spend)

Greece is not as expensive as other popular European destinations like Italy, Spain, and France. However, it is far more expensive than its neighboring Balkan countries. Especially during the summer time.

While hopping in the Greek islands, it is important to plan a budget and stick to it. The budget should include expenses for food (eating out & groceries), excursions, and transportation.

Each person's budget may be different, especially based on the type of accommodation a traveler chooses to stay in. Down below, I will go into detail of certain expenses and how much to budget per week and month.

Accommodation and flight prices are usually the most expensive fare while island hopping in Greece. Accommodation expenses can be cut down by volunteering with Worldpackers but flight prices are still a real thing. Budget around 500-600 euros for monthly hostel accommodation and 100-150 euros for one week.

I always look for cheap flights on the budget flight websites kiwi.com or skyscanner.com. An in depth budget calculation cannot necessarily be determined for flights because everyone is traveling from different continents. However in the summer, it should be expected that flights will be doubled or tripled their usual prices. So, if a usual flight from London to Athens is 50 euros, expect to spend around 100 or 150 euros.

Trains, ferries, and buses are the most common way to get around the Greek mainland and the island. A non student bus fare can cost about 30 euros but European and Greek students may receive a discounted price.

Ferries can also range depending on the date booked and distance traveled but be prepared to spend about 40 euros per ferry ride (non-student).

Students also receive a discounted price on trains so if you're a Greek or European student, bring your card!

Food in Greece is surprisingly affordable, especially street food like gyros. A typical meat gyros is around 3 euros and is pretty filling.

Despite some street food options being affordable, grocery shopping is the way to go. Budget around 200-250 euros per month for groceries or 40-75 euros per week. In regards to eating out, plan about 75-150 per week for eating out and between 400-500 euros for a month of eating out daily.

Read more about traveling Greece on a budget.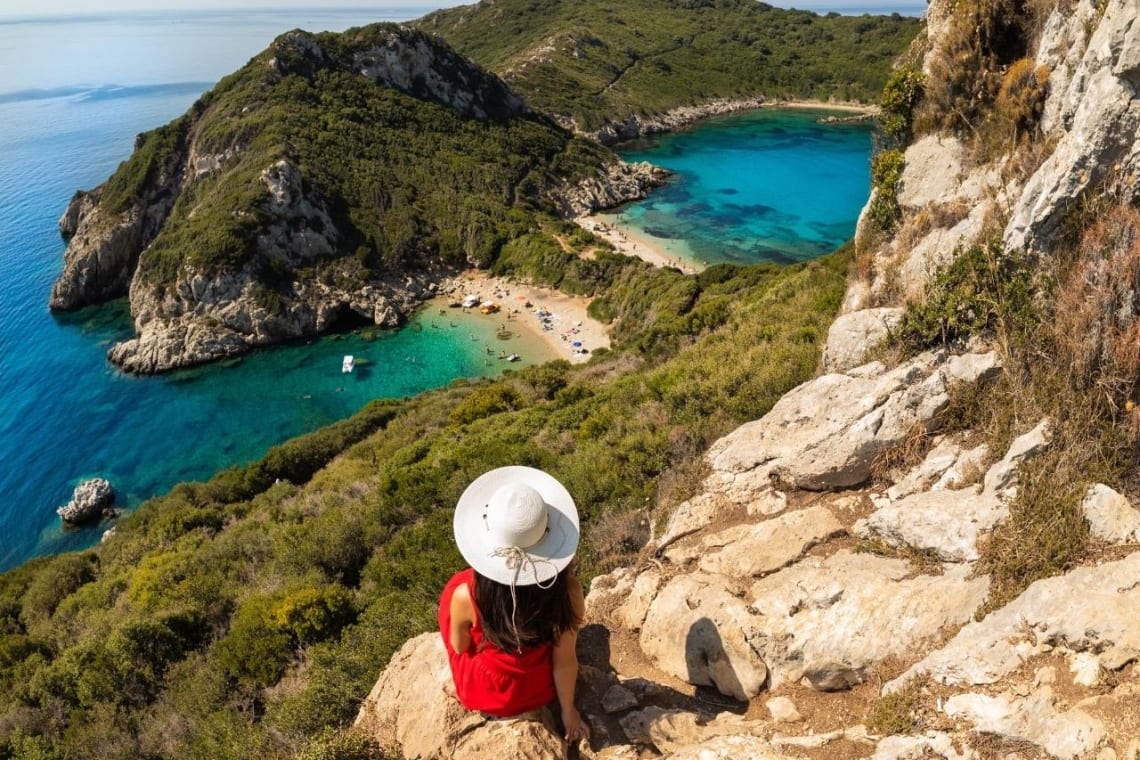 How to plan a Greek island hopping: Get a starting point
The perfect Greek island hopping starting point for people is usually in Athens. It is typical to spend a few days, no more than 3, to see the Acropolis, shop, and eat traditional food. Worldpackers has volunteer opportunities in Athens making it an ideal city to start and be introduced to Greek culture.
It is also a great idea to plan an ending route as well. Athens is usually the ending point, but other parts of the country can be great exit points as well.
Some travelers may luck out and get a cheap flight to Santorini, which is also a great destination. From Santorini, it's possible to island hop via ferry to Mykonos, Paros, Crete, Ios, or Milos. It is honestly a world of endless possibilities when traveling throughout the Greek islands.
For example, the westernmost island of Corfu is only a one and a half hour ferry ride away from Albania. Corfu island could be the perfect place to end a dream Greek island hopping trip and continue to Albania or wherever else in Eastern Europe.
If a traveler wanted to head to North Macedonia after traveling throughout Greece, it's possible to end in Thessaloniki, a city in the north. You see, planning a trip to Greece is fun and worth it, but takes a bit of effort.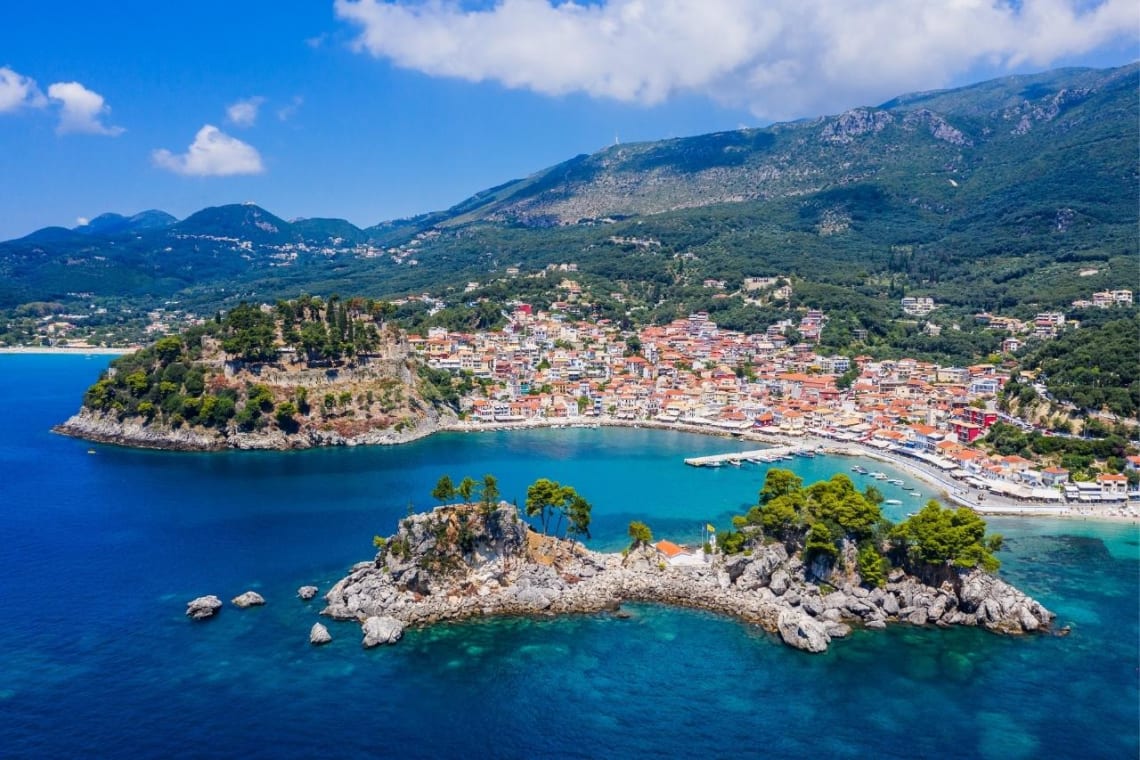 How to plan a Greek island hopping: Transportation
As said before, there are many forms of transport in Greece. The best way to get from city to city is by taking the train, but it is not always reliable.
Per mentioned, it is important to create a sketch map of the desired places to visit while in Greece to not spend an arm and a leg.
There is an amazing website called rome2rio that shows flight, train, and bus routes to anywhere in the world.
The Train: Trains operate all throughout the mainland and are the most popular form of transportation. I took the train from Athens to Kalambaka when I hiked Meteora.
The Ferry: Ferries will be your best friend when visiting all the islands Greece has to over.
The Bus: The bus is also a great option. It can sometimes be cheaper than the train if not the same price.
Flying: Don't sleep on flying! Sometimes you may luck out on a $20 flight from island to island.
Greek island hopping: What to pack
Greece is a country that can reach extreme highs during the summer time and it can be fatal to a traveler's health if not prepared.
Here is a small starter list of items of what to pack for carryon travel while island hopping in Greece:
Hat- To shade from the blazing Mediterranean sun

Sunscreen- Even I as a Black traveler with dark skin has suffered from heat rash due to the high temperatures. Lather up!

Sunglasses- Nobody wants crows feet around their eyes due to squinting from the sun

Day pack- For all the Greek adventures you'll be going on

Wet bag- There are countless beaches and plenty of boat tours on the Greek islands. Keep your electronic belongings safe and dry

Waterproof camera- Not a necessity but Greece has some beautiful crystal clear water

Long flowy dresses- For IG worthy photos in Santorini

Tank tops- Having as little layers as possible is key to not becoming over heated

Mini Padlock- Athens is infamous for pickpocketing. I put a mini padlock on my bag when I'm moving about the city.

Sandals- Just one pair of high quality (preferably waterproof) sandals will do

Water shoes- The mediterranean beaches of Europe rarely have regular sand. Many of the beaches are filled with little rocks and are tough on the bottoms of feet.

Hiking shoes- There is an epic hike to explore in Northern Greece called Meteora

Coverup/scarf- For visiting various monasteries around the country

Need more advice on packing? Check out this blog article on the ultimate minimalist travel list.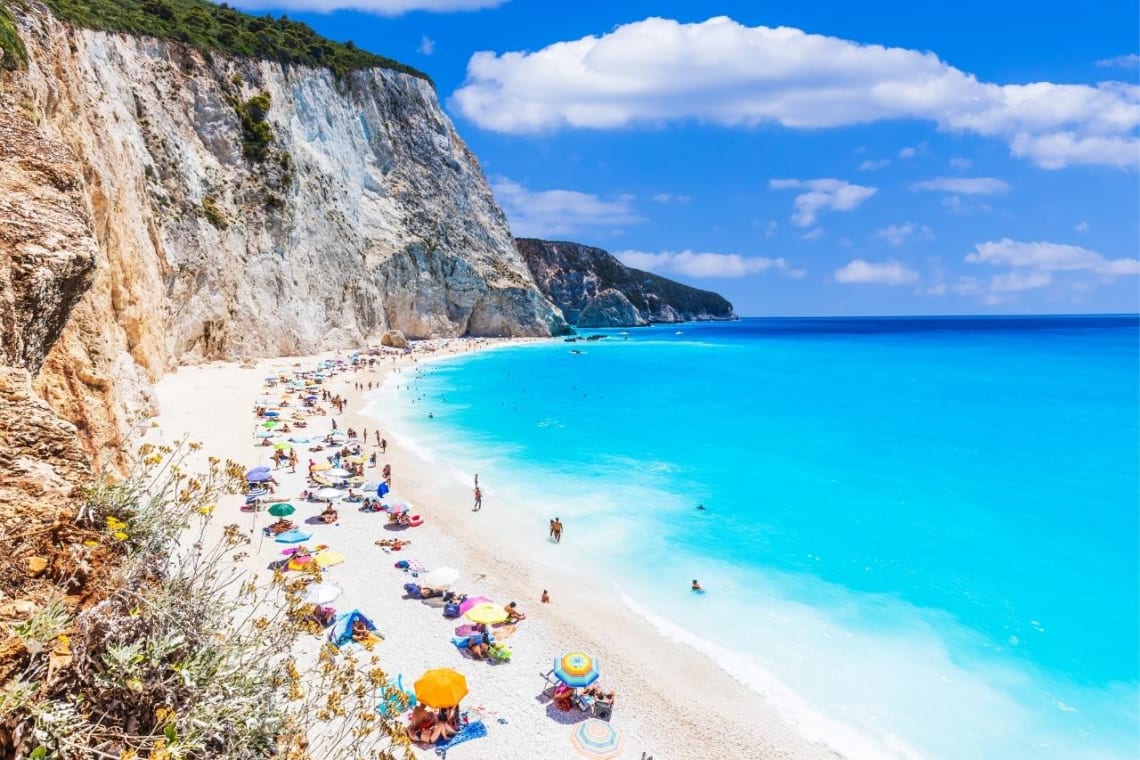 Greek island hopping routes
Everyone will have their own desires, places to visit, and duration of stays, but down below I tried to include a general island hopping route. This route is budget travel inspired and has the best flowing movement.
Athens
Most likely the first stop into Greece will be in Athens. Stay here for no longer than 5 days (if not volunteering in Athens) to take in the Greek culture, see the ancient sites, and get a feel for the country and the people.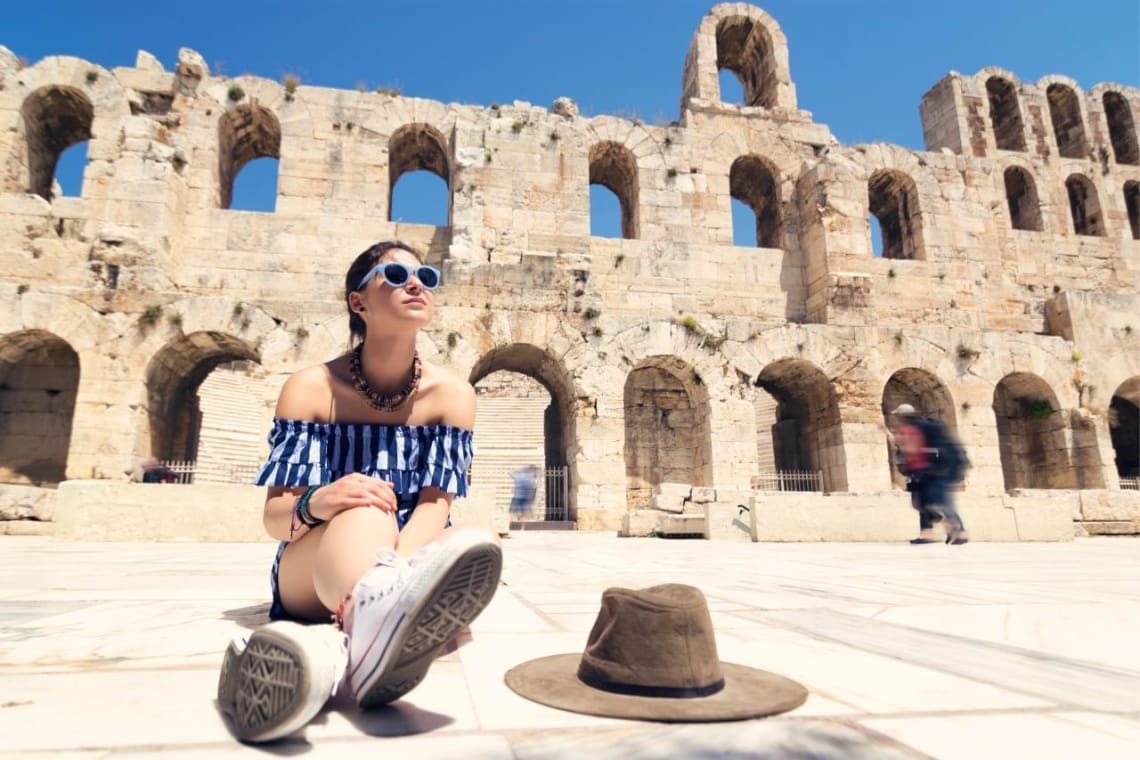 Santorini
The island everyone wants to go to has the world famous white and blue buildings. It's a must visit for those traveling to Greece. I mean, is an instagram profile even complete without a picture in front of the Blue domed church and a flowy dress?
Santorini is actually made of multiple islands so it's almost impossible to get bored while staying here.
Need a place to stay while in Santorini? Check out this volunteer position in Santorini and save money on accommodation.
Paros
A ferry from Santorini to Paros is only about 2 hours and 4 minutes long making this the next best stop.
Spend a few days here to check out all the sites, go cliff diving (safely), and swim in the cold crystal clear beaches.
Mykonos
The boat ride from Paros to Mykonos takes a minimum of 30 minutes but no more than an hour and a half. Mykonos is known to be pricey like Santorini so be sure to book accommodation and excursions in advance.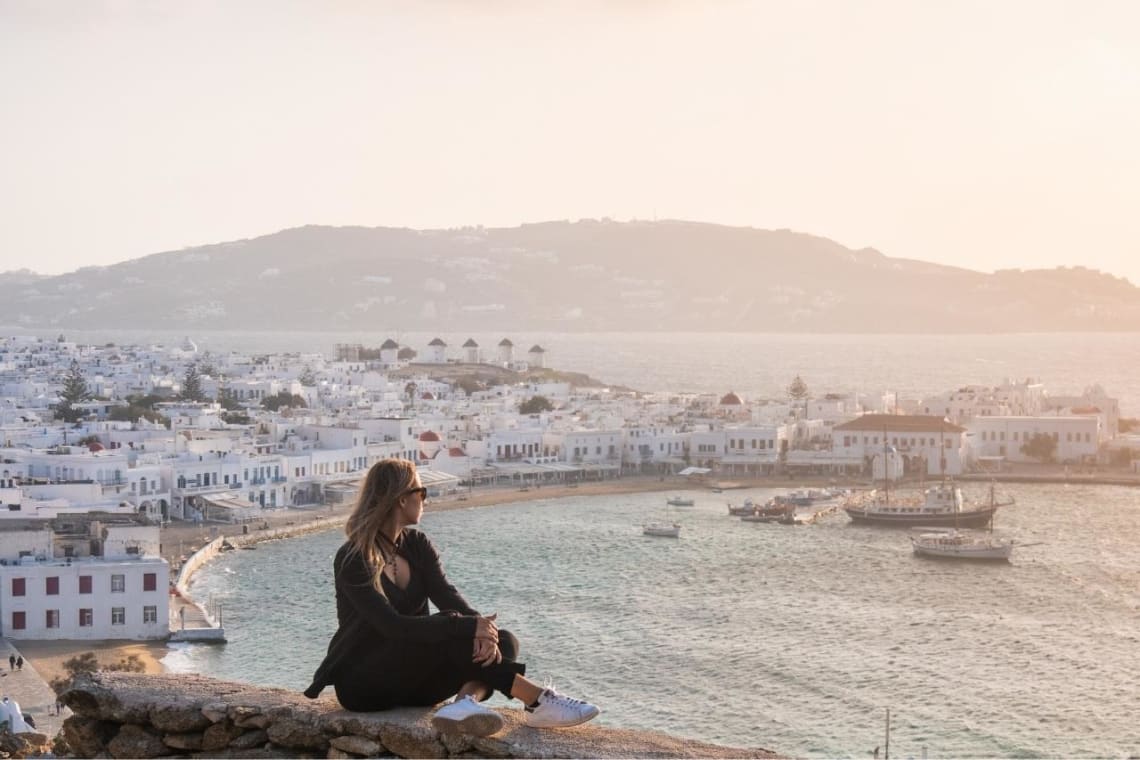 Crete
Ferry ride from Mykonos to Crete is around 5 hours long so sit back and enjoy the waves.
Crete is the largest Greek island and has so much to offer. Lots of people actually rent cars or scooters to be able to see all the island has to offer.
The island has lots of gorgeous beaches and tours including a safari in southern Crete. Stay near the ferry port of Heraklion and explore all that Crete has to offer!
Athens
Heading back to Athens for the next island destination because it is on the opposite side of the country.
It's possible to stay here for either a few hours while waiting for a ferry, or a day or two. Just don't spend all your time in Athens when there are other beautiful islands to be explored.
Corfu
This island is by no means anywhere near the other typical and popular Greek islands. It is on the other side of the country and requires a quick stop back to Athens, but the view makes it so worth it.
I only spent 4 nights in Corfu and I feel like I could have been there for two weeks. There was vegan food, affordable groceries, gorgeous beaches, and chill vibes.
Albania (optional)
If a traveler wants to continue to visit other Eastern/Mediterranean European countries, the best option is to take a ferry from Corfu to Saranda, Albania.
The ferry is not that costly, passport control is a breeze, and the ride is only one and a half hours.
From Albania, so many other countries in the Balkans can be visited and explored so its a great opportunity for those who get the chance.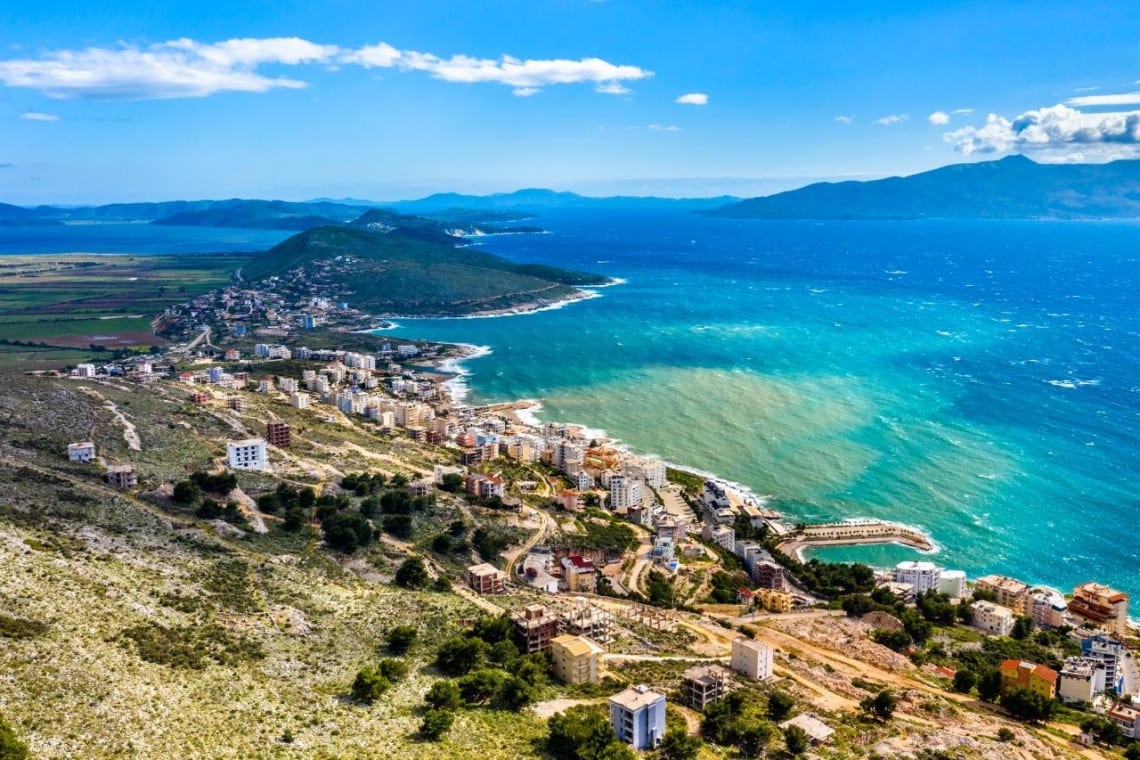 Accommodation while island hopping in Greece
Finding accommodation while traveling throughout the Greek islands or mainland is not hard but can be challenging during the summer time. Greece is not the country for last minute bookings, research is definitely required.
Private rooms or hotel suites can be found on booking.com or airbnb but be prepared to spend a pretty penny. Accommodation prices shoot up to its maximum during summer months so getting a shared dorm is the best way to save money while traveling Greece.
The most affordable form of accommodation in Greece is staying in hostels. There are hostels located on almost every island and major city. Hostelworld.com is the most popular booking site to find hostels in Greek cities as well as other parts of the world.
Apart from saving money by staying in hostels, work exchange with Worldpackers provides the best budget alternatives to Greek island accommodation. Work exchanging or volunteering abroad is when a traveler will help out at a specific place (hostel, hotel, school, farm, etc.) in exchange for accommodation.
There are so many benefits to volunteering on a Greek island apart from saving money and free accommodation! Volunteering is a great way to make new friends and meet people from all over the world.

Worldpackers graciously offers volunteer opportunities in Athens, Thessaloniki, Corfu, Crete, Santorini, Milos, and many other popular Greek destinations.
Learn more about How to create a winning Worldpackers profile.
Worldpackers opportunities in Greece
Get the experience of a lifetime volunteering in Greece this summer! Check out all of these amazing Worldpackers opportunities in Greece and see which is the best fit for you. These are just some of them:
Want to learn more about planning your trip? By subscribing to the WP pack plan you have unlimited access to +120 courses at Worldpackers Academy, the travel school made by travelers!