The ultimate Greek islands list for budget travel
Want to explore Greece but not sure where to start? This travel guide for the Greek islands will help you out to travel on a budget.
8min
Greece has a long history, going back over 4,500 years. Let us give you some basic information for those who don't know much about the country. What makes Greece unique?
The popular island chain known as the Greek Islands consists of eight main islands and is located on the Mediterranean Sea. They consist mostly of mountainous terrain, stunning beaches, and turquoise waters and contain a variety of cities, towns, traditional villages, and archaeological sites.
Greece is home to pristine blue waters and rich cultural heritage, with thousands of years of history. In addition, they are considered to be the cradle of Western civilization, due to their contributions to science, philosophy, mathematics, architecture, art, literature, religion, democracy, and capitalism.
Their culture also encompasses a wide range of traditions such as the celebration of music, dancing, theater, athletics, arts, food, and festivals.
A holiday in Greece will bring together all these elements into one experience that no other destination can match.
How many islands are in Greece?
Technically this would depend on what you would consider an island... Greece has many, many islands. The number ranges from 1,200 to 6,000 with a wide size range too. About 170 to 230 of them are inhabited.
Greece's geography offers an unparalleled landscape for tourism, where visitors can experience everything from ancient ruins to modern-day city life.
Many tourists visit this fascinating destination to enjoy its pristine beaches, picturesque coastal villages, and historical landmarks. The top six tourist destinations include Athens, Mykonos, Santorini, Crete, Rhodes, and Corfu.
So have we convinced you to come to Greece yet? Let's help you decide which island might be the best for the type of holiday you are looking for.
We have your back with a Greek islands list below.
Top 6 Greek Islands to visit
1. What to do in Athens
Technically not an island but it is the capital city of mainland Greece. With its mix of ancient sites, trendy cafes, and laidback attitude, it's hard not to fall in love with Athens.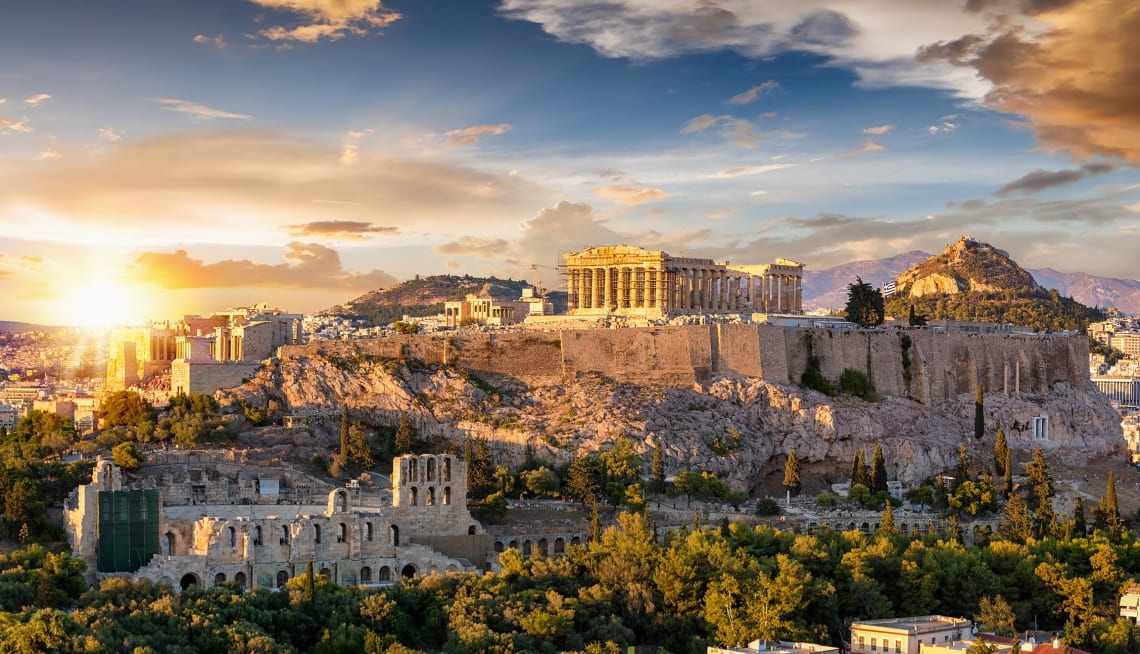 11 top Places worth visiting in Athens:
Acropolis and Acropolis Museum

Ancient Agora

Temple of Olympian Zeus

Kerameikos

Filopappou Hill

Rooftop Cinema - Cine Paris

Monastiraki Flea Market

Coffee shop hopping

Apollo Coast

Panathenaic Stadium

Parthenon

There are so many opportunities to travel on a budget in Greece by trading accommodation and food for a few hours of daily volunteering work with Worldpackers.
Along this article I'll suggest you some volunteering opportunities in different Greek islands. Like for example, helping a hostel in Athens with daily tasks.
Check out more work-exchange opportunities in Athens.
2. Visit Mykonos Island
Mykonian culture is unique and authentic. Its charm lies in its history and its people. You will feel like you're walking back in time when visiting Mykonos.
There are lots of activities to enjoy here, including sailing, diving, snorkeling, hiking, biking, horse riding, shopping, tasting local cuisine, and visiting the many beautiful beaches around the island.
The main town of Mykonos is an important tourist destination and is filled with shops, restaurants, bars, cafes, museums, galleries, and clubs. It is also a great place to devour some delicious Greek seafood.
Mykonos also has a great club and nightlife scene known for its rave culture and parties. It has a few nudist beaches and gay clubs as well. Superyachts, supermodels, and super-parties are what you will find here.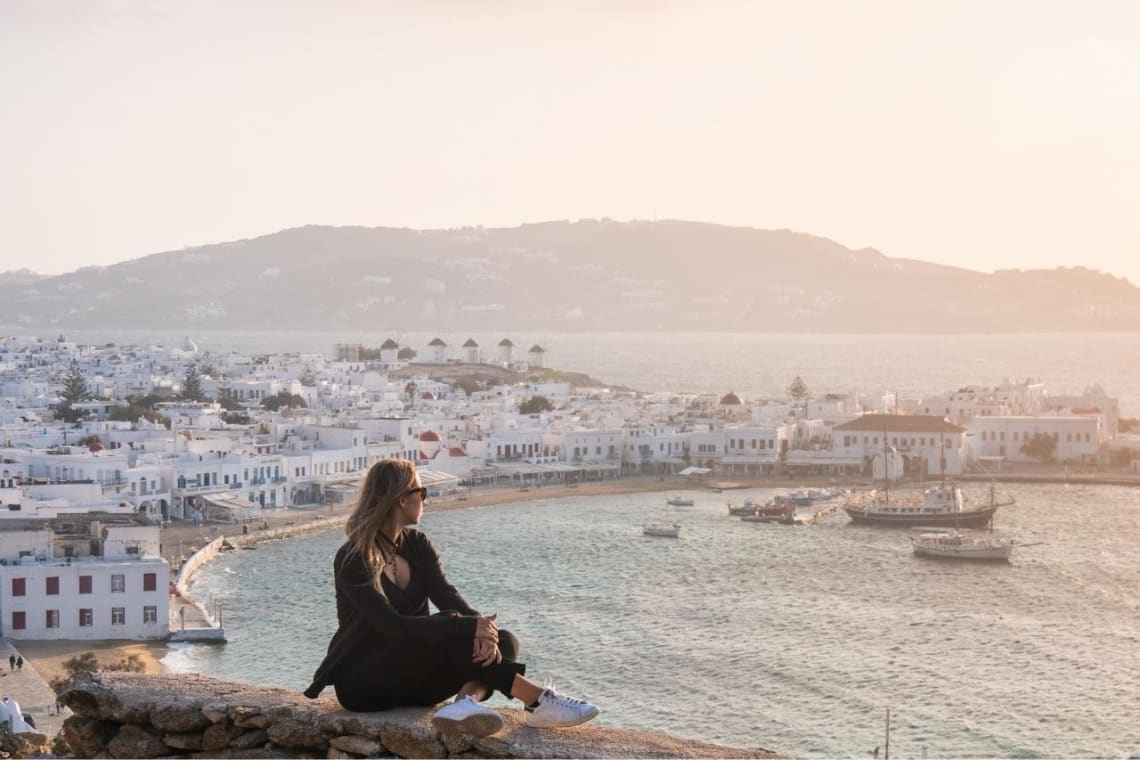 10 Top things to do in Mykonos:
Little Venice

Kato Myli Windmills

Paraportiani Church

Ano Mera

Paradise Beach

Psarou Beach

Delos

The House of Fine Art

Paleokastro Monastery

Scorpios Bar
3. Santorini Island: the most famous of all Greek islands
Santorini is probably the most iconic and perhaps the best Greek island to travel to. With its pristine white sandy beaches and blue and white buildings, it is a very popular destination for honeymooners and other tourists alike.
Once a much larger island, Santorini was hit by an enormous volcanic eruption thousands of years back, this led to a massive eruption sinking most of the island underwater. Today, lots of people think this is the source of the legend of Atlantis.
Whatever the reason, there's just so much more to Santo­rini than its geological past. Once you've arrived, make sure to check out some of the best things you can do on the island and get immersed in the charm of this amazing place.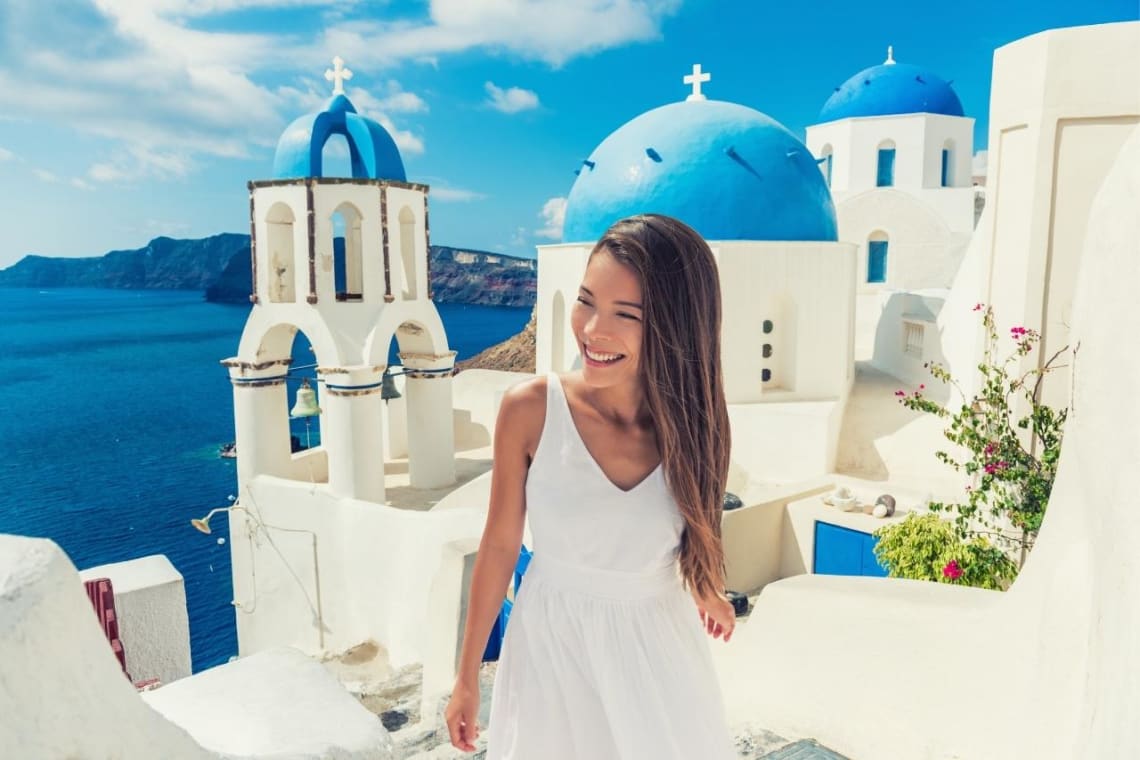 11 Top things to do in Santorini:
Sailing around the island

Visit a winery or take a wine tour

Ancient Akrotiri

Sunbathe on the Kamari, Perissa, and Perivolos Beaches

Kamari Open Air Cinema

Oia Town

Eros Beach

Towns of Pyrgos and Megalohori

Skaros Rock Hike

Active Volcano Hike and Hot Spring swim

Fira Town Nightlife

I'm sure you'd love to stay for a long time in Santorini. With Worldpackers you can! Become a bike-tour guide for Ecobikes Santorini! You'll be guiding tourists around the island and receive accomodation and food in exchange for your help.
4. What to do in Crete Island
The birthplace of Zeus! Crete is an island that needs at least three full days to fully appreciate. There's plenty to see and do, including the beautiful beach at Seitan Limania, Knossos Palace, and the picturesque port of Chania.
Ancient ruins (antiquity paradise), snowy mountains, and beautiful beaches are just some of the things you'll find on Greece's largest island, Crete.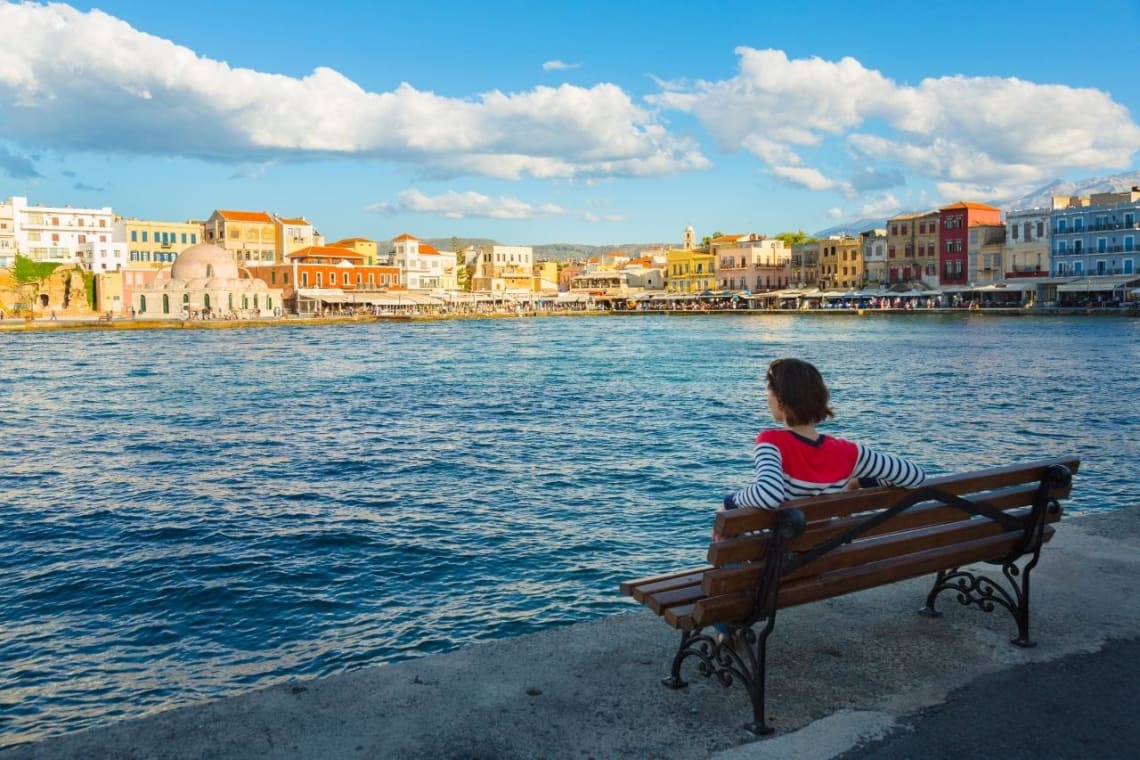 10 top things to do in Crete:
Knossos

Elafonisi Beach

Samaria Gorge

Chania's Harbour

Balos Lagoon

Rethymno Old Town

Falassarna Beach

Arkadi Monastery

Phaistos Palace

Lake Voulismeni

Yes! There also are some volunteer opportunities in Crete, specially in Heraklion town, like helping in Intra Muros Hostel.
5. Don't miss out Rhodes Island
Rhodes is an island just off the southern tip of Greece. It's one of the largest and most populated of the Dodecanese Islands.
There are many beautiful places to visit, including the Acropolis of Lindon, the Palace of the Grand Master, and the St. Paul's Bay beach.
Rhodes also offers some great cuisine, such as the delicious moussaka.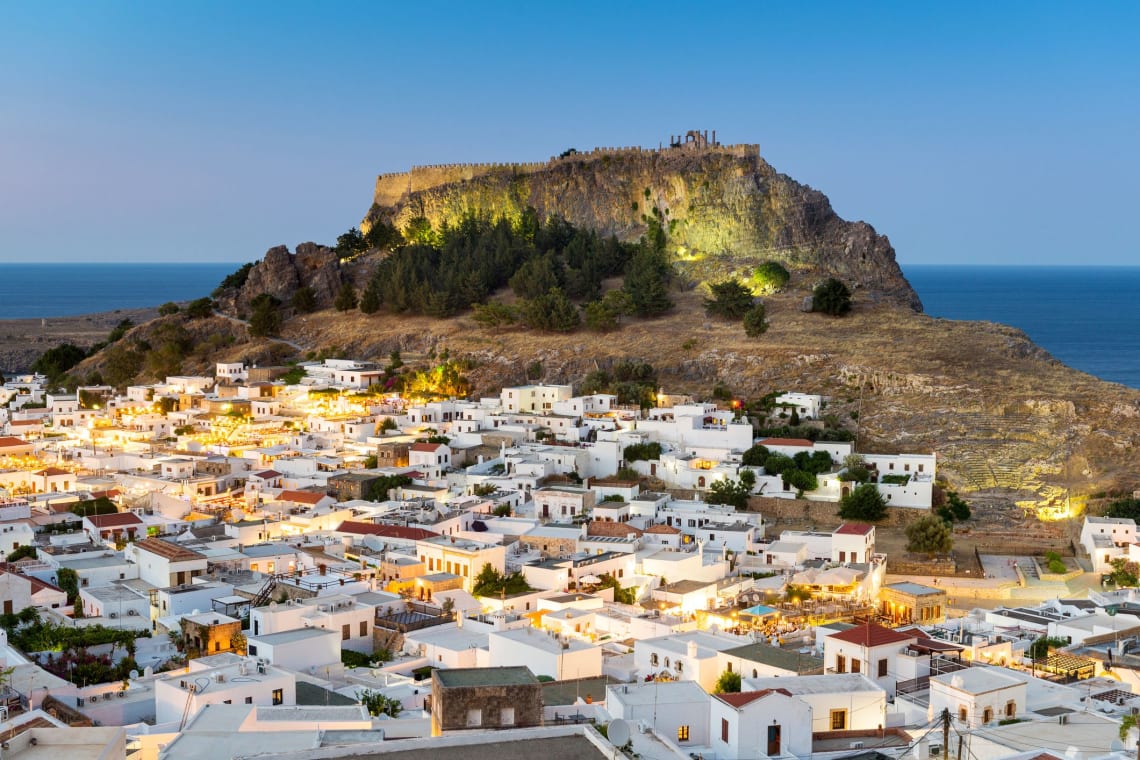 9 Top things to do in Rhodes:
Rhodes City

Knights of Rhodes Palace

Kameiros

Mandraki Port

Lindos Acropolis

Monolithos Castle (photo)

St. Paul's Beach

Kalithea Hot Springs

Anthony Quinn Bay

6. Visit Corfu, my favourite of the Greek islands
Corfu is an amazing place to visit. It's a beautiful island full of incredible sights, great beaches and lots of history. You could easily spend a few days here if you wanted to.
If you've got time, then I recommend spending at least a couple of nights here. There are loads of things to see and do. Take a walk along the coast, visit the old town, go to the beach and enjoy yourself. There's something for everyone.
The island of Corfu also has a great party scene and in the mid-summer, it becomes a party haven with its numerous beach bars.

"Best of the Greek islands for character and lush landscapes Corfu is the 'It Girl' of the Ionian islands. With its pastel villages, rolling olive groves, and grand manor houses, the rest of the island recalls Tuscany - but with some of the best beaches in Europe." Source: (cntraveller.com).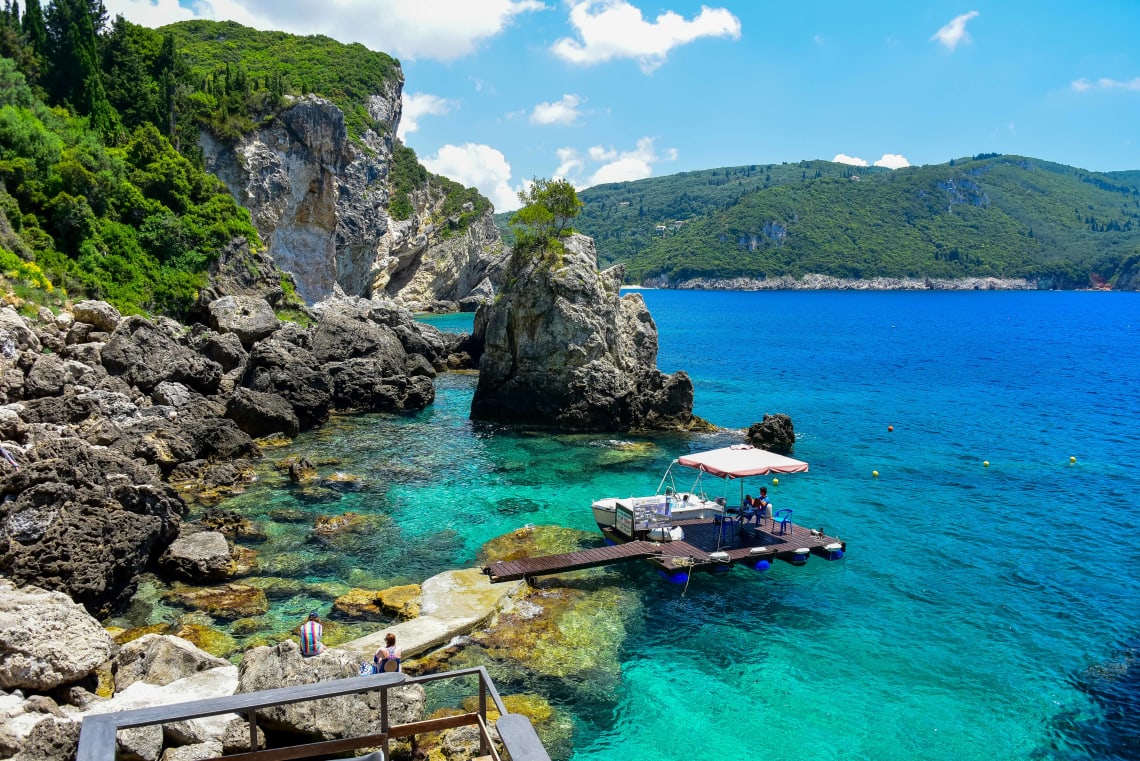 11 Top things to visit and do in Corfu
Old Town Corfu

Corfu Fortress

Paleokastritsa

Agios Gordios Beaches

Quad Biking tour around the island

Kayaking

Boat ride to Paxos and Antipaxos

Chlomos Village

Hiking trails

Porto Timoni

Pontokonisi or Mouse Island

La Grotta Bar

Authentic Greek Nights (with Zorba dancing and plate smashing) at Romantic Palace
If this is your island of choice (as it was for me) then a word to the wise go stay at The Pink Palace Hostel in Agios Gordios. You will meet all types of people from all over the world here and enjoy some of the best beaches on the island just a 5-minute walk away from your room.
If you want to save lots of money while having a cultural immersion, then the volunteering opportunities in Corfu are your best bet.
Getting from Athens to Corfu
Corfu is about 396km from Athens.
Getting from Athens to Corfu Island is pretty simple. You can either take a ferry and bus or a direct flight from Athens International Airport to Corfu Airport, Kerkyra.
The ferry combined with the bus is definitely the cheaper option although the travel time is a lot longer: it takes around 6 hours and costs between $40 - $60.
The flight is just over an hour and it can cost anywhere between $35 - $110. To find cheap flights using Skyscanner might help.
Why travel to Corfu Island
Apart from gorgeous beaches and picturesque villages, Corfu is also for the budget backpacker. If you are looking at a budget-friendly popular Greek island then Corfu is also your best option out of the ones listed in this article.

Fancy visiting a different country for a day trip? Corfu has a direct ferry to Albania which only takes 30 minutes and I would hundred percent recommend going there at least for a day trip.
Plan your Greek island hopping with this guide.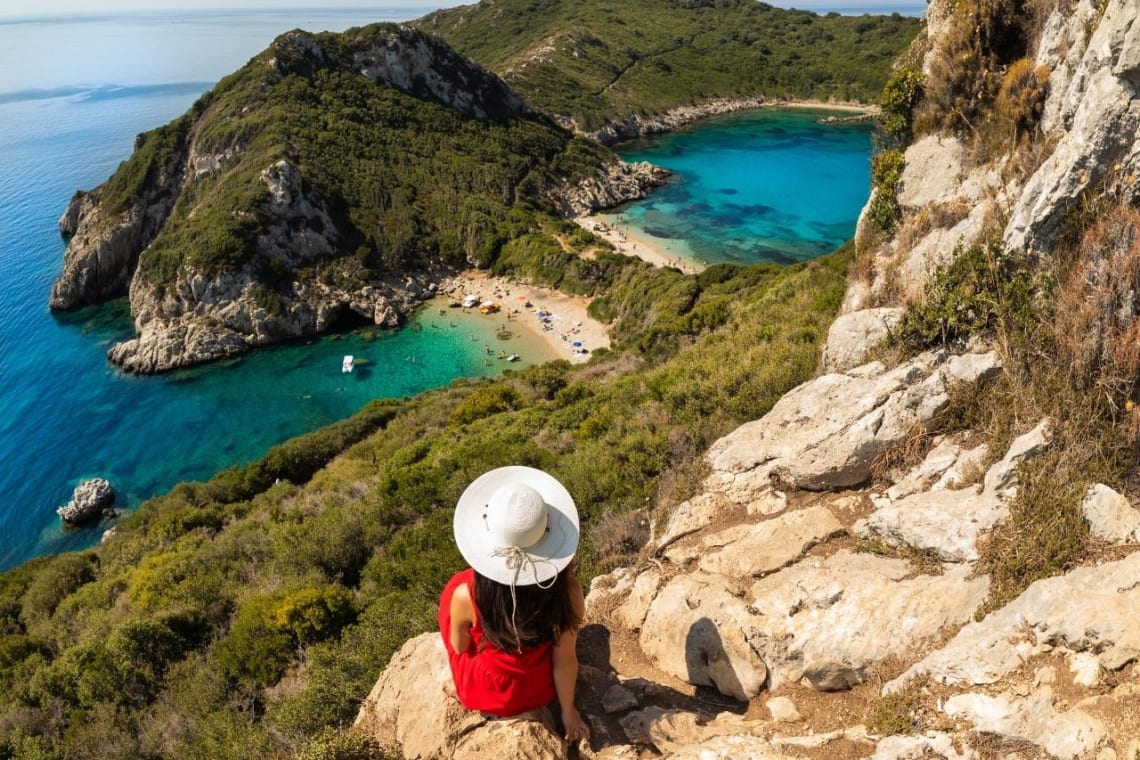 Budget-friendly islands in Greece
So we have touched on the top islands to visit in Greece, but let's be real, these tourist islands can get rather expensive. The beauty of visiting Greece is that it has so many hidden gems and undiscovered locations.
So below are a few islands that are a bit more off the beaten track. An opportunity to experience Greece authentically and immerse yourself within the local culture away from the tourist traps keeps you and your bank account happy and grateful.
Agistri - Best for relaxing, snorkeling, and chilling out!

Astypalaia - Minimalist and cultural

Tinos - Surfer paradise, artistic, serene

Alonissos - Scuba diving and exploring the marine life

Ikaria - Eat, Sleep, Relax, Party, Repeat.

Sifnos - Quaint villages, chapels, and churches

Kythnos - Similiar to Mythos and Santorini but make it cheaper

Hydra - Car-free, quiet and bohemian haven

Lefkada - Best for beaches, waterfalls, and nature

Check out this top saving tips: How to travel Europe on a backpacker's budget.
Extra budgeting travel tips for Greece
If you want to save some money when traveling through Greece and the rest of Europe, I highly recommend joining Couchsurfing. You will meet new people who live abroad and share their experiences with you. This way you don't need to spend much money on accommodation.
Also as mentioned above doing any volunteer work in Greece is certainly a great experience of learning about the local culture while also connecting with international travelers.
And lastly, if you're looking for an authentic Greek meal, try making your own! Nothing beats going down to the market (the fresh fruit and vegetables are in abundance) and buying some feta cheese, olives, and fresh pita bread.
If you want to eat authentic Greek food the street food is to die for too, and it won't break the bank. A Gyros goes for about €3 compared to going to sit down at a restaurant.
Most of your money will probably go towards sipping cocktails at the beach bars anyway ;)
Top tip: Be sure to try their local spirit, Ouzo, and remember to shout Yamas before taking it!
As a final note, I highly suggest you to read this article about How to travel Greece on a budget.
If you want to know more about Worldpackers, you can read: What is a work exchange and how does it work? and Traveling with Worldpackers: your top questions answered.
There are lots of destinations within Greece that offer a very similar experience but are unique in their own way. Some of them are cheaper than others because of their location. For any beach lover or summer chaser, Greece is definitely the place for you.
I loved it so much that I came back for a second time. The people know how (and love) to have a good time, the weather is great and the nature is out of this world.
So what are you waiting for... when are you going to book your tickets to Greece?
Did you like these ideas? Subscribe to the Worldpackers Community for free and start saving your favorite volunteer positions until you are ready to get verified.