4 of the cheapest Asian countries to visit in a long term travel
Asia has some great options for travellers on a budget! Read all about four of Asia's cheapest destinations in this blog.
8min
Asia is a vast continent containing a mind-boggling array of landscapes, cultures and people. From the mountains of Nepal to the rain forests of Indonesia, and from the hustle and bustle of Tokyo to the laid-back charm of Chiang Mai – Asia has flavours to suit all tastes.
But what are the options for travellers on a budget? After all, not all destinations are equally affordable. To help you make a decision about where to travel to in Asia, here's an overview of four of the most budget-friendly places to visit.
1. Cambodia
2. India
3. Bali
4. Laos
Cheapest Asian countries to have a slow and budget travel
For those looking for places to take a long vacation, I would definitely recommend these 4 cheapest Asian countries that have either cheap attractions and accomodation.
1. Stay a little while in Cambodia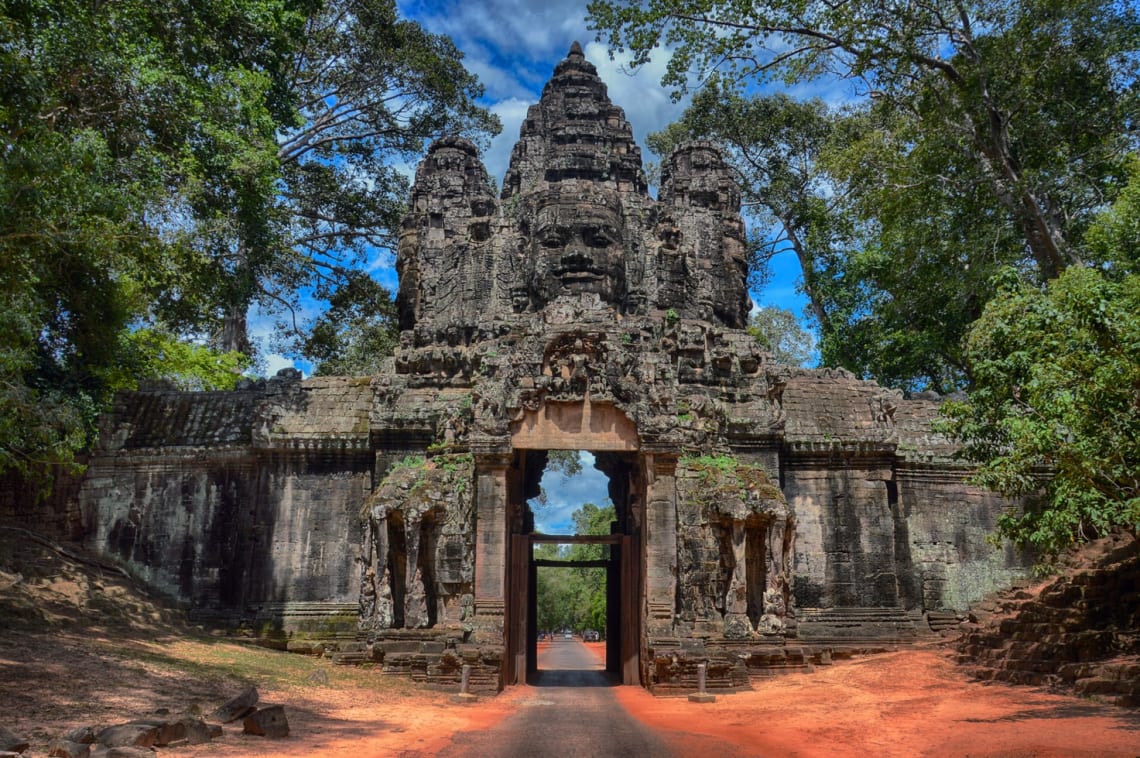 This Southeast Asian country bordered by Thailand, Laos and Vietnam is a great choice for travellers on a shoestring and definitely one of the cheapest Asian countries. You can easily keep daily costs below 40 dollars while travelling here.
A cheap guesthouse room will set you back around 10 dollars and a meal in a simple restaurant costs around 5 dollars. You can also get around pretty inexpensively by using public buses.
Travelling around Cambodia is surprisingly easy and journeys between cities and tourist destinations do not tend to take very long due to the country being relatively small and largely flat.
Some of Cambodia's highlights include Siem Reap, Phnom Penh, Battambang, Kampot and Kep.
One of the main reasons people come to Cambodia is to visit the Angkor Wat temple complex close to Siem Reap. And that's not surprising; visiting these ancient temples surrounded by jungle is a mind-blowing experience.
To make the most of your visit and soak up the magic of the place, it's advisable to buy the three-day pass that costs $62. Another tip is to rent a bicycle and explore the ruins at your own pace – this is not a place to be rushed!
In Phnom Penh, you have plenty of opportunities to learn about Cambodia's history. Visit the Tuol Sleng Genocide Museum and the Killing Fields (both $5 entrance) to find out about the atrocities that occurred here in the 1970s.
It's a harrowing yet essential experience, as everyone you meet in Cambodia will have either lived through the Khmer Rouge regime, or know people who did. It's impossible not to be moved by the stories you hear and by the resilience of the every-friendly Cambodian people.
Battambang is a laid-back city, a far cry from the commotion of the capital and devoid of tourist crowds. Come here to relax, enjoy the quirky cafés, ride the bamboo train and rent a bike or scooter in order the explore the surrounding countryside and traditional villages.
Finally, Kampot and Kep on the south coast are well worth a visit. Kampot is a sleepy riverside town with a lively backpacker scene. Highlights here include taking a sunset river cruise, exploring local caves and touring a pepper plantation.
Coastal town Kep is just a short drive away and a great place to spot abandoned houses (it was the country's top seaside destination until the 1960s), relax on the beach and eat the local speciality: crab with green peppercorns.
You might also like 10 things you need to know about backpacking Myanmar and 10 best places to visit in Thailand
2. Travel through India like a local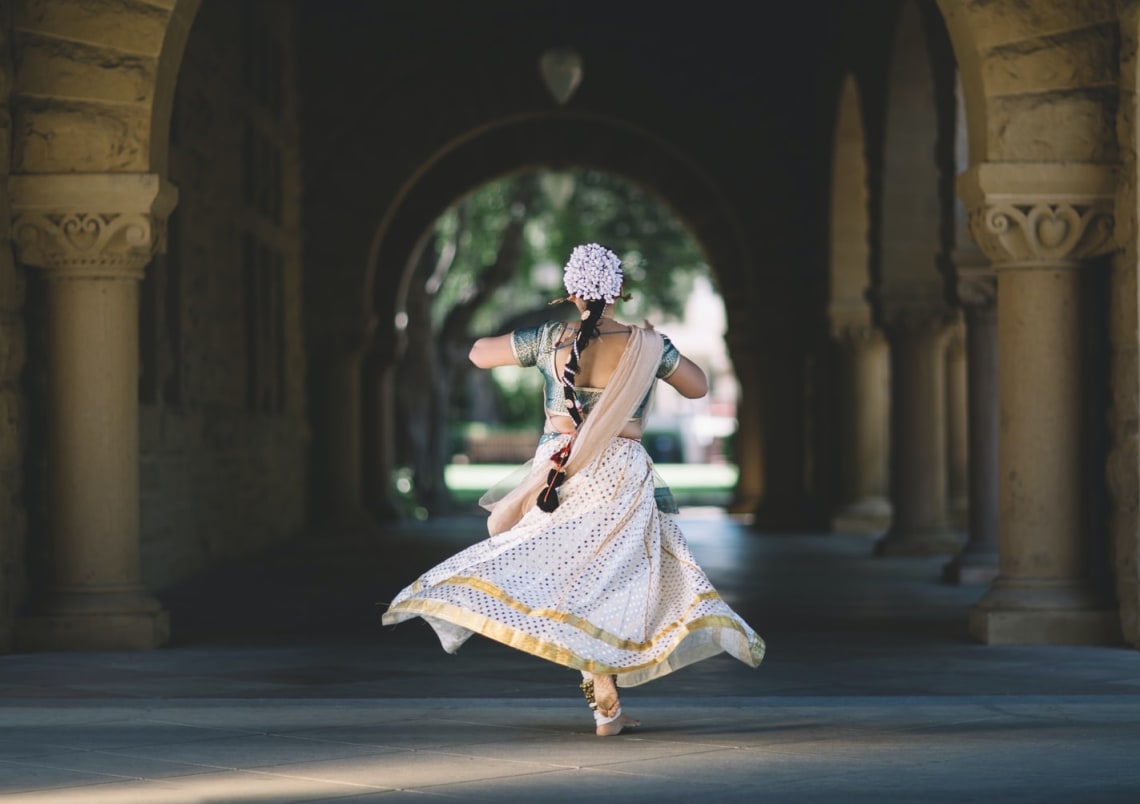 You'll be surprised at how far your money can go in India. Travellers on a budget can expect to spend up to 3000 rupees ($40) per day on accommodation, meals, travel expenses and admission to a museum or two, making it our second place in the list of cheapest Asian countries.
Being such a huge country, your biggest expenditure could be travelling from A to B. But long distance travel doesn't have to cost much.
If you really want to save money and don't mind roughing it on long journeys, take the train and choose sleeper class. Not only is it dirt cheap, it's also a great cultural experience that will give you a glimpse into the lives of ordinary Indians.
Not only on the train itself – where hawkers walk up and down the aisles selling sweet masala chai and all kinds of snacks and where whole families travel together with what seems like all their belongings – but also along the railway tracks. There is no glass in the windows in sleeper class, so you can stick your head out of the train (being careful, of course) and absorb the sights, sounds and smells that pass by.
The Indian subcontinent is so extensive and varied that you may want to focus on a particular area.
Visit the Himalayan North for mountains, Buddhist temples, cool hill stations and holy river sources.
Focus on the central plains if you want to see some of the country's most iconic sights. New Delhi (the Red Fort, Humayun's Tomb and the Jama Masjid), Amritsar (the Golden Temple) and Agra (Taj Mahal) can all be found in this region.
For stunning desert scenes and colourful ancient cities, visit Gujarat and Rajasthan in the north-western part of the country. Further to the south is the vibrant city of Mumbai (home of Bollywood) and the beautiful palm-fringed beaches of Goa.
Even further southward is Southern India, where you'll find ancient temples, lush jungle, tropical beaches and lots and lots of spicy vegetarian food.
Eastern India, home to the city of Calcutta, is less visited by travellers and you'll really feel like you're going off-the-beaten track here.
The same can be said of North-Eastern India, where you'll find miles upon miles of tea plantations and traditional forest-dwelling tribes.
3. Have a slow travel experience in Bali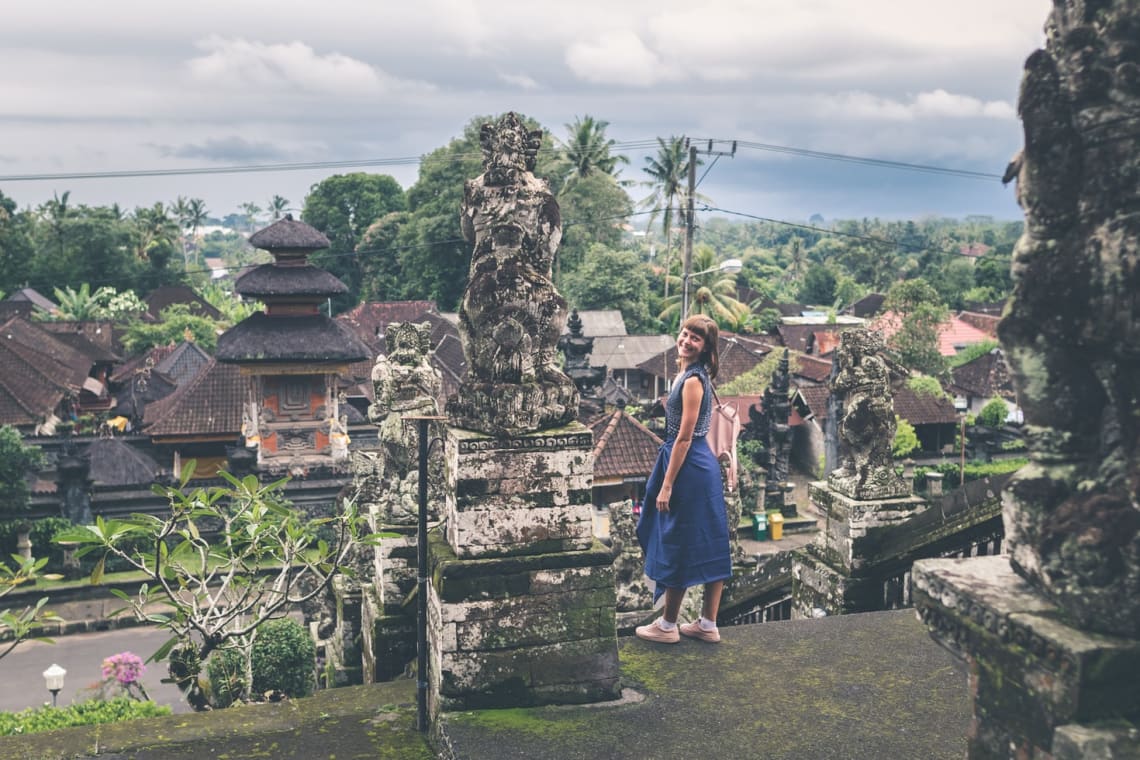 Bali is just one of Indonesia's many islands (there are more than 17,000 of them), but it's easy to see why it's also the most popular. And despite this popularity, it's still one of the cheapest Asian countries to visit.
$40 dollars a day should be manageable for the most thrifty travellers, though prices do vary greatly depending on where you are on the island.
One way to save money in Bali is to travel there outside peak season (which means avoiding the school summer holidays and the period around Christmas and New Year).
Another way you can keep to a tight budget is to eat in warungs – cheap local restaurants that serve a wide variety of delicious Indonesian dishes. And to keep travel costs to a minimum, you might consider renting a motorbike for just $5 a day!
Bali is surprisingly diverse and has something to satisfy all kinds of travellers.
The southern part of the island sees the most tourists as it is home to the main city Denpasar and to the surf resort Kuta Beach. If you like crowds and parties, these destinations are for you.
If you prefer a less hectic and more authentic experience, venture further away and see what else Bali has to offer. Like Central Bali, which is the cultural heart of the island and full of Hindu temples, traditional villages, verdant mountains and gorgeous waterfalls.
Ubud is a great place to see a cultural dance performance, visit a spa (sometimes you need to splash out and treat yourself) or buy Balinese arts and crafts.
For wild nature, empty beaches, great diving and top-class surfing, make your way to West Bali – the least populated and visited part of the island.
East Bali boasts the mighty Mount Agung, lush rainforest, traditional fishing villages, an active volcano and stunning rice terraces. It's also where you can take a ferry to the nearby island of Lombok.
Other islands you may want to visit while you're in Bali are Nusa Lembongan, Nusa Ceningan and Nusa Penida – all great destinations to enjoy everything beach life has to offer (which in Bali also means awesome surf, diving and snorkelling).
Read more articles about Asia: What I learned during my first Worldpackers trip in Vietnam

4. Enjoy the calmary of Laos on a budget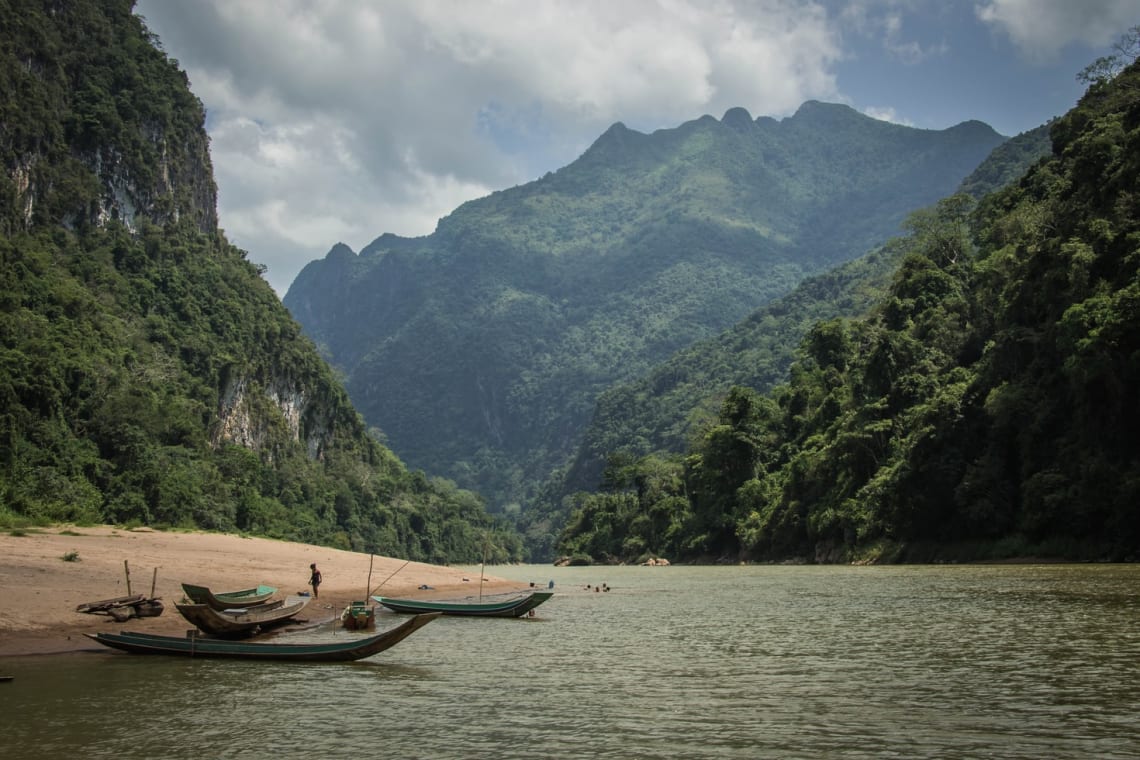 You'll feel like a millionaire in Laos. Literally. If you take 100 dollars out of a cash machine, you'll end up with more than one million Lao kip (the local currency)! And all those kip go far – a cheap hostel room will cost you around $5, a simple meal $3, and you can expect to pay around $2 per 100 km when travelling by local bus.
While it's a fairly small country, infrastructure isn't very developed so expect long journeys. But one of the great things about Laos is the slow pace of life; nobody is in a hurry here and you'll almost feel as though you have travelled back in time. You have no choice but to chill out, enjoy the moment and live in slow motion.
Laos is one of the least-visited countries in Southeast Asia but also one of the most breath-taking. It has gilded temples, dramatic waterfalls, extensive cave networks, high mountains and sun-kissed river islands.
Vientiane, the sleepy capital that feels more like a small town, is a great place to start your travels in Laos. Explore the city's many temples and get a feel for this country's strong Buddhist traditions, visit the National Museum to find out about the history of Laos, buy authentic handicrafts at the local shops and then relax with a cold Beer Lao while watching the sun go down over the Mekong River.
From Vientiane, you can take local buses to a wide variety of destinations across the country. Luang Prabang is a UNESCO world heritage site that will wow you with its beautiful temples and colonial-era architecture.
Vang Vieng and Si Phan Don
Get a glimpse of the rare black crested gibbon at the Gibbon Experience in the Bokeo Nature Reserve.
Enjoy outdoor activities like mountain biking, kayaking and trekking in Vang Vieng (which has gone from being a notorious backpacker party town to an eco-tourism centre) or go island hopping in Si Phan Don and maybe even see a river dolphin or two while relaxing along the banks of the mighty Mekong.
There's something for everyone in Laos, and it's particularly well-suited to travellers looking for the cheapest Asian countries.
Save even more while visiting the cheapest Asian countries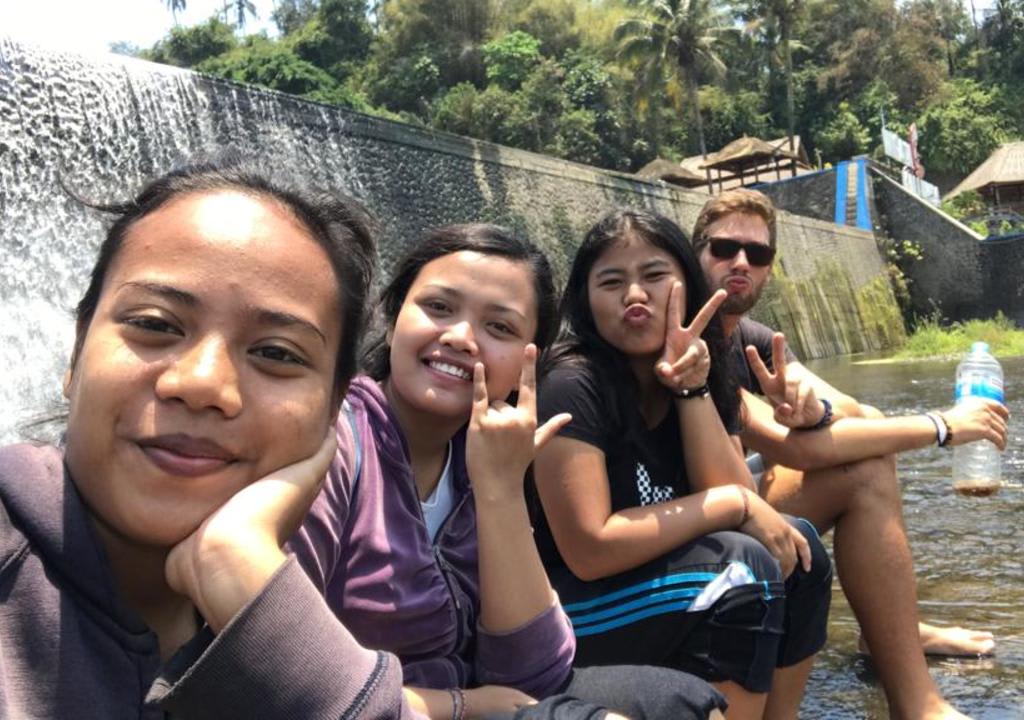 Avoiding peak season, travelling by local bus, eating street food and sleeping in hostel dorms are all great ways to save money while travelling.
However, one of the most effective ways to stick to a tight budget is to take part in a work exchange; volunteer while travelling and exchange your time and effort for free accommodation and free or cheap meals.
Check out these Worldpackers experiences in Cambodia, India and Bali and start dreaming about your next trip to Asia!
All the positions above give the volunteer the opportunity to travel longer and cheaper by staying with a host that will provide bed and food (in some cases), and other amenities. In most cases you will be very close to tourist points of interest, and making local friends is a plus.
If you don't just want to save money but also want to make money while you travel, take a look at this article describing 10 easy and creative ways to save money while traveling!